The Giant Book of Intermediate Classical Piano Music

Schirmer's Library of Musical Classics, Vol. 2139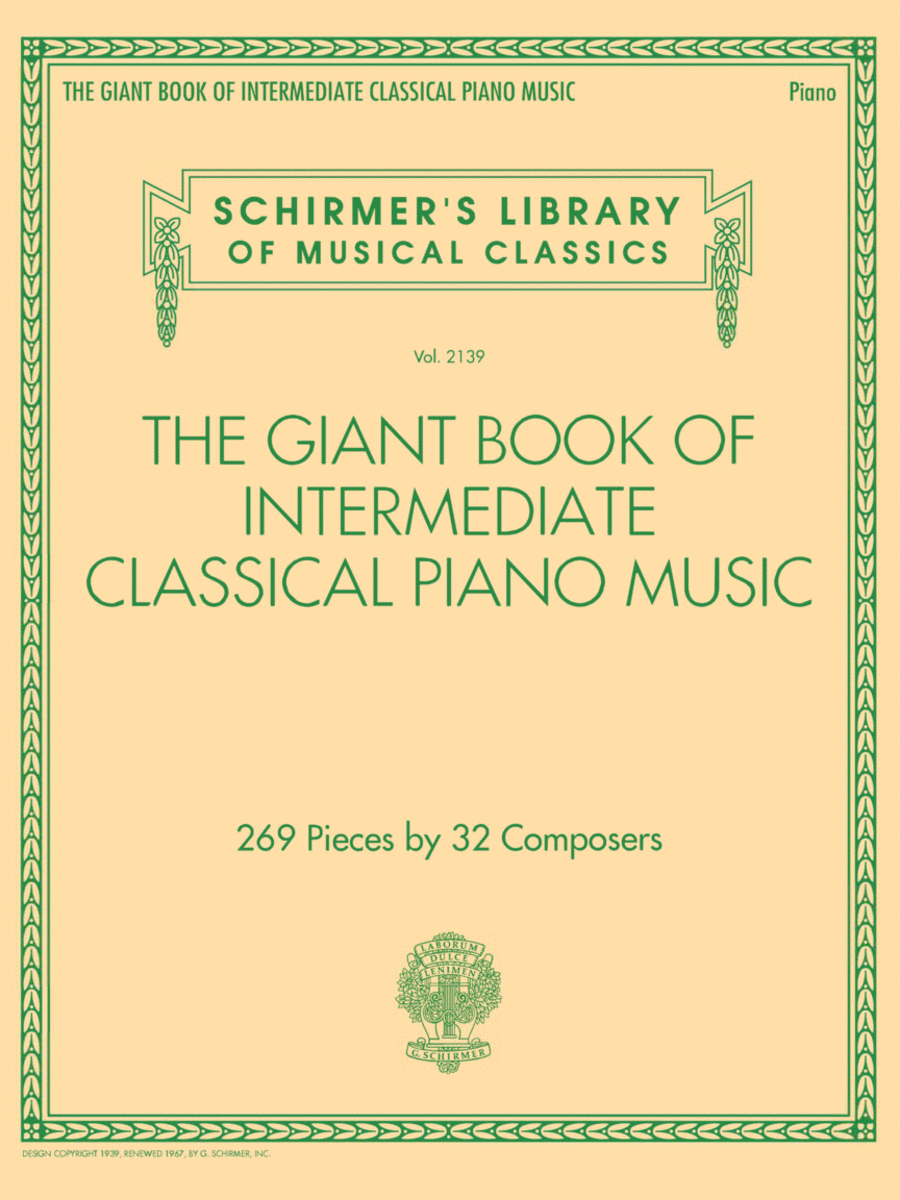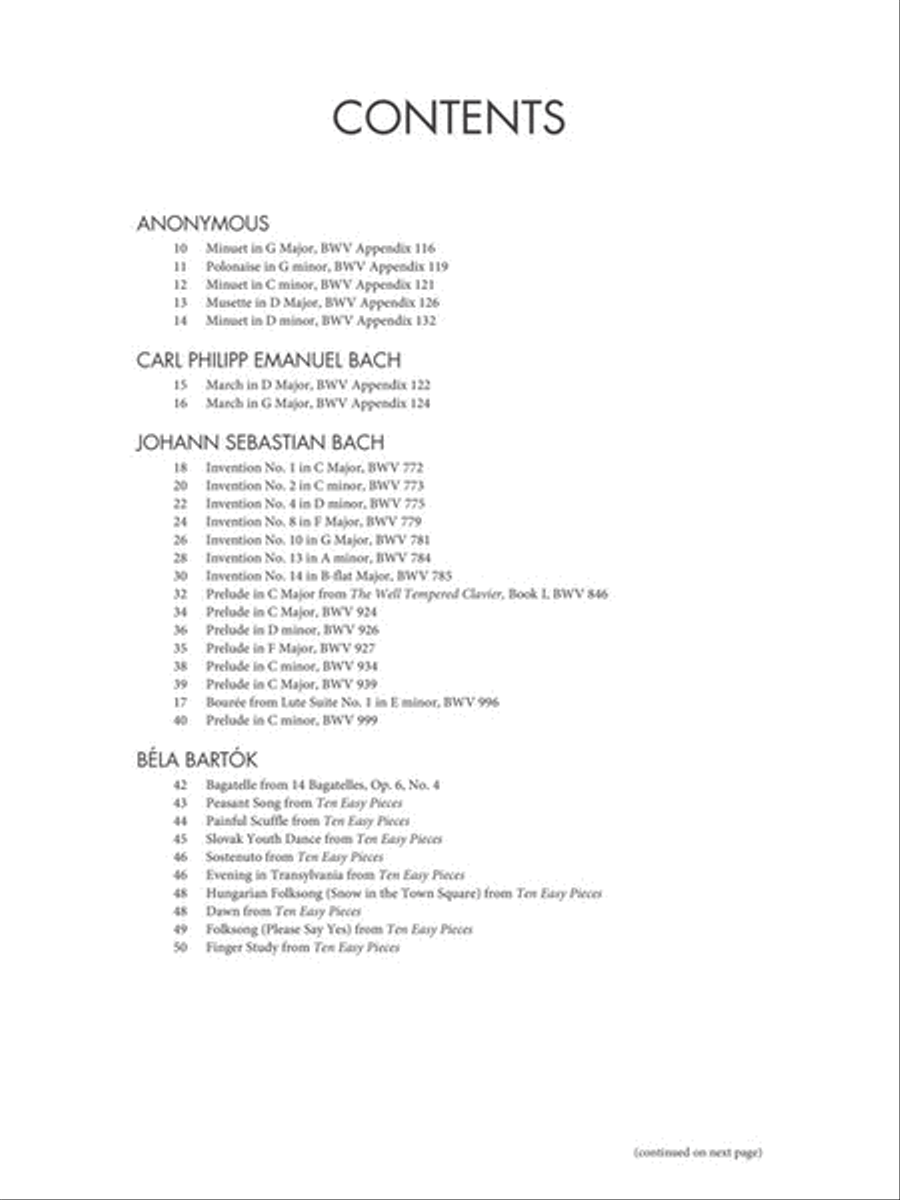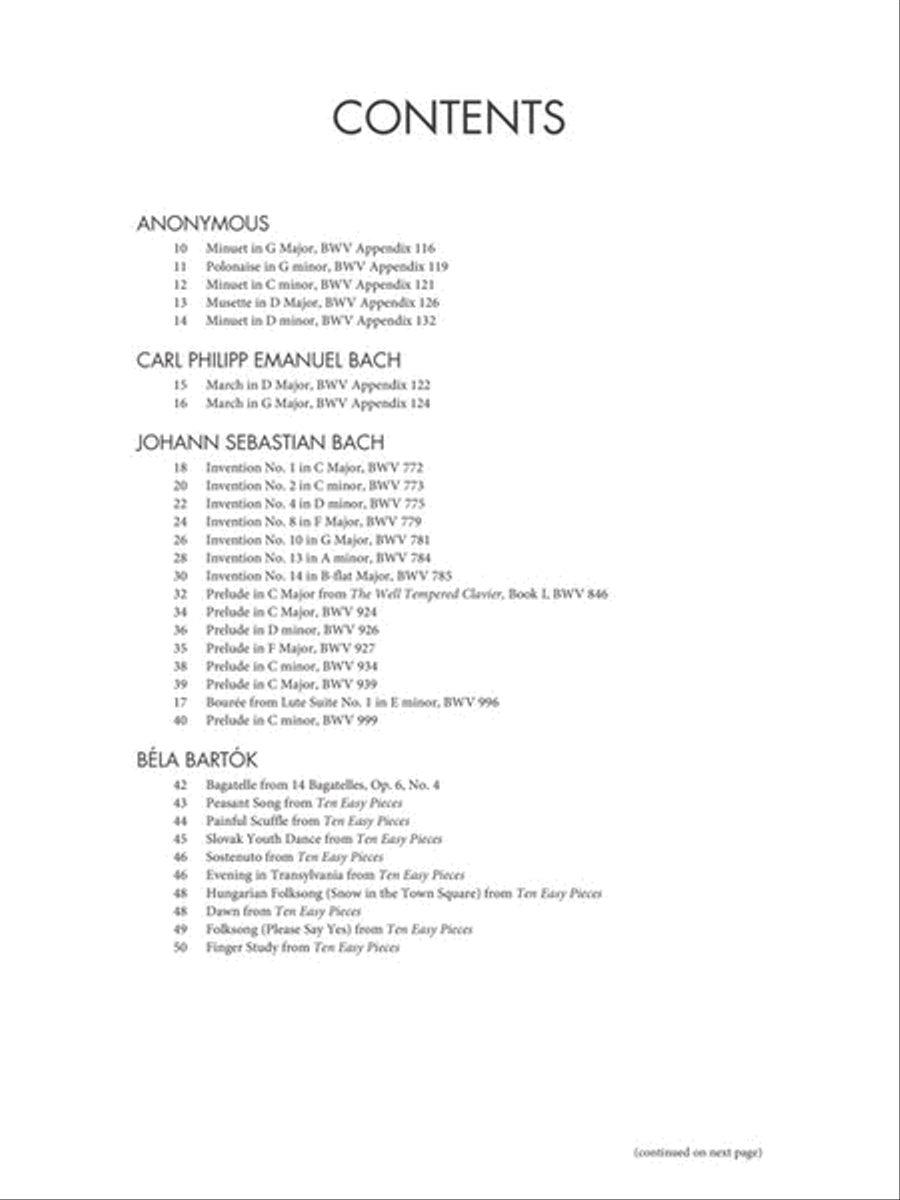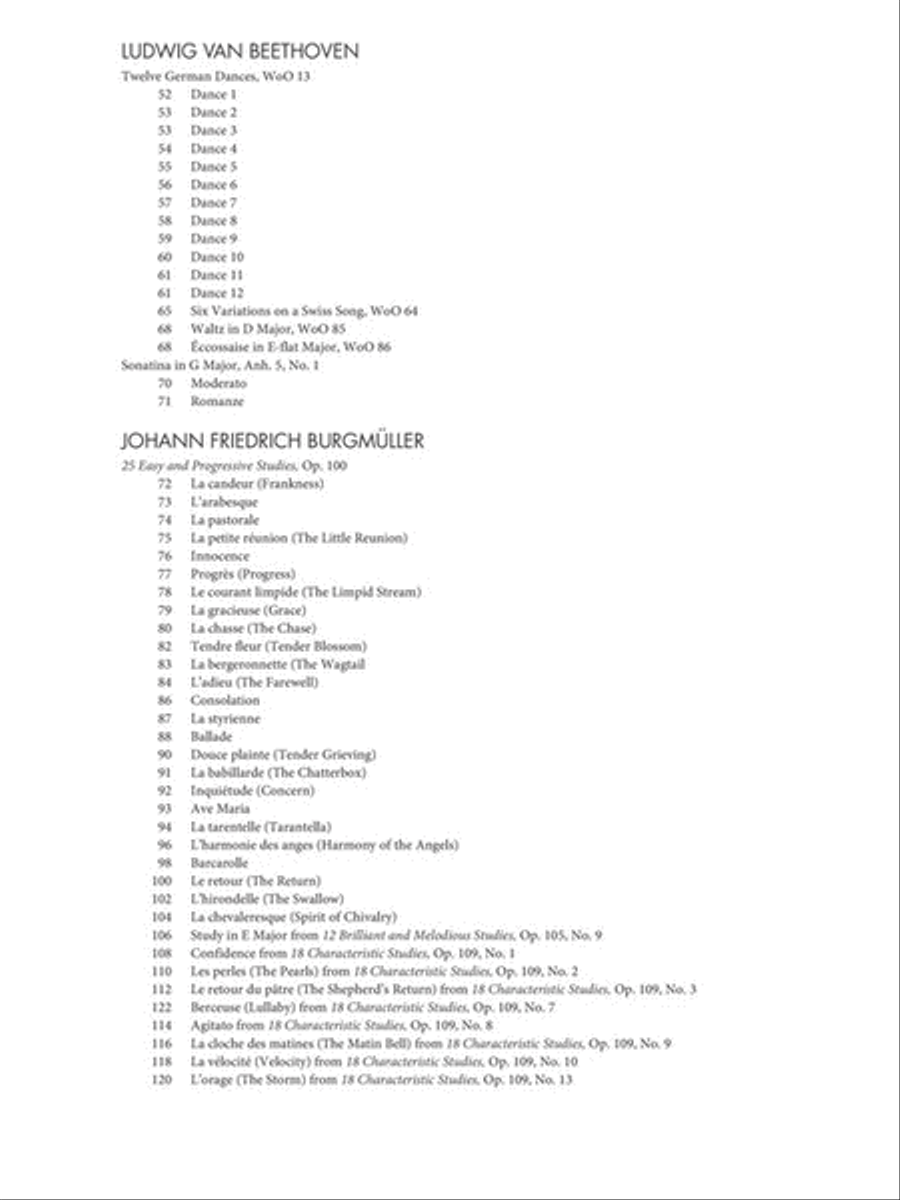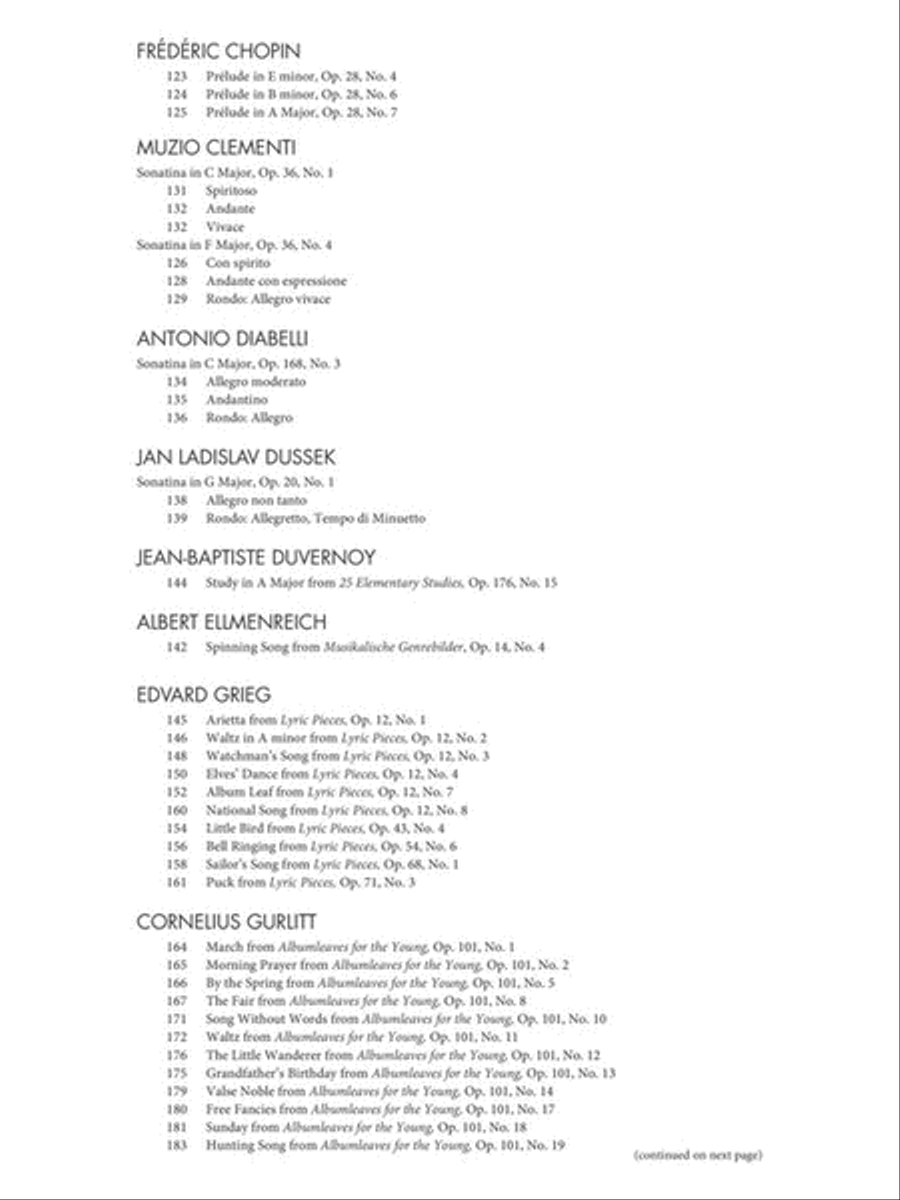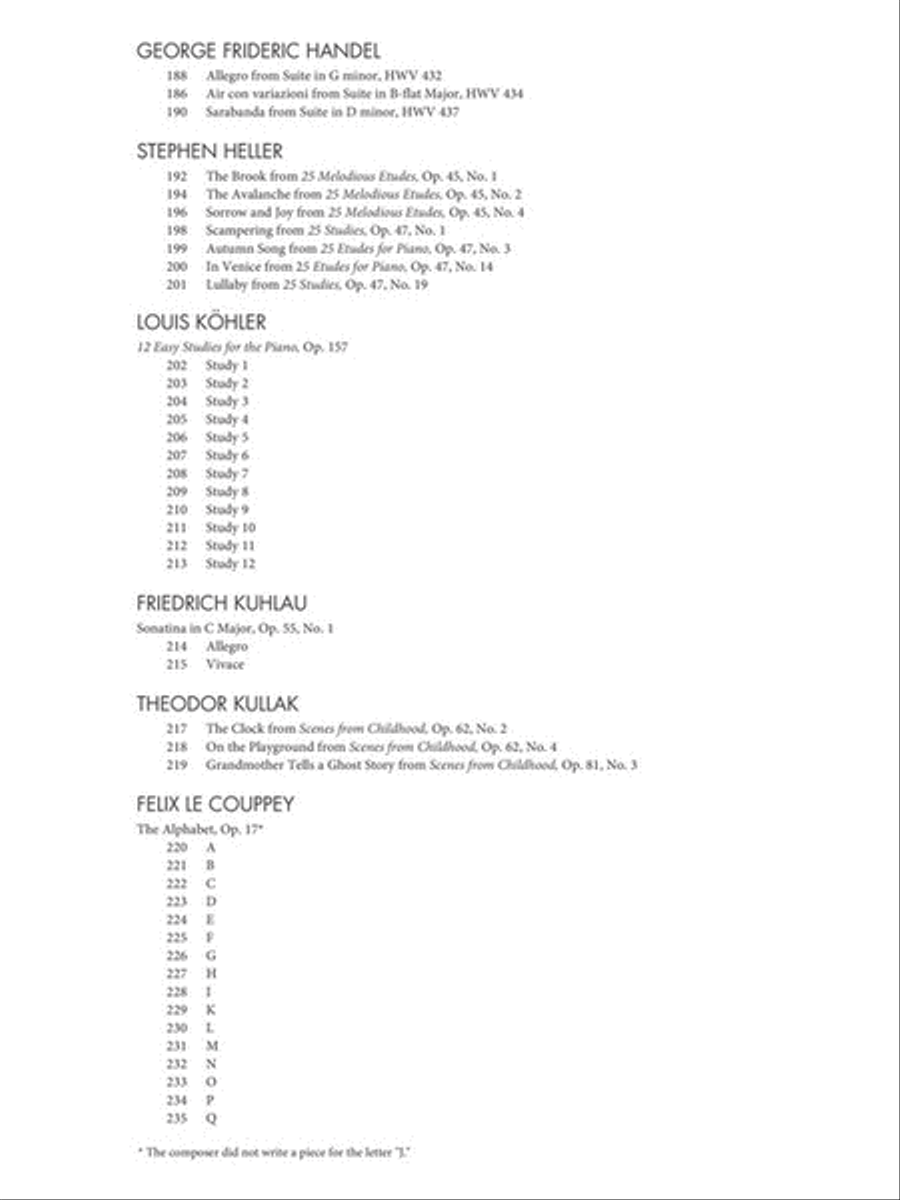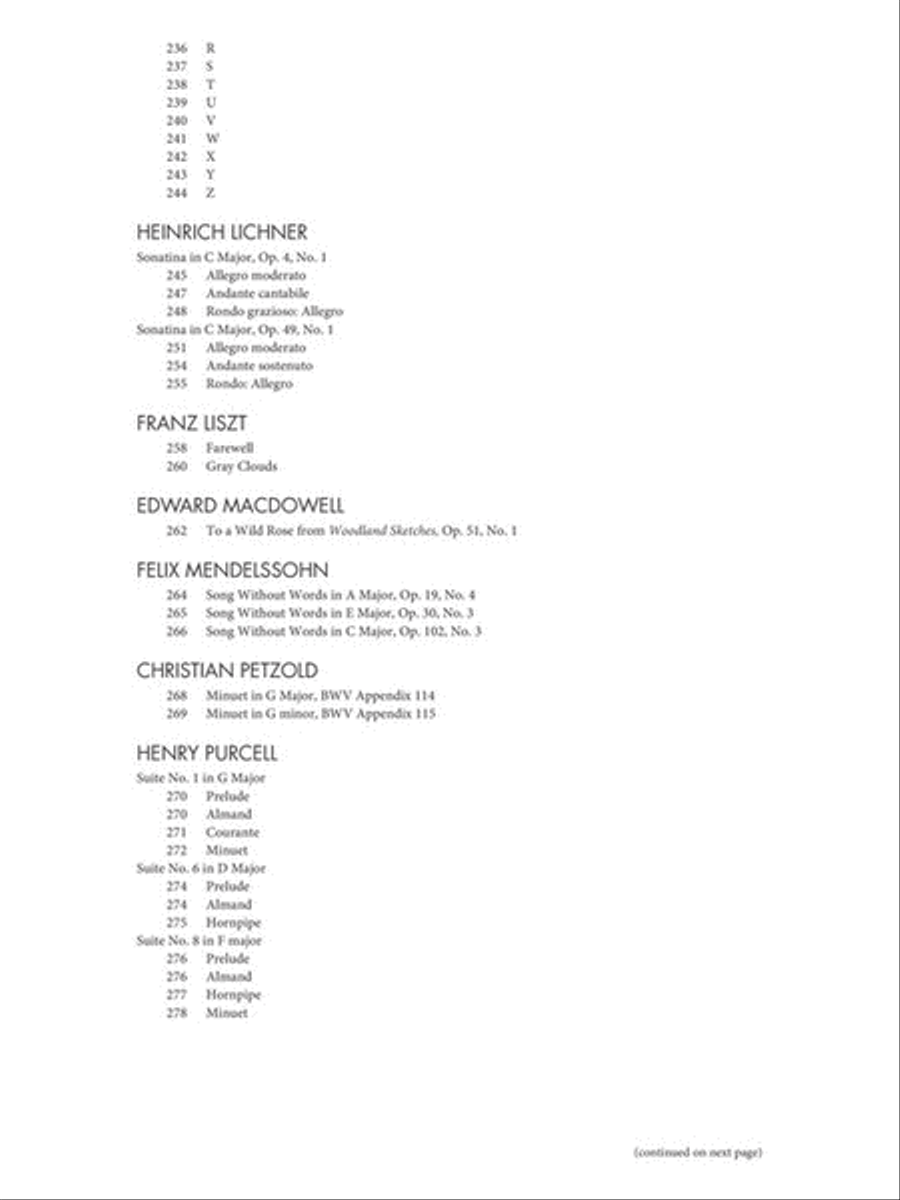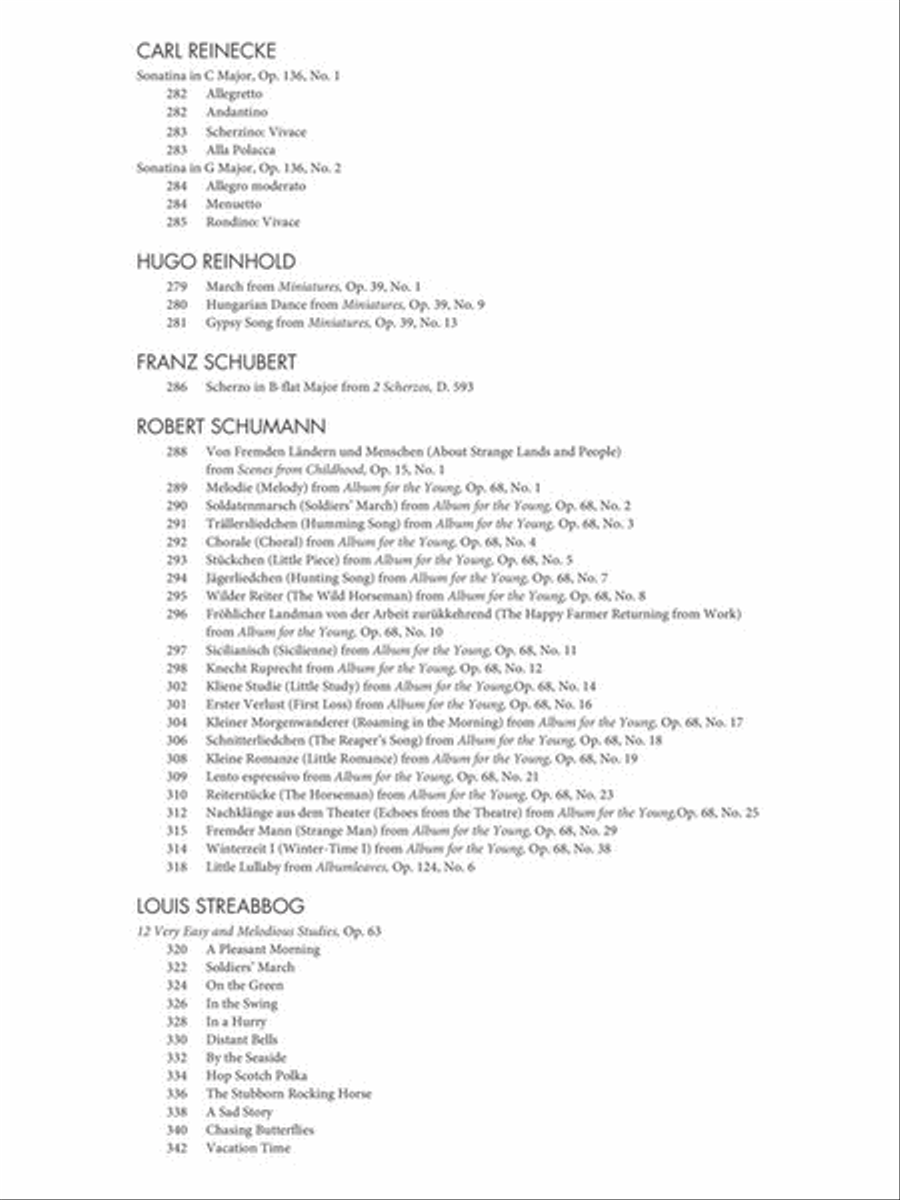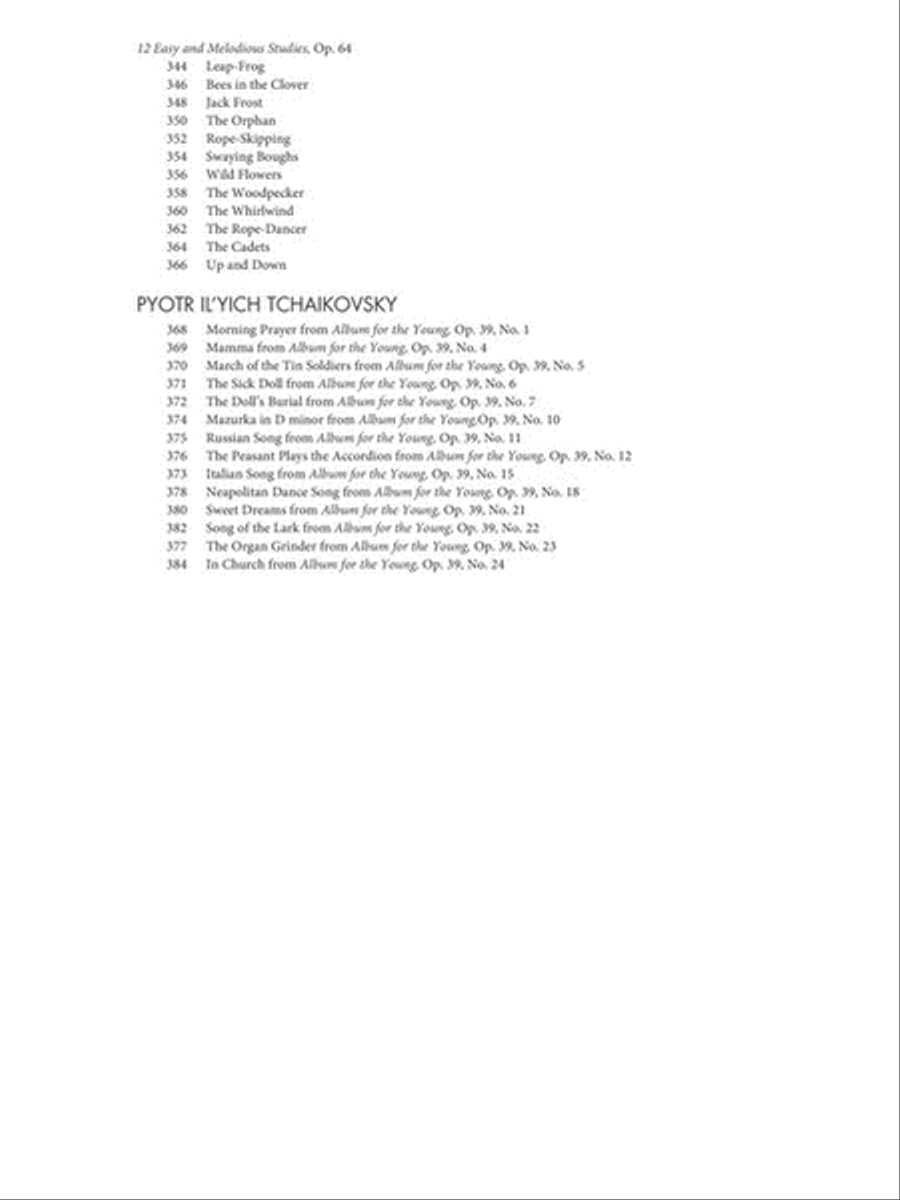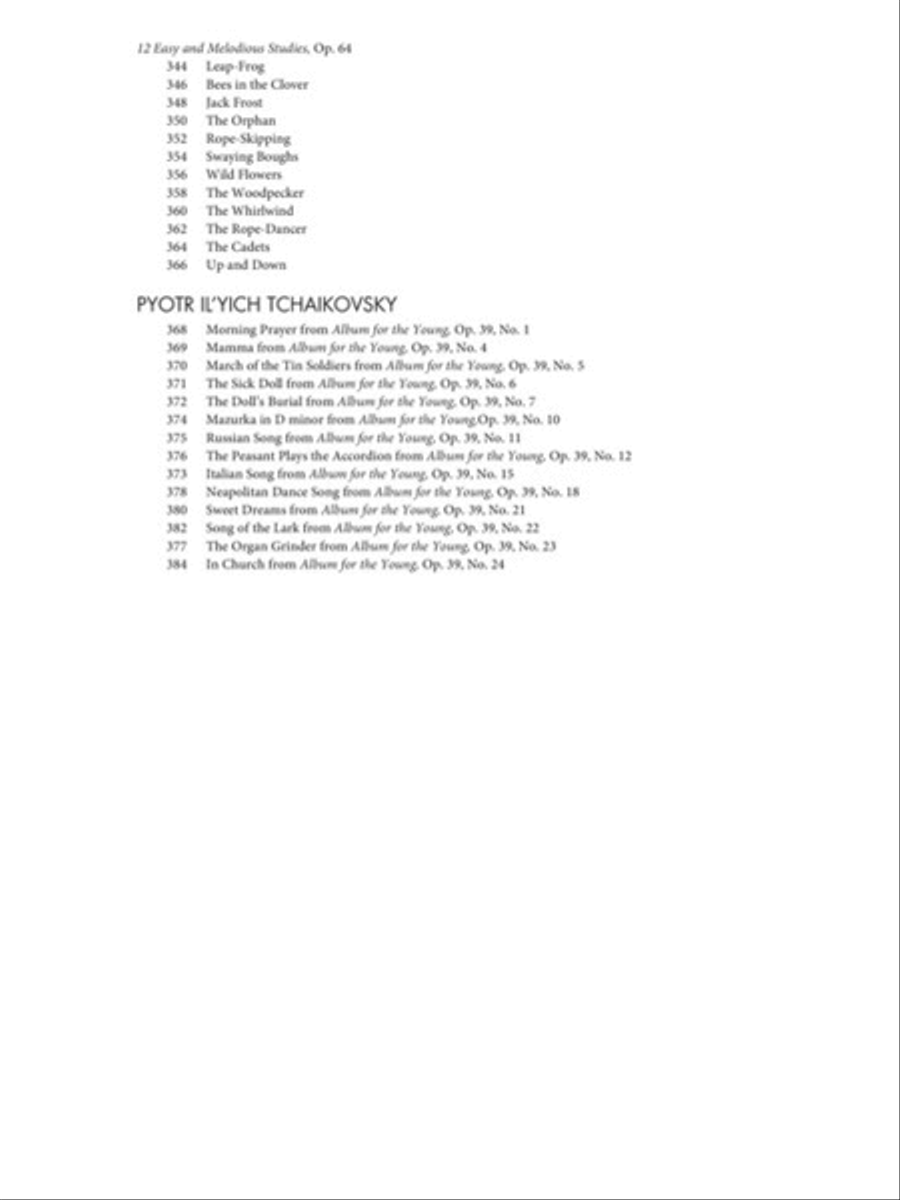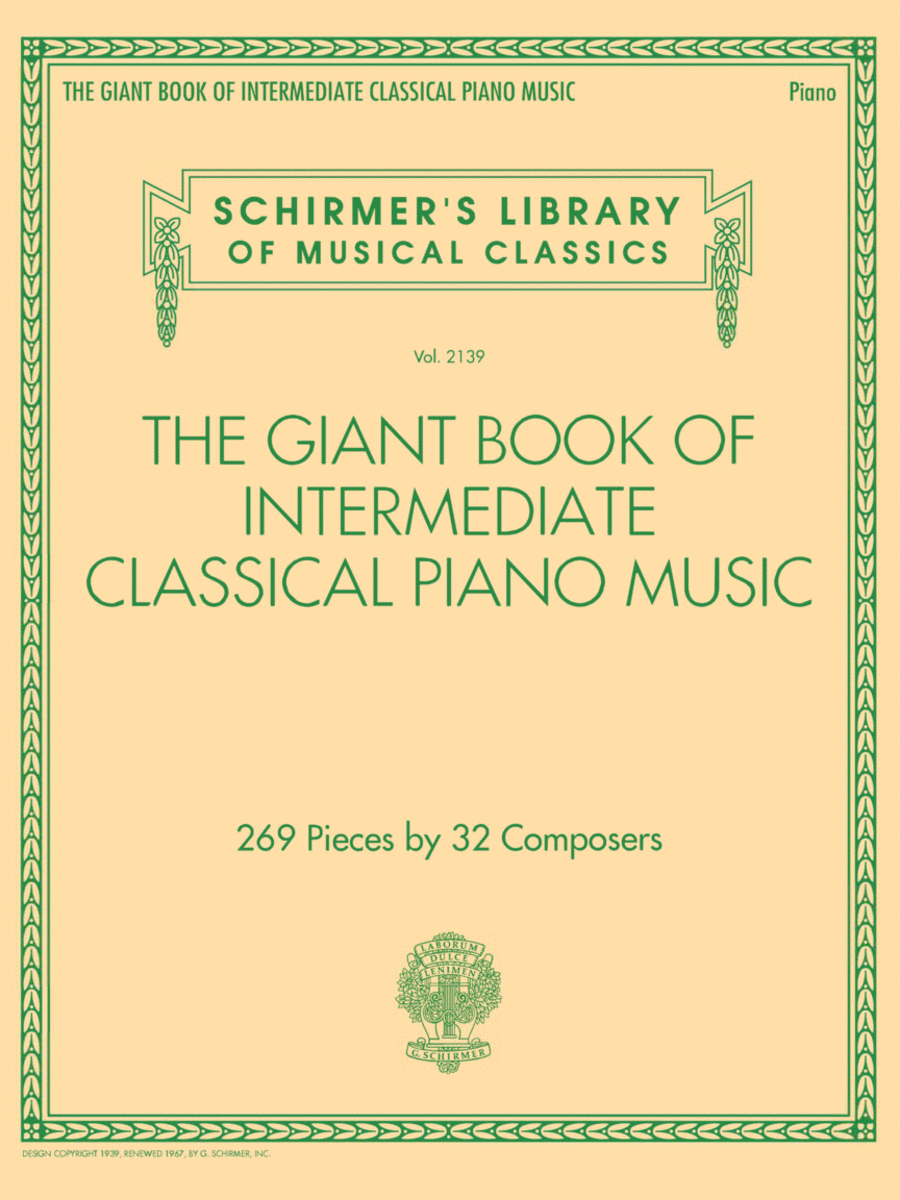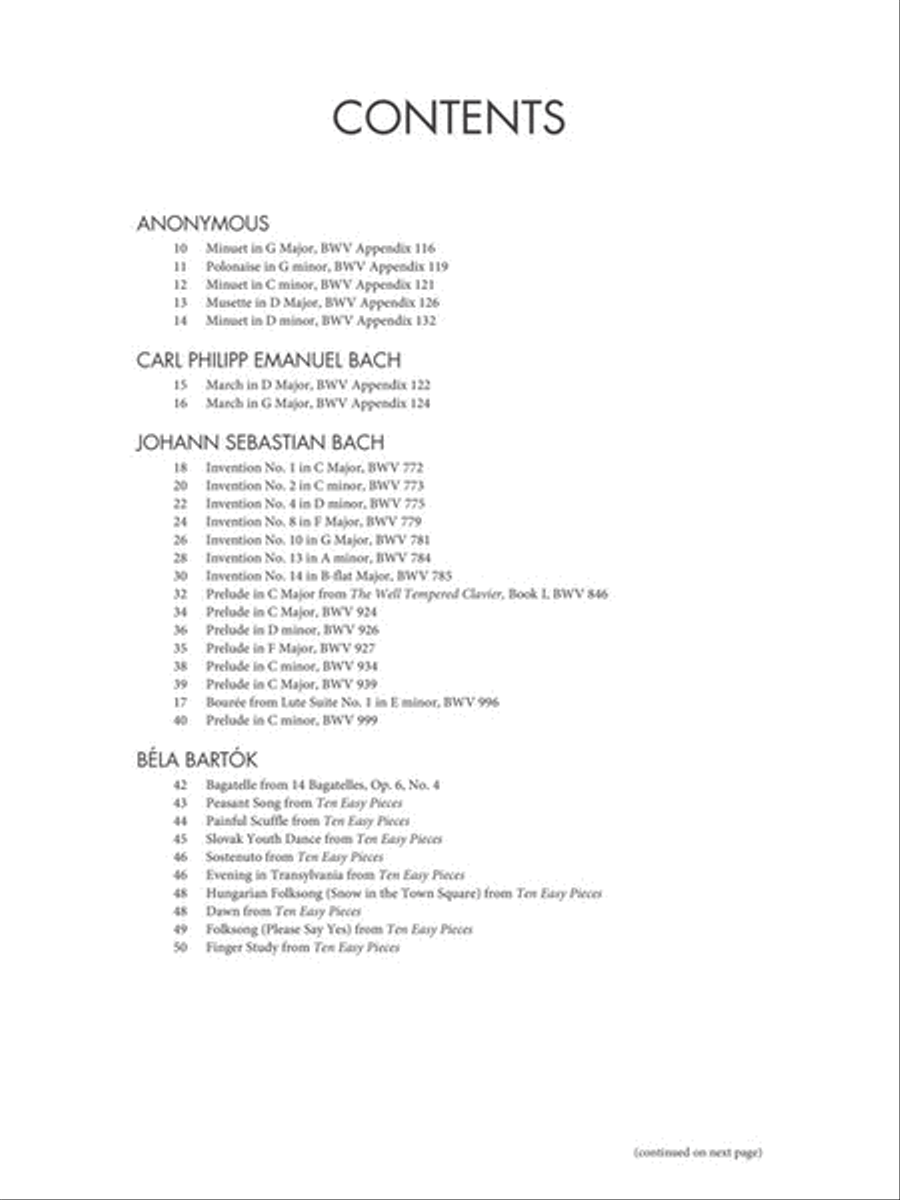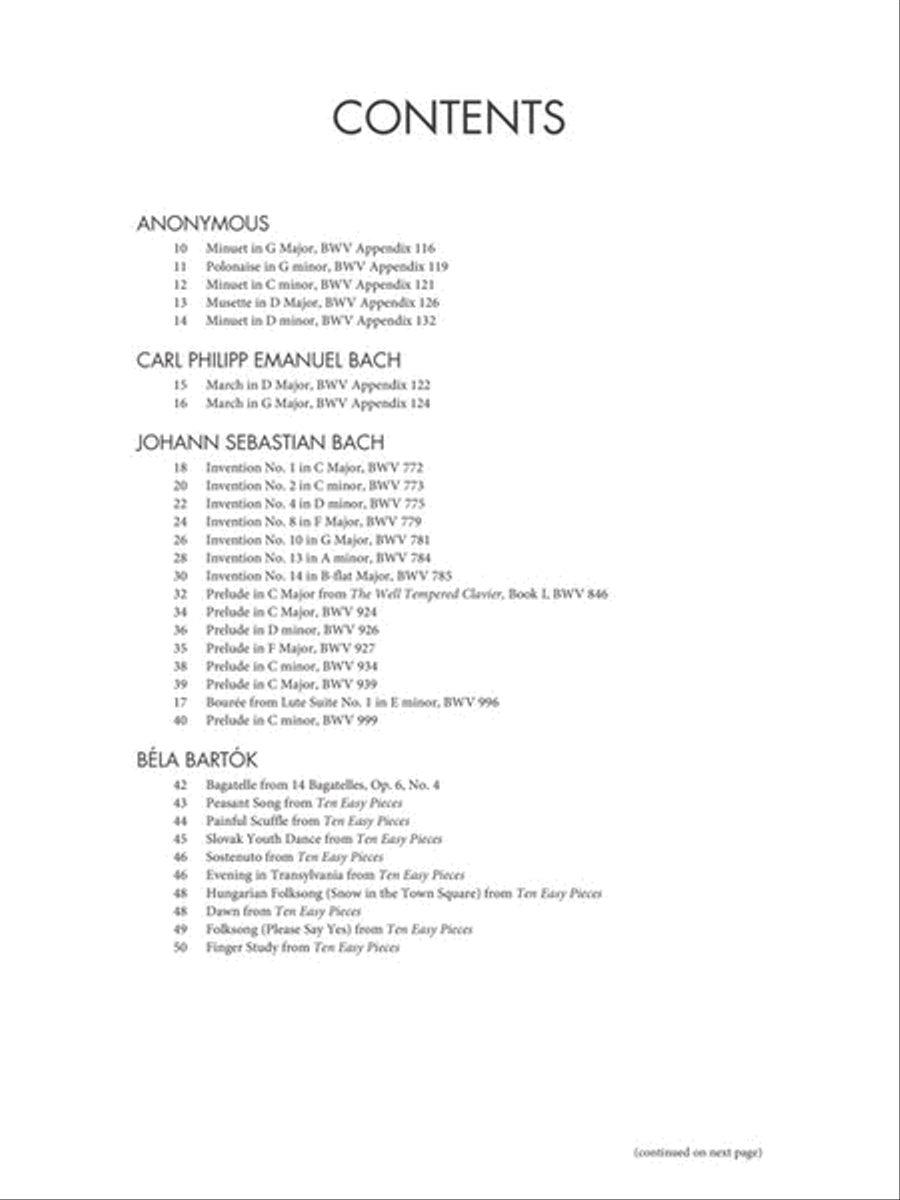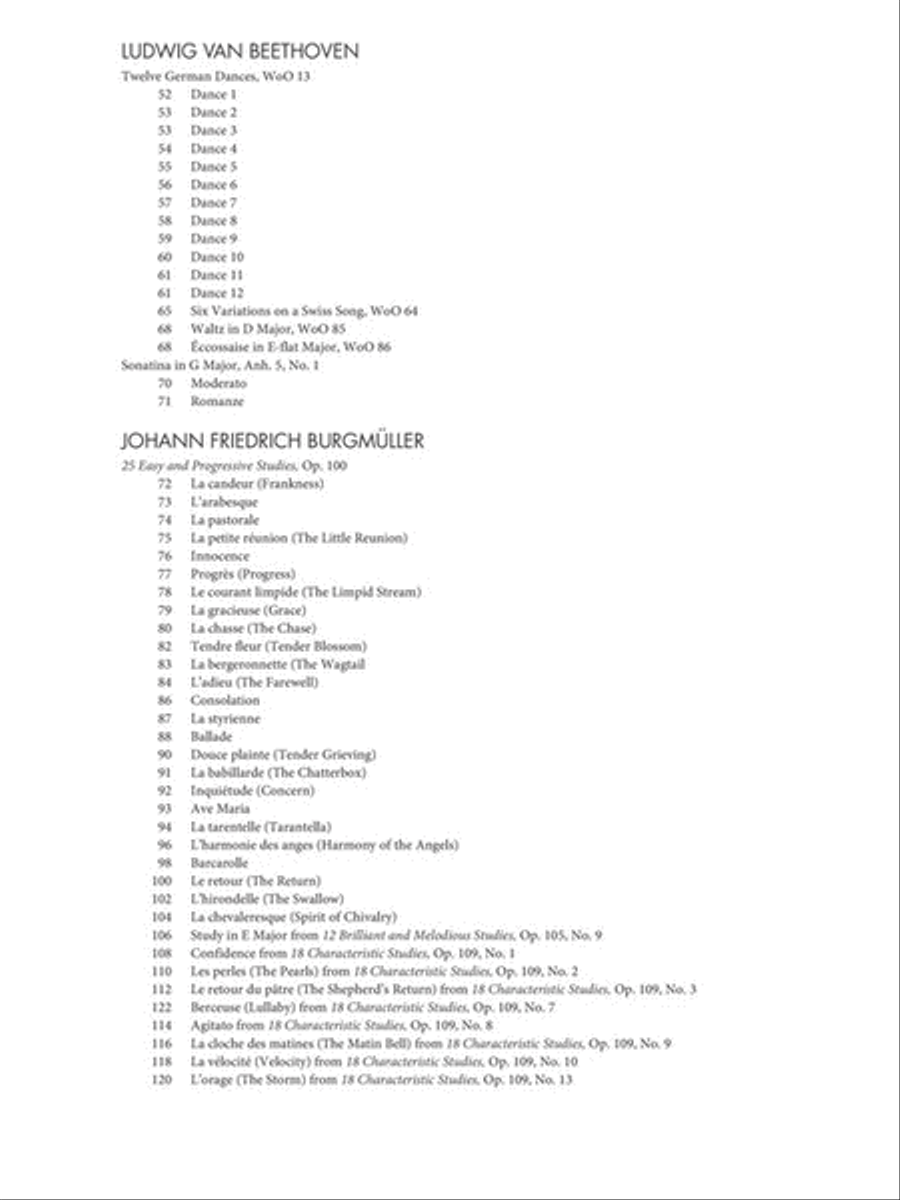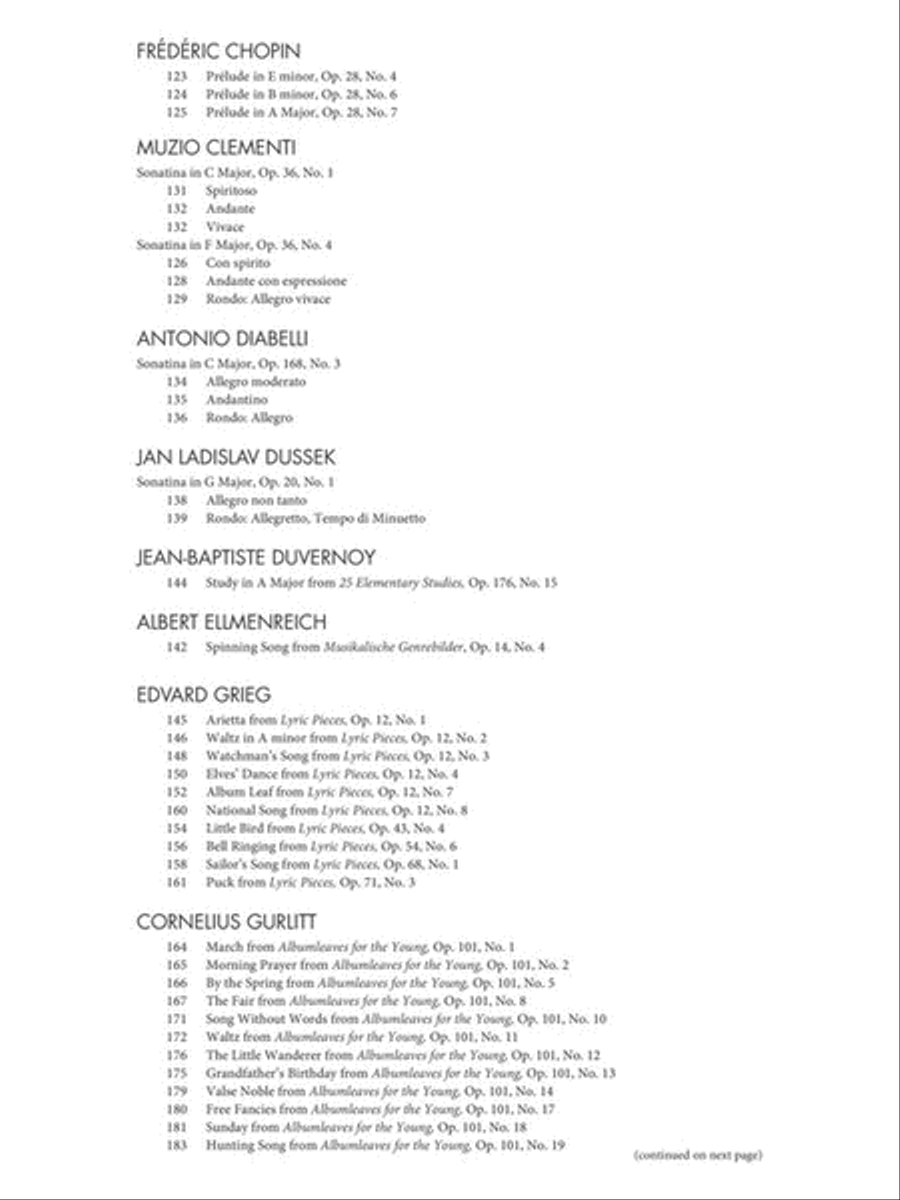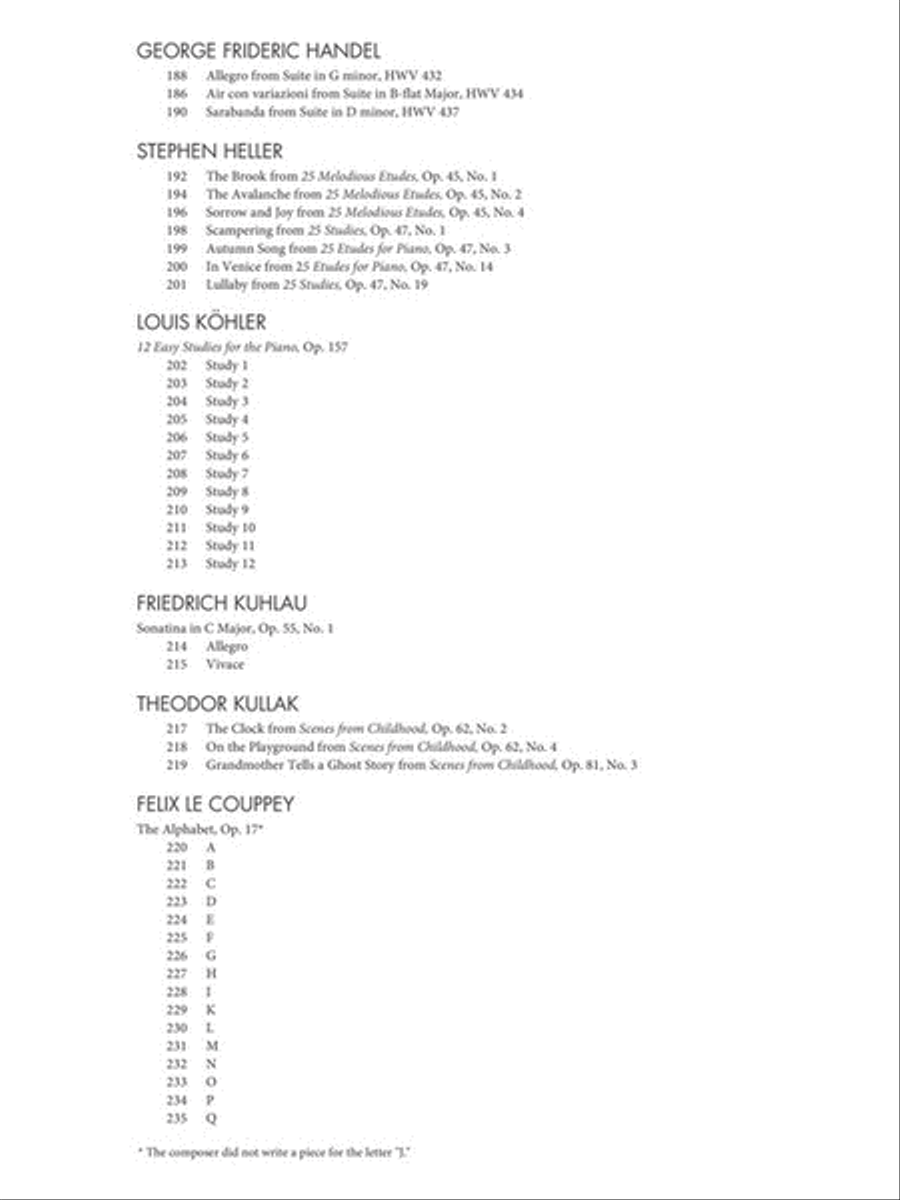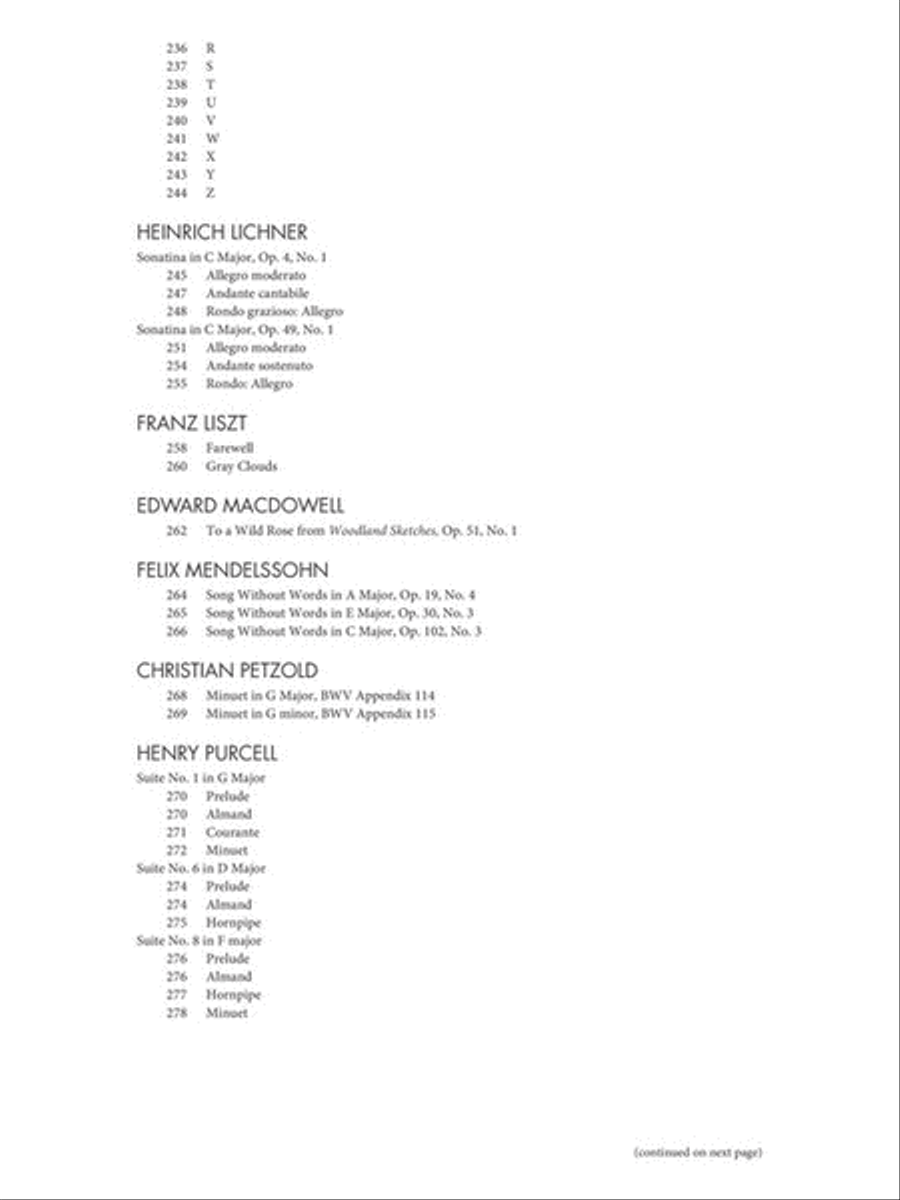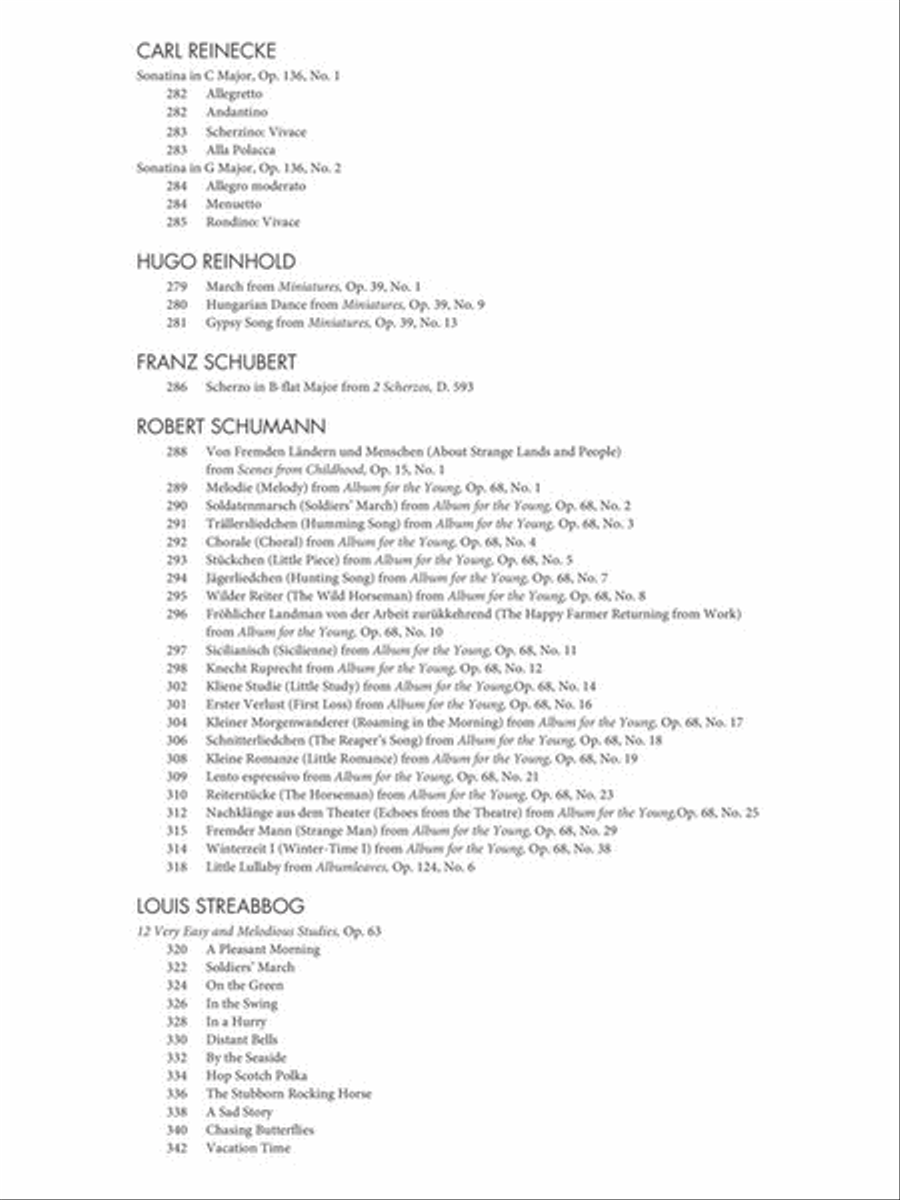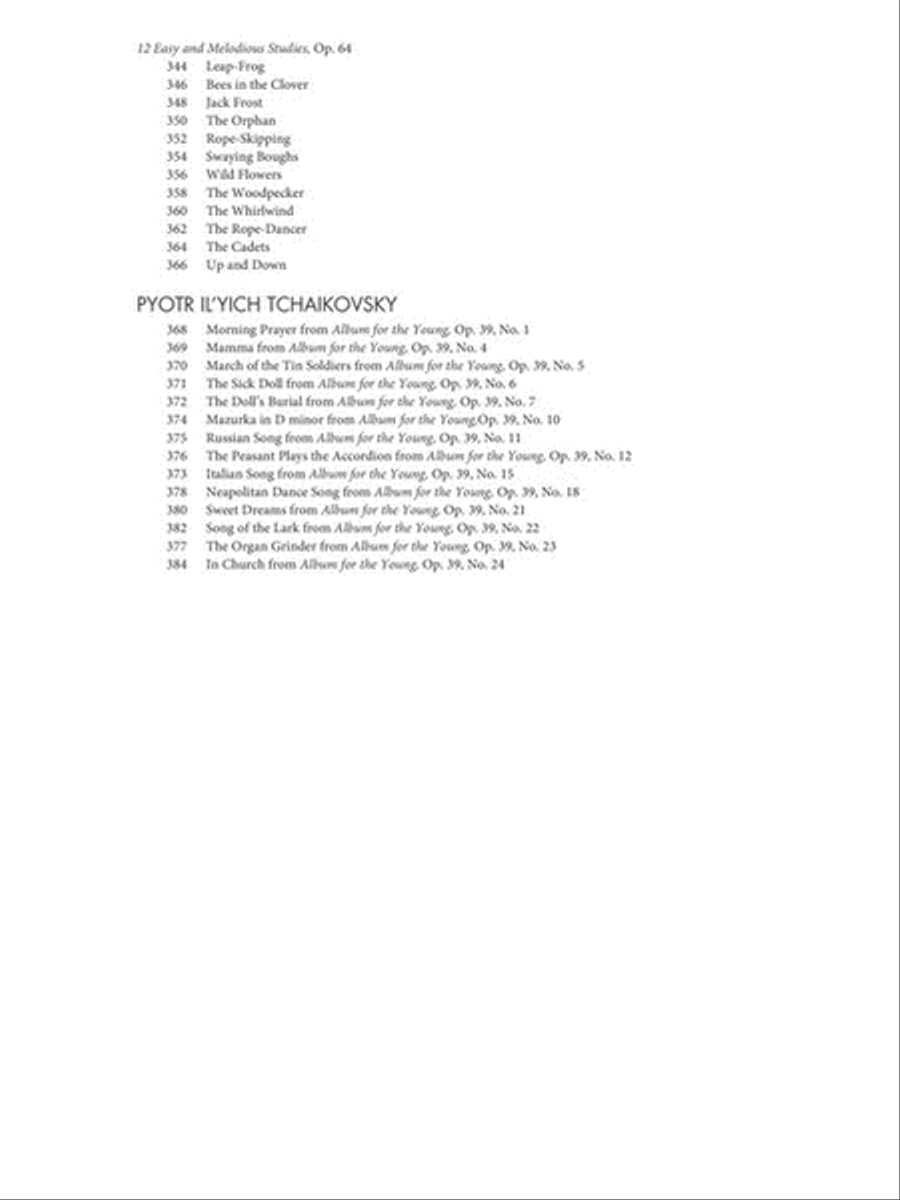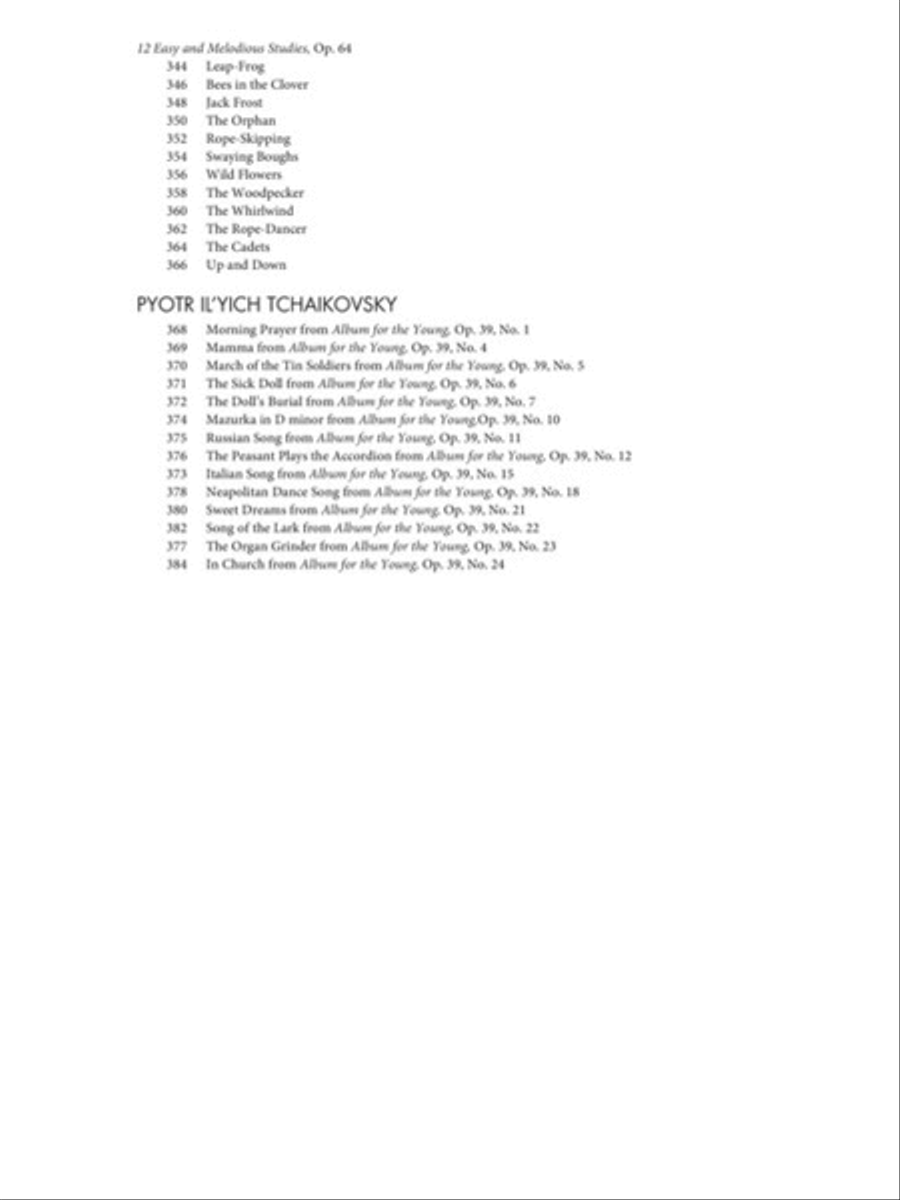 The Giant Book of Intermediate Classical Piano Music

Schirmer's Library of Musical Classics, Vol. 2139
Available
Ready to ship in 24 hours
Taxes/VAT calculated at checkout.
Detailed Description
Piano Solo Piano
SKU: HL.50601558
Schirmer's Library of Musical Classics, Vol. 2139
. Composed by Various. Piano. Classical. Softcover. 384 pages. G. Schirmer #LIB 2139. Published by G. Schirmer (HL.50601558).
ISBN 9781540039644. UPC: 888680892678. 9.0x12.0x0.91 inches.
269 pieces by 32 composers – nearly 400 pages of music!
Song List (216)
A, The Alphabet, Op. 17
Agitato, Op. 109, No. 8
Air Con Variazioni, HWV 434
Album Leaf, Op. 12, No. 7
Alla Polacca, Op. 136, No. 1
Allegretto, Op. 136, No. 1
Allegrezza, Op. 105, No. 9
Allegro, HWV 432
Allegro Moderato, Op. 136, No. 2
Allegro Moderato, Op. 168, No. 3
Allegro, Op. 55, No. 1
Almand, Suite No. 6 In D Major
Almand, Suite No. 8 In F Major
Almand, Suite No. 1 In G Major
Andante Con Espressione, Op. 36, No. 4
Andantino, Op. 136, No. 1
Andantino, Op. 168, No. 3
Arabesque, Op. 100, No. 2
Arietta, Op. 12, No. 1
Autumn Song, Op. 47, No. 3
The Avalanche, Op. 45, No. 2
Ave Maria, Op. 100, No. 19
B, The Alphabet, Op. 17
Bagatelle, Op. 6, No. 4
Ballade, Op. 100, No. 15
Barcarolle, Op. 100, No. 22
Bees In The Clover, Op. 64
Bourree, BWV 996
The Brook, Op. 45, No. 1
By The Seaside, Op. 63
By the Spring, Op. 101, No. 5
C, The Alphabet, Op. 17
The Cadets, Op. 64
The Chase, Op. 100, No. 9
Chasing Butterflies, Op. 63
The Chatterbox, Op. 100, No. 17
Chorale (Choral), Op. 68, No. 4
The Clock, Op. 62, No. 2
Con Spirito, Op. 36, No. 4
Confidence, Op. 109, No. 1
Consolation, Op. 100, No. 13
Courante, Suite No. 1 In G Major
D, The Alphabet, Op. 17
Dance 8, WoO 13
Dance 11, WoO 13
Dance 5, WoO 13
Dance 4, WoO 13
Dance 9, WoO 13
Dance 1, WoO 13
Dance 7, WoO 13
Dance 6, WoO 13
Dance 10, WoO 13
Dance 3, WoO 13
Dance 12, WoO 13
Dance 2, WoO 13
Dawn, Sz. 39
Distant Bells, Op. 63
The Doll's Burial, Op. 39, No. 7
E, The Alphabet, Op. 17
Echoes From The Theatre, Op. 68, No. 25
Elves' Dance, Op. 12, No. 4
Evening in Transylvania, Sz. 39
F, The Alphabet, Op. 17
The Fair, Op. 101, No. 8
The Farewell, Op. 100, No. 12
Finger Study, Sz. 39
First Loss (Erster Verlust), Op. 68, No. 16
Folksong (Please Say Yes), Sz. 39
Free Fancies, Op. 101, No. 17
G, The Alphabet, Op. 17
German Song, Op. 39, No. 17
Grace (La Gracieuse), Op. 100, No. 8
Grandfather's Birthday, Op. 101, No. 13
Grandmother Tells A Ghost Story, Op. 81, No. 3
Gypsy Song, Op. 39, No. 13
H, The Alphabet, Op. 17
The Happy Farmer Returning From Work, Op. 68, No. 10
Harmony Of The Angels, Op. 100, No. 21
Hop Scotch Polka, Op. 63
Hornpipe, Suite No. 6 In D Major
Hornpipe, Suite No. 8 In F Major
The Horseman, Op. 68, No. 23
Humming Song, Op. 68, No. 3
Hungarian Dance, Op. 39, No. 9
Hungarian Folksong, Sz. 39
Hunting Song (Jagerliedchen), Op. 68, No. 7
Hunting Song, Op. 101, No. 19
I, The Alphabet, Op. 17
In A Hurry, Op. 63
In Church, Op. 39, No. 24
In The Swing, Op. 63
In Venice, Op. 47, No. 14
Innocence, Op. 100, No. 5
Inquietude, Op. 100, No. 18
Italian Song, op. 39, no. 15
Jack Frost, Op. 64
K, The Alphabet, Op. 17
Knecht Ruprecht, Op. 68, No. 12
L, The Alphabet, Op. 17
La Styrienne, Op. 100, No. 14
Leap-Frog, Op. 64
Lento Espressivo, Op. 68, No. 21
The Limpid Stream, Op. 100, No. 7
Little Lullaby, Op. 124, No. 6
The Little Reunion, Op. 100, No. 4
Little Romance, Op. 68, No. 19
Little Study (Kleine Studie), Op. 68, No. 14
The Little Wanderer, Op. 101, No. 12
Lullaby, Op. 47, No. 19
Lullaby, Op. 109, No. 7
M, The Alphabet, Op. 17
Mama, Op. 39, No. 4
March Of The Tin Soldiers, Op. 39, No. 5
March, Op. 39, No. 1
The Matin Bell, Op. 109, No. 9
Mazurka In D Minor, Op. 39, No. 10
Melody, Op. 68, No. 1
Menuetto, Op. 136, No. 2
Minuet in G Major, BWV Anh. 114
Minuet in G Minor, BWV Anh. 115
Minuet, Suite No. 8 In F Major
Minuet, Suite No. 1 In G Major
Moderato, Anh. 5, No. 1
Morning Prayer (Morgengebet), Op. 101, No. 2
Morning Prayer, Op. 39, No. 1
N, The Alphabet, Op. 17
Neapolitan Dance Song, Op. 39, No. 18
O, The Alphabet, Op. 17
Of Strange Lands And People, Op. 15, No. 1
On The Green, Op. 63
On The Playground, Op. 62, No. 4
The Organ Grinder, Op. 39, No. 23
The Orphan, Op. 64
P, The Alphabet, Op. 17
Painful Scuffle, Sz. 39
Pastorale, Op. 100, No. 3
The Pearls, Op. 109, No. 2
The Peasant Plays The Accordion, Op. 39, No. 12
Peasant Song, Sz. 39
A Pleasant Morning, Op. 63
Prelude No. 1 In C Major, BWV 846
Prelude, Suite No. 1 In G Major
Prelude, Suite No. 8 In F Major
Prelude, Suite No. 6 In D Major
Progress (Progres), Op. 100, No. 6
Puck, Op. 71, No. 3
Q, The Alphabet, Op. 17
R, The Alphabet, Op. 17
The Reaper's Song (Schnetterliedchen), Op. 68, No. 18
The Return, Op. 100, No. 23
Roaming In The Morning, Op. 68, No. 17
Rondino: Vivace, Op. 136, No. 2
Rondo: Allegro, Op. 168, No. 3
Rondo: Allegro Vivace, Op. 36, No. 4
The Rope-Dancer, Op. 64
Rope-Skipping, Op. 64
Russian Song, Op. 39, No. 11
S, The Alphabet, Op. 17
A Sad Story, Op. 63
Sarabande, HWV 437
Scampering, Op. 47, No. 1
Scherzino: Vivace, Op. 136, No. 1
Scherzo in B-flat Major, D. 593
The Shepherd's Return, Op. 109, No. 3
Sicilienne, Op. 68, No. 11
The Sick Doll, Op. 39, No. 6
Sincerity (La Candeur), Op. 100, No. 1
Slovak Youth Dance, Sz. 39
Soldiers' March (Soldatenmarsch), Op. 68, No. 2
Soldiers' March, Op. 63
The Song Of The Lark, Op. 39, No. 22
Song Without Words, Op. 101, No. 10
Sorrow And Joy, Op. 45, No. 4
Sostenuto, Sz. 39
Spirit Of Chivalry, Op. 100, No. 25
The Storm, Op. 109, No. 13
Strange Man, Op. 68, No. 29
The Stubborn Rocking Horse, Op. 63
Study 8, Op. 157
Study 11, Op. 157
Study 5, Op. 157
Study 4, Op. 157
Study in A Major
Study 9, Op. 157
Study 1, Op. 157
Study 7, Op. 157
Study 6, Op. 157
Study 10, Op. 157
Study 3, Op. 157
Study 12, Op. 157
Sunday, Op. 101, No. 18
The Swallow, Op. 100, no. 24
Swaying Boughs, Op. 64
Sweet Dreams, op. 39, no. 21
T, The Alphabet, Op. 17
Tarantella, Op. 100, No. 20
Tender Blossom, Op. 100, No. 10
Tender Grieving, Op. 100, No. 16
To a Wild Rose, Op. 51, no. 1
U, The Alphabet, Op. 17
Up And Down, Op. 64
Vacation Time, Op. 63
Valse Noble, Op. 101, No. 14
Velocity, Op. 109, No. 10
Vivace, Op. 55, No. 1
The Wagtail, Op. 100, No. 11
Waltz In A Minor, Op. 12, No. 2
Waltz, Op. 101, No. 11
Watchman's Song, Op. 12, No. 3
The Whirlwind, Op. 64
Wild Flowers, Op. 64
The Wild Horseman (Wilder Reiter), Op. 68, No. 8
Winter-Time I, Op. 68, No. 38
The Woodpecker, Op. 64
Y, The Alphabet, Op. 17
Z, The Alphabet, Op. 17