Piano Variations

Piano Solo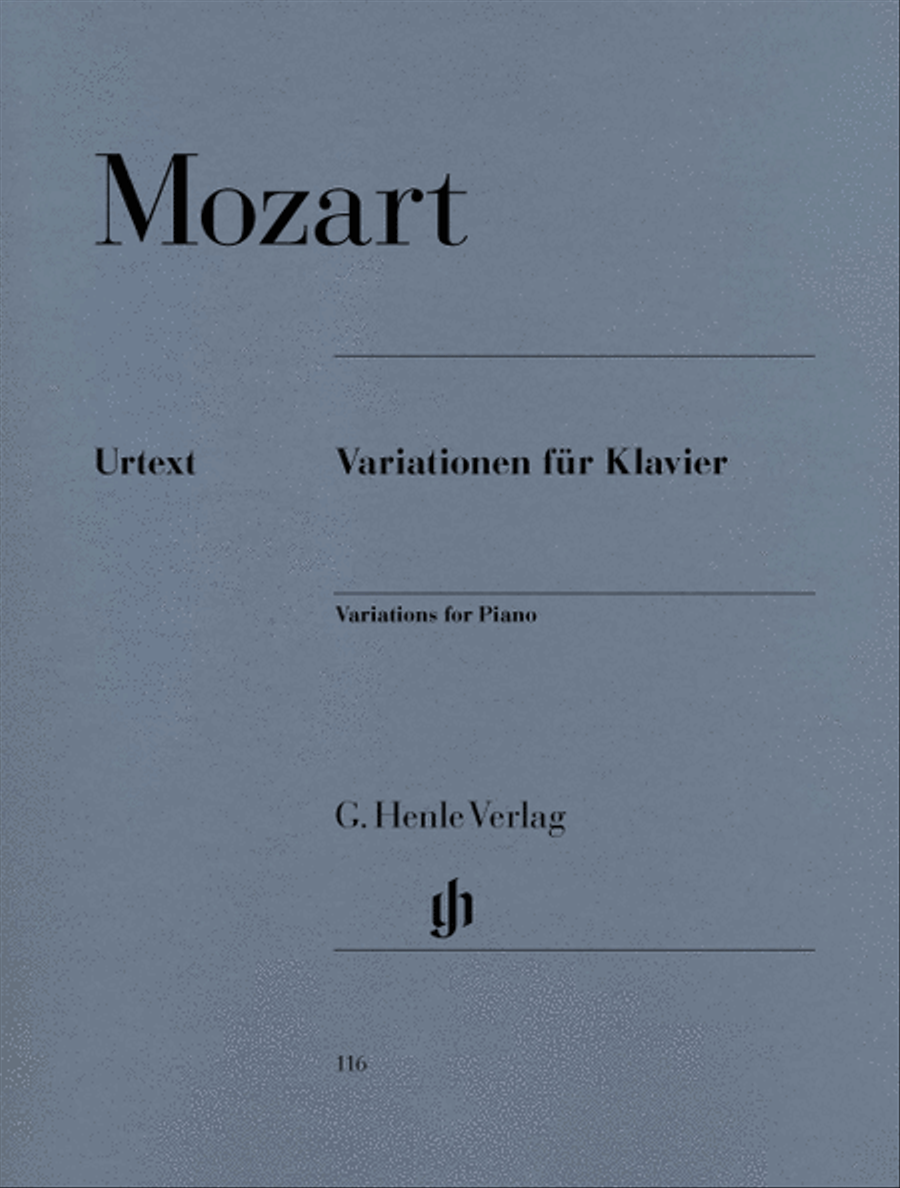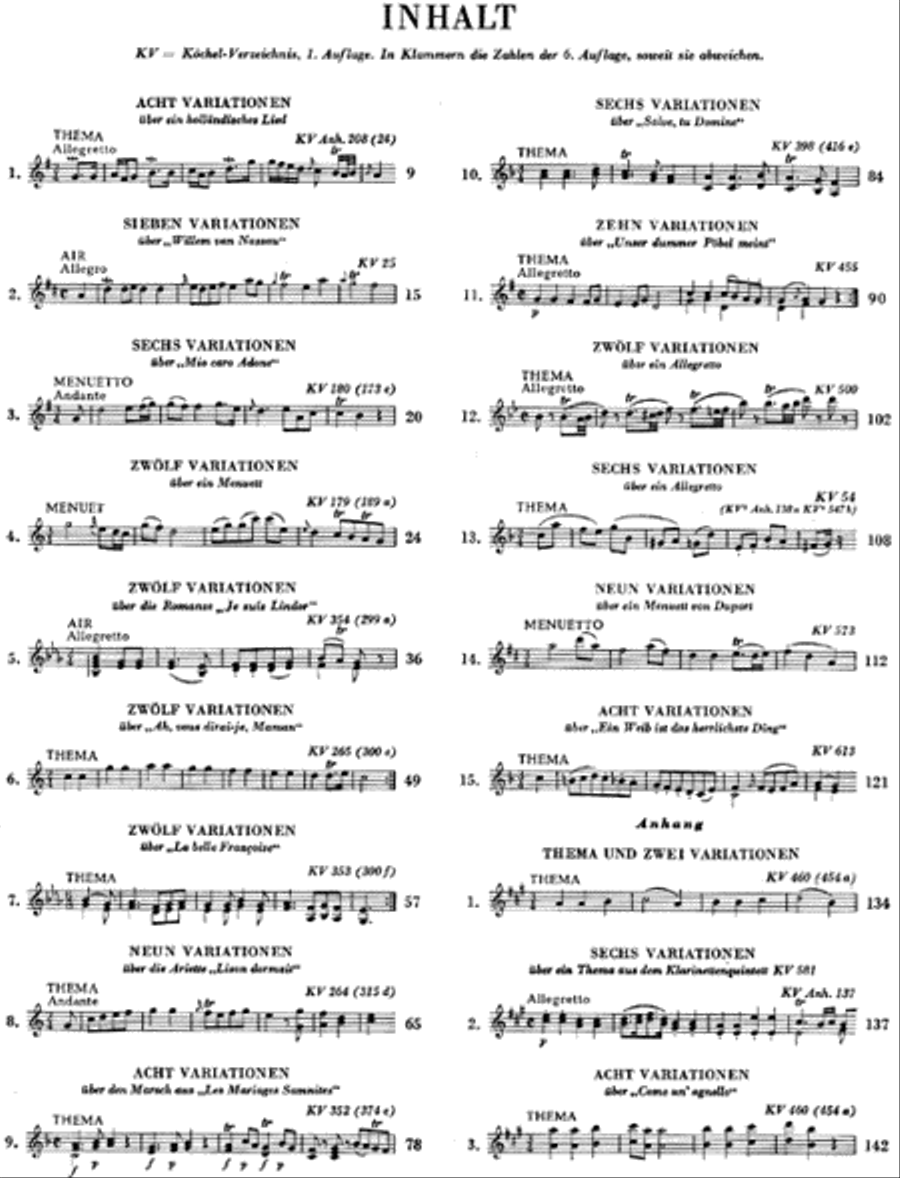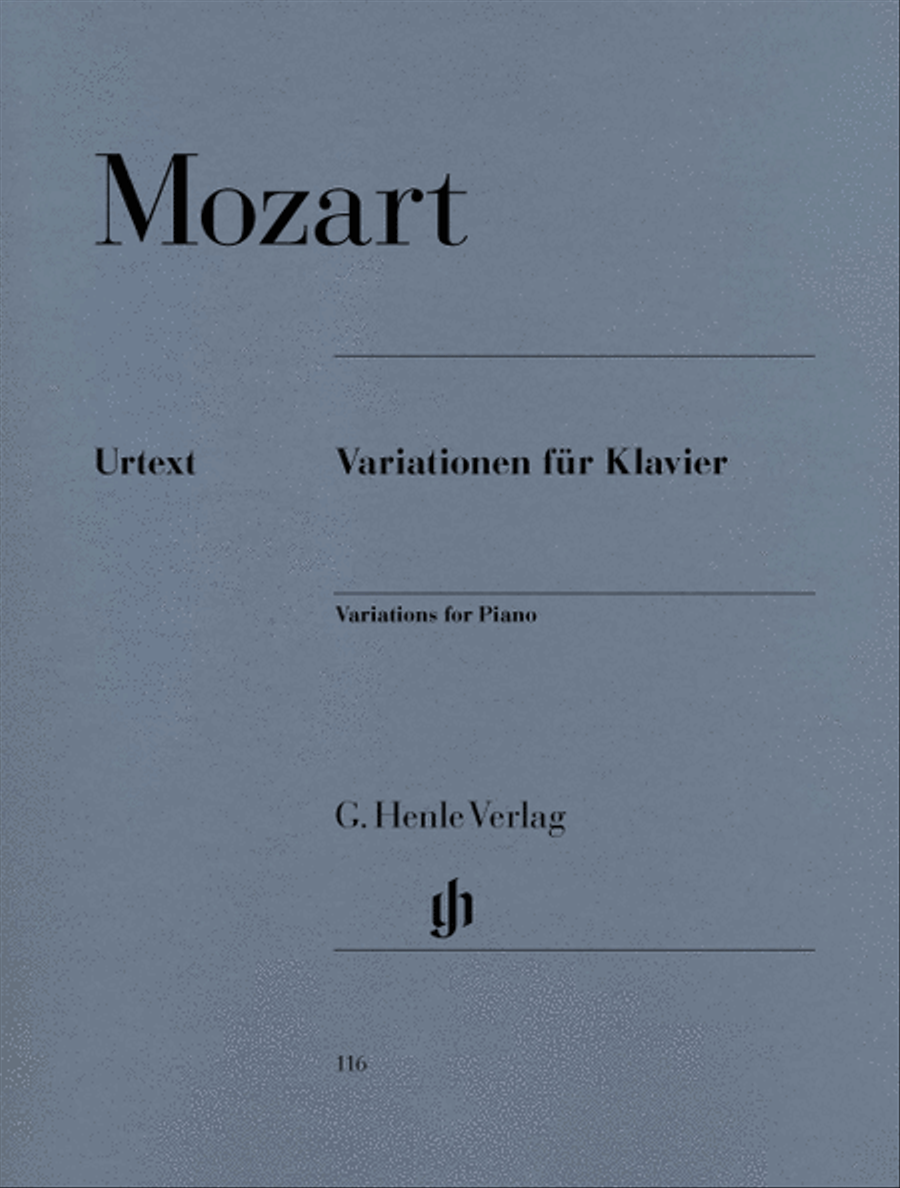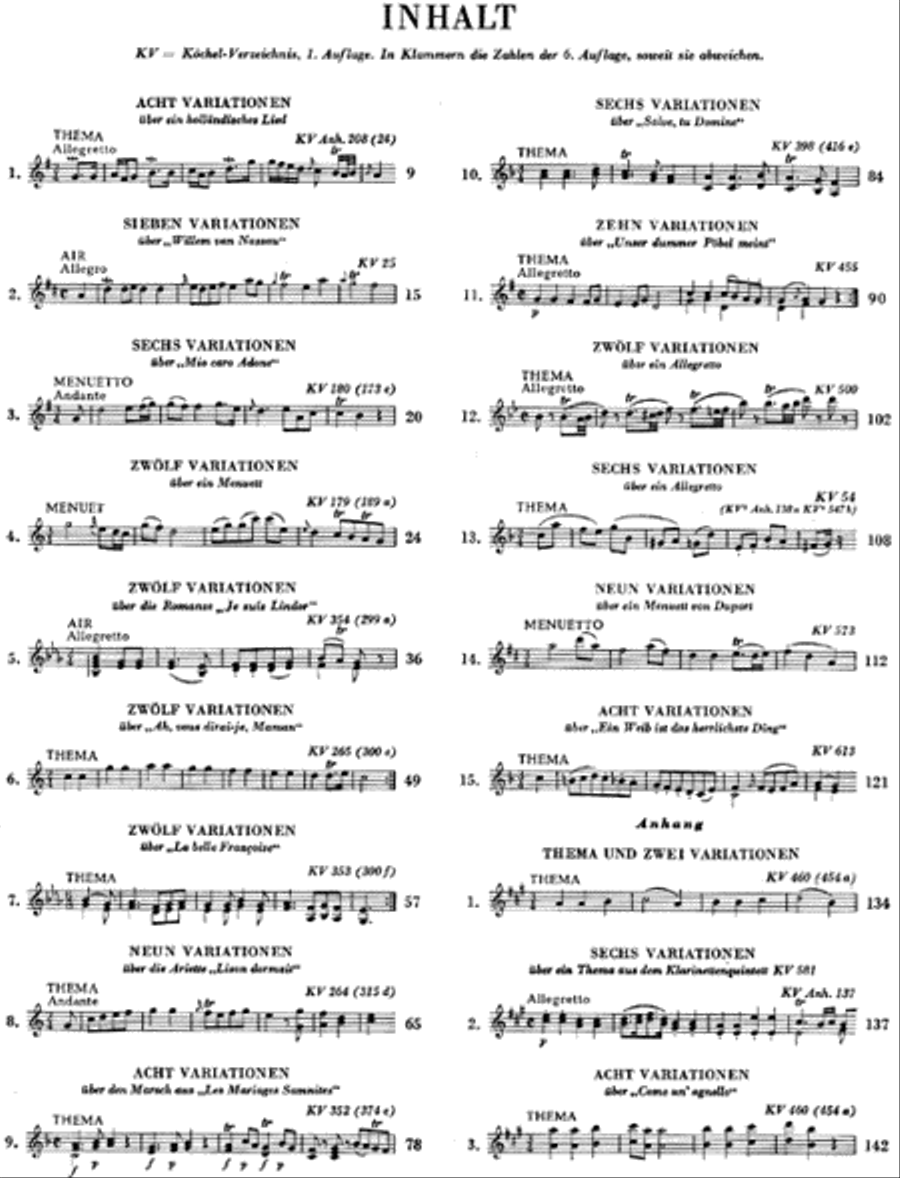 Piano Variations

Piano Solo
Available
Ready to ship in 24 hours
Taxes/VAT calculated at checkout.
Detailed Description
Piano (Piano solo) - SMP Level 9 (Advanced)
SKU: HL.51480116
Piano Solo
. Composed by Wolfgang Amadeus Mozart. Edited by Ewald Zimmermann. Sheet Music. Paperbound. Henle Music Folios. Pages: 151. Classical. Softcover. 160 pages. G. Henle #HN116. Published by G. Henle (HL.51480116).
ISBN 9790201801162. UPC: 884088173210. 9.25x12.25x0.453 inches.
Though 18 piano sonatas is a respectable amount for any composer, Mozart also left almost as many – namely 15 – variation cycles. Variations on popular themes, but also on original tunes, were a kind of fashion craze back then, and Mozart made his contribution in this field as well. Certainly, financial considerations played a role here; after all, fashionable items sell well. Thus Mozart's variations, in contrast to his piano sonatas, were all published during his lifetime. The fact that these were articles of taste did not mean that they were not of the finest quality, especially with Mozart. In these variations, a wealth of imagination and stylish elegance come together for joyful music-making. One should not underestimate them, but simply take pleasure in these wonderful works. Contents: Variations on a Dutch Song, KV Anh. 208 • Variations on "Willem van Nassau" in D Major, KV 25 • Variations on "Mio caro Adone" KV, 180 • Variations on a Minuet, KV 179 • Variations on the Ariette "Lison dormait," KV 264 • Variations on a March from "Les Mariages Samnites," KV 352 • Variations on "La belle Francoise," KV 353 • Variations on "Je suis Lindor," KV 354 • Variations on "Salve, tu Domine," KV 398 • Variations on "Unser dummer Pobel meint," KV 455 • Variations on an Allegretto, KV 500 • Variations on an Allegretto, KV 54 • Variations on a Minuet by Duport, KV 573 • Variations on "Ein Weib ist das herrlichste Ding," KV 613 • Variations on "Come un'agnello," KV 460 • Theme and two Variations, KV 460 • Variations on the Final Theme of the Clarinet Quintet, K. 581, KV Anh. 137 • Variations on "Ah, vou dirai-je Maman," KV 265.
About Henle Urtext
What I can expect from Henle Urtext editions:
error-free, reliable musical texts based on meticulous musicological research - fingerings and bowings by famous artists and pedagogues
preface in 3 languages with information on the genesis and history of the work
Critical Commentary in 1 – 3 languages with a description and evaluation of the sources and explaining all source discrepancies and editorial decisions
most beautiful music engraving
page-turns, fold-out pages, and cues where you need them
excellent print quality and binding
largest Urtext catalogue world-wide
longest Urtext experience (founded 1948 exclusively for "Urtext" editions)
About SMP Level 9 (Advanced)
All types of major, minor, diminished, and augmented chords spanning more than an octave. Extensive scale passages.
Song List (18)
8 Variations on a Dutch song, KV Anh. 206 (24) (Piano solo)
7 Variations on Willem van Nassau, KV 25 (Piano solo)
6 Variations on Mio caro Adone, KV 180 (173c) (Piano solo)
12 Variations on a minuet, KV 179 (189a) (Piano solo)
9 Variations on the Ariette Lison dormait, KV 264 (315d) (Piano solo)
12 Variations on Ah, vous dirai-je, Maman, KV 265 (300e) (Piano solo)
8 Variations on a March from Les Mariages Samnites, KV 352 (374c) (Piano solo)
12 Variations on a romance Je suis Lindor, KV 354 (299a) (Piano solo)
6 Variations on Salve, tu Domine, KV 398 (416e) (Piano solo)
10 Variations on Unser dummer Pobel meint, KV 455 (Piano solo)
12 Variations on an allegretto, KV 500 (Piano solo)
6 Variations on an allegretto, KV 54 (547b) (Piano solo)
9 Variations on a minuet by Duport, KV 573 (Piano solo)
8 Variations on Ein Weib ist das herrlichste Ding, KV 613 (Piano solo)
8 Variations on Come un'agnello (appendix), KV 460 (454a) (Piano solo)
Theme and two variations (appendix), KV 460 (454a) (Piano solo)
6 Variations on the final theme of the Clarinet quintet KV 581 (appendix), KV Anh. 137 (Piano solo)
12 Variations on La belle Francoise, KV 353 (300f) (Piano solo)