Masterpieces of Piano Music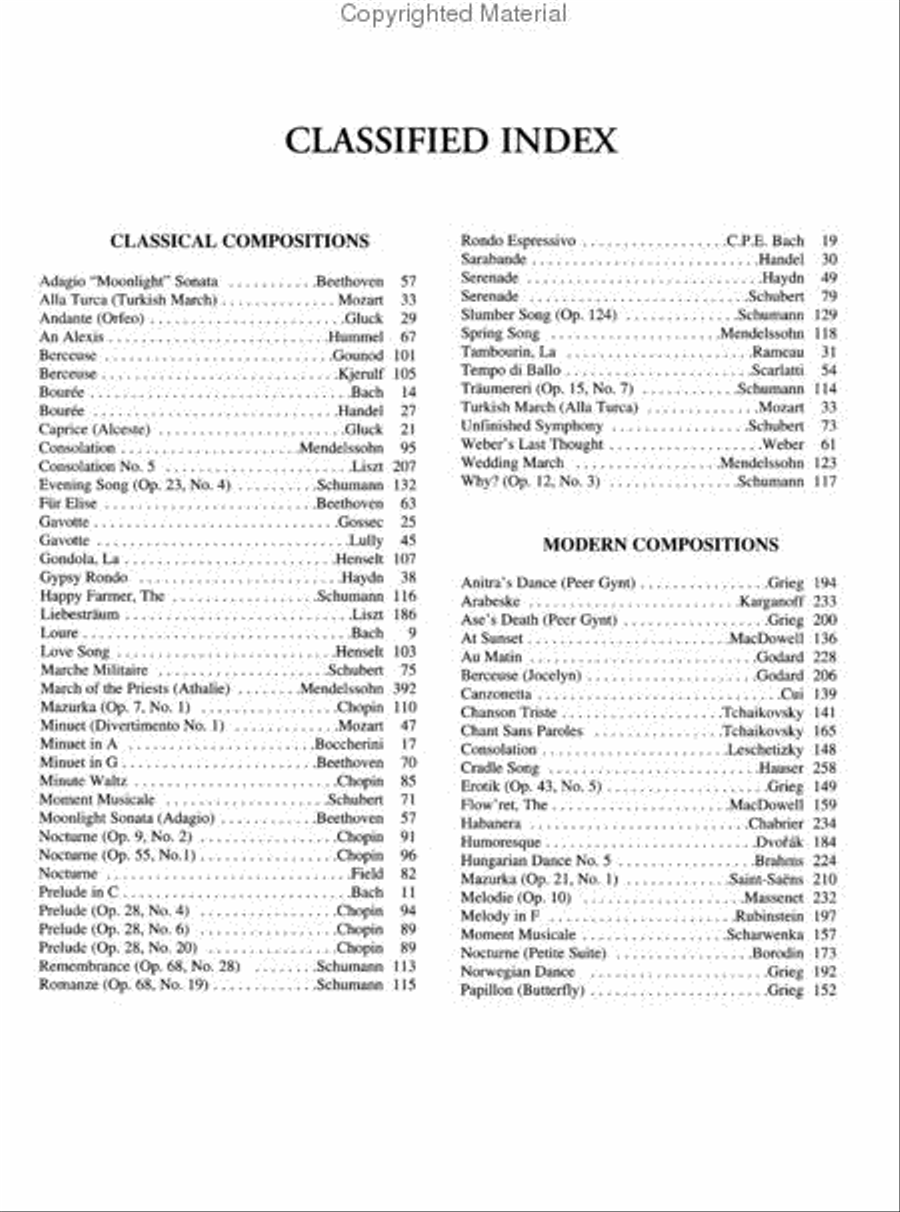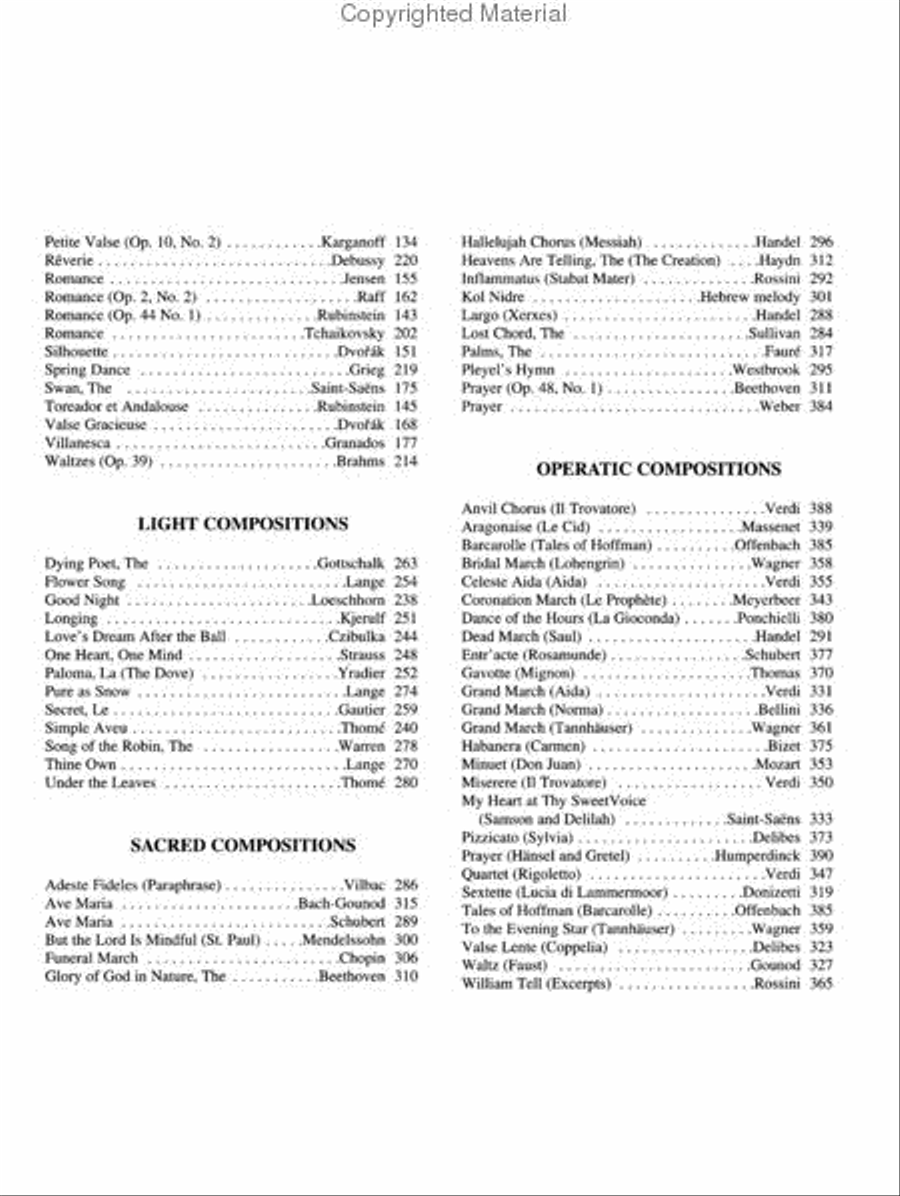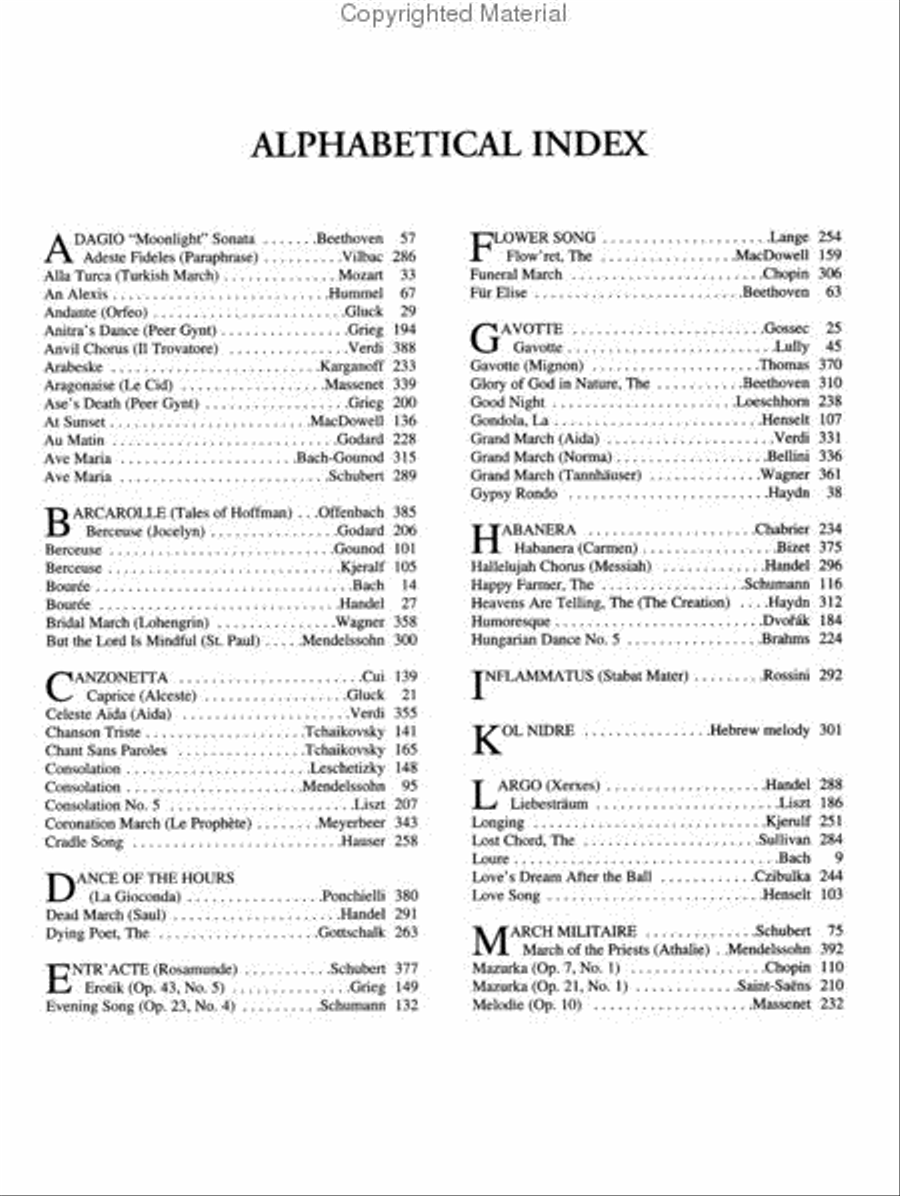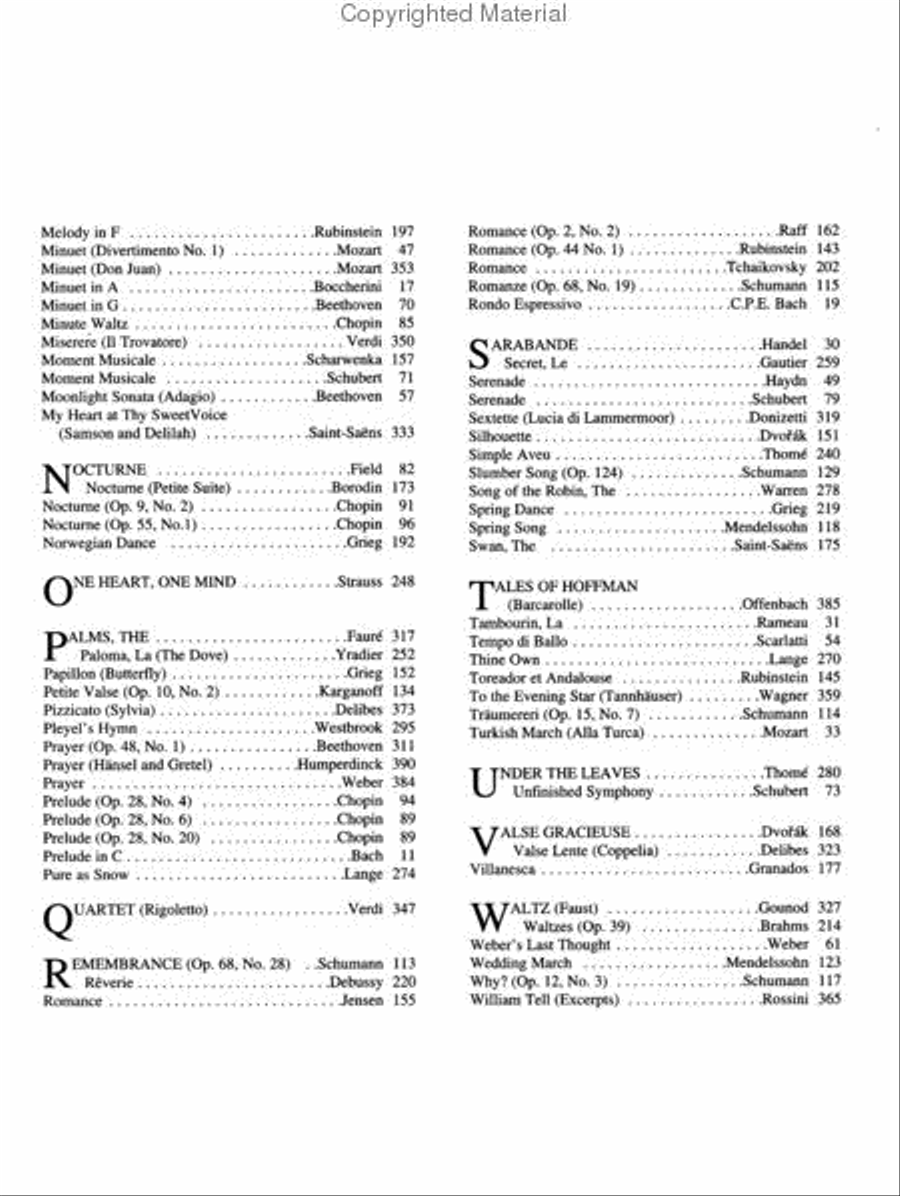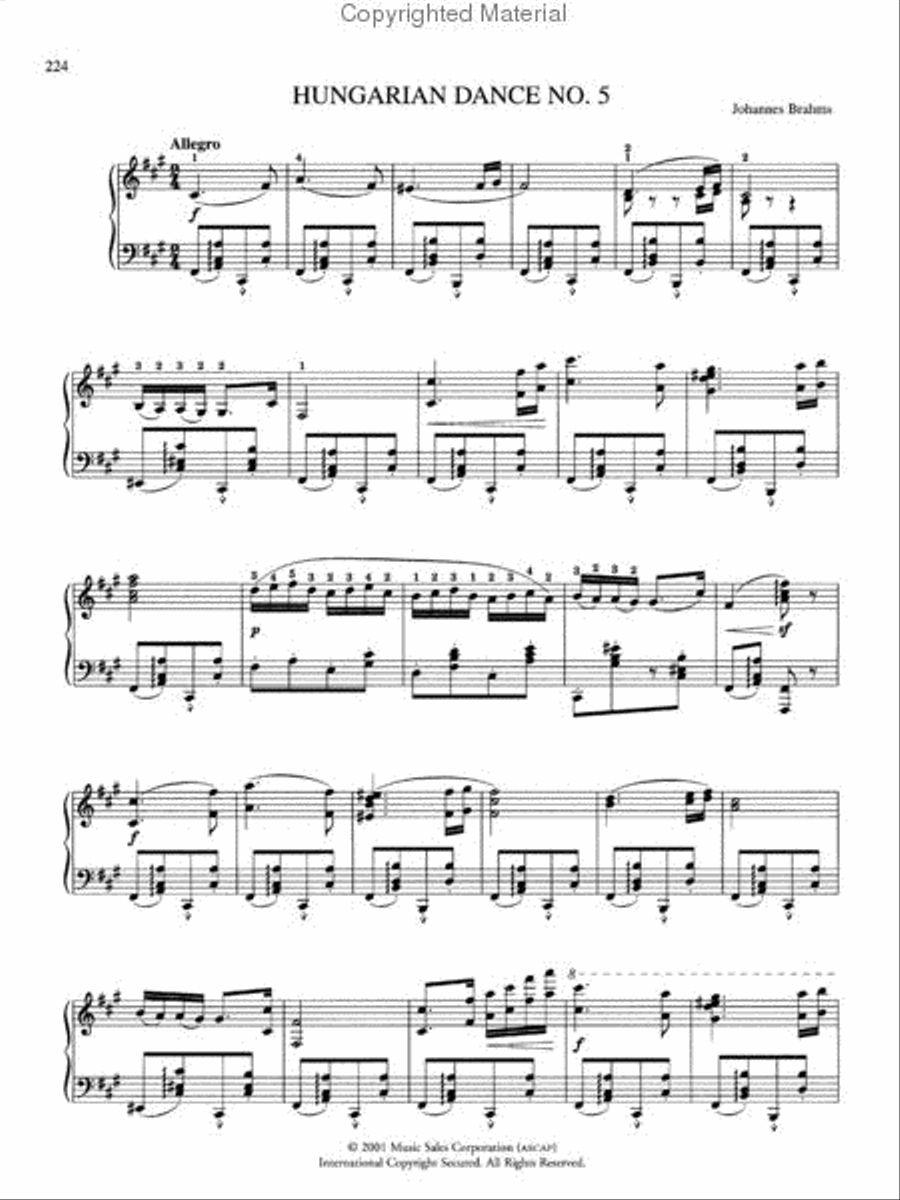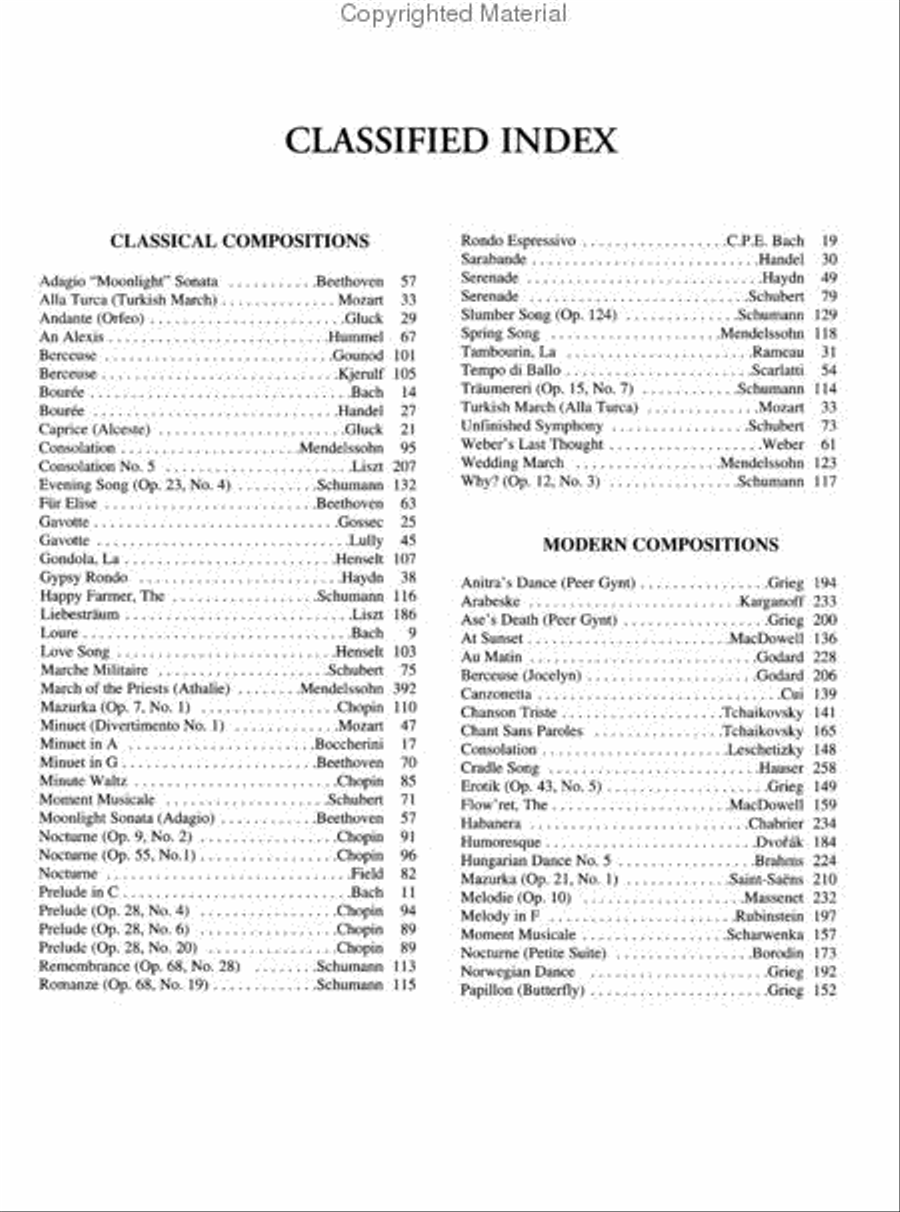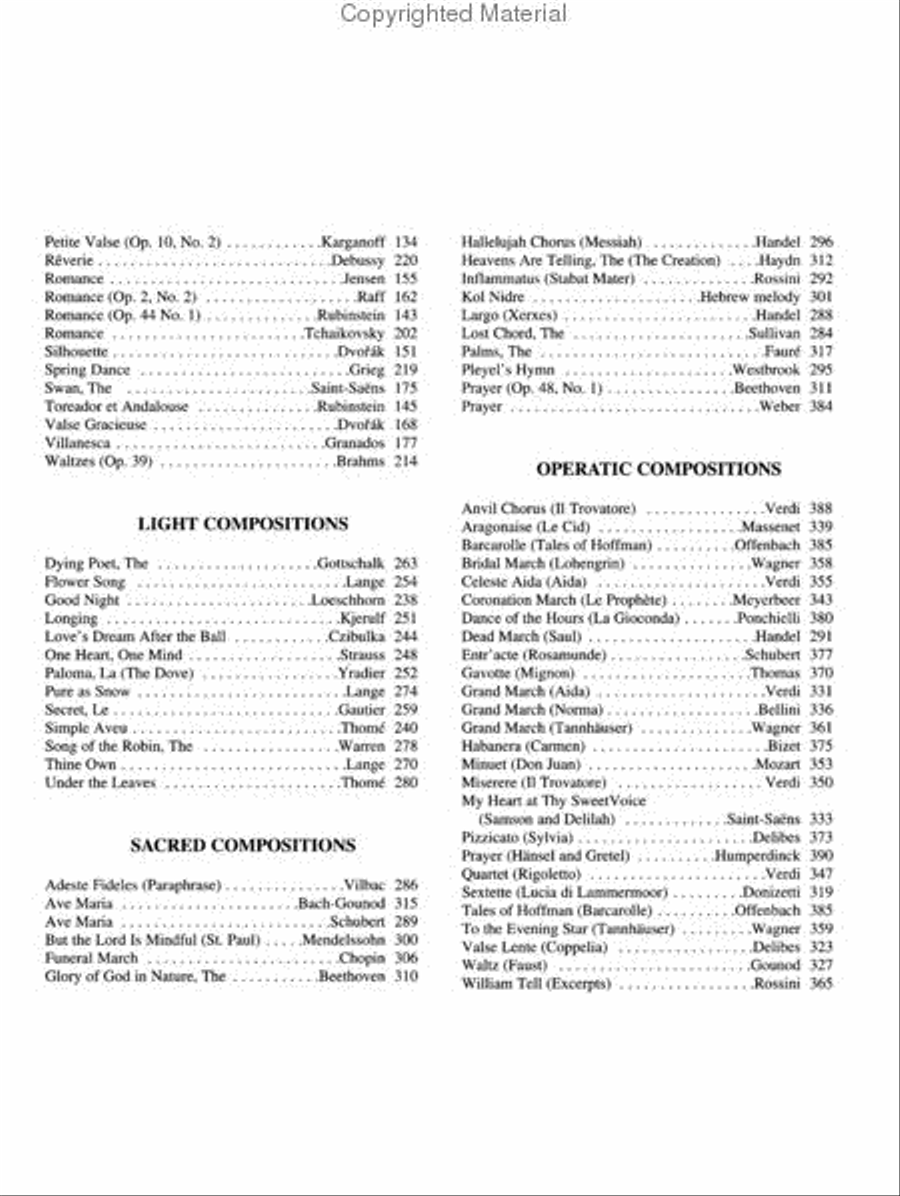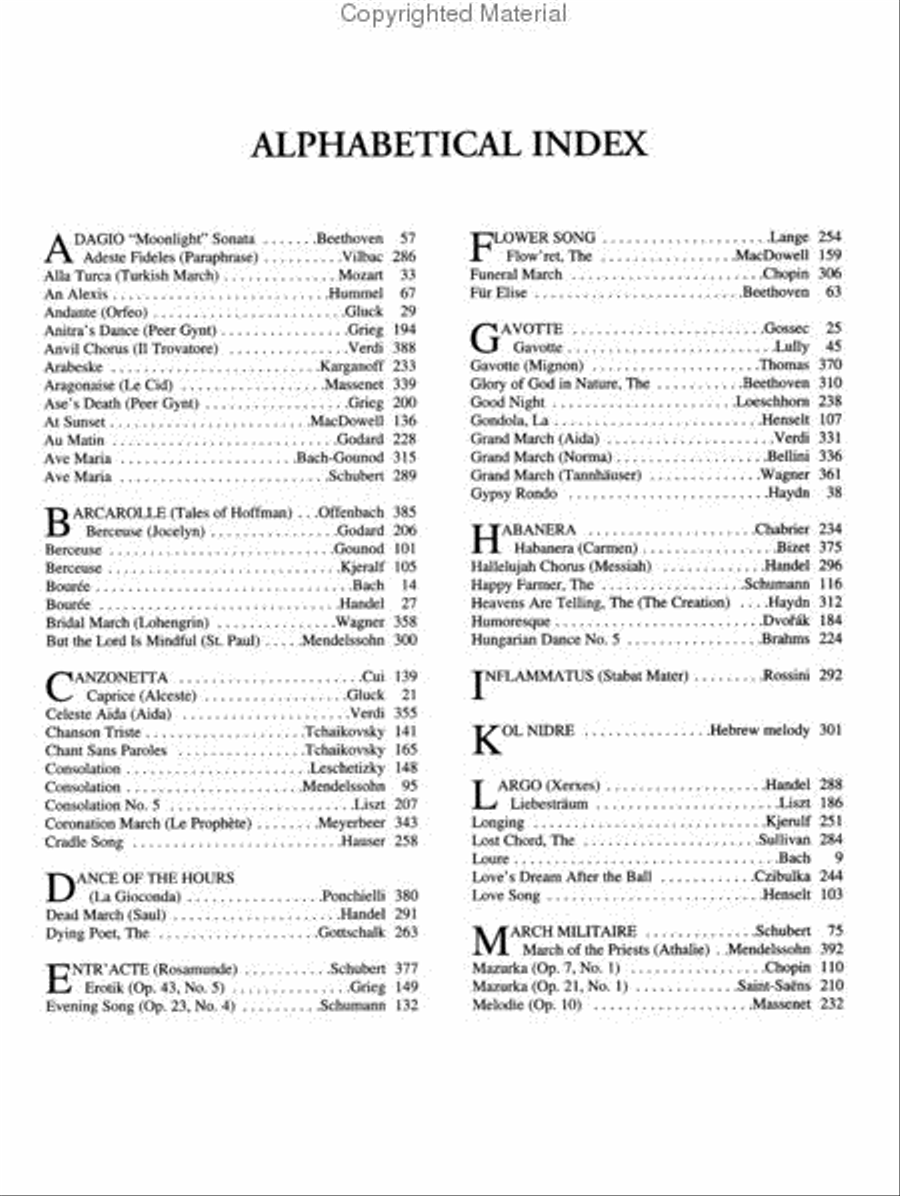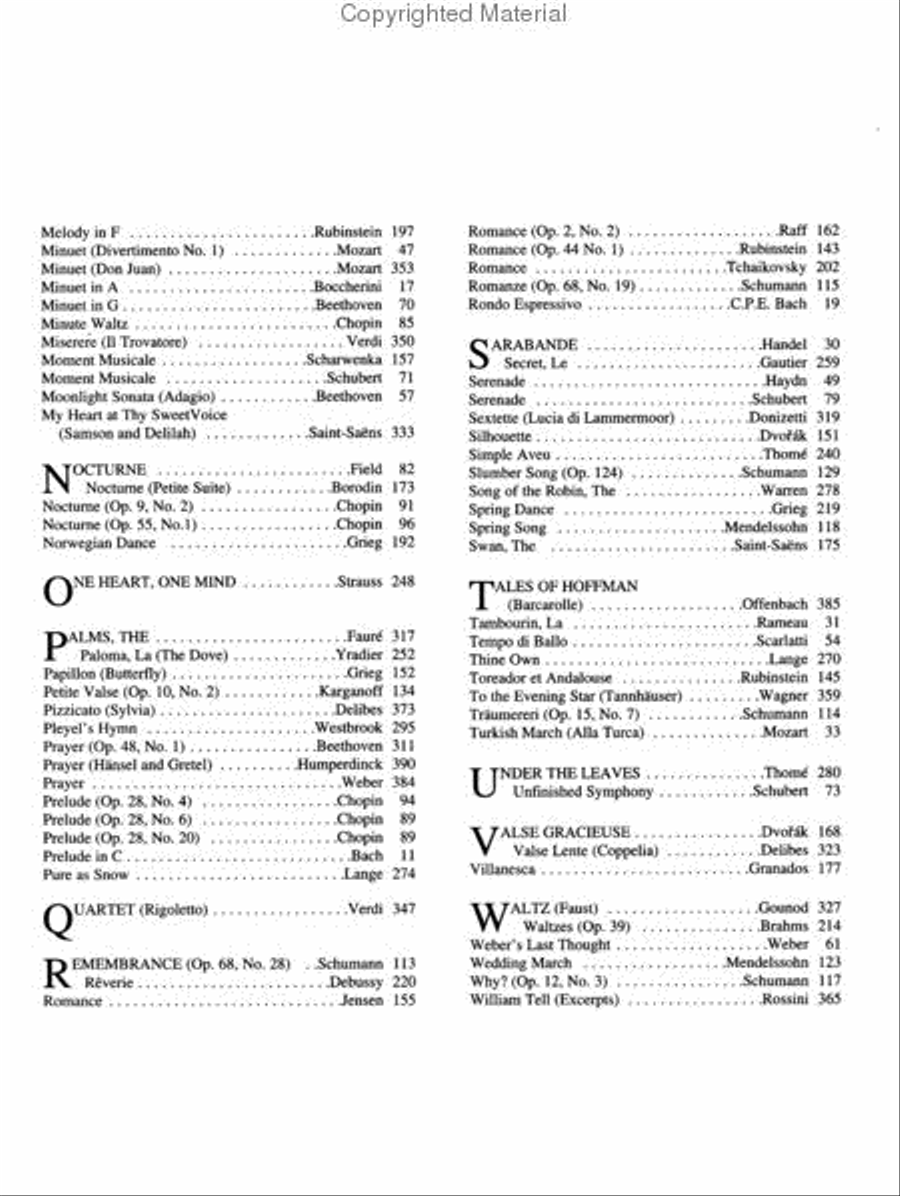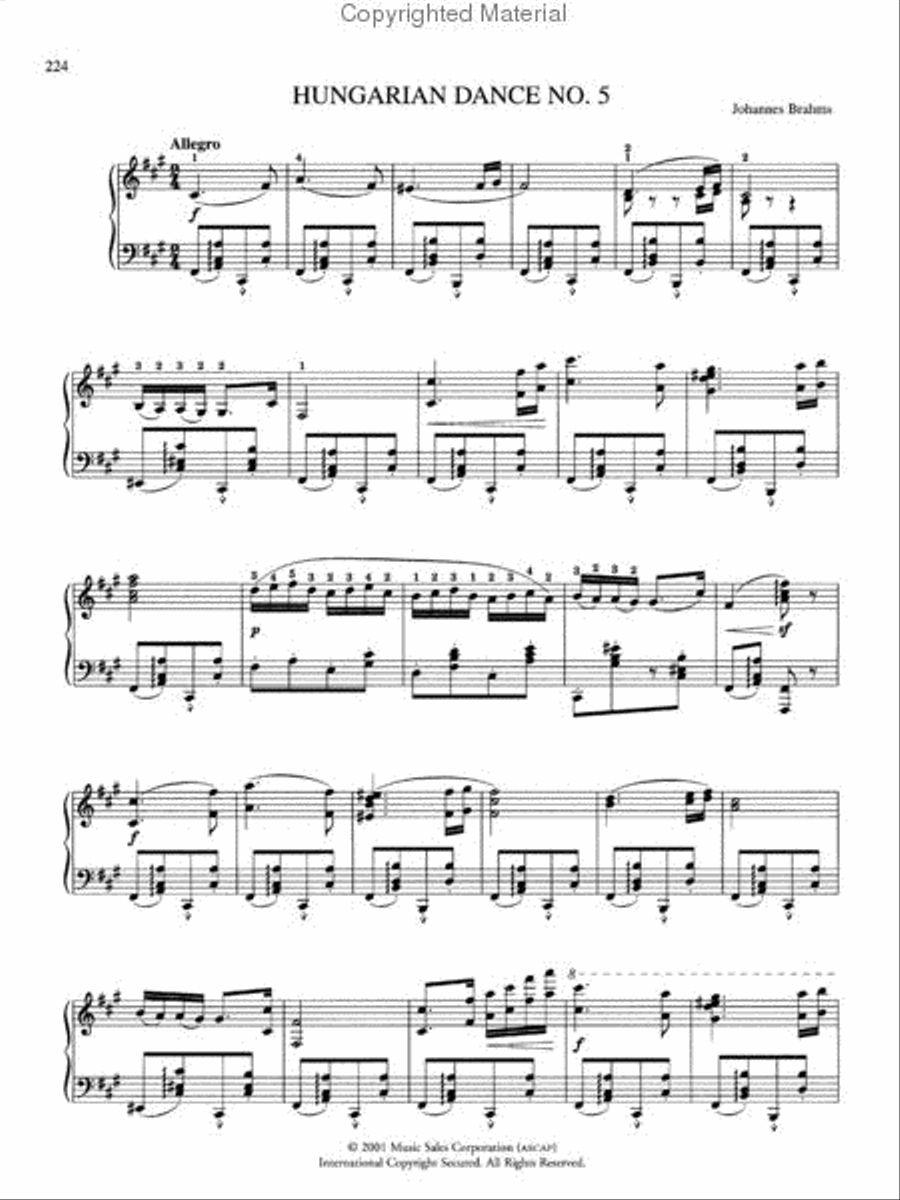 Masterpieces of Piano Music

Price reduced from

$29.99

to
$23.99
Available
Ready to ship in 24 hours
Taxes/VAT calculated at checkout.
Detailed Description
Piano Solo Piano/Keyboard - Difficulty: medium
SKU: HL.14020896
Edited by Albert E. Weir and Amy Appleby. Music Sales America. Baroque and Classical Period. Collection (softcover). With fingerings (does not include words to the songs). 400 pages. Music Sales #AM967505. Published by Music Sales (HL.14020896).
ISBN 9780825618307. UPC: 752187967507. 9x12 inches.
The most popular collection of classical piano music ever published. This authoritative volume contains over 140 selections - covering all fields of classic, romantic, modern, light, sacred and operatic music. Composers include Beethoven, Mozart, Bach, Handel, Gluck, Chopin, Schubert, Grieg, Haydn, Dvorak, Verdi, Wagner and many more.
Song List (135)
Loure
Prelude in C
Bourree From The Second Violin Sonata
Minuet In A
Rondo Espressivo
Caprice
Gavotte
Bourree
Andante
Sarabande
La Tambourin
Alla Turca
Gypsy Rondo
Minuet From "Divertimento No. 1"
Serenade
Tempo di Ballo
Moonlight Sonata - 1st Movement
Weber's Last Thought
Fur Elise
An Alexis
Minuet In G
Moment Musicale
Unfinished Symphony - Theme
Marche Militaire
Nocturne
Minute Waltz, Op. 64
Prelude, Op. 28, No. 20
Prelude, Op. 28, No. 6
Nocturne, Op. 9, No. 2
Prelude, Op. 28, No. 4
Consolation
Nocturne, Op. 55, No. 1
Berceuse
Love Song
La Gondola
Mazurka, Op. 7, No. 1
Remembrance, Op 68, No. 28
Traumerai, Op. 15, No. 7
Romanze, Op. 68, No. 19
The Happy Farmer
Why? Op. 12, No. 3
Spring Song
Wedding March
Slumber Song, Op. 124
Evening Song, Op. 23, No. 4
Petite Valse, Op. 10, No. 2
At Sunset, Op. 28, No. 5
Canzonetta
Chanson Triste, Op. 40, No. 2
Romance, Op. 44, No. 1
Toreador et Andalouse
Consolation, Op. 19, No. 6
Erotik, Op. 43, No. 5
Silhouette
Papillon
Romance
The Flow'ret - Forest Idyl No. 1
Romance, Op. 2, No. 2
Chant Sans Paroles
Valse Gracieuse, Op. 54, No. 1
Nocturne From Petite Suite
The Swan
Villanesca - Spanish Dance Op. 5
Humoresque, Op. 101, No. 7
Liebestraum - Nocturne No. 3
Norwegian Dance, Op. 35, No. 2
Anitra's Dance
Melody In F, Op. 3, No. 1
Ase's Death
Romance, Op. 5
Consolation No. 5
Mazurka, Op. 21, No. 1
Waltz, Op. 39, No. 1
Waltz, Op. 39, No. 3
Waltz, Op. 39, No. 5
Waltz, Op. 39, No. 2
Waltz, Op. 39, No. 8
Waltz, Op. 39, No. 15
Spring Dance
Reverie
Hungarian Dance No. 5
Au Matin
Melodie, Op. 10
Arabeske
Habanera
Good Night
Simple Aveu
Love's Dream After the Ball
One Heart, One Mind
Longing
La Paloma
Flower Song
Cradle Song
Le secret
The Dying Poet
Thine Own
Pure as Snow
Song of the Robin
Under the Leaves
The Lost Chord
Adeste Fideles (Paraphrase)
Largo
Ave Maria
Dead March
Inflammatus
Pleyel's Hymn (Transcription)
Hallelujah Chorus
But The Lord Is Mindful
Kol Nidre
Funeral March From Sonata Op. 35
The Glory Of God In Nature
Prayer, Op. 48, No. 1
The Heavens Are Telling
The Palms
Sextette
Valse Lente
Waltz
Grand March
My Heart At Thy Sweet Voice
Aragonaise
Coronation March
Quartet
Miserere
Minuet
Celeste Aida
Bridal March
To The Evening Star
William Tell (Excerpts)
Pizzicato
Entr'acte
Dance of the Hours
Prayer
Barcarolle
Anvil Chorus
March Of The Priests