The Piano Bench of Classical Music

Piano Solo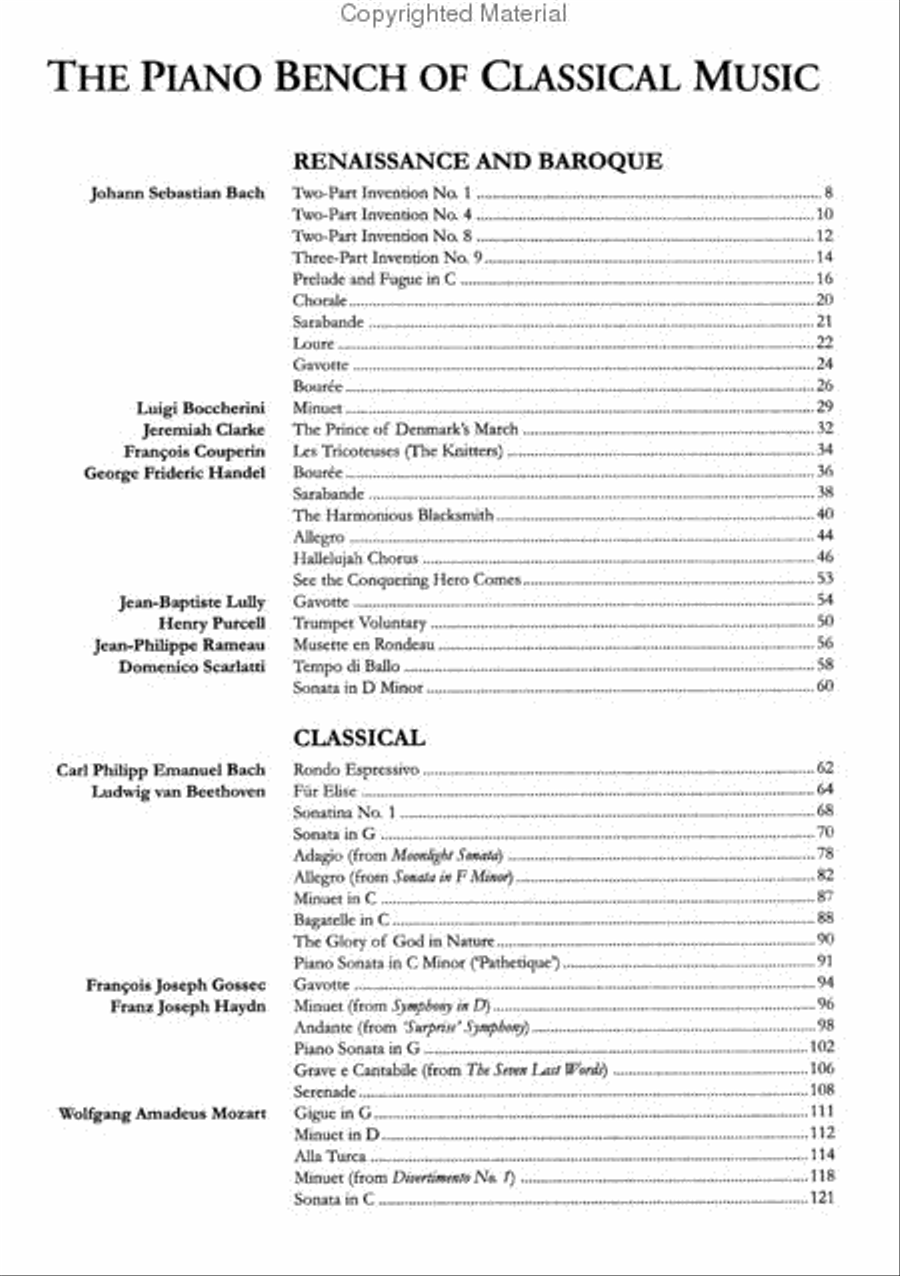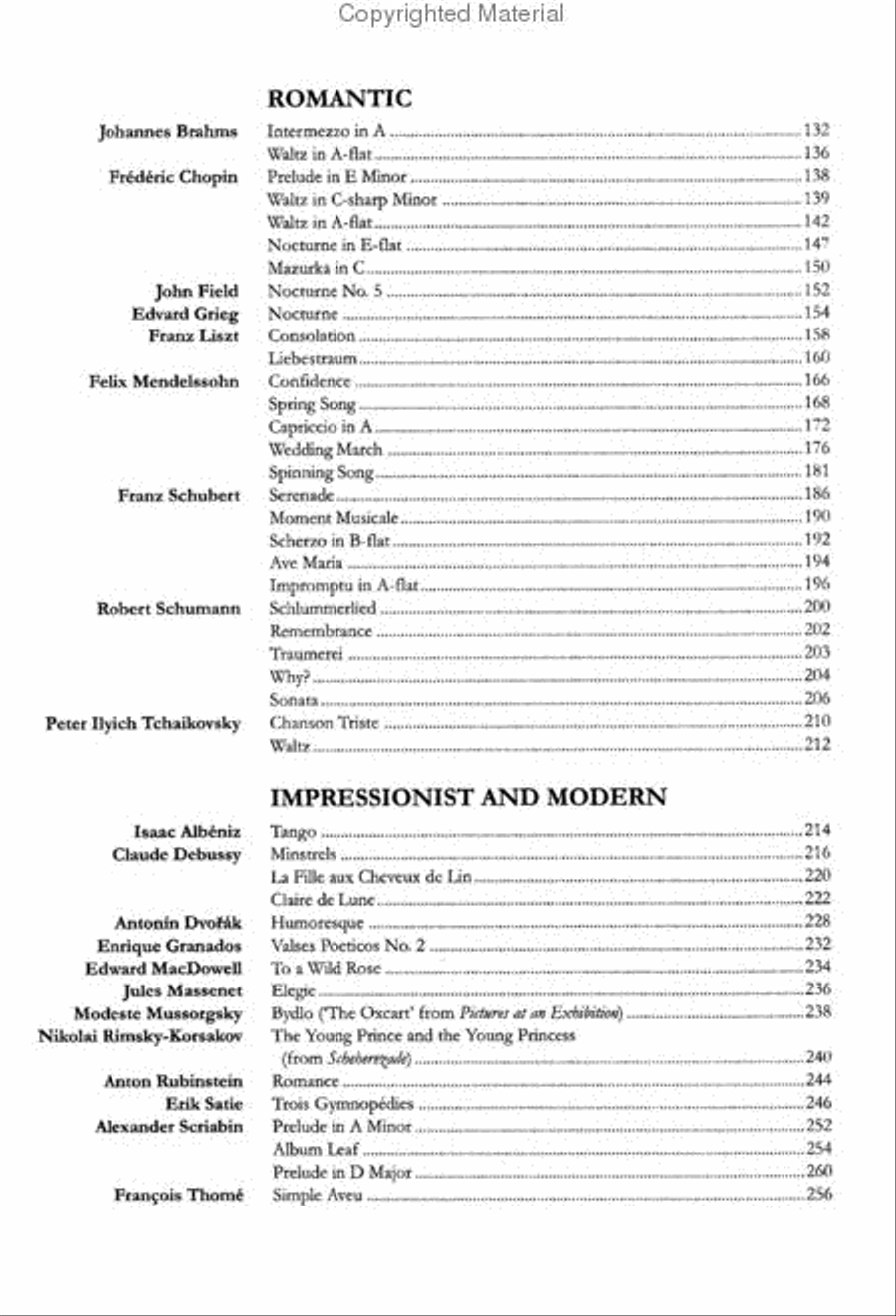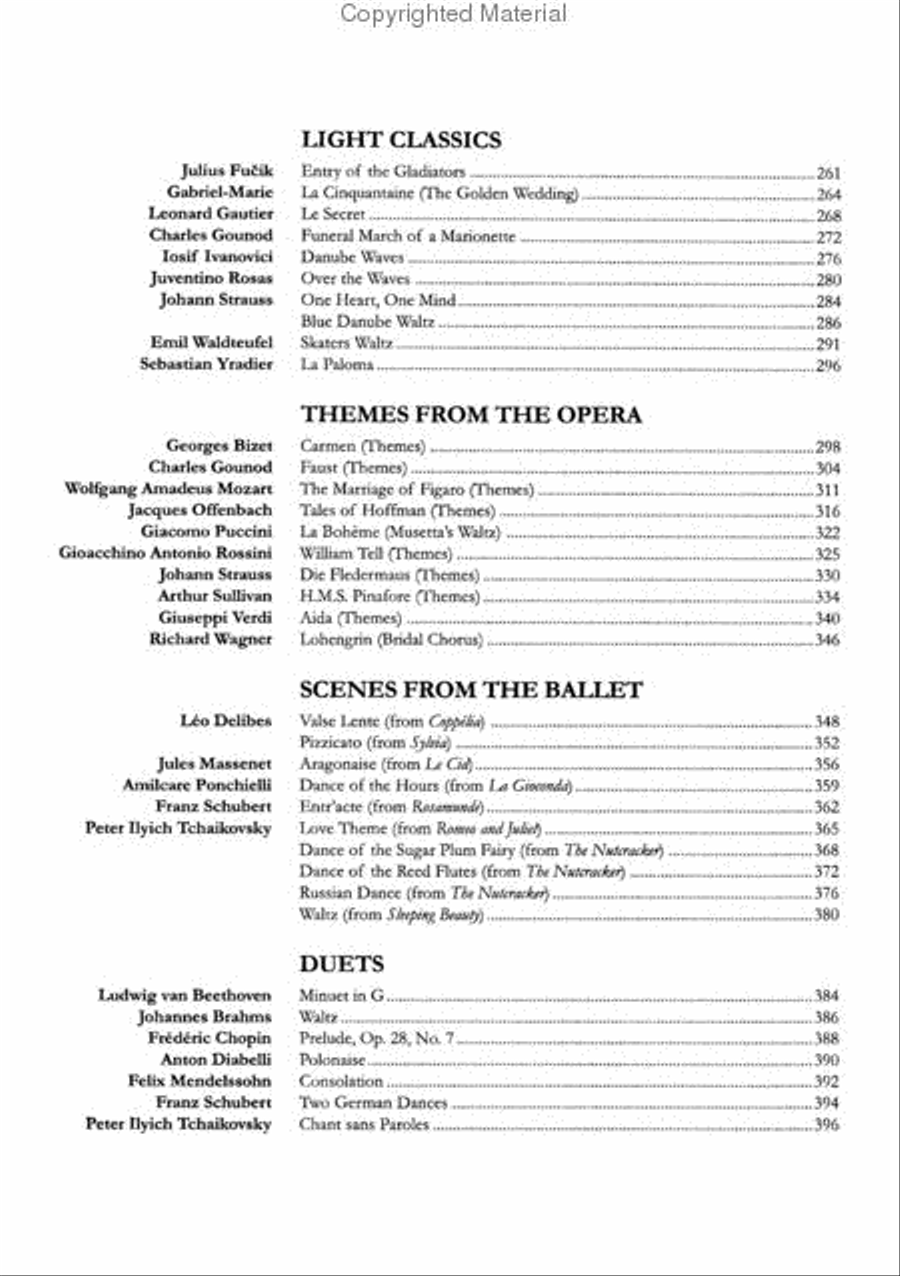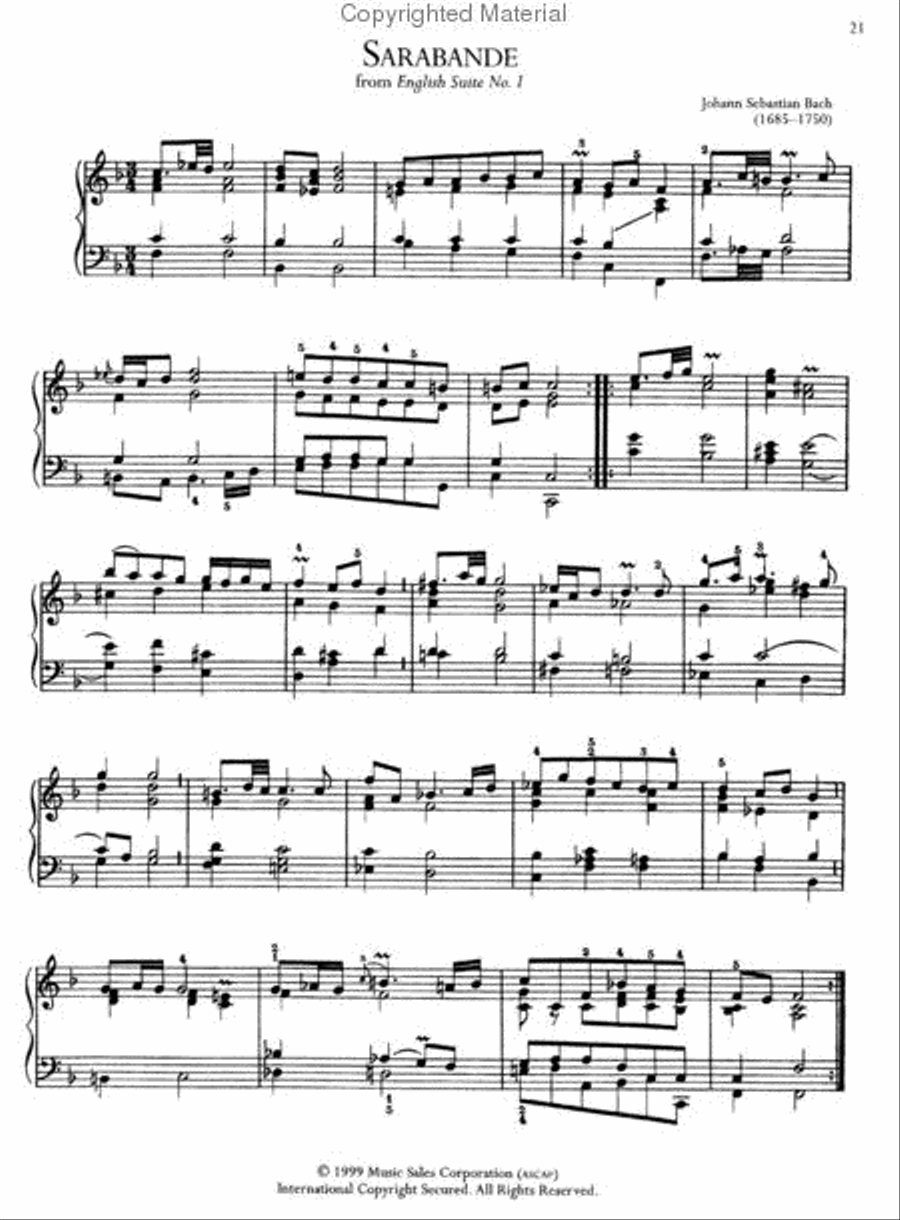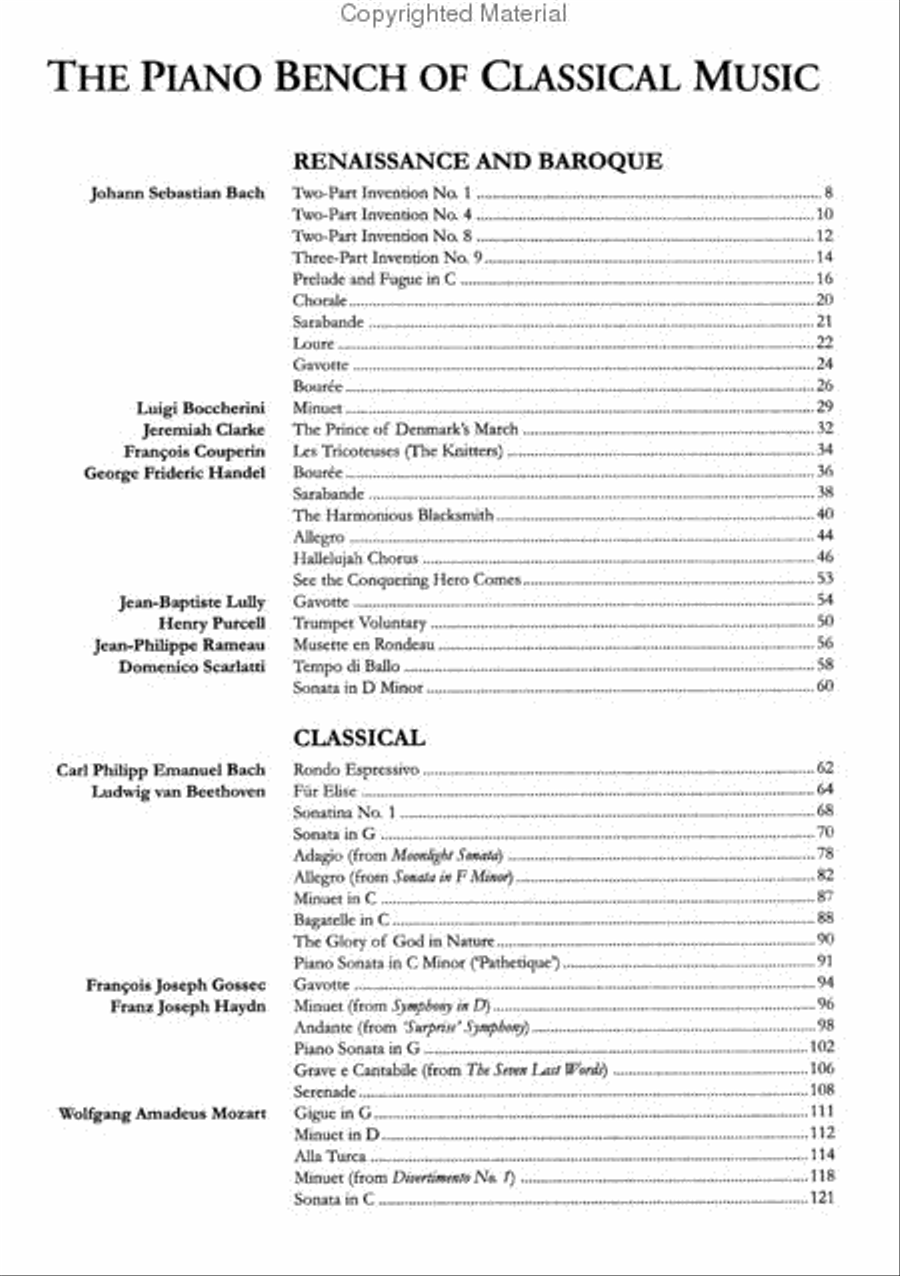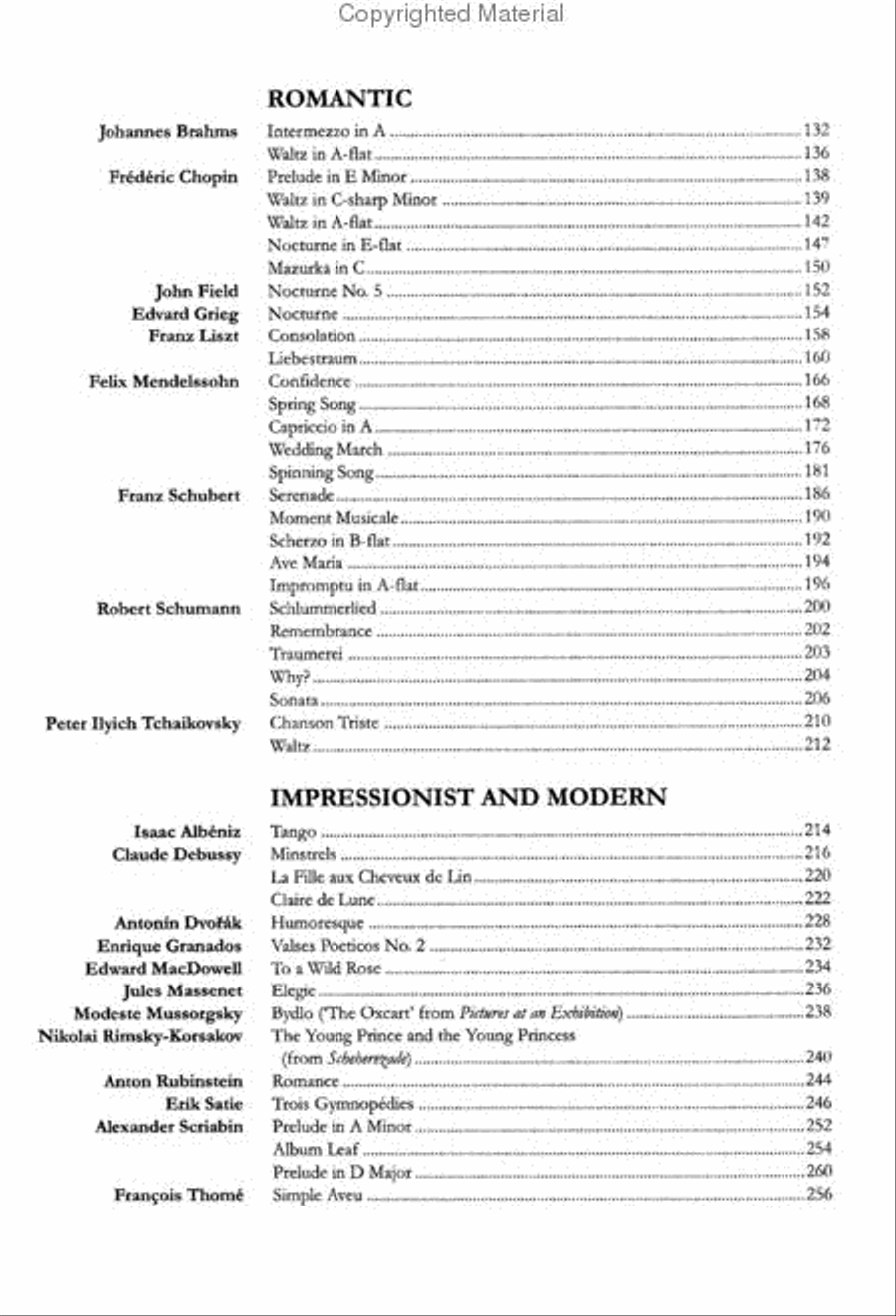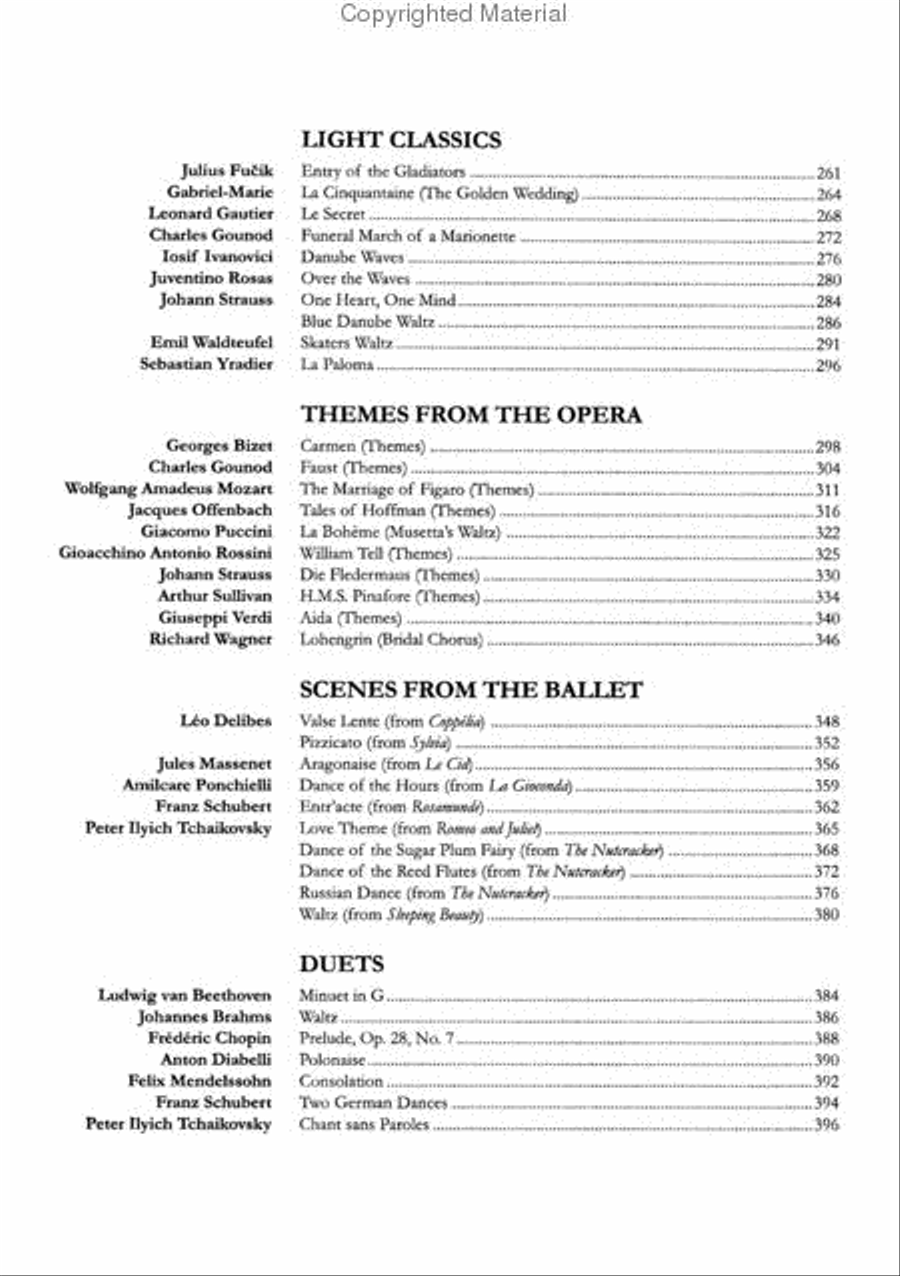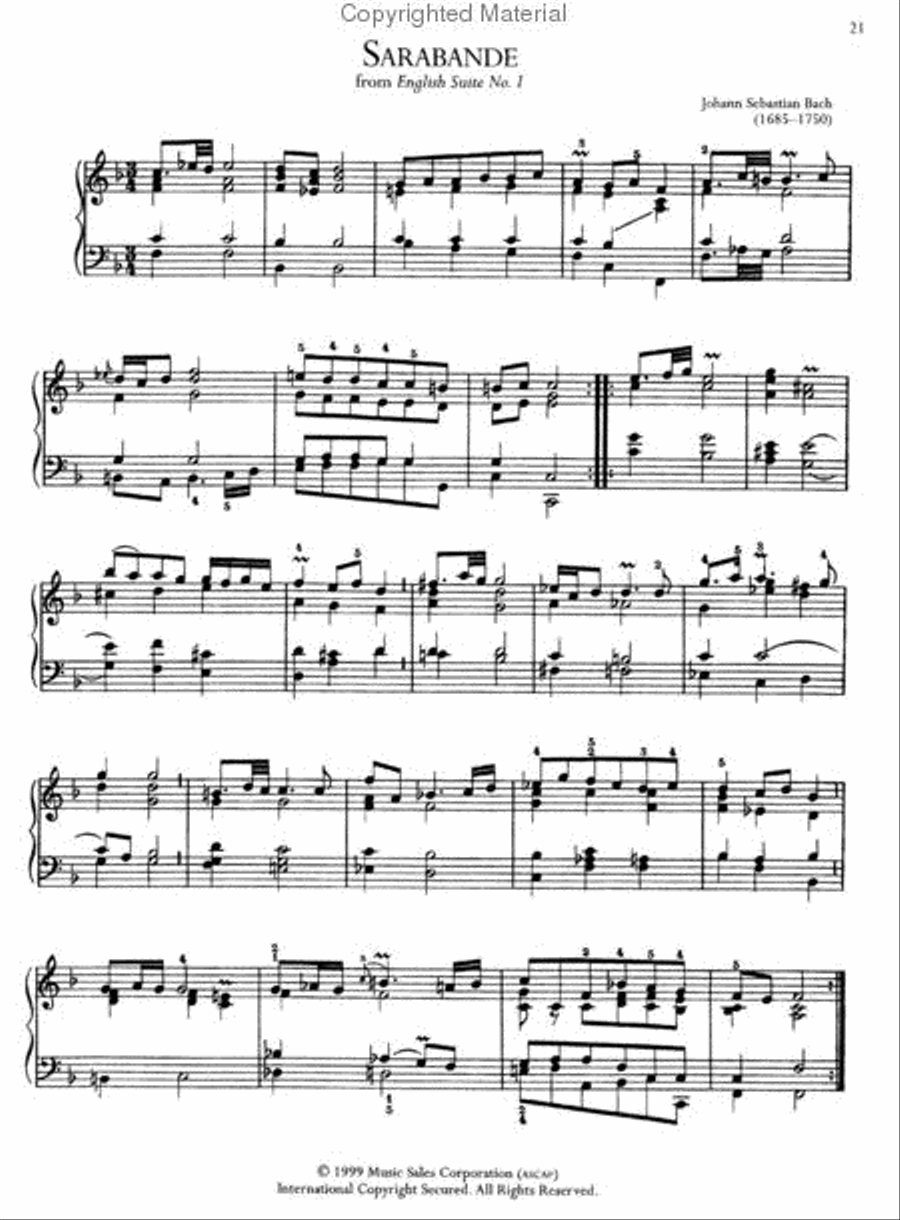 The Piano Bench of Classical Music

Piano Solo
Available
Ready to ship in 24 hours
Taxes/VAT calculated at checkout.
Detailed Description
Piano - SMP Level 9 (Advanced)
SKU: HL.14025482
Piano Solo
. Edited by Amy Appleby. Music Sales America. Renaissance, Baroque, Classical Period, Impressionistic and 20th Century. Softcover collection (spiral bound). With fingerings (does not include words to the songs). 400 pages. Music Sales #AM961510. Published by Music Sales (HL.14025482).
ISBN 9780825617690. UPC: 752187961512. 9x12 inches. English.
This book is designed to be the cornerstone of your personal music library. This collection contains 400 pages of great music literature, specially selected and edited for the pianist who loves classical music. Includes over 125 great masterpieces from the Baroque, Classical, Romantic and Modern Eras.

This title has selections that range in difficulty from SMP Level 8-9.
About SMP Level 9 (Advanced)
All types of major, minor, diminished, and augmented chords spanning more than an octave. Extensive scale passages.
Song List (118)
Two-Part Invention No. 1
Two-Part Invention No. 4
Two-Part Invention No. 8
Three-Part Invention No. 9
Prelude And Fugue In C
Chorale
Sarabande
Loure
Gavotte
Bouree
Minuet
The Prince of Denmark's March
Les Tricoteuses
The Harmonious Blacksmith
Allegro
Hallelujah Chorus
Trumpet Voluntary
See The Conquering Hero Comes
Musette en Rondeau
Tempo di Ballo
Sonata In D Minor L. 313
Rondo Espressivo
Fur Elise
Sonatina No. 1
Sonata In G, Op. 49, No. 2
Adagio
Minuet In C
Bagatelle, Op. 119, No. 2
The Glory Of God In Nature
Pathetique Sonata - 2nd Movement
Andante
Piano Sonata In G, Hob. XVI:11
Grave E Cantabile
Serenade
Gigue In G, K. 574
Minuet In D, K. 355
Alla Turca
Sonata in C, K. 545
Intermezzo, Op. 118, No. 2
Waltz, Op. 39, No. 15
Prelude, Op. 28, No. 4
Waltz, Op. 64, No. 2
Waltz, Op. 69, No. 1
Nocturne, Op. 9, No. 2
Mazurka, Op. 67, No. 3
Nocturne No. 5
Nocturne, Op. 54, No. 4
Consolation No. 5
Liebestraume No. 3
Confidence, Op. 19, No. 4
Spring Song, Op. 62, No. 6
Capriccio In A, Op. 16, No. 1
Wedding March
Spinning Song, Op. 67, No. 4
Serenade, Op. 90, No. 11
Moment Musicale, Op. 94, No. 3
Scherzo in Bb
Ave Maria
Impromptu, Op. 142, No. 2
Schlummerlied
Remembrance, Op. 68, No. 28
Traumerai, Op. 15, No. 7
Why?, Op. 12, No. 3
Sonata, Op. 118, No. 1 - 1st & 2nd Movements
Chanson Triste, Op. 40, No. 2
Waltz, Op. 39, No. 8
Tango
Minstrels
La Fille aux cheveux de lin
Claire de lune
Humoresque, Op. 101, No. 7
Valses Poeticos No. 2
To a Wild Rose, Op. 51, no. 1
Elegie, Op. 10
Bydlo
The Young Prince and The Young Princess
Romance, Op. 44
Trois Gymnopedie
Prelude, Op. 11, No. 2
Album Leaf, Op. 45, No. 1
Simple Aveu
Prelude, Op. 11, No. 5
Entry Of The Gladiators
La Cinquantaine
Le secret
Funeral March of a Marionette
Danube Waves (I-IV)
Over The Waves
One Heart, One Mind
Blue Danube Waltz (I-V)
Skaters Waltz (I-IV)
La Paloma
Carmen - Themes
Faust - Themes
The Marriage Of Figaro - Themes
Tales Of Hoffman - Themes
La Boheme - Musetta's Waltz
William Tell - Themes
Die Fledermaus - Themes
H.M.S. Pinafore - Themes
Aida - Themes
Lohengrin - Bridal Theme
Valse Lente
Pizzicato
Aragonaise
Dance of the Hours
Entr'acte
Love Theme
Dance Of The Sugar Plum Fairies
Dance of the Reed Flutes
Russian Dance
Waltz
Minuet In G
Prelude
Polonaise
Consolation
Two German Dances
Chant Sans Paroles