Piano Pieces for Children - Volume 2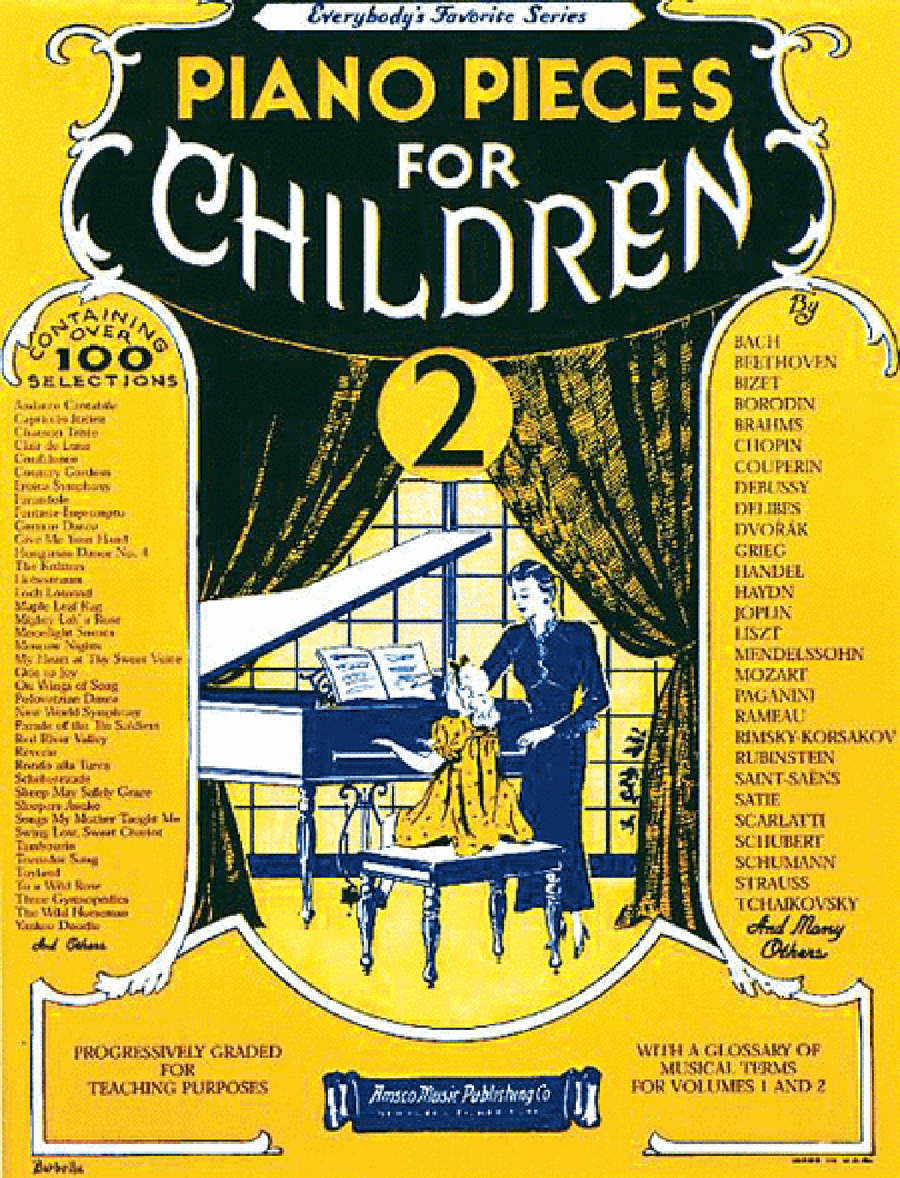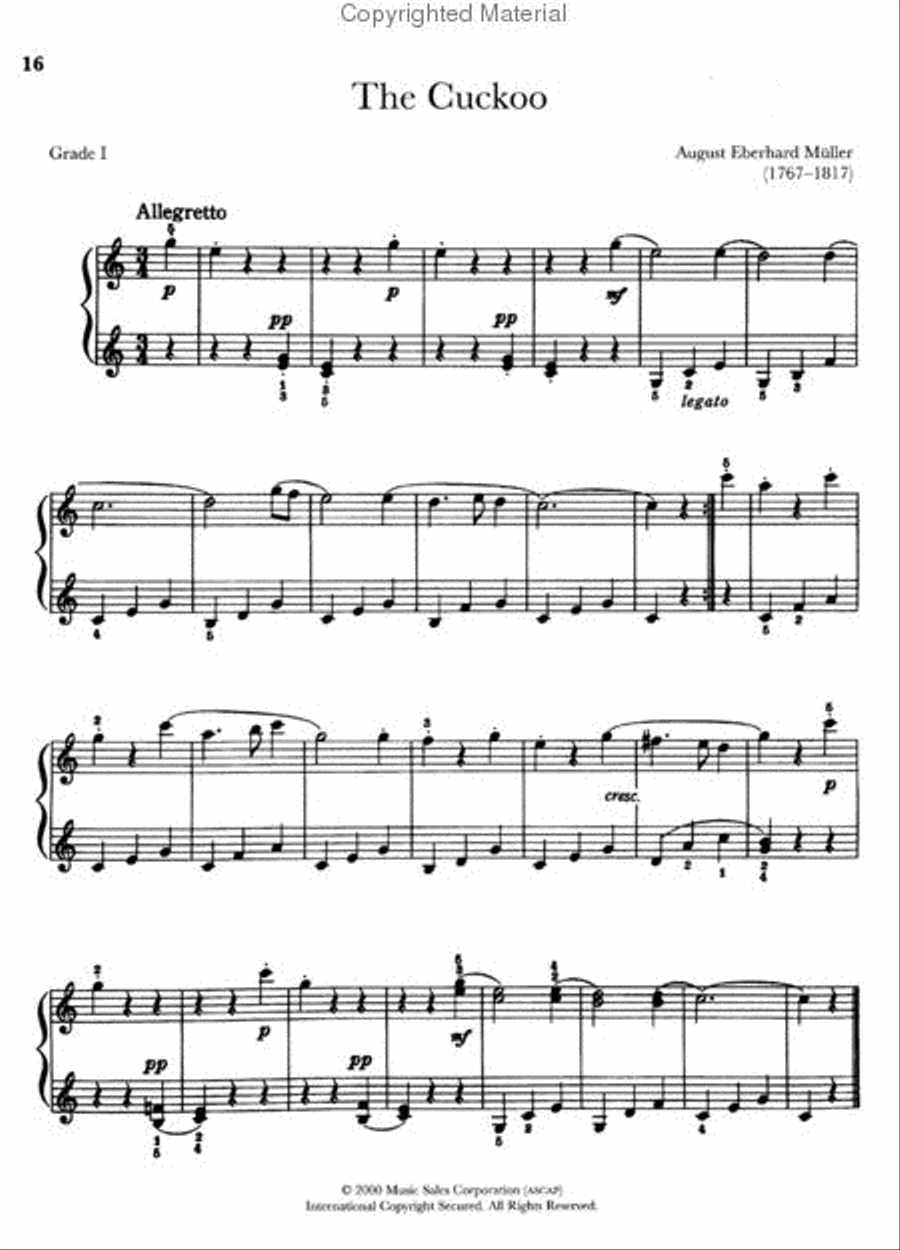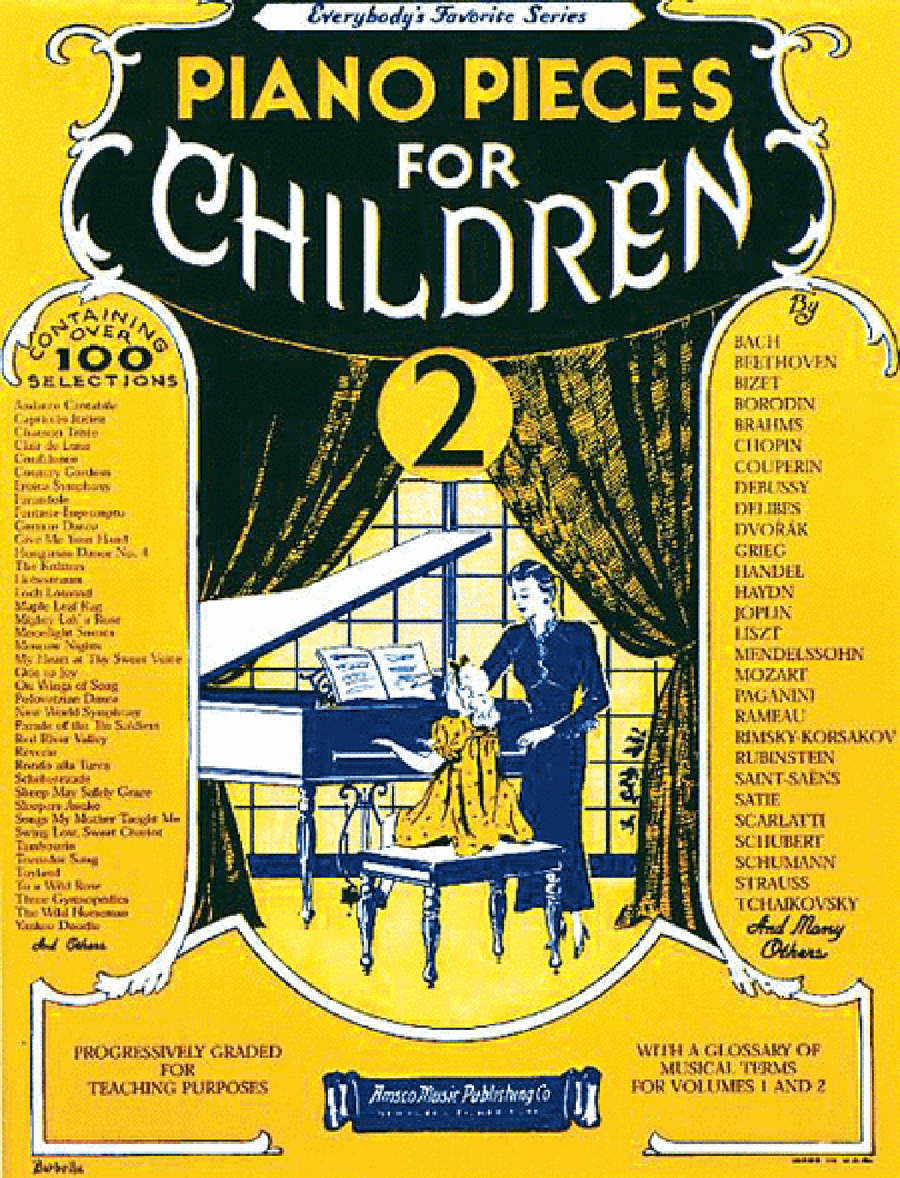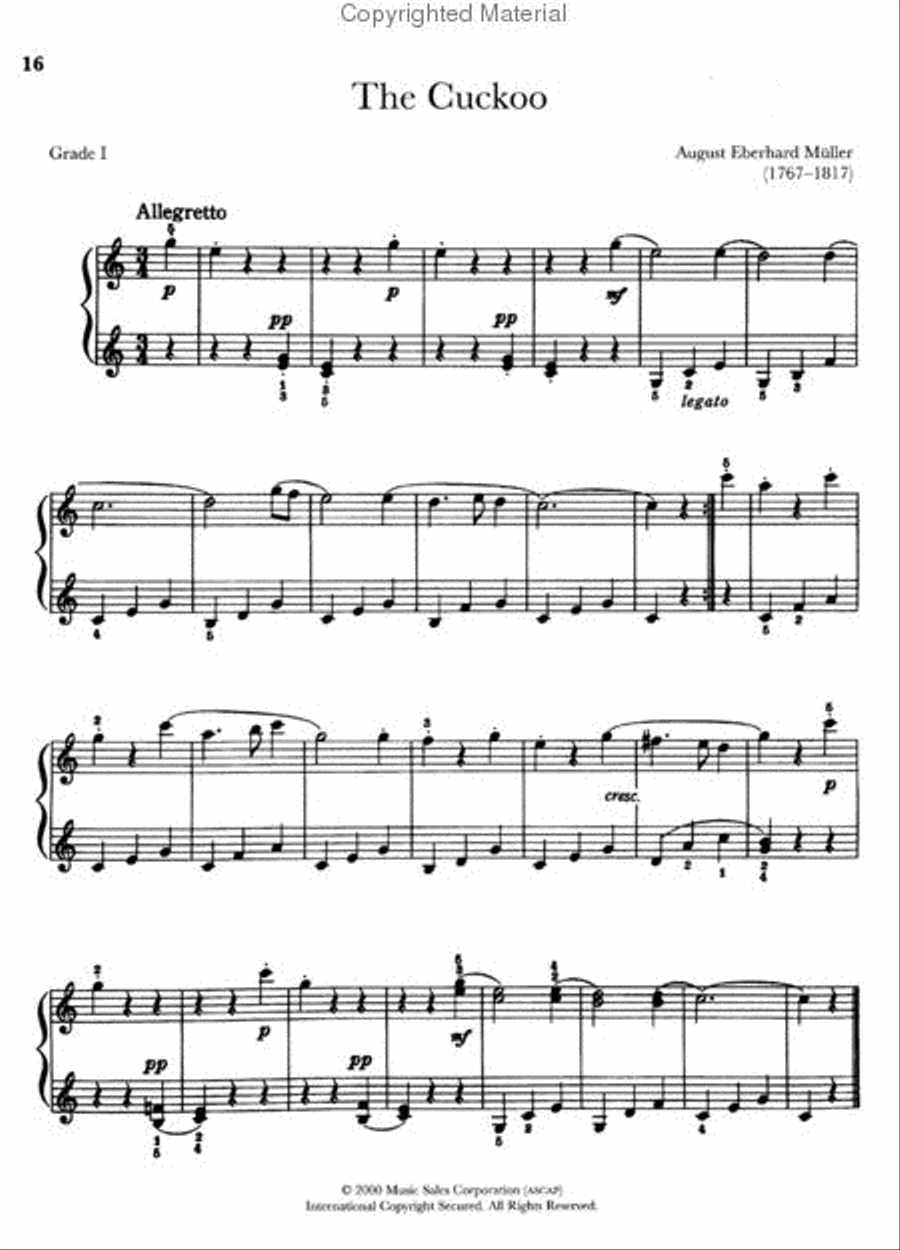 Piano Pieces for Children - Volume 2


Price reduced from

$16.99

to
$13.59
Available
Ready to ship in 24 hours
Taxes/VAT calculated at checkout.
Detailed Description
Piano Solo Piano/Keyboard
SKU: HL.14025514
Composed by Various. Music Sales America. Children, Classical. Softcover. 192 pages. Music Sales #AM967461. Published by Music Sales (HL.14025514).
ISBN 9780825618154. UPC: 752187967460. 9.0x12.0x0.478 inches.
A classic repertoire book for young pianists, which provides a wealth of piano favorites. As with Volume One, the scope of the material included is broad and thorough, ranging from the works of the great masters, to the folk tunes and dances of many lands. This collection encompasses grades one through to four.
Song List (97)
Air
Allegretto Scherzando
Alouette (Traditional)
America, The Beautiful (Traditional)
Andante cantabile
Arietta
Bagatelle
Bandinerie
Beautiful Heaven (Mexican)
Bouree (Krieger)
Bourree
Britannia, The Gem Of The Ocean (Traditional)
Capriccio Italienne Op.45
Caprice No.24
Chanson Triste
Chicken Reel (Traditional)
Chorale (Schumann)
Confidence (Mendelssohn)
Country Gardens
Dawn (Leoncavallo)
Etude
Fantasie Impromptu
Farandole (Georges Bizet)
Fascination (Marchetti)
Gavotte
German Dance
Give Me Your Hand (Don Giovanni)
Goodbye (Tosti)
Hide and Seek
Hungarian Dance No.4
Largo (Symphony No.9 In E Minor 'From The New World' Op.95)
Liebestraum
Little Song (Gurlit)
Loch Laond (Traditional)
Maple Leaf Rag
March
Meditation (Thais)
Mighty Lak' A Rose (Nevin)
Minuet (Blavet)
Minuet (Scarlatti)
Minuet
Minuet in F Major
Minuet In G
Moonlight Sonata Op.27 No.2
Moscow Nights (Traditional)
My Bonnie (Traditional)
My Herat At Thy Sweet Voice (Samson And Delilah) (Saint-Saens)
Nocturne (A Midsummer Night's Dream)
Nocturne
Ode To Joy (Symphony No.9 'Choral')
Old French Song
On Wings Of Song Op.34 No.2
Parade of the Tin Soldiers
Peasant Dance (Traditional)
Piano Concerto In A Minor Op.16 (Grieg)
Piano Concerto No. 20
Piano Concerto No.1 In B Flat Minor Op.23
Piano Concerto No.21 (Mozart)
Piano Concerto No.3
Poeme
Polka
Polonaise
Polovetsian Dances (Prince Igor)
Prelude No.2 (Js Bach)
Raindrops (Schmitt)
Red River Valley (Traditional)
Reverie
Romance (Rubinstein)
Rondino
Rondo
Rondo Alla Turca (Sonata In A K.331)
Scheherazade Op.35
Scherzo (Hummel)
Scottish Dance (Kuhlau)
Sheep May Safely Graze (Cantata No.208)
She'll Be Comin' Round The Mountain (Traditional)
Sinfonia Three-voice Invention
Slavonic Dance No.10
Sleepers Awake
Sonate Au Clair De Lune (Moonlight Sonata)
Sonatina (Biehl)
Songs My Mother Taught Me
Studio (Jcf Bach)
Swing Low, Sweet Chariot
Symphony No.1 In C Minor Op.68
Symphony No.3 In F Op.90
Symphony No.5 In E Minor Op.64 (Tchaikovsky)
Symphony of Destruction
Tambourin (Rameau)
The Bell Song From Lakme (Delibes)
The Cuckoo (Muller)
The Doll's Compliant (Franck)
The Knitters (Couperin)
The Mountainside Is Green (Traditional)
Theme From Variations In A (Mozart) ,
Wellington's Victory Op.91 (Battle Symphony)
You Must Meet My Wife (A Little Night Music)