Bach: The Ultimate Piano Collection

Schirmer Library of Classics Volume 2102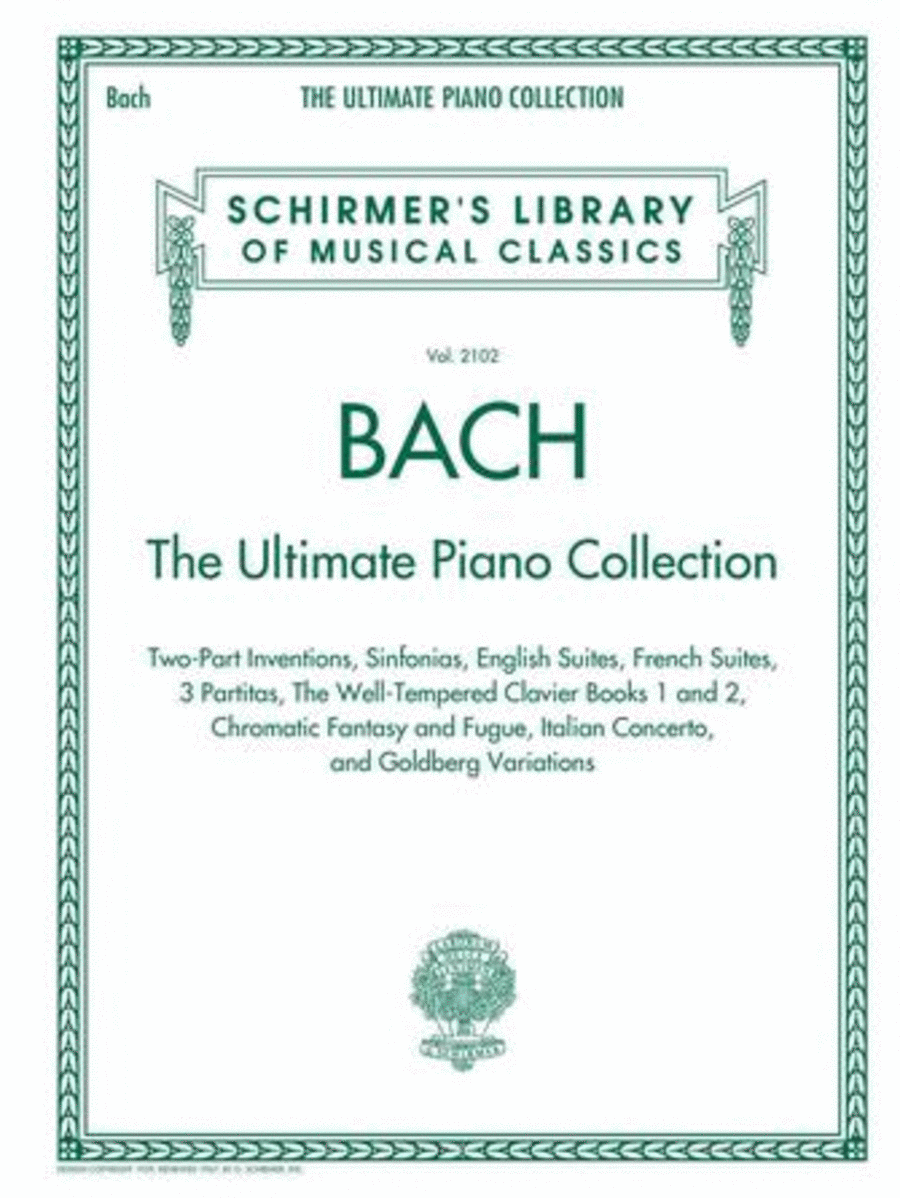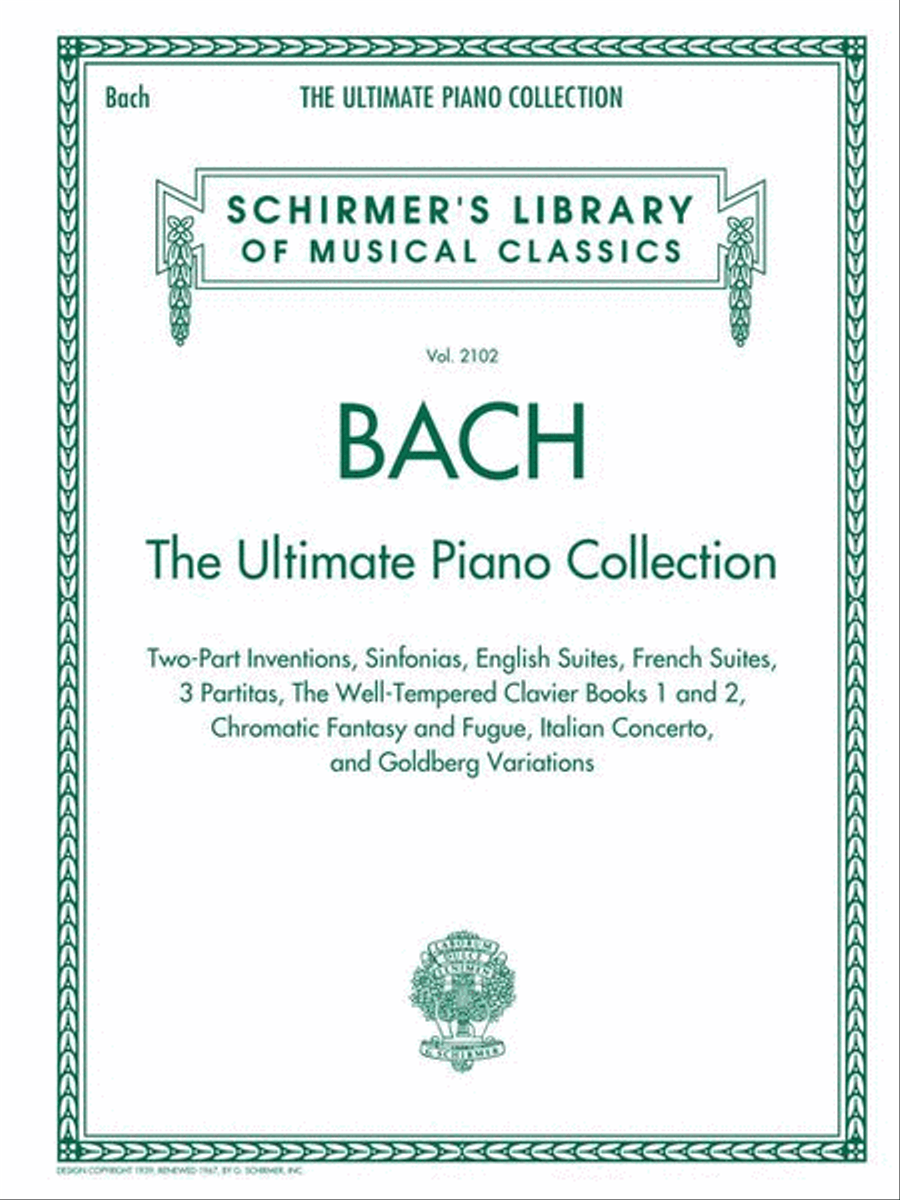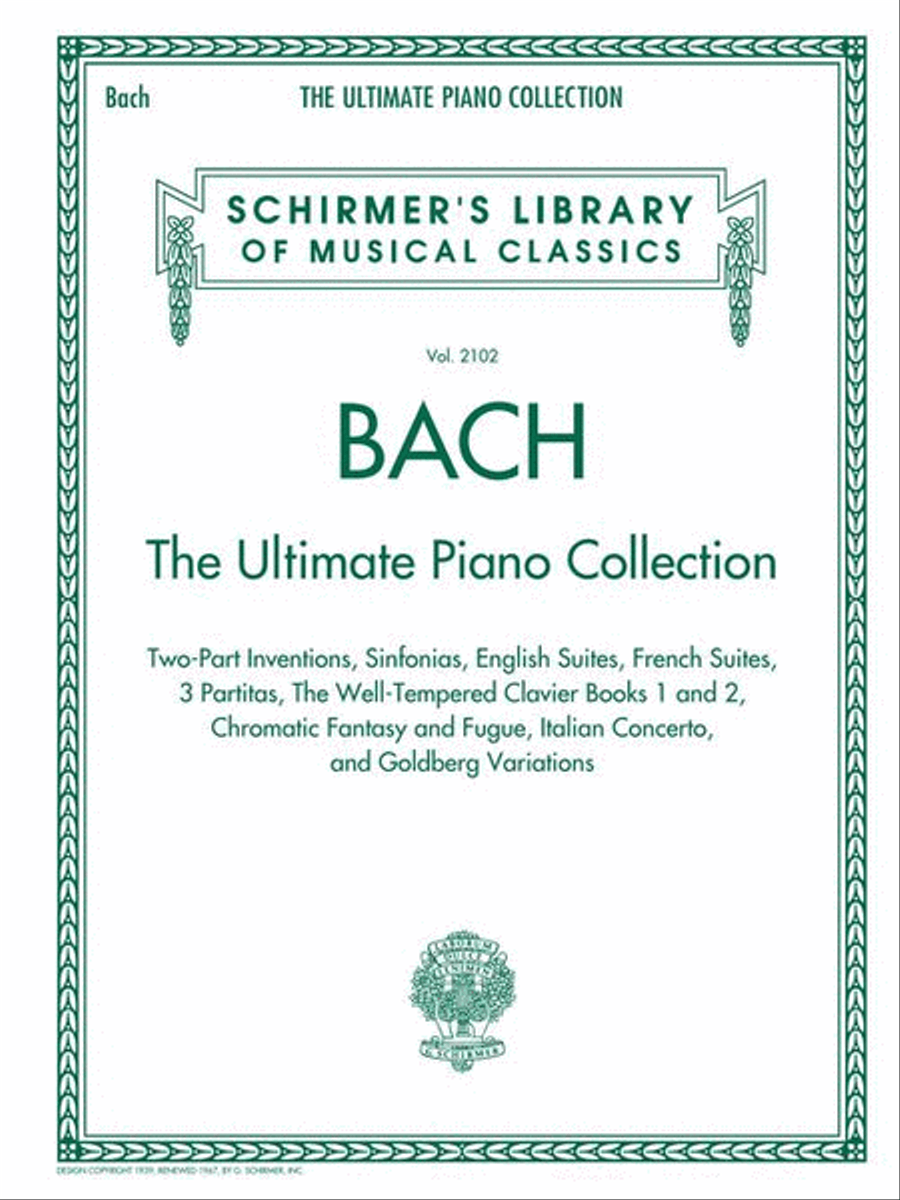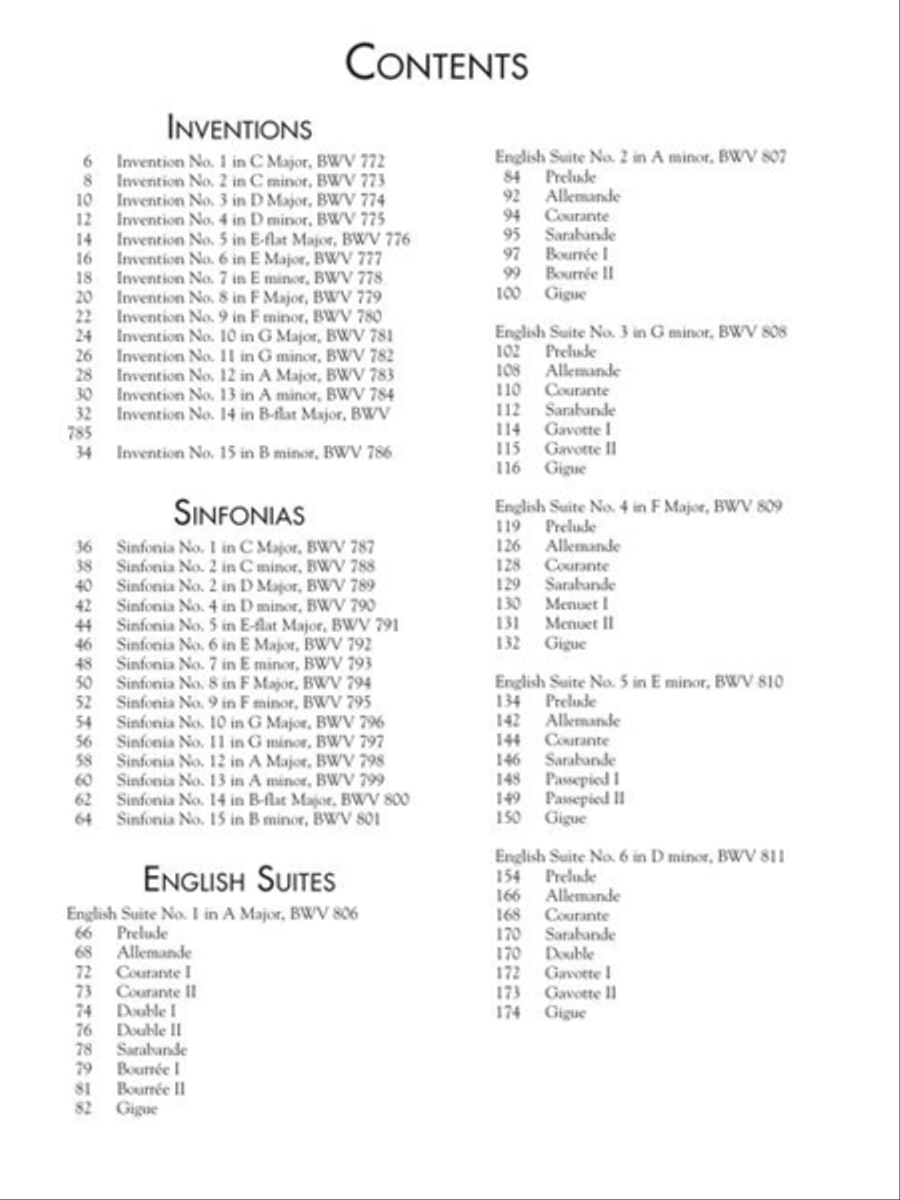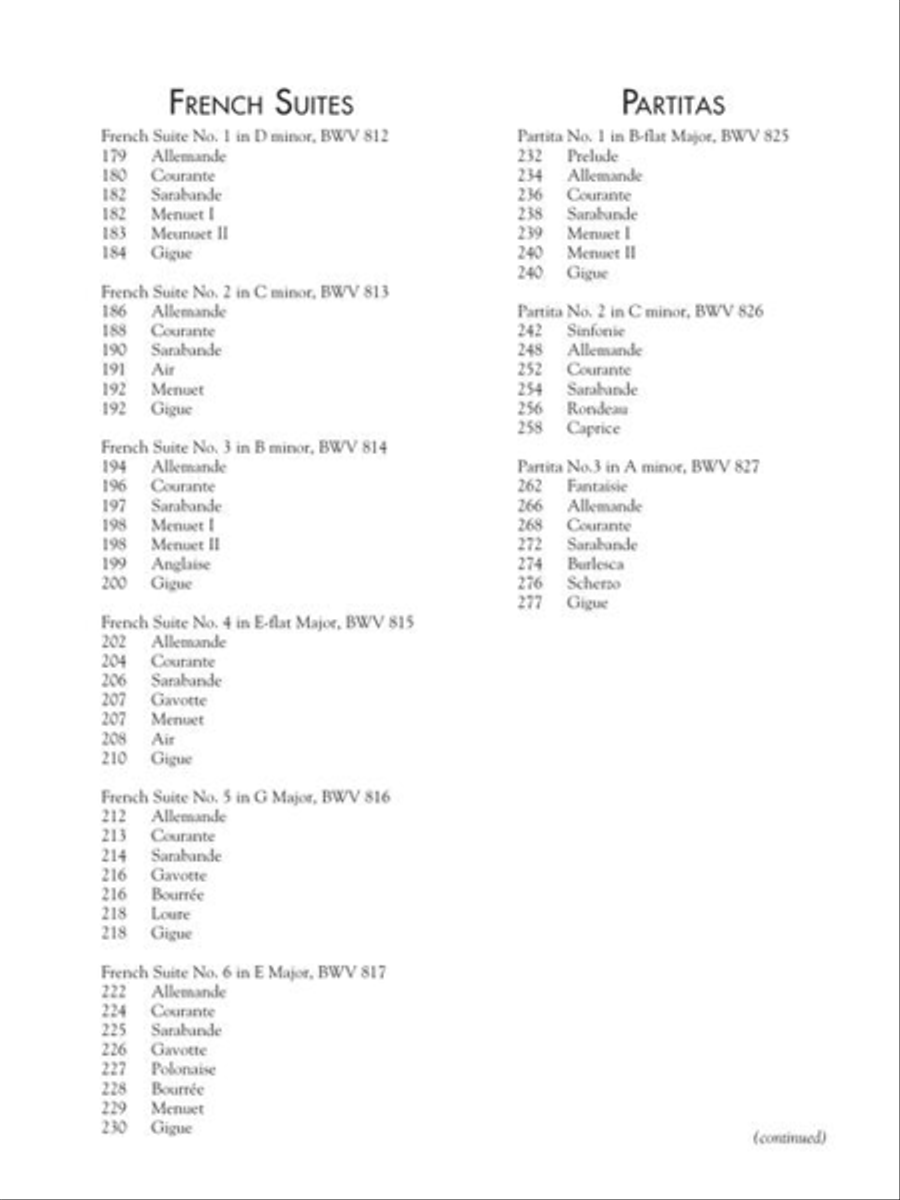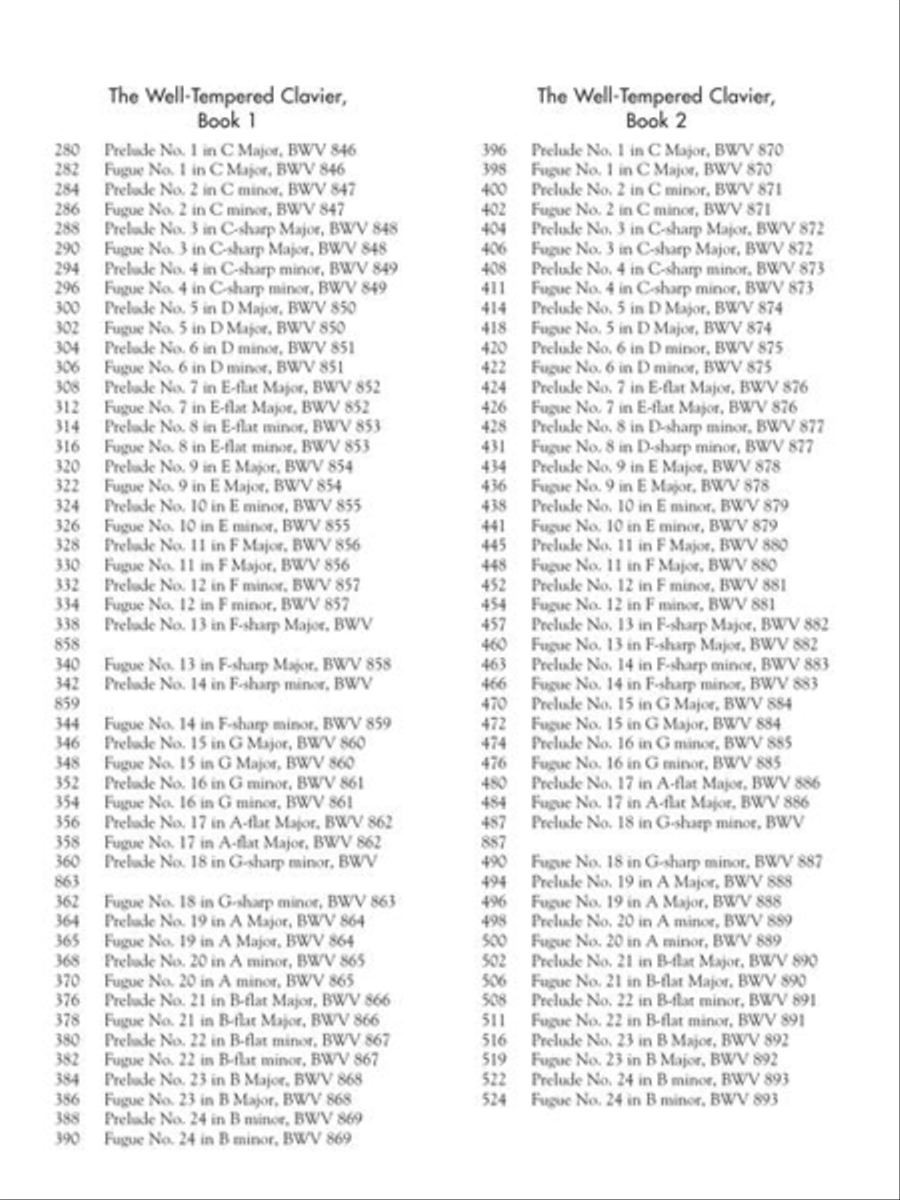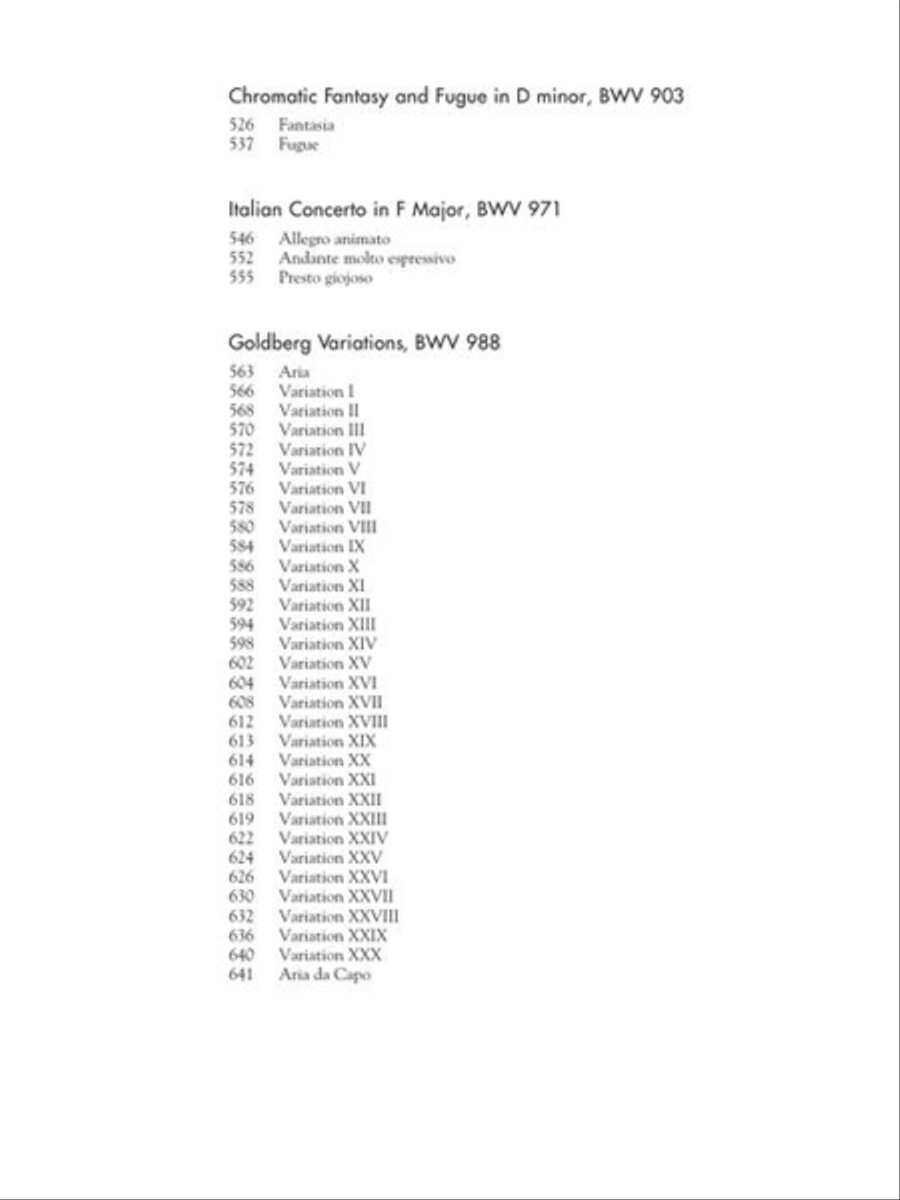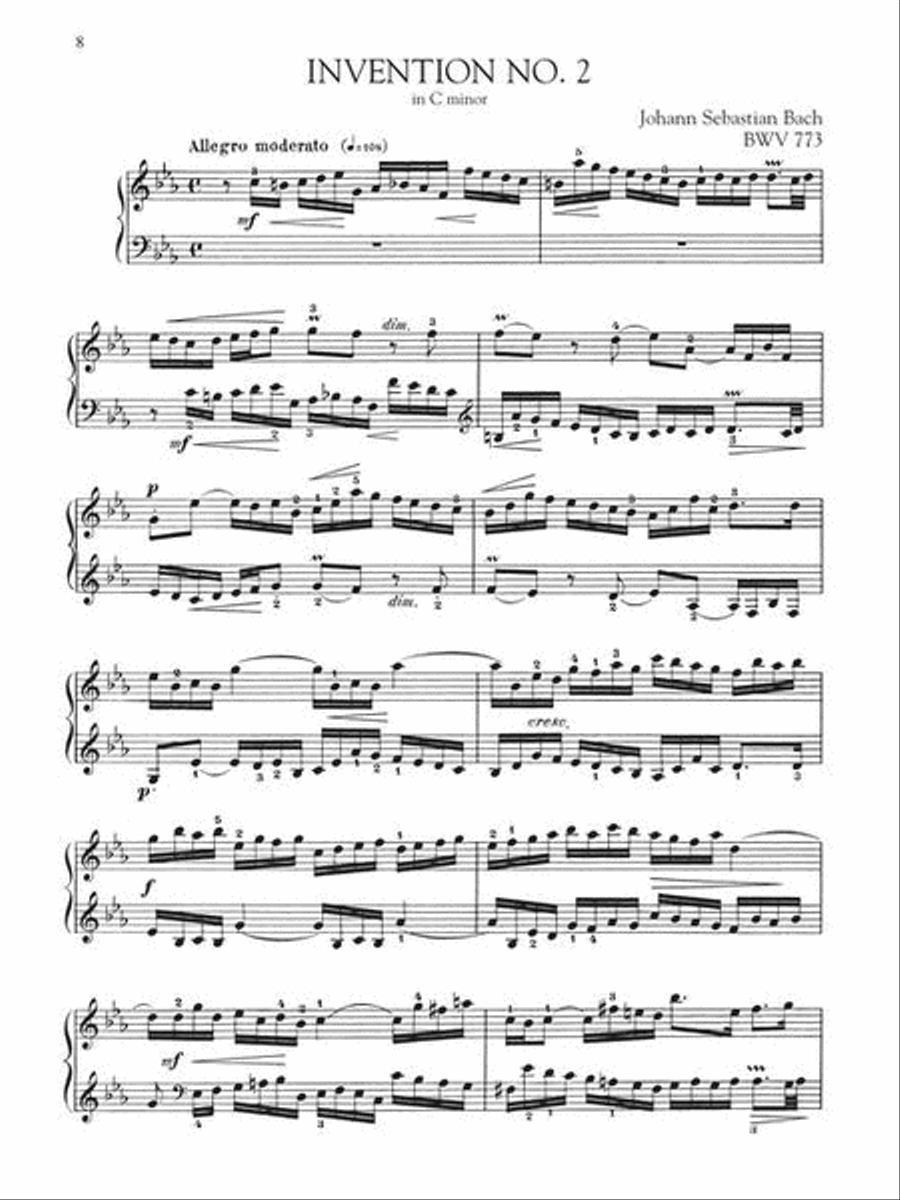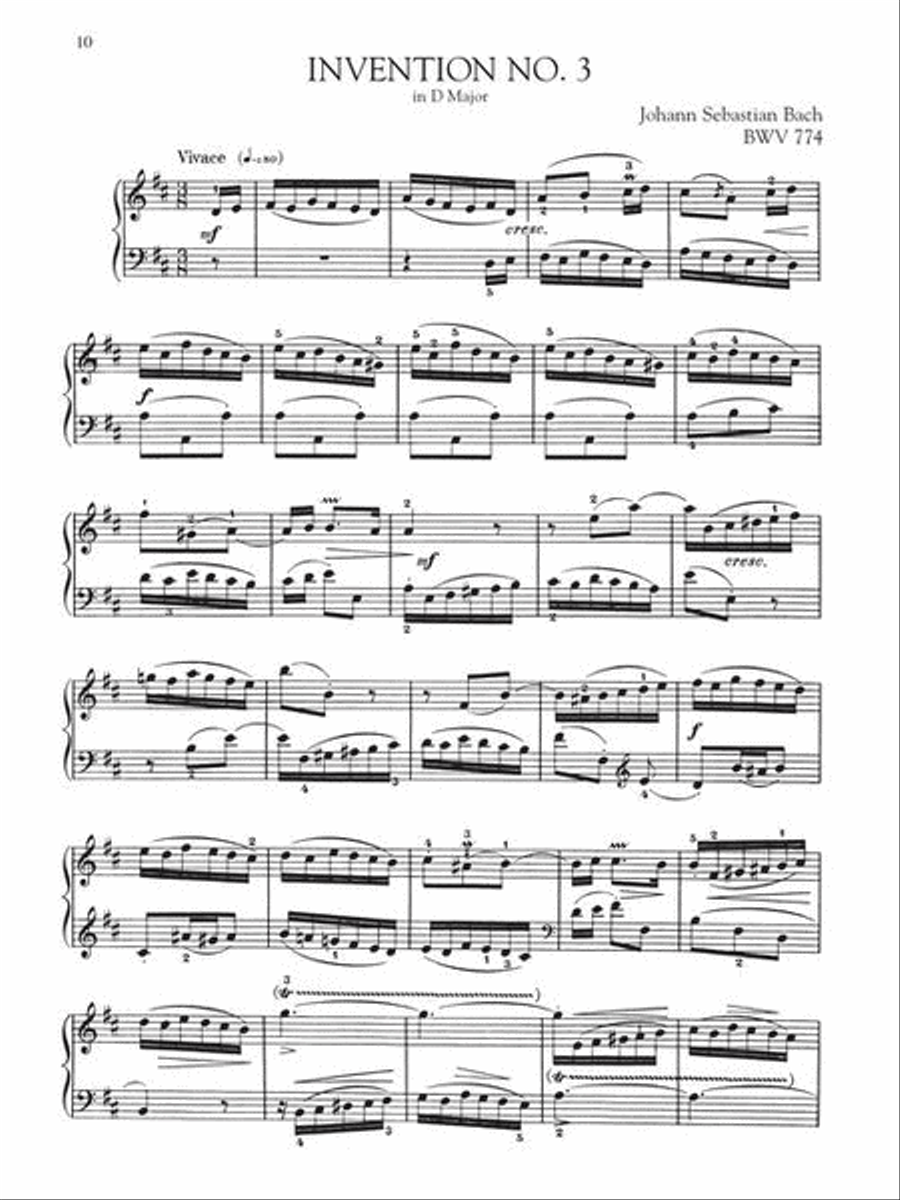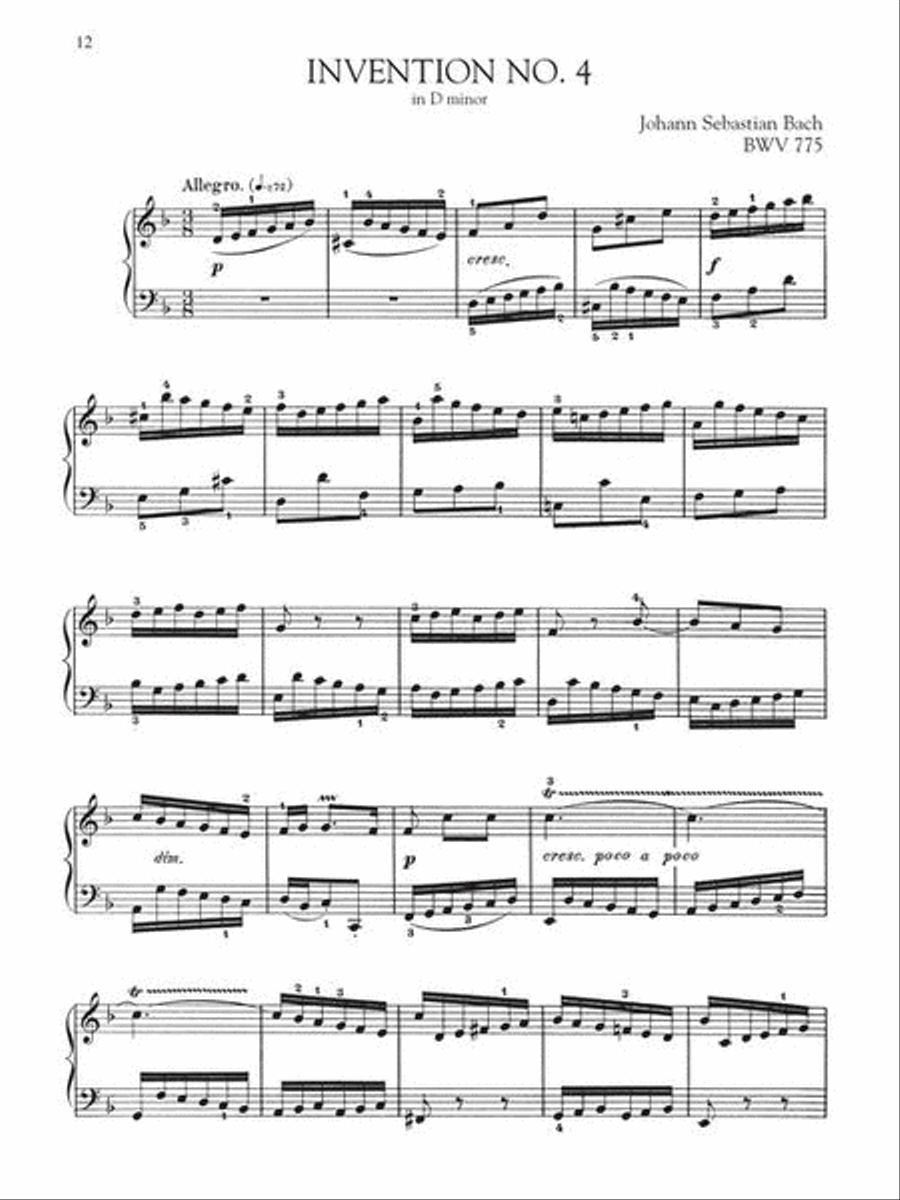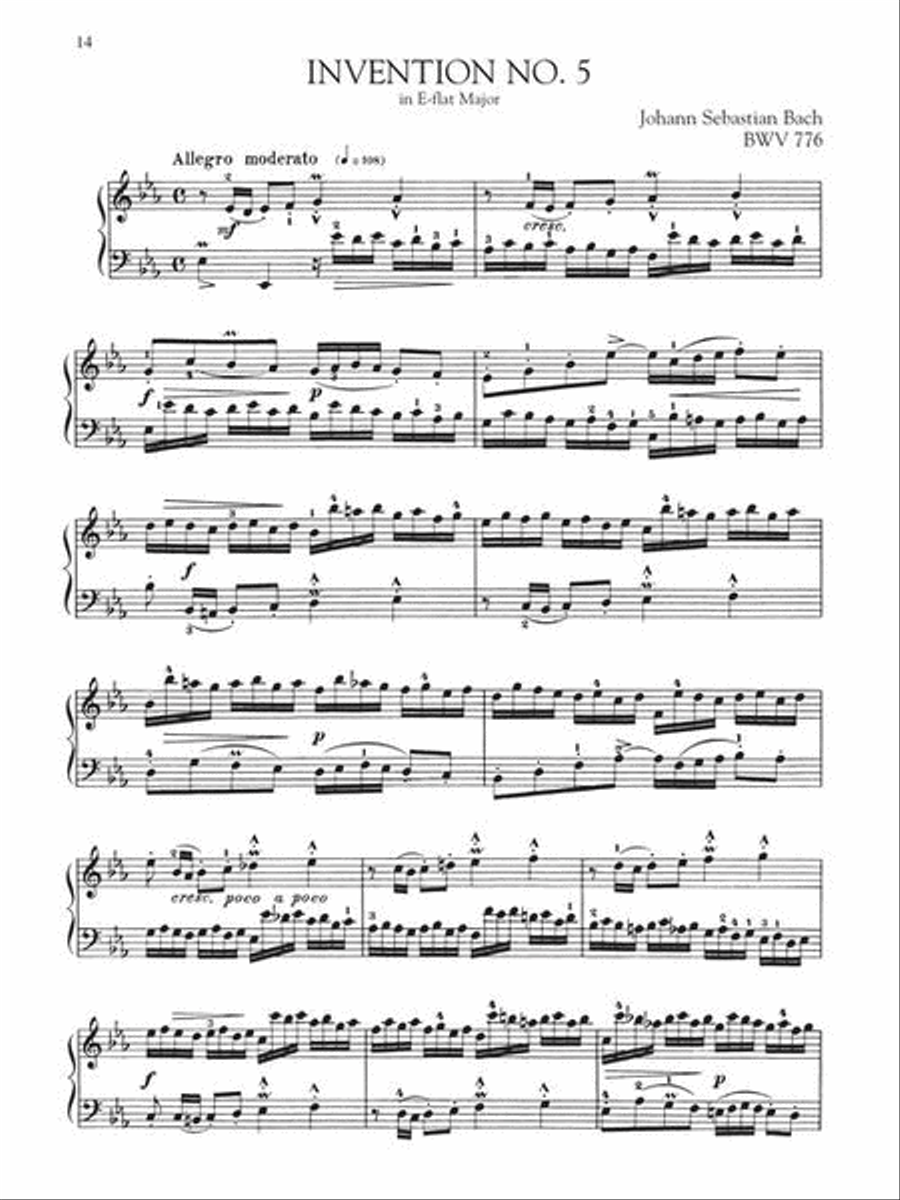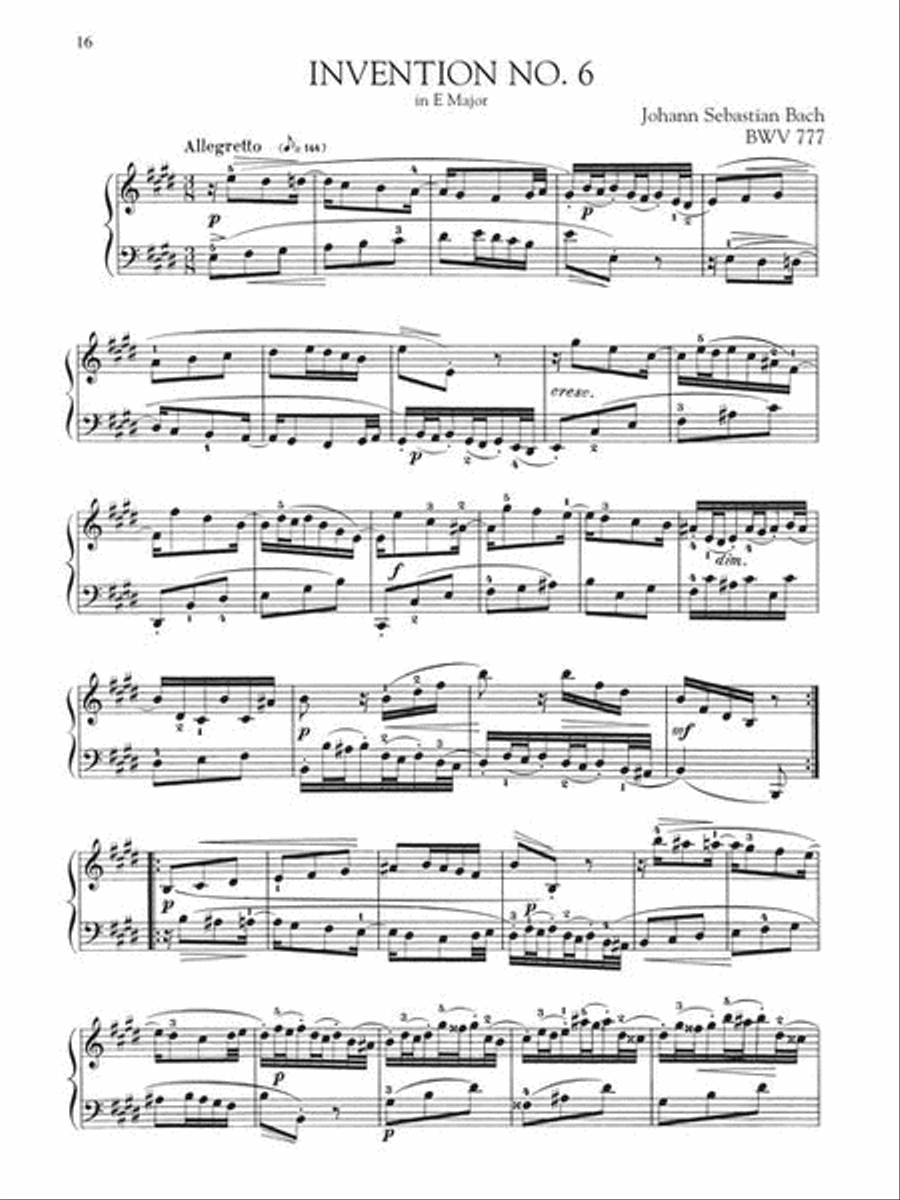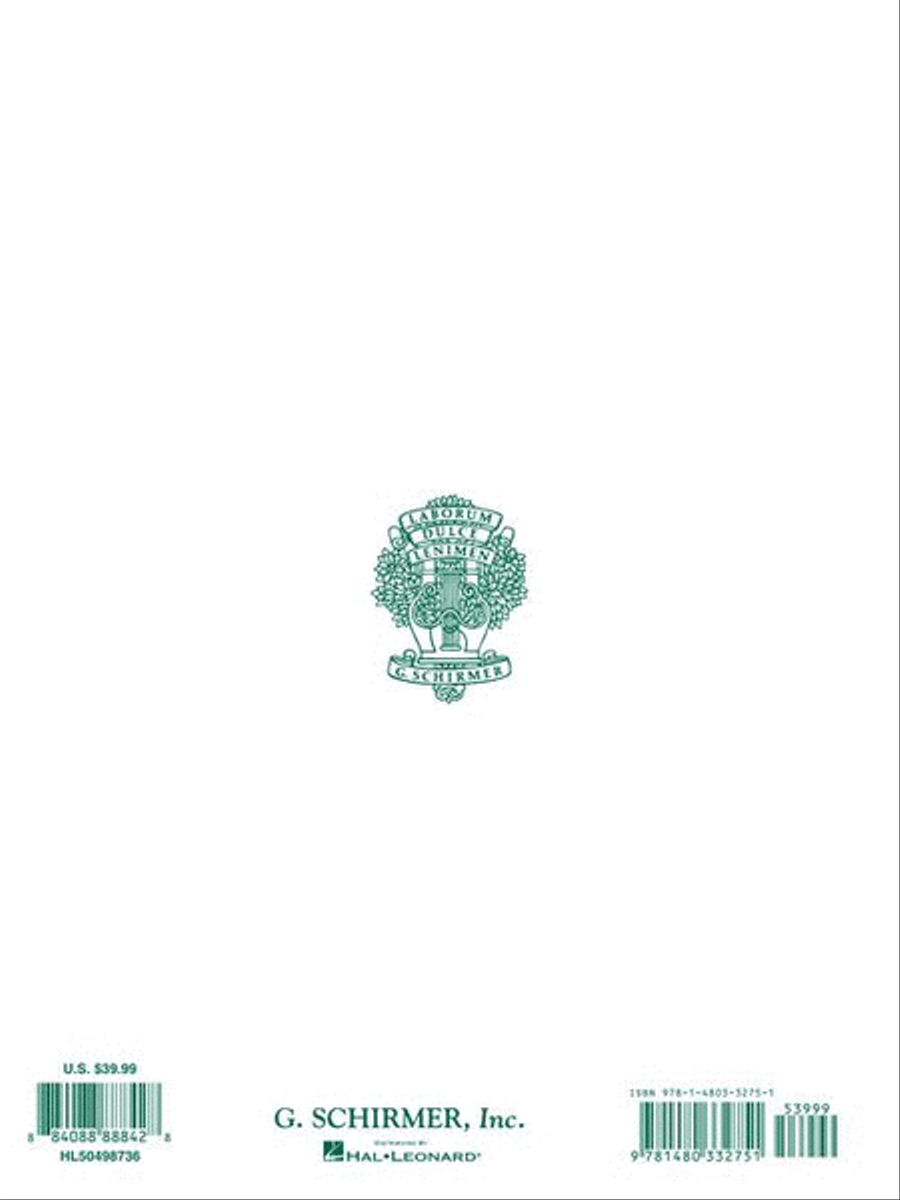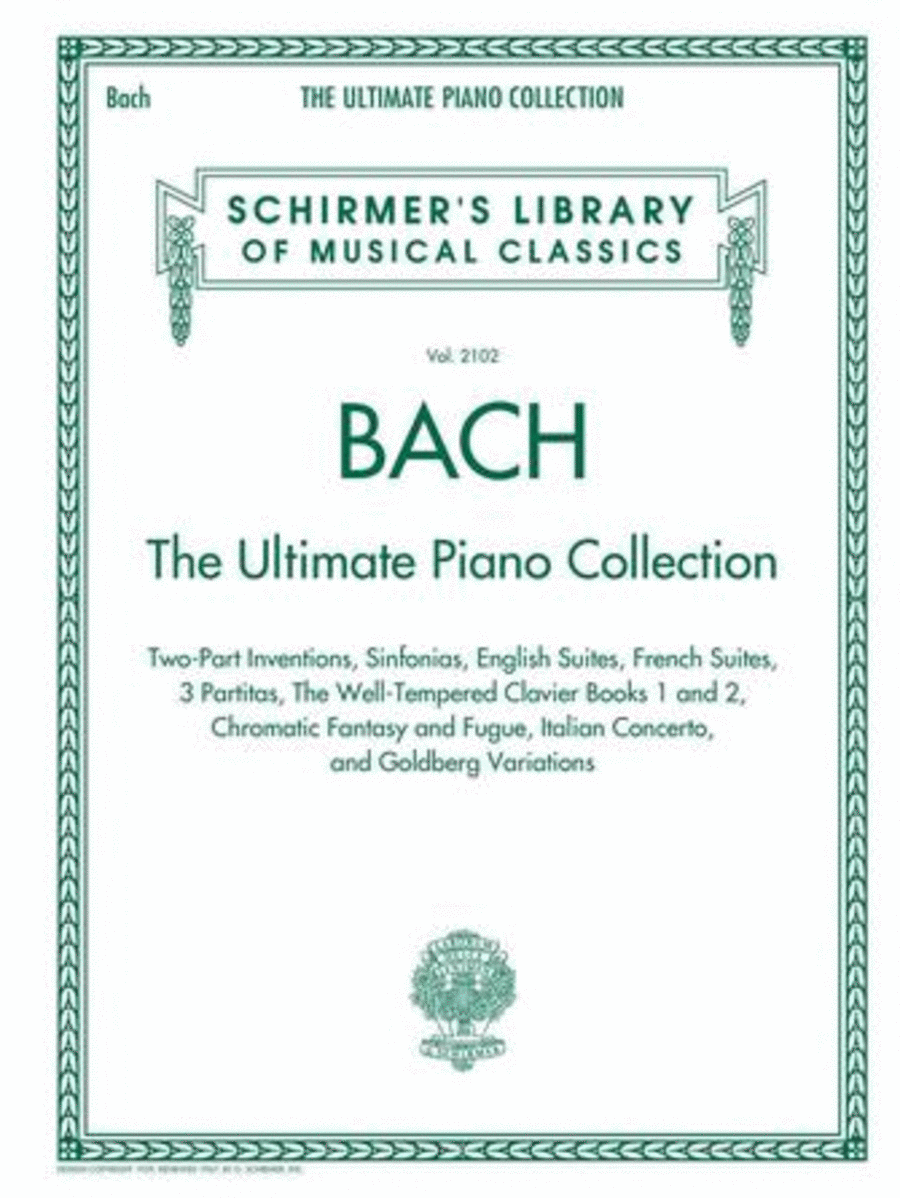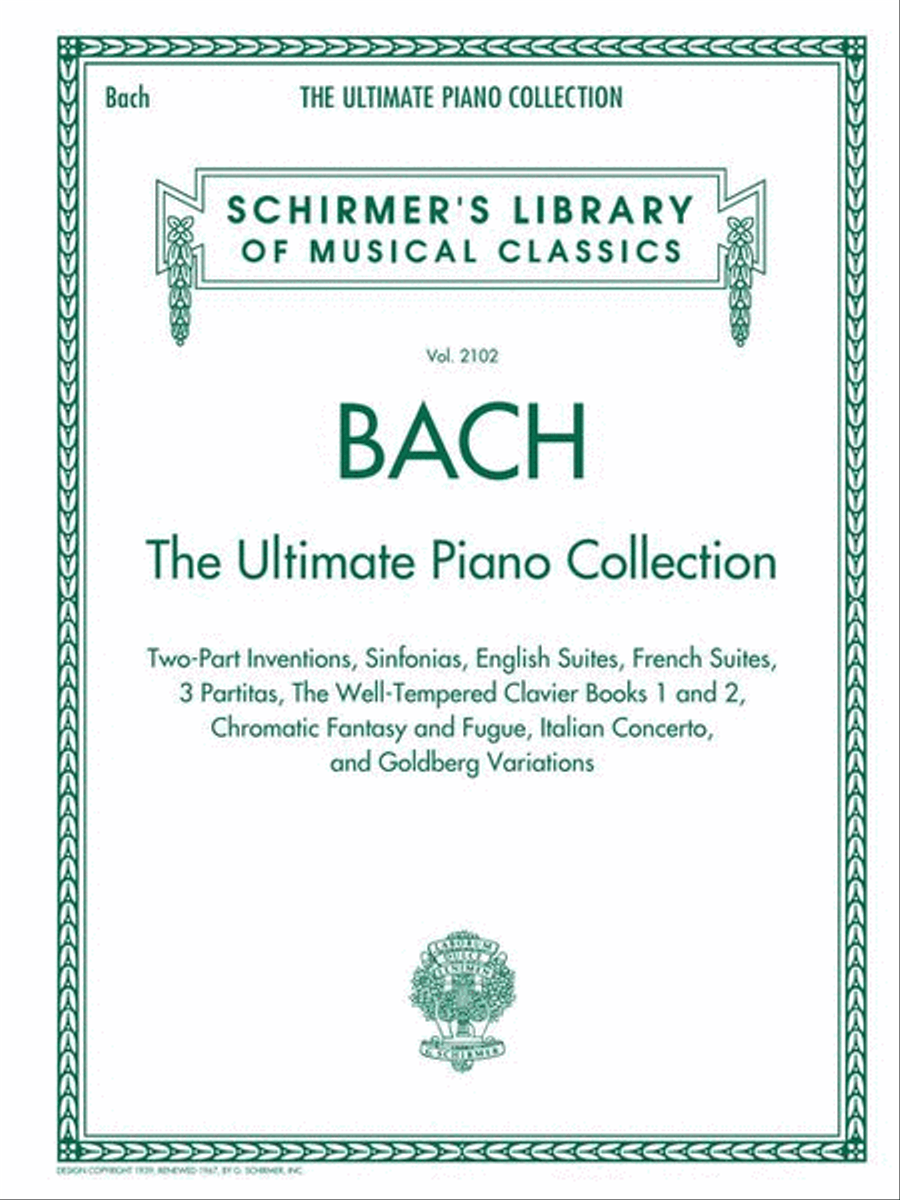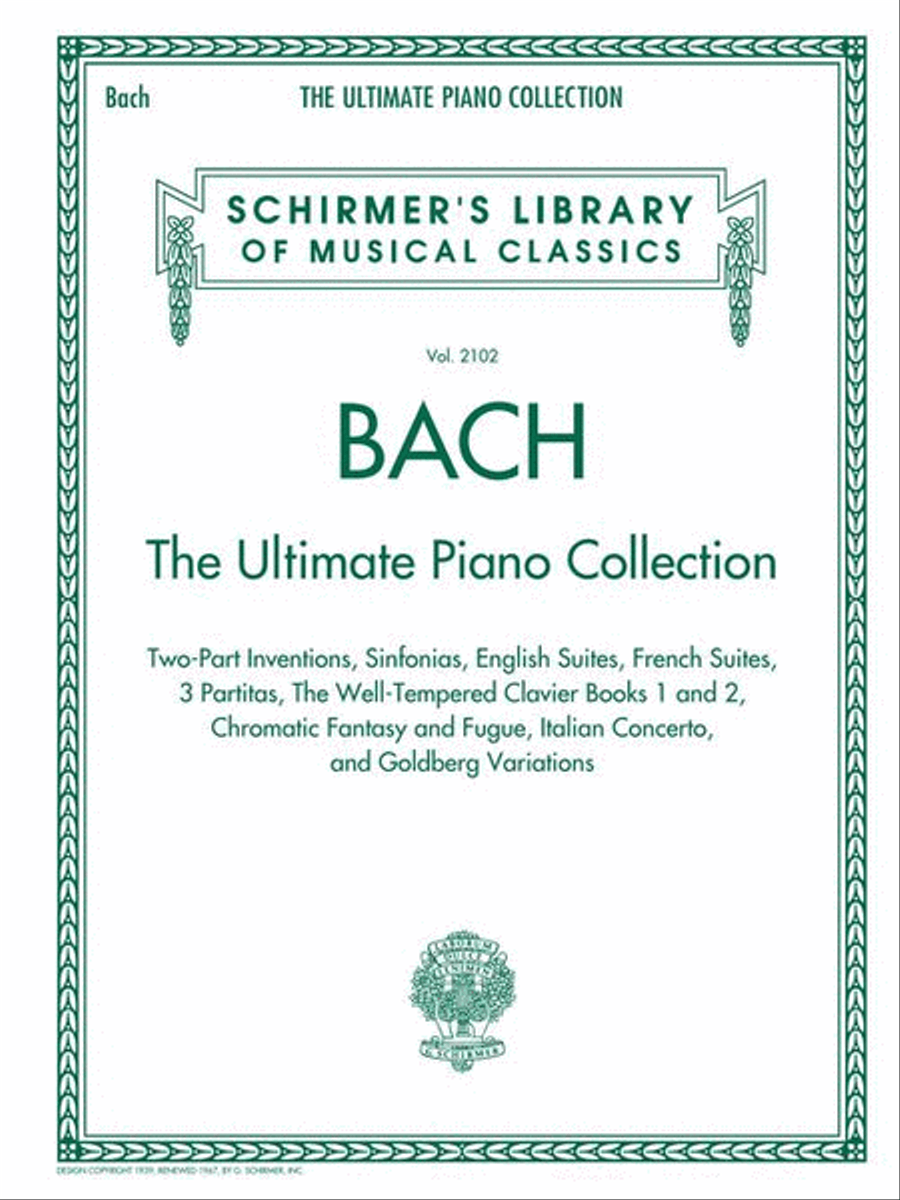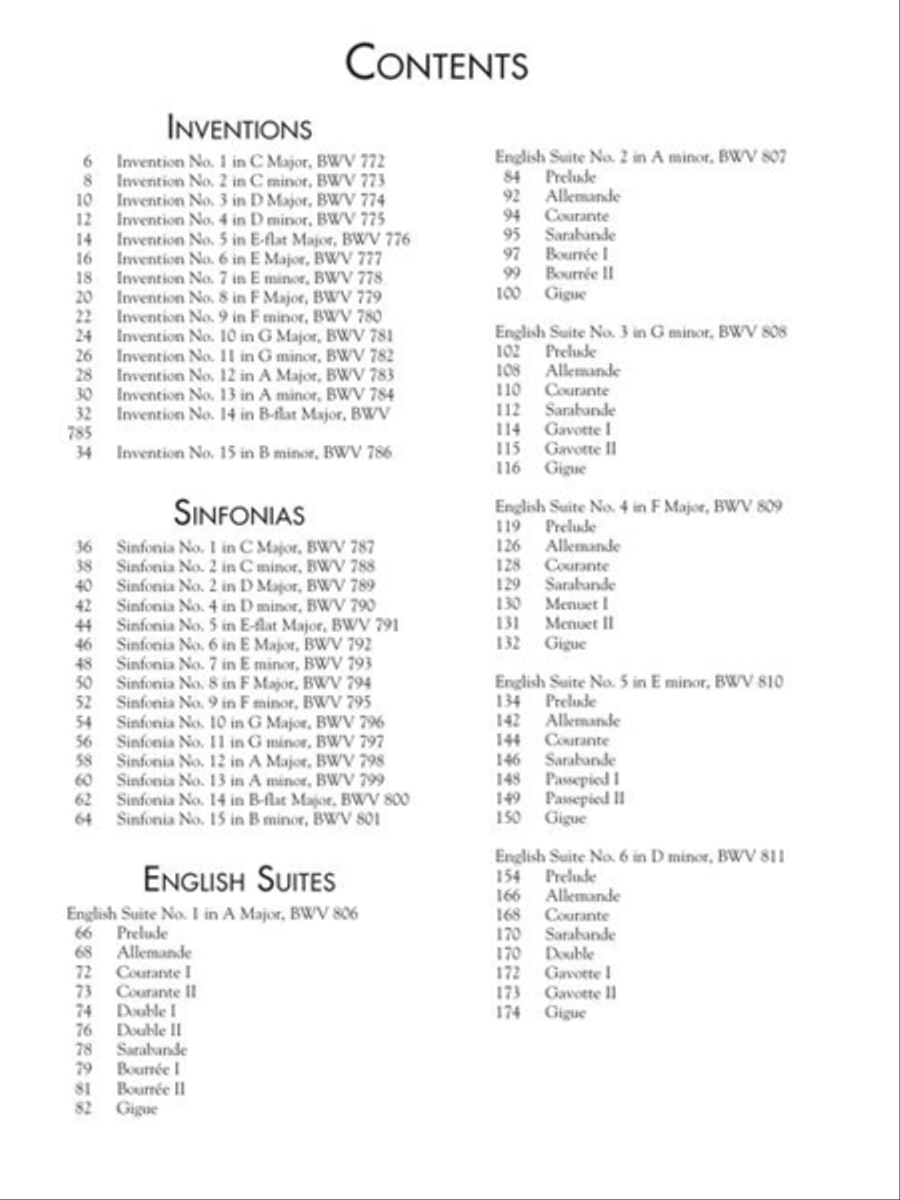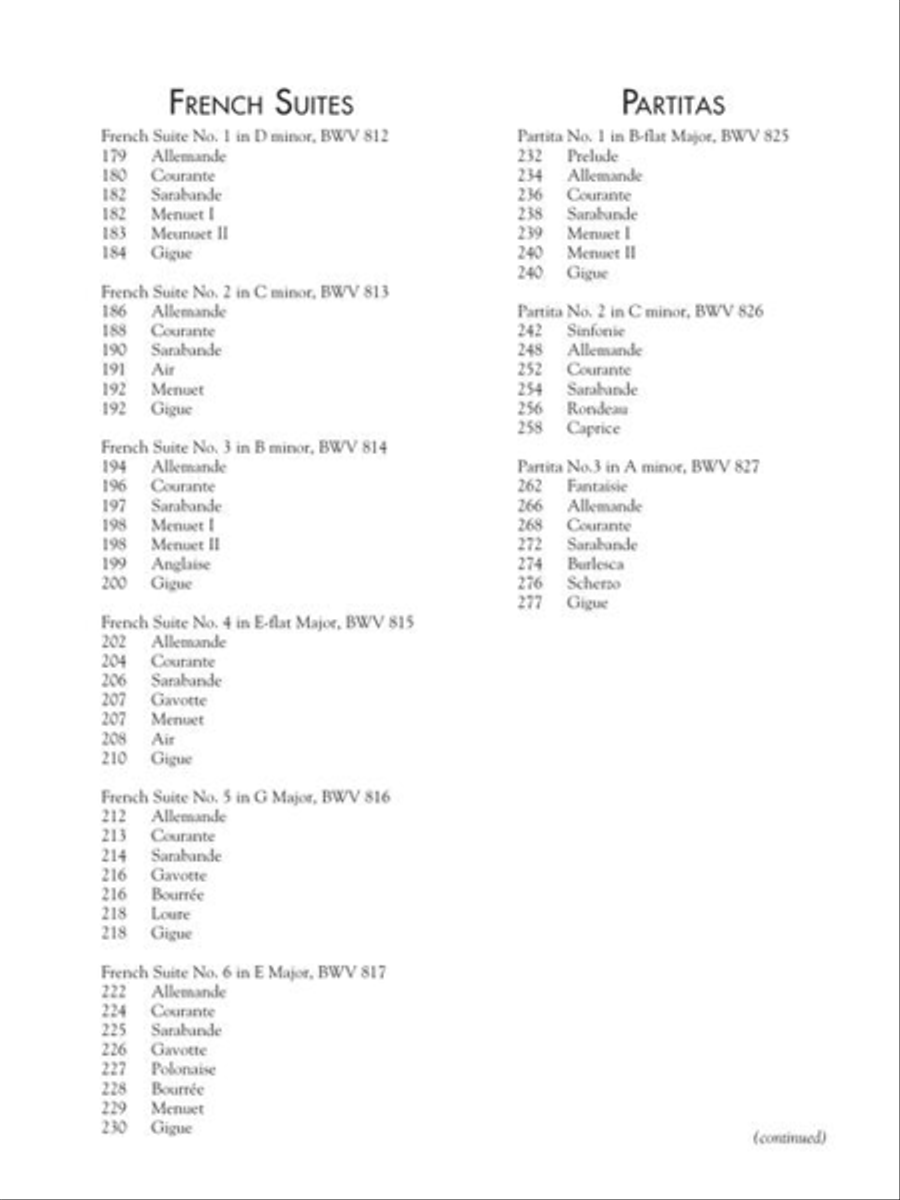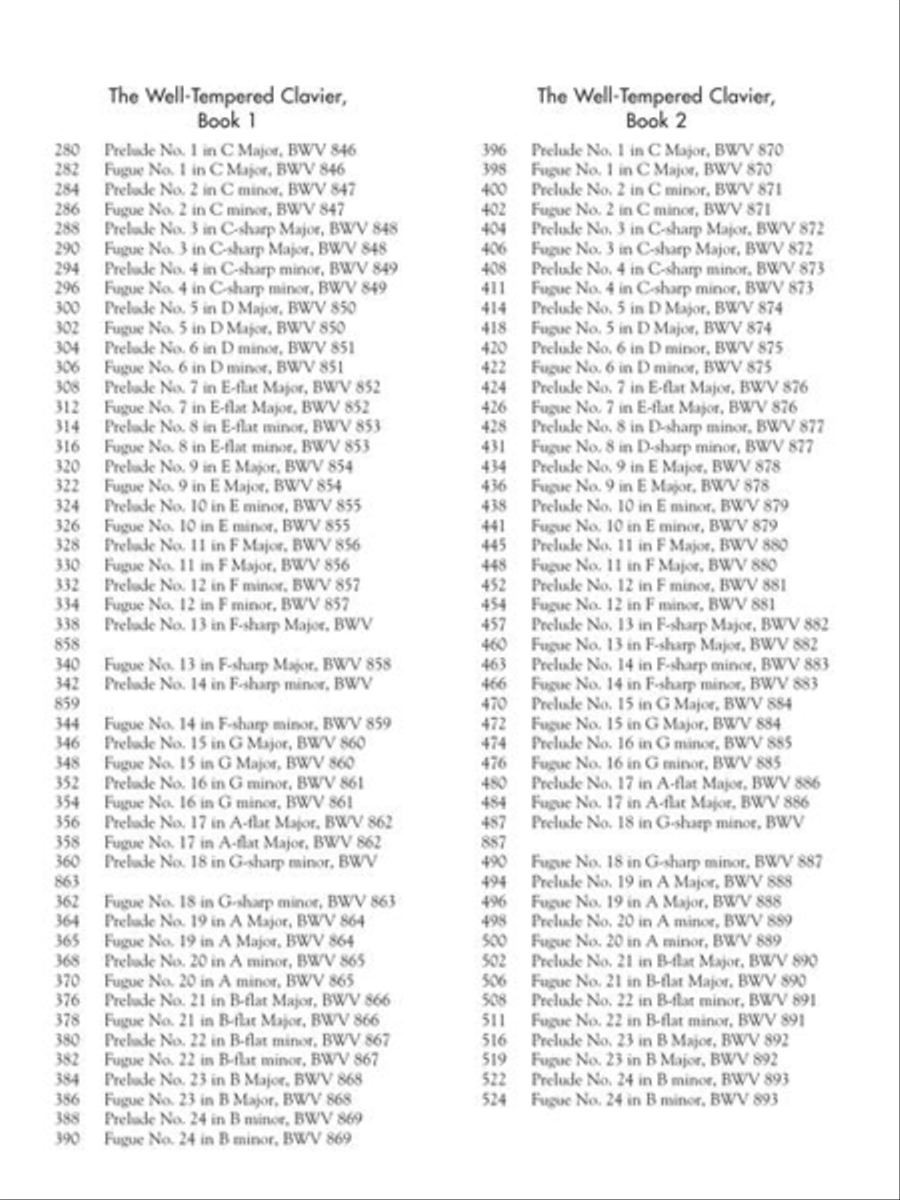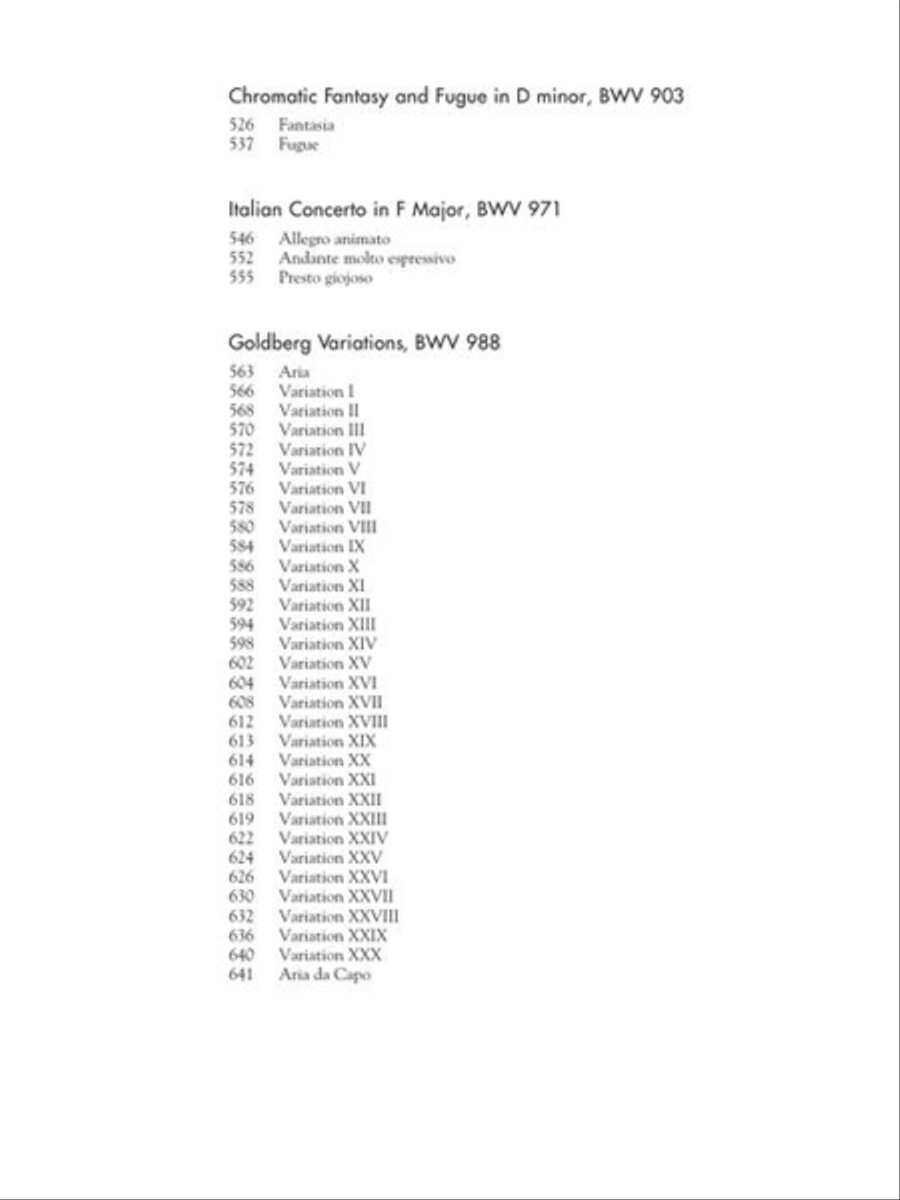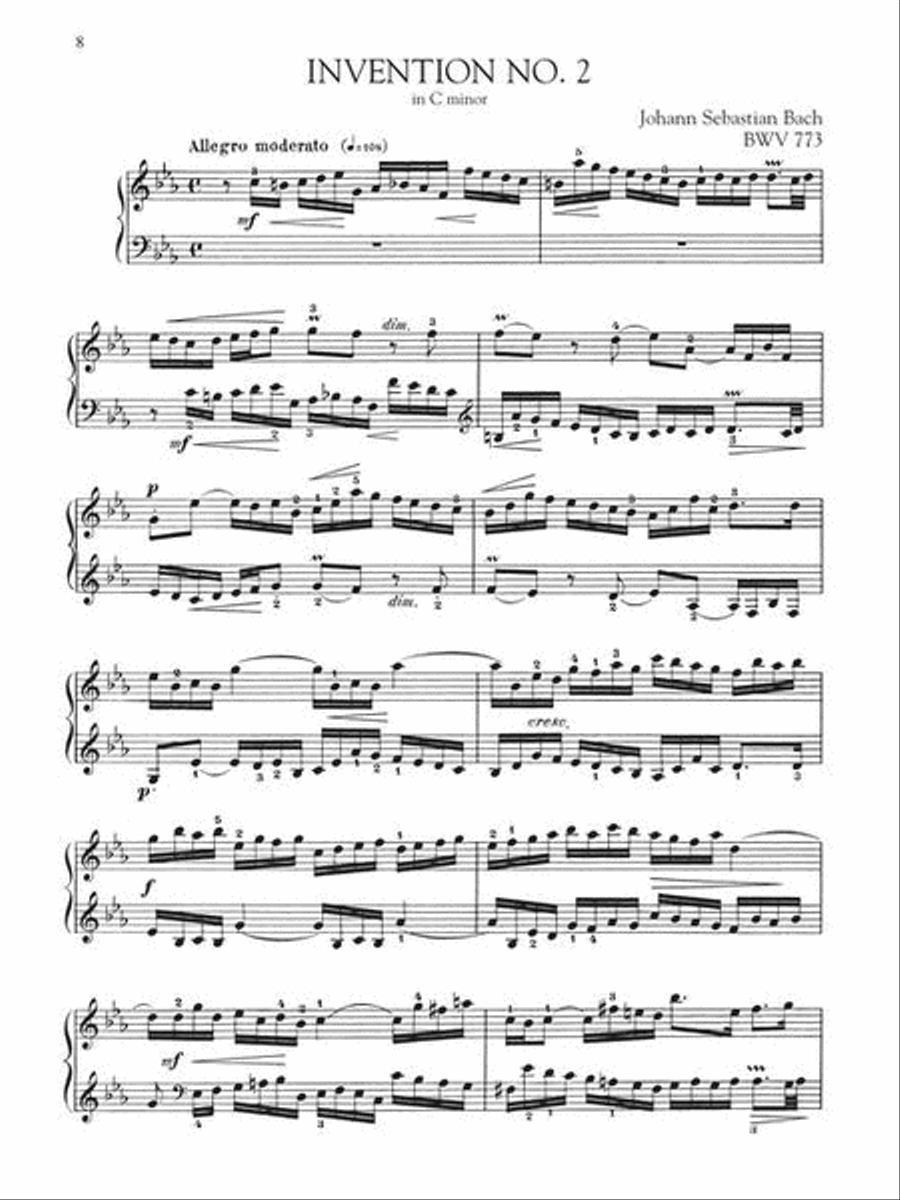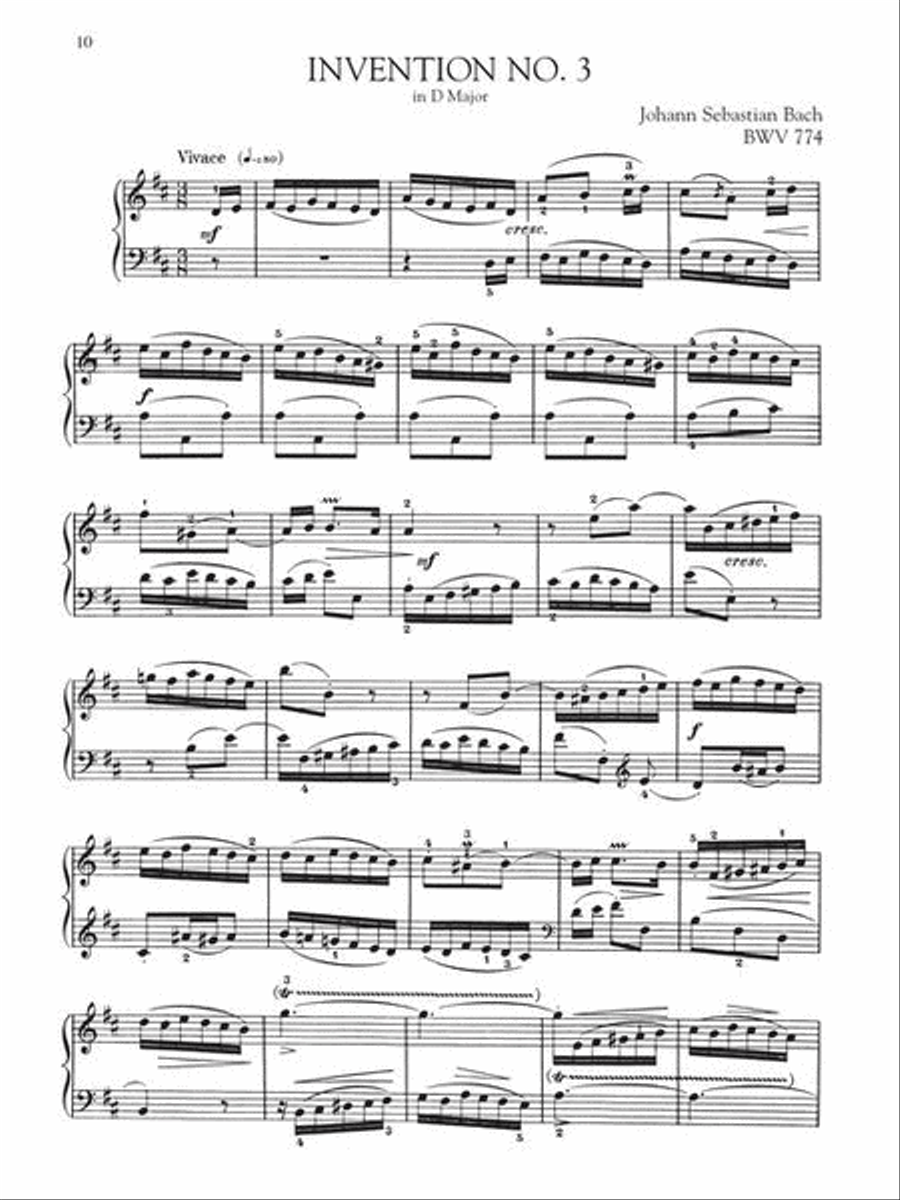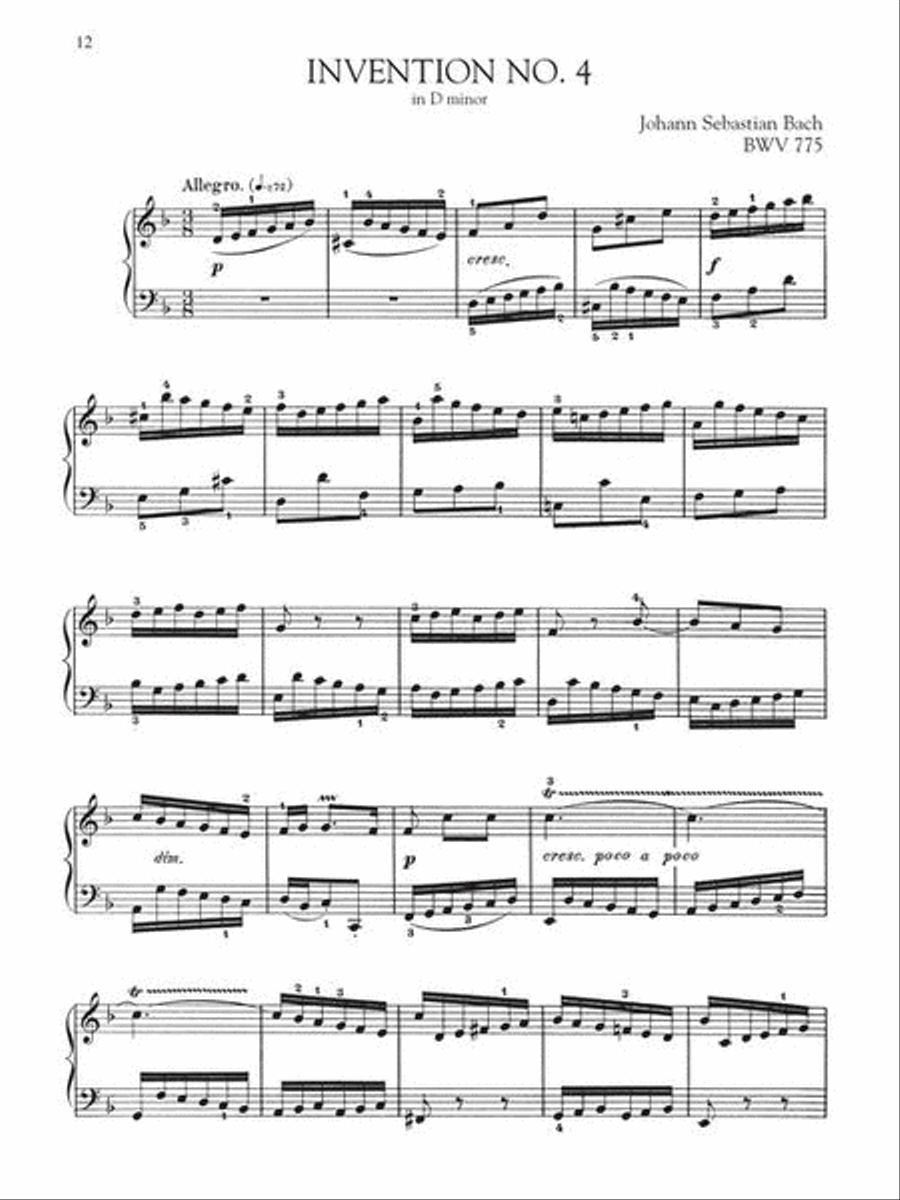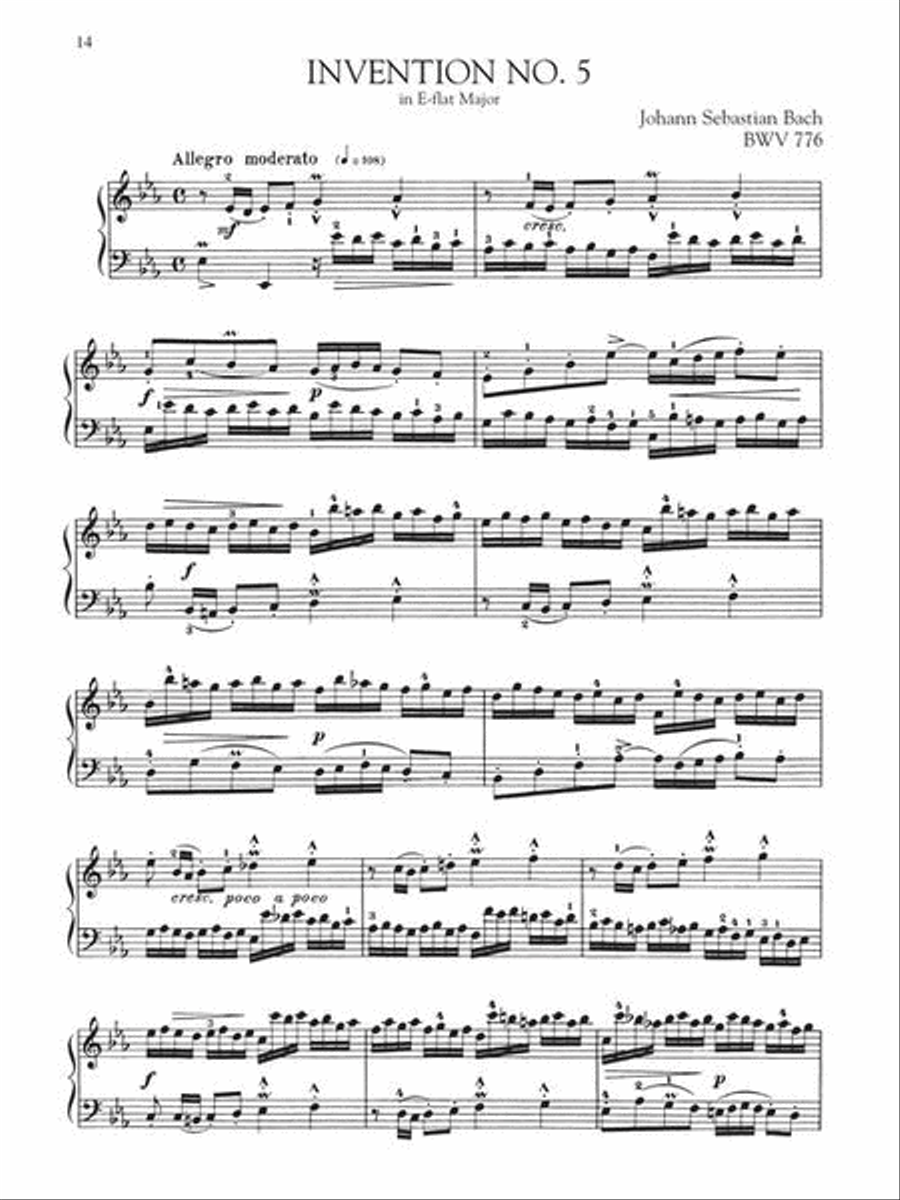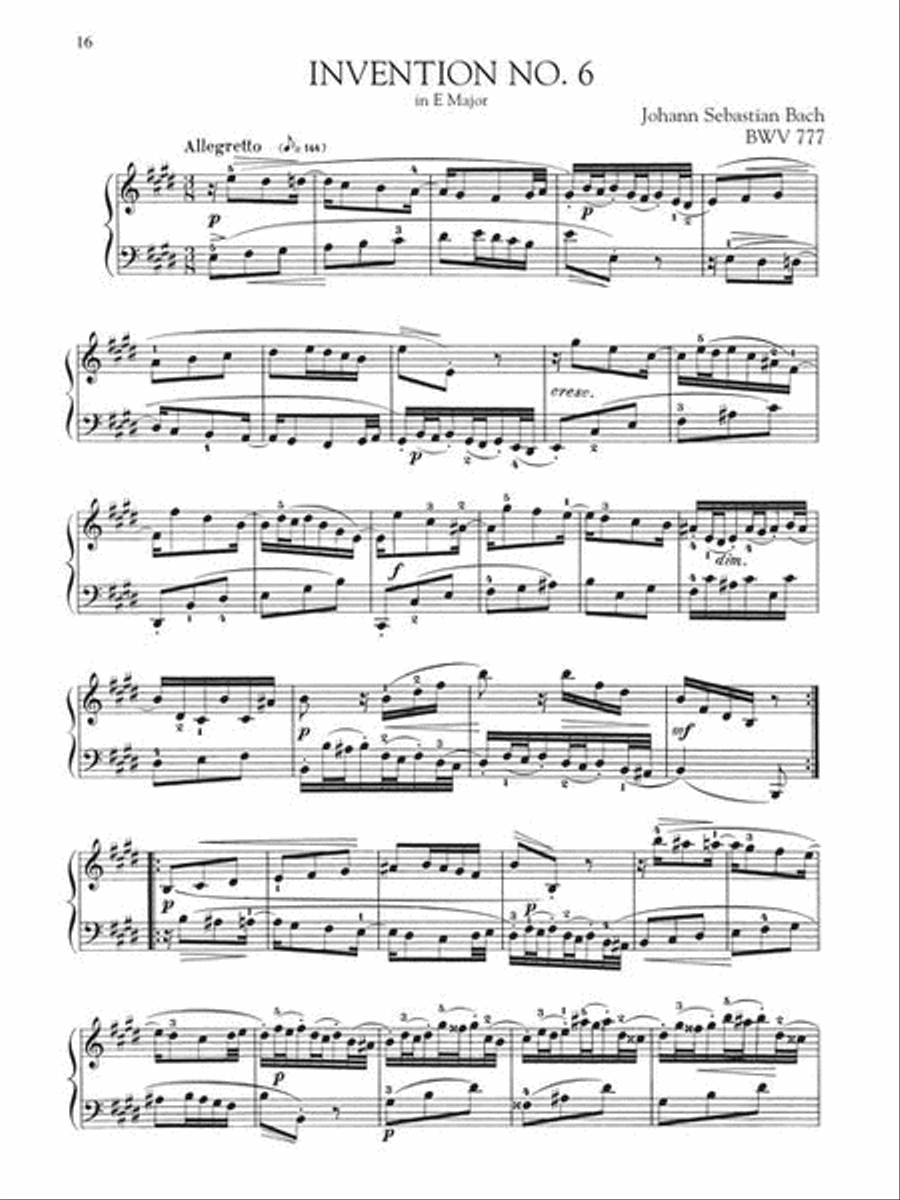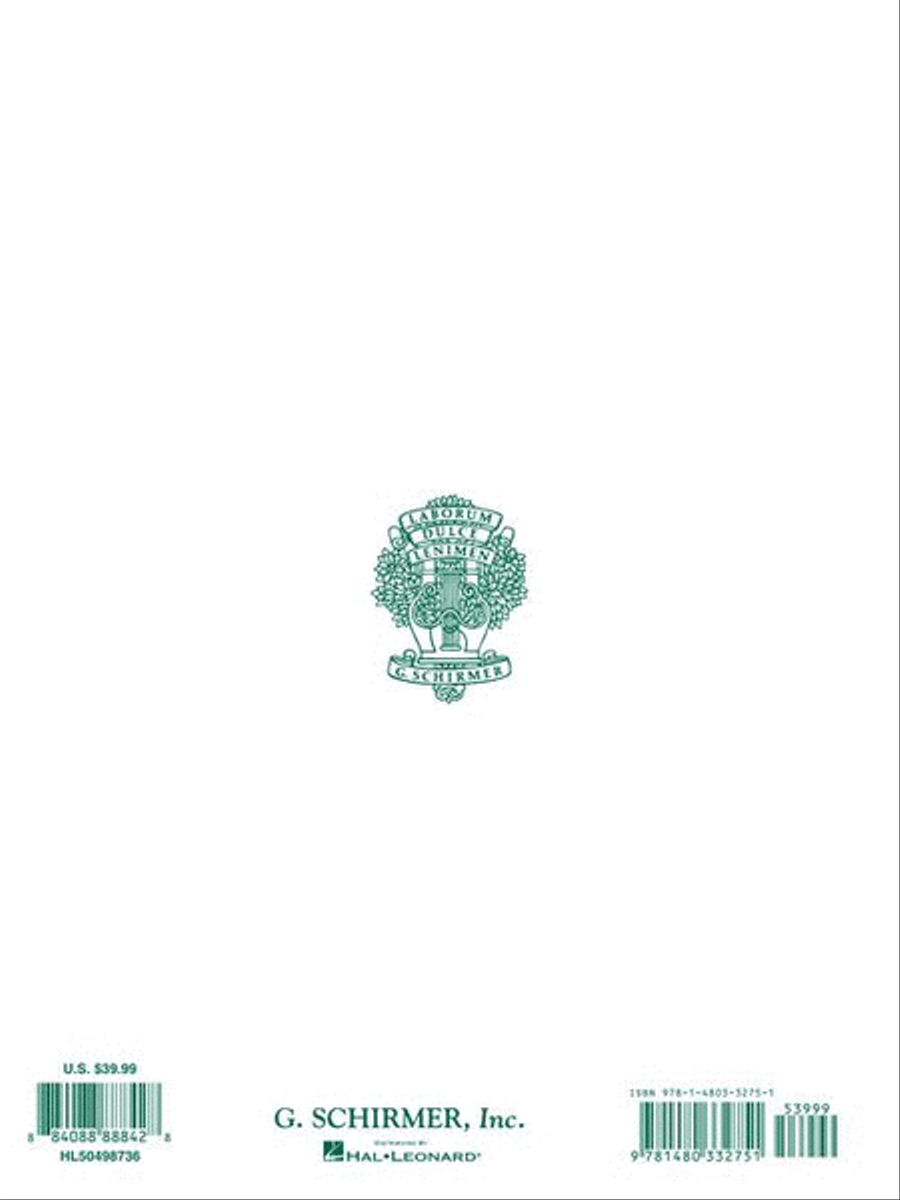 Bach: The Ultimate Piano Collection

Schirmer Library of Classics Volume 2102
This item is currently not available
Taxes/VAT calculated at checkout.
Detailed Description
Piano
SKU: HL.50498736
Schirmer Library of Classics Volume 2102
. Composed by Johann Sebastian Bach. Edited by Carl Czerny, Hans von B&uuml, Ralph Kirkpatrick, and low. Piano Collection. Classical. Softcover. 644 pages. G. Schirmer #LB2102. Published by G. Schirmer (HL.50498736).
ISBN 9781480332751. UPC: 884088888428. 9.0x12.0x1.448 inches.
The most Bach for your buck available! This gigantic 648 page comb-bound volume from the prestigious Schirmer Library of Musical Classics includes the complete Inventions, Sinfonias, English Suites, French Suites, Goldberg Variations, Partitas 1-3, The Well-Tempered Clavier Books 1 and 2, Chromatic Fantasia and Fugue in D minor, and the Italian Concerto in F Major.
Song List (240)
Goldberg Variations, BWV 988
Invention No. 8 In F Major, BWV 779
Gavotte II, BWV 811
Gavotte I, BWV 808
Gavotte, BWV 816
Sarabande, BWV 810
Scherzo, BWV 827
Invention No. 14 In B-Flat Major, BWV 785
Invention No. 12 In A Major, BWV 783
Invention No. 3 In D Major, BWV 774
Invention No. 6 In E Major, BWV 777
Menuet II, BWV 825
Allemande, BWV 816
Courante, BWV 816
Sarabande, BWV 816
Bourree, BWV 816
Loure, BWV 816
Gigue, BWV 816
Sinfonia No. 2 In C Minor, BWV 788
Sinfonia No. 15 In B Minor, BWV 801
Invention No. 4 In D Minor, BWV 775
Invention No. 10 In G Major, BWV 781
Gigue, BWV 810
Allemande, BWV 814
Prelude, BWV 825
Sarabande, BWV 826
Rondeau, BWV 826
Fugue No. 1 In C Major, BWV 846
Prelude No. 2 In C Minor, BWV 847
Fugue No. 2 In C Minor, BWV 847
Prelude No. 3 In C-Sharp Major, BWV 848
Fugue No. 3 In C-Sharp Major, BWV 848
Prelude No. 17 In A-Flat Major, BWV 862
Fugue No. 17 In A-Flat Major, BWV 862
Prelude No. 21 In B-Flat Major, BWV 866
Fugue No. 21 In B-Flat Major, BWV 866
Aria Da Capo, BWV 988
Sinfonia No. 5 In E-Flat Major, BWV 791
Sinfonia No. 10 In G Major, BWV 796
Prelude, BWV 807
Allemande, BWV 807
Courante, BWV 807
Sarabande, BWV 807
Bourree I, BWV 807
Bourree II, BWV 807
Gigue, BWV 807
Prelude, BWV 808
Allemand, BWV 808
Courante, BWV 808
Sarabande, BWV 808
Gavotte II, BWV 808
Gigue, BWV 808
Allemande, BWV 813
Courante, BWV 813
Sarabande, BWV 813
Air, BWV 813
Menuet, BWV 813
Gigue, BWV 813
Allemande, BWV 817
Courante, BWV 817
Sarabande, BWV 817
Gavotte, BWV 817
Polonaise, BWV 817
Bourree, BWV 817
Menuet, BWV 817
Gigue, BWV 817
Allemande, BWV 825
Courante, BWV 825
Sarabande, BWV 825
Menuet I, BWV 825
Gigue, BWV 825
Sinfonie, BWV 826
Allemande, BWV 826
Courante, BWV 826
Caprice, BWV 826
Prelude No. 10 In E Minor, BWV 855
Fugue No. 10 In E Minor, BWV 855
Prelude No. 16 In G Minor, BWV 861
Fugue No. 16 In G Minor, BWV 861
Prelude No. 20 In A Minor, BWV 865
Fugue No. 20 In A Minor, BWV 865
Prelude No. 24 In B Minor, BWV 869
Fugue No. 24 In B Minor, BWV 869
Prelude No. 2 In C Minor, 871
Fugue No. 2 In C Minor, BWV 871
Prelude No. 5 In D Major, BWV 874
Fugue No. 5 In D Major, BWV 874
Prelude No. 6 In D Minor, BWV 875
Fugue No. 6 In D Minor, BWV 875
Prelude No. 10 In E Minor, BWV 879
Fugue No. 10 In E Minor, BWV 879
Prelude No. 12 In F Minor, BWV 881
Fugue No. 12 In F Minor, BWV 881
Fantasia, BWV 903
Fugue, BWV 903
Allegro Animato, BWV 971
Andante Molto Espressivo, BWV 971
Presto Giojoso, BWV 971
Courante, BWV 814
Sarabande, BWV 814
Menuet I, BWV 814
Menuet II, BWV 814
Anglaise, BWV 814
Gigue, BWV 814
Prelude No. 4 In C-Sharp Minor, BWV 849
Fugue No. 4 In C-Sharp Minor, BWV 849
Prelude No. 5 In D Major, BWV 850
Fugue No. 5 In D Major, BWV 850
Prelude No. 6 In D Minor, BWV 851
Fugue No. 6 In D Minor, BWV 851
Prelude No. 7 In E-Flat Major, BWV 852
Fugue No. 7 In E-Flat Major, BWV 852
Prelude No. 8 In E-Flat Minor, BWV 853
Fugue No. 8 In E-Flat Minor, BWV 853
Prelude No. 9 In E Major, BWV 854
Fugue No. 9 In E Major, BWV 854
Prelude No. 11 In F Major, BWV 856
Fugue No. 11 In F Major, BWV 856
Prelude No. 12 In F Minor, BWV 857
Fugue No. 12 In F Minor, BWV 857
Prelude No. 13 In F-Sharp Major, BWV 858
Fugue No. 13 In F-Sharp Major, BWV 858
Prelude No. 14 In F-Sharp Minor, BWV 859
Fugue No. 14 In F-Sharp Minor, BWV 859
Prelude No. 15 In G Major, BWV 860
Fugue No. 15 In G Major, BWV 860
Fugue No. 18 In G-Sharp Minor, BWV 863
Prelude No. 19 In A Major, BWV 864
Fugue No. 19 In A Major, BWV 864
Prelude No. 22 In B-Flat Minor, BWV 867
Fugue No. 22 In B-Flat Minor, BWV 867
Prelude No. 23 In B Major, BWV 868
Fugue No. 23 In B Major, BWV 868
Prelude No. 1 In C Major, BWV 870
Fugue No. 1 In C Major, BWV 870
Prelude No. 3 In C-Sharp Major, BWV 872
Fugue No. 3 In C-Sharp Major, BWV 872
Prelude No. 4 In C-Sharp Minor, BWV 873
Fugue No. 4 In C-Sharp Minor, BWV 873
Prelude No. 7 In E-Flat Major, BWV 876
Fugue No. 7 In E-Flat Major, BWV 876
Prelude No. 8 In D-Sharp Minor, BWV 877
Fugue No. 8 In D-Sharp Minor, BWV 877
Prelude No. 9 In E Major, BWV 878
Fugue No. 9 In E Major, BWV 878
Prelude No. 11 In F Major, BWV 880
Fugue No. 11 In F Major, BWV 880
Prelude No. 13 In F-Sharp Major, BWV 882
Fugue No. 13 In F-Sharp Major, BWV 882
Prelude No. 14 In F-Sharp Minor, BWV 883
Fugue No. 14 In F-Sharp Minor, BWV 883
Prelude No. 15 In G Major, BWV 884
Fugue No. 15 In G Major, BWV 884
Prelude No. 16 In G Minor, BWV 885
Fugue No. 16 In G Minor, BWV 885
Prelude No. 17 In A-Flat Major, BWV 886
Fugue No. 17 In A-Flat Major, BWV 886
Prelude No. 18 In G-Sharp Minor, BWV 887
Fugue No. 18 In G-Sharp Minor, BWV 887
Prelude No. 19 In A Major, BWV 888
Fugue No. 19 In A Major, BWV 888
Fugue No. 20 In A Minor, BWV 889
Prelude No. 21 In B-Flat Major, BWV 890
Fugue No. 21 In B-Flat Major, BWV 890
Prelude No. 22 In B-Flat Minor, BWV 891
Fugue No. 22 In B-Flat Minor, BWV 891
Prelude No. 23 In B Major, BWV 892
Prelude No. 24 In B Minor, BWV 893
Fugue No. 24 In B Minor, BWV 893
Invention No. 5 In E-Flat Major, BWV 776
Invention No. 7 In E Minor, BWV 778
Invention No. 9 In F Minor, BWV 780
Invention No. 11 In G Minor, BWV 782
Invention No. 15 In B Minor, BWV 786
Sinfonia No. 1 In C Major, BWV 787
Sinfonia No. 3 In D Major, BWV 789
Sinfonia No. 4 In D Minor, BWV 790
Sinfonia No. 6 In E Major, BWV 792
Sinfonia No. 7 In E Minor, BWV 793
Sinfonia No. 8 In F Major, BWV 794
Sinfonia No. 9 In F Minor, BWV 795
Sinfonia No. 11 In G Minor, BWV 797
Sinfonia No. 12 In A Major, BWV 798
Sinfonia No. 13 In A Minor, BWV 799
Sinfonia No. 14 In B-Flat Major, BWV 800
Fantasie, BWV 827
Allemande, BWV 827
Courante, BWV 827
Sarabande, BWV 827
Burlesca, BWV 827
Gigue, BWV 827
Allemande, BWV 815
Courante, BWV 815
Sarabande, BWV 815
Gavotte, BWV 815
Menuet, BWV 815
Air, BWV 815
Gigue, BWV 815
Allemande, BWV 812
Courante, BWV 812
Sarabande, BWV 812
Menuet I, BWV 812
Menuet II, BWV 812
Gigue, BWV 812
Prelude, BWV 809
Allemande, BWV 809
Courante, BWV 809
Sarabande, BWV 809
Menuet I, BWV 809
Menuet II, BWV 809
Gigue, BWV 809
Prelude, BWV 810
Allemande, BWV 810
Courante, BWV 810
Passepied I, BWV 810
Passepied II, BWV 810
Prelude, BWV 811
Allemande, BWV 811
Courante, BWV 811
Sarabande, BWV 811
Double, BWV 811
Gavotte I, BWV 811
Gigue, BWV 811
Prelude, BWV 806
Allemande, BWV 806
Courante I, BWV 806
Courante II, BWV 806
Double I, BWV 806
Double II, BWV 806
Sarabande, BWV 806
Bourree I, BWV 806
Bourree II, BWV 806
Gigue, BWV 806
Prelude No. 20 In A Minor, BWV 889
Prelude No. 18 In G-Sharp Minor, BWV 863
Invention No. 1 In C Major, BWV 772
Invention No. 13 In A Minor, BWV 784
Invention No. 2 In C Minor, BWV 773
Prelude No. 1 In C Major, BWV 846
Fugue No. 23 In B Major, BWV 892