World's Greatest Wedding Music

50 of the Most Requested Wedding Pieces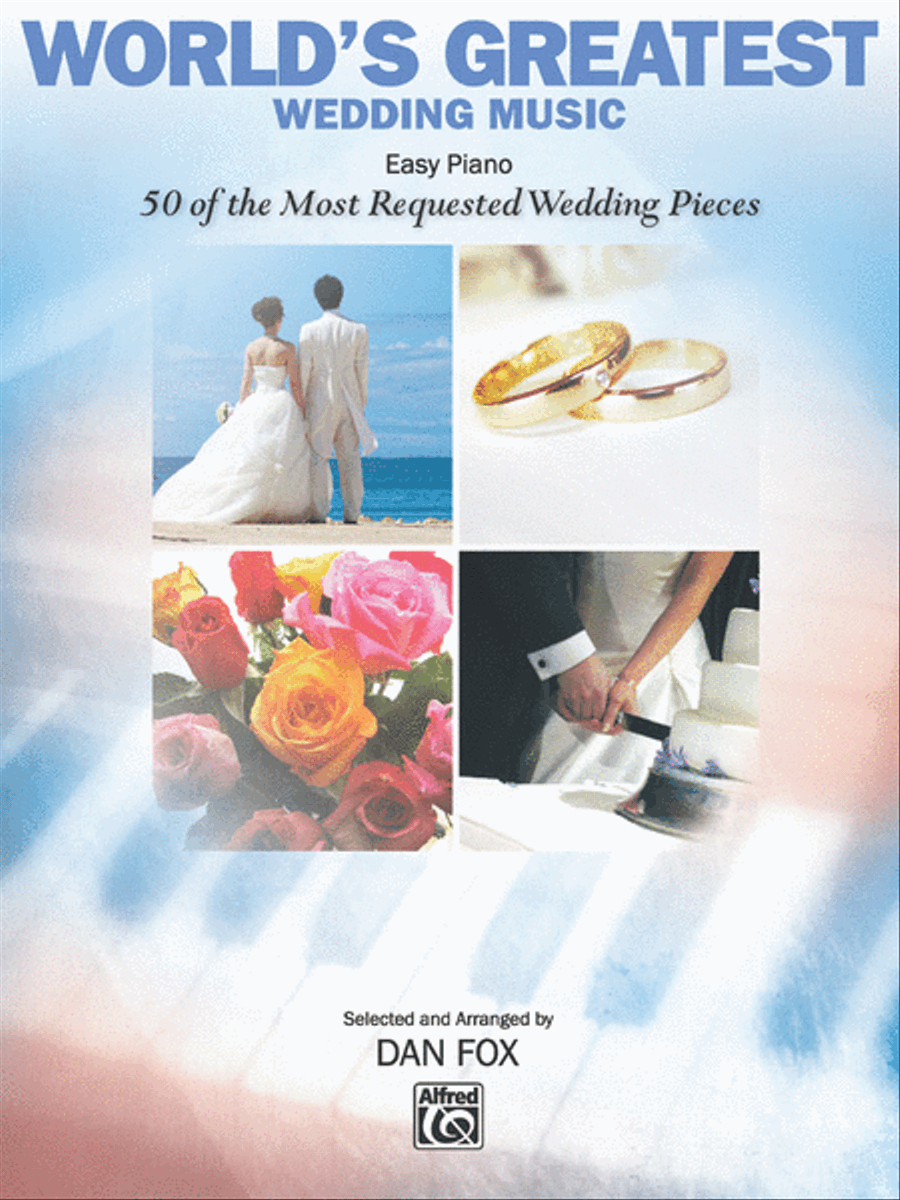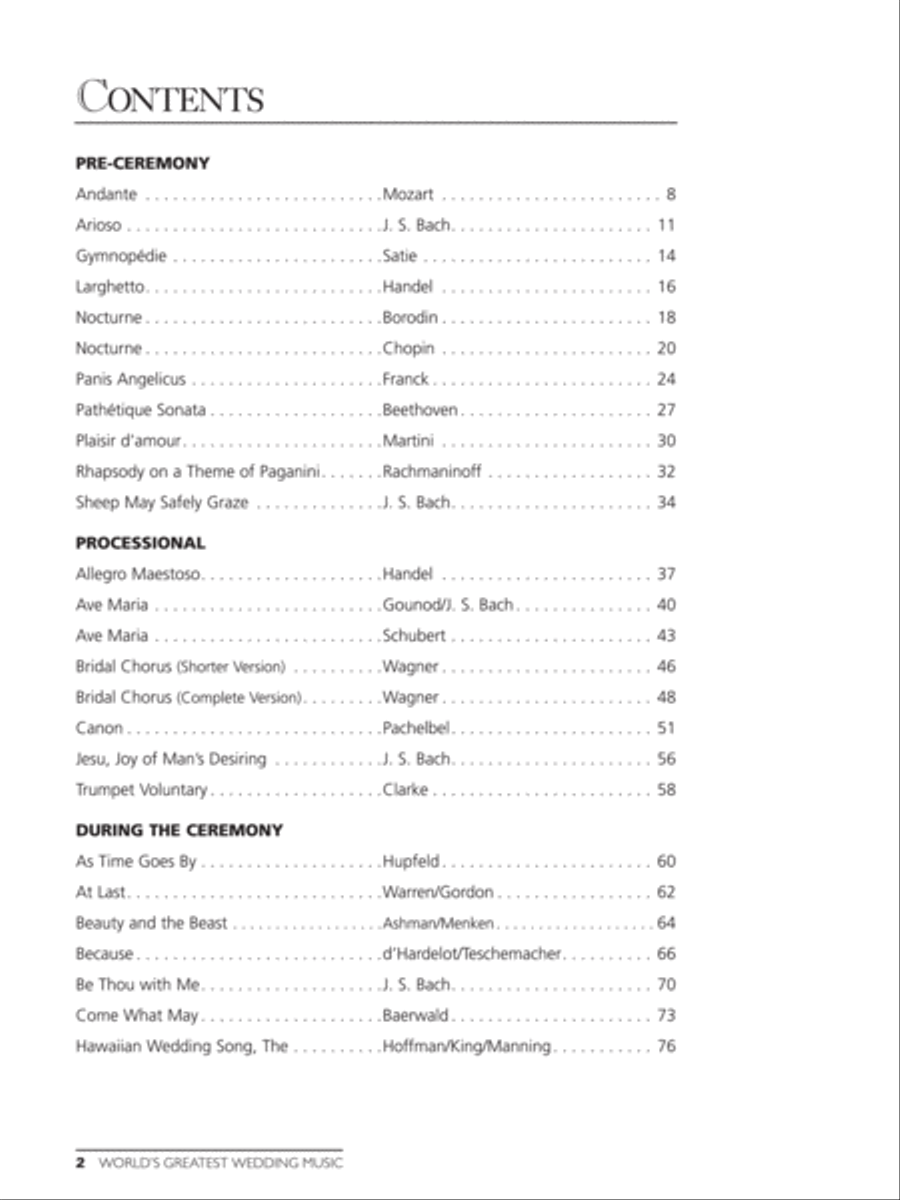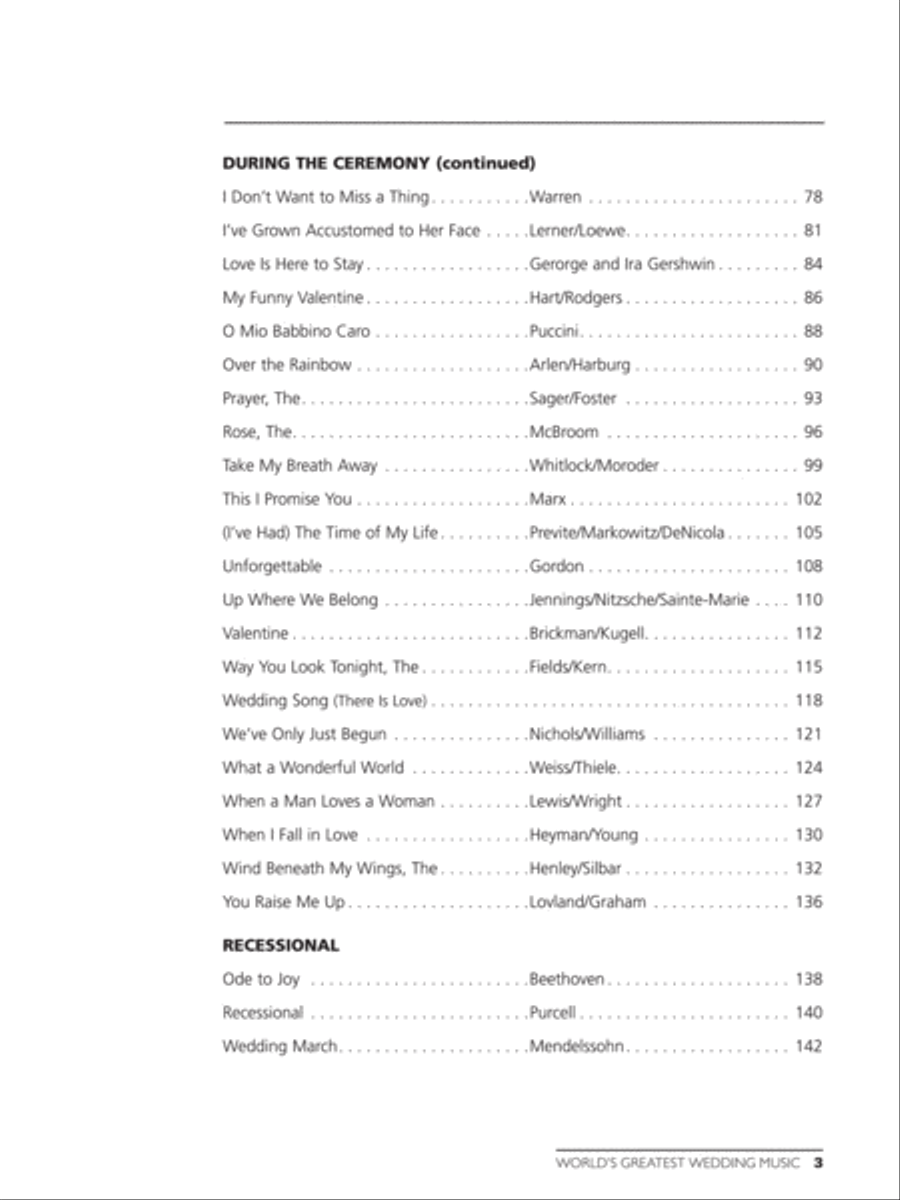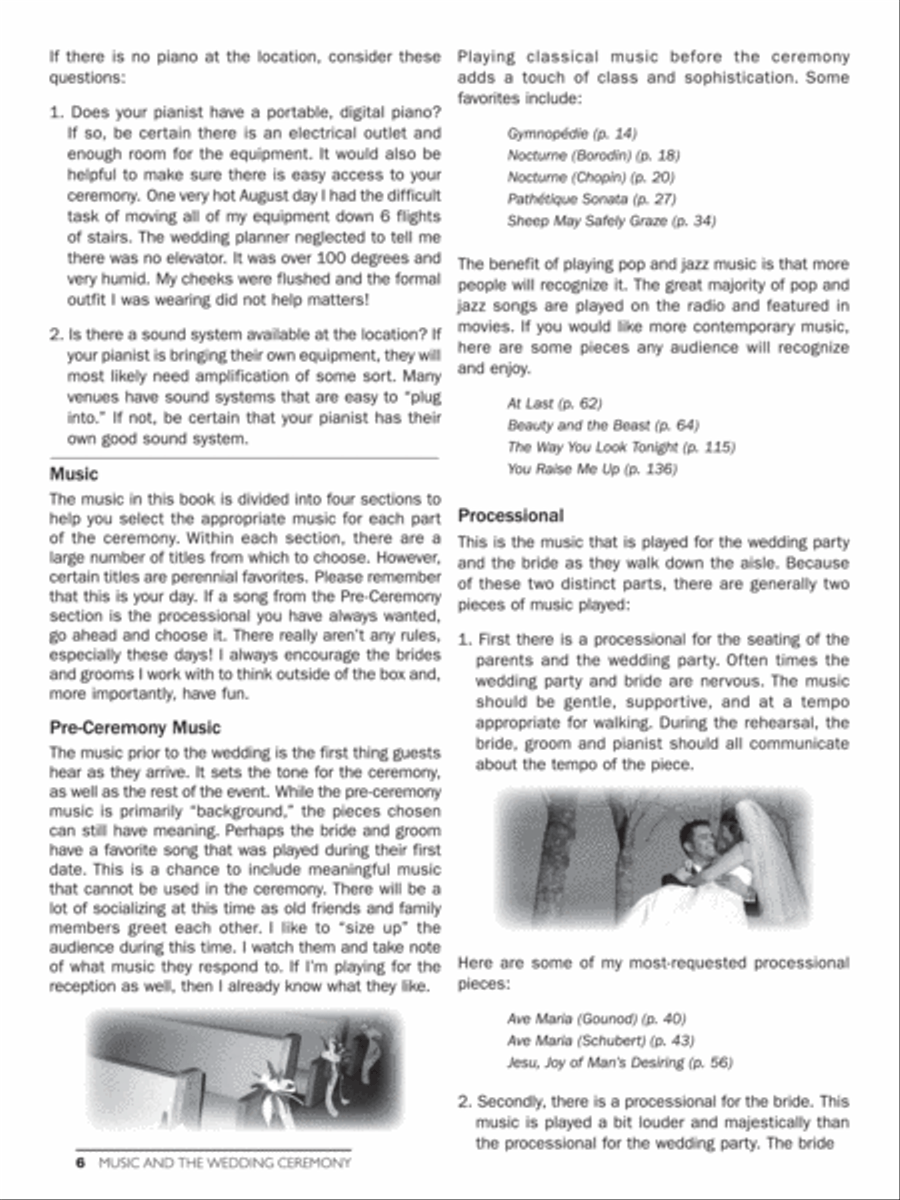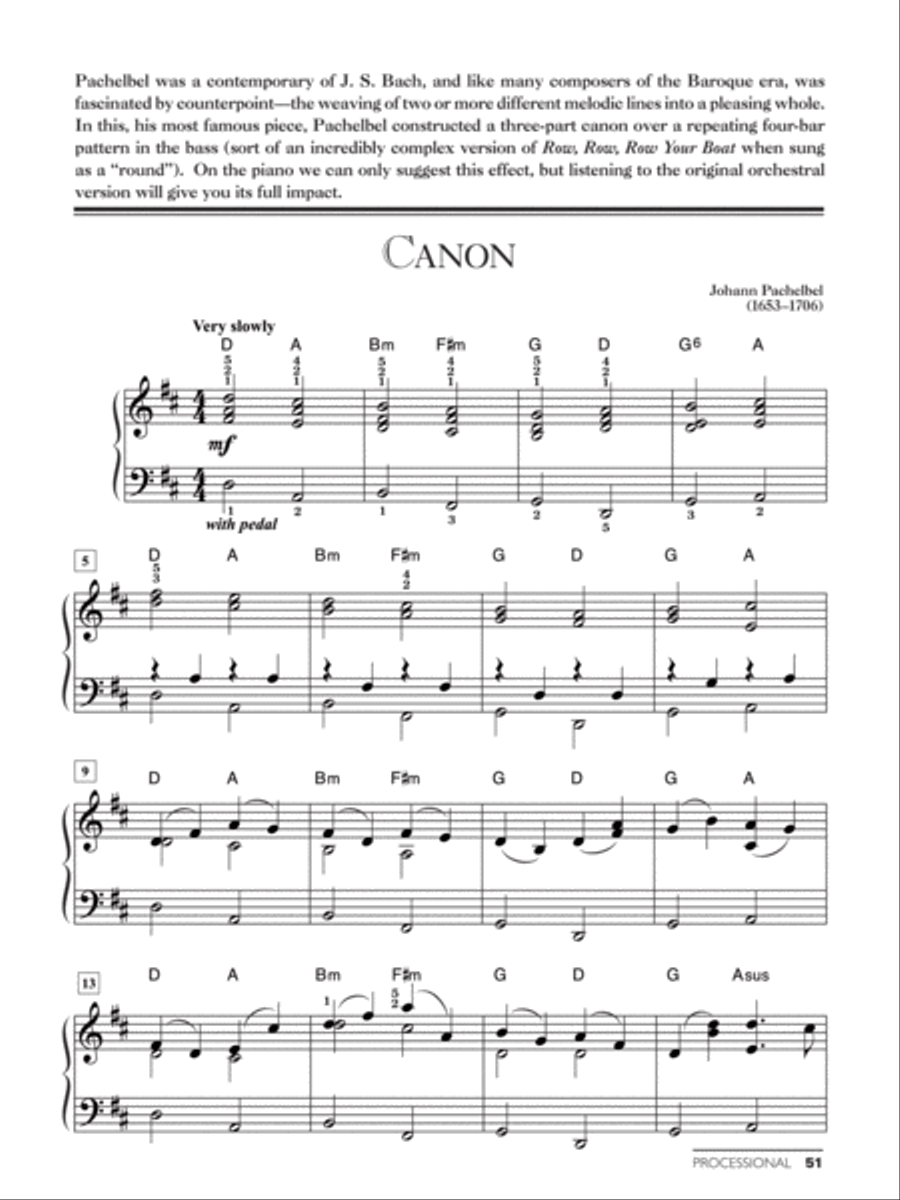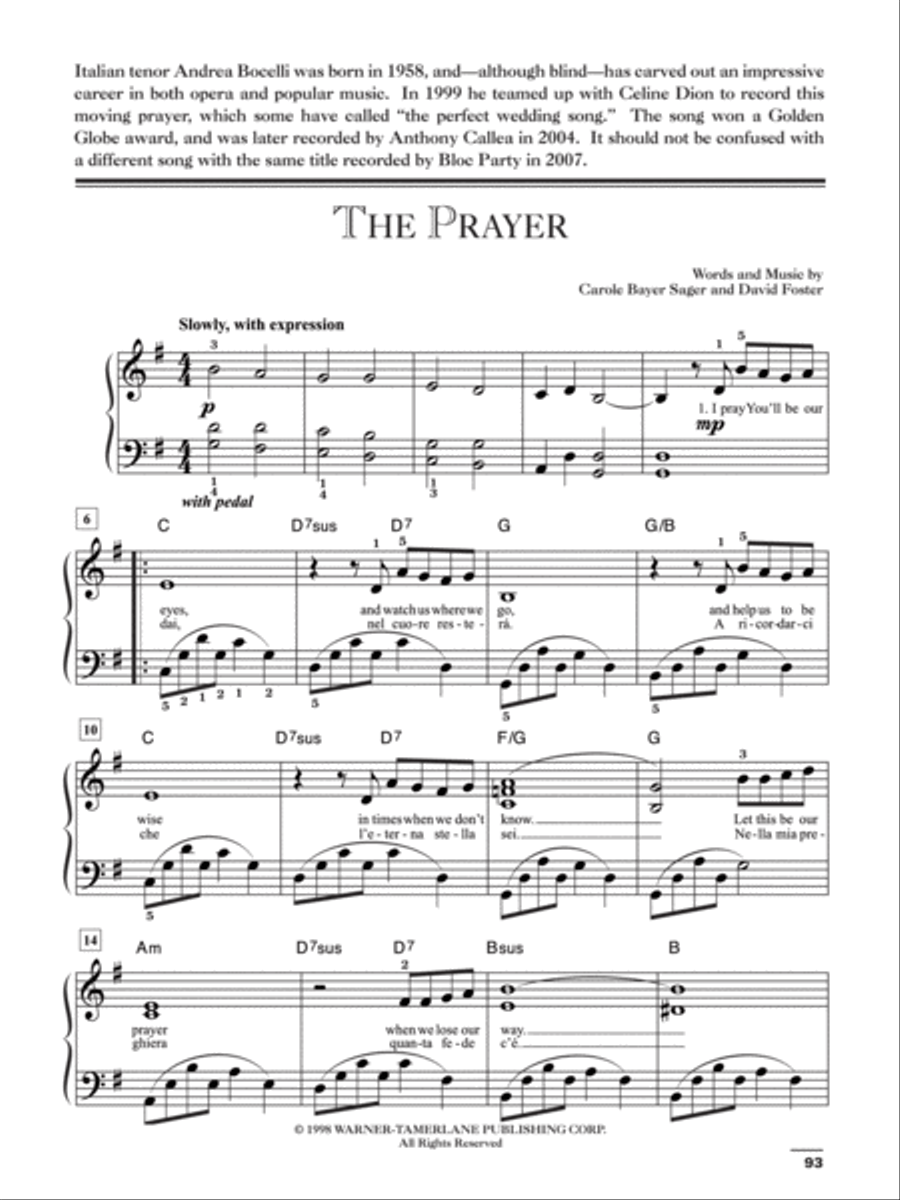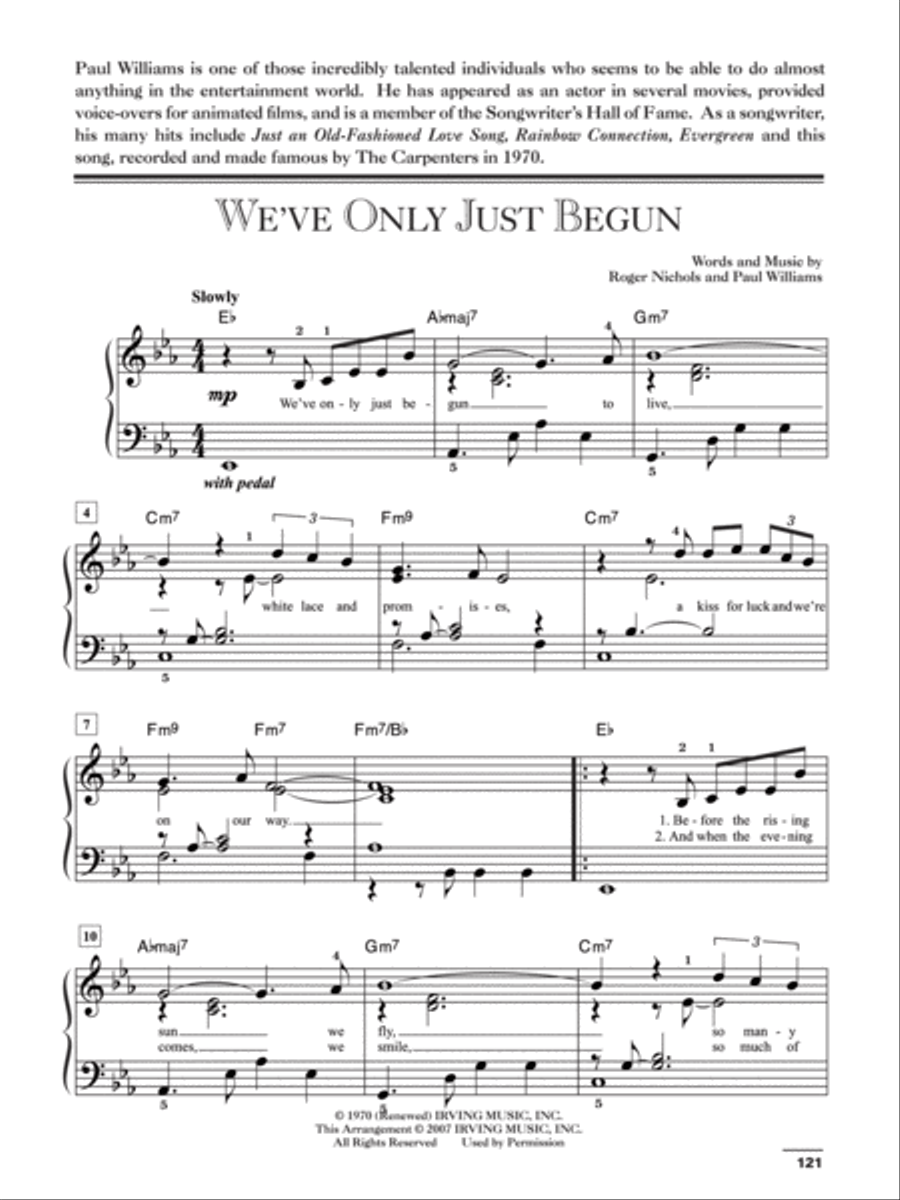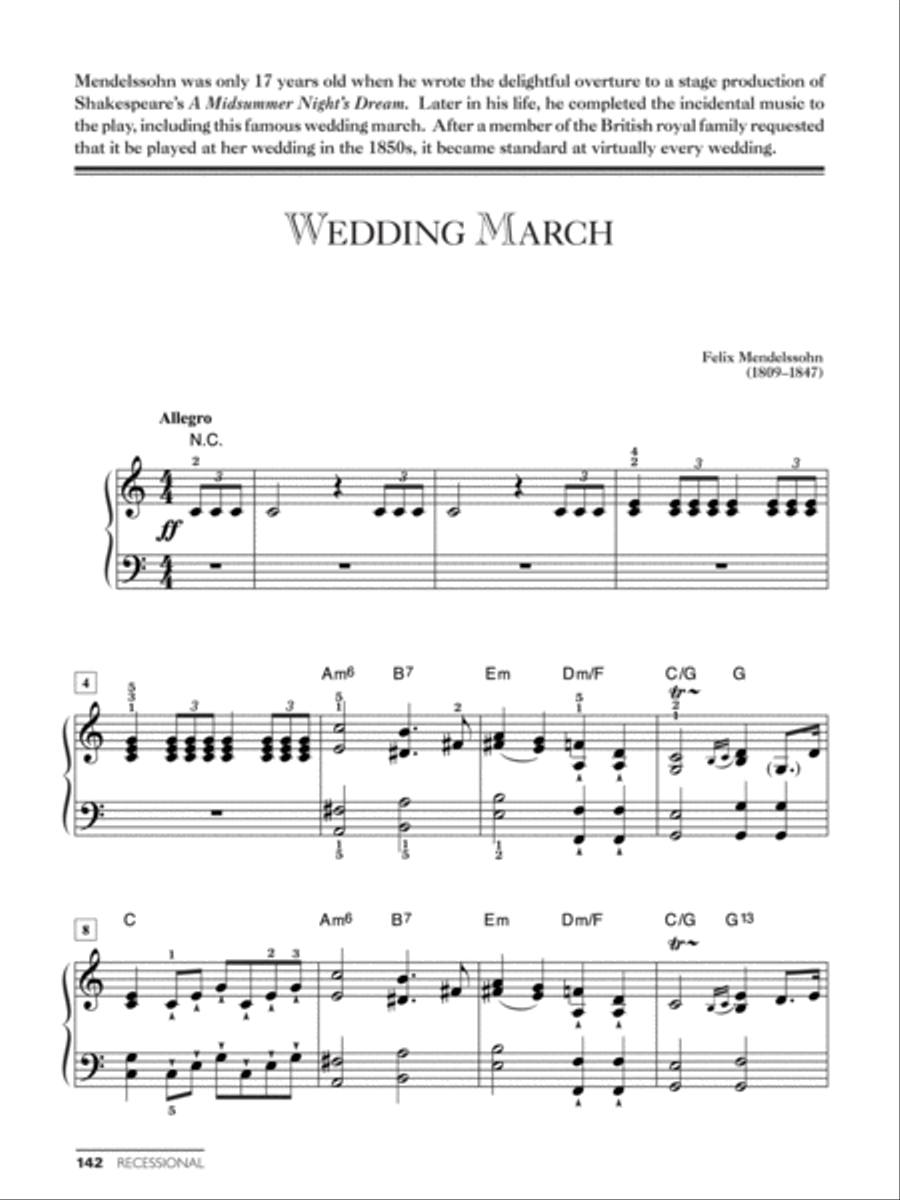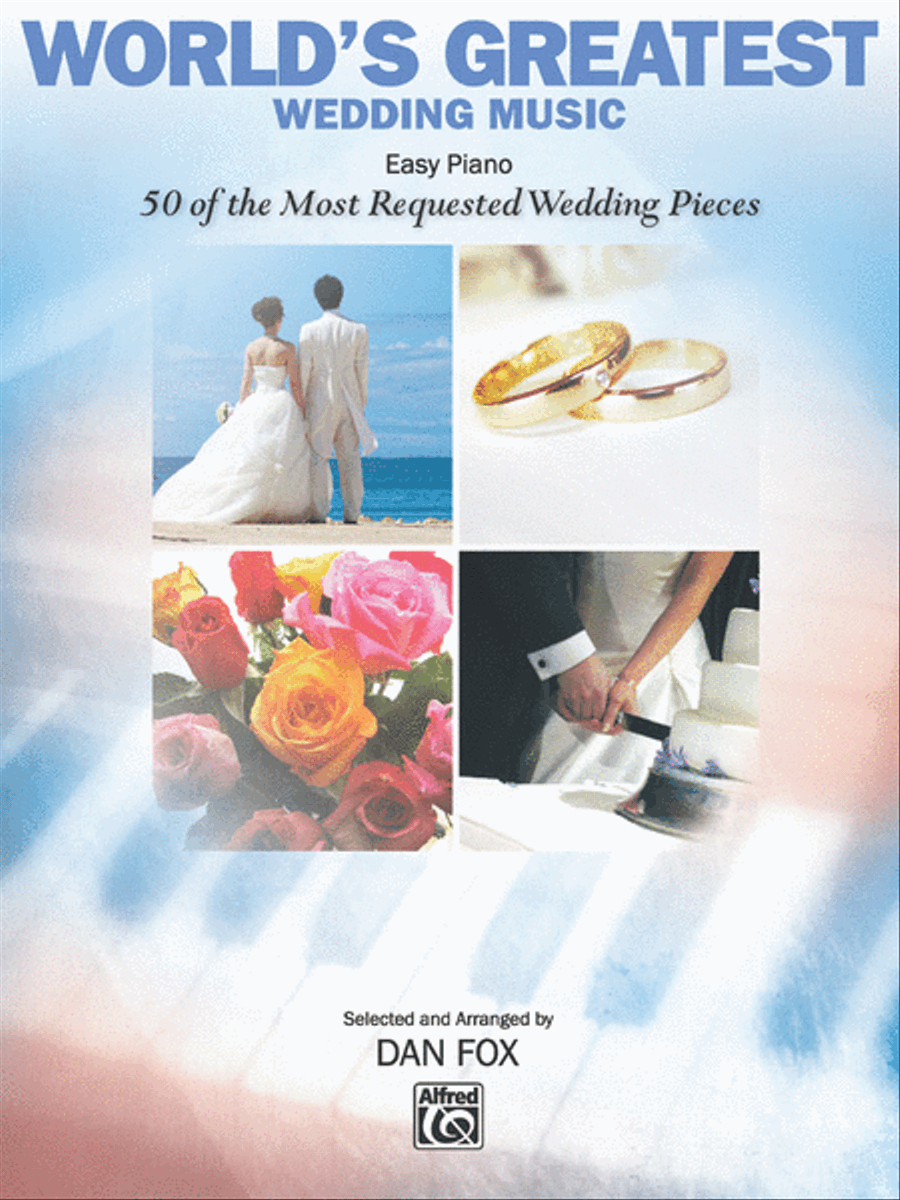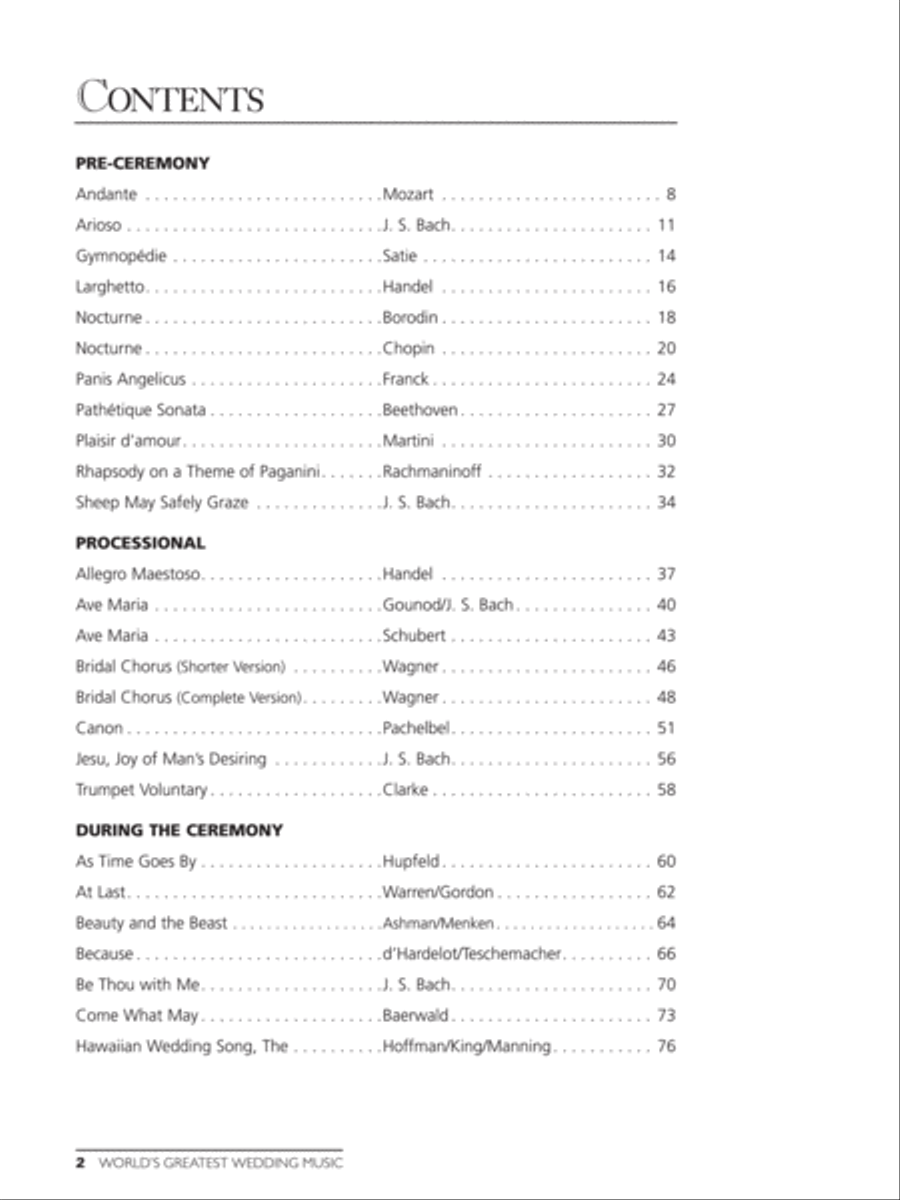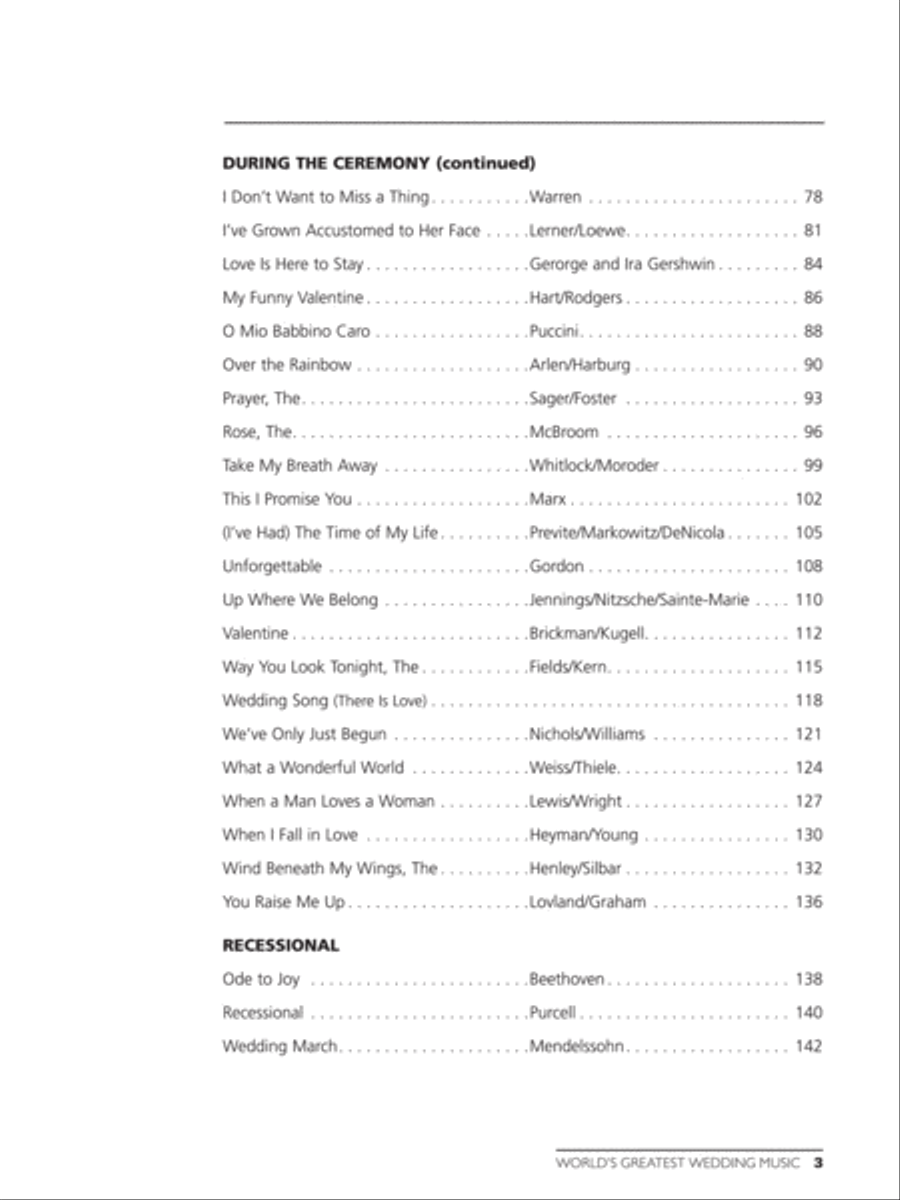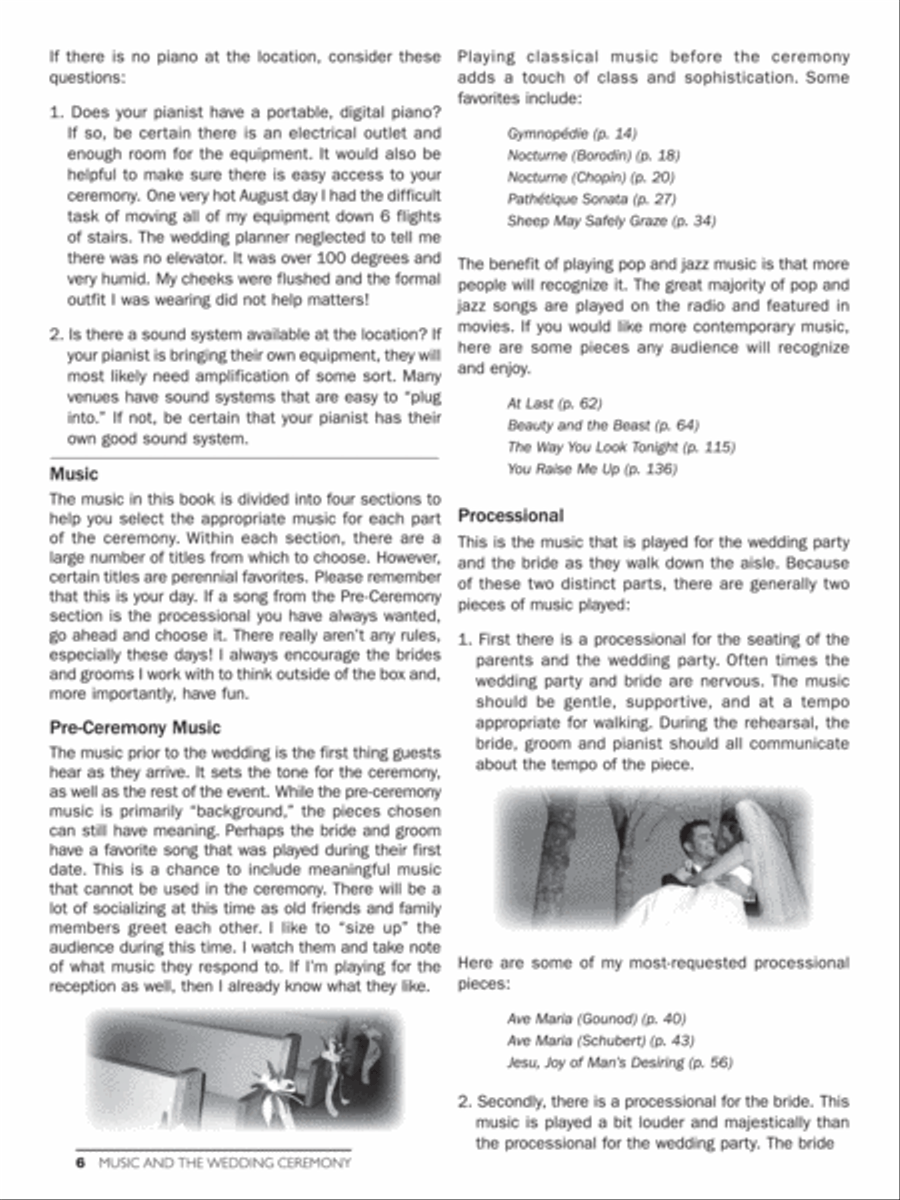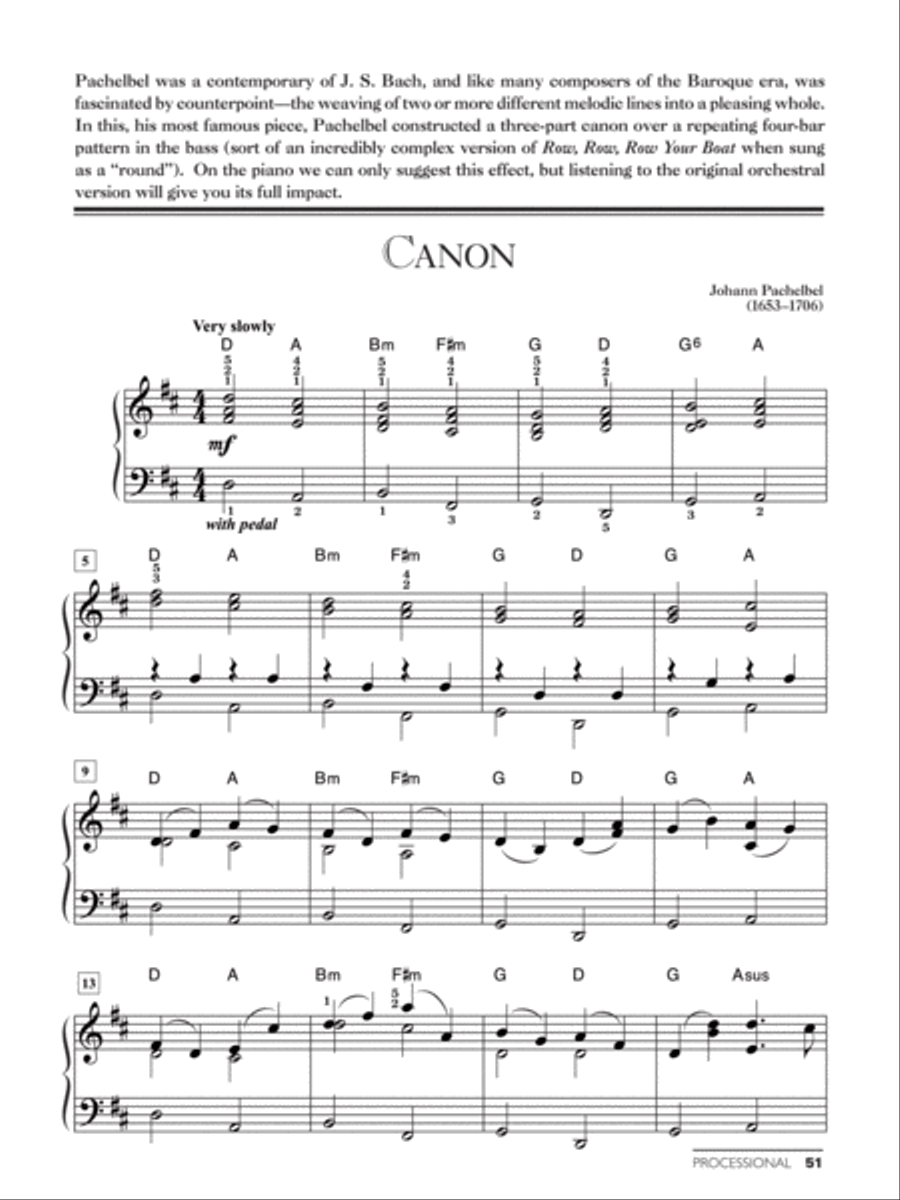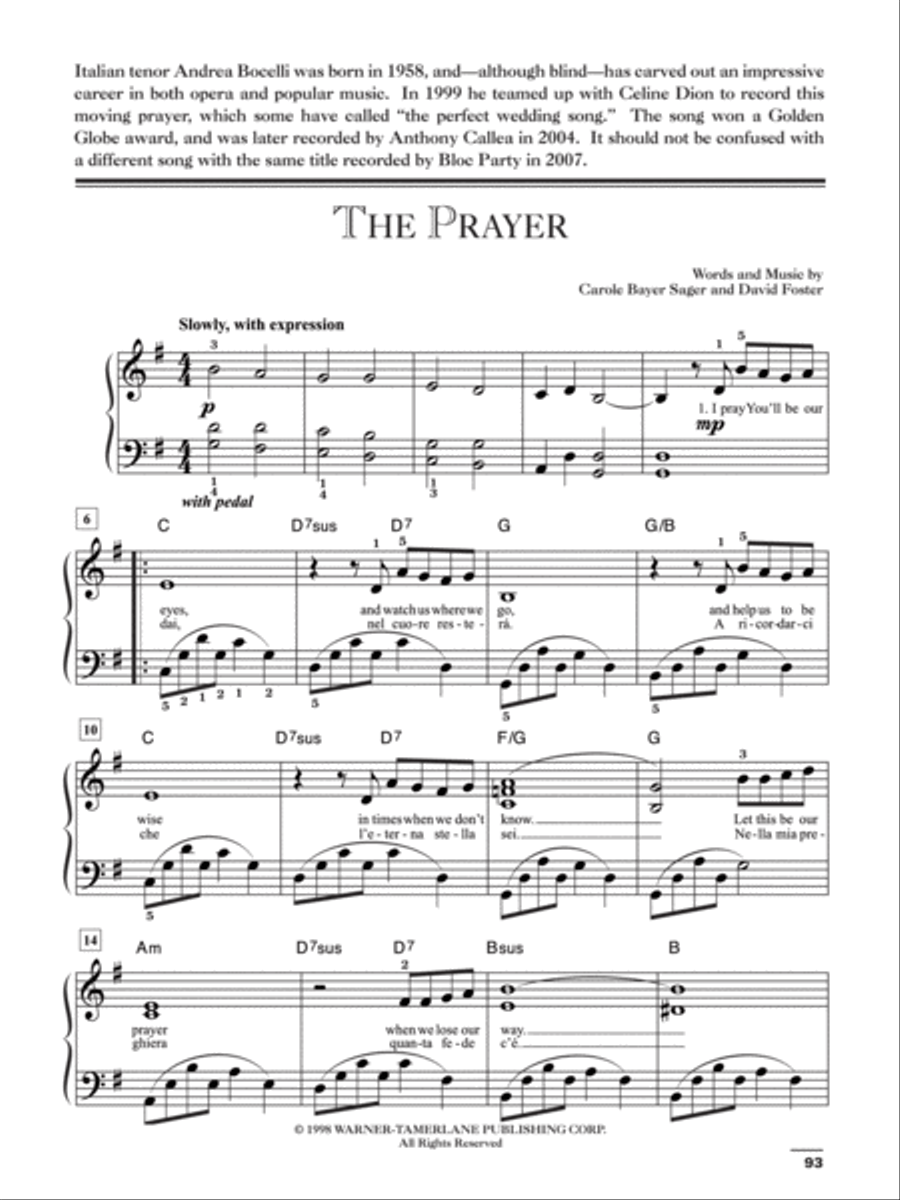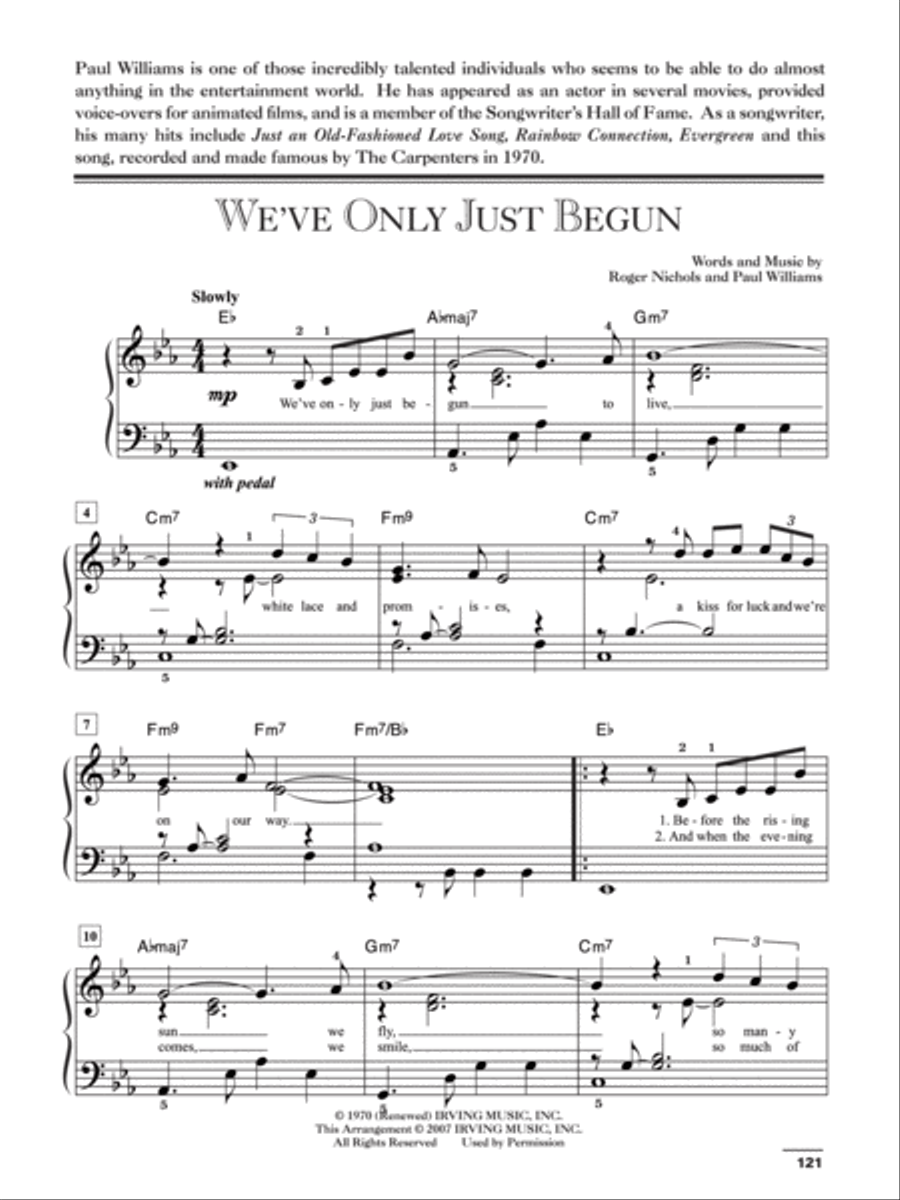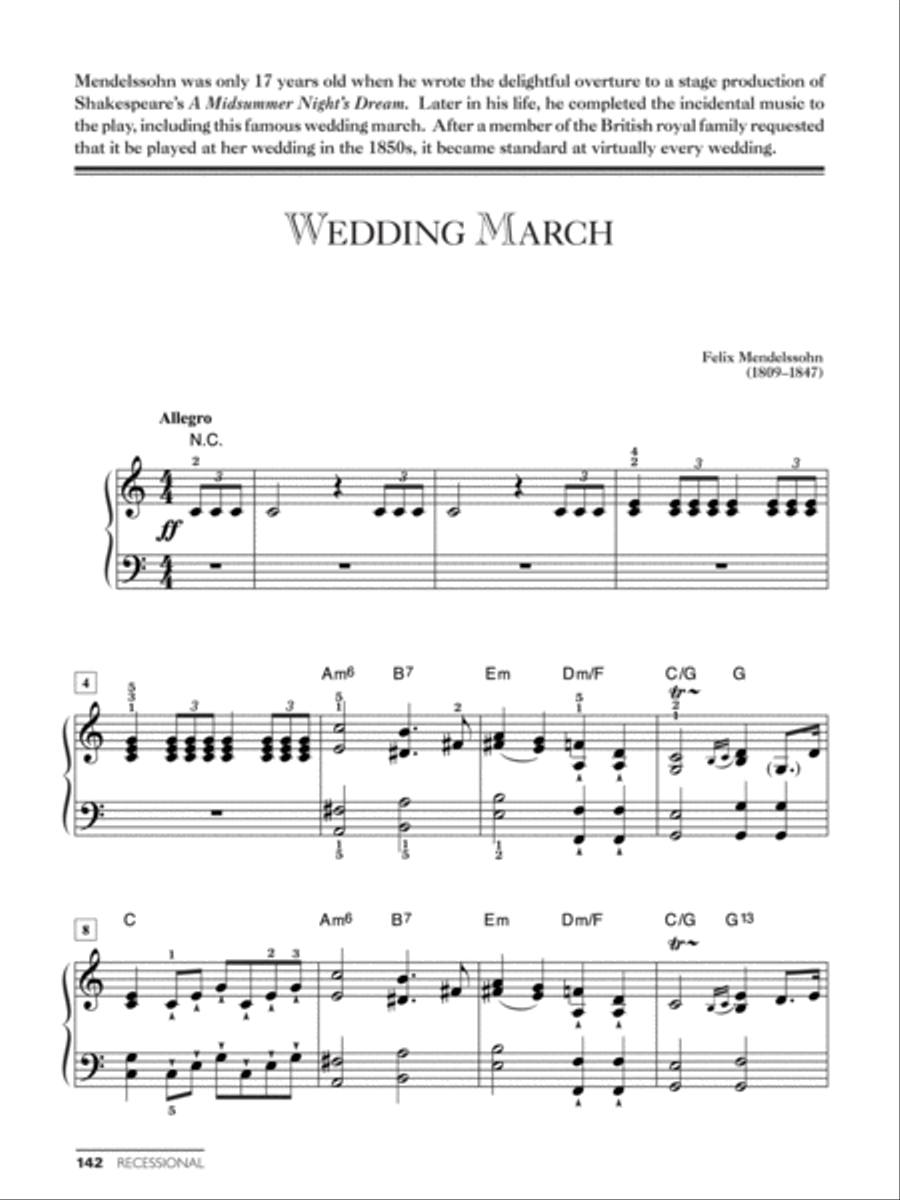 World's Greatest Wedding Music

50 of the Most Requested Wedding Pieces
Available
Ready to ship in 1 to 2 weeks
Taxes/VAT calculated at checkout.
Detailed Description
Piano - beginner
SKU: AP.27897
50 of the Most Requested Wedding Pieces
. Composed by Dan Fox. This edition: Easy Piano. Piano Collection; Piano Supplemental. World's Greatest. Love; Wedding; Winter. Book. 144 pages. Alfred Music #00-27897. Published by Alfred Music (AP.27897).
ISBN 9780739046746. UPC: 038081305158. English.
The role of music at a wedding cannot be overstated as it shapes the entire ceremony and heightens the emotions for all in attendance. All the arrangements in this must-have compilation are organized into four sections: Pre-Ceremony, Processional, During the Ceremony, and Recessional. Additionally, a 4-page guide will aid brides, grooms and pianists in choosing music for the ceremony. Each song includes a write-up about the music, chord symbols and lyrics, and most of the pieces are in vocal ranges appropriate for vocalists. This eclectic mix of classical standards and new pop favorites will have great appeal to excited brides-to-be!

Allegro Maestoso (Handel) * Andante (Mozart) * Arioso (Bach) * As Times Goes By * At Last * Ave Maria (Gounod) * Ave Maria (Schubert) * Beauty and the Beast * Be Thou with Me (J. S. Bach) * Bridal Chorus - short version (Wagner) * Bridal Chorus - complete version (Wagner) * Canon in D (Pachelbel) * Come What May * Gymnopédie (Satie) * The Hawaiian Wedding Song * I Don't Want to Miss a Thing * I've Grown Accustomed to Her Face * Jesu, Joy of Man's Desiring (J. S. Bach) * Larghetto (Handel) * Love Is Here to Stay * My Funny Valentine * Nocturne (Borodin) * Nocturne (Chopin) * O Mio Babbino Caro (Puccini) * Ode to Joy (Beethoven) * Over the Rainbow * Panis Angelicus (Franck) * Pathétique Sonata (Beethoven) * Plaisir d'Amour (Martini) * The Prayer * Recessional (Purcell) * Rhapsody on a Theme by Paganini (Rachmaninoff) * The Rose * Sheep May Safely Graze (J. S. Bach) * Take My Breath Away * (I've Had) The Time of My Life * This I Promise You * Trumpet Voluntary (Clarke) * Unforgettable * Up Where We Belong * Valentine * The Way You Look Tonight * Wedding March (Mendelssohn) *Wedding Song (There is Love) * We've Only Just Begun * What a Wonderful World * When a Man Loves a Woman * When I Fall in Love * The Wind Beneath My Wings * You Raise Me Up.
Song List (50)
Allegro Maestoso (Handel)
Andante (Mozart)
Arioso (Bach)
As Times Goes By
At Last
Ave Maria (Gounod)
Ave Maria (Schubert)
Beauty And The Beast
Be Thou with Me (J. S. Bach)
Bridal Chorus - short version (Wagner)
Bridal Chorus - complete version (Wagner)
Canon In D (Pachelbel)
Come What May
Gymnopedie (Satie)
The Hawaiian Wedding Song
I Don't Want To Miss A Thing
I've Grown Accustomed to Her Face
Jesu, Joy of Man's Desiring (J. S. Bach)
Larghetto (Handel)
Love Is Here To Stay
My Funny Valentine
Nocturne (Borodin)
Nocturne (Chopin)
O Mio Babbino Caro (Puccini)
Ode to Joy (Beethoven)
Over The Rainbow
Panis Angelicus (Franck)
Pathetique Sonata (Beethoven)
Plaisir d'amour (Martini)
The Prayer
Recessional (Purcell)
Rhapsody on a Theme by Paganini (Rachmaninoff)
The Rose
Sheep May Safely Graze (J. S. Bach)
Take My Breath Away
(i've Had) The Time Of My Life
This I Promise You
Trumpet Voluntary (Clarke)
Unforgettable
Up Where We Belong
Valentine
The Way You Look Tonight
Wedding March (Mendelssohn)
Wedding Song (There Is Love)
We've Only Just Begun
What a Wonderful World
When A Man Loves A Woman
When I Fall in Love
The Wind Beneath My Wings
You Raise Me Up