JING MARIMBA

For Solo Marimba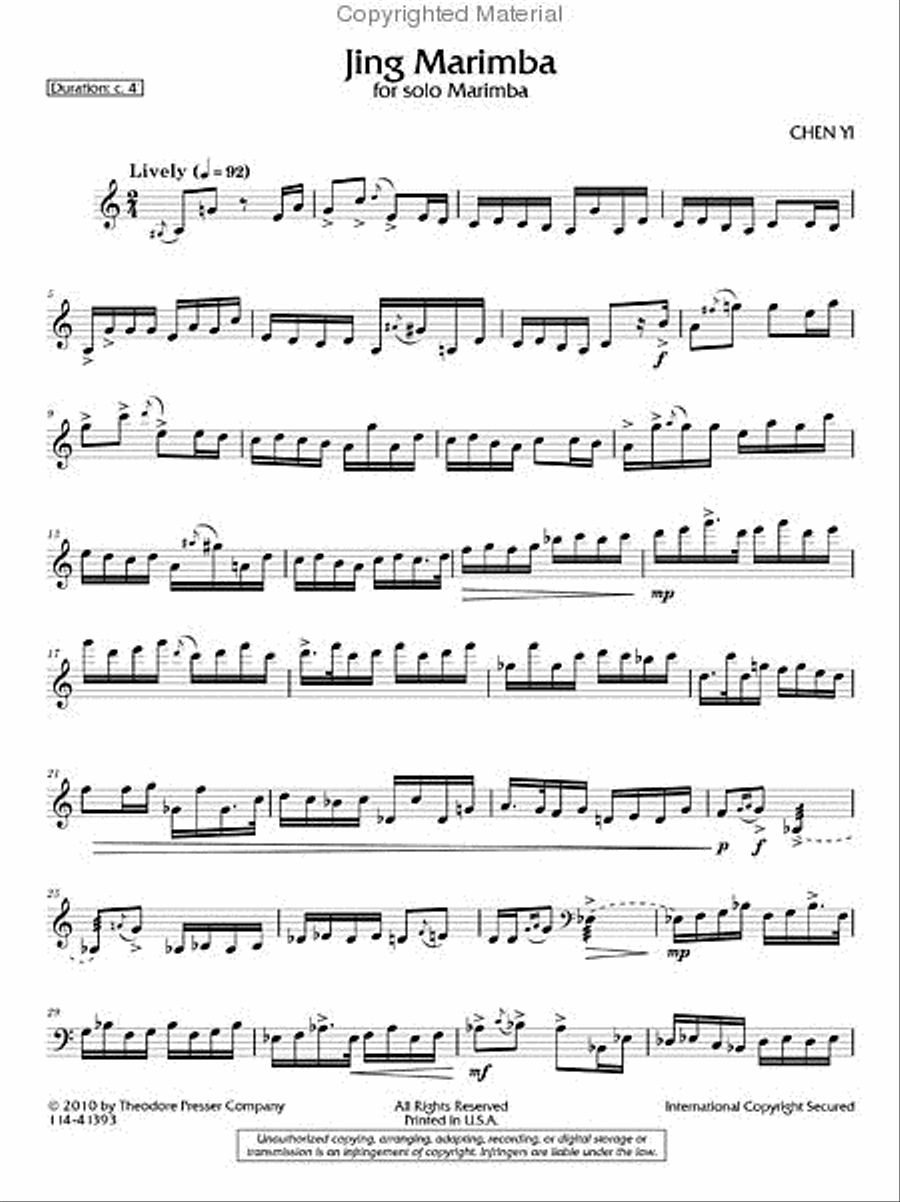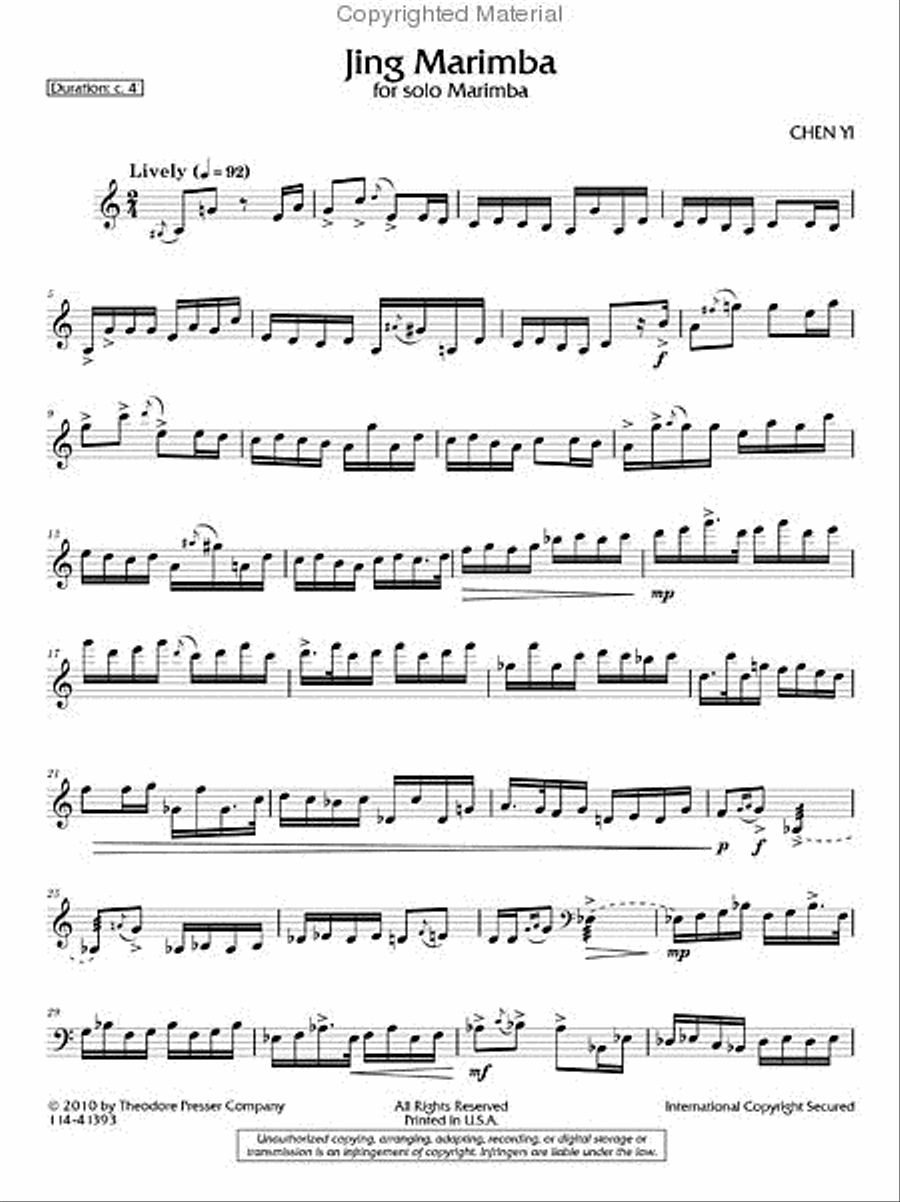 JING MARIMBA

For Solo Marimba
Available
Ready to ship in 1 to 2 weeks
Taxes/VAT calculated at checkout.
Detailed Description
Chamber Music marimba
SKU: PR.114413930
For Solo Marimba
. Composed by Chen Yi. Sws. Contemporary. Solo part. With Standard notation. Composed 2009. 8 pages. Duration 4 minutes. Theodore Presser Company #114-41393. Published by Theodore Presser Company (PR.114413930).
ISBN 9781598062939. UPC: 680160588664. 9x12 inches.
IING MARIMBA for solo Marimba (114-41393)Commissioned by marimbist Nancy Zeltsman, Jing Marimba uses characteristic melodic phrases from traditional Beijing opera, building an overall musical structure carefully based on Confucian Golden Mean proportions, with a structural map provided in the composer's preface to illustrate the carefully-planned ratios in the musical form.
PROGRAM NOTES BY THE COMPOSERThe primary motive of this 4-minute work is drawn from a fragment of the typical Beijing Opera fiddle's pattern, leaping a Minor 7th interval in accompanying the operatic singing. The "Jing" in the title refers to Beijing.The development of pitch materials in JING MARIMBA includes pitch variations, tunes in different keys (one key a time, or two keys overlapped as in bar 120 until the Coda), and the use of all registers of the marimba. The musical character is lively, bright, and playful.The formal structure is based on the Golden Section's proportions of approximately 60% : 40% with each division being further subdivided at that proportion. At the highest level, this divides the180-bar composition into two main sections of: bars 1-108, and bars 109-180. Texture changes occur at each subdivided Golden Section division, as listed below:SECTION 1(65+43=108 measures)Part A (39+26), presentation of the pitch materialSection a (mm. 1-23) centering on pitches A-G in mm. 1 and12Section b (mm. 24-39) staying in the low registerSection a' (mm. 40-65) low-high range, stressing A-G in m. 42,         Bb-Ab in m. 49Part B (25+18=43) development as transition to the climaxmm. 66-90mm. 91-108SECTION 2(43+29=72 measures)Part A (43)m. 109-151 (two keys juxtaposed at mm. 109-119 with contrast in         images, A-G and Ab-Gb overlapped at mm. 120-151, divided       between hands).Part B (29)m. 152-180 Coda (focusing on pitch A)Bars 177-180 should be phrased in groups of 9 notes per phrase — like a silk scarf flying away, with a soft, even, light and smooth string of notes forming a whole phrase in one shape.