Complete Songs, Vol. 3 (High Voice)

65 Songs from Opp. 3-63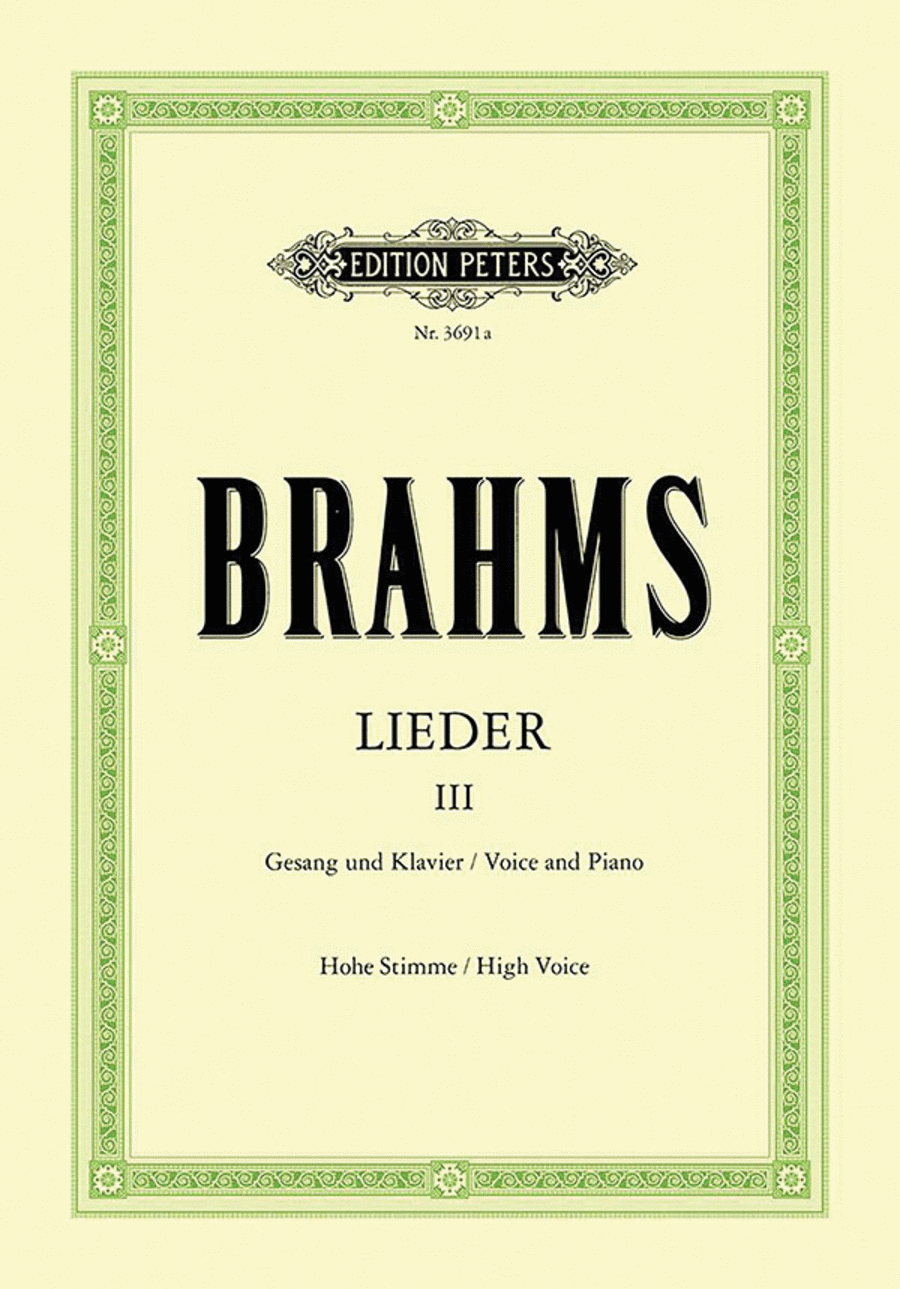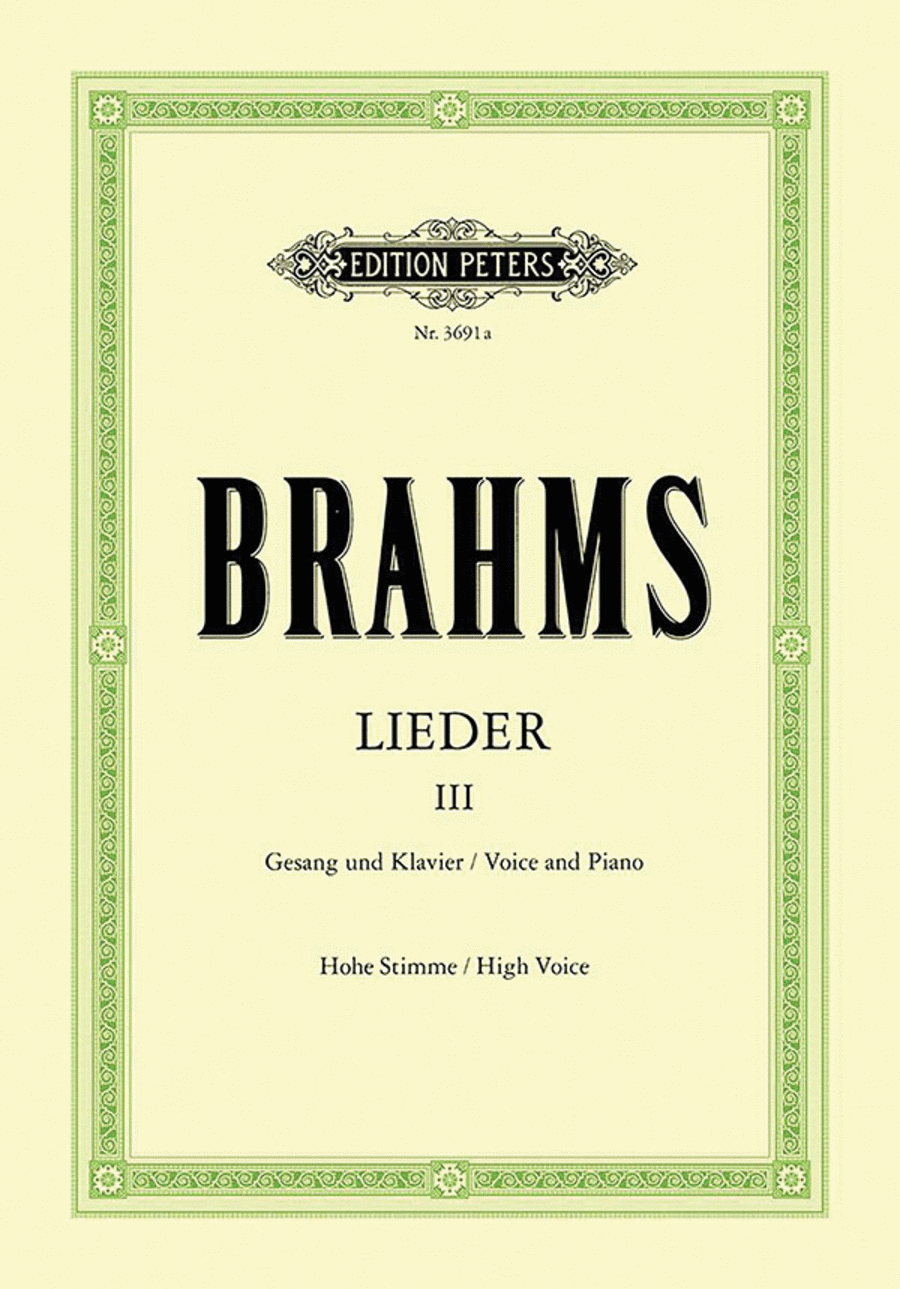 Complete Songs, Vol. 3 (High Voice)

65 Songs from Opp. 3-63
Price reduced from

$52.00

to
$41.60
Available
Ready to ship in 1 to 2 weeks
Taxes/VAT calculated at checkout.
Detailed Description
High voice and piano (High/Medium High)
SKU: PE.EP3691A
65 Songs from Opp. 3-63
. Composed by Johannes Brahms. Edited by Max Friedländer. Voice & Piano. Edition Peters. 65 songs (Text Language: German). Trost in Traenen, Schwermut, Serenade, Eine gute Nacht, Fruehlingstrost, An ein Bild, etc. Collection. 200 pages. Edition Peters #98-EP3691A. Published by Edition Peters (PE.EP3691A).
ISBN 9790014017620. German.
Es traumte mir; Die Schnur, die Perl an Perle; Strahlt zuweilen auch ein mildes Licht; In meiner Nachte Sehnen; Ach, wende diesen Blick; Abenddammerung; Sehnsucht; Herbstgefuhl; Vergangen ist mir Gluck und Heil; Trost in Tranen; Gold uberwiegt die Liebe; Liebesklage des Madchens; Die Liebende schriebt; Der berlaufer; Dammrung senkte sich von oben; An die Tauben; Wenn um den Holunder; Murrays Ermordung; Erinnerung; Liebesglut; Mein wundes Herz; Fruhlingstrost; Agnes; Blinde Kuh; Serenade; Voruber; In der Gasse; Schwermut; O komme, holde Sommernacht; Die Sprode; Wahrend des Regens; Eine gute, gute Nacht; Liebe und Fruhling II; Gang zur Liebsten; Volkslied; Anklange; Parole; Nachtigall schwingen; Wie die Wolke nach der Sonne; Die Trauernde; Liebe und Fruhling I; Vom verwundeten Knaben; Lied; In der Fremde; Spanisches Lied; Nachwirkung; Der Fruhling; Juchhe!; Wie rafft ich mich auf in der Nacht; Magyarisch; Das Lied vom Herrn von Falkenstein; Ich schell mein Horn ins Jammertal; So stehn wir; Bitteres zu sagen denkst du; Du sprichst, dass ich mich tauschte; Ich schleich umher; Die Schale der Vergessenheit; In der Ferne; Scheiden und Meiden; Der Kuss; Sehnsucht; An ein Bild; Trennung; Der Strom, der neben mir verrauschte verrauschte

65 songs for high voice and piano (German).
Song List (63)
Murrays Ermordung
Lied
Liebe und FrŸhling I
Liebe und FrŸhling II
In der Fremde
Spanisches Lied
Der FrŸhling
Nachwirkung
Juchhe!
Wie die Wolke nach der Sonne
Nachtigallen schwingen
Parole
AnklŠnge
Volkslied
Die Trauernde
Vom verwundeten Knaben
Trennung
Gang zur Liebsten
Sehnsucht
Der Kuss
Scheiden und Meiden
In Der Ferne
Wie rafft ich mich auf in der Nacht
Ich schleich umher
Der Strom, der neben mir verrauschte
Du sprichst, dass ich mich tŠuschte
Bitteres zu sagen denkst du
So stehn wir
Ich schell mein Horn ins Jammertal
Das Lied vom Herrn von Falkenstein
Magyarisch
Die Schale der Vergessenheit
Liebesglut
Die Liebende Schreibt
Der Uberlaufer
Liebesklage des MŠdchens
Gold Ÿberwiegt die Liebe
Trost in TrŠnen
Vergangen ist mir GlŸck und Heil
HerbstgefŸhl
AbenddŠmmerung
Es trŠumte mir
Ach, wende diesen Blick
In meiner NŠchte Sehnen
Strahlt zuweilen auch ein mildes Licht
Die Schnur, die Perl an Perle
Blinde Kuh
WŠhrend des Regens
Die Spršde
O Komme, Holde Sommernacht
Schwermut
In der Gasse
VorŸber
Serenade
DŠmmrung senkte sich von oben
Agnes
Eine gute, gute Nacht
Mein wundes Herz
FrŸhlingstrost
Erinnerung
An ein Bild
An die Tauben
Wenn um den Holunder