14 Duets For Trumpet

Compatible with 14 Duets for Trombone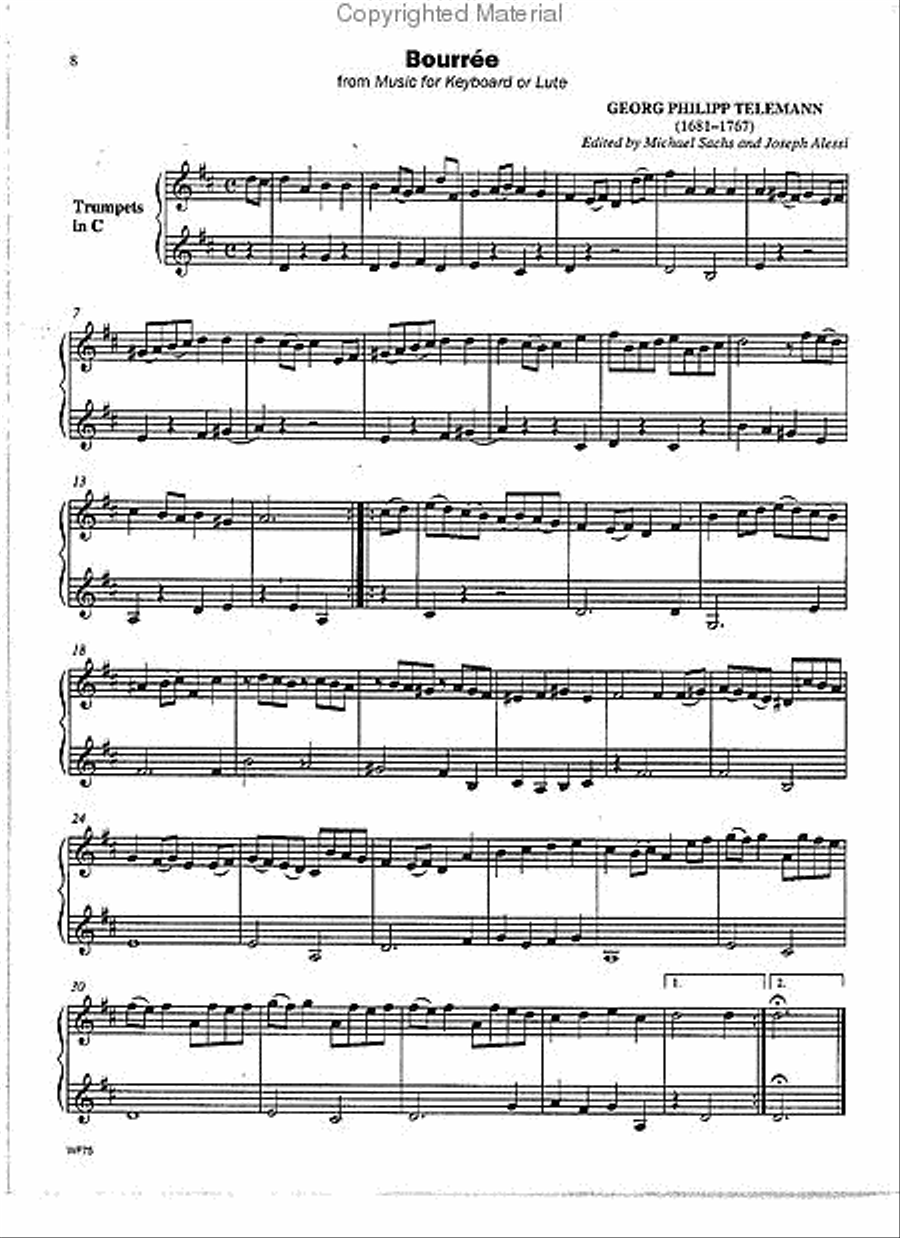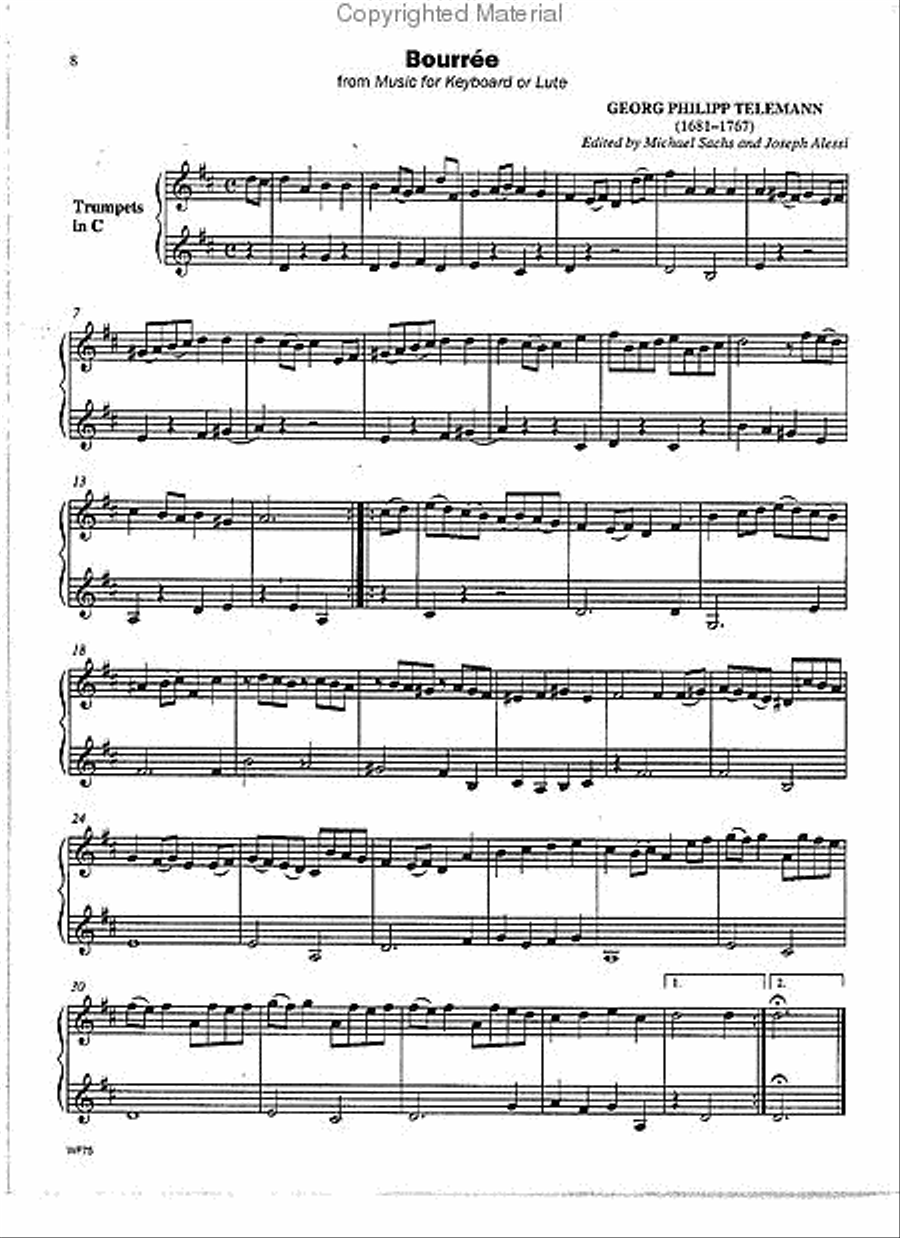 14 Duets For Trumpet

Compatible with 14 Duets for Trombone
Available
Ready to ship in 1 to 2 weeks
Taxes/VAT calculated at checkout.
Detailed Description
Chamber Music Trumpet 1, Trumpet 2
SKU: CF.WF75
Compatible with 14 Duets for Trombone
. Composed by Georg Philipp Telemann, George Frideric Handel, Johann Sebastian Bach, Joseph de Boismortier, and Wolfgang Amadeus Mozart. Edited by Joseph Alessi Michael Sachs. Arranged by Joseph Alessi Michael Sachs. SWS. Back To School. Collection. With Standard notation. 48 pages. Carl Fischer Music #WF75. Published by Carl Fischer Music (CF.WF75).
ISBN 9780825865701. UPC: 798408065706. 9 X 12 inches.
This unique duet collection of Classical Repertoire by Michael Sachs,Principal Trumpet of The Cleveland Orchestra, and Joseph Alessi,Principal Trombone of The New York Philharmonic, offers students andprofessionals the opportunity to hone their ensemble skills in a varietyof ways. The duos can be played by trumpet and trombone, two trumpets,or by two trombones with either instrument able to play top or bottomparts—the ultimate in ensemble flexibility for study or performance.Edited in detail and fleshed out for easy reading, these duets should bea part of every brass players' library.
Throughout history, the trumpet and trombone have always enjoyed a close partnership. From thedays of cornettos and sackbuts to the modern instruments we play today, trumpeters and trombonistscontinue to share a special musical bond.In the orchestral literature, there is a great deal of interplay between the trumpet and trombone,and the resulting texture is always distinctive. Our inspiration for this collaboration was a mutual agreementthat there was, however, a lack of fine music available for trumpet and trombone.Performing duets is probably one of the best ways for you as a musician to listen and work on yourintonation and phrasing as you interact with the colleague playing next to you. This will also sharpenyour ability to identify who has the melody and, therefore, to determine when to yield to that player whileremembering the maxim that melody always leads.One unique aspect of this collection is our duet format, which provides for a variety of instrumentalcombinations. The duos can be played with two trumpets, two trombones, or one of each. In addition,the trumpet or the trombone can play either the top or the bottom part of each piece. This mix-andmatchflexibility offers a wide range of technical challenges that should give each player the maximumbenefit of playing in a range of keys, registers, and difficulty levels, providing an equal musical challengein each part so that both players are stretched and engaged. You may even want to record yourself playingone part and perform duets with yourself.Throughout these pieces, there are a number of passages where brackets are shown next to thestaff. These brackets indicate the option of taking a particular passage up or down an octave dependingon the trumpet/trombone combination being used. This is meant to assist in the blend of textures andenhance both the facility and the voicing in each different instrumental scenario. One can also switchthe line being played in repeated sections for added interest.Dynamics and articulation markings were typically sparse in most original manuscripts of the piecesincluded in this book. Because of this, we added little in the way of musical editing and opted to leavedynamic and phrasing choices primarily to the performer.We have been good friends for many years and have often wished that there were more literaturefor trumpet and trombone for study, performance, or just for casual reading. We had a great time assemblingthis collection and hope that this will help create many future trumpet and trombone partnerships!