Progressive Duets - Volume II

for Violin - Volume 2: Advanced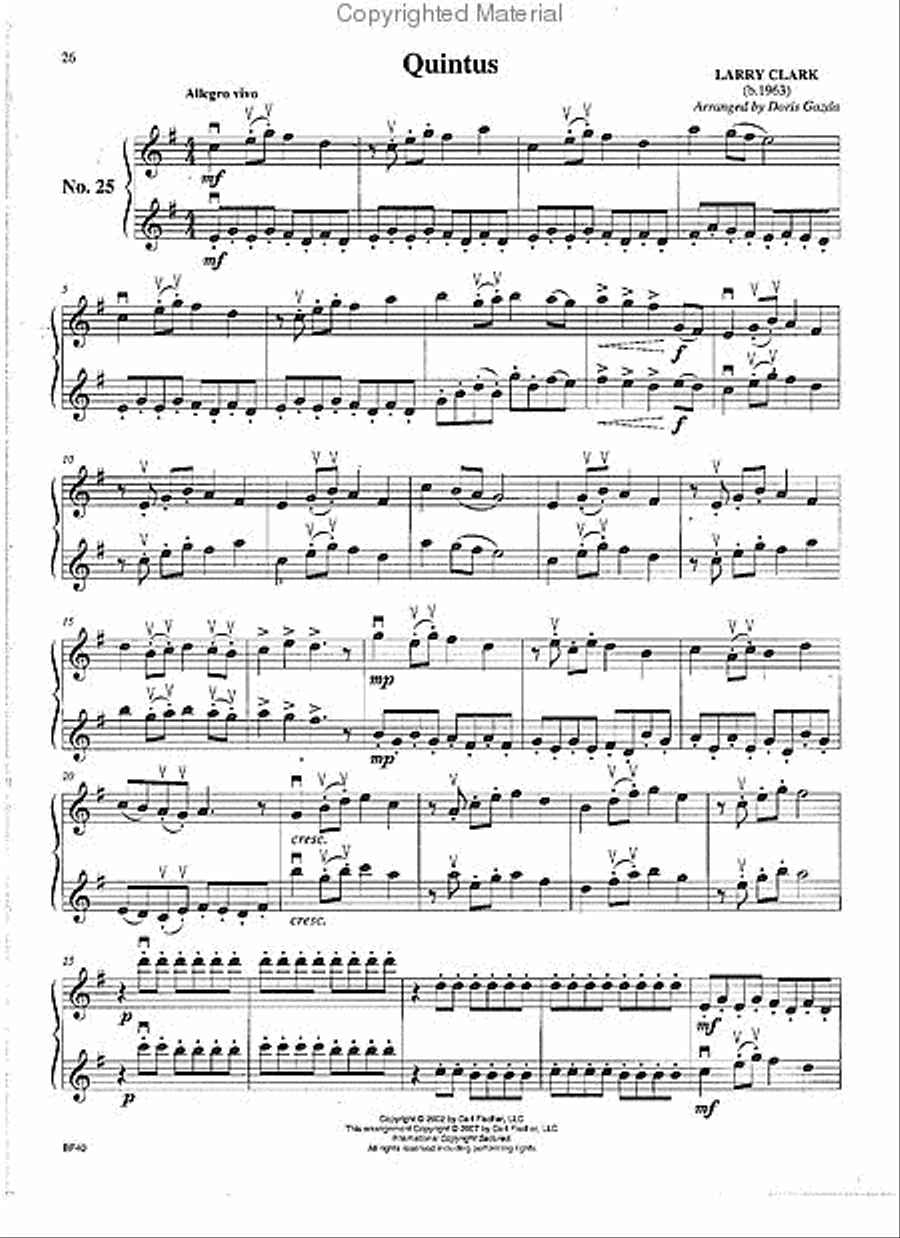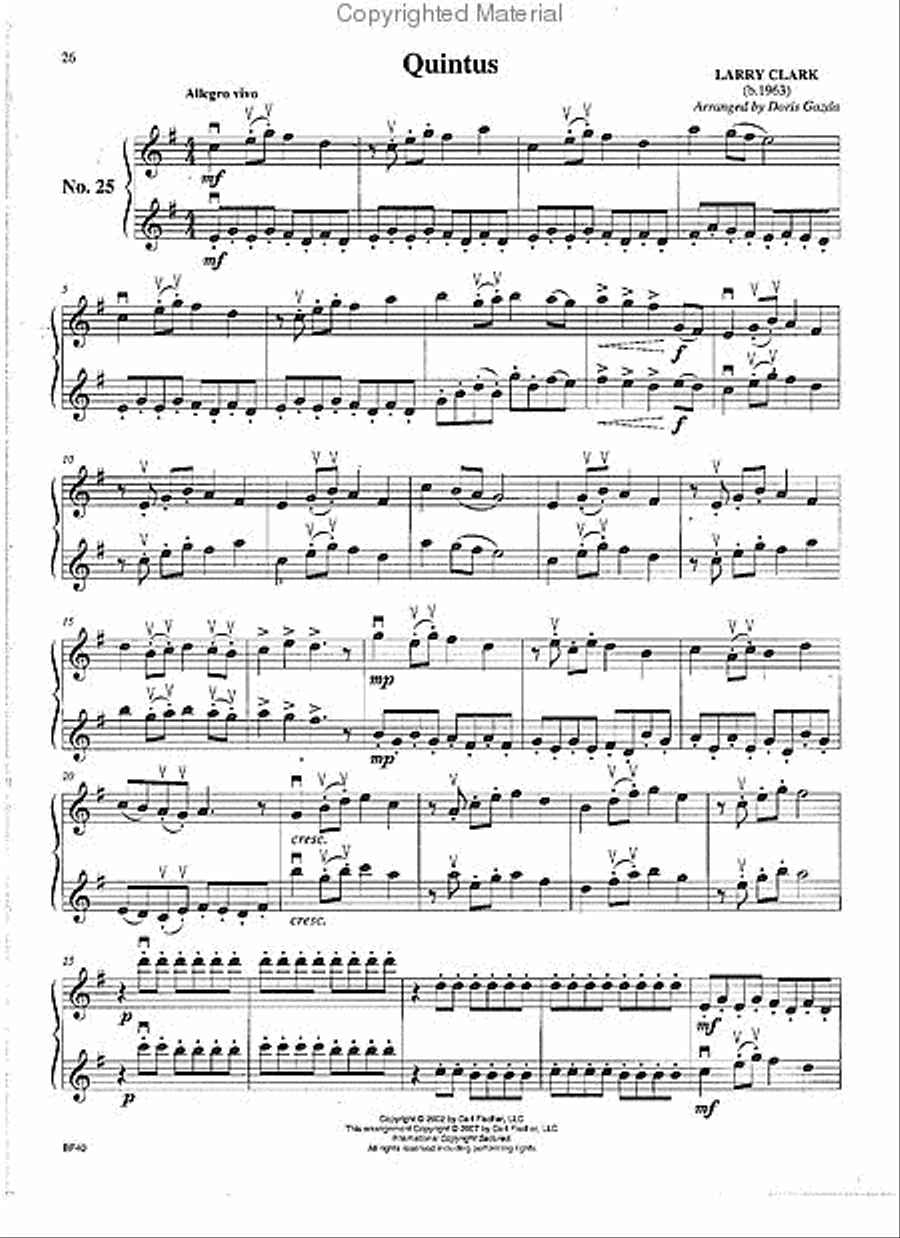 Progressive Duets - Volume II

for Violin - Volume 2: Advanced
Available
Ready to ship in 1 to 2 weeks
Taxes/VAT calculated at checkout.
Detailed Description
Chamber Music 2 violins, compatible with BF51, BF52, BF53
SKU: CF.BF40
For Violin - Volume 2: Advanced
. Composed by Carl Czerny, Daniel Gottlob Turk, Doris Gazda, Ernesto Kohler, Felix Bartholdy Mendelssohn, Gaetano Donizetti, George Frideric Handel, Ignaz Josef Pleyel, Johann Sebastian Bach, Larry Clark, Ludwig van Beethoven, Peter Ilyich Tchaikovsky, Wolfgang Amadeus Mozart, and etc. Arranged by Doris Gazda Larry Clark. SWS. Back To School. Collection. With Standard notation. 48 pages. Carl Fischer Music #BF40. Published by Carl Fischer Music (CF.BF40).
ISBN 9780825865534. UPC: 798408065539. 9 X 12 inches.
The Carl Fischer Progressive Duets for Strings is a comprehensive publicationof two volumes of graded duets that have been arranged or composed byLarry Clark and Doris Gazda. Larry and Doris have drawn on their extensiveexperience as school music teachers and prominent composer/arrangers tocreate a collection of duets that will be useful in a variety of performancesituations. Playing duets is an excellent way for the student to build ensembleskills with a colleague or teacher. It is published for violin, viola, cello andbass, and is arranged so that it can be performed by any two of these stringinstruments, making the collection a valuable tool in the school classroom aswell. It is a collection that is long overdue.
Throughout the long history of string-instrument instruction, teachershave discovered the tremendous benefits of encouraging students toplay in chamber-music groups. The simplest form of chamber musicis the duet. Duets provide students with the opportunity to studymusic that can be played with other students or with their teacher.While developing the ensemble skills required for duet performance,students can also be working on technique, intonation, and tonequality. In addition, duets are an excellent form of music for practicingsight-reading skills.Classical composers wrote a tremendous volume of chamber musicthat was probably used for evening gatherings of friends and musicians.String literature and study material are rich in duets written by thegreat composers and master teachers of the last 200 years. In recentyears, teachers and arrangers have compiled collections of these duetsin an effort to make a varied selection of music available to students.This new collection of duets for strings brings together some newarrangements from the classical repertoire along with establishedduets, as well as some new compositions that will provide hours ofmusical enjoyment. It is published for violin, viola, cello and stringbass and is arranged so that it can be performed by any two of thesestring instruments. The duets are placed in the book in order ofdifficulty and cover a range of keys. Special care was taken to makesure that both of the duet parts are on a similar ability level and thateach line is given an opportunity to play a lead role at some pointduring the arrangement. Also, all musical markings are attached toboth systems, and the point size of the music was considered for easeof reading.It was a pleasure for us to have the opportunity to put togetherthis collection. We hope it will help to stimulate and enhance themusicianship of the performers, and will provide pleasure as you useit in the years to come.