The Real Book - Volume V

C Edition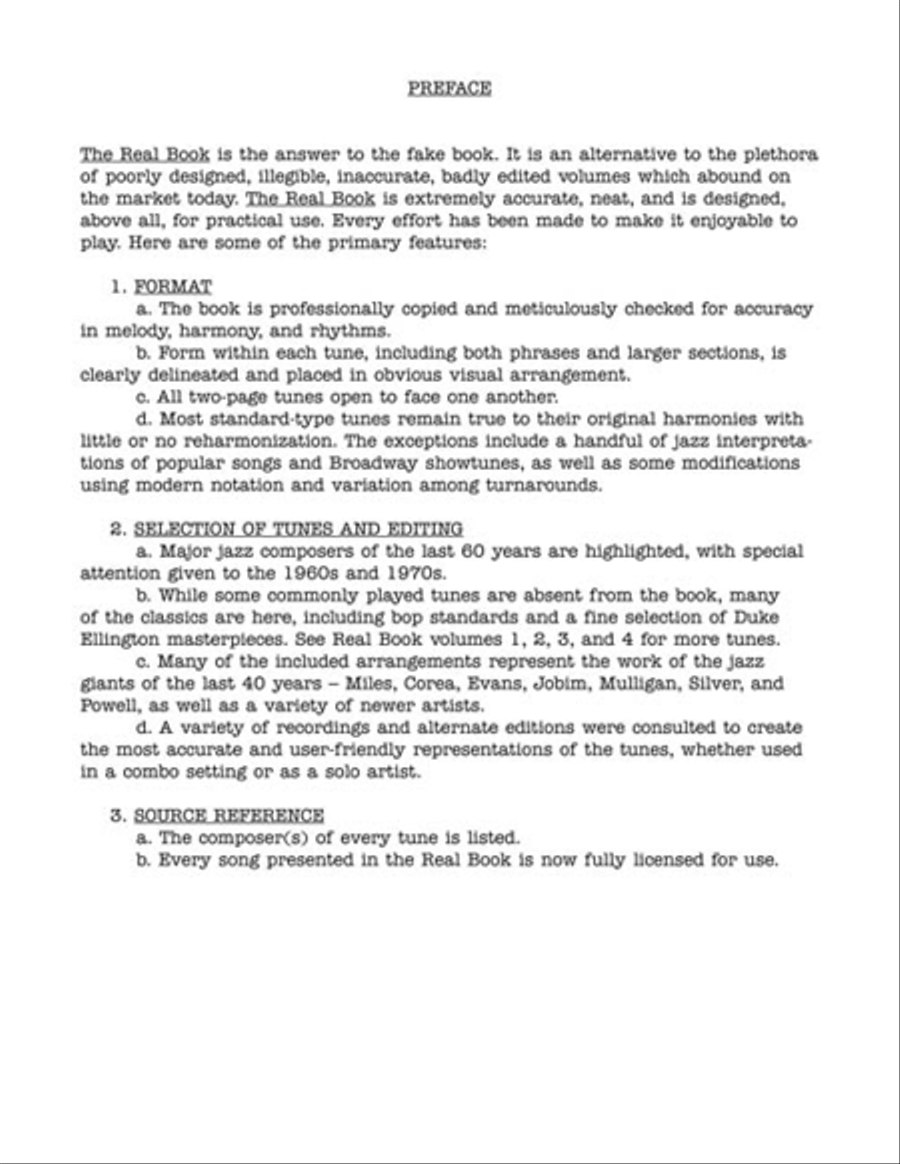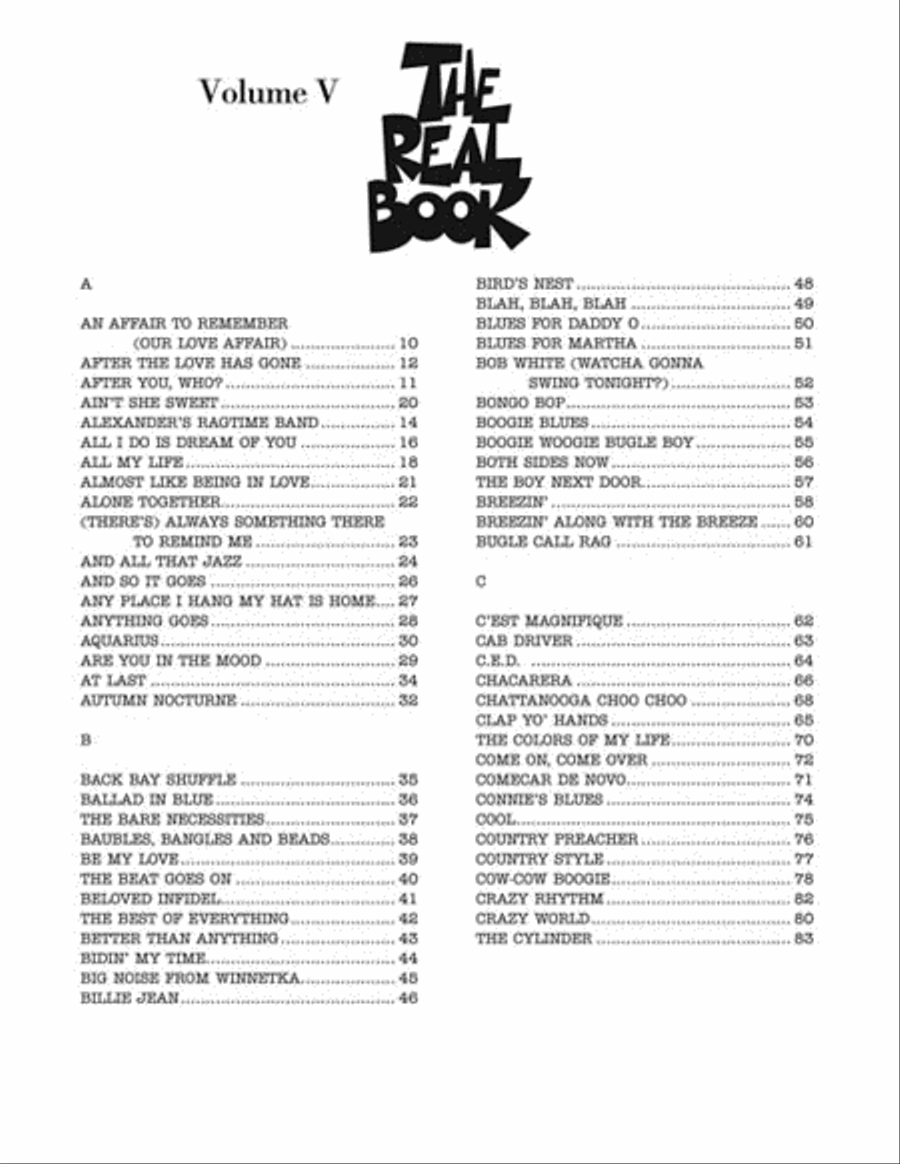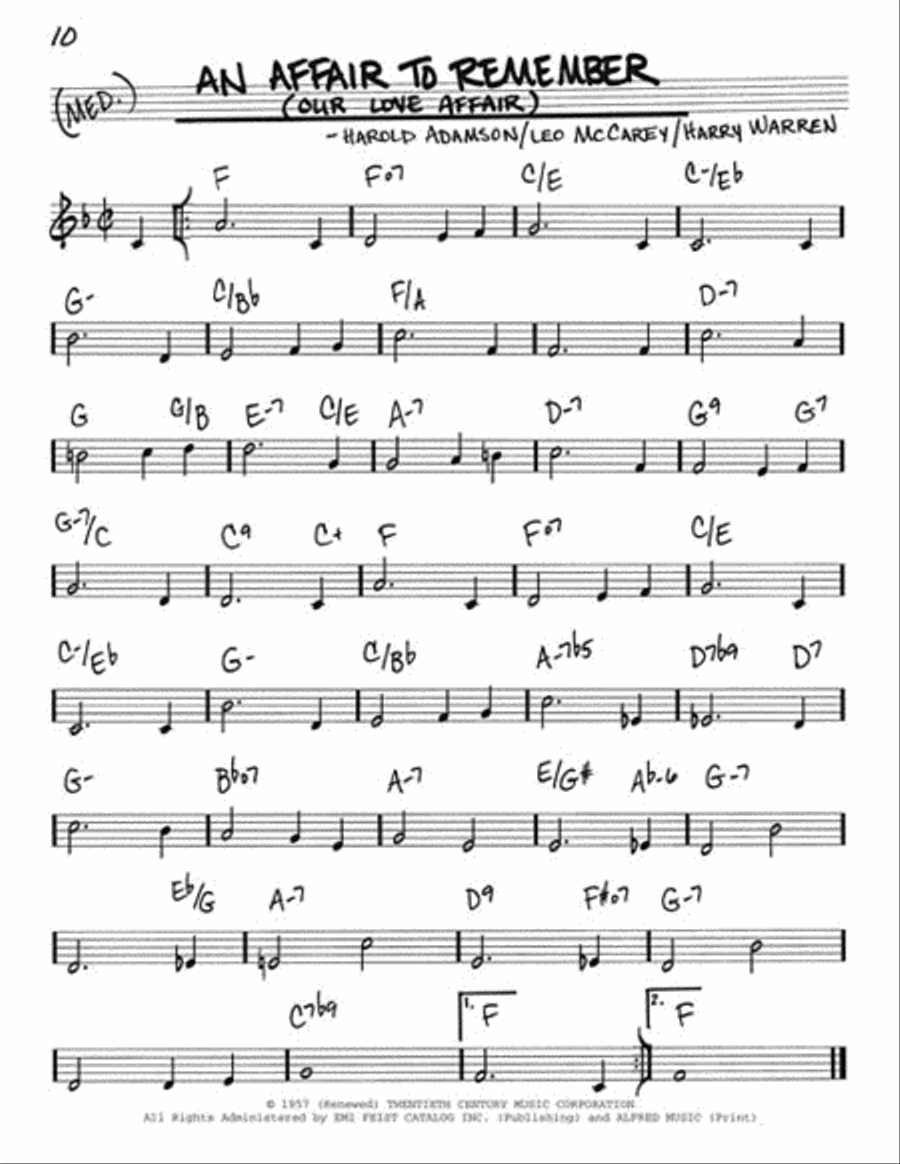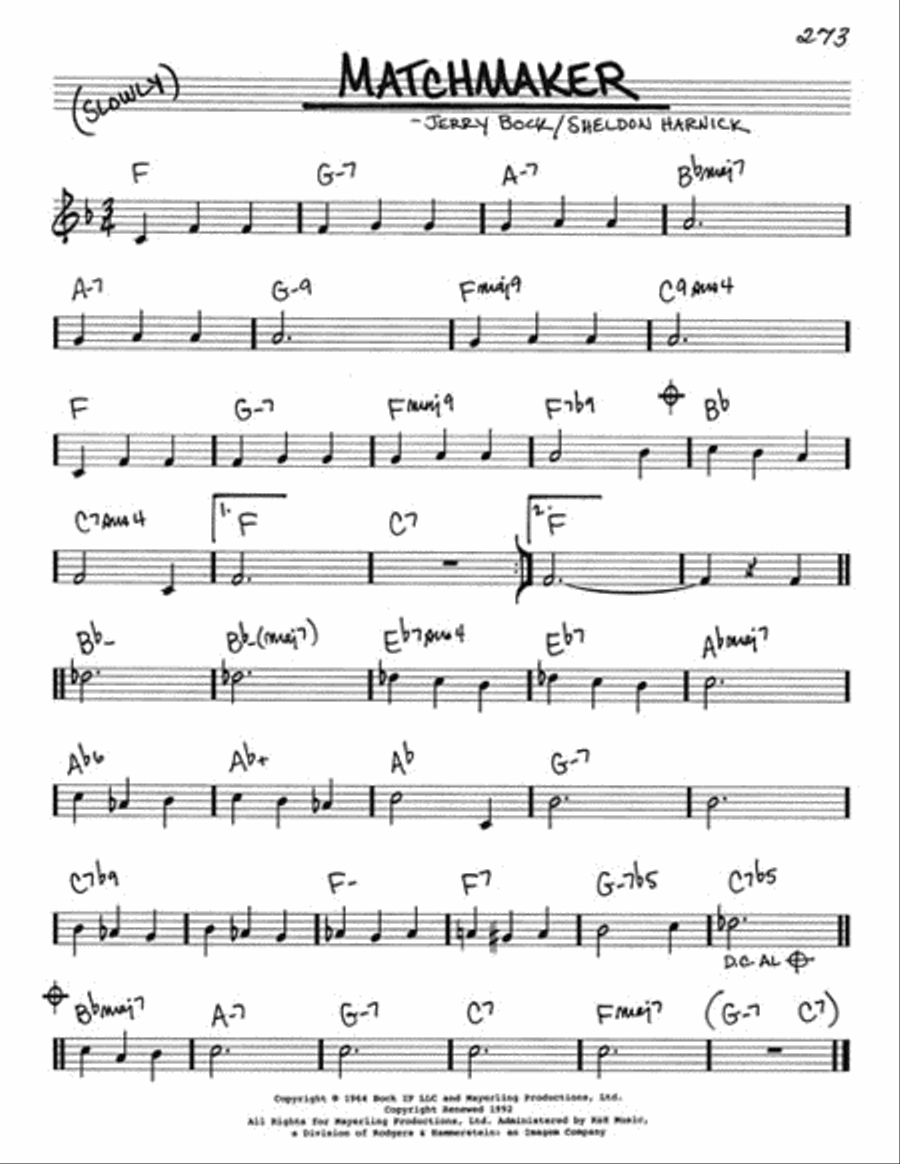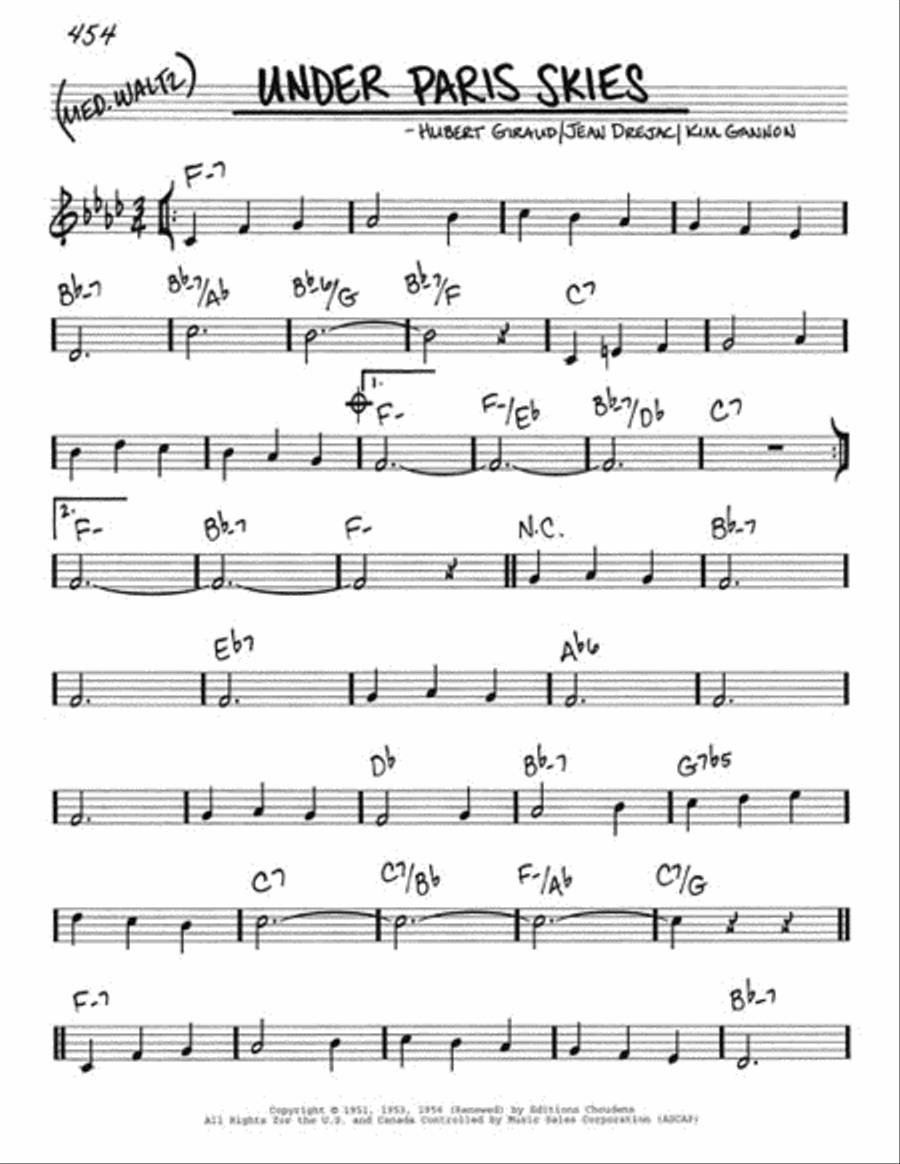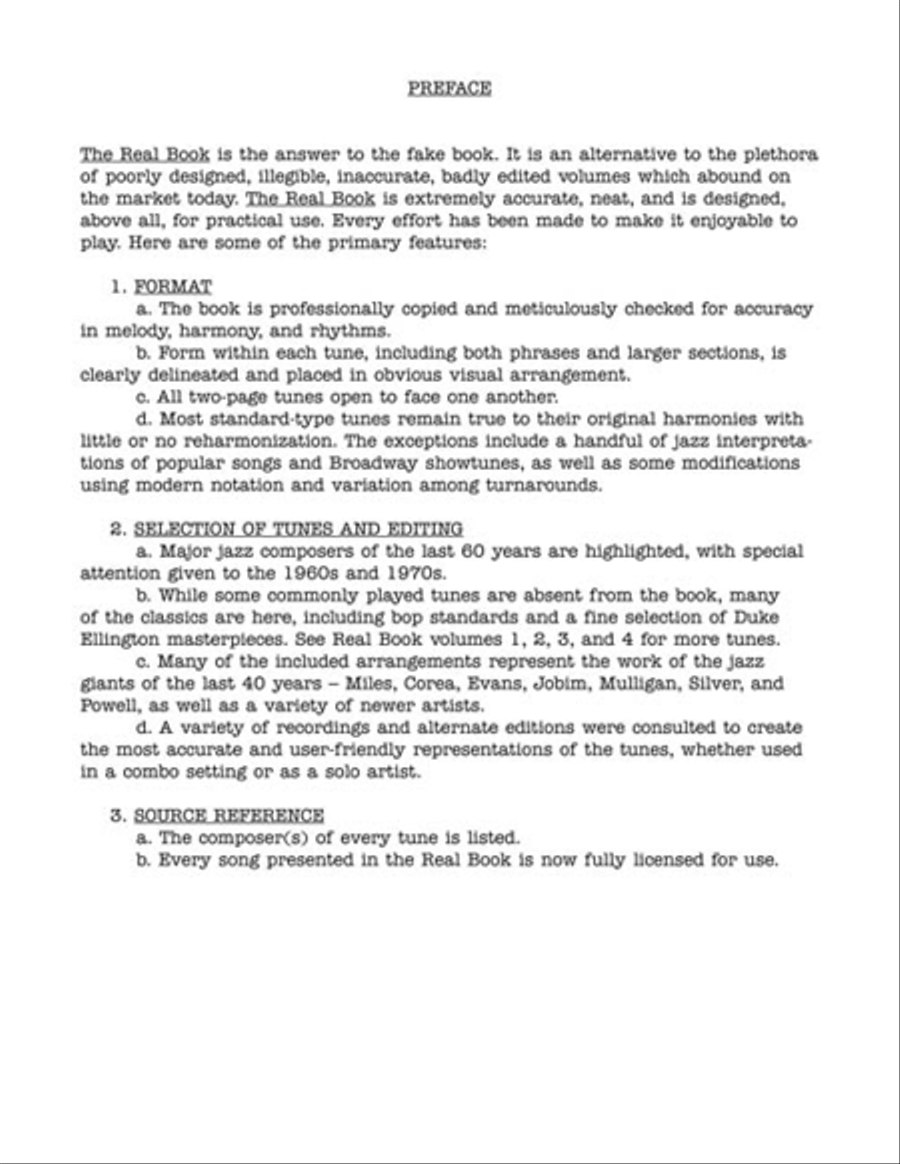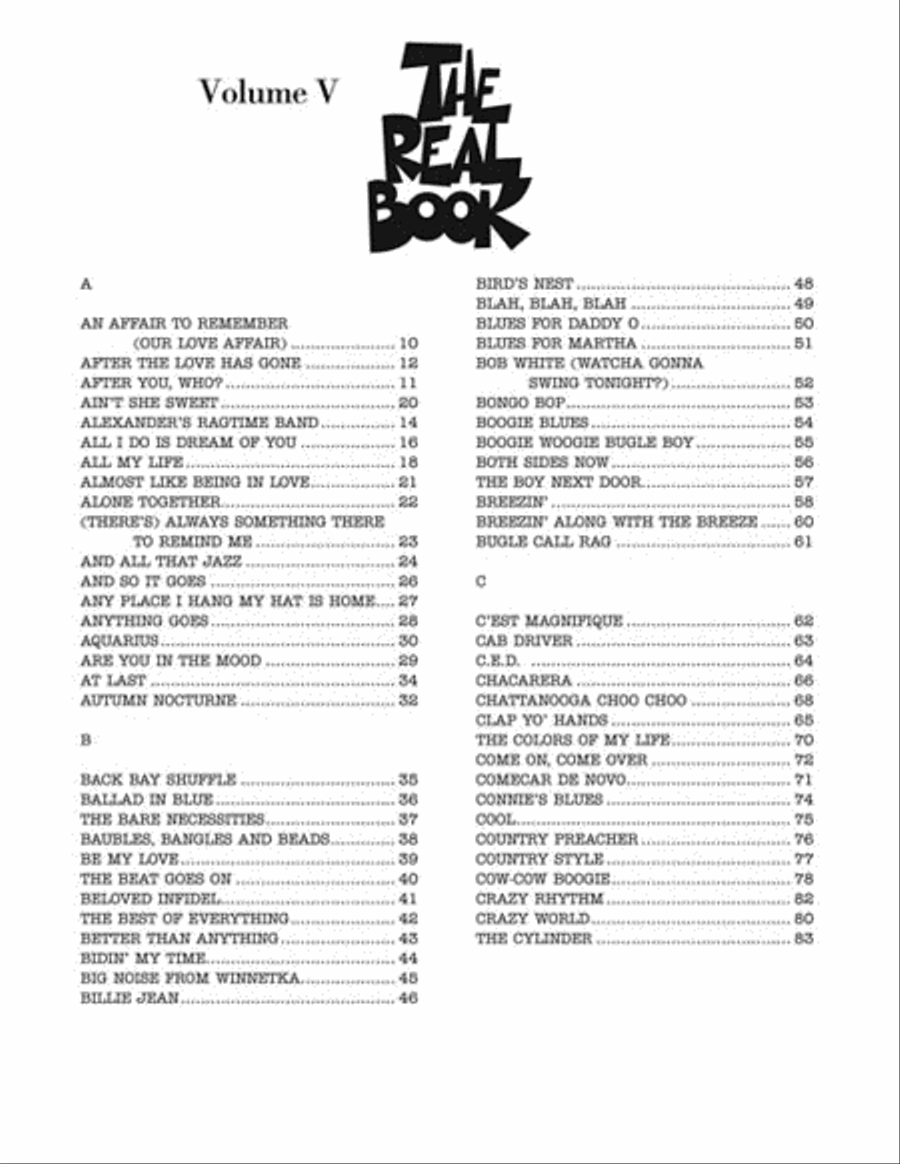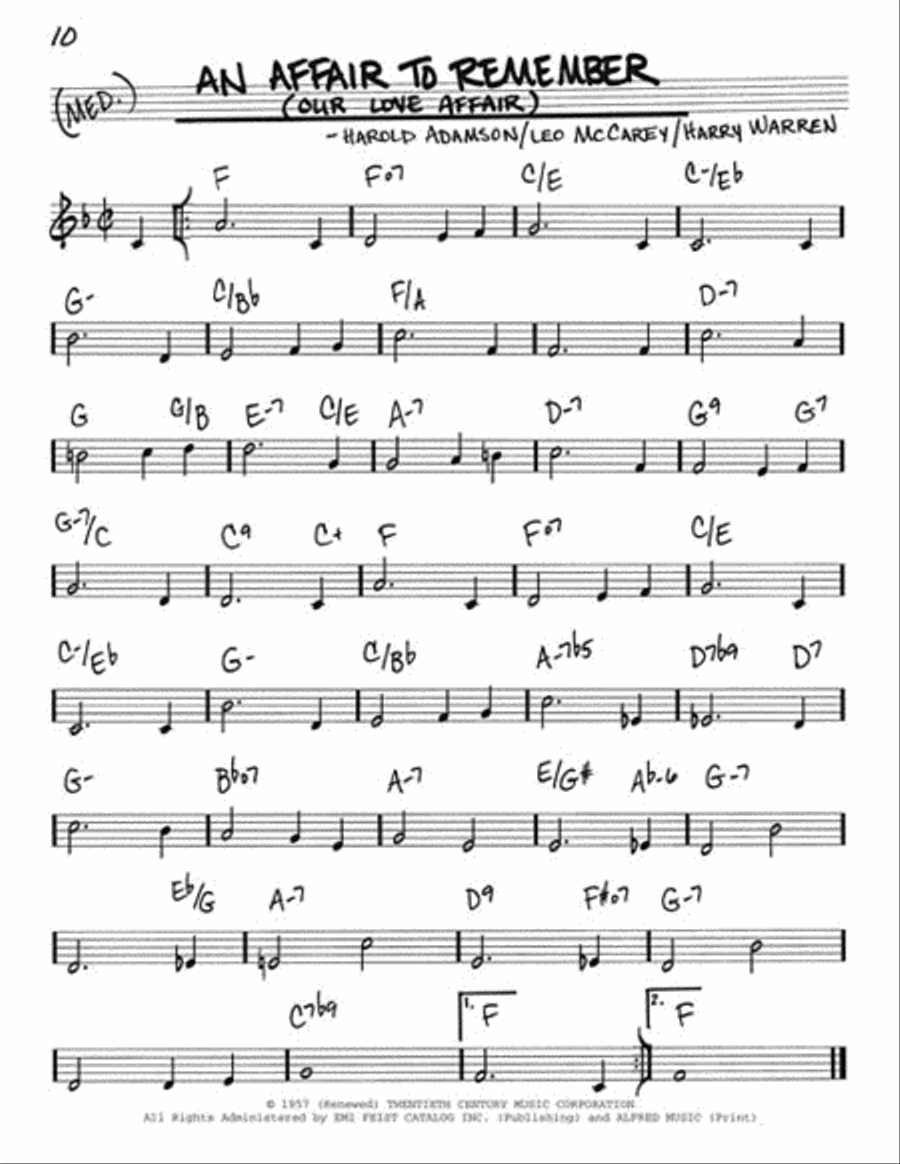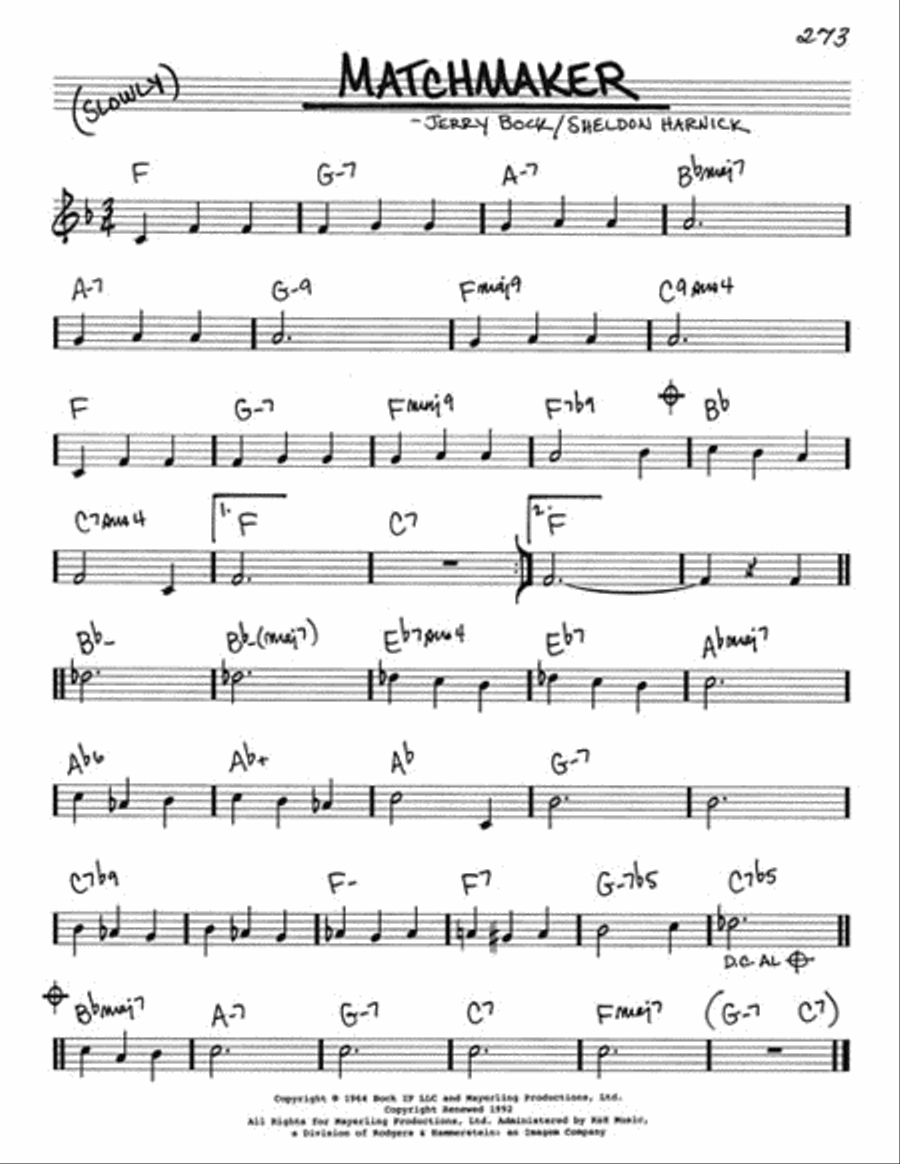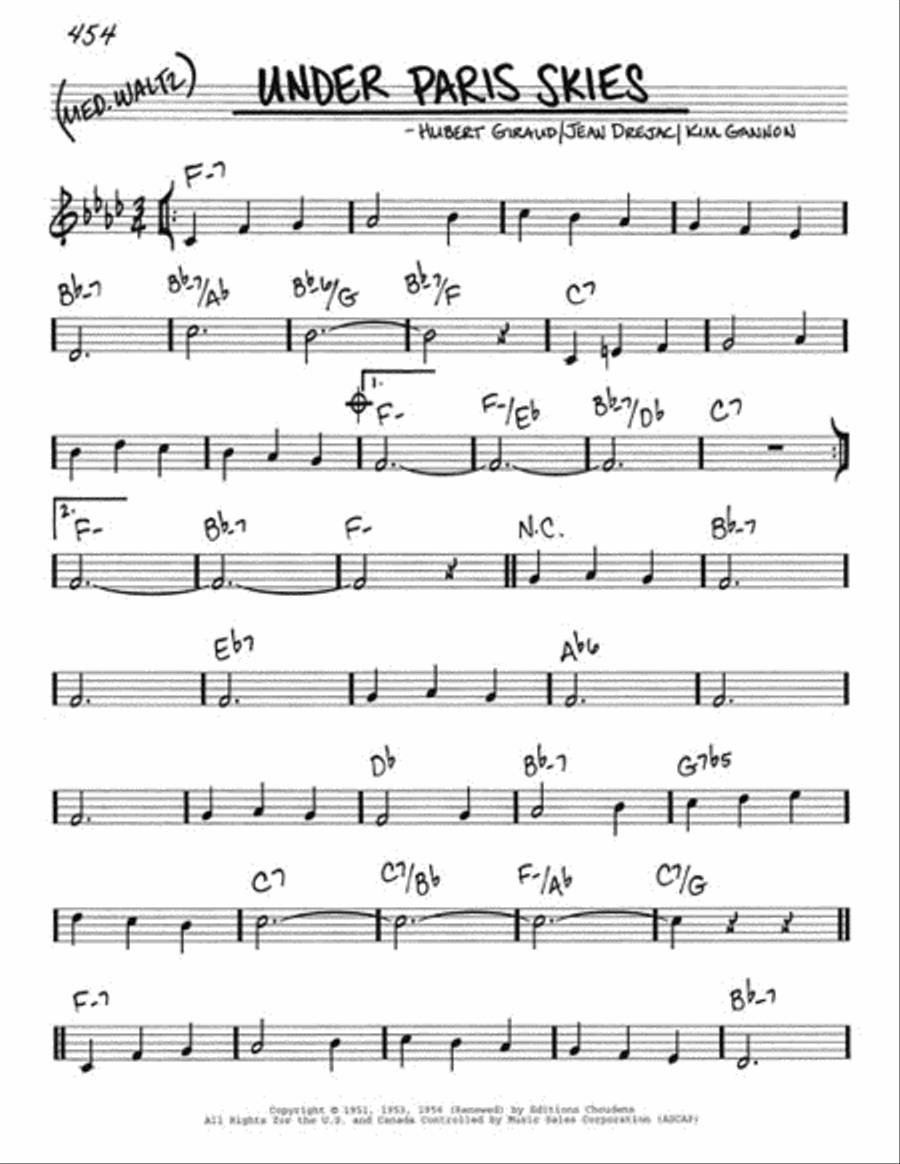 The Real Book - Volume V

C Edition
Available
Ready to ship in 24 hours
Taxes/VAT calculated at checkout.
Detailed Description
C Instruments
SKU: HL.240349
C Edition
. By Various. By Various. Fake Book. Jazz, Songbooks ¯ Jazz. Softcover. 504 pages. Published by Hal Leonard (HL.240349).
ISBN 9781423488484. UPC: 884088457730. 9.0x11.0x0.974 inches.
Since the 1970s, The Real Book has been the most popular book for gigging jazz musicians. Hal Leonard is proud to publish completely legal and legitimate editions of the original volumes as well as exciting new volumes to carry on the tradition to new generations of players in all styles of music! All the Real Books feature hundreds of time-tested songs in accurate arrangements in the famous easy-to-read, hand-written notation with comb-binding. This all-new 5th volume presents 400 more songs with no duplication from the previous volumes: Alone Together * At Last * Breezin' * Fascinating Rhythm * Flamenco Sketches * Gentle Rain * Goodbye Pork Pie Hat * I Cover the Waterfront * I Get a Kick Out of You * I Loves You, Porgy * In Your Own Sweet Way * Jeepers Creepers * The Lamp Is Low * Li'l Darlin' * Mack the Knife * Minnie the Moocher * Moondance * Theme from "New York, New York" * Once in a While * One O'Clock Jump * Over the Rainbow * September in the Rain * Sing, Sing, Sing * Someone to Watch over Me * Somewhere * Sonnymoon for Two * Star Eyes * Song from M*A*S*H (Suicide Is Painless) * Sweet Georgia Brown * (Love Is) the Tender Trap * The Trolley Song * What Is This Thing Called Love? * You Send Me * and more. Looking for a particular song? Check out the Real Book Songfinder here.
Song List (400)
Two Different Worlds
'Tis Autumn
Tonight
Guantanamera
Flamenco Sketches
A Shot In The Dark
After The Love Has Gone
Quality Time
Bongo Bop
Ain't She Sweet
Once Upon A Time
Back Bay Shuffle
A Garden In The Rain
The Preacher
Cab Driver
Alexander's Ragtime Band
Everything But You
I Just Found Out About Love
Undecided
Maria
That Ole Devil Called Love
All My Life
The Hawk Talks
Don't Smoke In Bed
Somewhere
Smack Dab In The Middle
From Here To Eternity
Bugle Call Rag
Almost Like Being In Love
Ballad In Blue
Zoot Suit Riot
No Other Love
(There's) Always Something There To Remind Me
I Never Knew
Sonnymoon For Two
And So It Goes
Show-Type Tune (Tune For A Lyric)
Pyramid
Come On, Come Over
Django's Castle
That Face
Any Place I Hang My Hat Is Home
Blues For Daddy O
Dexter's Mood
Country Preacher
Graceland
Jet Song
Do It Again
Here's To Life
Sing
Hymn To Freedom
Place St. Henri
The Bare Necessities
Noreen's Nocturne
I'll Be Easy To Find
September
Baubles, Bangles And Beads
Remember
Sunrise, Sunset
For Once In My Life
Echoes
Boogie Woogie Bugle Boy
Experiment In Terror
Breezin' Along With The Breeze
Let Yourself Go
Dream Of You
Rikki Don't Lose That Number
Hey There, Good Times
I Love My Wife
Rude Old Man
Playboy's Theme
Delauney's Dilemma
Blues For Martha
Cool
Country Style
Cow-Cow Boogie
Deep In A Dream
Diane
Connie's Blues
Better Than Anything
Please Don't Talk About Me When I'm Gone
Piano Man
Music On The Way
Chacarera
Notorious
I Thought Of You
Tricrotism
Bird's Nest
Mood That I'm In
Every Breath You Take
The Fool On The Hill
Gonna Build A Mountain
Goodbye Pork Pie Hat
Got To Get You Into My Life
Green Onions
Guys And Dolls
He Was Too Good To Me
He's A Tramp
Heigh-Ho
Hello, Dolly!
Hill Street Blues Theme
How Can I Be Sure
I Dream Too Much
I Feel Pretty
I Wanna Be Loved By You
I'm Getting Sentimental Over You
If This Isn't Love
Isn't This A Lovely Day (To Be Caught In The Rain?)
It's A Pity To Say Goodnight
Jazzman
Joey, Joey, Joey
June Night
King Porter Stomp
The Cylinder
La Ronde
Le Cannet
The Golden Striker
Leap Frog
Let A Smile Be Your Umbrella
Let's Take An Old-Fashioned Walk
Matchmaker
Mickey Mouse March
Midnight In Moscow
Milenberg Joys
More Today Than Yesterday
Music, Maestro, Please
My Kind Of Girl
My Monday Date
Never My Love
Nice 'n' Easy
Oh, Good Grief
On A Little Street In Singapore
On The Other Side Of The Tracks
On The South Side Of Chicago
Perry Mason Theme
Pigalle
Raindrops Keep Fallin' On My Head
Real Live Girl
Rock-A-Bye Your Baby With A Dixie Melody
Rules Of The Road
The Seventh Son
Shall We Dance?
She Loves Me
A Shine On Your Shoes
Theme From The Simpsons
Sit Down You're Rockin' The Boat
Sleepy Lagoon
Smells Like Teen Spirit
Smooth Operator
So Many Stars
Softly As I Leave You
Somethin' Stupid
The Sound Of Music
Stranger In Paradise
Strictly Instrumental
Taking A Chance On Love
(Love Is) The Tender Trap
Tequila
Then I'll Be Tired Of You
There's No Business Like Show Business
This Nearly Was Mine
Time's Lie
Top Hat, White Tie And Tails
Turn Your Love Around
Under Paris Skies
We Kiss In A Shadow
What Is There To Say
What The World Needs Now Is Love
When Joanna Loved Me
Where Is Love?
Who's Sorry Now
Wild Is The Wind
Would You Like To Take A Walk (Sump'n Good'll Come From That)
Yesterday, When I Was Young (Hier Encore)
You Couldn't Be Cuter
You Turned The Tables On Me
You'd Better Love Me
K.C. Blues
Laird Baird
In Your Own Sweet Way
Orbit
Mister Five By Five
Are You In The Mood
Have I Stayed Away Too Long
Easy
Ebony Samba (Sambanegro)
Vera Cruz
That's The Way It Goes
Fascination (Valse Tzigane)
The Watergate Blues
Like A Lover (O Cantador)
Love Dance
Lullaby In Rhythm
I Will Say Goodbye
Crazy World
A-Tisket, A-Tasket
Oh Happy Day
Breezin'
After You, Who?
When You're In Love
Tin Man
I'm Coming Virginia
All I Do Is Dream Of You
Lost In Meditation
The Lamp Is Low
Dragnet
James Bond Theme
You Send Me
Alone Together
Laugh! Clown! Laugh!
Lucky To Be Me
An Affair To Remember (Our Love Affair)
And All That Jazz
I'm A Ding Dong Daddy (From Dumas)
Anything Goes
Aquarius
Jeep's Blues
Main Stem
My One And Only
Maybe
At Last
Autumn Nocturne
Sweet Lorraine
Sunday
Miss Otis Regrets (She's Unable To Lunch Today)
You Do Something To Me
How Am I To Know
Smiles
The Best Of Everything
Once In A While
Star Eyes
C.E.D.
Dance Of The Octopus
Be My Love
The Beat Goes On
Bidin' My Time
Big Noise From Winnetka
Billie Jean
The Old Master Painter
The Boy Next Door
I'll Build A Stairway To Paradise
If I Had You
Something's Gotta Give
C'est Magnifique
Hurt
Of Thee I Sing
Totem Pole
Chattanooga Choo Choo
This Heart Of Mine
Clap Yo' Hands
Crazy Rhythm
Day In, Day Out
Deep Night
Diamonds Are Forever
Ding-Dong! The Witch Is Dead
Don't Cry Joe (Let Her Go, Let Her Go, Let Her Go)
A Dreamer's Holiday
Drinking Again
Sing, Sing, Sing
That's All
Ebb Tide
Lazy Sunday
It's A Raggy Waltz
Elmer's Tune
Blah, Blah, Blah
Beloved Infidel
Bob White (Watcha Gonna Swing Tonight?)
Hamp's Boogie Woogie
The Lorelei
Meggie's Theme
Time Was
You Tell Me Your Dream, I'll Tell You Mine
Fascinating Rhythm
Fine And Dandy
Forty-Second Street
Fried Bananas
Both Sides Now
A Gal In Calico
Gentle Rain
Give Me The Simple Life
Gonna Fly Now
Goofus
The Greatest Love Of All
He Loves And She Loves
Hernando's Hideaway
Hey There
I Couldn't Sleep A Wink Last Night
I Feel A Song Comin' On
I Get A Kick Out Of You
I Know That You Know
I Loves You, Porgy
I May Be Wrong (But I Think You're Wonderful!)
I Surrender, Dear
I'd Rather Leave While I'm In Love
I'll Never Say Never Again
I'll Never Stop Loving You
I'll See You In My Dreams
I'm Forever Blowing Bubbles
I'm In The Mood For Love
I've Got A Crush On You
If I Could Be With You (One Hour Tonight)
Indian Love Call
It Ain't Necessarily So
It Happened In Monterey
It Might Be You
Jalousie (Jealousy)
Jeepers Creepers
Let Me Love You Tonight
Let's Do It (Let's Fall In Love)
Li'l Darlin'
Love Is Here To Stay
Love Walked In
Lulu's Back In Town
Song From M*A*S*H (Suicide Is Painless)
Me And Mrs. Jones
Minnie The Moocher
Moondance
My Man's Gone Now
My Own True Love
My Reverie
My Yiddishe Momme
Near You
Theme From 'New York, New York'
Oh, Lady Be Good!
On The Atchison, Topeka And The Santa Fe
One O'Clock Jump
Our Love Affair
Over The Rainbow
Pennsylvania 6-5000
People Get Ready
Ragtime Cowboy Joe
Rose-Marie
Ruby
Rum And Coca-Cola
September In The Rain
Shadow Waltz
Should I?
Shuffle Off To Buffalo
Slap That Bass
Sleepy Time Gal
Someone To Watch Over Me
Sophisticated Swing
Spring Is Here
Stars Fell On Alabama
Strike Up The Band
The Summer Knows
Sweet Georgia Brown
Swingin' The Blues
That Certain Feeling
(Theme From) A Summer Place
Then Came You
They All Laughed
Tickle Toe
The Trolley Song
Trust In Me
Try A Little Tenderness
Valley Of The Dolls
We're Off To See The Wizard
What Is This Thing Called Love?
What's New Pussycat?
When A Man Loves A Woman
When I Grow Too Old To Dream
When My Sugar Walks Down The Street
Who Cares? (So Long As You Care For Me)
The Windmills Of Your Mind
A Woman Is A Sometime Thing
You'll Never Find Another Love Like Mine
You Are My Lucky Star
You Must Believe In Spring
You Were Never Lovelier
You'll Never Know
You're The Top
Zigeuner
I've Gotta Be Me
Boogie Blues
Hold Me, Thrill Me, Kiss Me
Two Lost Souls
That Lucky Old Sun
Lilli Marlene (Lili Marleen)
You, My Love
Europa
Comecar De Novo
I Want To Be A Sideman
High And Dry
The Colors Of My Life
The Duke
Ease On Down The Road
Oo-shoo-be-doo-be
Getting To Know You
I Cover The Waterfront
I Had The Craziest Dream
I Wanna Be Around
I Want To Be Happy
I'm An Old Cowhand (From The Rio Grande)
Jambalaya (On The Bayou)
Live And Let Die
Mack The Knife
Time On My Hands (You In My Arms)
A View To A Kill
Send In The Clowns