The Easy Classical Fake Book

Melody, Lyrics & Simplified Chords in the Key of "C"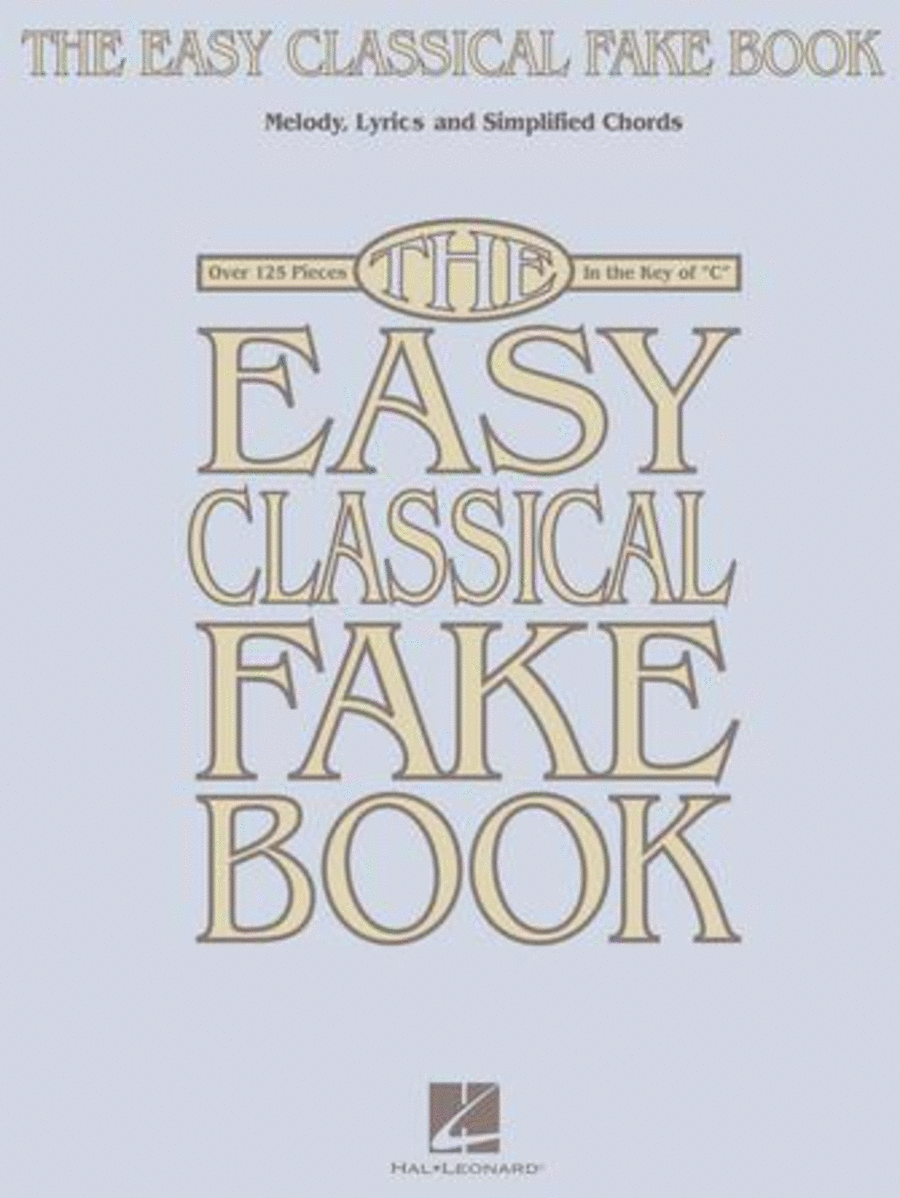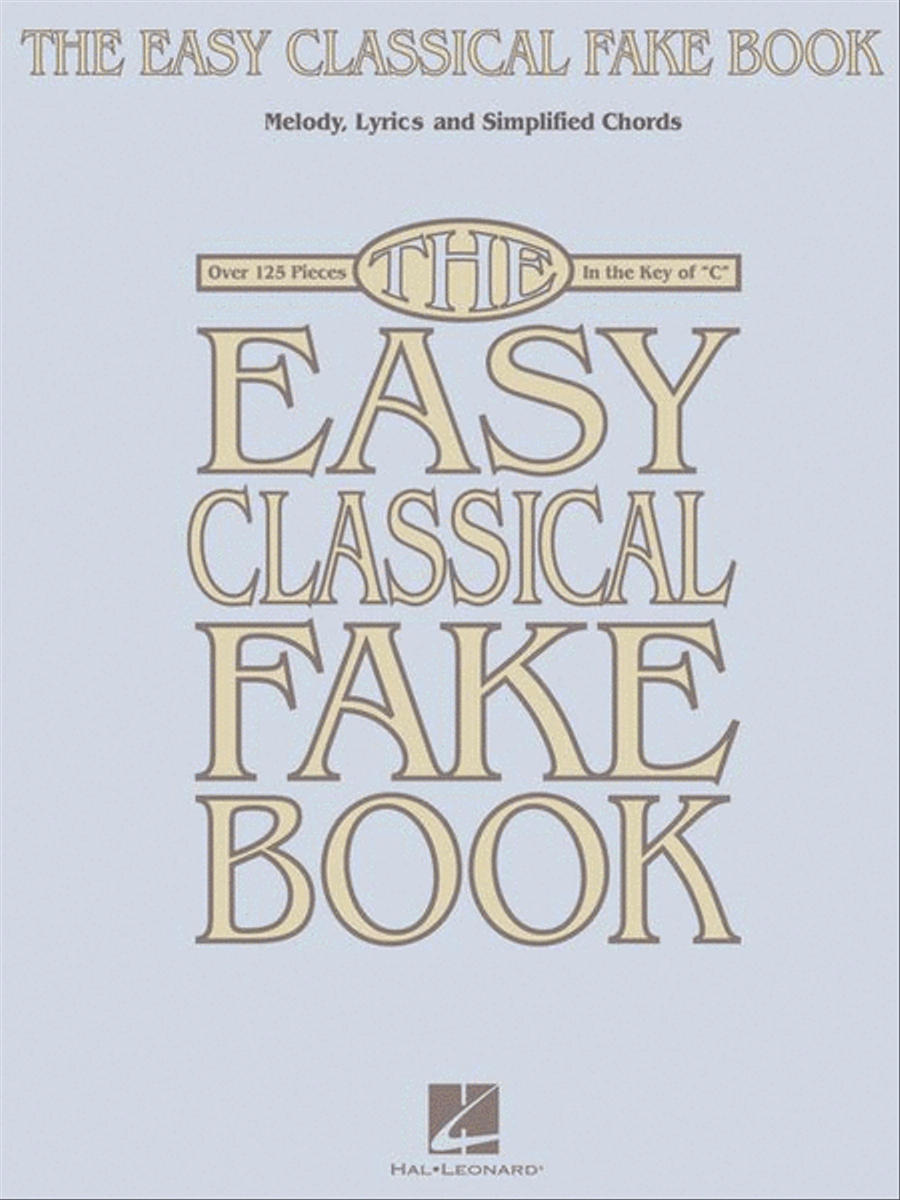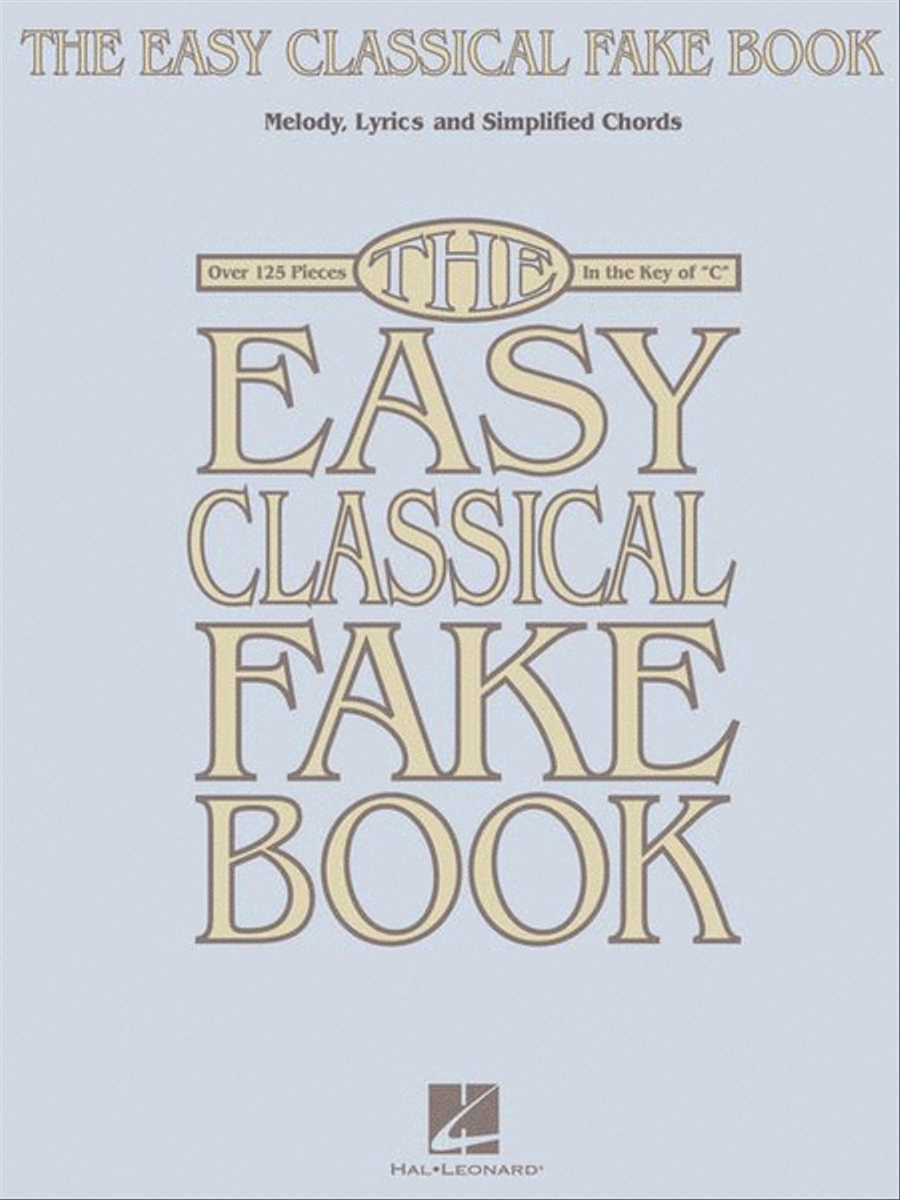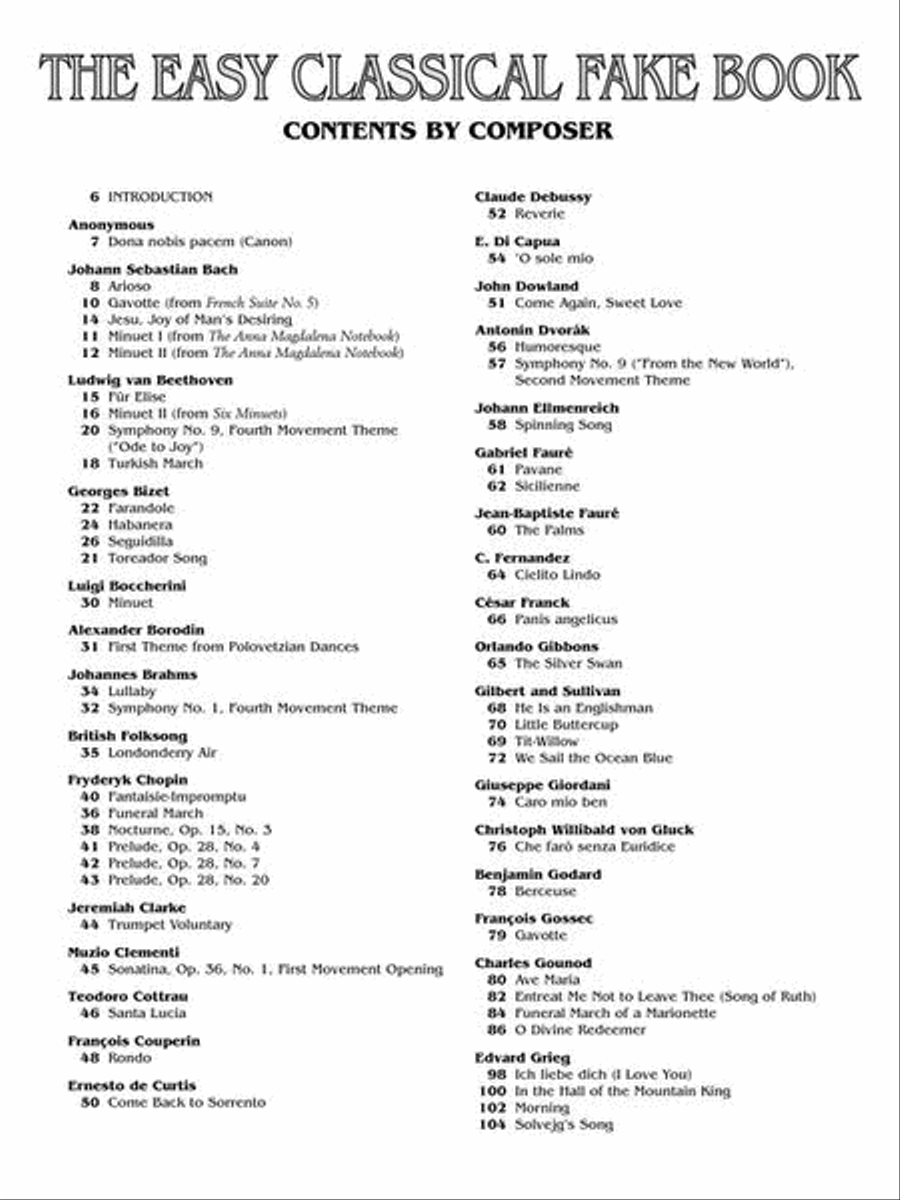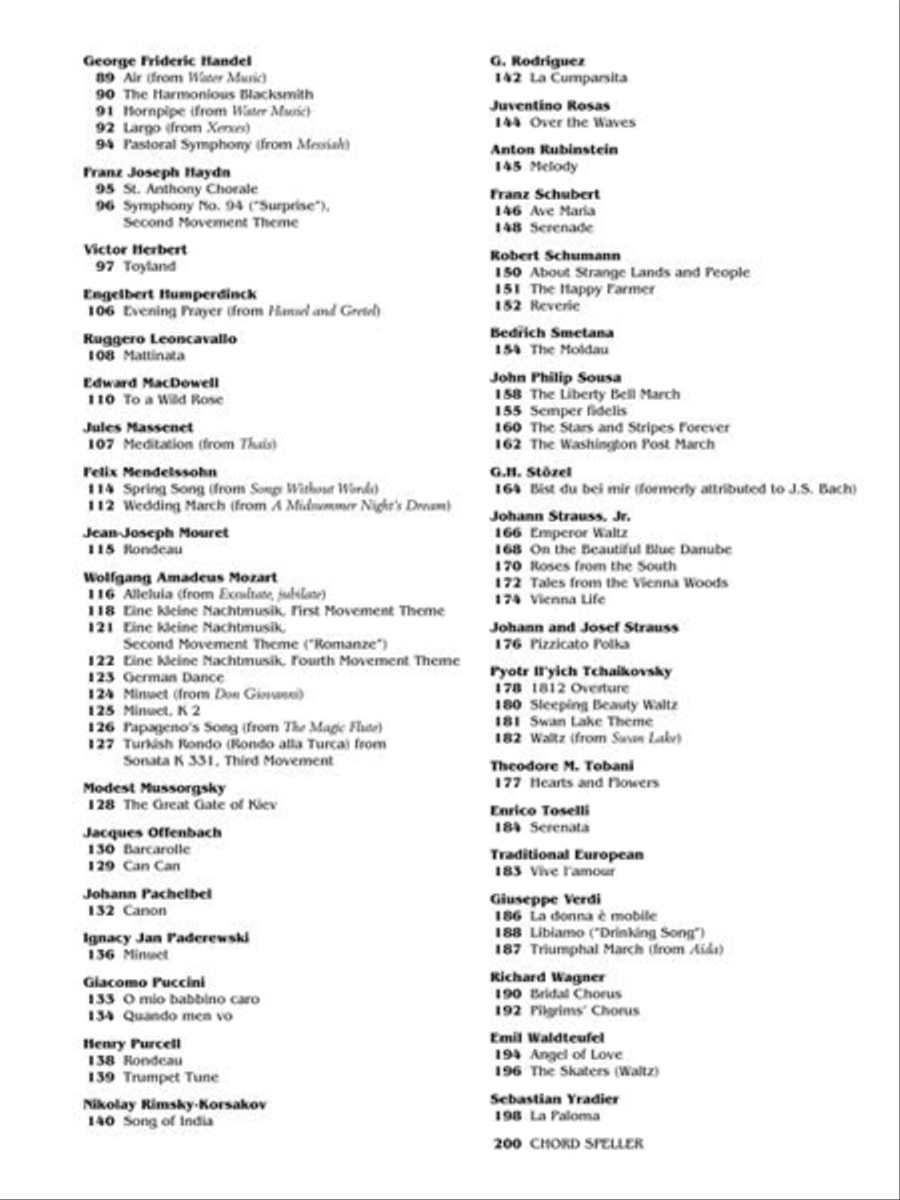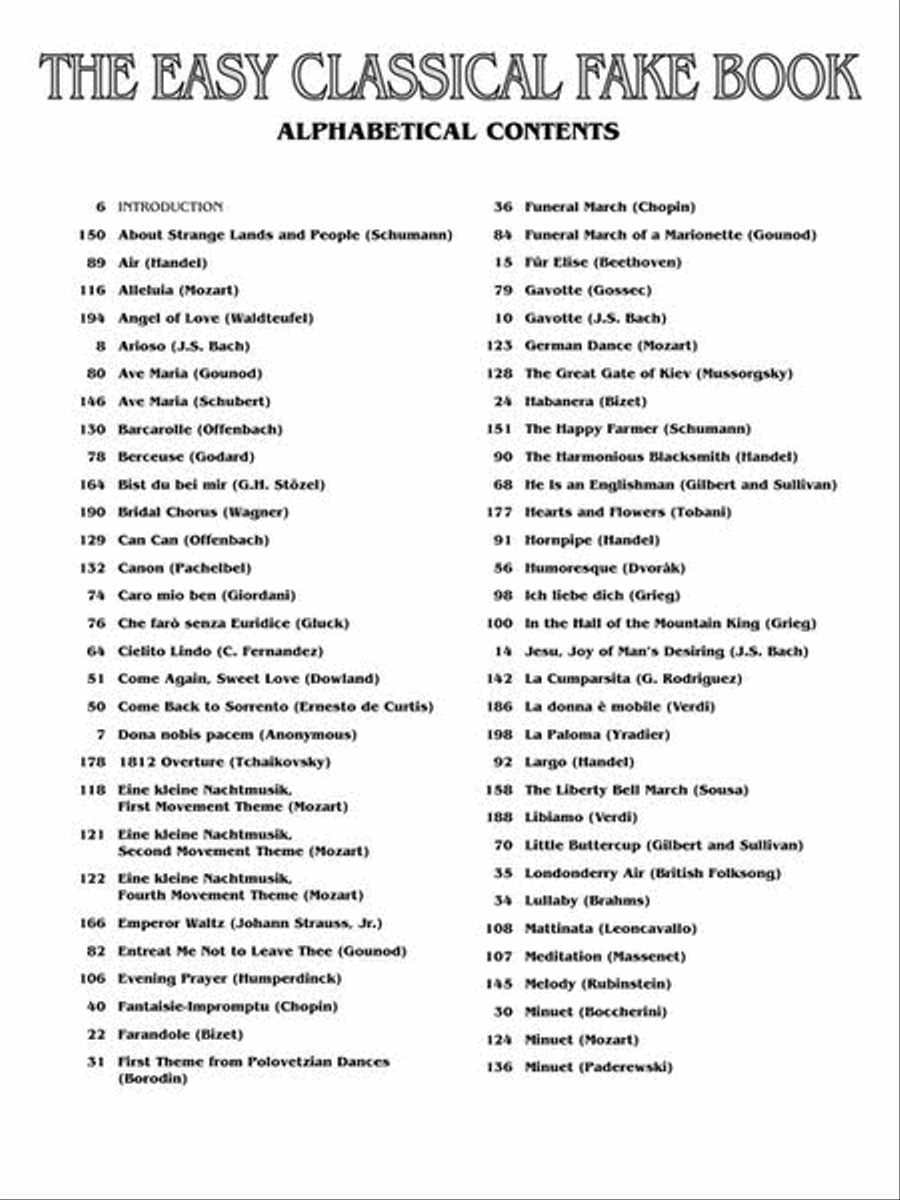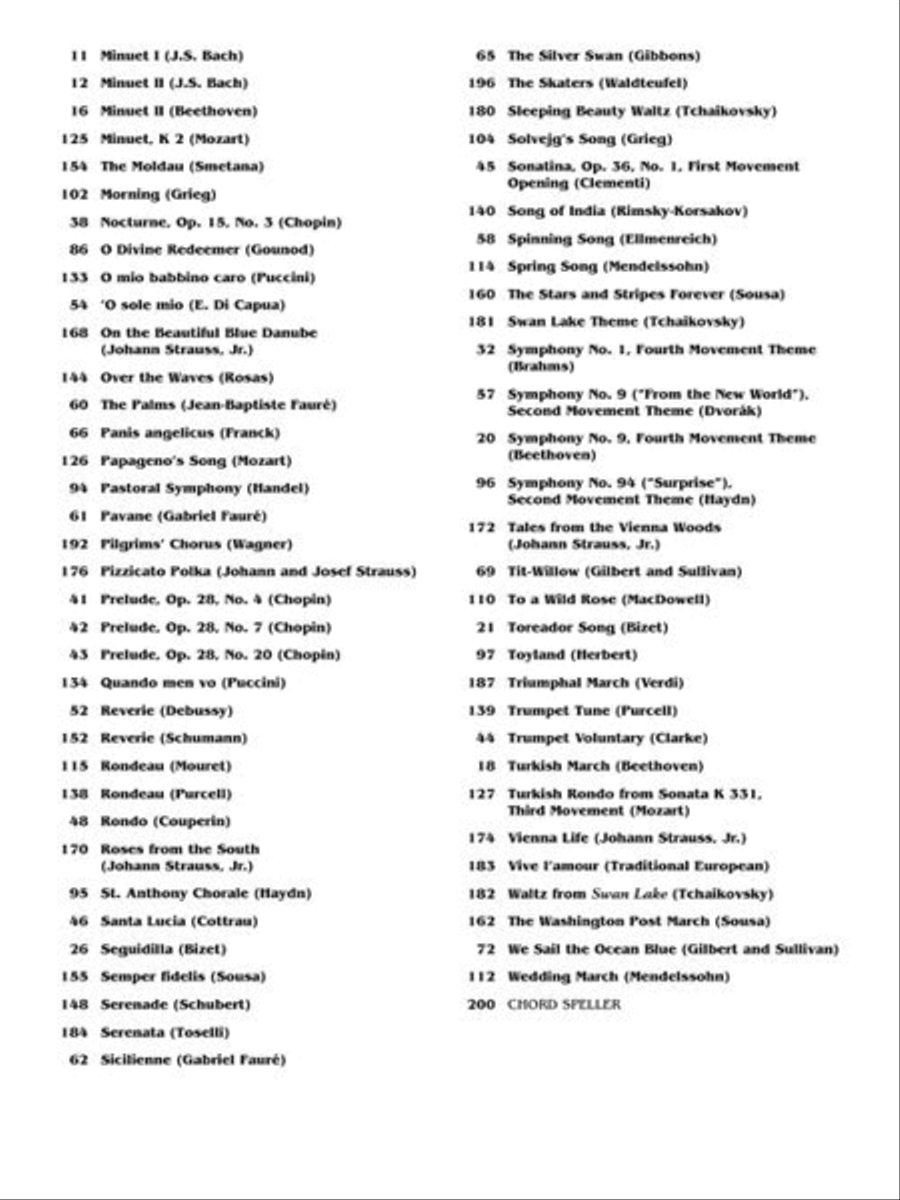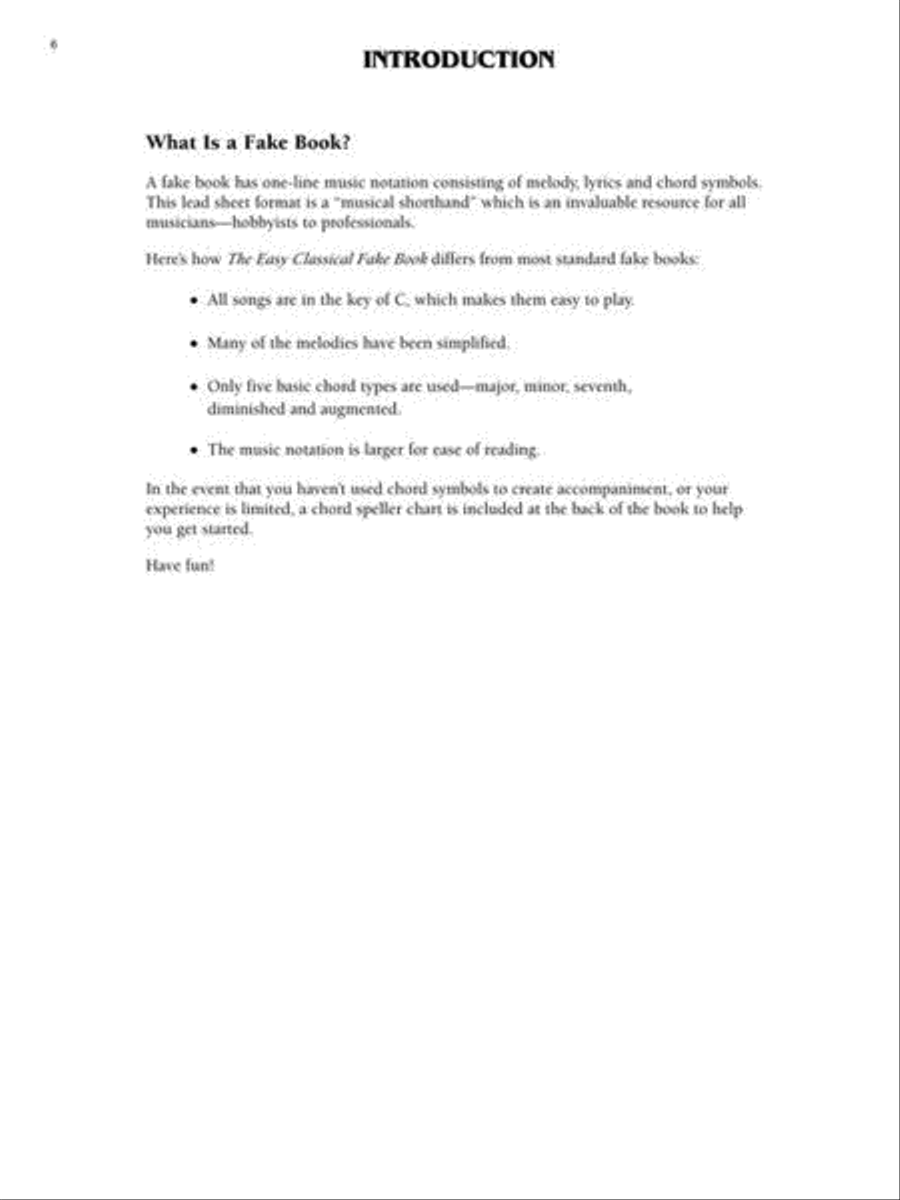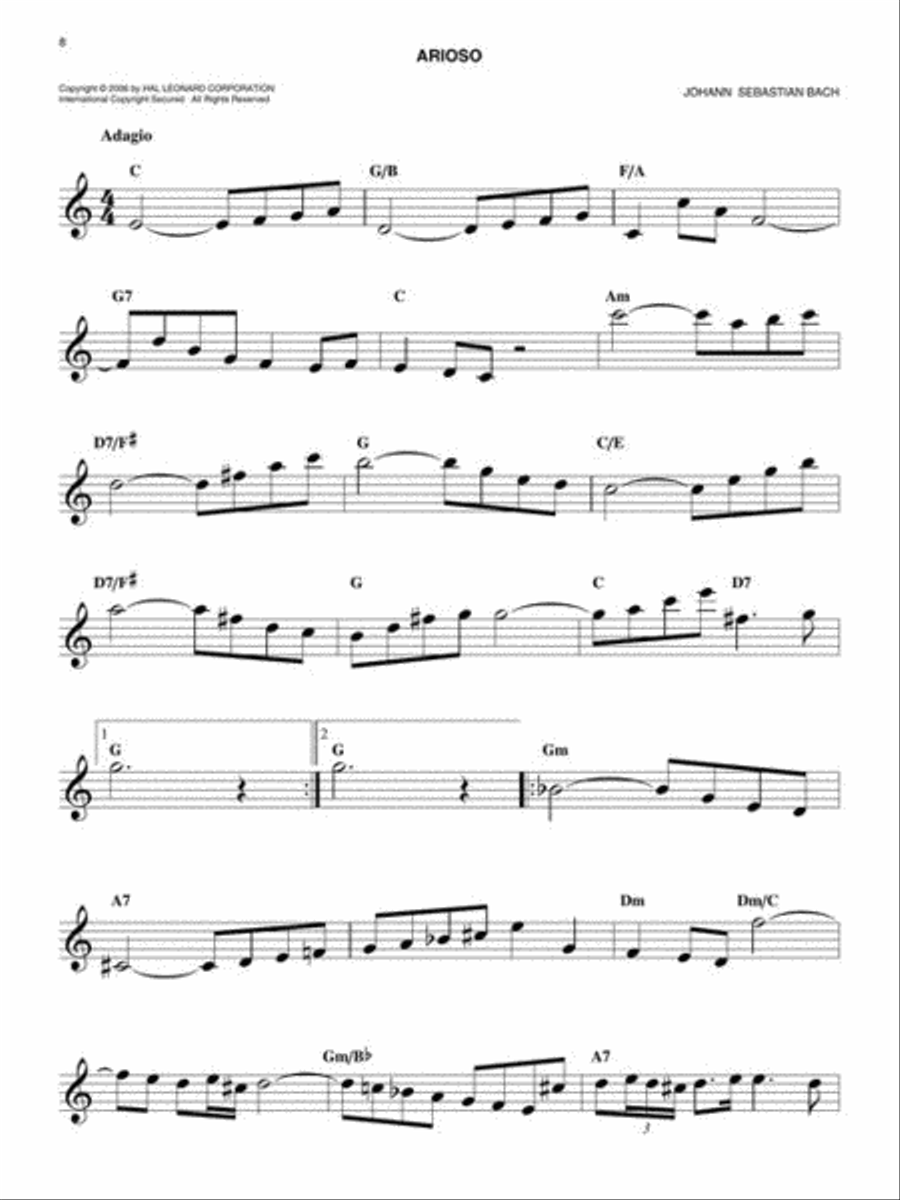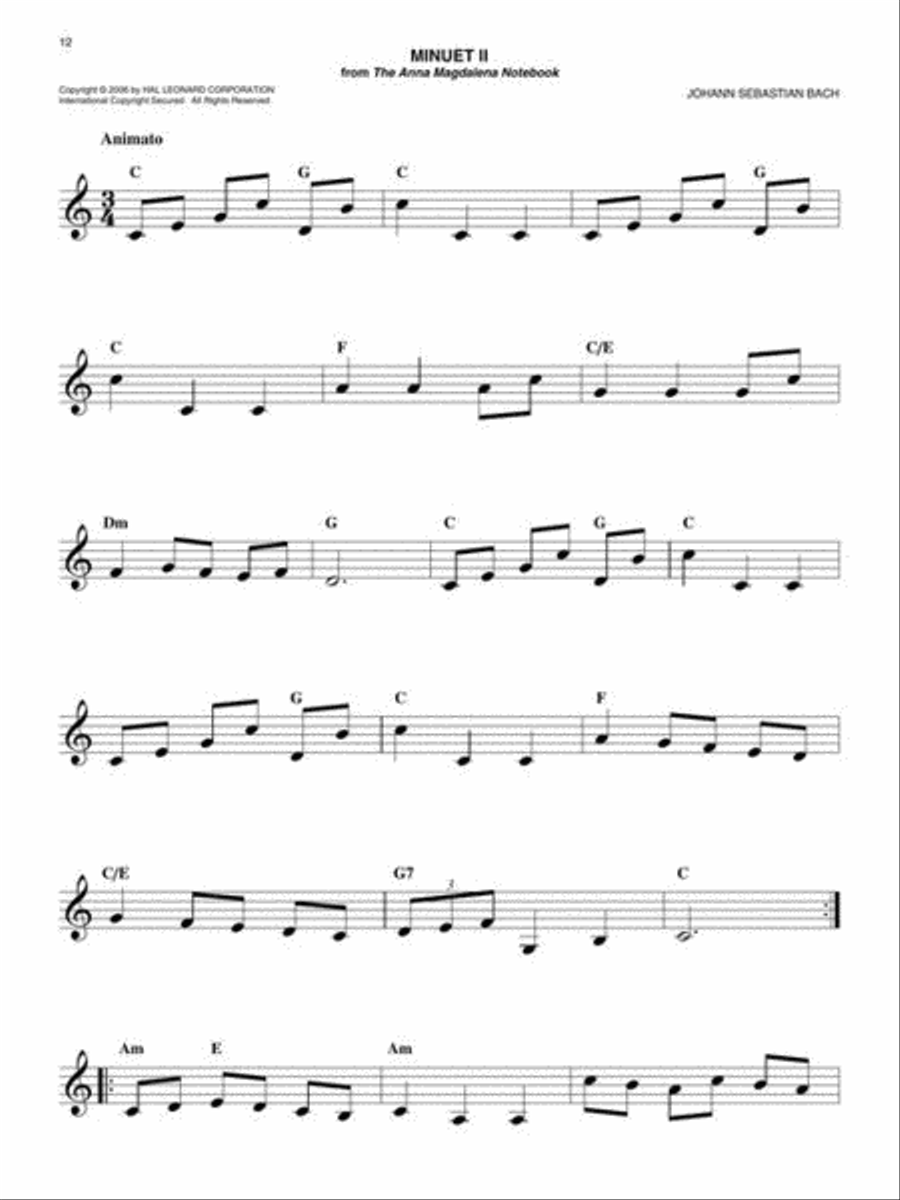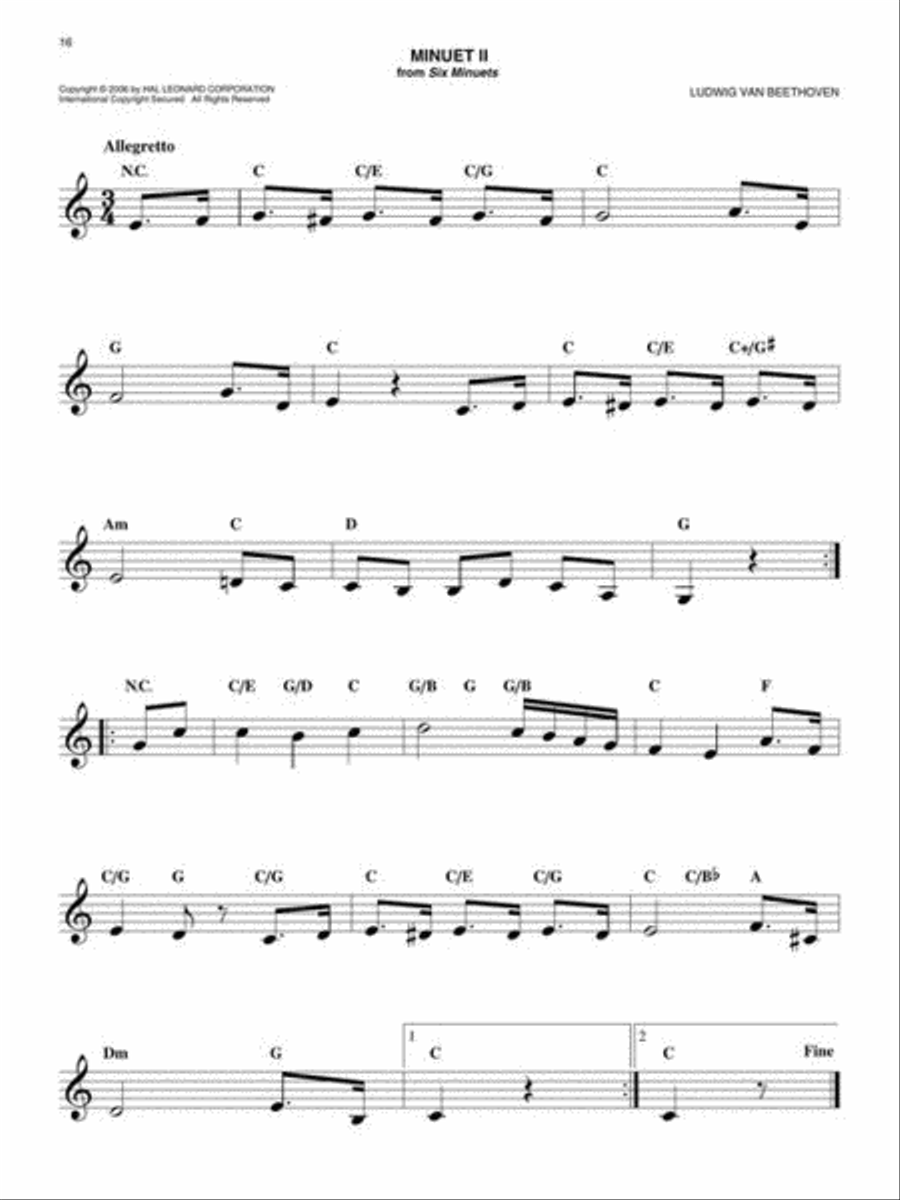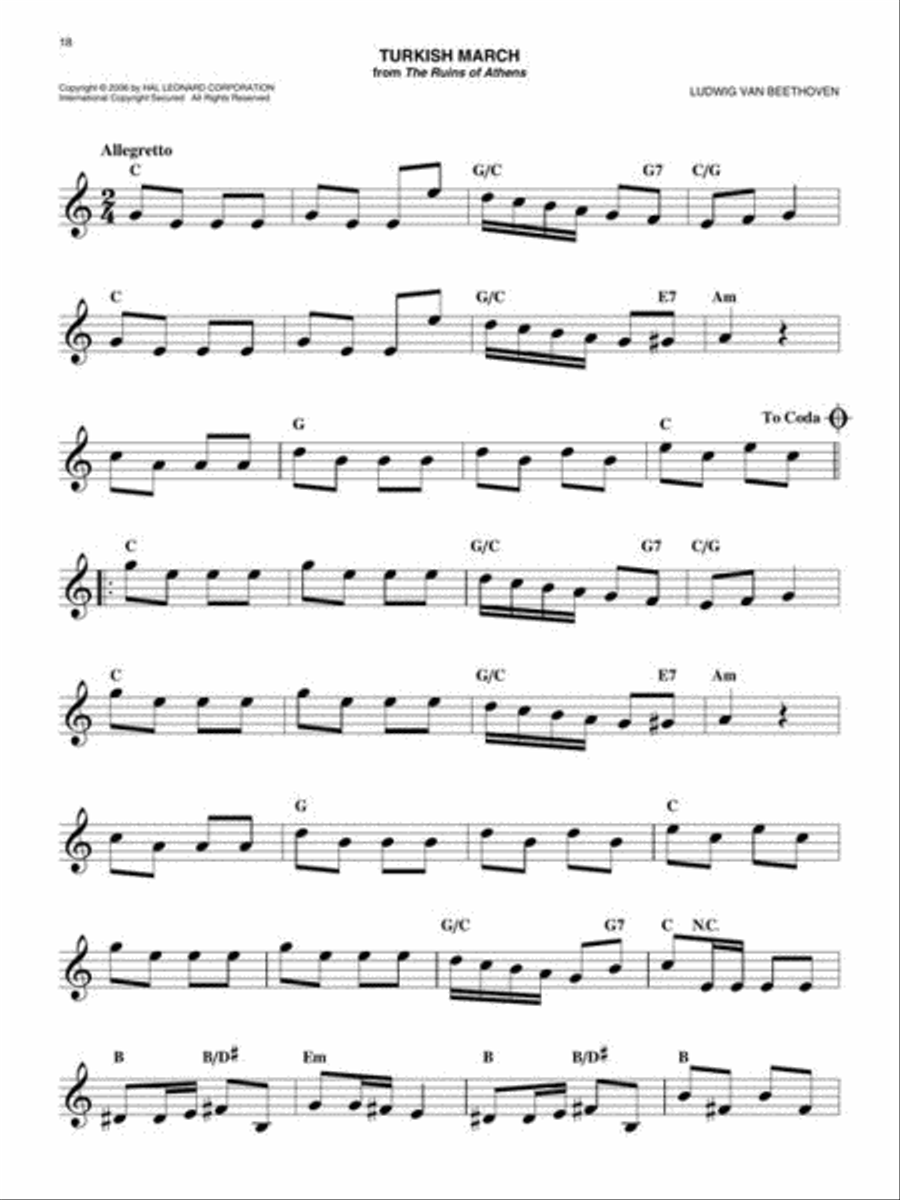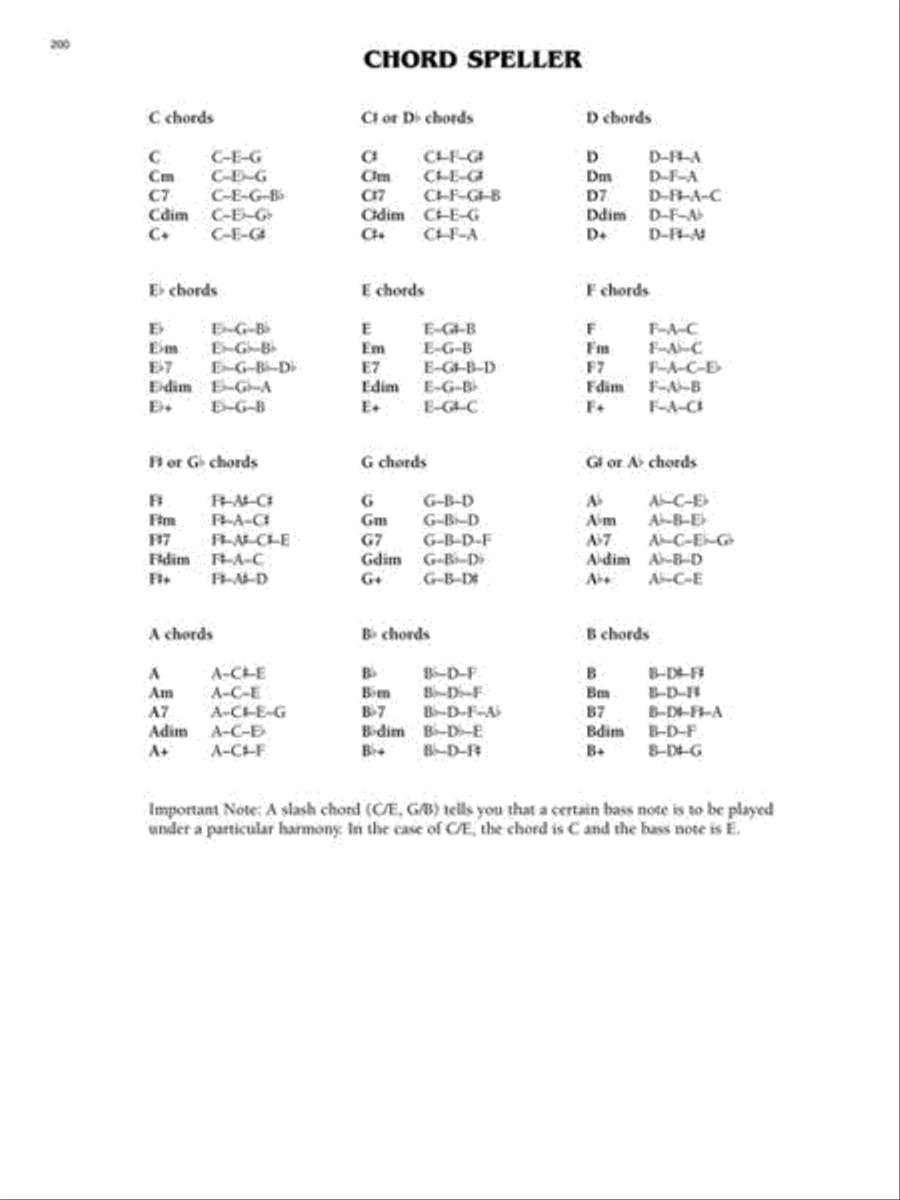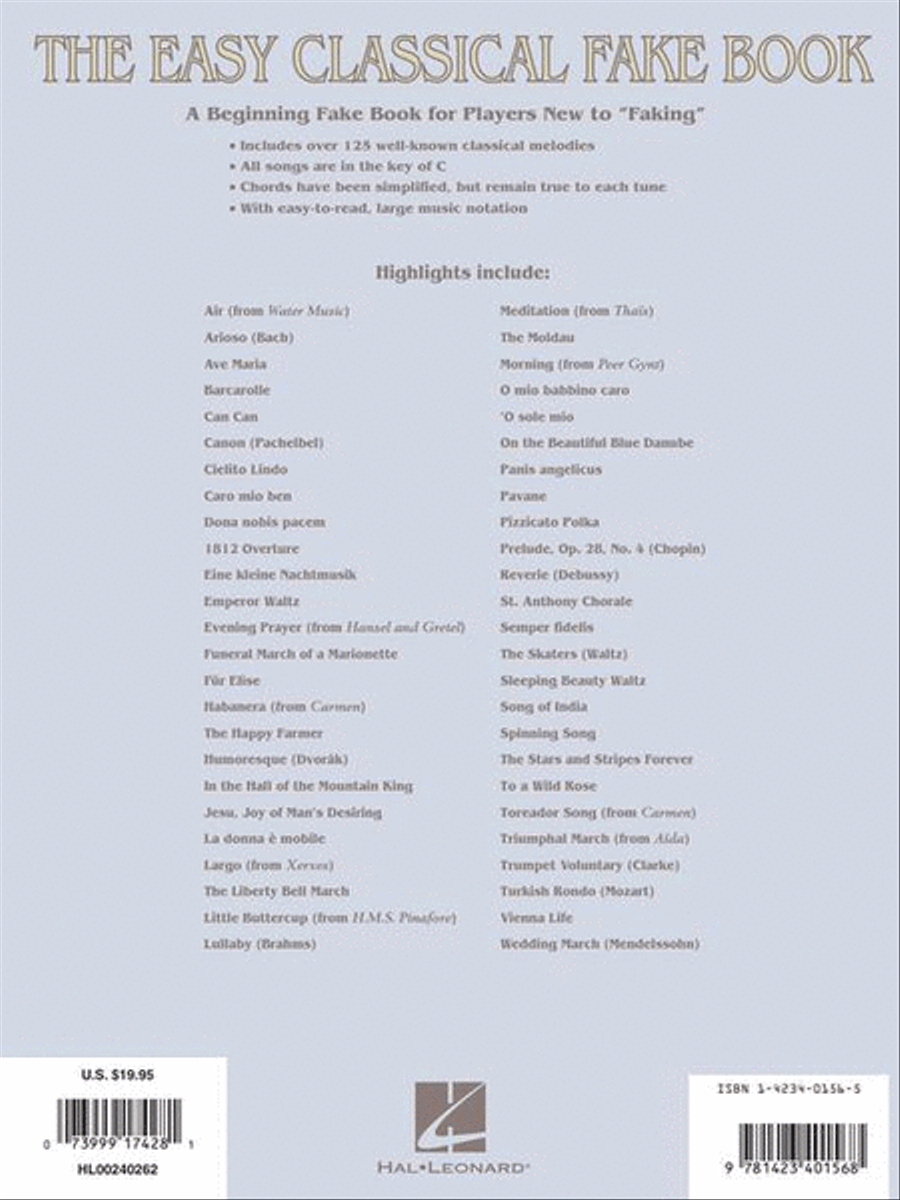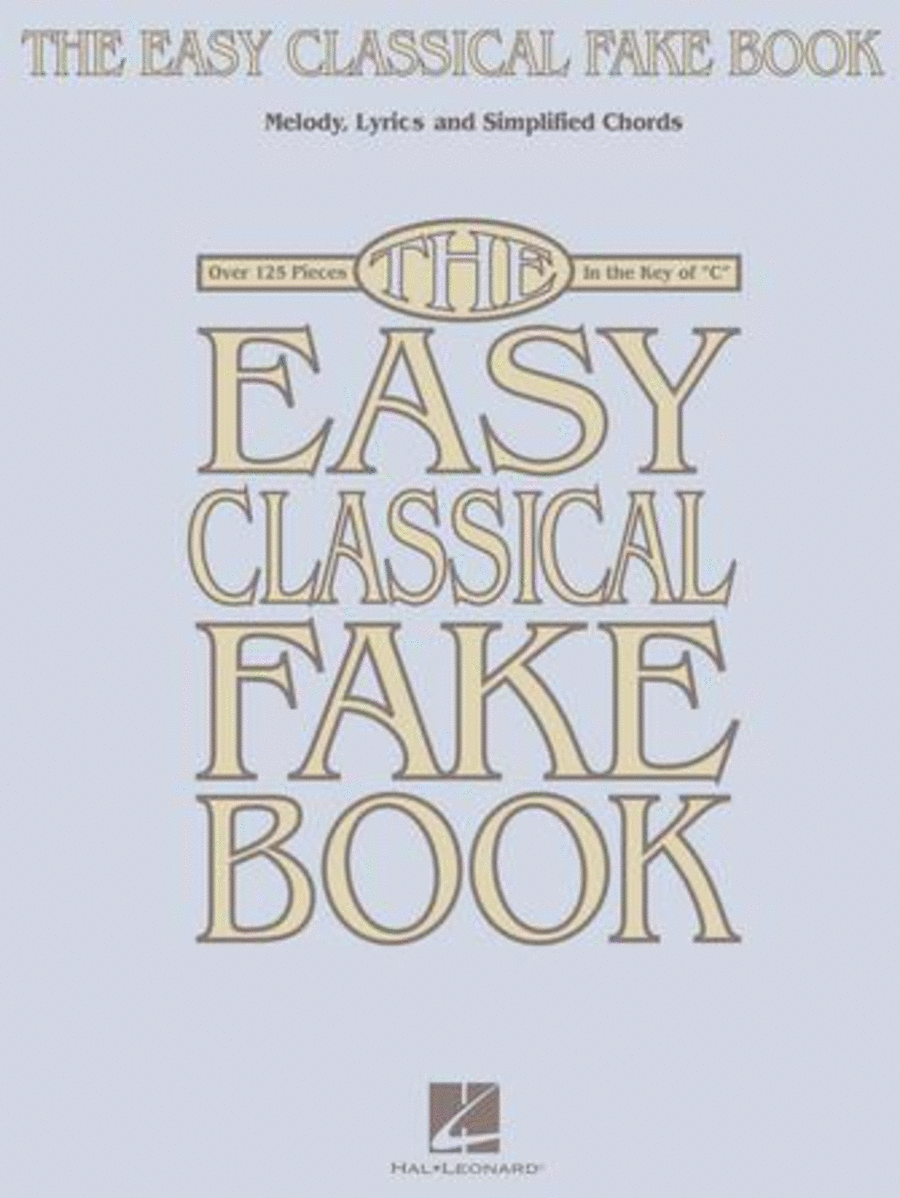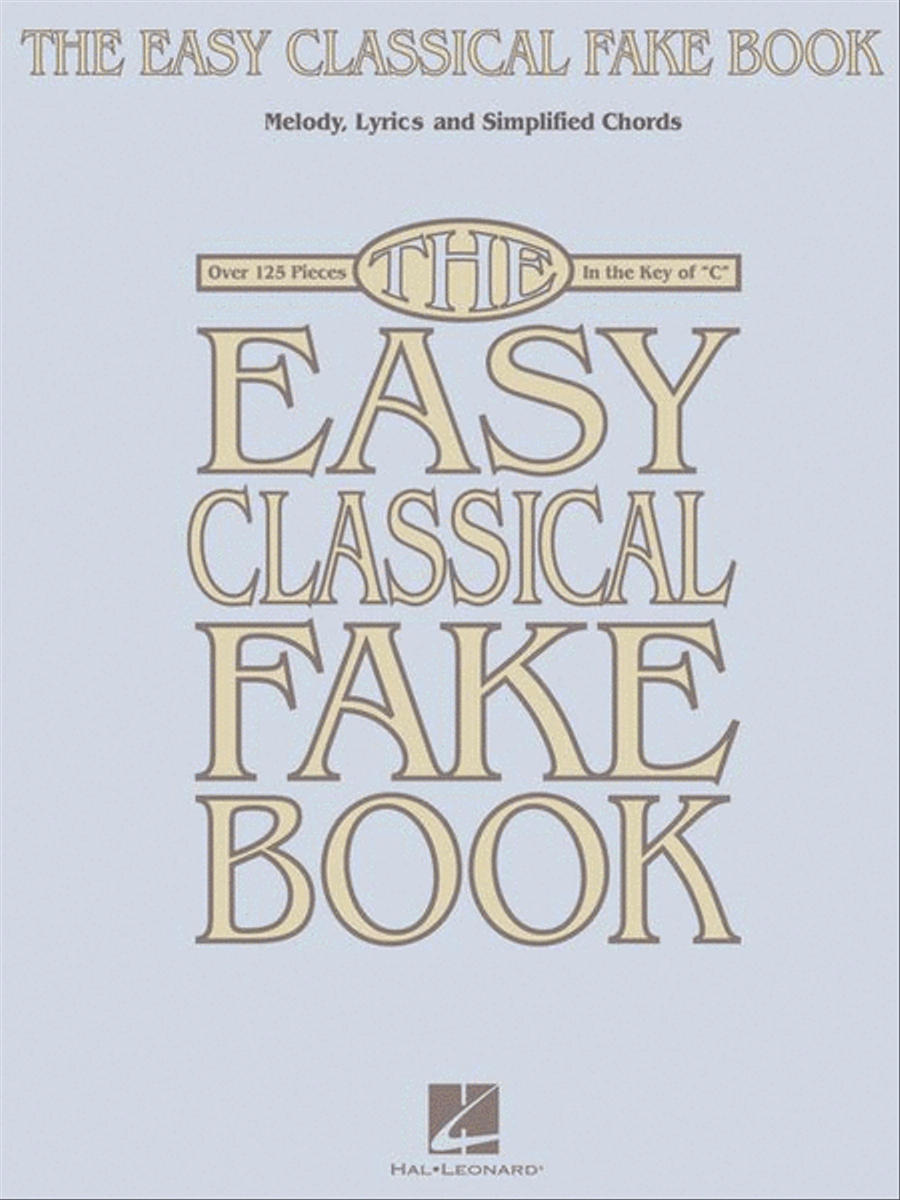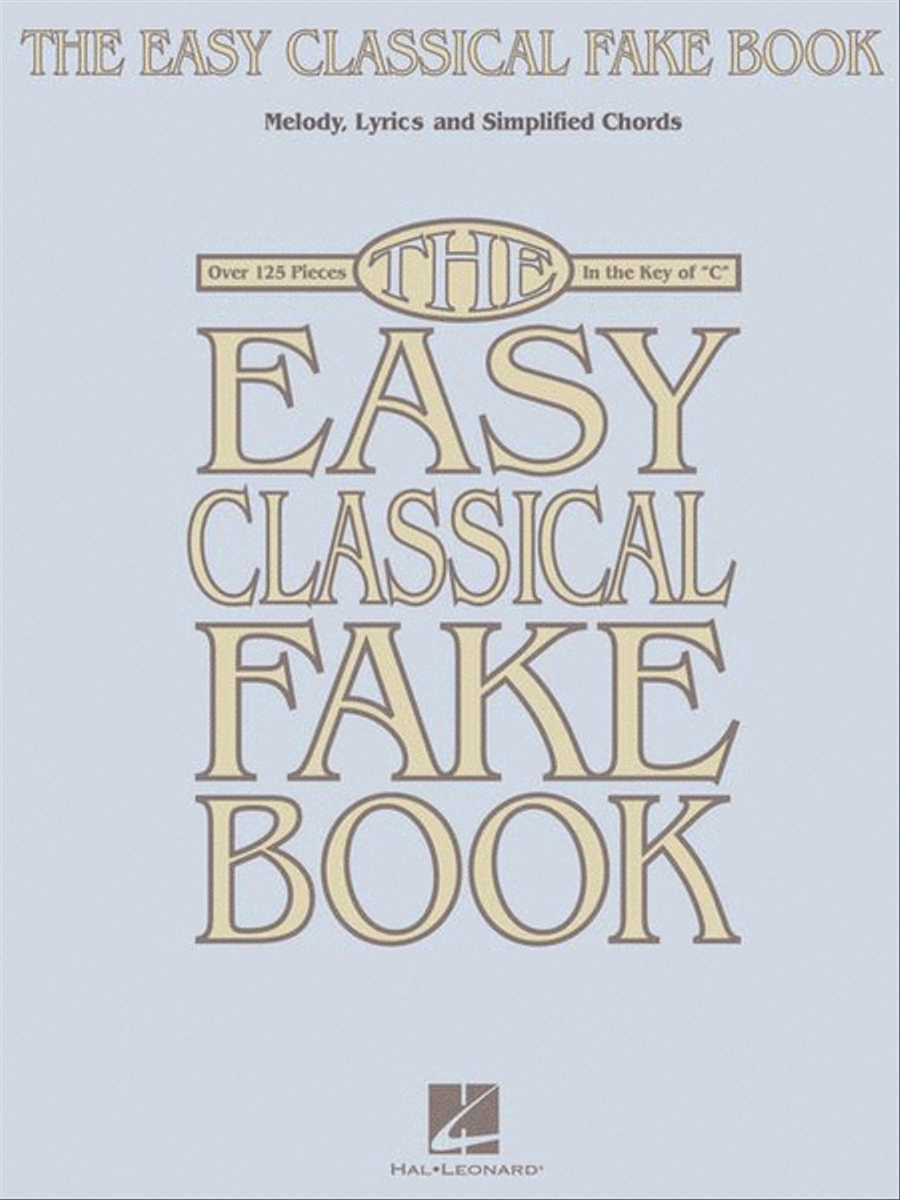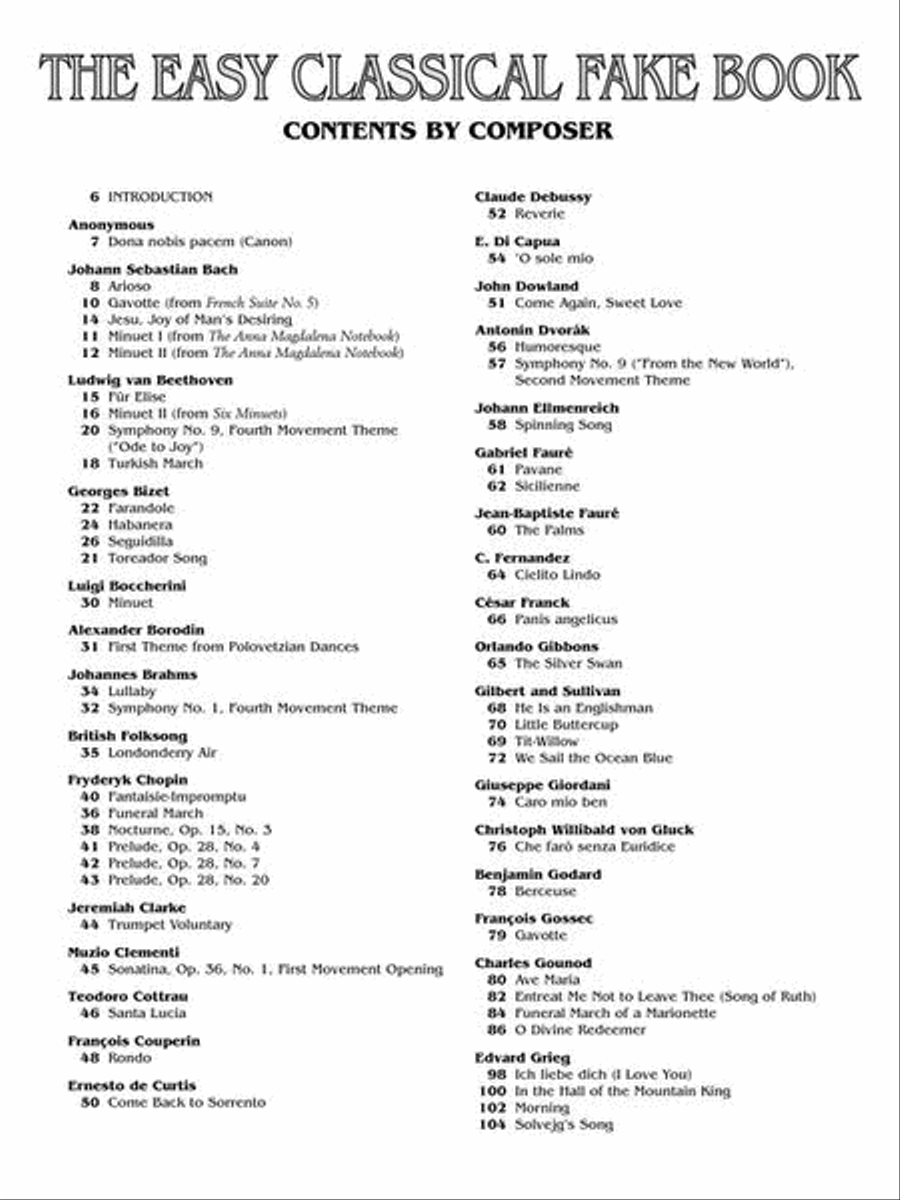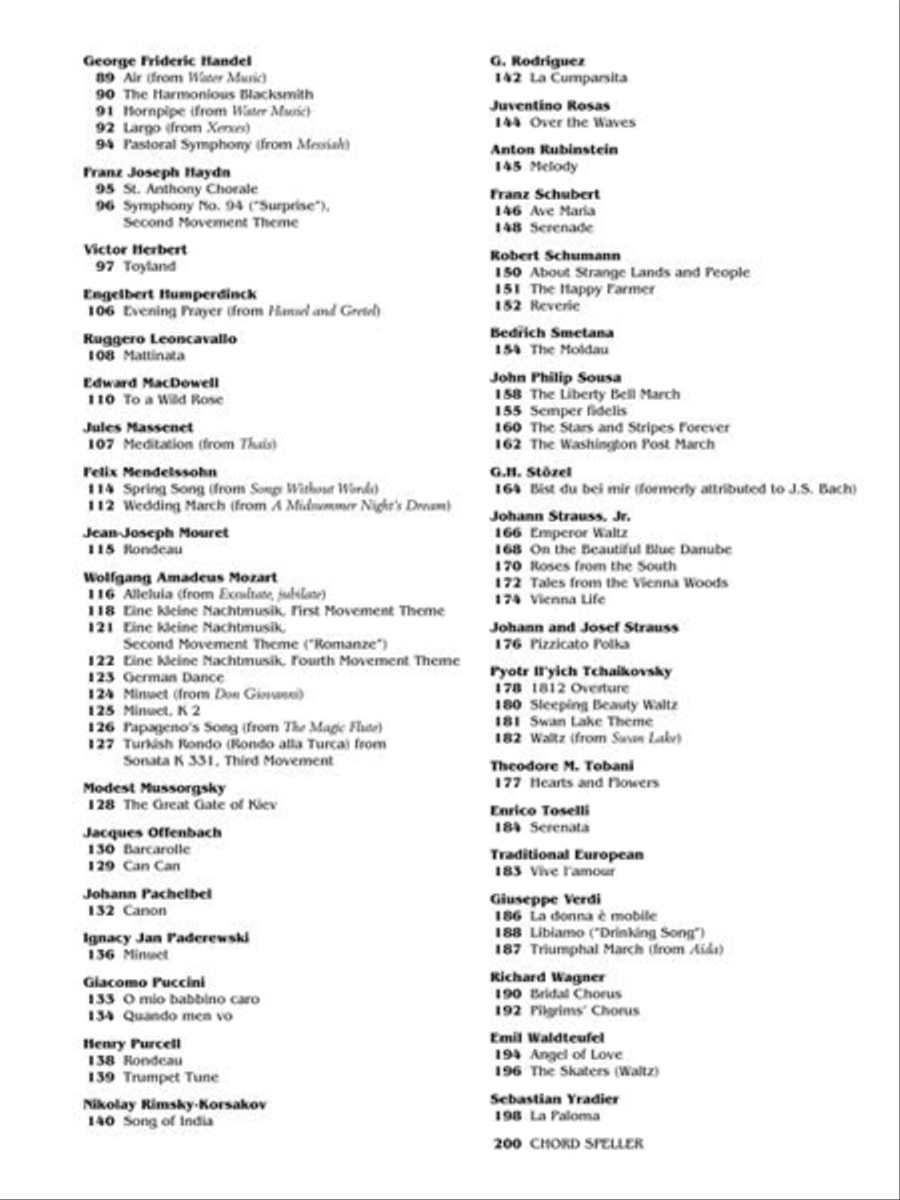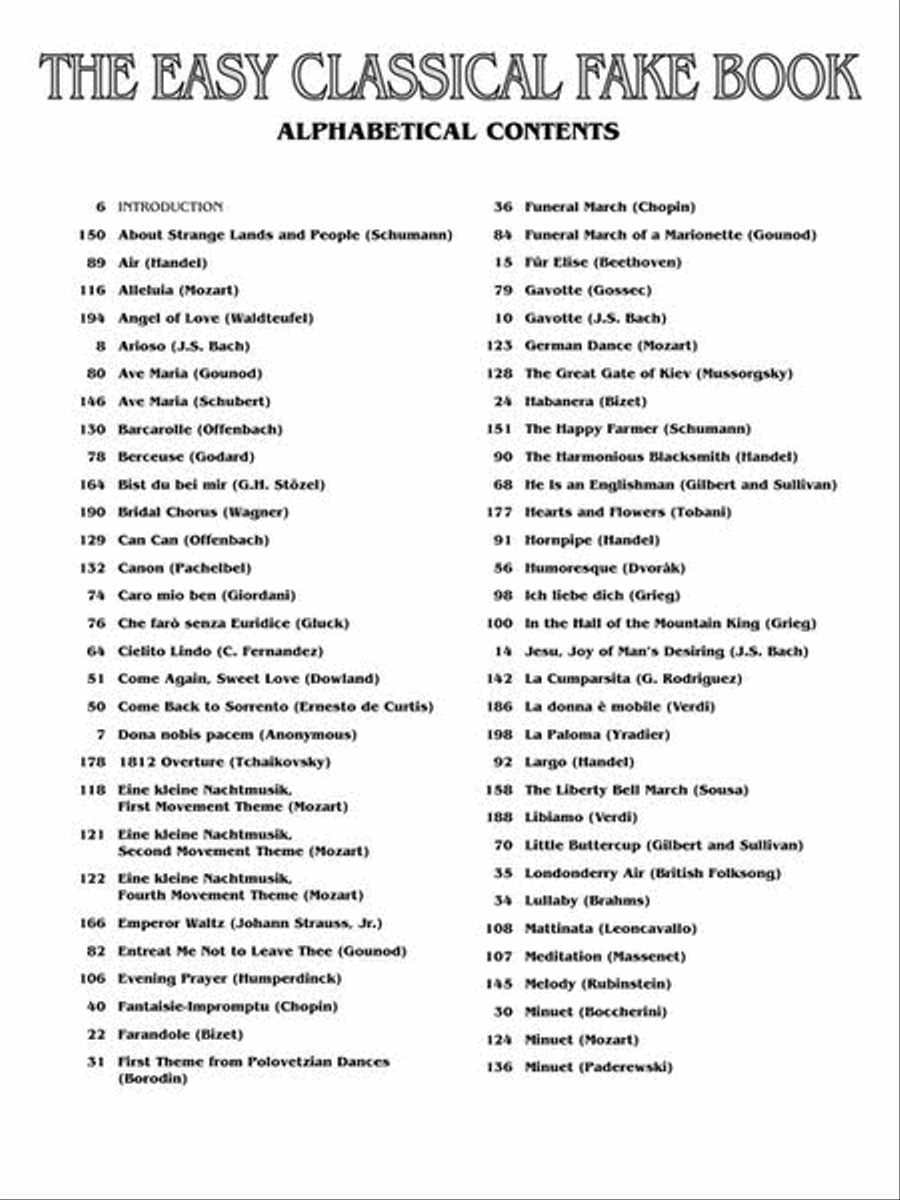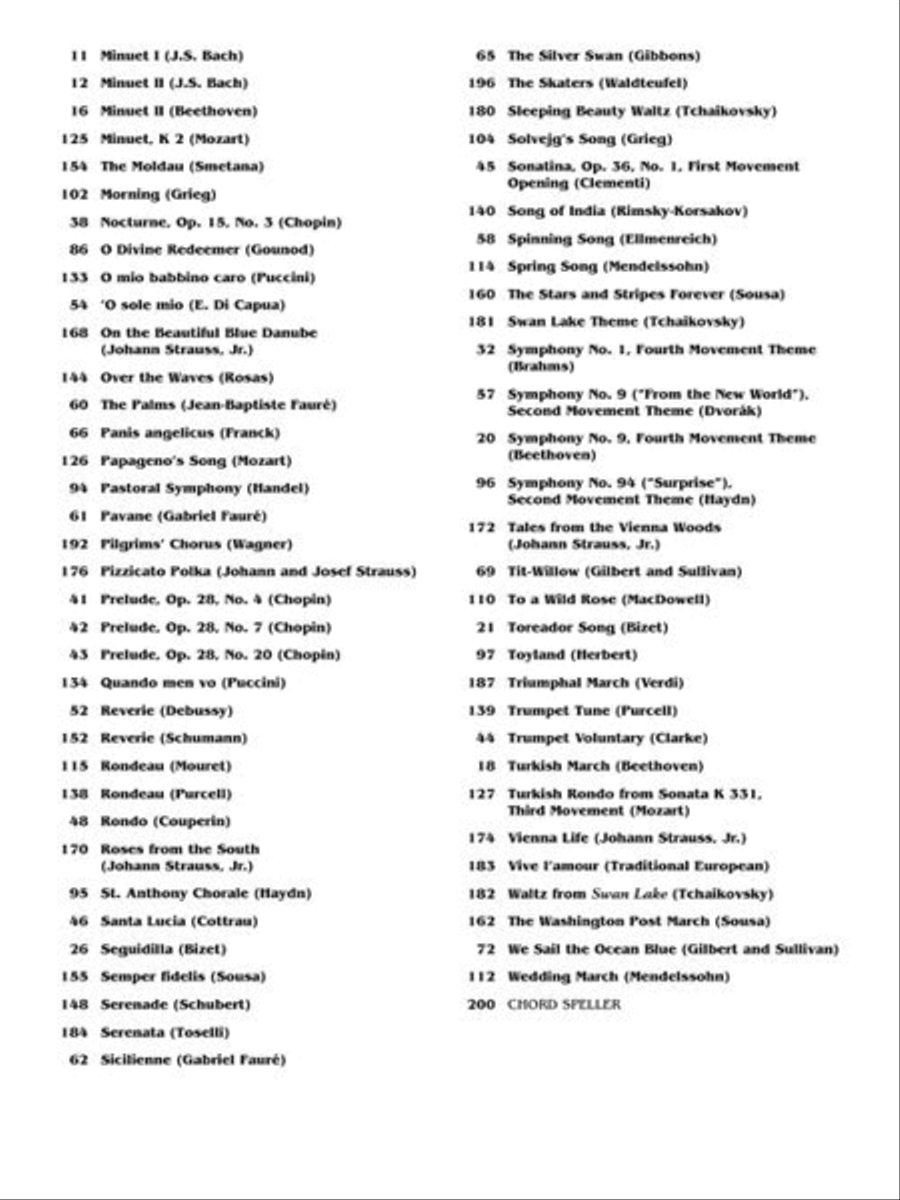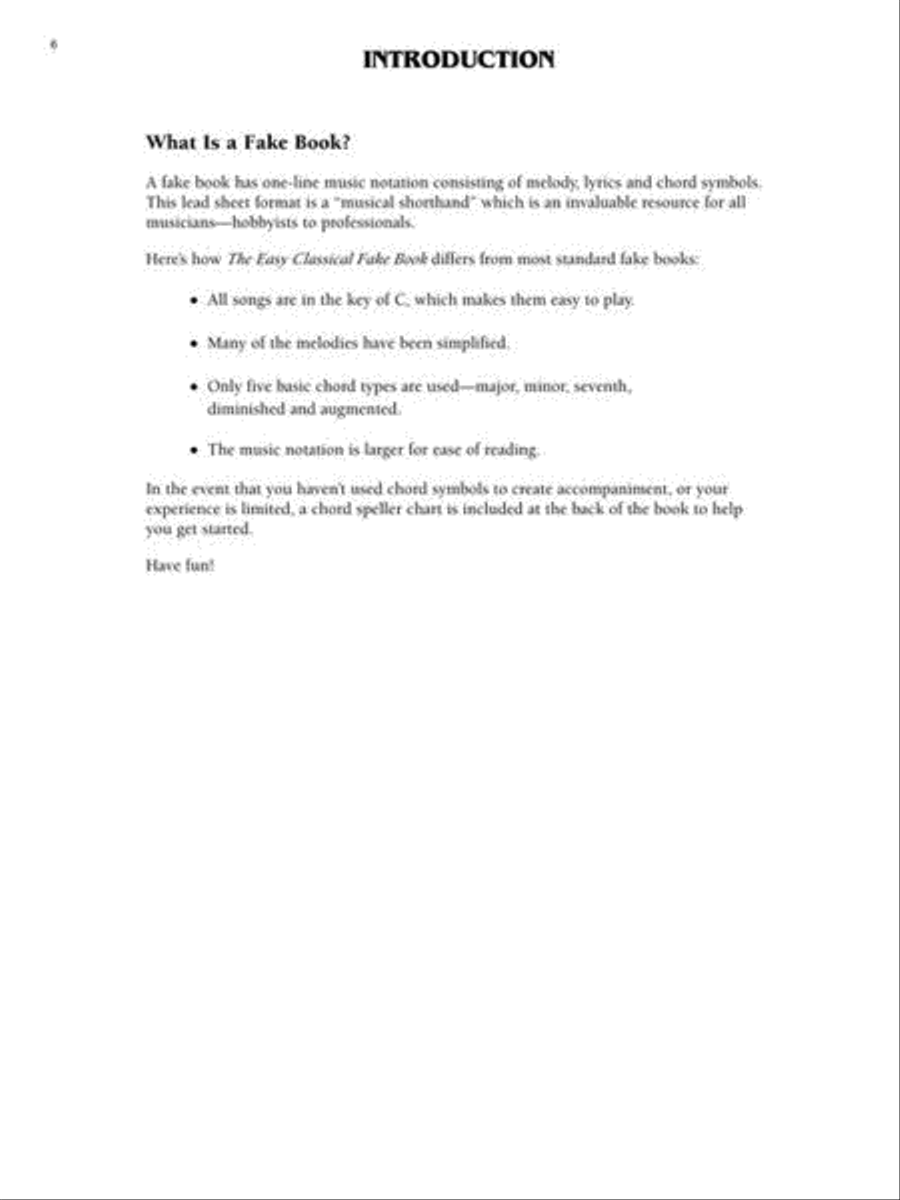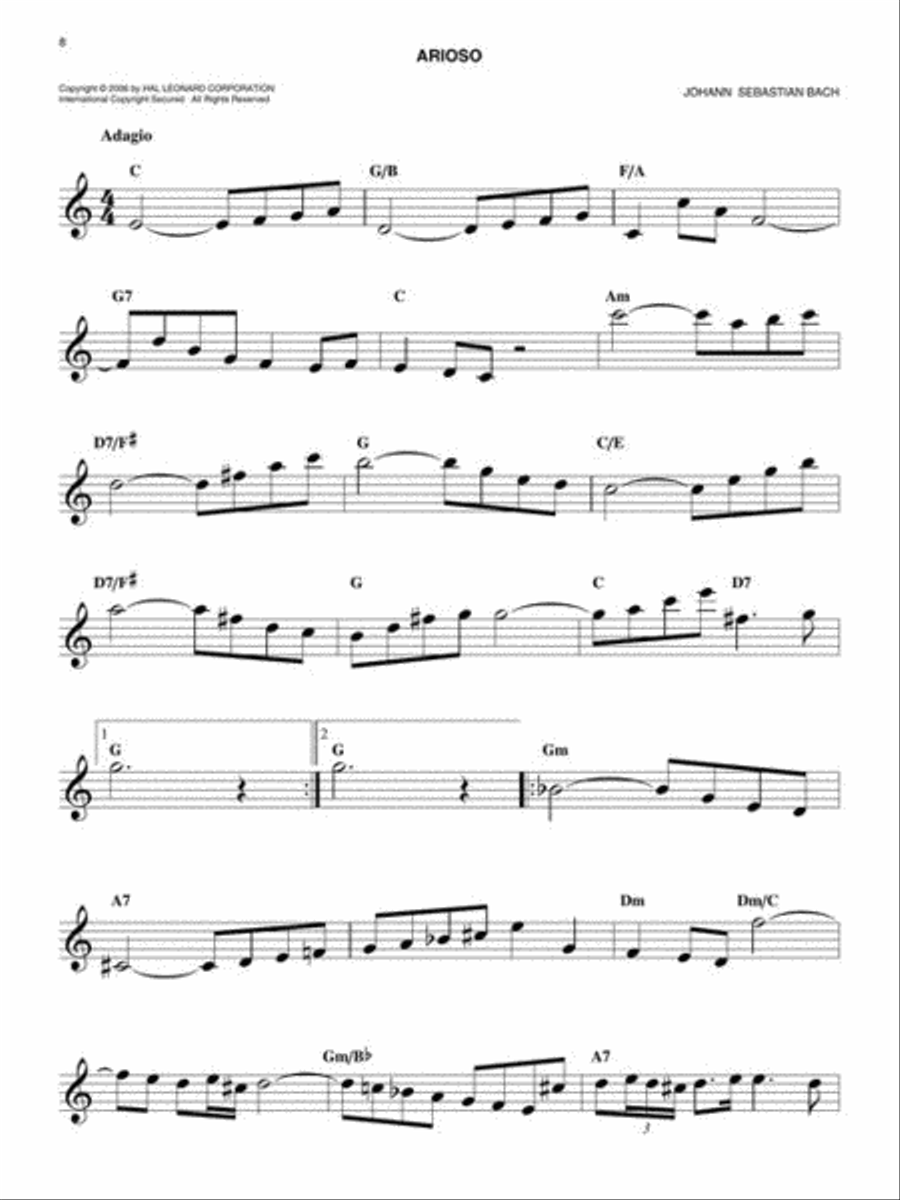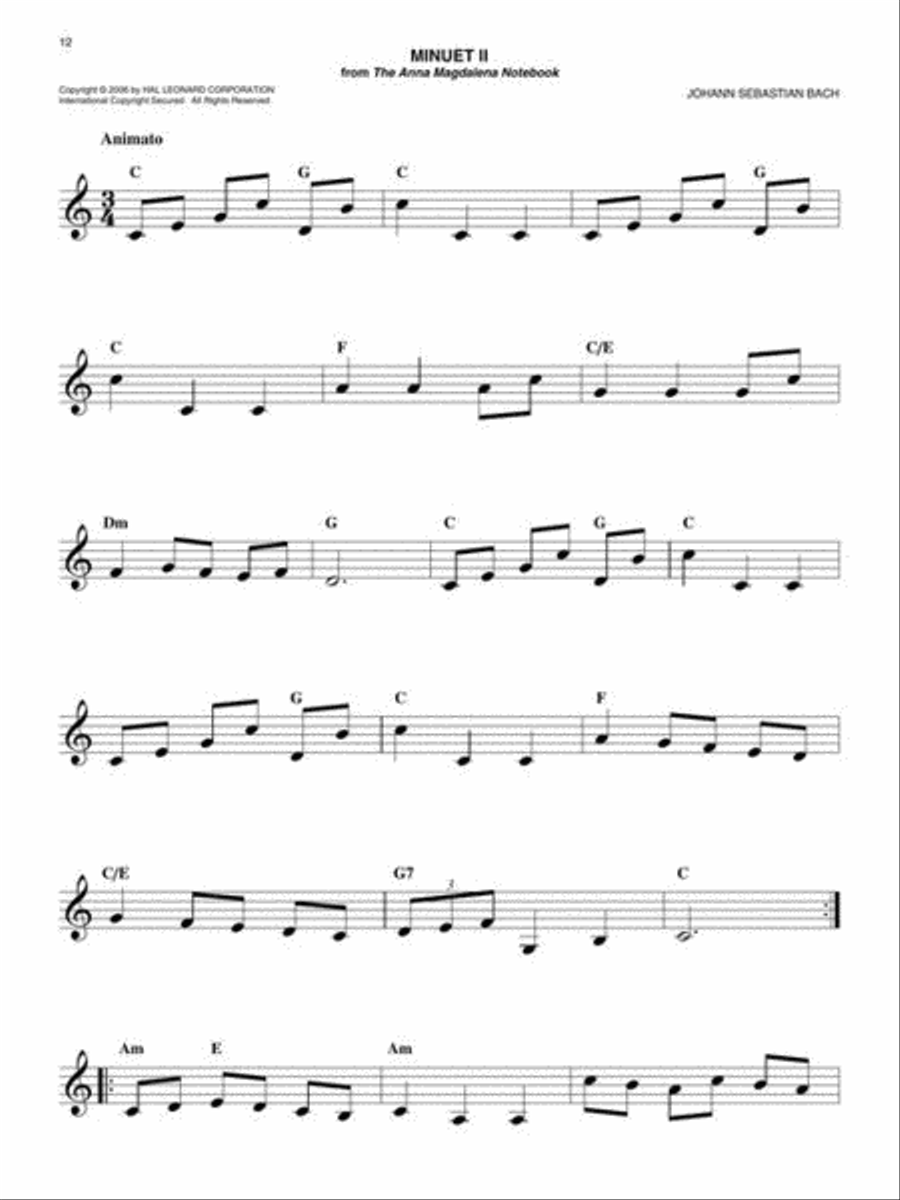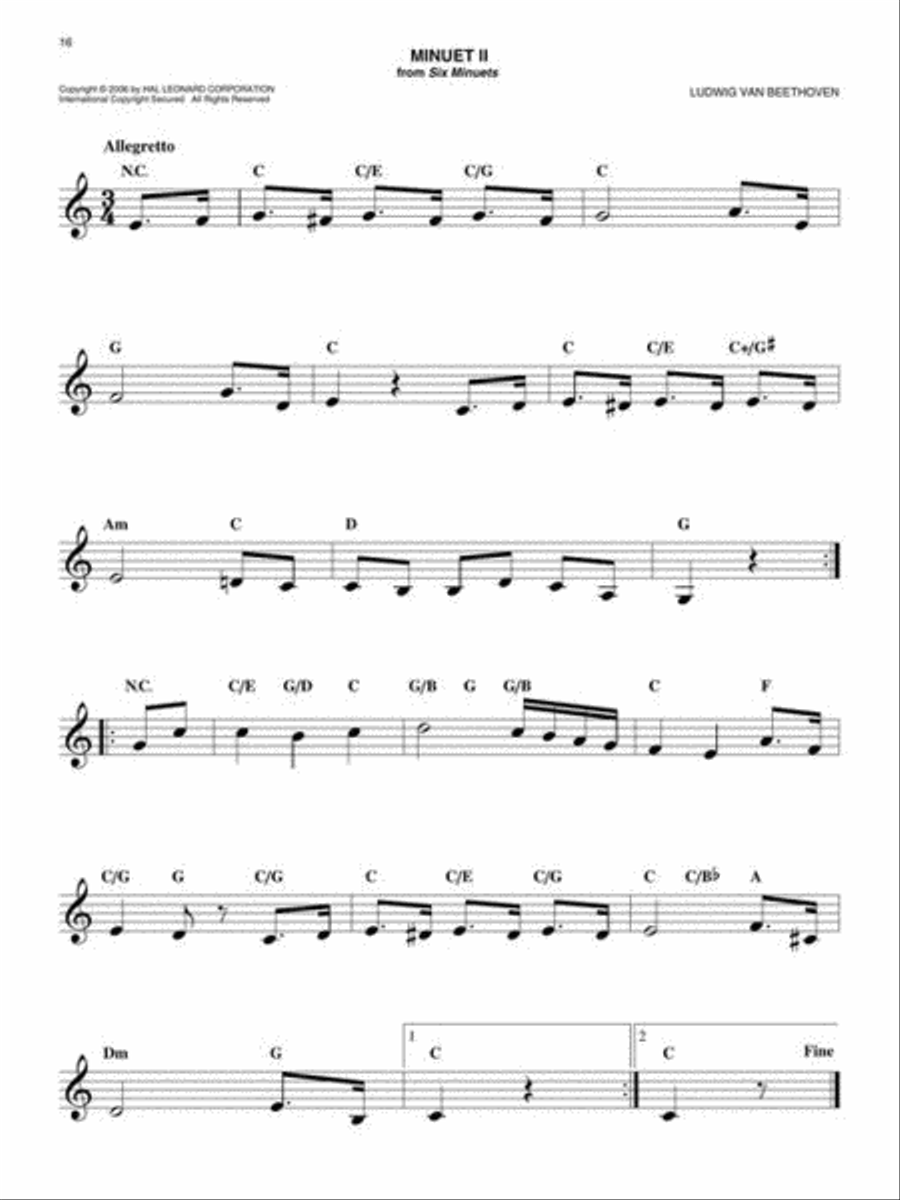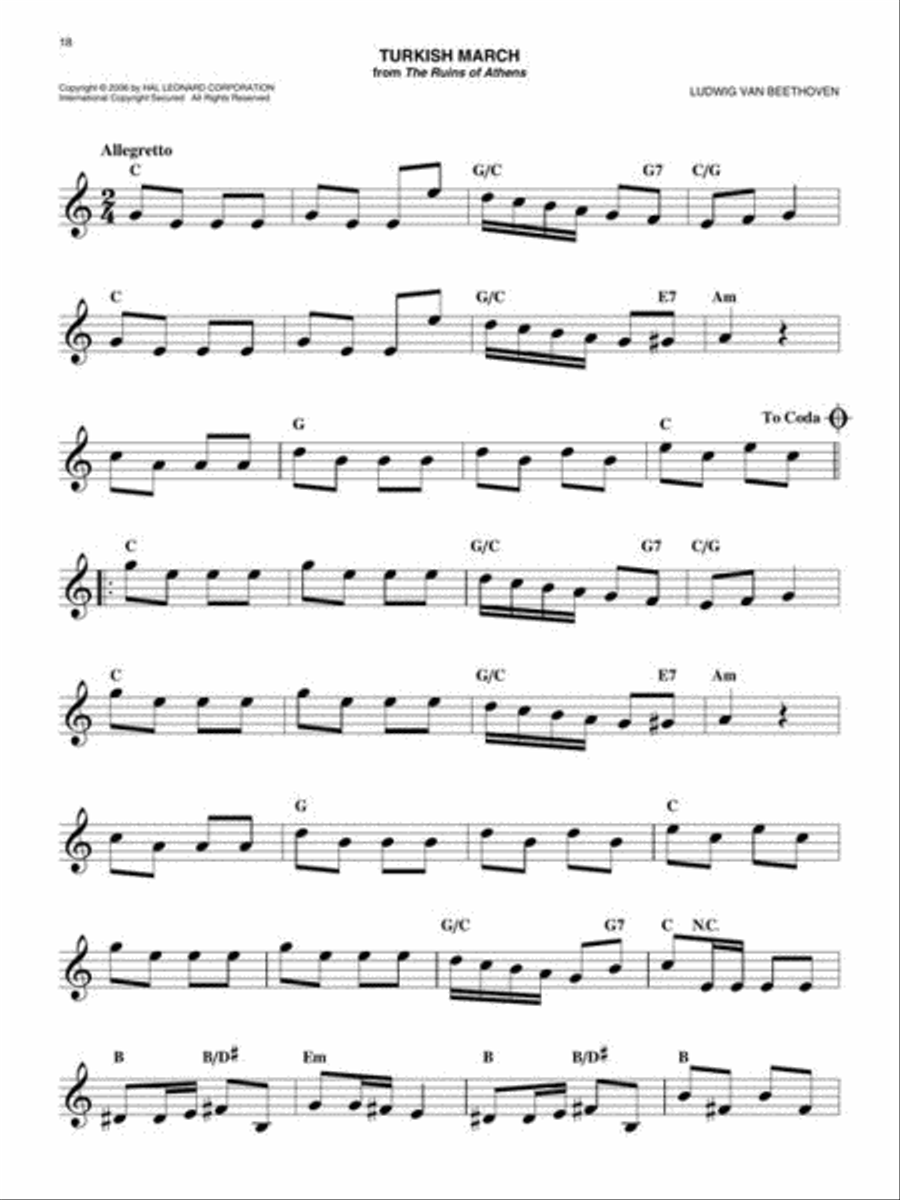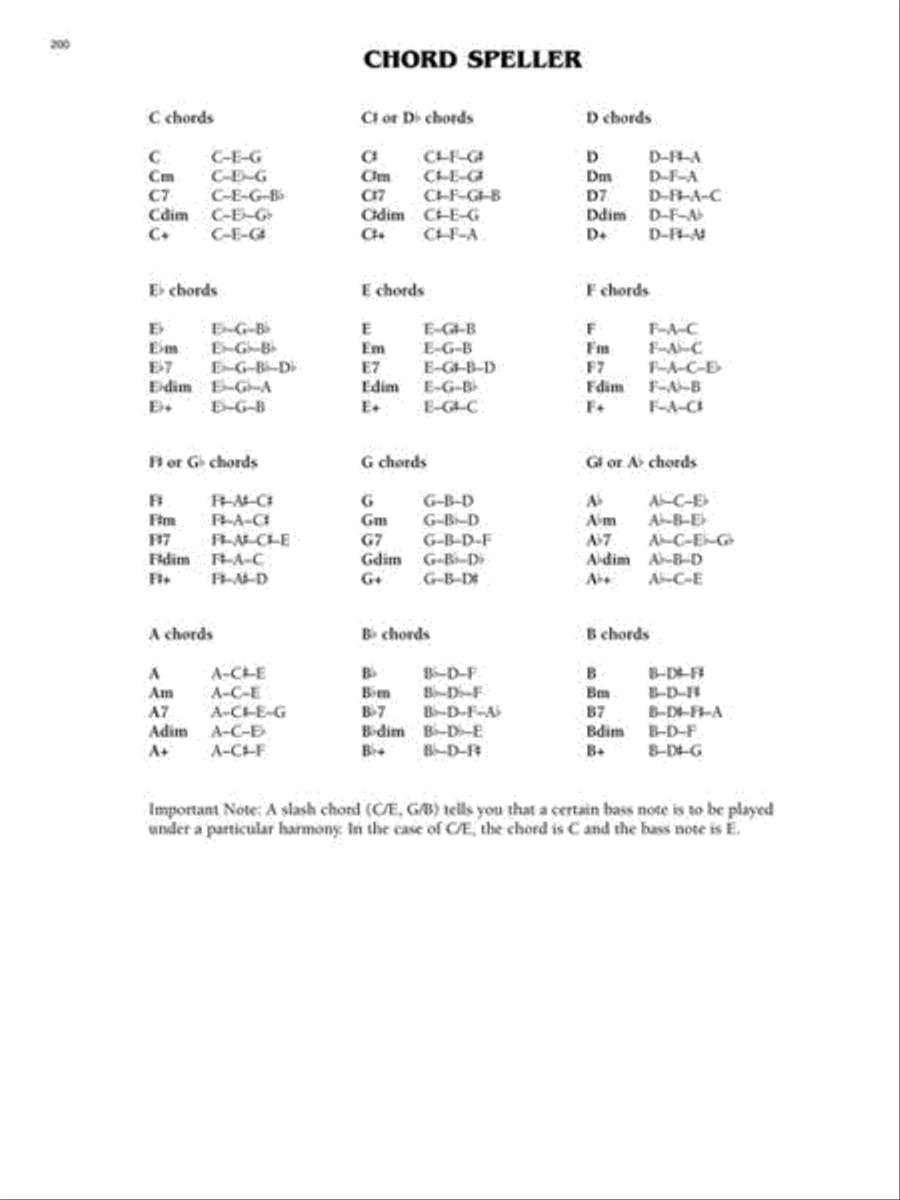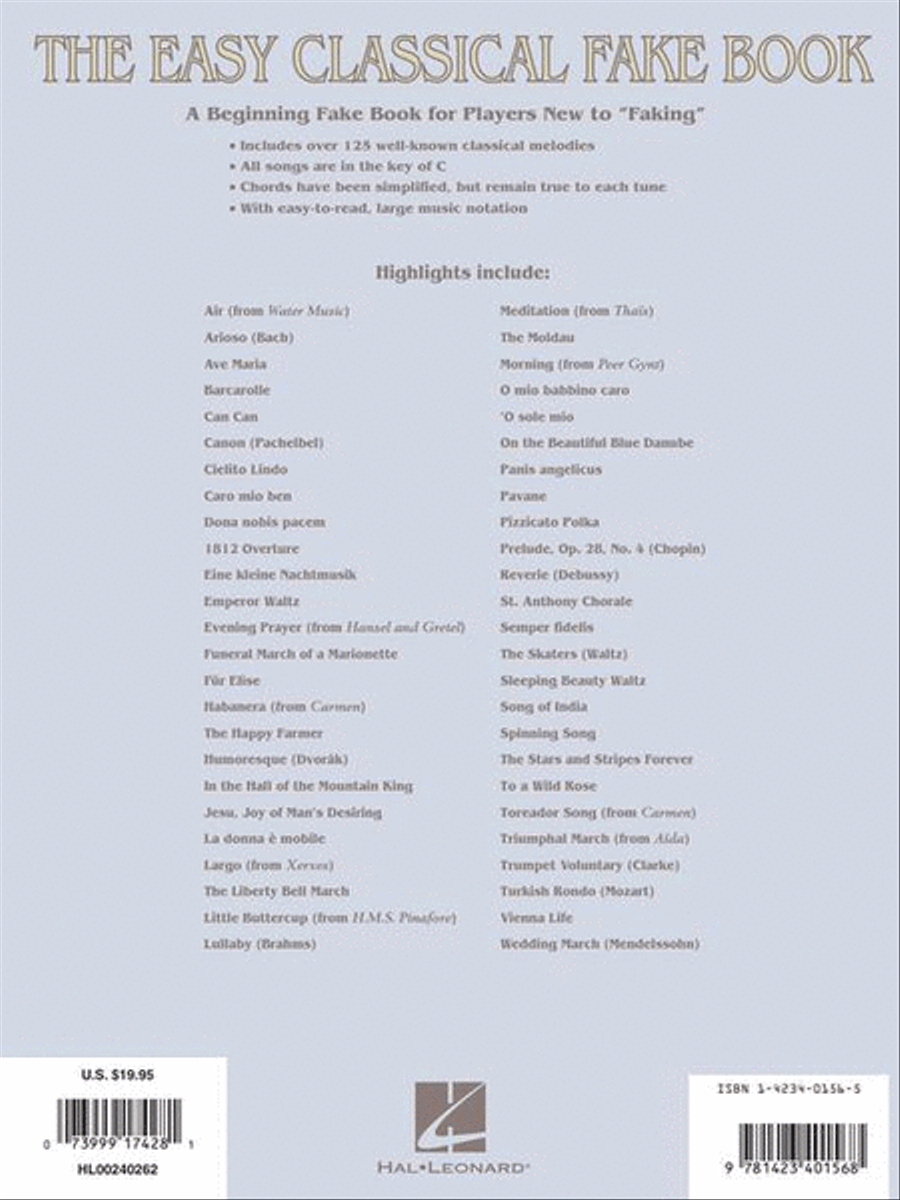 The Easy Classical Fake Book

Melody, Lyrics & Simplified Chords in the Key of "C"
This item is currently not available
Taxes/VAT calculated at checkout.
Detailed Description
Melody/Lyrics/Chords Guitar, Piano/Keyboard, C Instruments, Melody/Lyrics/Chords
SKU: HL.240262
Melody, Lyrics & Simplified Chords in the Key of "C"
. Composed by Various. Easy Fake Book. Classical. Softcover. 200 pages. Published by Hal Leonard (HL.240262).
ISBN 9781423401568. UPC: 073999174281. 9.0x12.0x0.501 inches.
Over 125 classical melodies including: Air (from Water Music) (Handel) • Ave Maria (Schubert) • Canon (Pachelbel) • 1812 Overture, Excerpt (Tchaikovsky) • Eine kleine Nachtmusik, First Movement Theme (Mozart) • Für Elise (Beethoven) • Habañera (from Carmen) (Bizet) • Humoresque (Dvorák) • Jesu, Joy of Man's Desiring (J.S. Bach) • On the Beautiful Blue Danube (Strauss) • Pavane (Gabriel Fauré) • The Stars and Stripes Forever (Sousa) • Wedding March (Mendelssohn) • and more.
Song List (127)
Londonderry Air
Minuet, K 2 (Mozart)
Evening Prayer (E. Humperdinck)
Santa Lucia (Cottrau)
The Great Gate of Kiev (Mussorgsky)
Song of India (Rimsky-Korsakov)
Toyland (Herbert)
Gavotte from French Suite No. 5 (Bach)
Jesu, Joy of Man's Desiring (J.S. Bach)
Gavotte (Gossec)
O Divine Redeemer (C. Gounod)
Arioso (Bach)
Trumpet Voluntary (Clarke)
Hornpipe (from Water Music) (Handel)
Largo (from Xerxes) (Handel)
Pastoral Symphony (from Messiah) (Handel)
Canon (Pachelbel)
Ave Maria (Schubert)
In the Hall of the Mountain King (Grieg)
Funeral March of a Marionette (Gounod)
Ave Maria (Gounod)
Rondeau (Purcell)
Serenade (Schubert)
To A Wild Rose (MacDowell)
Ich liebe dich (E. Grieg)
Dona nobis pacem (canon) (Anonymous)
Minuet I (from The Anna Magdalena Notebook) (Bach)
Minuet II (from the Anna Magdalena Notebook) (Bach)
Minuet II (from Six Minuets) (Beethoven)
Symphony No. 9, Fourth Movement Theme ('Ode to Joy') (Beethoven)
Turkish March (from The Ruins of Athens) (Beethoven)
Habanera (from Carmen) (Bizet)
Seguidilla (from Carmen) (Bizet)
Toreador Song (from Carmen) (Bizet)
Minuet (from String Quintet) (Boccherini)
First Theme from Polovetzian Dances (from Prince Igor) (Borodin)
Lullaby (Brahms)
Symphony No. 1, Fourth Movement Theme (Brahms)
Fantaisie-Impromptu (Chopin)
Funeral March (Chopin)
Prelude, Op. 28, No. 4 (Chopin)
Prelude, Op. 28, No. 7 (Chopin)
Prelude, Op. 28, No. 20 (Chopin)
Sonatina, Op. 36, No. 1, First Movement Opening (Clementi)
Nocturne, Op. 15, No. 3 (Chopin)
Rondo (Couperin)
Come Back to Sorrento (Ernesto de Curtis)
Reverie (Debussy)
'O Sole Mio (Di Capua)
Spinning Song (Ellmenreich)
Cielito Lindo (Fernandez)
The Silver Swan (Gibbons)
Caro mio ben (Giordani)
Che faro senza Euridice (from Orfeo ed Euridice) (Gluck)
Berceuse (from Jocelyn) (Godard)
Entreat Me Not to Leave Thee (Song of Ruth) (Gounod)
Morning (Grieg)
Solvejg's Song (Grieg)
Air (from Water Music) (Handel)
The Harmonious Blacksmith (Handel)
Symphony No. 94 ('Surprise'), Second Movement Theme (Haydn)
St. Anthony Chorale (Haydn)
Mattinata (Leoncavallo)
Spring Song (Mendelssohn)
Wedding March (Mendelssohn)
Rondeau (Mouret)
Alleluia (from Exsultate, jubilate) (Mozart)
Papageno's Song (from The Magic Flute) (Mozart)
Eine Kleine Nachtmusik, First Movement Theme (Mozart)
Eine kleine Nachtmusik, Second Movement Theme ('Romanze') (Mozart)
Eine kleine Nachtmusik, Fourth Movement Theme (Mozart)
German Dance (Mozart)
Minuet (from Don Giovanni) (Mozart)
Turkish Rondo (Rondo alla Turca) from Sonata K 331, Third Movement (Mozart)
Barcarolle (Offenbach)
Can Can (Offenbach)
Minuet (Paderewski)
O mio babbino caro (from Gianni Schicchi) (Puccini)
Trumpet Tune (Purcell)
La Cumparsita (Rodriguez)
Over the Waves (Rosas)
Melody (Rubinstein)
About Strange Lands and People (Schumann)
Reverie (Schumann)
The Moldau (Smetana)
The Liberty Bell March (Sousa)
The Stars and Stripes Forever (Sousa)
The Washington Post March (Sousa)
Emperor Waltz (Strauss)
On the Beautiful Blue Danube (Strauss)
Roses from the South (Strauss)
Tales from the Vienna Woods (Strauss)
Vienna Life (Strauss)
Pizzicato Polka (Strauss)
He Is an Englishman (from H.M.S. Pinafore) (Gilbert and Sullivan)
Little Buttercup (from H.M.S. Pinafore) (Gilbert and Sullivan)
Tit-Willow (from The Mikado) (Gilbert and Sullivan)
We Sail the Ocean Blue (from H.M.S. Pinafore) (Gilbert and Sullivan)
1812 Overture, Excerpt (Tchaikovsky)
Sleeping Beauty Waltz (Tchaikovsky)
Swan Lake Theme (Tchaikovsky)
Waltz (from Swan Lake) (Tchaikovsky)
Hearts and Flowers (Tobani)
Serenata (Toselli)
Vive l'amour (Traditional European)
Libiamo ('Drinking Song' from La Traviata) (Verdi)
Bridal Chorus (from Lohengrin) (Wagner)
Angel of Love (Waldteufel)
The Skaters (Waltz) (Waldteufel)
La Paloma (Yradier)
Für Elise (Beethoven)
Farandole (from L'Arlésienne) (Bizet)
Humoresque (Dvorák)
Symphony No. 9 ('From the New World'), Second Movement Theme (Dvorák)
Pavane (Gabriel Fauré)
Sicilienne (Gabriel Fauré)
The Palms (Jean-Baptiste Fauré)
Meditation (from Thaïs) (Massenet)
Quando men vo ('Musetta's Waltz' from La Bohème) (Puccini)
Bist du bei mir (Stözel)
La donna è mobile (from Rigoletto) (Verdi)
Triumphal March (from Aïda) (Verdi)
Come Again, Sweet Love (Dowland)
Panis angelicus (Franck)
The Happy Farmer (Schumann)
Semper fidelis (Sousa)
Pilgrims' Chorus (from Tannhäuser) (Wagner)