The Classical Music Fake Book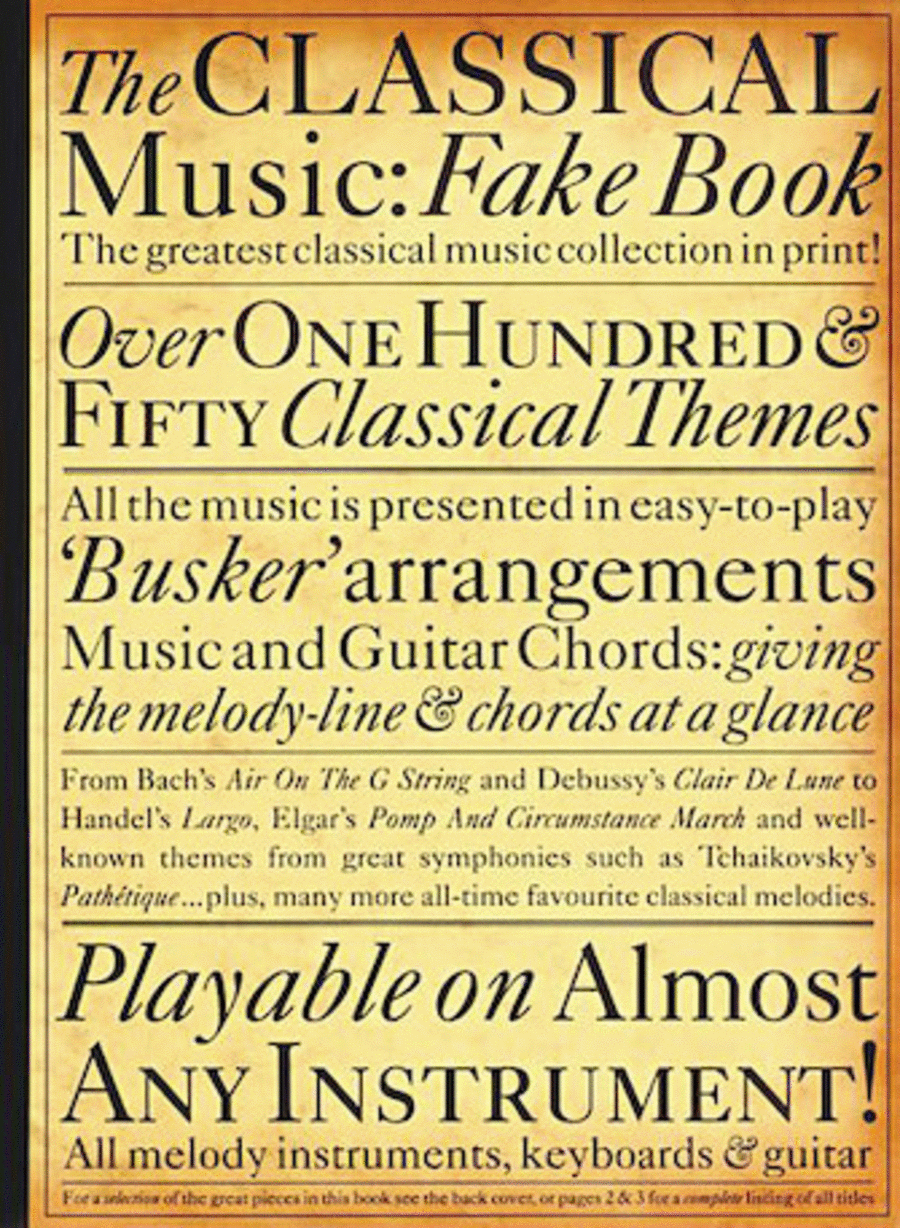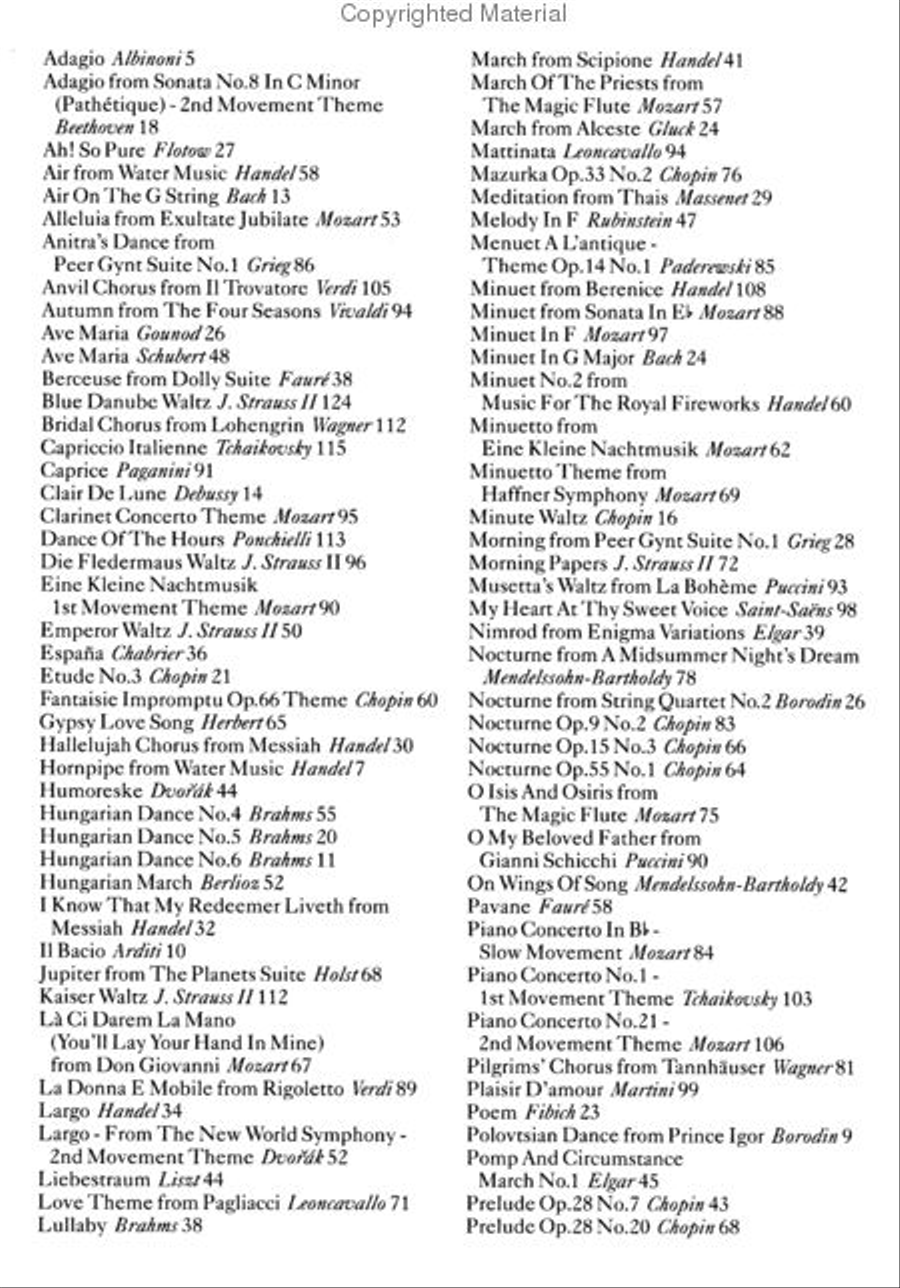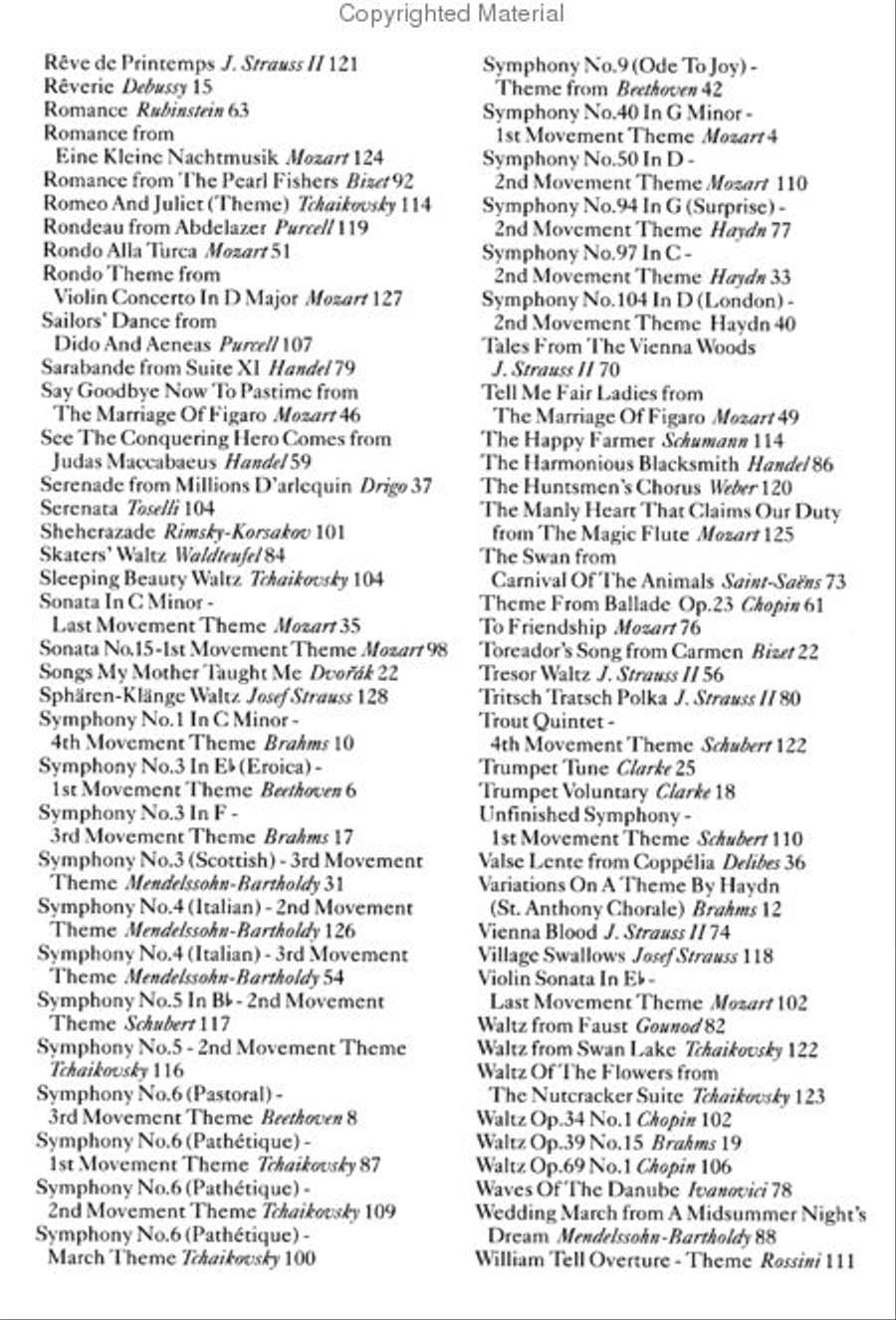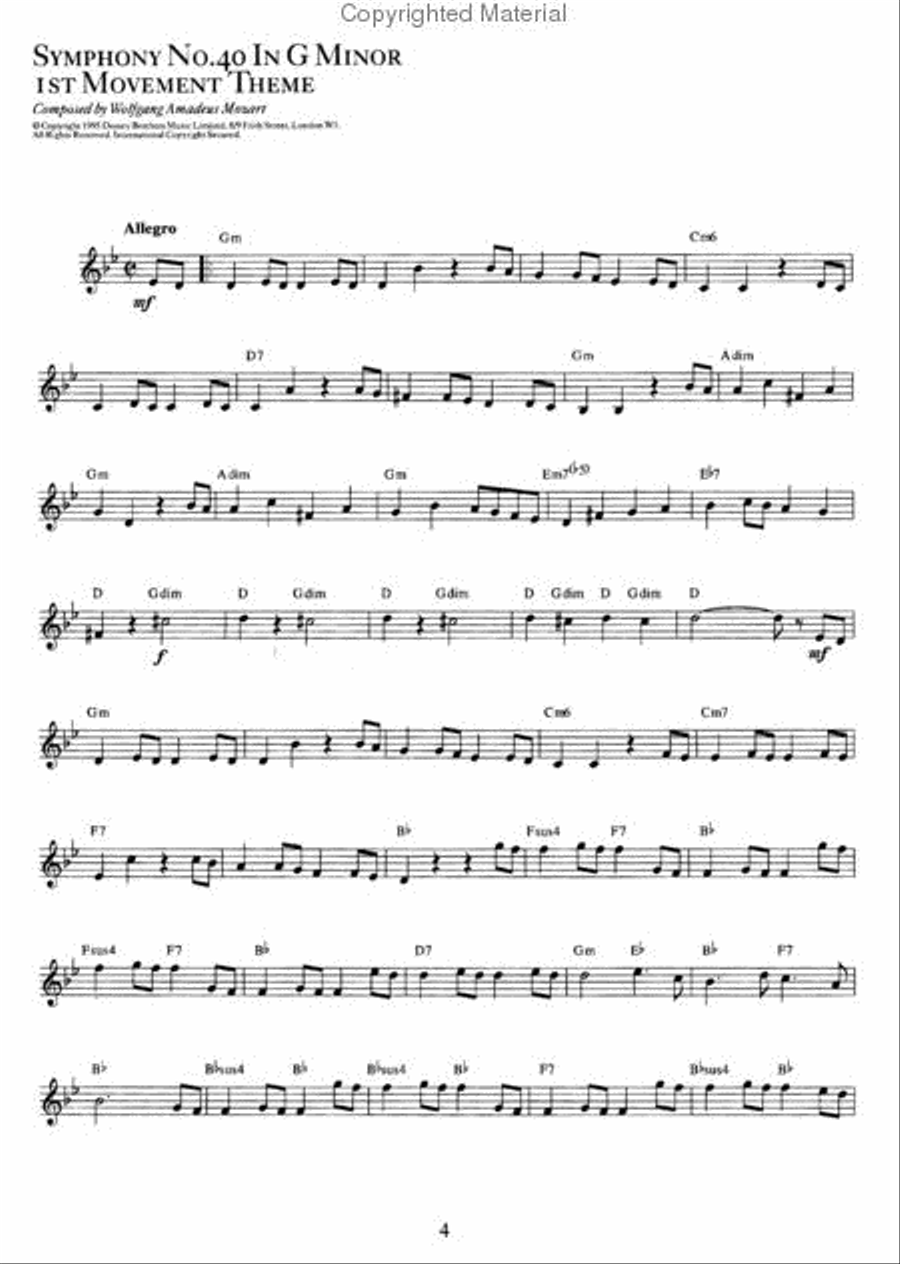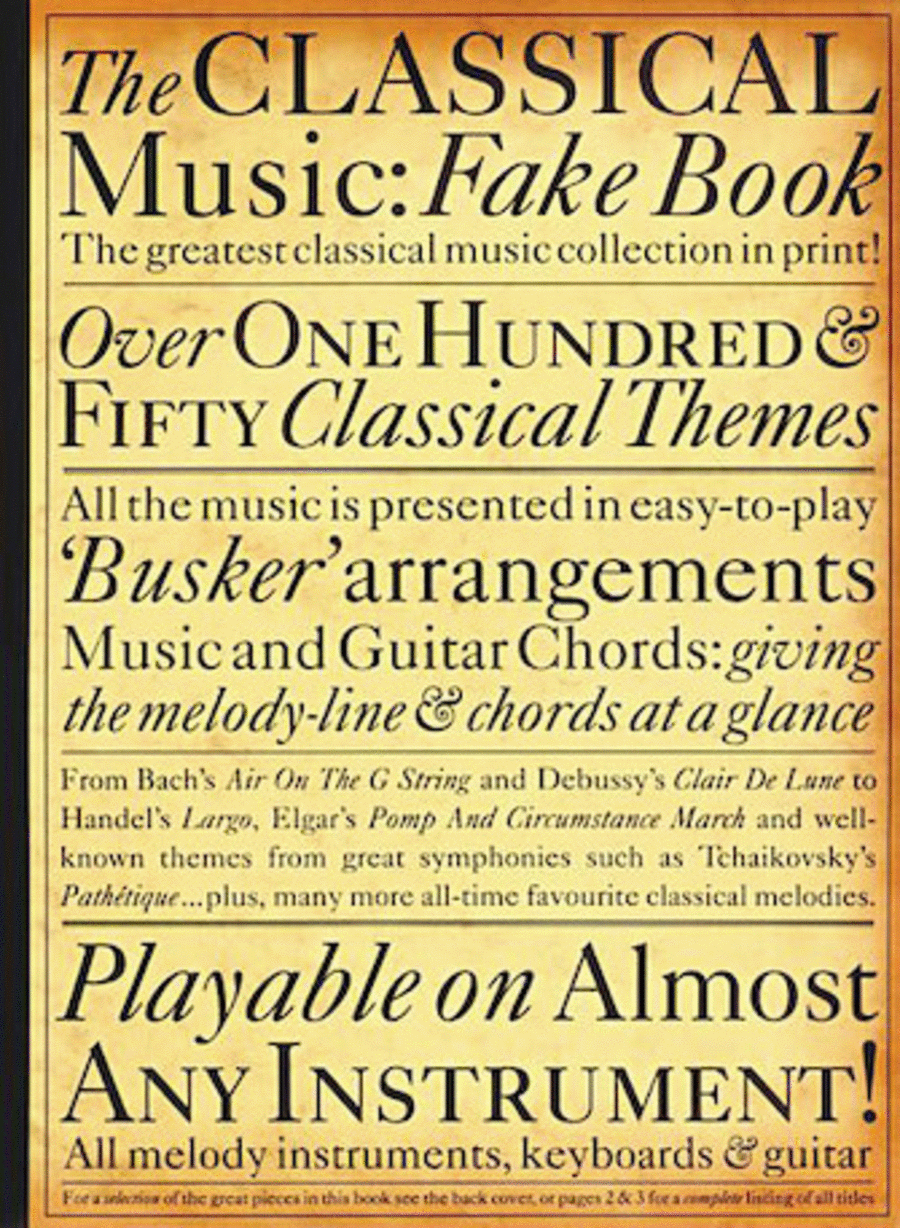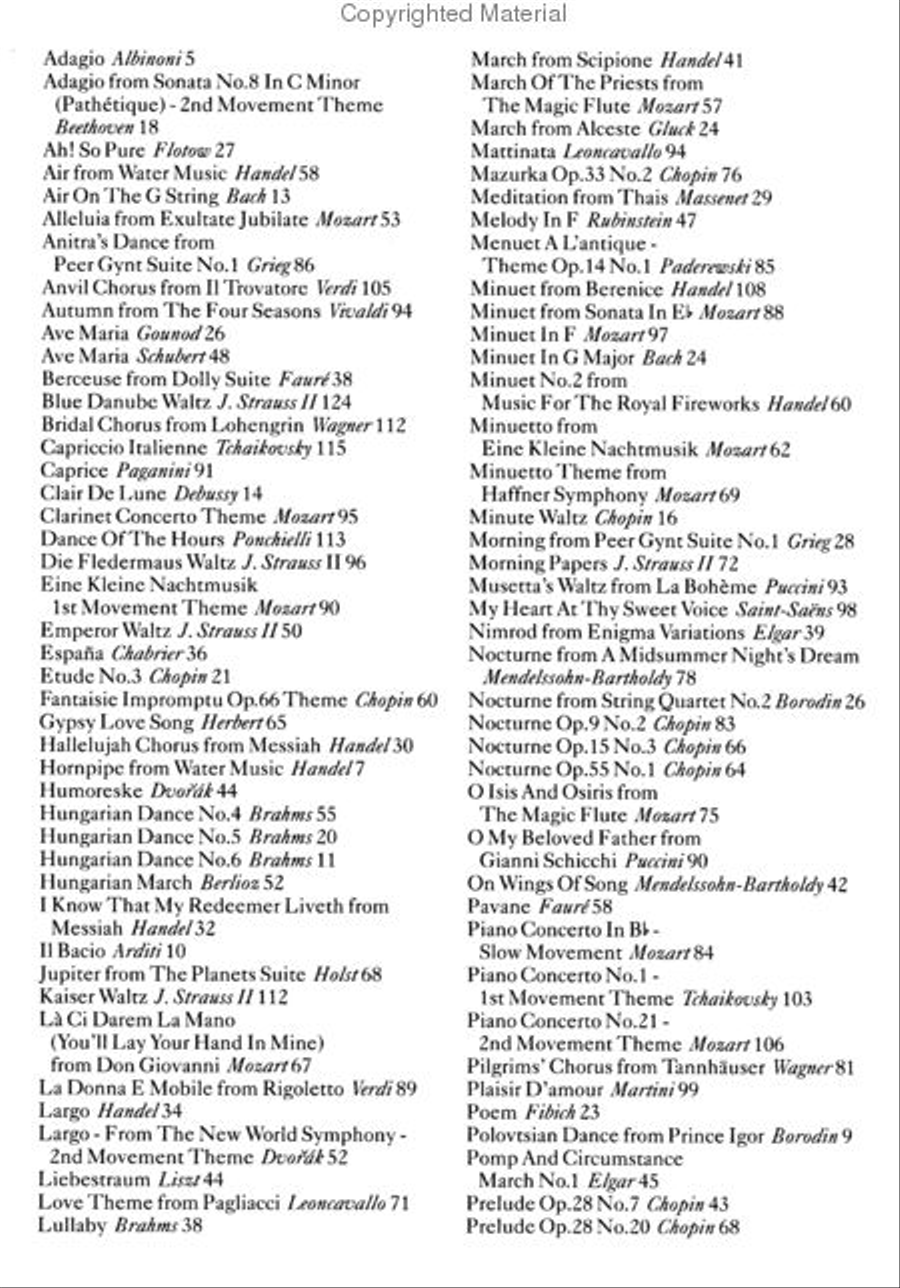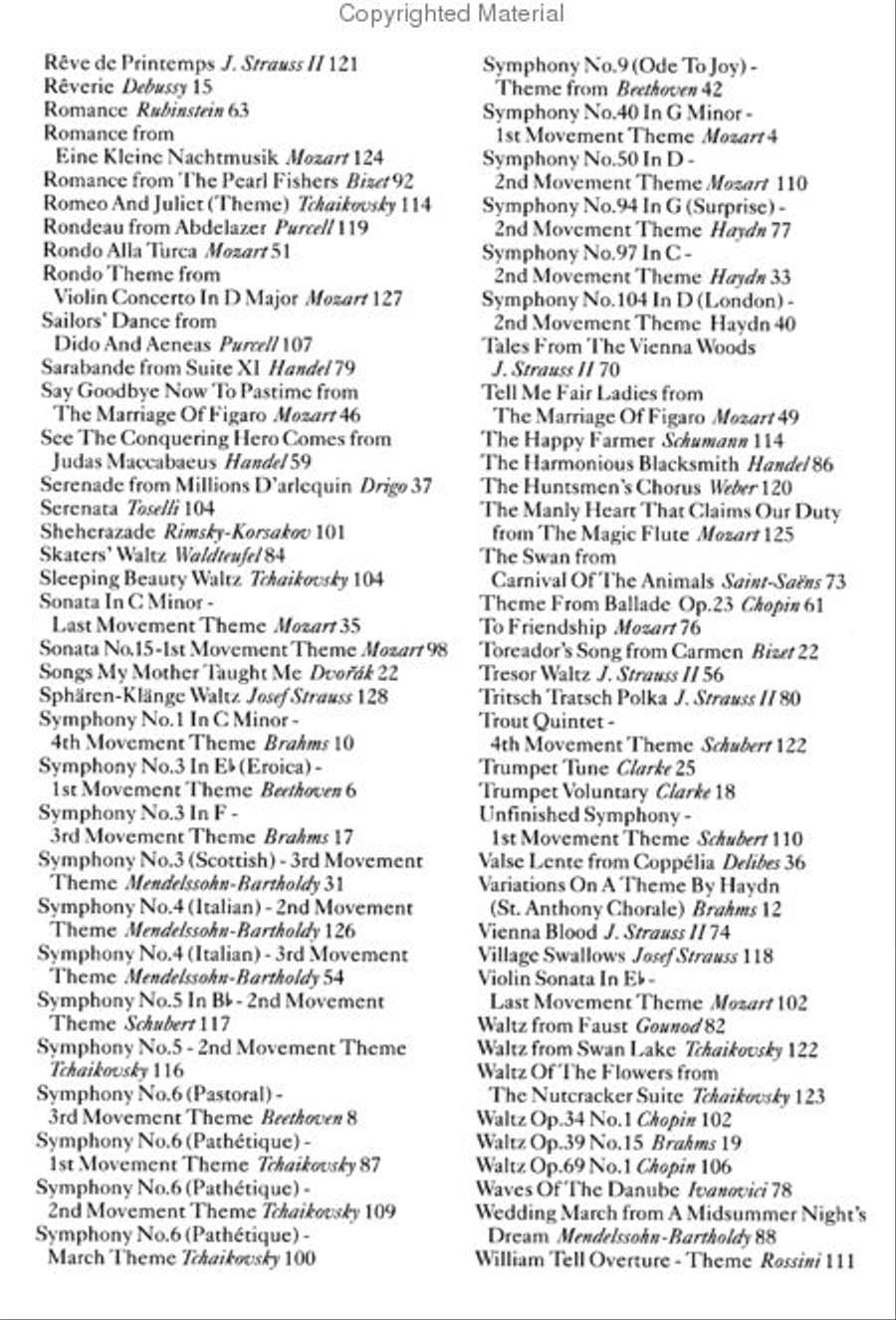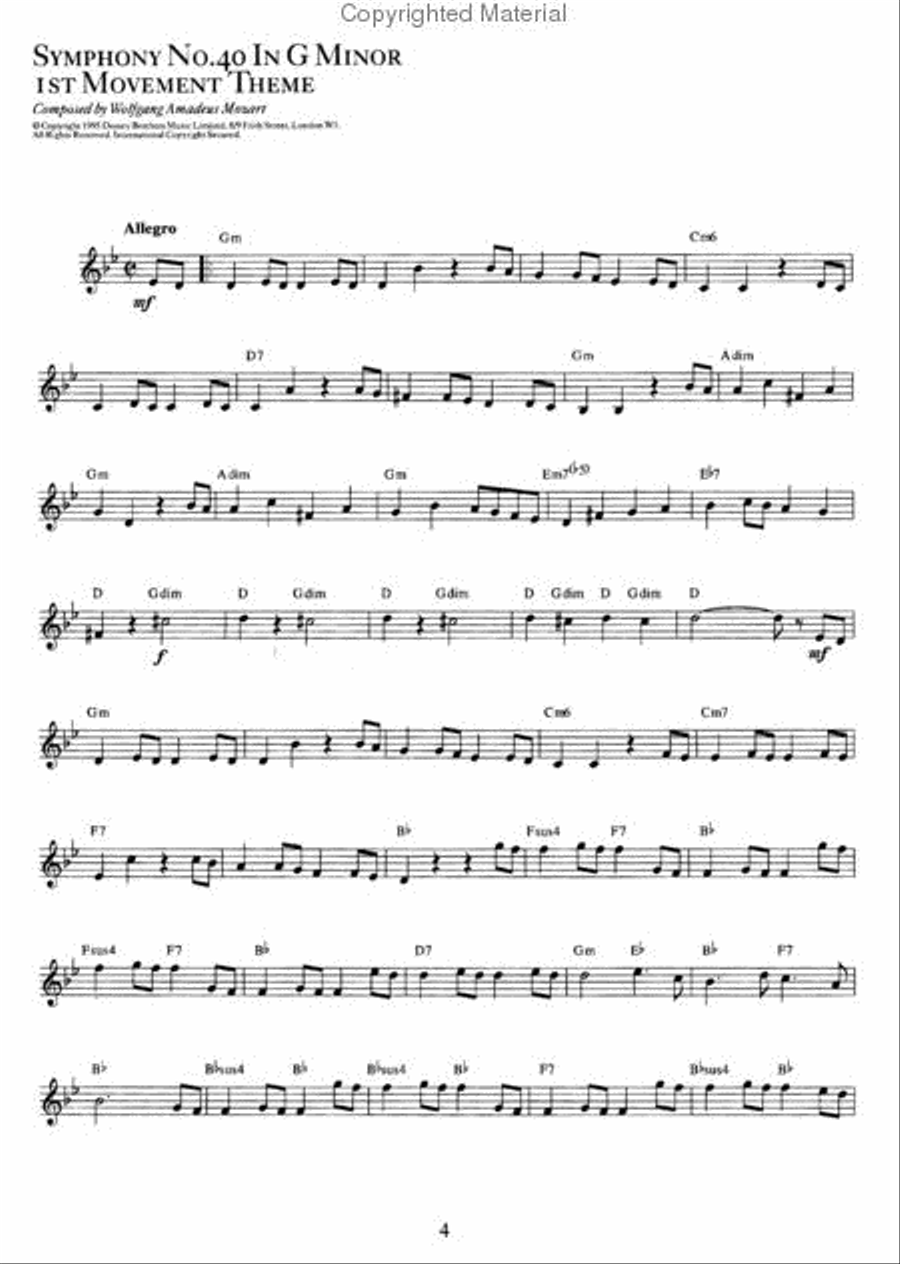 The Classical Music Fake Book


Available
Ready to ship in 24 hours
Taxes/VAT calculated at checkout.
Detailed Description
C Instruments - Difficulty: easy-medium
SKU: HL.14006983
Composed by Various. Arranged by Peter Lavender. Music Sales America. Baroque and Classical Period. Fake book (softcover). With melody line (no accompaniment included) and chord names. 128 pages. Music Sales #AM92350. Published by Music Sales (HL.14006983).
ISBN 9780711944268. UPC: 752187923503. 9x12 inches.
All-time favorites from the world of classical music.
Song List (152)
Symphony No. 40 - 1st Movement Theme
Adagio
Symphony No. 3 (Eroica) - 1st Movement Theme
Hornpipe From Water Music
Symphony No. 6 (Pastoral) - 3rd Movement Theme
Polovtsian Dance From Prince Igor
Il Bacio
Symphony No. 1 - 4th Movement Theme
Hungarian Dance No. 6
Variations On A Theme By Hayn (St. Anthony Chorale)
Air On The G String
Claire de lune
Reverie
Minute Waltz
Symphony No. 3 - 3rd Movement Theme
Adagio From Sonata No. 8 (Pathetique) - 2nd Movement Theme
Trumpet Voluntary
Waltz Op. 39, No. 15
Hungarian Dance No. 5
Etude no. 3
Toreador's Song From Carmen
Songs My Mother Taught Me
Poem
Minuet in G Major
March From Alceste
Trumpet Tune
Nocturne from String Quartet No. 2
Ave Maria
Ah! So Pure
Morning From Peer Gynt Suite No. 1
Meditation From Thais
Hallelujah Chorus From Messiah
Symphony No. 3 (Scottish) - 3rd Movement Theme
I Know That My Redeemer Liveth - From Messiah
Symphony No. 97 - 2nd Movement Theme
Largo
Sonata In C Minor - Last Movement Theme
Espana
Valse Lente From Coppelia
Serenade From Millions D'Alrequin
Lullaby
Berceuse From Dolly Suite
Nimrod From Enigma Variations
Symphony No. 104 (London) - 2nd Movement Theme
March From Scipione
Symphony No. 9 (Ode To Joy) - Theme
On Wings Of Song
Prelude op. 28, no. 7
Humoreske
Liebestraum
Pomp and Circumstance March No. 1
Say Goodbye Now To Pastime From Marriage Of Figaro
Melody in F
Tell Me Fair Ladies From Marriage Of Figaro
Emperor Waltz
Rondo Alla Turca
Largo From The New World Symphony - 2nd Movement Theme
Hungarian March
Alleluia From Exultate Jubilate
Symphony No. 4 (Italian) - 3rd Movement Theme
Hungarian Dance No. 4
Tresor Waltz
March Of The Priests From The Magic Flute
Pavane
Air from Water Music
See The Conquering Hero Comes From Judas Maccabaeus
Minuet No. 2 From Music For The Royal Fireworks
Fantaisie Improptu Op. 66 - Theme
Ballade Op. 23 - Theme
Minuetto From Eine Kleine Nachtmusik
Romance
Nocturne Op. 55, No. 1
Gypsy Love Song
Nocturne Op. 15, No. 3
La Ci Darem La Mano From Don Giovanni
Prelude Op. 28, No. 20
Jupiter From The Planets
Minuetto Theme From Haffner Symphony
Tales from the Vienna Woods
Love Theme From Pagliacci
Morning Papers
The Swan from Carnival of the Animals
Vienna Blood
O Isis And Osiris From The Magic Flute
To Friendship
Mazurka Op. 33, No. 2
Symphony No. 94 (Surprise) - 2nd Movement Theme
Waves of the Danube
Nocturne From A Midsummer Night's Dream
Sarabande From Suite XI
Tritsch Tratsch Polka
Pilgrims' Chorus from Tannhauser
Waltz From Faust
Nocturne Op. 9, No. 2
Piano Concerto In Bb - Slow Movement
Skaters' Waltz
Menuet A L'Antique - Theme Op. 14, No. 1
The Harmonious Blacksmith
Anitra's Dance From Peer Gynt Suite No. 1
Symphony No. 6 (Pathetique) - 1st Movement Theme
Wedding March From A Midsummer Night's Dream
Minuet From Sonata In Eb
La Donna e Mobile from Rigoletto
O My Beloved Father From Gianni Schicchi
Eine Kleine Nachtmusik - 1st Movement Theme
Caprice
Romance From The Pearl Fishers
Musetta's Waltz from La Boheme
Mattinata
Autumn From The Four Seasons
Clarinet Concerto Theme
Die Fledermaus Waltz
Minuet in F
Sonata No. 15 - 1st Movement Theme
My Heart At Thy Sweet Voice
Plaisir d'Amour
Symphony No. 6 (Pathetique) - March Theme
Sheherazade
Violin Sonata In Eb - Last Movement Theme
Waltz Op. 34, No. 1
Piano Concerto No. 1 - 1st Movement Theme
Sleeping Beauty Waltz
Serenata
Anvil Chorus From Il Trovatore
Piano Concerto No. 21 - 2nd Movement Theme
Waltz Op. 69, No. 1
Sailors' Dance From Dido And Aeneas
Minuet From Berenice
Symphony No. 6 (Pathetique) - 2nd Movement Theme
Unfinished Symphony - 1st Movement Theme
Symphony No. 50 - 2nd Movement Theme
William Tell Overture - Theme
Kaiser Waltz
Bridal Chorus from Lohengrin
Dance of the Hours
The Happy Farmer
Romeo And Juliet - Theme
Capriccio Italienne
Symphony No. 5 - 2nd Movement Theme
Village Swallows
Rondeau From Abdelazer
The Huntsmen's Chorus
Reve De Printemps
Waltz From Swan Lake
Trout Quintet - 4th Movement Theme
Waltz Of The Flowers From The Nutcracker Suite
Romance From Eine Kleine Nachtmusik
Blue Danube Waltz
The Manly Heart That Claims Our Duty From The Magic Flute
Symphony No. 4 (Italian) - 2nd Movement Theme
Rondo Theme From Violin Concerto In D Major
Spharen-Klange Waltz