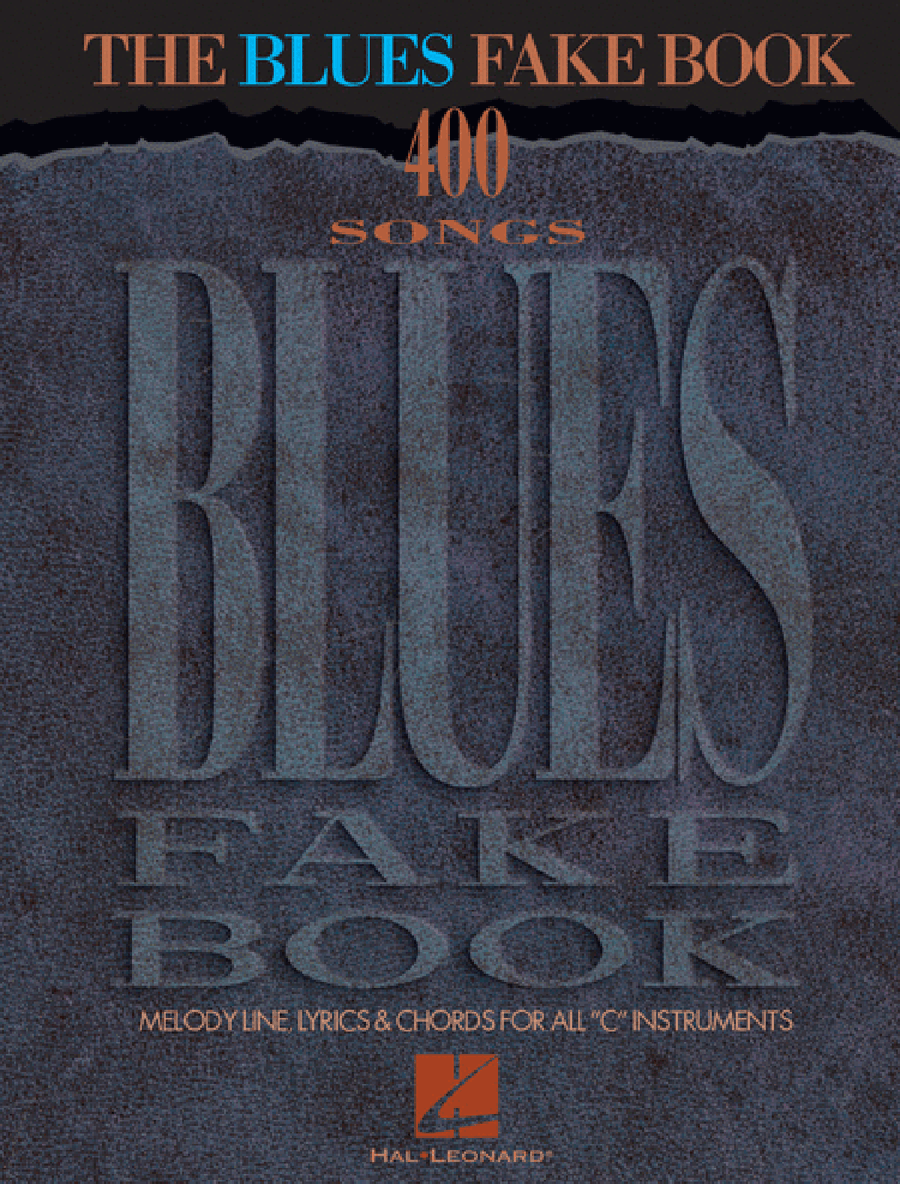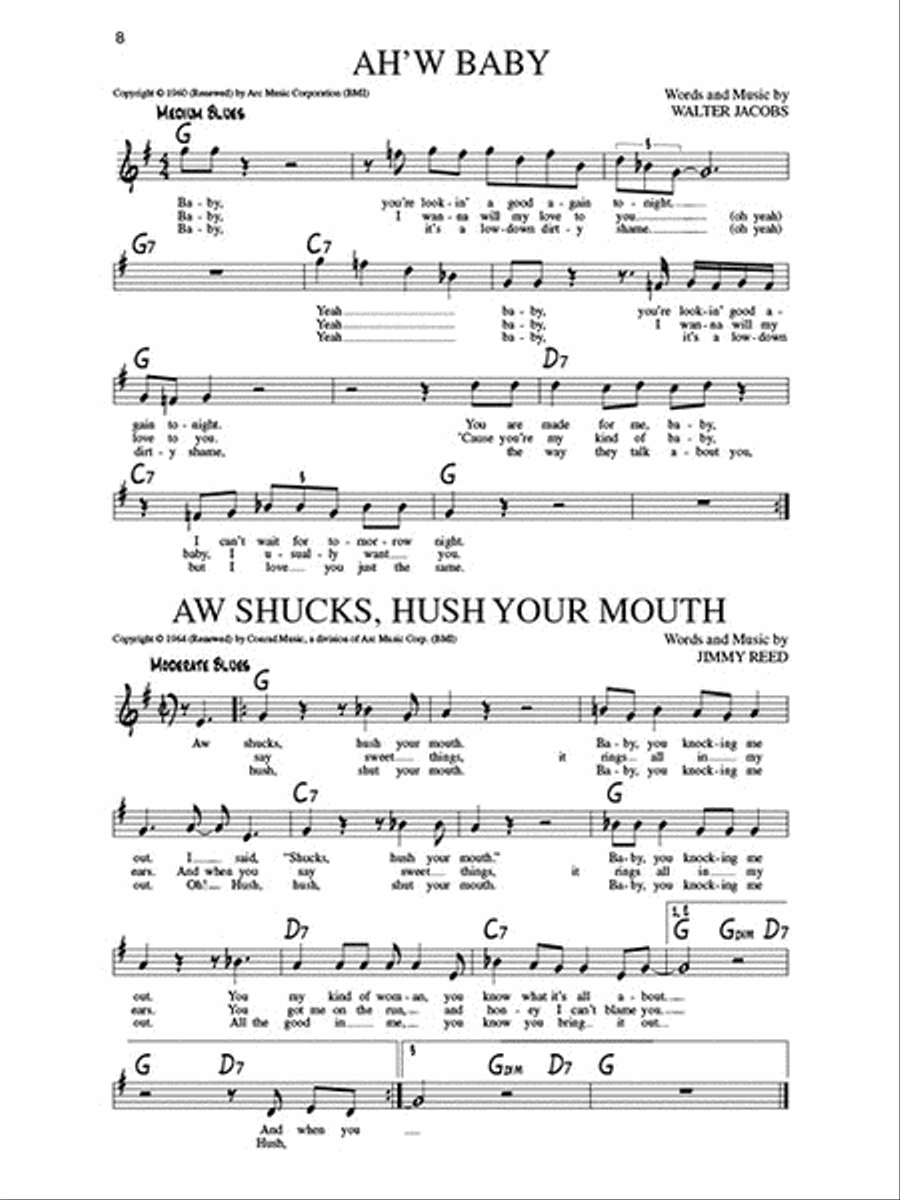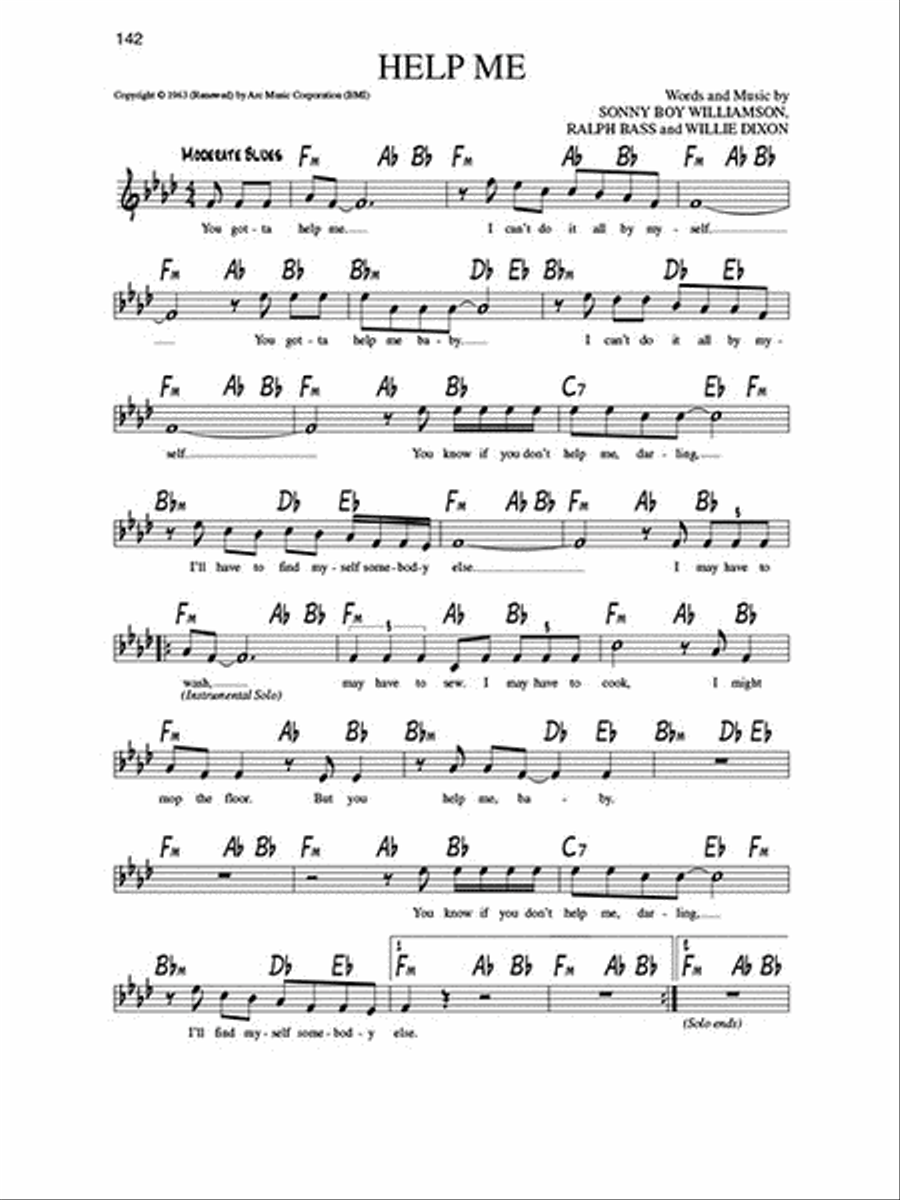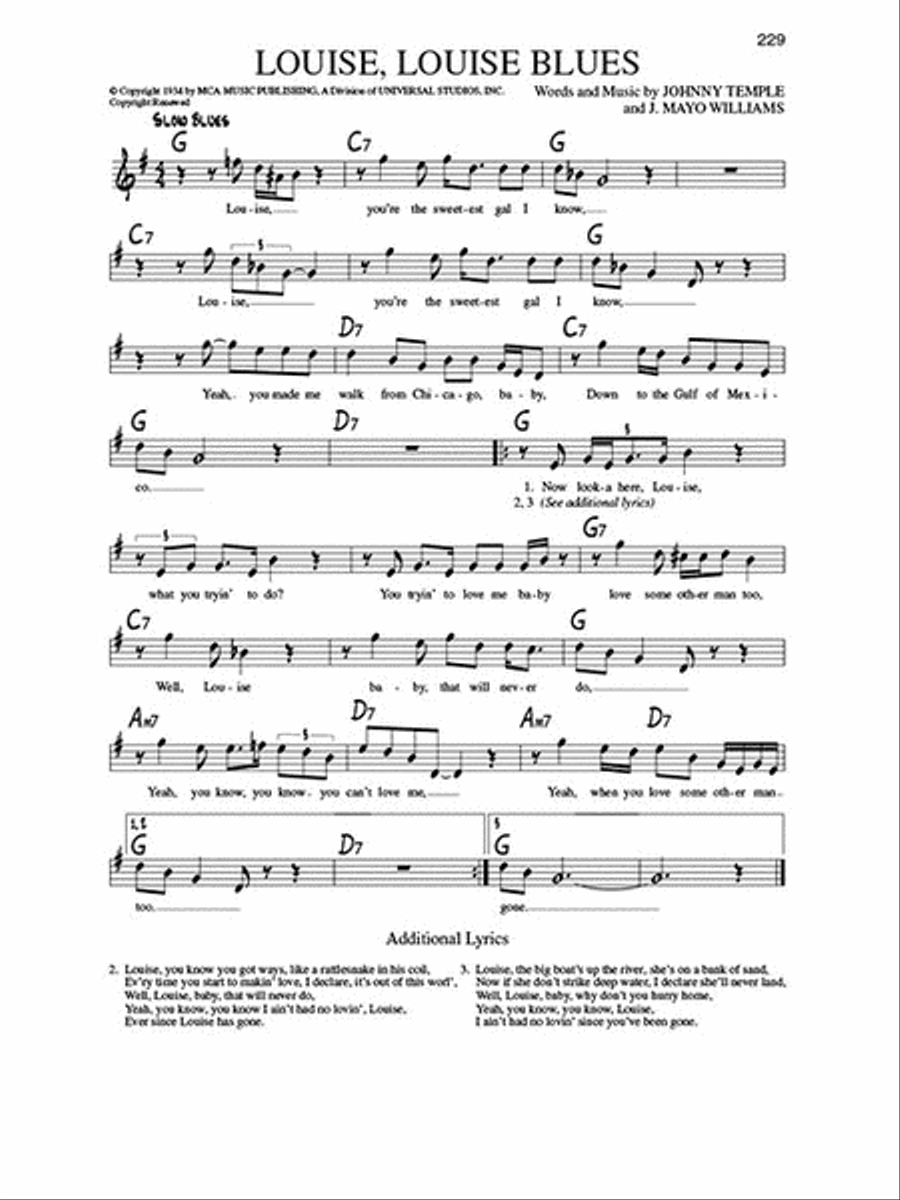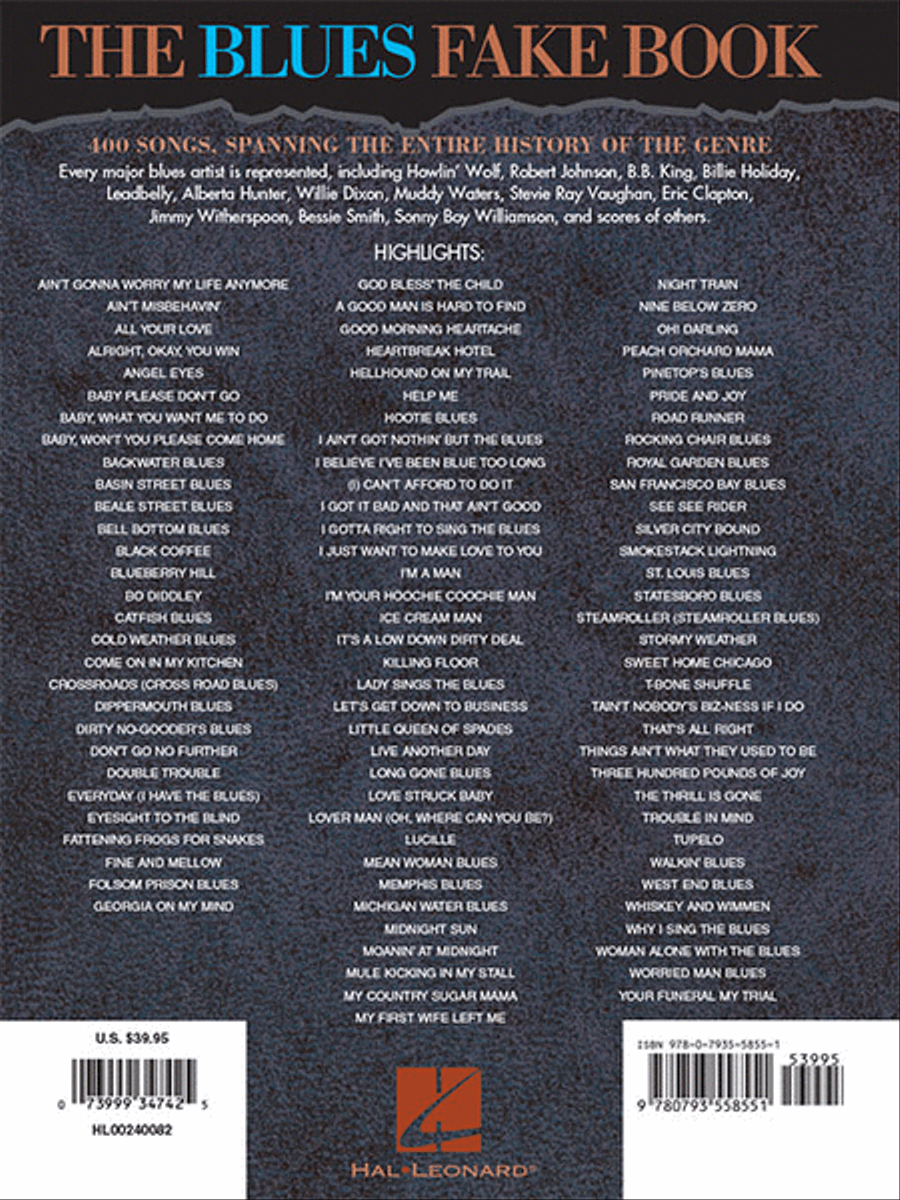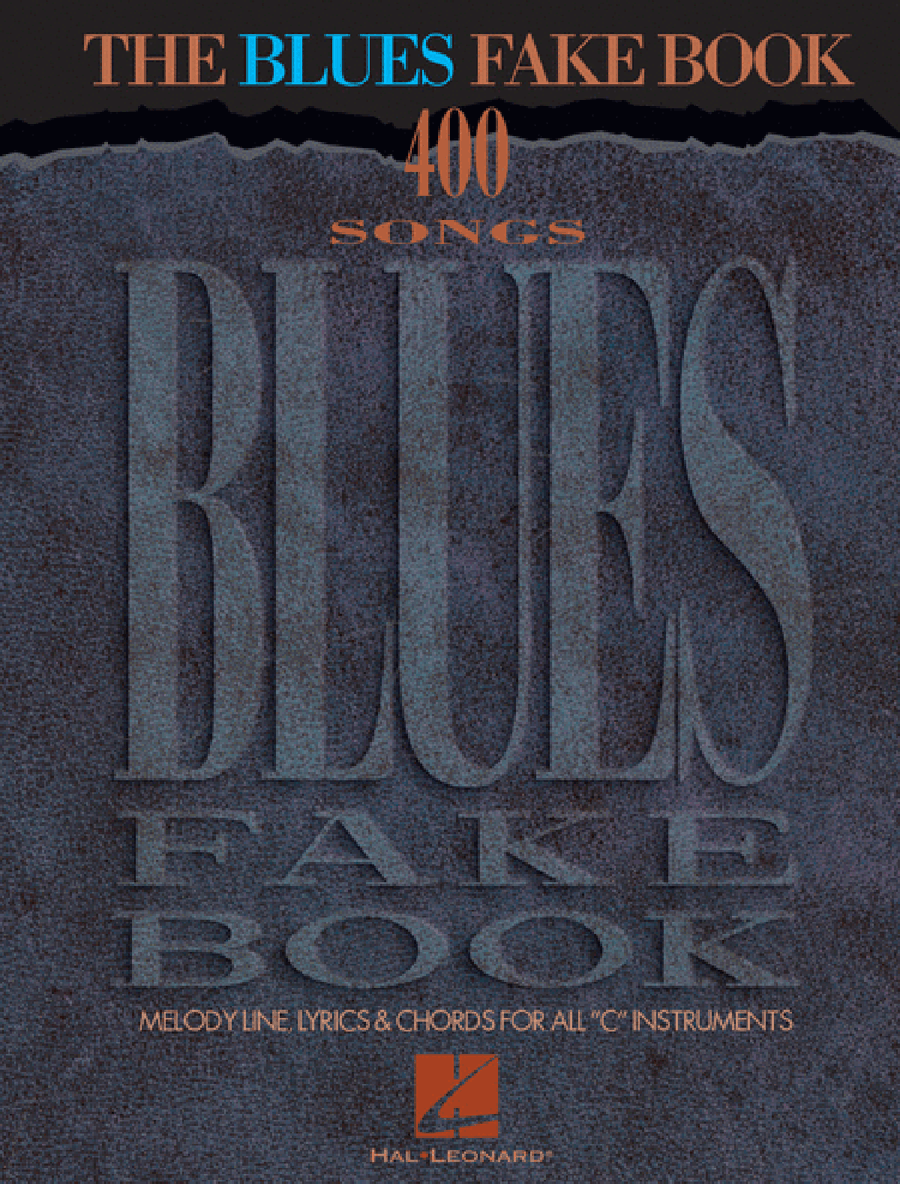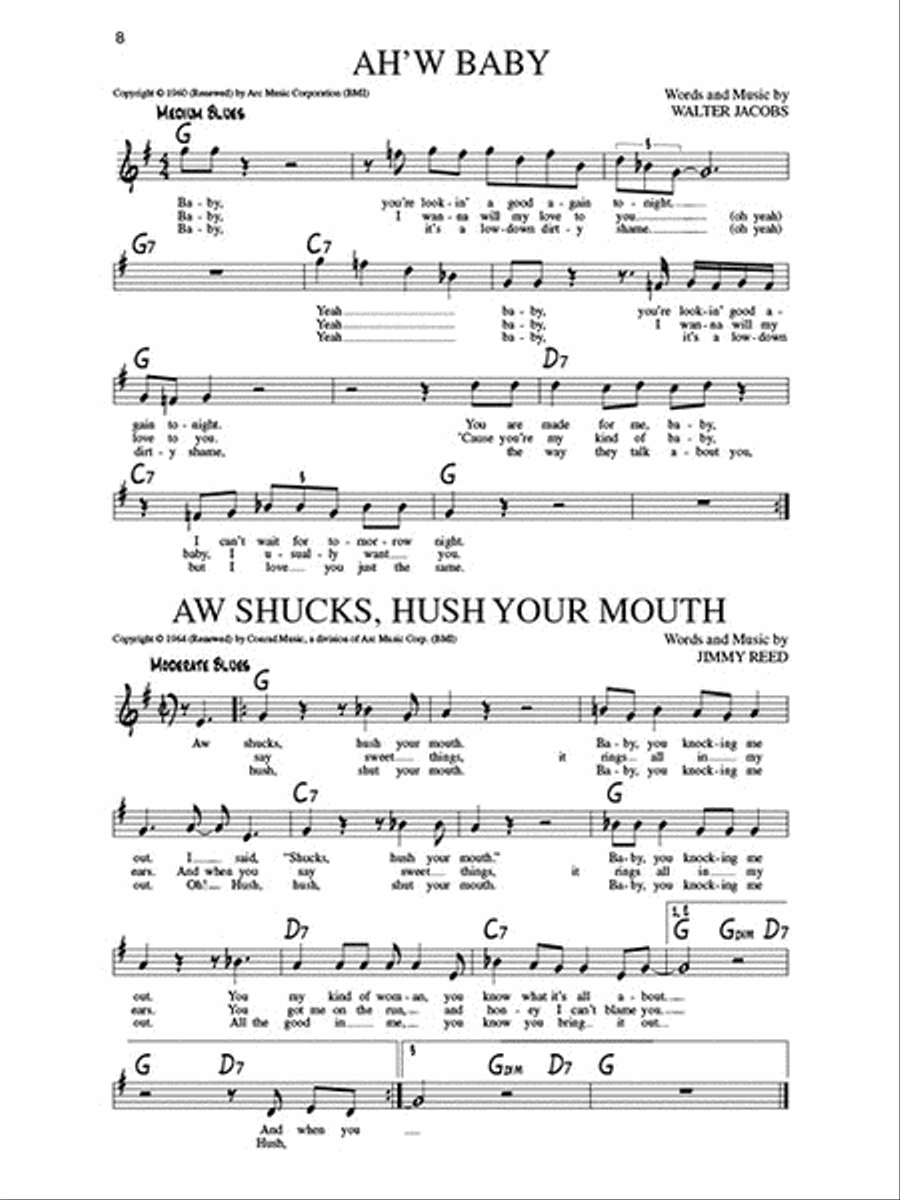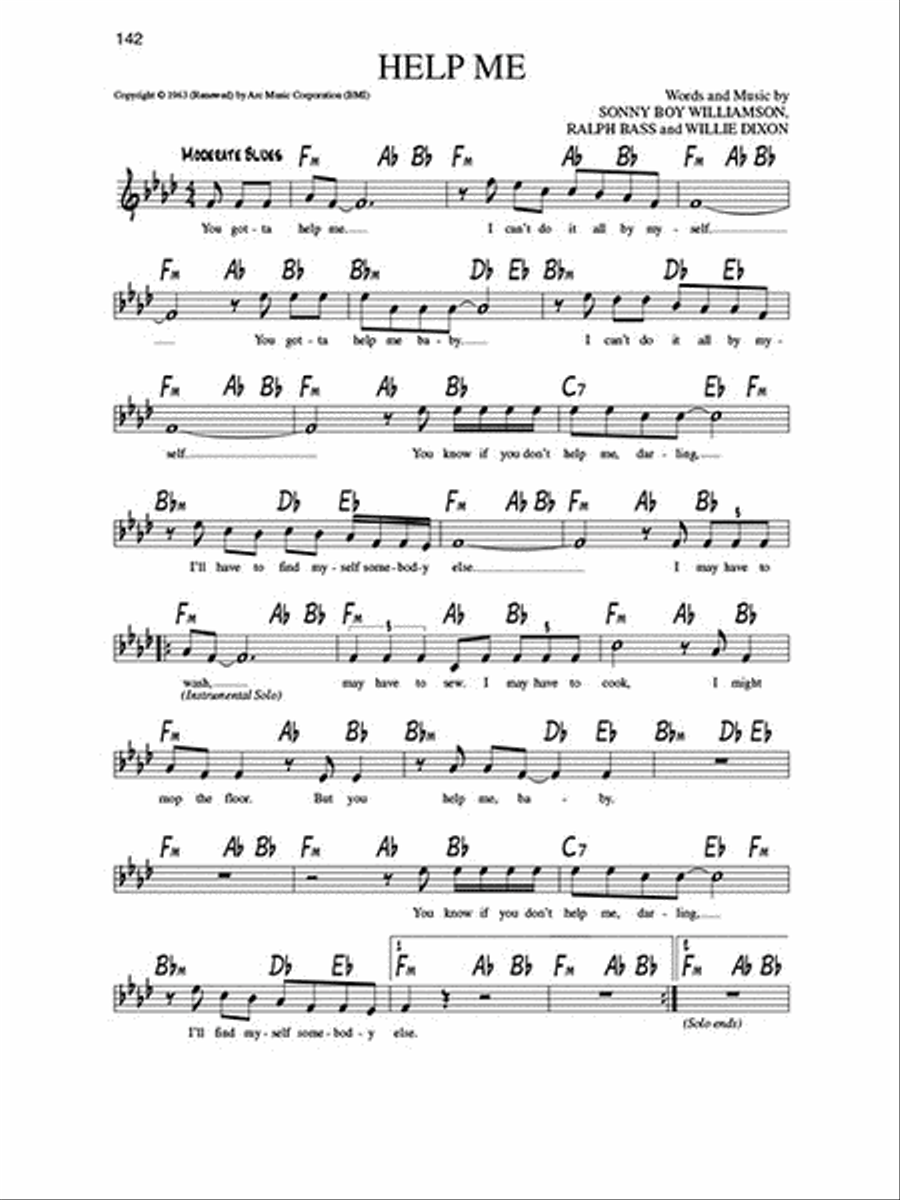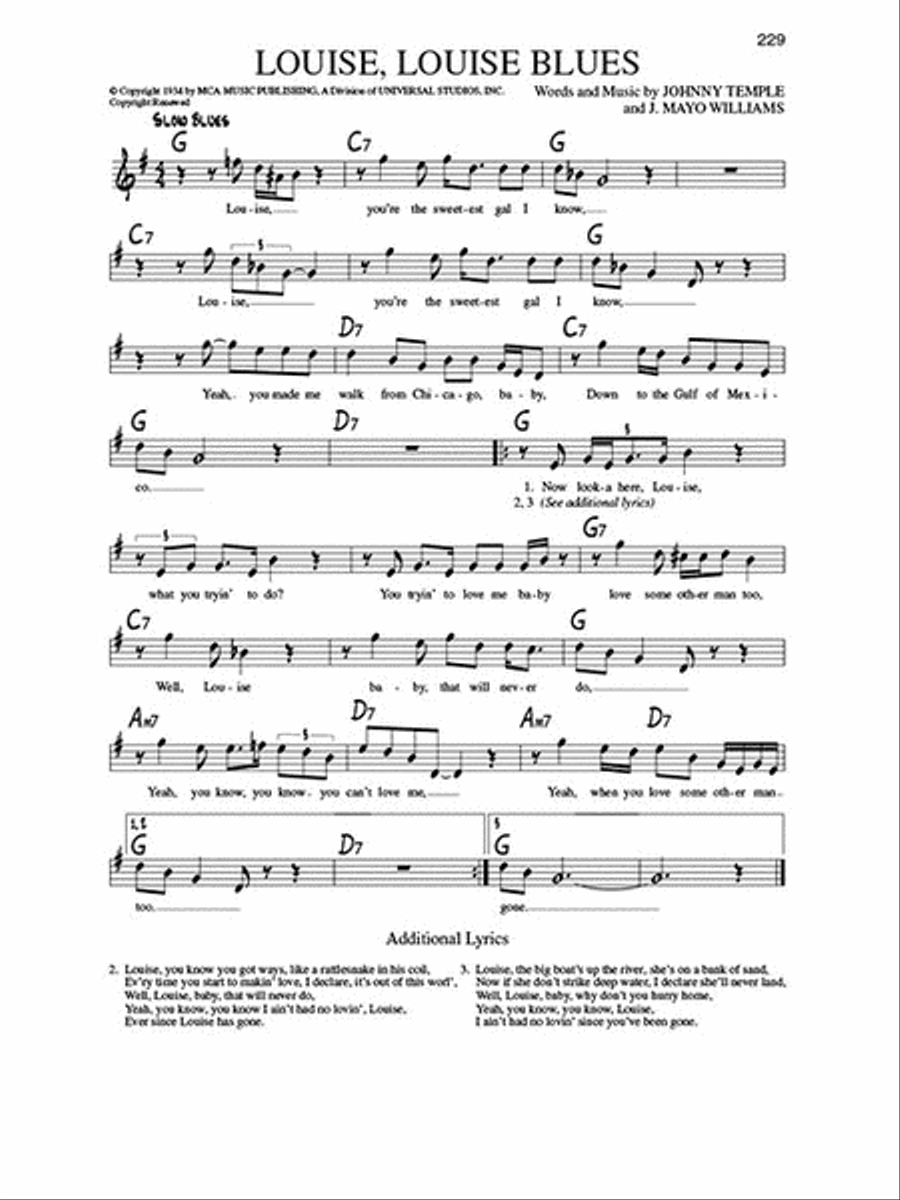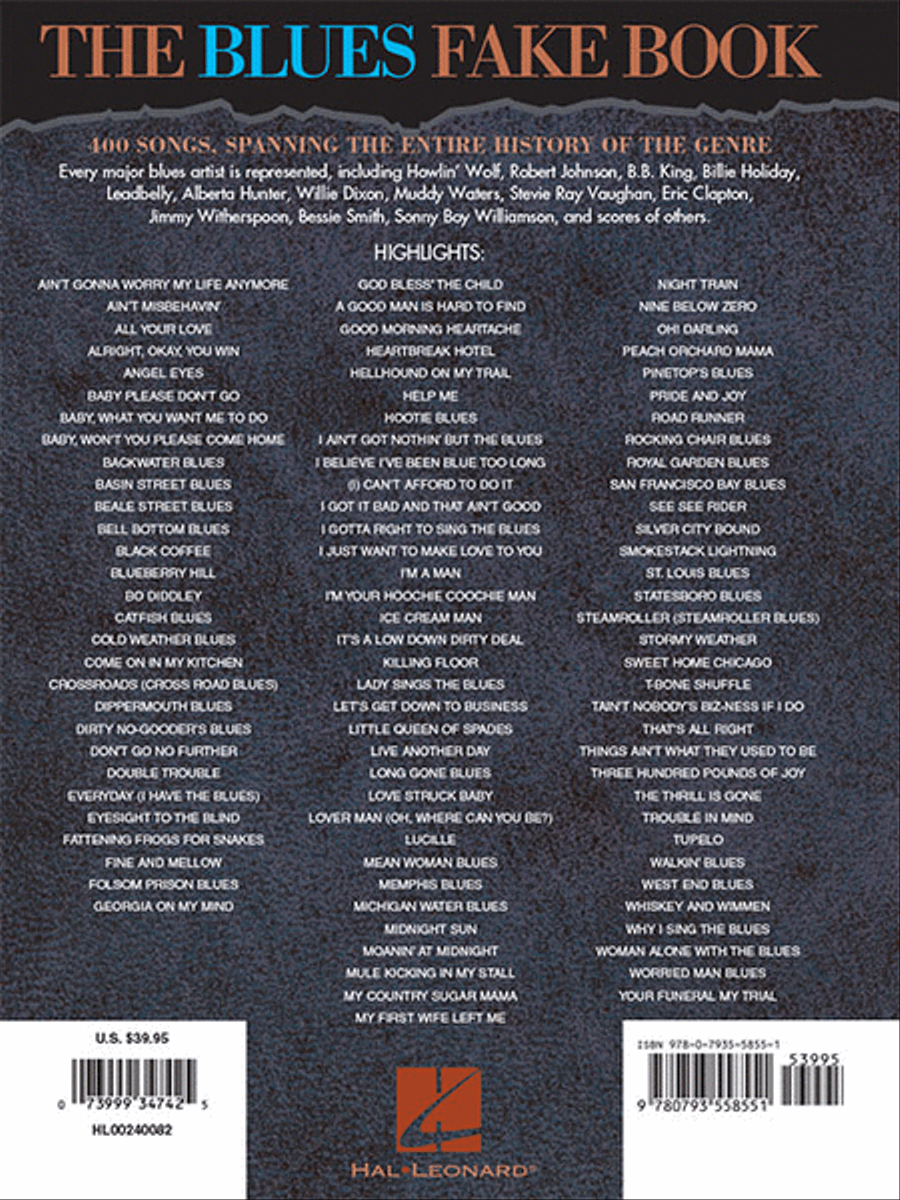 Price reduced from

$39.99

to
$31.99
Available
Ready to ship in 24 hours
Taxes/VAT calculated at checkout.
Detailed Description
Melody/Lyrics/Chords Piano/Keyboard, C Instruments - Difficulty: medium
SKU: HL.240082
Composed by Various. Hal Leonard Fake Books. Blues. Fakebook (leadsheet notation; spiral bound). With vocal melody, lyrics, chord names and leadsheet notation. 407 pages. Published by Hal Leonard (HL.240082).
ISBN 9780793558551. UPC: 073999347425. 9x12 inches.
The most comprehensive single-volume blues publication ever, with songs spanning the entire history of the genre. Every major blues artist is well-represented, including Howlin' Wolf, Robert Johnson, B.B. King, Billie Holiday, Leadbelly, Alberta Hunter, Willie Dixon, Muddy Waters, Stevie Ray Vaughan, Eric Clapton, Jimmy Witherspoon, Bessie Smith, Sonny Boy Williamson, and scores of others. Features very easy-to-read engravings of 400 fantastic songs, including: All Your Love (I Miss Loving) * Angel Eyes * Baby Please Don't Go * Basin Street Blues * Beale Street Blues * Bell Bottom Blues * Black Coffee * Crossroads * Do You Know What It Means to Miss New Orleans * Everyday (I Have the Blues) * Fine and Mellow * Folsom Prison Blues * A Good Man Is Hard to Find * Hellhound on My Trail * (I) Can't Afford to Do It * I Gotta Right to Sing the Blues * Ice Cream Man * Lady Sings the Blues * Lover Man (Oh, Where Can You Be?) * Lucille * Mean Woman Blues * My First Wife Left Me * Nine Below Zero * Oh! Darling * Road Runner * Royal Garden Blues * St. Louis Blues * Steamroller Blues * Stormy Weather * Sweet Home Chicago * Tain't Nobody's Biz-ness If I Do * The Thrill Is Gone * Worried Man Blues * hundreds more!
About Hal Leonard Fake Books
A "fake book" contains songs written in a concise format that includes only the melody and chords, letting you interpret the song's performance as you feel is appropriate. This is great for quickly learning songs by yourself or with an ensemble.
Each song in a fake book only has a single melody actually written out in notes, which is usually the vocal or lead melody. This melody will have the lyrics written beneath the notes, with each word aligned to its corresponding note. Above the notes of the melody will appear the names of the appropriate chords to play - for example, a "C minor" chord would be written as "Cmin" or Cm", rather than writing out all of the notes in those chords as they appeared in the original version of the song.
This format is very compact, which is why you will often see fakebooks containing 500 or more songs.
Song List (400)
Trouble No More (Someday Baby)
Mercury Blues
Baby Doll
Backwater Blues
Dirty No-Gooder's Blues
Down In The Dumps
Foolish Man Blues
In The House Blues
It Makes My Love Come Down
Long Road
Pickpocket Blues
Rocking Chair Blues
Wasted Life Blues
Something Inside Me
Continental Blues
Five Long Years
I'm Tore Down
Ain't Misbehavin'
Ain't That Loving You Baby
Mean Old World
I Keep Going Back To Joe's
Alimonia Blues
Three Hours Past Midnight
On The Road Again
The Time Seems So Long
I Know Your Wig Is Gone
Vida Lee
It's A Low Down Dirty Deal
No Place To Go
Last Night
Take It Easy Baby
Too Young To Die
It's Too Bad Things Are Going So Tough
Ain't Gonna Worry My Life Anymore
Lonesome Whistle Blues
Moanin' For My Baby
I Don't Know
Bluebird
All Blues
Goodbye Baby
Come Back Baby
That's No Way to Get Along
Devil Got My Woman
I'm So Glad
Got To Hurry
I'm A Woman
Do Me Right
Dead Presidents
Meet Me (Down At The Bottom) (Down In The Bottom)
Home To Mamma
I Can Make Love
I Can't Stop, Baby
I Got To Find My Baby
I Got What It Takes
I Need Love
I Want You Close To Me
I Wanna Put A Tiger In Your Tank
I'm A Natural Born Lover
Just Like I Treat You
Little Baby (You Go And I'll Go With You)
Lovin'est Woman In Town
loving you
My Baby Is Sweeter
My John The Conquer Root
Ooh Wee
One More Time
Twenty Nine Ways To My Baby's Door
Tail Dragger
You Know My Love
Young Fashioned Ways (Old Fashioned Ways)
You Need Love
It Do Me So Good
All Aboard
Cold Weather Blues
Feel Like Going Home
I Got My Brand On You
Look What You've Done
Standing Around Crying
Walking Through The Park
You Gonna Need My Help
Decoration Day
23 Hours Too Long
Poison Ivy
Hey, Pretty Mama
Broken Hearted Blues
Catfish Blues (Rollin' Stone)
Got the Blues, Can't Be Satisfied
Don't Smoke In Bed
Kokomo Blues
Cool Drink Of Water Blues
Diddie Wa Diddie
Shake that Thing
De Kalb Blues
Blues On The Ceiling
Life Is Like That
All Your Love (I Miss Loving)
Alright, Okay, You Win
Roberta
Jim Crow
Easy Rider
You Know I Got To Do It
Custard Pie
Careless Love
Walk On
Angel Eyes
As The Years Go Passing By
Ask Me No Questions
At My Front Door
Babe, I'm Gonna Leave You
Baby How Long
Baby, Let's Play House
Baby Please Don't Go
Baby, Scratch My Back
Baby, What You Want Me To Do
Baby What's Wrong
Baby, Won't You Please Come Home
Back Door Man
Basin Street Blues
Beale Street Blues
Bell Bottom Blues
A Big Hunk O' Love
Billie's Blues (I Love My Man)
(What Did I Do To Be So) Black And Blue
Black Coffee
Blow, Wind, Blow
Blue Prelude
Blue Train (Blue Trane)
Blue Turning Grey Over You
Blueberry Hill
Blues Before Sunrise
The Blues Had A Baby And They Named It Rock And Roll
Blues With A Feeling
Bo Diddley
Boogie Chillen No. 2
Boom Boom (Out Go The Lights)
Born In Mississippi, Raised Up In Tennessee
Born To Be Blue
Bourgeois Blues
Bright Lights, Big City
Built For Comfort
Caldonia (What Makes Your Big Head So Hard?)
Can't Hold Out Much Longer
Can't You Hear Me Talking To You
Canal Street Blues
Chicago Blues
Close To You (I Wanna Get)
Confessin' The Blues
Country Girl
Cow Cow Blues
Crackin' Up
Crazy Blues
Cross Road Blues (Crossroads)
Dallas Blues
Checkin' Up On My Baby
Did You Ever
Dippermouth Blues
Diving Duck
Do You Know What It Means To Miss New Orleans
Don't You Lie To Me (I Get Evil)
Double Trouble
Down Hearted Blues
End Of The Blues
Everyday (I Have The Blues)
Evil (Is Going On)
Fever
Fine And Mellow
Flip, Flop And Fly
Folsom Prison Blues
Forty-Four
Forty Days And Forty Nights
Further On Up The Road
Gee Baby, Ain't I Good To You
Georgia on My Mind
God Bless' The Child
Going Down Slow
A Good Man Is Hard To Find
Good Mornin' Blues
Good Morning Heartache
Good Morning Little Schoolgirl
Good Rockin' Tonight
Gulf Coast Blues
Happy With The Blues
Have You Ever Loved A Woman
Heartbreak Hotel
Help Me
Hey Hey
Hidden Charms
Highway 40 Blues
Honey Bee
Hootie Blues
Hound Dog
How Many More Years
Howlin' For My Darling
I Ain't Got Nobody (And Nobody Cares For Me)
I Ain't Got Nothin' But The Blues
I Ain't Superstitious
I Almost Lost My Mind
I Believe I've Been Blue Too Long
I Can't Be Satisfied
I Can't Quit You Baby
I Got It Bad And That Ain't Good
I Gotta Right To Sing The Blues
I Just Want To Make Love To You
I Want To Be Loved
I'd Rather Drink Muddy Water
I'm A Man
I'm Ready
I'm Your Hoochie Coochie Man
I've Been Treated Wrong
Ice Cream Man
In The Evening (When The Sun Goes Down)
It Hurts Me Too
It Serves Me Right To Suffer
It's A Low Down Dirty Shame
Jailhouse Blues
Jelly Roll Blues
Juke
Just A Dream
Key To The Highway
Killing Floor
Let Me Love You Baby
Let's Get Down To Business
Letter To My Baby
Little Red Rooster
Live Another Day
Long Distance Call
Long Gone Blues
Long Gone Lonesome Blues
Love Struck Baby
Lover Man (Oh, Where Can You Be?)
Lucille
Matchbox
Maudie
Mean Old Frisco Blues
Mean Woman Blues
Mellow Down Easy
Merry Christmas, Baby
Midnight
The Midnight Special
Midnight Sun
Milk Cow Blues
Mind Your Own Business
Moanin' At Midnight
Mule Kicking In My Stall
My Babe
My Baby Left Me
My First Wife Left Me
My Home Is On The Delta
My Man Blues
Mystery Train
Night Train
No Particular Place To Go
Nobody Knows You When You're Down and Out
Oh! Darling
One Bourbon, One Scotch, One Beer
Paying The Cost To Be The Boss
Pinetop's Blues
Piney Brown Blues
Please Help Me Get Him Off My Mind
Please Send Me Someone To Love
Pride And Joy
Ramblin' On My Mind
Reconsider Baby
Riverside Blues
Rock Me Baby
Roll 'em Pete
Rollin' And Tumblin'
Rollin' Stone (Catfish Blues)
Royal Garden Blues
The Same Thing
San Francisco Bay Blues
See See Rider
The Seventh Son
Six Cold Feet Of Ground
Smokestack Lightning
Some of These Days
Sorrowful Blues
Spoonful
Saint James Infirmary
St. Louis Blues
Steamroller (Steamroller Blues)
Stella Mae
Still A Fool
Still Got The Blues
Stormy Weather (Keeps Rainin' All the Time)
Sugar Blues
Sun's Gonna Shine In My Door
Sweet Home Chicago
Tain't Nobody's Biz-ness If I Do
Texas Flood
That's Alright
That's All Right
Things Ain't What They Used To Be
Three Hundred Pounds Of Joy
The Thrill is Gone
Tin Roof Blues
Tishomingo Blues
Tobacco Road
Tollin' Bells
Trouble In Mind
Tupelo (Tupelo Blues)
Wang Dang Doodle
Weary Blues
West End Blues
When The Lights Go Out
Who Do You Love
Who's Been Talking
Why Don't You Do Right (Get Me Some Money, Too!)
Why I Sing The Blues
Woman Alone With The Blues
Worried Life Blues
Worried Man Blues
New York Town
Dust Pneumonia Blues
Candy Man Blues
Yer Blues
T-Bone Shuffle
Three O'clock Blues
Mary Had A Little Lamb
Bring It On Home
The Lemon Song
You Can't Judge A Book By The Cover
You Can't Lose What You Ain't Never Had
You Don't Know My Mind
Don't Go No Further (You Need Meat)
You Shook Me
Statesboro Blues
Come On In My Kitchen
Drunken Hearted Man
From Four Until Late
Hell Hound On My Trail
I'm A Steady Rollin' Man (Steady Rollin' Man)
Kind Hearted Woman Blues
Little Queen Of Spades
Love In Vain Blues
Terraplane Blues
32-20 Blues
Traveling Riverside Blues
Walkin' Blues
When You Got A Good Friend
Blues For Alice
Ah'w Baby
Lady Sings The Blues
Memphis Blues
Yellow Dog Blues
They're Red Hot
Apologize
Clouds In My Heart
This Pain In My Heart
Hesitation Blues
Aw Shucks, Hush Your Mouth
Honest I Do
Hush Hush
You Don't Have to Go
Whiskey And Wimmen
All My Love In Vain
(I) Can't Afford To Do It
Check Yourself
Chicago Bound
Dissatisfied
Eyesight To The Blind
Fattening Frogs For Snakes
It's My Own Fault
Mad Man Blues
My Country Sugar Mama
Nine Below Zero
Road Runner
Trying To Get Back On My Feet
Your Funeral My Trial
The Blues Ain't Nothin' But A Woman Cryin' For Her Man
Bottle It Up And Go
Country Boy Blues
Cryin' In My Sleep
Hey Lawdy Mama
Highway 51 Blues
I Ain't For It
I Believe I'll Make A Change
It Seem Like A Dream
I've Been Dealin' With The Devil
Lonely Boy Blues
Louise, Louise Blues
Mean Mistreater
Michigan Water Blues
My Last Goodbye To You
99 Blues
Nobody Knows The Way I Feel This Morning
Peach Orchard Mama
Rain Is Such A Lonesome Sound
Rusty Dusty Blues
Shady Lane Blues
Shipwrecked Blues
Wee Baby Blues
Woke Up Cold In Hand
Silver City Bound
Big Road Blues
Alabama Bound
Vicksburg Blues
Empty Bed Blues
Prison Bound
Broke And Hungry