Test Pieces For Orchestral Auditions - Trombone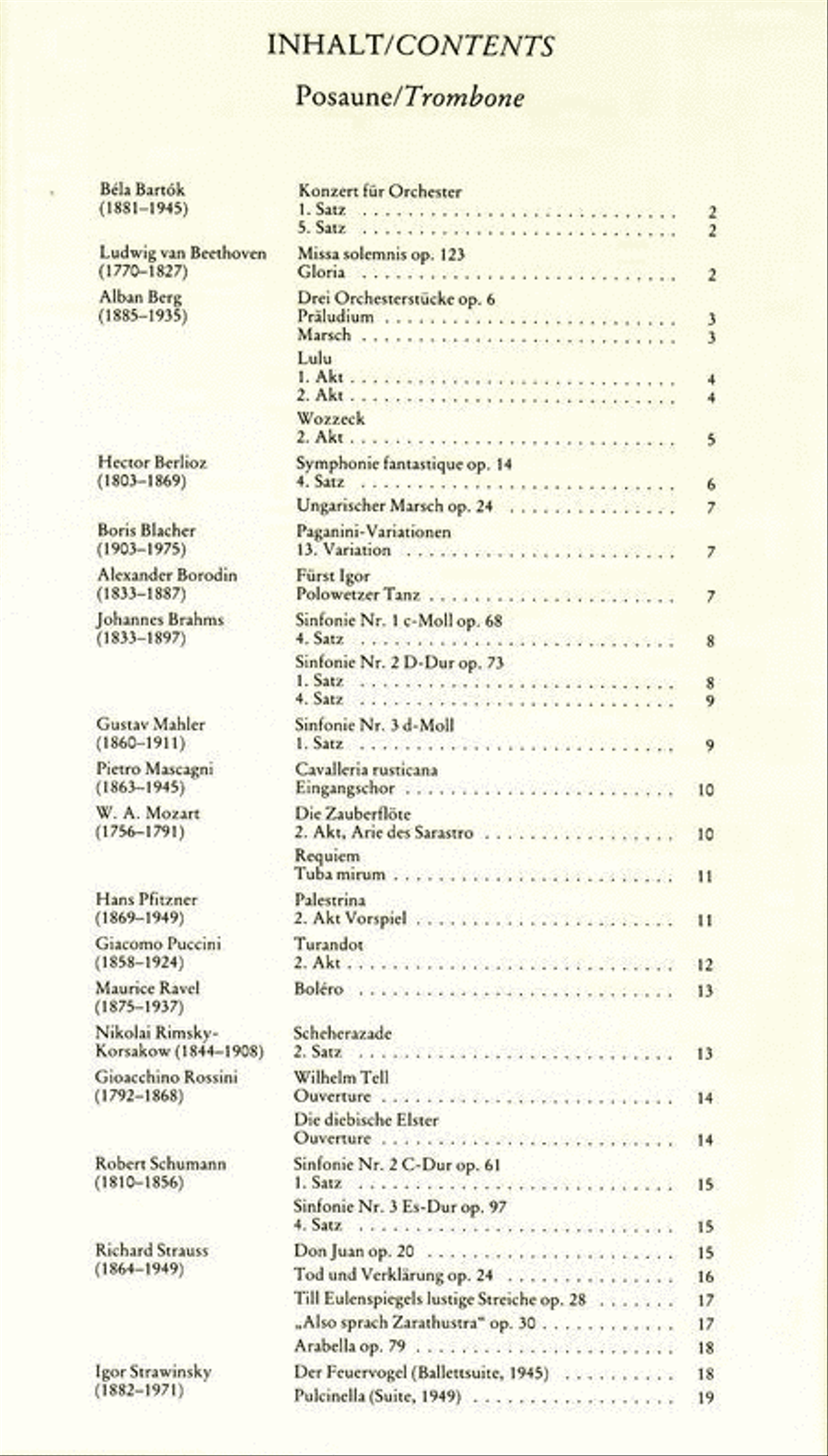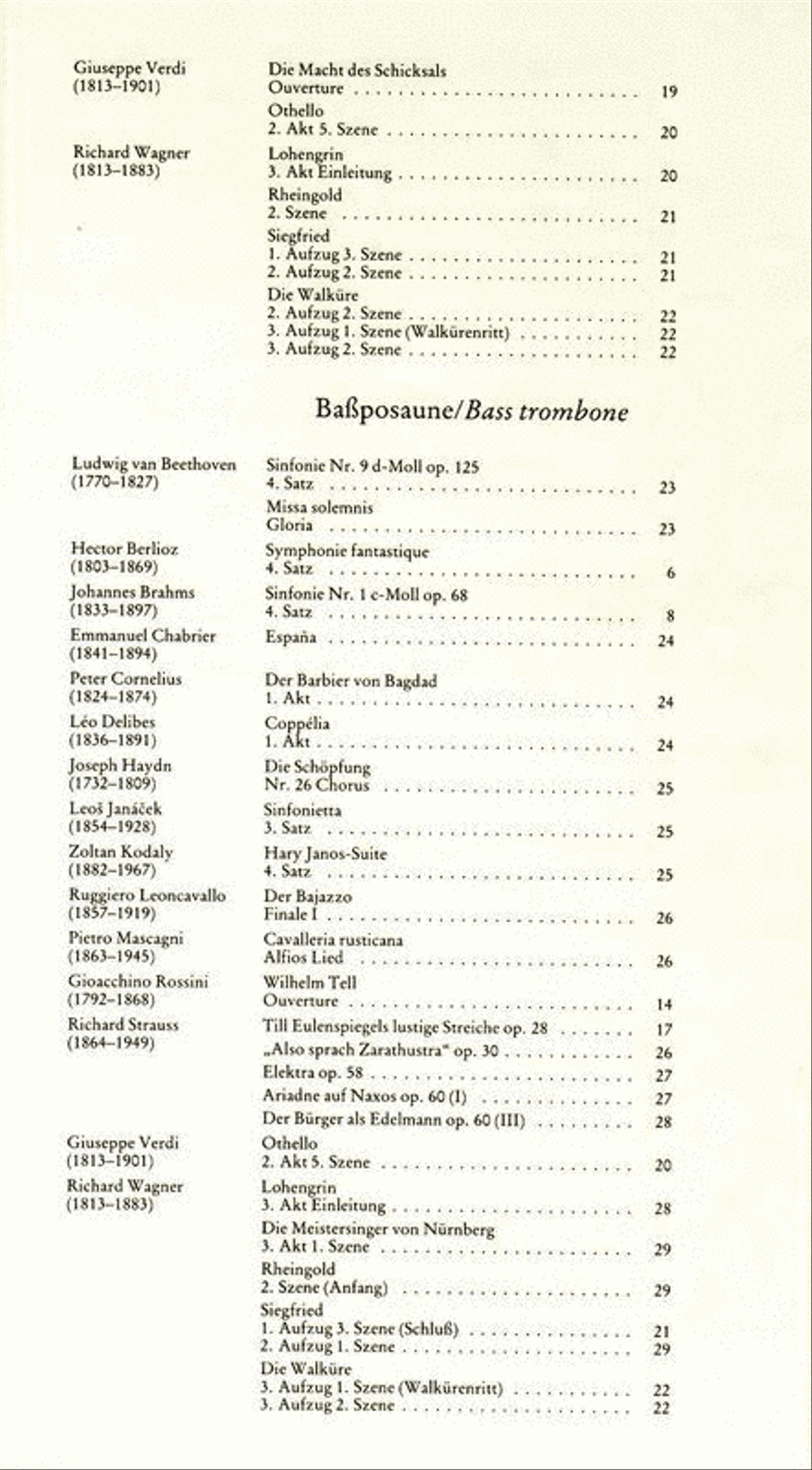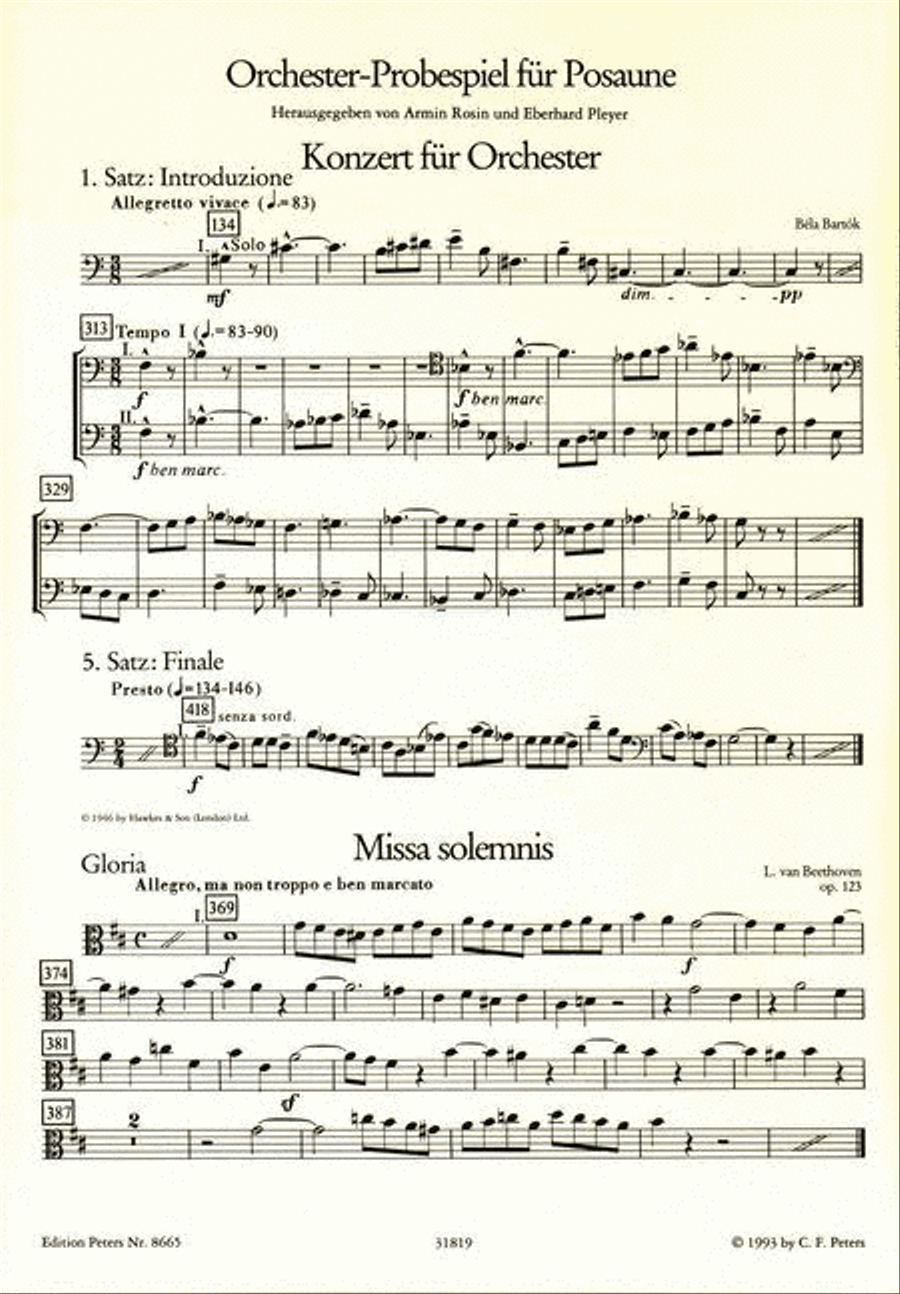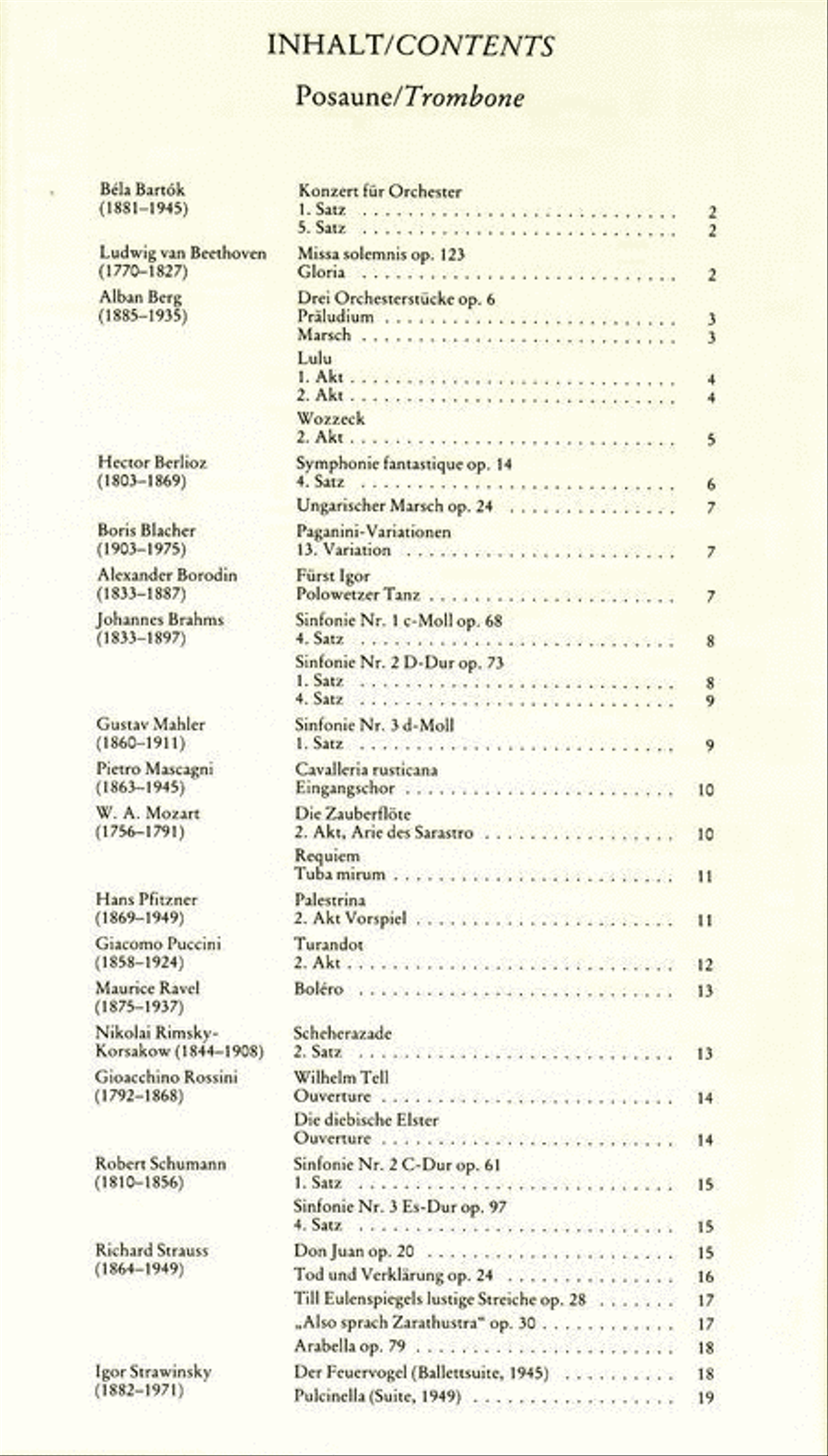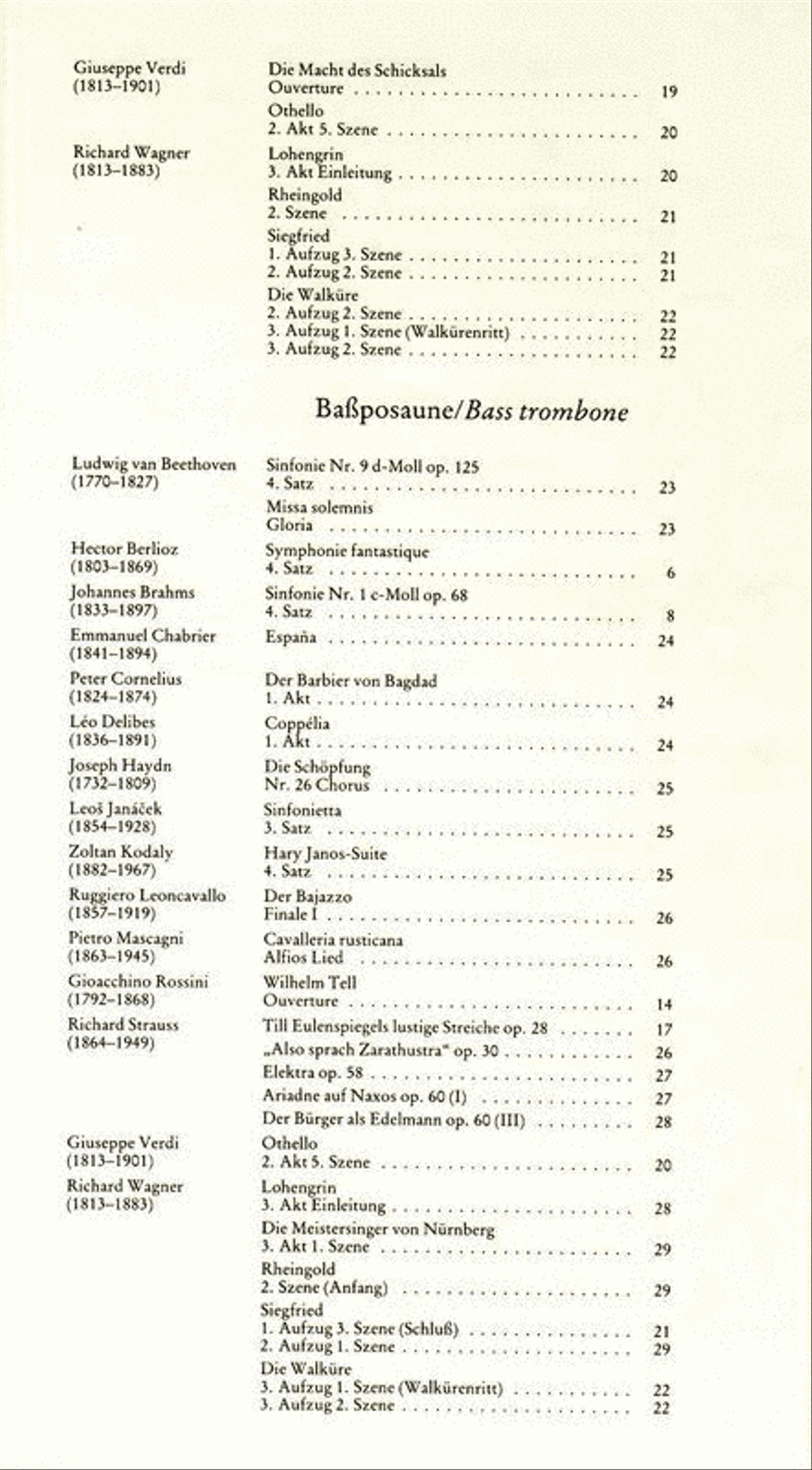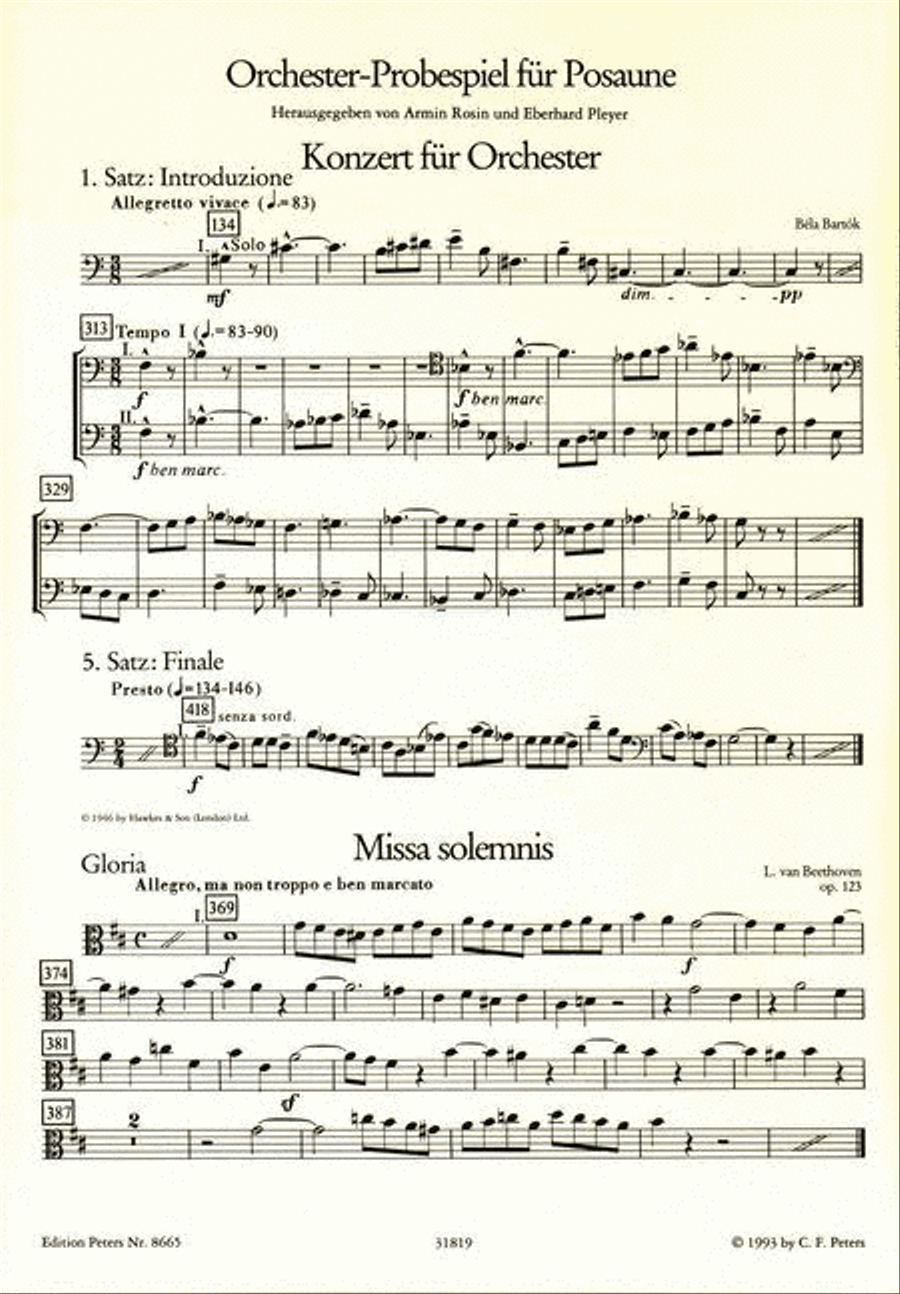 Test Pieces For Orchestral Auditions - Trombone


Available
Ready to ship in 1 to 2 weeks
Taxes/VAT calculated at checkout.
Details
Series
ASTA: American String Teachers Association
Detailed Description
Trombone or bass trombone
SKU: PE.EP8665
Excerpts From The Operatic And Concert Repertoire
. Composed by Various. Edited by Armin Rosin and Eberhard Pleyer. Trombone (Solo) Orchestral Excerpts. Edition Peters. 20th Century, Classical Period and Reference. Book. With introductory text. 29 pages. Edition Peters #98-EP8665. Published by Edition Peters (PE.EP8665).
ISBN 9790014069940. UPC: 9790014069940. 9x12 inches. English.
The present edition contains those passages which a musician is expected to have at his or her command before being accepted into an orchestra. Unlike many existing 'orchestral studies', this collection focuses on the material commonly used in auditions. It thus forms a foundation for the practical training of young orchestral musicians, and serves professional musicians as a means of practicing difficult passages.
Song List (62)
Konzert fur Orchester Sz 116 -1. Satz: Introduzione-
Konzert fur Orchester Sz 116 -5. Satz: Finale-
Also sprach Zarathustra op. 30 -Der Genesende-
Arabella (Lyrische Komodie in 3 Akten) op. 79 -3. Aufzug, Vorspiel-
Ariadne auf Naxos (Oper in 1 Prolog und 1 Akt) op. 60 I -Vorspiel-
Bolero
Cavalleria rusticana (Oper in 1 Akt) -Eingangschor-
Coppelia (Ballett) -1. Akt, Nr. 4-
Das Rheingold (Oper in 4 Bildern) -2. Szene-
Der Bajazzo (Oper in 2 Akten) -Finale I-
Der Barbier von Bagdad (Oper in 2 Akten) -1. Akt, 5. Szene-
Der Burger als Edelmann op. 60 III -1. Aufzug, Nr. 5: Szene des Fechtmeisters-
Der Burger als Edelmann op. 60 III -2. Aufzug, Nr. 10: Das Diner-
Der Feuervogel (Ballett): Suite (1945) -Infernal dance-
Die diebische Elster (Oper in 2 Akten) -Ouverture-
Die Macht des Schicksals (Oper in 4 Akten) -Ouverture-
Die Meistersinger von Nurnberg (Oper in 3 Akten) -3. Akt, 1. Szene-
Die Schopfung Hob. XXI:2 -Nr. 26: Chorus-
Die Walkure (Oper in 3 Akten) -2. Aufzug, 2. Szene-
Die Walkure (Oper in 3 Akten) -3. Aufzug, 1. Szene-
Die Walkure (Oper in 3 Akten) -3. Aufzug, 2. Szene-
Die Zauberflote (Oper in 2 Akten) KV 620 -2. Aufzug, Nr. 19: Arie des Sarastro-
Don Juan op. 20
Elektra (Oper in 1 Akt) op. 58
Espa–a
Fausts Verdammnis op. 24
Fausts Verdammnis op. 24 -Ungarischer Marsch-
Furst Igor (Oper in 4 Akten) -2. Akt, Nr. 17: Polowetzer Tanz und Chor-
H‡ry J‡nos (Singspiel) op. 15 -4. Satz-
Lohengrin (Oper in 3 Akten) -3. Akt, Einleitung-
Lulu (Oper in 3 Akten) -1. Akt, 1. Szene-
Lulu (Oper in 3 Akten) -2. Akt, 1. Szene-
Lulu (Oper in 3 Akten) -2. Akt, 2. Szene-
Missa solemnis D-Dur op. 123 -Gloria-
Orchestervariationen uber ein Thema von Paganini (1947)
Othello (Oper in 4 Akten) -2. Akt, 5. Szene-
Palestrina (Musikalische Legende in 3 Akten) -2. Akt, 5. Szene-
Palestrina (Musikalische Legende in 3 Akten) -2. Akt, Vorspiel-
Pulcinella (Ballett): Suite (1949) -VII. Satz-
Requiem d-Moll KV 626 -Tuba mirum-
Scheherazade (Sinfonische Suite) op. 35 -2. Satz-
Siegfried (Oper in 3 Akten) -1. Aufzug, 3. Szene-
Siegfried (Oper in 3 Akten) -2. Aufzug, 1. Szene-
Siegfried (Oper in 3 Akten) -2. Aufzug, 2. Szene-
Sinfonie Nr. 1 c-Moll -4. Satz-
Sinfonie Nr. 1 c-Moll op. 68 -4. Satz-
Sinfonie Nr. 2 C-Dur op. 61 -1. Satz-
Sinfonie Nr. 2 D-Dur op. 37 -4. Satz-
Sinfonie Nr. 2 D-Dur op. 73 -1. Satz-
Sinfonie Nr. 3 d-Moll -1. Satz-
Sinfonie Nr. 3 Es-Dur op. 97 -4. Satz-
Sinfonie Nr. 9 d-Moll op. 125 -4. Satz-
Sinfonietta op. 60 "Militar-Sinfonietta" -3. Satz-
Stucke fur Orchester op. 6 Nr. 1-3 -I. Praludium-
Stucke fur Orchester op. 6 Nr. 1-3 -III. Marsch-
Symphonie fantastique (Episode aus dem Leben eines Kunstlers) op. 14a -4. Satz: Marche au supplice-
Till Eulenspiegels lustige Streiche op. 28
Tod und Verklarung (Sinfonische Dichtung) op. 24
Turandot (Oper in 3 Akten) -2. Akt, 2. Bild-
Wilhelm Tell (Oper in 4 Akten) -Ouverture-
Wozzeck (Oper in 3 Akten) -2. Akt, 4. Szene: Wirtshausgarten-
Wozzeck (Oper in 3 Akten) op. 7 -2. Akt, 1. Szene: Mariens Stube-