Tchaikovsky Piano Collection

Schirmer Library of Classics Volume 2116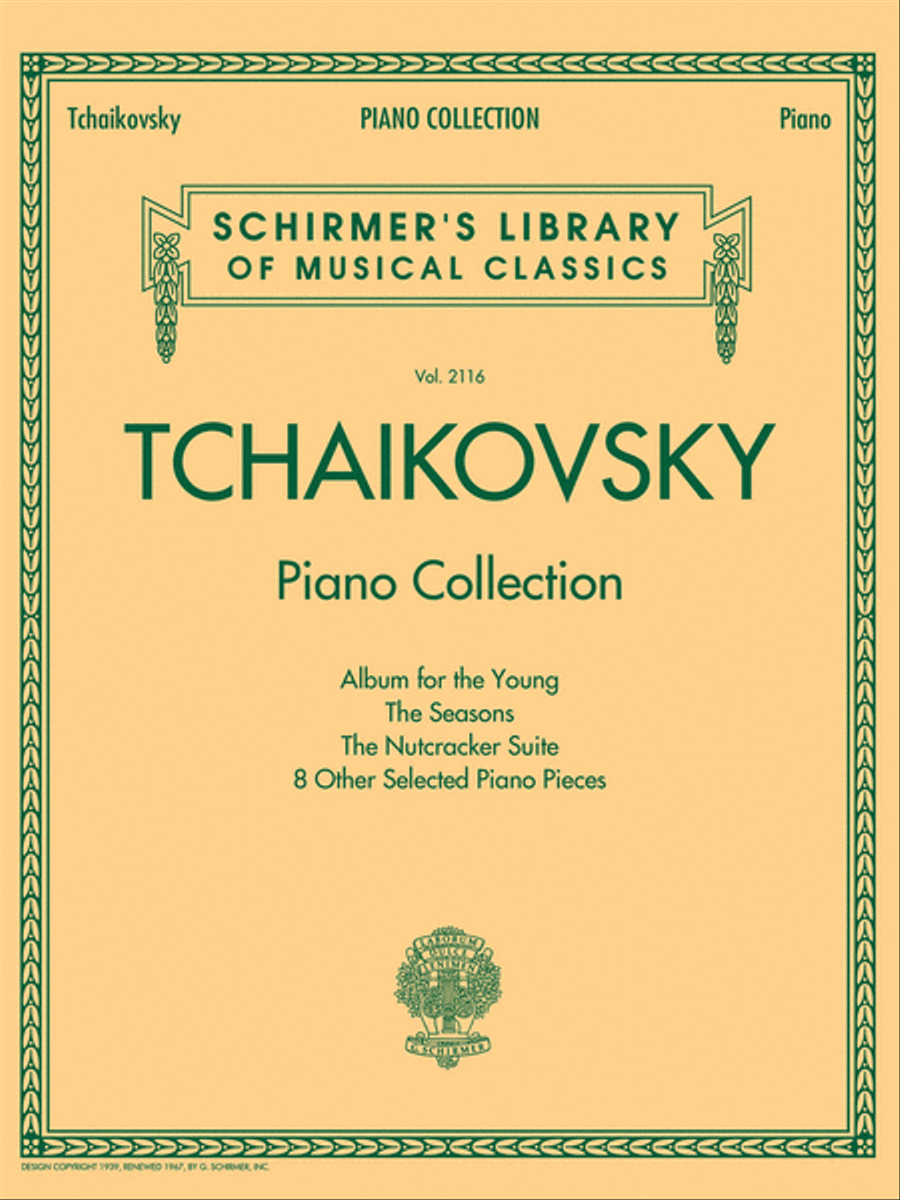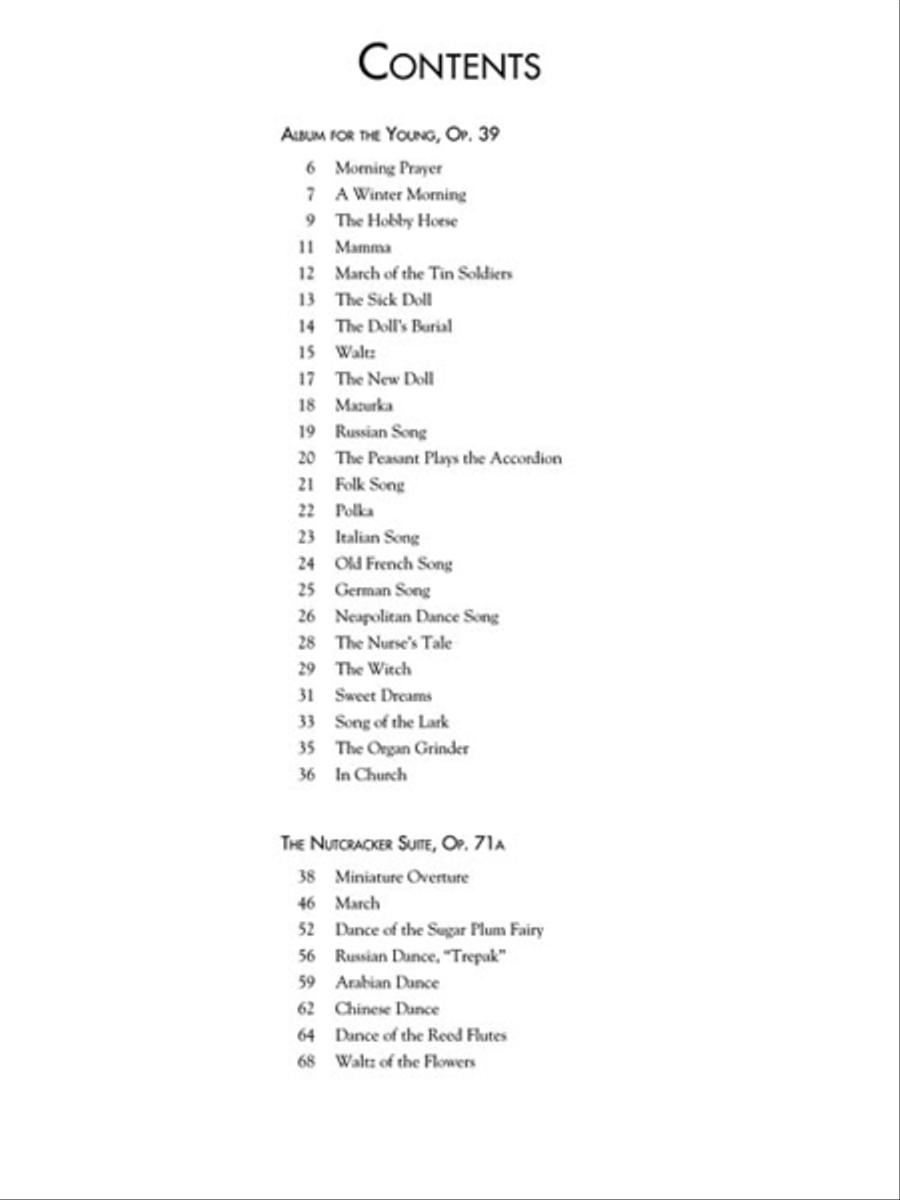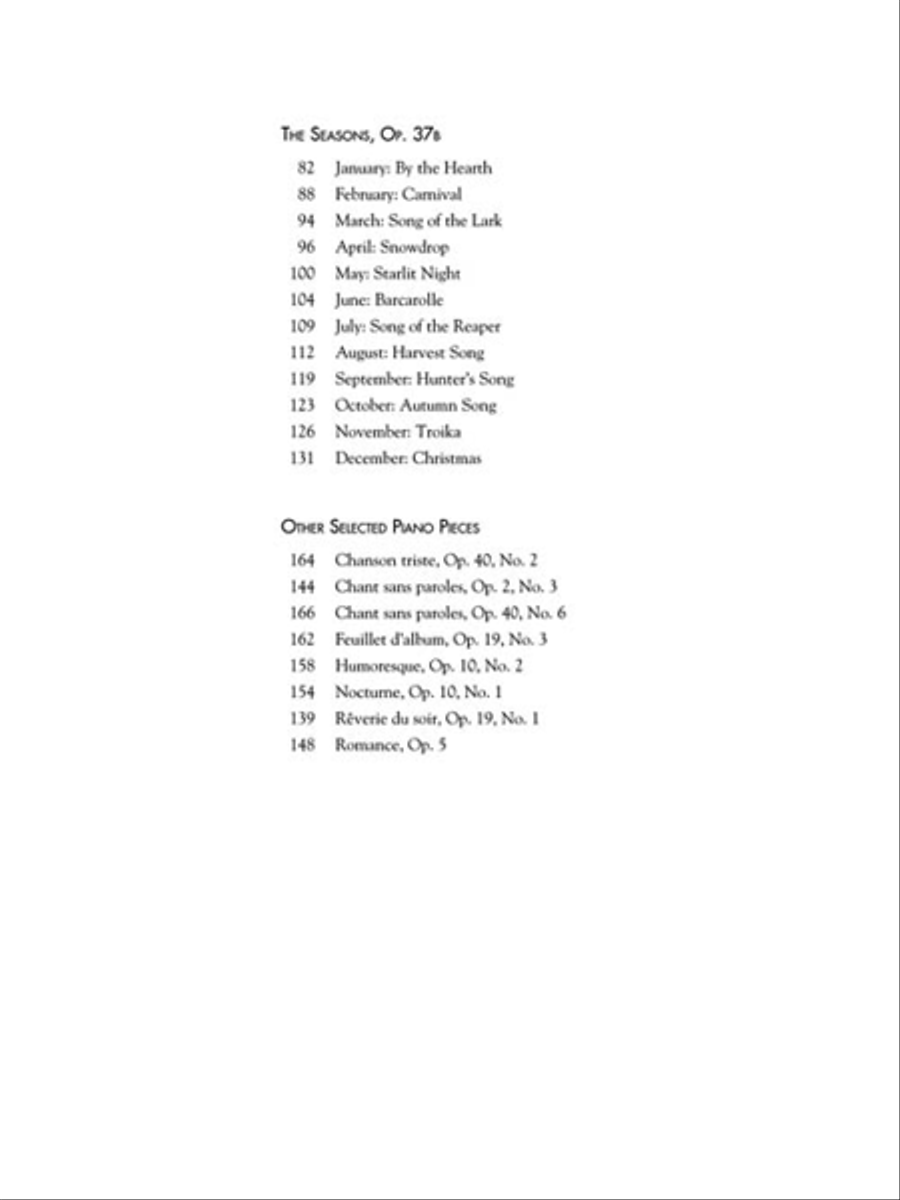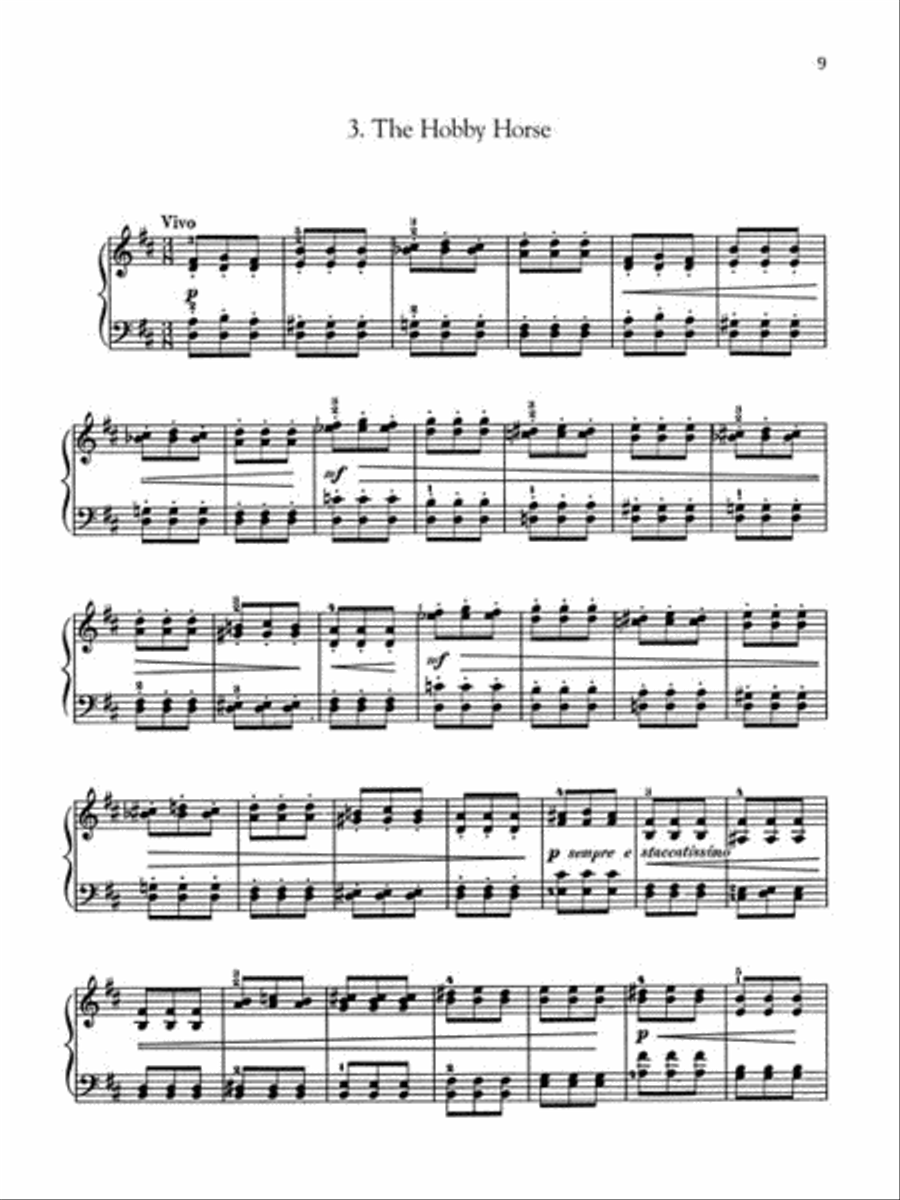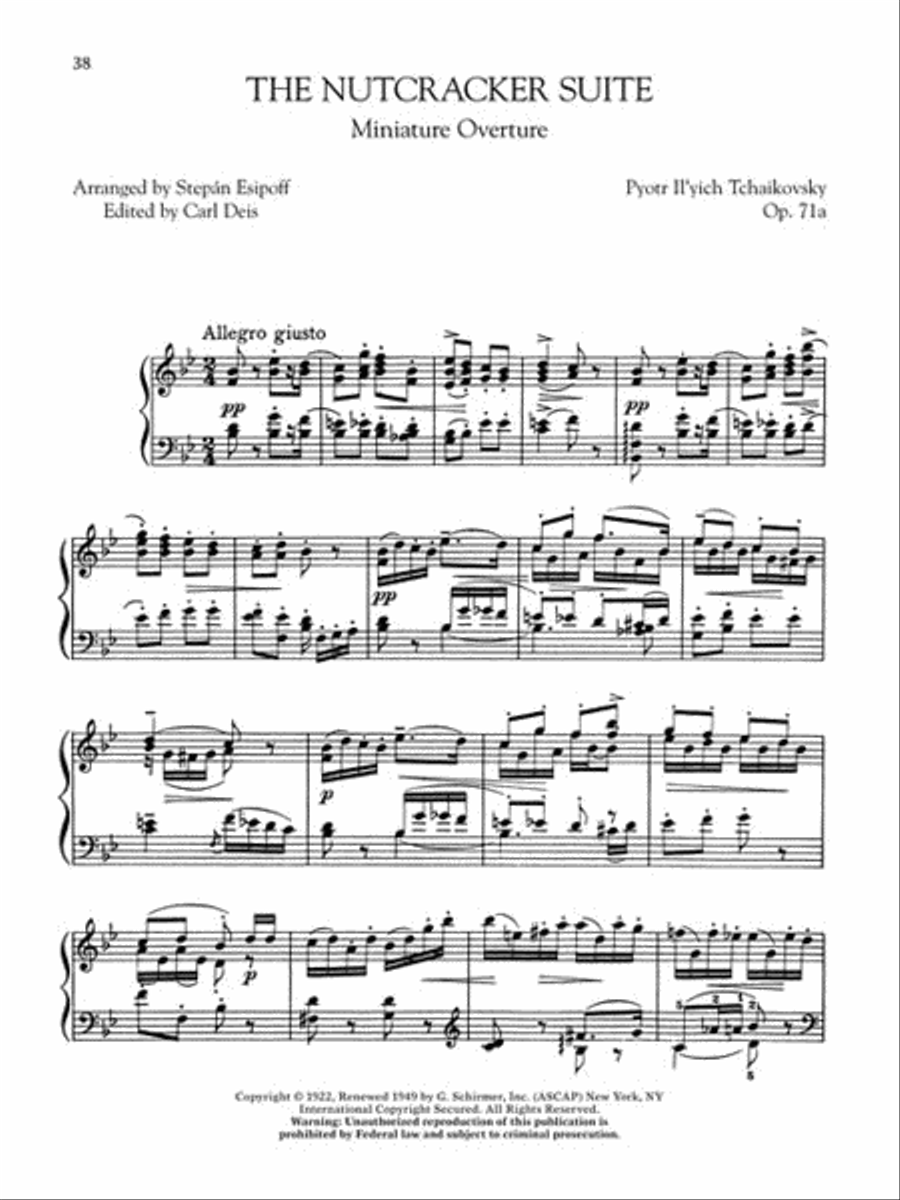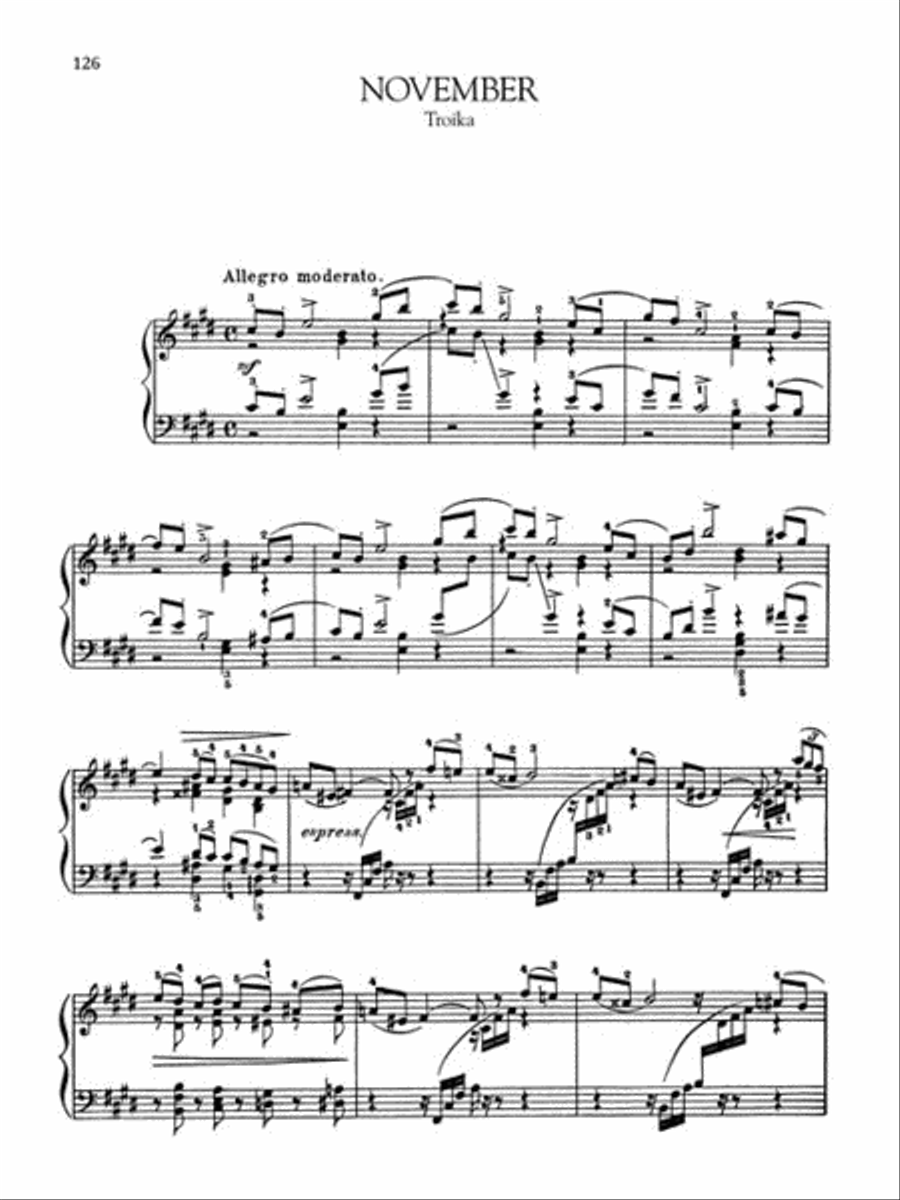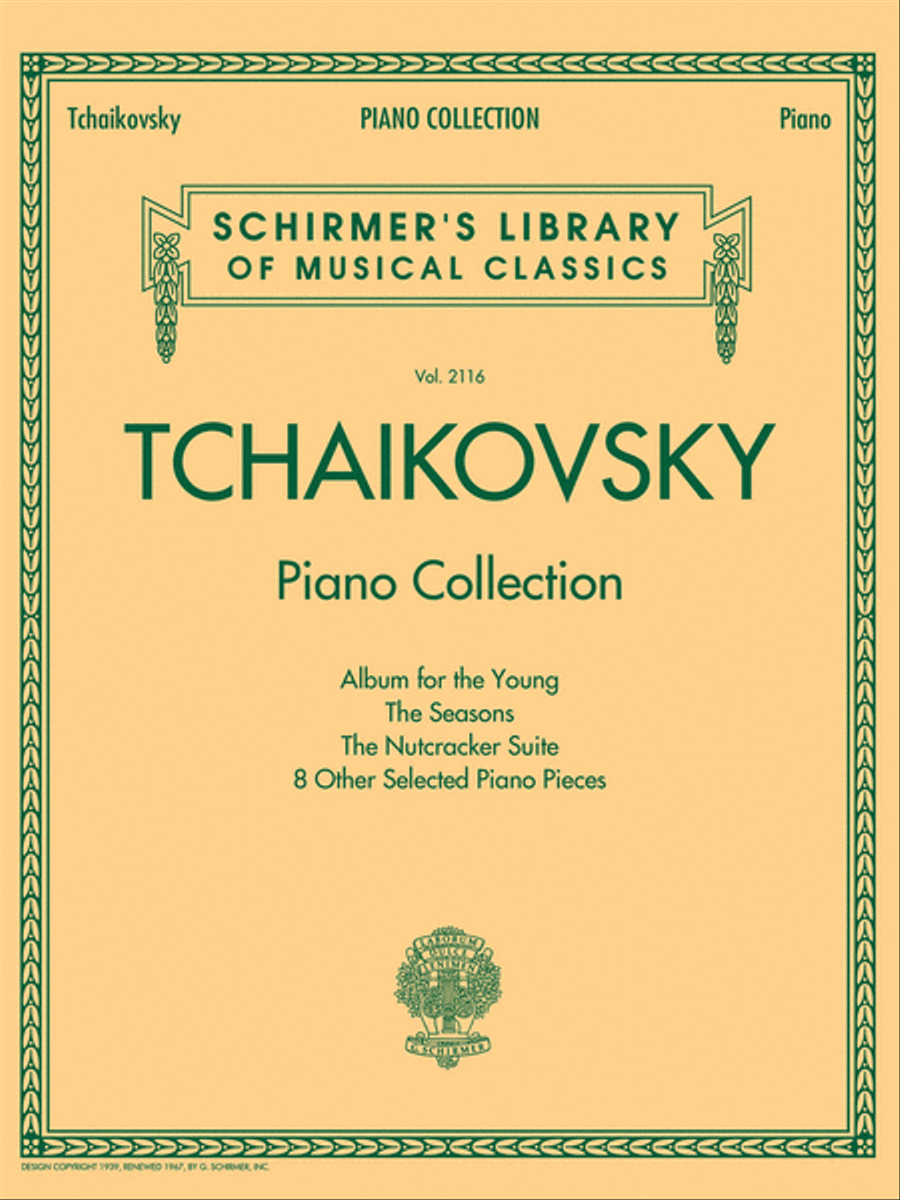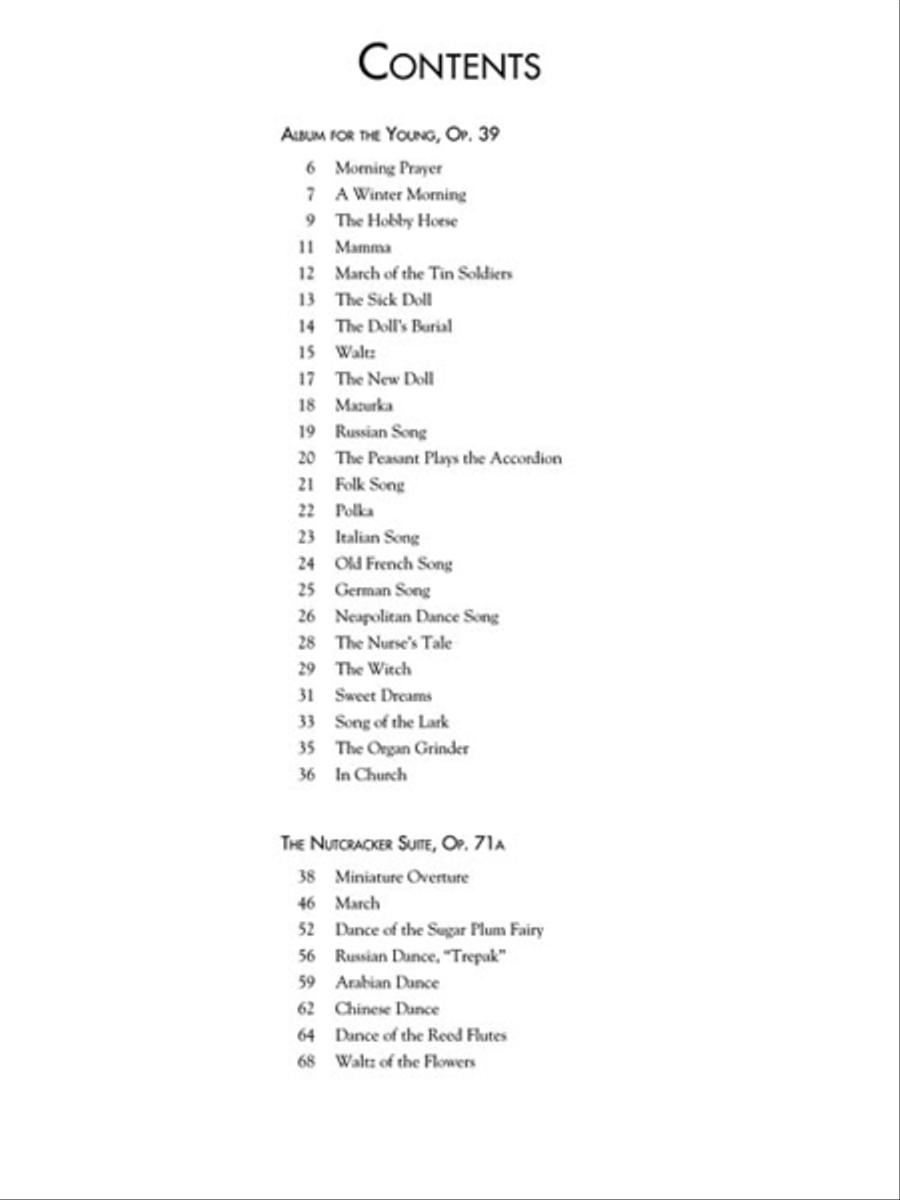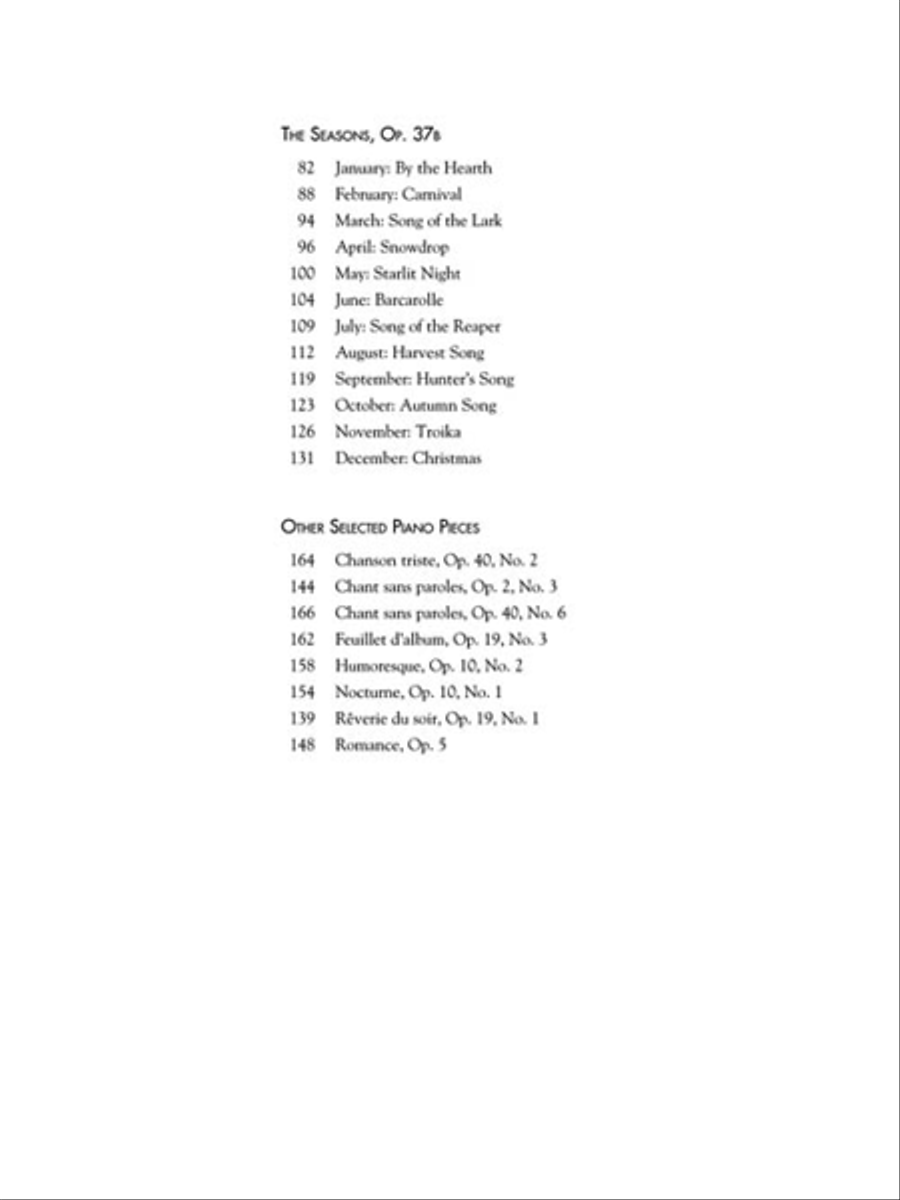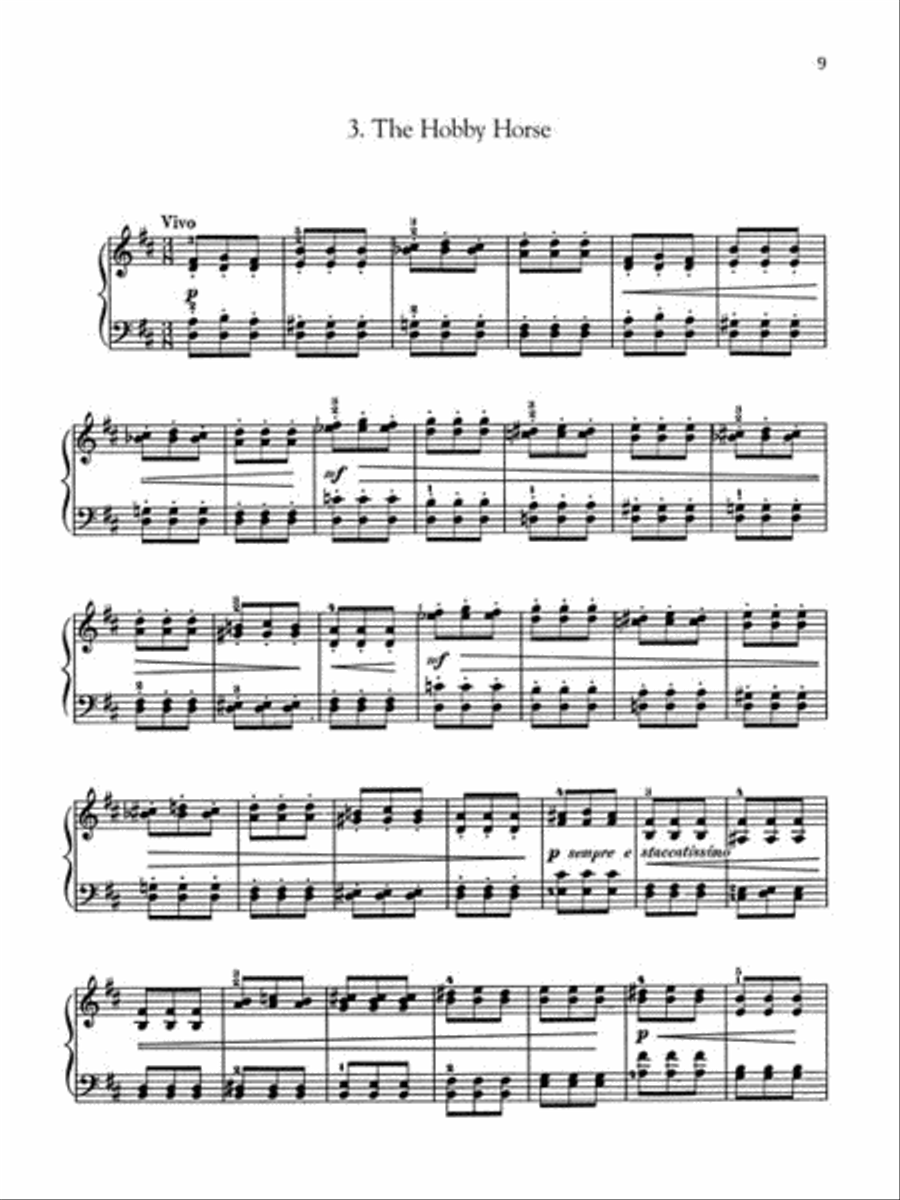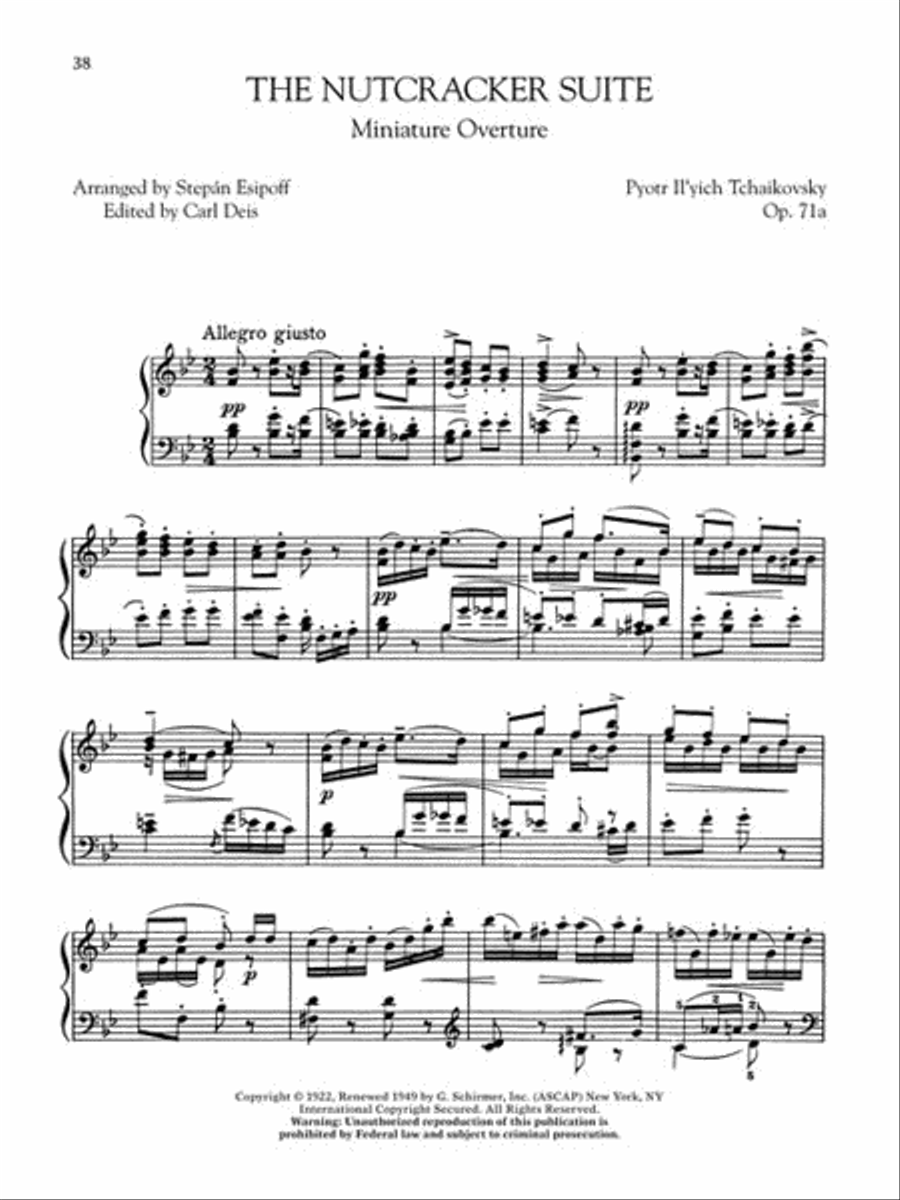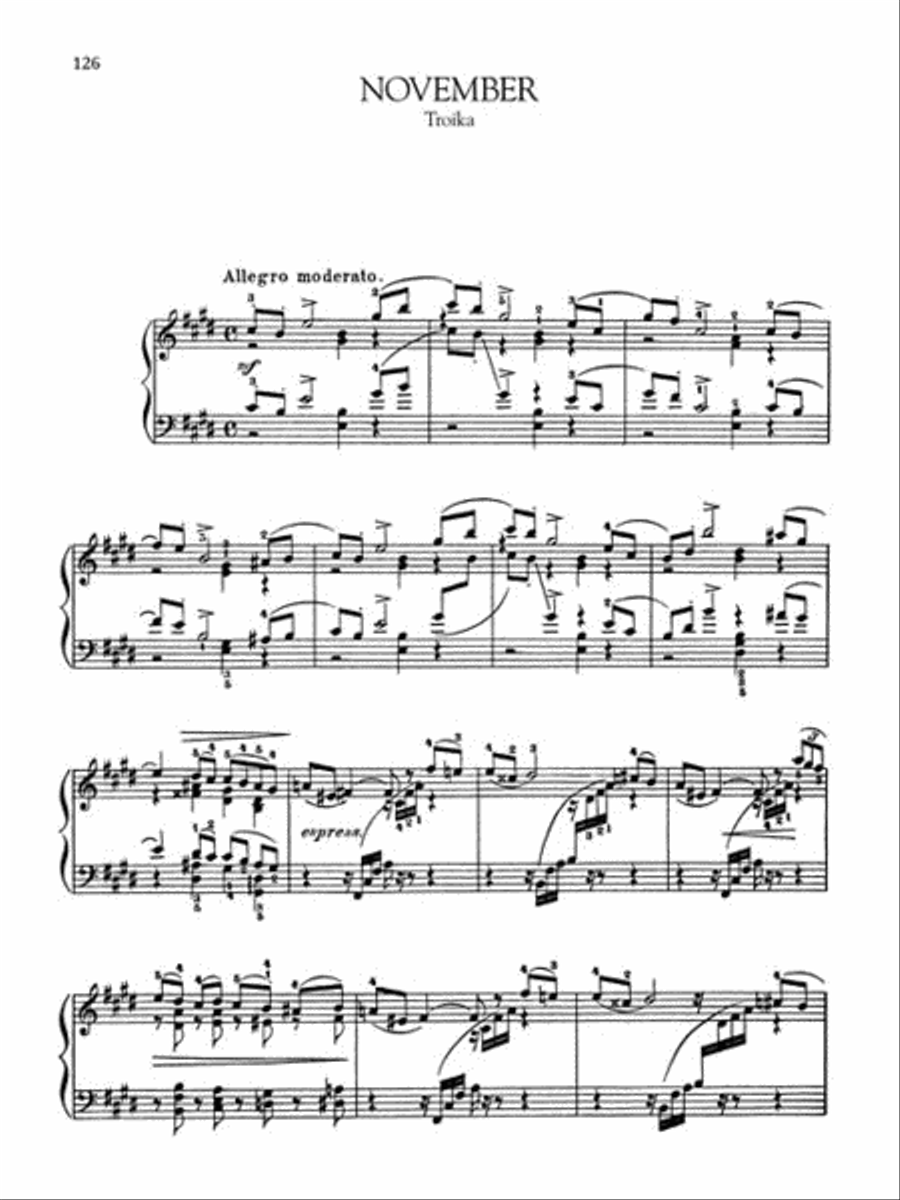 Tchaikovsky Piano Collection

Schirmer Library of Classics Volume 2116
Available
Ready to ship in 24 hours
Taxes/VAT calculated at checkout.
Detailed Description
Piano
SKU: HL.50499877
Schirmer Library of Classics Volume 2116
. Composed by Peter Ilyich Tchaikovsky. Piano Collection. Classical, Russian. Softcover. 168 pages. G. Schirmer #LB2116. Published by G. Schirmer (HL.50499877).
ISBN 9781495004544. UPC: 888680034269. 9.0x12.0x0.405 inches. Schirmer's Library of Musical Classics Volume 2116.
This collection brings together Tchaikovsky's most popular piano cycles and suites ine one convenient and affordable collection. Includes Album for the Young, The Seasons, The Nutcracker and other works. Intermediate and early advanced players alike will enjoy these well known tunes that are playful yet full of depth. Includes biographical notes on the composer. Contents: Album for the Young, Op. 39 Morning Prayer A Winter Morning The Hobby Horse Mamma March of the Tin Soldiers The Sick Doll The Doll's Burial Waltz The New Doll Mazurka Russian Song The Peasant Plays the Accordion Folk Song Polka Italian Song Old French Song German Song Neapolitan Dance Song The Nurse's Tale The Witch Sweet Dreams Song of the Lark The Organ Grinder In Church The Nutcracker Suite, Op. 71a Miniature Overture March Dance of the Sugar Plum Fairy Russian Dance, "Trepak" Arabian Dance Chinese Dance Dance of the Reed Flutes Waltz of the Flowers The Seasons, Op. 37b January: By the Hearth February: Carnival March: Song of the Lark April: Snowdrop May: Starlit Night June: Barcarolle July: Song of the Reaper August: Harvest Song September: Hunter's Song October: Autumn Song November: Troika December: Christmas Other Selected Piano Pieces Chanson triste, Op. 40, No. 2 Chant sans paroles, Op. 2, No. 3 Chant sans paroles, Op. 40, No. 6 Feuillet d'album, Op. 19, No. 3 Humoresque, Op. 10, No. 2 Nocturne, Op. 10, No. 1 Reverie du soir, Op. 19, No. 1 Romance, Op. 5.
Song List (52)
Nocturne, Op. 10, No. 1
Humoresque, Op. 10, No. 2
Romance, Op. 5
The Doll's Burial, Op. 39, No. 7
The Organ Grinder, Op. 39, No. 23
March, Op. 71a
June: Barcarolle, Op. 37b
Waltz, Op. 39, No. 8
Arabian Dance ('Coffee'), Op. 71a
Chinese Dance ('Tea'), Op. 71a
Dance Of The Reed Flutes, Op. 71a
Dance Of The Sugar Plum Fairy, Op. 71a
Mama, Op. 39, No. 4
Sweet Dreams, Op. 39, No. 21
Miniature Overture, Op. 71a
March Of The Tin Soldiers, Op. 39, No. 5
Mazurka In D Minor, Op. 39, No. 10
The Peasant Plays The Accordion, Op. 39, No. 12
German Song, Op. 39, No. 17
Neapolitan Dance Song, Op. 39, No. 18
A Winter Morning, Op. 39, No. 2
The New Doll, Op. 39, No. 9
Folk Song, Op. 39, No. 13
The Nurse's Tale, Op. 39, No. 19
The Witch, Op. 39, No. 20
January: By The Hearth, Op. 37b
February: Carnival, Op. 37b
March: Song Of The Lark, Op. 37b
April: Snowdrop, Op. 37b
May: Starlit Night, Op. 37b
July: Song Of The Reaper, Op. 37b
August: Harvest Song, Op. 37b
September: Hunter's Song, Op. 37b
October: Autumn Song, Op. 37b
November: Troika, Op. 37b
December: Christmas, Op. 37b
Chant Sans Paroles, Op. 40, No. 6
Feuillet D'Album, Op. 19, No. 3
Russian Dance ('Trepak'), Op. 71a
Waltz Of The Flowers, Op. 71a
The Sick Doll, Op. 39, No. 6
Morning Prayer, Op. 39, No. 1
The Song Of The Lark, Op. 39, No. 22
Russian Song, Op. 39, No. 11
In Church, Op. 39, No. 24
Old French Song, Op. 39, No. 16
The Hobby Horse, Op. 39, No. 3
Italian Song, Op. 39, No. 15
Polka, Op. 39, No. 14
Chant Sans Paroles, Op. 2, No. 3
Reverie Du Soir, Op. 19, No. 1
Chanson Triste, Op. 40, No. 2