Progressive Duets: Volume 2

for Clarinet in Bb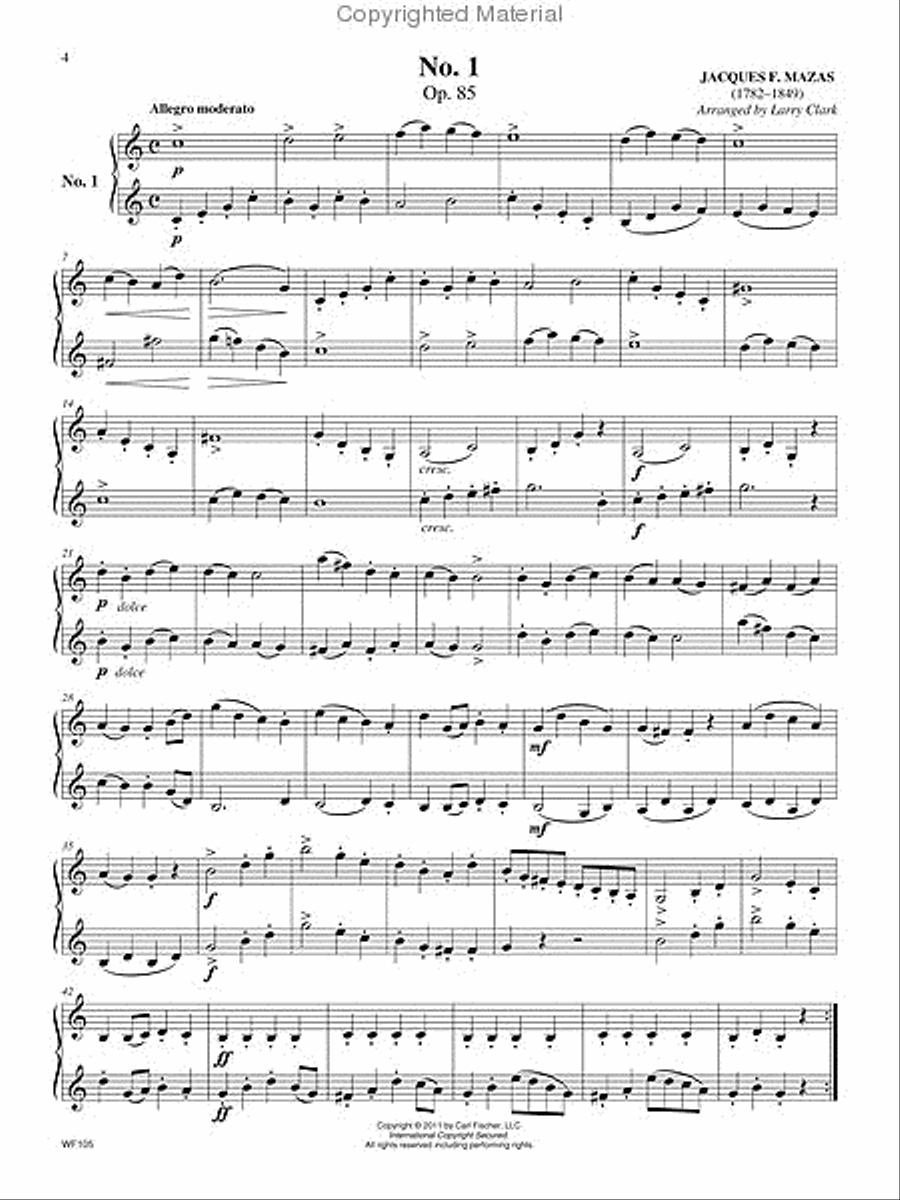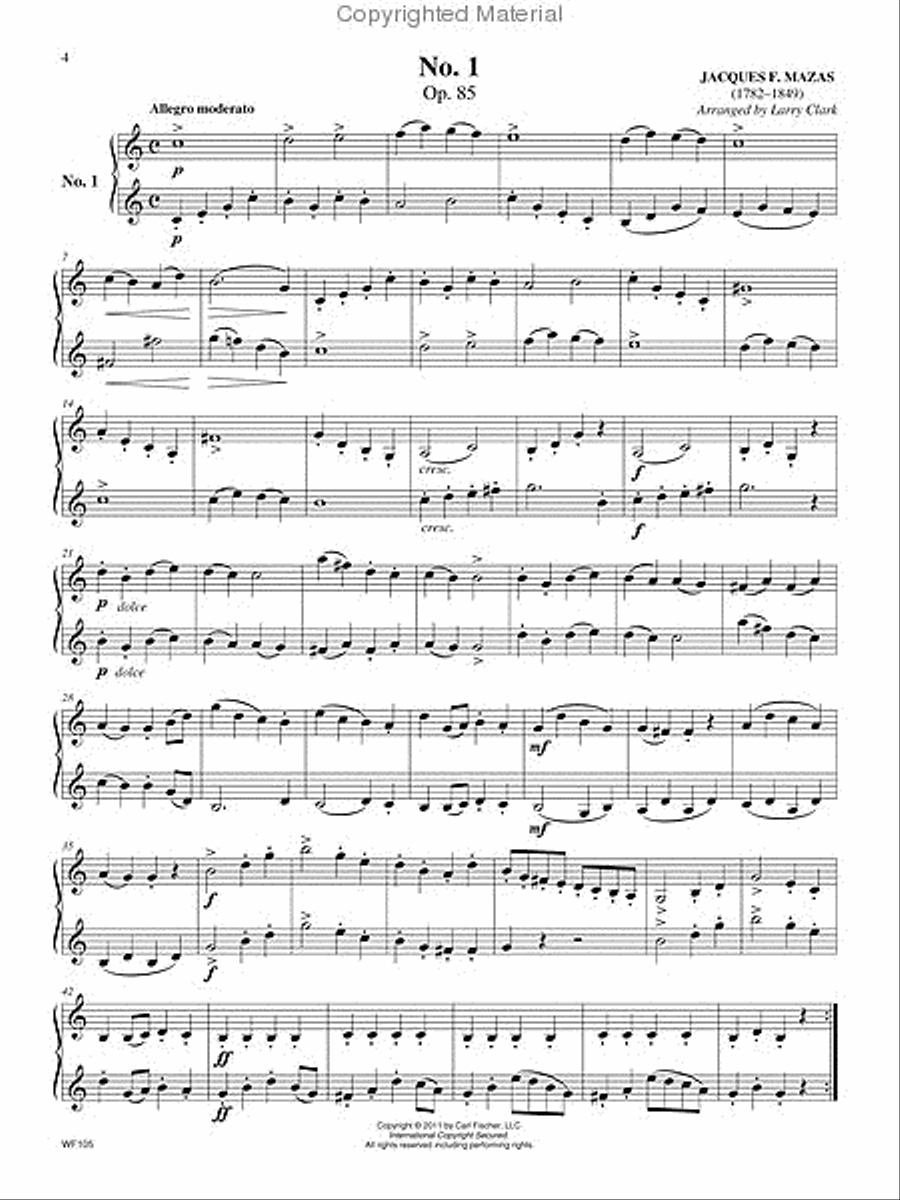 Progressive Duets: Volume 2

for Clarinet in Bb
Available
Ready to ship in 1 to 2 weeks
Taxes/VAT calculated at checkout.
Detailed Description
Chamber Music Clarinet duet
SKU: CF.WF105
For Clarinet in Bb
. Composed by Ernesto Kohler, Giuseppe Gariboldi, Jacques Fereol Mazas, Johann Sebastian Bach, Larry Clark, Muzio Clementi, and Wolfgang Amadeus Mozart. Arranged by Larry Clark. SWS. Back To School. Collection. With Standard notation. 64 pages. Carl Fischer Music #WF105. Published by Carl Fischer Music (CF.WF105).
ISBN 9780825883736. UPC: 798408083731. 9 x 12 inches.
The Carl Fischer Progressive Duets for trumpet is a comprehensive publicationof twenty graded duets that have been arranged or composed by Larry Clark.Larry has drawn on his extensive experience as a school music teacher anda prominent composer/arranger to create a collection of duets that will beuseful in a variety of performance situations. Playing duets is an excellentway for the student to build ensemble skills with a colleague or teacher.This collection is a welcome addition to repertoire that will provide playersrefreshing new duets. It is a collection that is long overdue.
This is the second volume of duets I have arranged or composed in the ProgressiveDuets series. The intention of this volume is to expand the technical difficulties ofthe duets as the students develop and complete Volume 1 of the series all the wayup to the advanced level. I focused this volume on music by great composers, andI also tried to find some new duets that could be adapted from other mediums intoeffective duets for wind instruments. Those include some of the great inventionswritten by Johann Sebastian Bach and wonderful duets originally written forviolins by Jacques Mazas. I also wanted to present, when possible, complete piecesthat could be used in recital performance and not just for study. Many of thepieces in this volume contain multiple movements with this goal in mind.In my experience as an instrumental music teacher, I found that having studentsplay in small chamber music groups was a very beneficial exercise to improve thestudent's overall musicianship. The simplest form of chamber music is the duet.It is an opportunity for the student to play with a teacher or to play with anotherstudent of similar abilities. Aspects of playing such as tone quality, intonation,technique and ensemble skills can be developed during the process of studyingduets.Over the years I have become frustrated by the limited amount of available duetcollections. It seemed that everywhere I went everyone was using the same oneor two collections. So, I endeavored to create a new collection of duets for thisimportant teaching and performing purpose. This dream became a reality in2006 with the publishing of the Carl Fischer Progressive Duets Volume 1. I amexcited now to bring to you this second volume for more advanced students thatbrings together some new arrangements from the classical repertoire along withestablished duets and some new compositions that will provide hours of musicalenjoyment. The duets are placed in the book in order of difficulty and cover arange of keys that are appropriate for this ability level. Special care was given tomaking sure that both of the duet parts were on a similar ability level and thateach line was given an opportunity to play a lead role at some point during thearrangements. Also, all musical markings are attached to both systems, and thepoint size of the music was considered for ease of reading.It is my hope that this collection will help to stimulate and enhance the musicianshipof the performers. It was a pleasure for me to have the opportunity to put togetherthis collection. I hope it is a useful tool for you for years to come.