Classical Fake Book – 2nd Edition

Over 850 Classical Themes and Melodies in their Original Keys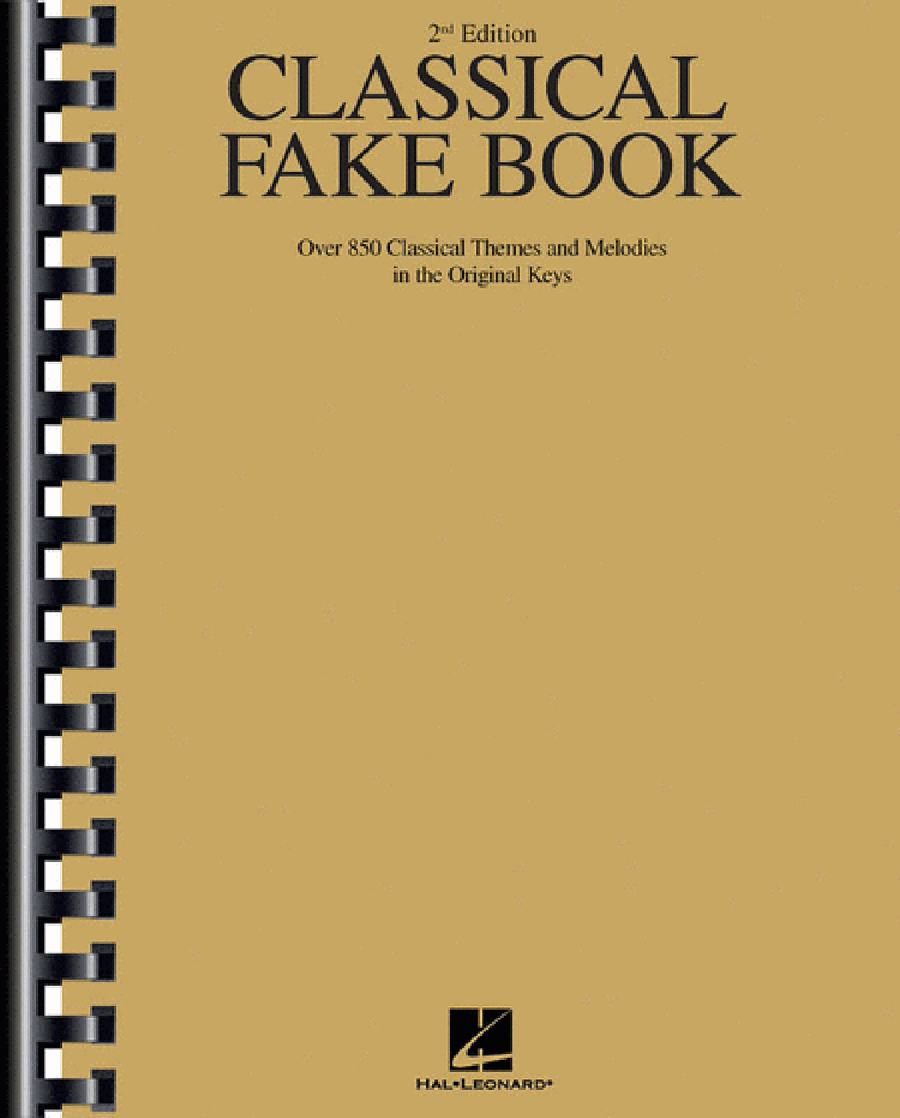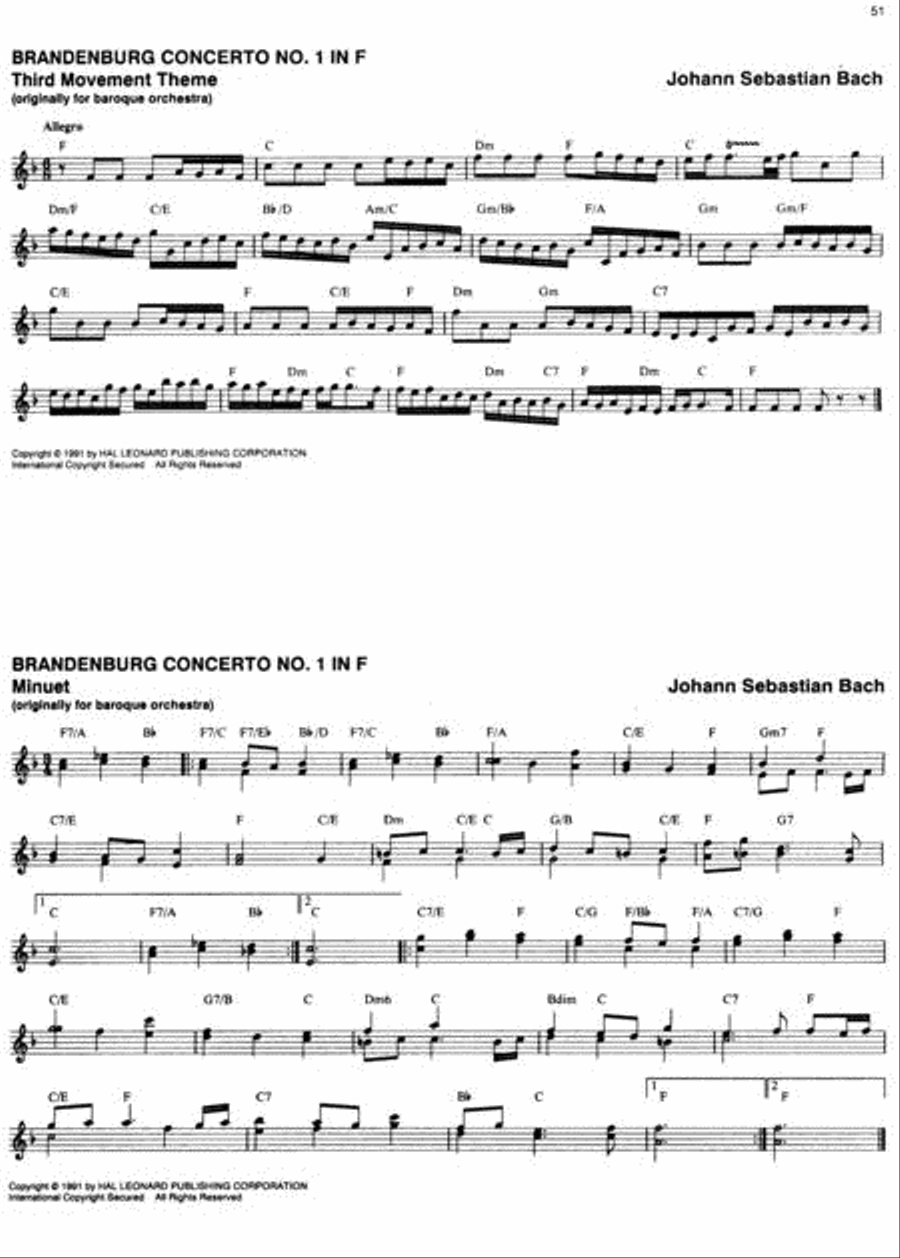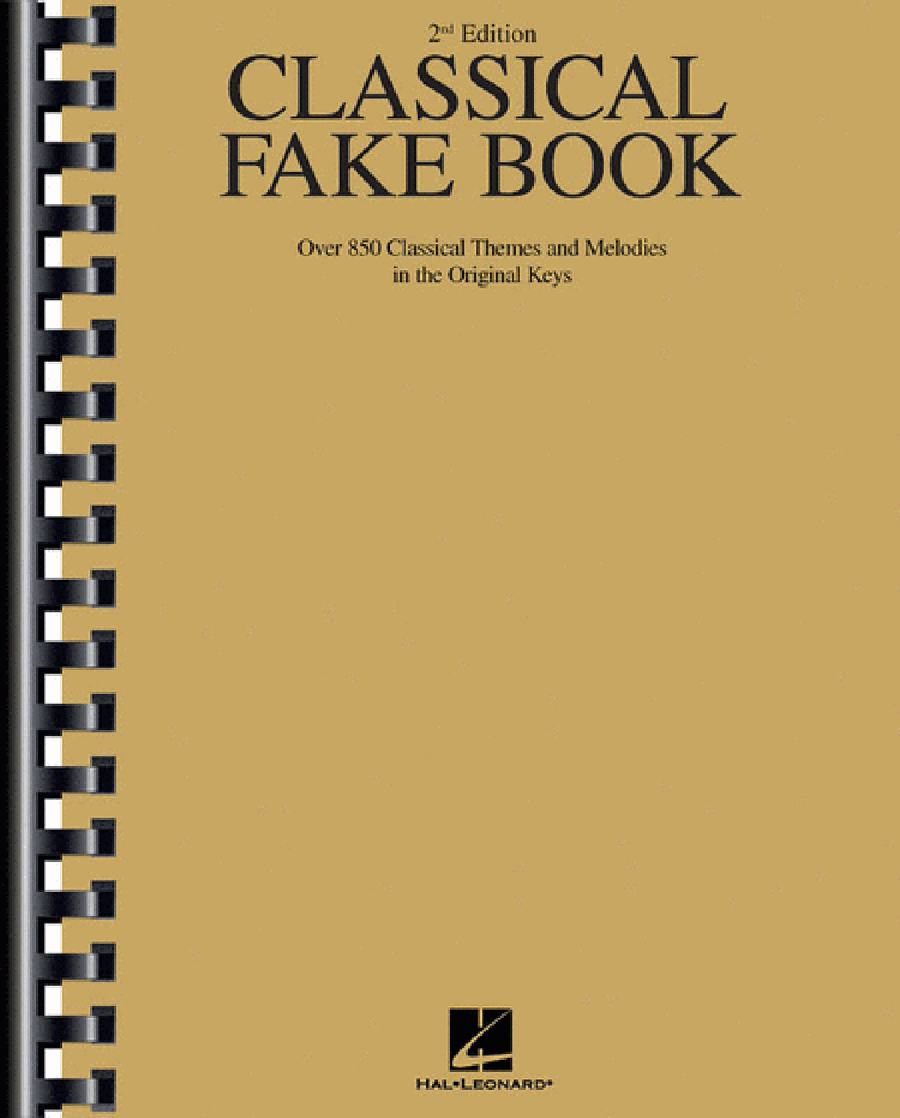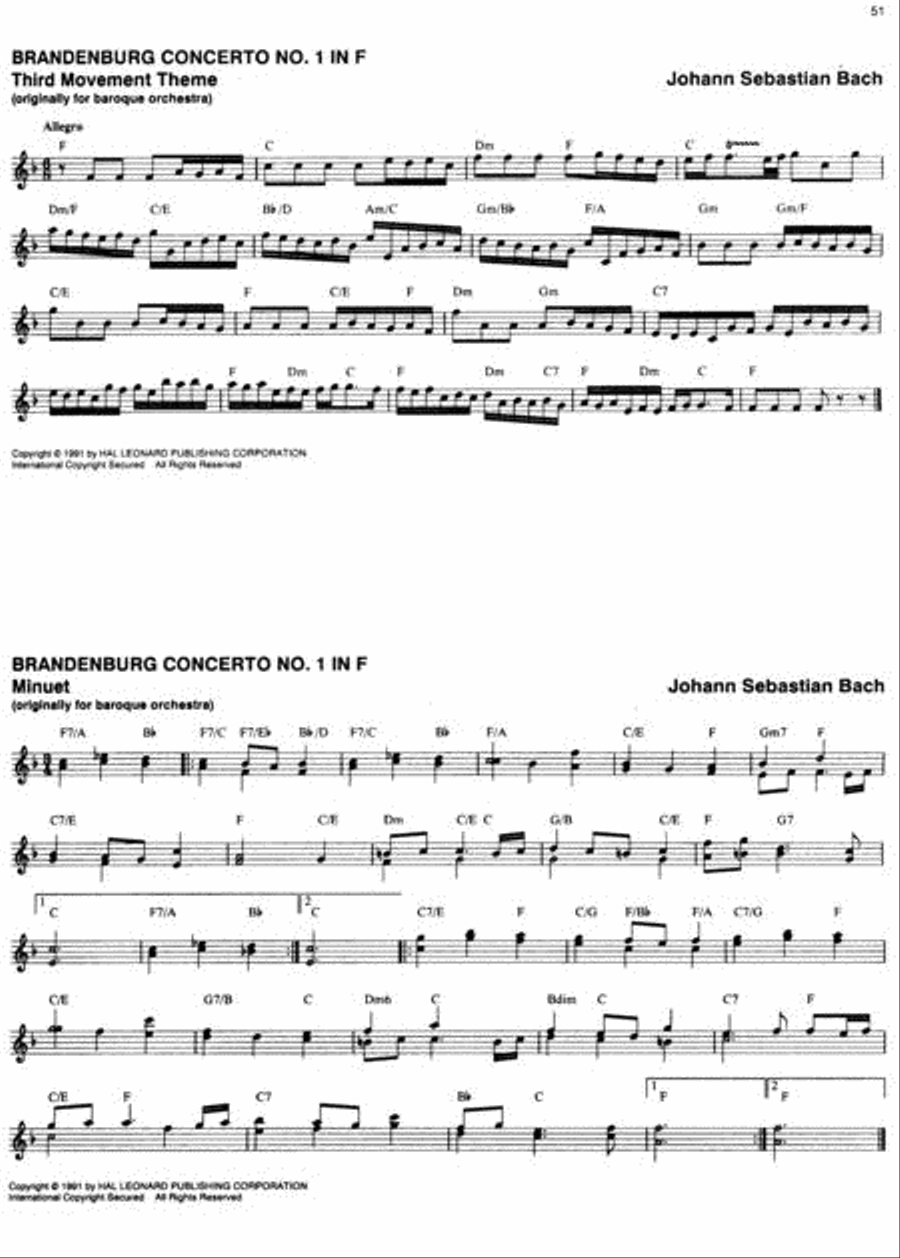 Classical Fake Book – 2nd Edition

Over 850 Classical Themes and Melodies in their Original Keys
This item is currently not available
Taxes/VAT calculated at checkout.
Detailed Description
Melody/Lyrics/Chords Guitar, Piano, Piano/Keyboard, Melody/Lyrics/Chords - Difficulty: easy-medium
SKU: HL.240044
Over 850 Classical Themes and Melodies in their Original Keys
. Composed by Various. Hal Leonard Fake Books. Classical Period. Fakebook (spiral bound). With standard notation, chord names and vocal melody (on some songs). 648 pages. Published by Hal Leonard (HL.240044).
ISBN 9780793513291. UPC: 073999400441. 9x12 inches.
A comprehensive reference for all classical music lovers, the second edition of this fake book features 250 pieces added since the last edition. Imagine having one handy volume that includes everything from Renaissance music to Vivaldi to Mozart to Mendelssohn to Debussy to Stravinsky, and you have it here! We have included as much of the world's most familiar classical music as possible, assembling more than 850 beloved compositions from ballets, chamber music, choral music, concertos, operas, piano music, waltzes and more. Featuring indexes by composer, title and genre, as well as a timeline of major classical composers, this encyclopedic fake book is great to use for playing and performing, but it's also a terrific resource for concert-goers, music students and music lovers. The chords of the harmony are indicated, and lyrics, in the original language, are included where appropriate.
About Hal Leonard Fake Books
A "fake book" contains songs written in a concise format that includes only the melody and chords, letting you interpret the song's performance as you feel is appropriate. This is great for quickly learning songs by yourself or with an ensemble.
Each song in a fake book only has a single melody actually written out in notes, which is usually the vocal or lead melody. This melody will have the lyrics written beneath the notes, with each word aligned to its corresponding note. Above the notes of the melody will appear the names of the appropriate chords to play - for example, a "C minor" chord would be written as "Cmin" or Cm", rather than writing out all of the notes in those chords as they appeared in the original version of the song.
This format is very compact, which is why you will often see fakebooks containing 500 or more songs.
Song List (815)
'O Sole Mio
'Tis The Last Rose Of Summer
(I'm Called) Little Buttercup
A Kiss In The Dark
A Mighty Fortress Is Our God
A Wan'ring Minstrel I
Ach, Wir Armen Leute
Ah! Leave Me Not To Pine Alone
Ah! Sweet Mystery Of Life
All Beautiful The March Of Days
All Creatures Of Our God And King
Allegro Maestoso
Alleluia
Anitra's Dance
Anvil Chorus
Arioso
Art Is Calling For Me
Ase's Death
Awake, My Soul, Stretch Every Nerve
Barcarolle
Because
Berceuse
Can Can
Caro mio ben
Caro Nome
Celeste Aida
Chacun A Son Gout
Children Of The Heavenly Father
Christ The Lord Is Risen Today
Ciribiribin
Come Back To Sorrento
Come, Thou Almighty King
Comfort Ye My People
Danse Macabre
Danube Waves
Dolores Waltz
Dona Nobis Pacem
Doxology
Du Ring an Meinem Finger
Ein Madchen Oder Weibchen
Emperor Waltz
Entreat Me Not To Leave Thee
Entry Of The Gladiators
Etude In D# Minor Op. 8 No. 12
Evening Prayer
Faites-Lui Mes Aveux
Finlandia
For All The Saints
For The Beauty Of The Earth
Gavotte
German Dance
Gladiator March
Gold And Silver Waltz
Golliwogg's Cake Walk
Gypsy Love Song
Habanera
Hallelujah Chorus
Harmonious Blacksmith
He Is An Englishman
Hearts And Flowers
High School Cadets
Hopak
Hornpipe
How Lovely Is Thy Dwelling Place
Humoresque
Hungarian Dance No. 5
Hunting Song
I Am A Pirate King
I Am The Captain Of The Pinafore
I Am The Monarch Of The Sea
I Have A Song To Sing
I Love You Truly
I'll Sail Upon The Dog Star
Ich Liebe Dich
Il Bacio (The Kiss)
Indian Summer
Invitation To The Dance
Italian Street Song
Jesu, Joy Of Man's Desiring
Juliet's Waltz Song
Kiss Waltz
La Ci Darem La Mano
La Fleur Que Tu M'avais Jetee
La Paloma Blanca (The White Dove)
Lasciatemi Morire
Lenski's Aria
Les Sylphes
Let All Mortal Flesh Keep Silence
Let The Bright Seraphim
Liberty Bell March
Liebestraum (Dream Of Love)
Lift Up Your Heads
Light Cavalry Overture
Londonderry Air
Lord Rendall
Love Is A Plaintive Song
Mandolin Concerto in C Major
March
March Of The Dwarfs
Marche Slav, Op. 31
Mattinata
Meditation
Miya Sama
Mon Coeur S'ouvre A Ta Voix
Morgen!
Morning
Musette in D Major
My Heart Ever Faithful
Nocturne
None But The Lonely Heart (Nur Wer Die Sehnsucht Kennt), Op. 6
Now Thank We All Our God
O God, Our Help In Ages Past
O Holy Night
O Isis Und Osiris
O Jesulein Suss
O Sacred Head, Now Wounded
O Splendor Of God's Glory Bright
O Word Of God Incarnate
Over The Waves
Pastoral Symphony
Per La Gloria D'Adorarvi
Piangero La Sorte Mia
Pilgrims' Chorus
Pizzicato Polka
Poeme
Poet And Peasant Overture
Poor Wand'ring One
Rakoczy March
Reverie
Romance
Rondo
Roses From The South
Santa Lucia
Semper Fidelis
Serenade
Sheep May Safely Graze
Sound An Alarm!
Sound Off
Spinning Song
Spring Song, Op. 62, No. 6
St. Anthony Chorale
Stride La Vampa
Sumer Is Icumen In (Summer Is A-Coming In)
The American Patrol
The Flight Of The Bumble Bee
The Flowers That Bloom In The Spring
The Glow Worm
The Happy Farmer Returning From Work, Op. 68, No. 10
The Heavens Are Telling
The Holy City
The Merry Widow Waltz
The Rosenkavalier Waltz
The Silver Swan
The Skaters (Waltz)
The Sleeping Beauty Waltz
The Sun, Whose Rays Are All Ablaze
The Swan (Le Cygne)
The Thunderer
Three Little Maids From School
Tit-Willow
Toreador Song
Toyland
Trumpet Tune
Trumpet Voluntary
Turkish March
Twenty Love-Sick Maidens
Two-Part Invention In A Minor
Two-Part Invention In D Minor
Una Voce Poco Fa
Under The Double Eagle
Valse Bleue
Vedrai, Carino
Venetian Boat Song No. 1, Op. 19, No. 6
Vesti La Giubba
Vienna Life
Vilia
Vissi D'arte
Voices Of Spring
We Gather Together
Wedding March
When First My Old, Old Love I Knew
When I Am Laid In Earth
When Jesus Wept
Widmung
Wie Melodien
William Tell Overture
Wine, Women And Song
Symphony No. 2
Addio del passato (Verdi-Traviata)
Symphony No. 94 In G Major ('Surprise'), Second Movement Excerpt
Adele's Laughing Song
Also Sprach Zarathustra
Agnus Dei
Ah| So Pure
Minuet
Air
Album Leaf (Grieg)
Intermezzo
Arabesque
Symphony No. 1
Symphony No. 5, Second Movement Excerpt
Largo
The Sorcerer's Apprentice
Piano Concerto No. 2, First Movement Excerpt
Carmen
Four Seasons
Artist's Life
Avant De Quitter Ces Lie(Gounod)
Come Sweet(Soothing)death (Bach)
Pas De Fleurs (Dance Of The Flowers)
Eine Kleine Nachtmusik
Funeral March
Porgi, amor from Le Nozze di Figaro
Sabre Dance
Silent Noon (Vaughan Williams)
Stars And Stripes Forever
New World Symphony (Theme)
Berceuse (Faure)
Lacrimosa (Mozart)
Symphony No.5
Panis Angelicus (O Lord Most Holy)
Blue Danube Waltz
Czardas
Symphony No. 1 in C Minor, First Movement Excerpt
Chanson D'Amour (The Ra-Da-Da-Da-Da Song)
Der Vogelfänger Bin Ich Ja
Cielito Lindo (My Pretty Darling)
Coronation March (Meyerbeer G)
Di Provenza Il Mar Il Suol (Verdi)
Dove Sono I Bei Momenti
Ebben? N'Andro Lontana
El Capitan
Great Gate Of Kiev
Gypsy Rondo
I Know Redeemer Liveth (Handel)
If With All Your Hearts (Elijah)
La Cinquantine (The Golden Wedding)
Largo Al Factotum (Rossini G)
Fugue In G Minor ('Little')
Manhattan Beach
The Modern Major General
The Moldau
Piano Sonata No. 14 In C# Minor ('Moonlight') Op. 27 No. 2 First Movement Theme
Piano Sonata In A
Musetta's Waltz (Quando Men Vo)
O Divine Redeemer (Repentir)
Our Great Mikado,Virtuous Man
The Palms (Les Rameaux)
Polonaise, Op. 53
Polovetsian Dances
Promenade Theme
The Rite Of Spring
Rondeau (Masterpiece Theater) Mouret
Salut D'amour (Greeting To Love)
Serenade (Ständchen)
The Strife Is O'er, The Battle Done
Piano Concerto In B Flat Minor
Theme From Swan Lake
Thousand And One Nights
Treasure Waltz
Turkish Rondo
Un Bel Di
Washington Post March
Oh! Had I Jubal's Lyre (Handel)
Piano Concerto No. 2, Third Movement Excerpt
Berceuse (Lullaby) Chopin
Theme-Pno.Con. #2 (Brahms)
Sonatina (Clementi)
Sonatina (Beethoven)
Ecossaise No. 1
Rondo A Capriccio (Beethoven)
Symphony No. 9, First Movement Excerpt
Symphony No. 41 In C Major ('Jupiter'), First Movement Excerpt
Song Without Words (Tchaikovsky)
To Music (An Die Musik)schubert
Intermezzo Op.118 (Brahms)
Waltz, Op. 39 No. 15
Bourrée In E Minor
Minuet Ii (Anna Mag) Bach
Prelude (Vln. Partita No.3-Bach)
Rejoice Greatly Daughter(Handel)
Pizzicato (Sylvia - Delibes)
Ballade No. 1, Op. 23
Etude Op 10 #12 (Chopin)
Mazurka Op 67 #2
Prelude Op 28 #20 (Chopin)
Waltz Op 69 #2 (Chopin)
Trumpet Shall Sound
Brandenburg Concerto No 1 (Bach)
Scheherezade (Rimsky-Korsakoff)
Of Strange Lands And People, Op. 15, No. 1
To The Evening Star (Wagner)
Minuet (Mozart)
O Morning Star,How Fair &Bright
Agnus Dei (Verdi-Requiem)
Brandenburg Concerto No. 5
Symphony No. 3 In E-Flat Major ('Eroica')
Coppelia Waltz (Delibes)
Dagger Dance (Natoma - Herbert)
Theme (Trumpet Concerto) Haydn
Symphony No. 1 in D Major ('Titan')
Theme Symphony #40 (Mozart)
Slavonic Dance #1
March (Aida) Verdi
Nocturne Op. 19, No. 4
Amaryllis (Ghys)
Fantasia (Bach)
Procession Of The Sardar
Air (Bach)
Consolation Op33,1 (Karg-Elert)
Seguidilla Murciana
Slavonic Dance #2 (Dvorak)
Legende
The American Girl (Herbert)
Angel Of Love (Waldteufel)
Bella Bocca Polka (Waldteufel)
Brandenburg Concerto No. 2
Brandenburg Concerto No. 3
Brandenburg Concerto #4 (Bach)
Brandenburg Concerto #6
Capriccio (Paganini)
Christ Lag In Todesbanden (Bach)
Coliseum Waltzes (Strauss)
Czardas (D.Fledermaus) Strauss
Di rigori armato from Der Rosenkavalier (Strauss)
Dies Irae (Chant)
Doll Song (Offenbach)
E lucevan le stelle from Tosca (Puccini)
El Grillo (Josquin)
Elfin Dance (Lyric P.) Grieg
Etude Op 10 #3
Farandole (L'Arlesienne)
Final Trio (Faust) Gounod
Fugue In C Minor (Wtc) Bach
Grandfather's Dance(Pappillons)
Humming Chorus (Butterfly)
Intermezzo Russe (Franke)
Lascia Ch'io Pianga (Rinaldo)
Le Petit Negre
March Of The Picadore (Sousa)
Minuet (Paderewski)
One Heart, One Soul (Strauss)
Overture (Die Fledermaus)
Overture (Barber Of S.) Rossini
Dance Of The Veils (Delibes)
Theme (Peter & The Wolf) Prokofiev
Themes (Pno.Sonata#1)
Themes (Pno.Sonata#8)beethoven
Theme (Pno.Sonata#15)beethoven
Theme (Pno.Sonata In D) Haydn
Pierrots (Francois)
Romanian Rhapsody#1 (Enesco)
Ruslan And Ludmilla
Scherzo In E Min.Op.16,#2
Se vuol ballare from Le Nozze di Figaro
Sempre Libera (Traviata) Verdi
Serenade (Rachmaninoff)
Serenade Badine (Gabriel-Marie)
Theme (Sonata #1-Vln) Bach
Theme (Sonata #3-Vln) Bach
Serenade (String Quartet #18) Haydn
Suzy,Little Suzy (Humperdinck)
Symphony No. 4 (Beethoven)
Symphony No. 8 (Beethoven)
Symphony No. 5 (Mahler)
Symphony No. 29, First Movement Excerpt
Symphony No. 39 K543 (Mozart)
March (Tannhauser)
Till Eulenspiegel's Mry Pranks
Valse Gracieuse (Dvorak)
Valse Lent (Sylvia) Delibes
Victimae Paschali Laude (Chant)
Theme (Vln. Conc. In G) Mozart
Wachet Auf,Ruft Uns Die Stimme
Waltz (Arensky)
Waltz (Faust) Gounod
Waltz (Ser.For Strings)
Zampa Overture (Herold)
Slumber Song
Overture
Lullaby (Cradle Song)
Wien, Du Stadt Meiner Träume
Toccata And Fugue In D Minor
Two-Part Invention In C
Après un rêve
Solveig's Song
Where E'er You Walk
Badinerie (Suite No. 2)
Come Again, Sweet Love
Piano Concerto In C
Soldier's March (Soldatenmarsch), Op. 68, No. 2
Traumerei (Dreaming), Op. 15, No. 7
Prelude In D-Flat Major, Op. 28, No. 15 'Raindrop'
Plaisir d'amour
All Glory, Laud And Honor
Carnival Of Venice
O Worship The King
For Unto Us A Child Is Born
In The Bleak Midwinter
Pomp And Circumstance
Dance Of The Hours
Minuet In G Major
Ave Verum (Jesu, Word Of God Incarnate)
Bist du bei mir (You Are With Me)
Bourree
In The Hall Of The Mountain King
March Of The Toys
Melody In F
Praise To The Lord, The Almighty
Tales From The Vienna Woods
Vive L'amour
Symphony No. 7 In A Major
Violin Concerto In D Major
The Birthday Of A King
Drink To Me Only With Thine Eyes
Sebben, Crudele
La donna e mobile
O Rest In The Lord
Pavane Pour Une Infante Defunte
Piano Concerto No. 5 In E-flat Major ('Emperor')
Romeo And Juliet (Love Theme)
Song Of India
Concerto For Clarinet In B-flat Major, Second Movement Excerpt
Minuet In F Major, K. 2
March In D Major
Prelude In E Minor, Op. 28, No. 4
Minuet In G Major, K. 1
Wedding Day At Troldhaugen, Op. 65, No. 6
Dank Sei Dir, Herr
Ich Grolle Nicht (I Bear No Grudge)
O Del Mio Amato Ben
Prelude To The Afternoon Of A Faun
Funeral March Of A Marionette
Prelude In A Major, Op. 28, No. 7
Prelude In G Minor, Op. 23, No. 5
Arabian Dance ('Coffee'), Op. 71a
Chinese Dance ('Tea'), Op. 71a
Dance Of The Reed Flutes, Op. 71a
Fantaisie-Impromptu, Op. 66 (Posthumous)
Piano Concerto In A Minor, Op. 16
Piano Concerto In A Minor, Op. 54
To A Wild Rose, Op. 51, No. 1
Arabesque No. 1
The Wild Horseman (Wilder Reiter), Op. 68, No. 8
Clair De Lune
Dance Of The Sugar Plum Fairy, Op. 71a
Fur Elise, WoO 59
Waltz Of The Flowers, Op. 71a
Scarf-Dance, Op. 37b, No. 2
Deh, Vieni Alla Finestra
Amarilli, Mia Bella
Che Faro Senza Euridice? (Orpheus And Eurydice)
Deh Vieni, Non Tardar (The Marriage Of Figaro)
Non So Piu Cosa Son (The Marriage Of Figaro)
Una Furtiva Lagrima (The Elixir Of Love)
In Diesen Heil'gen Hallen (The Magic Flute)
Voi, Che Sapete (The Marriage Of Figaro)
Tempo Di Bourree, BWV 1002
The Jewel Song (Ah! Je Ris De Me Voir)
Villanelle
Zigeunerweisen, Op. 20
Non Piu Andrai (The Marriage Of Figaro)
Lydia
Zueignung
Waltz In D-Flat Major ('Minute Waltz'), Op. 64, No. 1
Allerseelen, Op. 10 (All Souls' Day)
The Secret (Le Secret)
Serenata, Op. 15, No. 1
I Attempt From Love's Sickness To Fly
Menuet
Ave Maria, Op. 52, No. 6
Hungarian Dance No. 1
Bois Epais (Sombre Woods)
Who Is Sylvia (An Silvia)
Amore o grillo (Puccini-Butterfly)
Ach, Ich Fuhl's (The Magic Flute)
Bright Is The Ring Of Words
Carnaval, Op.9
Casta Diva
Bridal Chorus
Ballet Of The Chicks In Their Shells
Ave Maria
Aria
The Aquarium
Andante Cantabile
Andante In C Major, K. 315
As Some Day It May Happen
Sinfonia From The Christmas Oratorio
Capriccio Italien, OP. 45
Miroirs
Che gelida manina from La Bohème
Acceleration Waltz
Chi Il Bel Sogno Di Doretta
Auf Dem Wasser Zu Singen
Ch'Ella Mi Creda (Let Her Believe)
The Bartered Bride
1812 Overture
Canon in D Major
The Message (Botschaft)
Archduke Trio-3rd Mvt(Beethoven)
Addio, Fiorito Asil
Di Quella Pira
Fair Moon, To Thee I Sing
Laudate Dominum
The Last Rose of Summer (Miliken/Flotow)
Horn Concerto No. 4
Estudiantina
Immortal, Invisible
Dies Irae
Gloria In Excelsis
Impromptu In A-flat Major, Op. 142, No. 2
Hungarian Dance ('The Czars')
Horn Concerto No. 3, Third Movement Excerpt
Waltz Die Fledermaus
Die Mainacht
Die Forelle
Jerusalem
Jupiter
Fantasia On A Theme By Thomas Tallis
Galop
Im wunderschonen monat mai
The Lark Ascending
Overture To Egmont
Fete-Dieu A Seville
The Laughing Song
Etude In G-Flat Major, Op. 25, No. 9
Concerto In D Major For Flute And Orchestra, K.314
The Wraith (Der Doppelganger)
Hungarian Rhapsody No. 2
La Campanella
Impromptus B Maj Op.142-3(Schube
Fantasy in D Minor, K. 397
Don Juan (R.Strauss)
La Fille Aux Cheveux De Lin (The Girl With The Flaxen Hair)
Firebird
Du Bist Wie Eine Blume (Thou'rt like unto a Flower) (Rubinstein)
Gretchen At The Spinning Wheel (Gretchen Am Spinnrade)
Gavotte Ii (English Suite #3) Bach
La Rejouissance
Fingal's Cave Overture
Theme Fr. Das Rheingold(Wagner)
Donna Non Vidi Mai
Sous Le Dome Epais
Se il mio nome saper (Rossini-Barber of Seville)
Rondeau
By The Beautiful Blue Danube
Tuba Mirum (Mozart)
Rex Tremendae (Mozart)
Oh, Is There Not One Maiden Breast
Linden Lea
Prelude From Parsital
Take A Pair Of Sparkling Eyes
Moment Musical, Op. 94, No. 3
The Market Place In Limoges
Whither Must I Wander?
Oh, Goddess Wise
Pavane
Pavane For A Sleeping Beauty
Venus
Sheherazade, Themes from Part 1
Praise, My Soul, The King Of Heaven
Piano Concerto in A Minor, First Movement Themes
A Midsummer Night's Dream Overture, Excerpt
Polonaise
Serenade In C, Op. 48, First Movement Excerpt
Serenade In C, Op. 48, Fourth Movement ('Russian Theme') Excerpt
Quia Respexit
Mandoline
Night On Bald Mountain
Saturn
Sicilienne
Pie Jesu, Requiem, Op. 48
String Quartet Op. 18, No. 1: Adagio
Leonore Overture No. 3
Vocalise
Procession Of The Knights Of The Grail
Questa O Quella
Don Giovanni Overture
Les Carillons
Drinking Song
O Mio Babbino Caro
Prelude In G Major, Op. 32, No. 5
When I Was A Lad
Piano Sonata In C Major
Valse Brillante In A Minor, Op. 34, No. 2
Overture To The Marriage Of Figaro
Valse Triste
Prelude, Pour Le Piano
Prelude In C-Sharp Minor, Op. 3, No. 2
Moderato, Valses Nobles Et Sentimentales I
Lento Assai, Valses Nobles Et Sentimentales II
Moderato, Valses Nobles Et Sentimentales III
Orchestral Suite No. 2 In B Minor, BWV 1067, 'Bouree I'
Les Preludes (Liszt)
Mars
Oh, Promise Me
Old Castle, The (Mussorgsky)
The Policeman's Song
Ride Of The Valkyries
Saper Vorreste (Verdi)
Sorry Her Lot Who Loves Too Well
Spirto Gentil
We Sail The Ocean Blue
Now The Green Blade Riseth (Fr)
Piece Heroique In B Min (Franck)
Thine Be The Glory (Handel/Budry
Verklarte Nacht (Schoenberg)
Die Meistersinger (Wagner)
La Forza Del Destino (Verdi)
La Traviata (Verdi)
Clair De Lune Op 46#2 (Faure)
Un Sospiro (Liszt)
Ox Cart,The (Pic. At An Exhib.)
Nabucco
Variations Symphoniques (Franck)
Norwegian Dance No. 1
M'appari tutt'amor
Nimrod
Swan Lake (Waltz)
Prelude (Lohengrin)
Liebestod (Tristan-Isolde)wagner
Theme From Cantata 140 (Bach)
Overture To Carmen
Sarabande, Pour Le Piano
O Luce Di Quest'amima(Donizetti)
Gavotte En Rondeau (Bach)
Overture To Messiah
Sunday Morning (Sonntag)
O Wusst' Ich Doch Den Weg
Vergebliches Standchen
Walther's Prize Song
Theme From Sheherazade
Sextet:chi Mi Frena(Lucia Di L.)
March To The Scaffold
Dream Of A Witches'sabbath
Swan Of Tuonela,The (Sibelius)
Tristan And Isolde Theme-Wagner
Recondita Armonia
Sweetheart Waltz (Strauss)
Concerto In A Minor
Waltz In A Minor, Op. 12, No. 2
The Merry Widow, Selected Melodies
Symphony No. 2 in C Minor ('Resurrection'), Fifth Movement Choral Theme
Symphony No. 5 in B-flat Major, First Movement Excerpt
My Country, 'Tis Of Thee (America)
Dance Of The Spirits
Symphony No. 3 In D Minor ('Polish'), Op. 29, Third Movement Excerpt
Symphony No. 4 In F Minor, Op. 36, Second Movement Excerpt
Symphony No. 8 ('Unfinished'), First Movement Excerpt
The Four Seasons ('Autumn'), Third Movement Excerpt
Waltz In B Flat, Op.39 No.8
Symphony No.4 'Romantic' (1st Movement: Bewegt, Nicht Zu Schnell)
Symphony No.3 'The Scottish' (1st Movement: Introduction & Allegro)
Symphony No. 1 'Titan' (4th Movement: Sturmisch Bewegt)
Symphony No. 6 in B Minor ('Pathetique')
To Maxim's Then I Go
The Two Grenadiers (Die Beiden Grenadiere)
Contessa Perdono
Danse Des Adolescents(Stravinsky
Catacombae (Pic At Ex)mussorgsky
Cello Suite No. 3, BWV 1009 'Bourree I'
Bourree I (Cello Suite Iv) Bach
Bourree Ii (Cello Suite No.4)
Faust Ballet Music (Gounod)
Cello Suite I
Mock Suns,The
Bourree Ii (Cello Suite#3) Bach
Piano Sonatas 31-52
Symphony No. 6 In F Major ('Pastoral') Third Movement
Symphony No. 104 in D Major ('London'), First Movement Excerpt
Violin Concerto in E Minor, First Movement Excerpt
Symphony No. 4 ('Italian'), First Movement Excerpt
Symphony No. 35 ('Haffner'), First Movement Excerpt
Siciliano
Piano Concerto No. 3, 3rd Movement
Sonata In C Major, K. 545
Nel Cor Piu Non Sento
Symphony No. 38 in D Major ('Prague'), First Movement Excerpt
Symphony No. 2 in E Minor
Piano Sonata No. 19 In G Minor, Op. 49, 1st Movement
Caro Mio Ben
Piano Concerto No. 3, First Movement
Piano Concerto No. 20, Second Movement ('Romanza') Excerpt
Sonata In A Major, K. 331
Piano Concerto In A Major, K.488, 2nd Movement
Grand Valse Brillante In E-Flat Major, Op. 18
Modere, Sonatine
Mouvement De Menuet, Sonatine
Piano Concerto No. 23, K. 488
Symphony No. 36 ('Linz'), First Movement Excerpt
Piano Concerto No. 3 In C Minor, Op. 37, 1st Movement
Symphony No. 101 ('The Clock'), Third Movement Excerpt
Trio #1 In D Minor, Opus 49: Molto allegro e agitato
Piano Concerto In E Flat K. 482 3rd Movement
Piano Trio - III. Passacaille (Passacaglia)
Cagliostro Waltz
Choral Fantasy
Clarinet Quintet, Op. 34 (Fantasia Theme)
Clarinet Quintet In B Minor, Op. 115 1st Movement
Death And Transfiguration (Tod und Verklarung)
Don Quixote Opening Theme
Ein Heldenleben Theme
Eine Alpensinfonie (An Alpine Symphony)
Flute And Harp Concerto K. 299 1st Movement
Flute And Harp Concerto K. 299 2nd Movement
Flute And Harp Concerto K. 299 3rd Movement
Four Seasons (Summer: First Movement)
Four Seasons (Summer: Second Movement)
Four Seasons (Summer: Third Movement)
Four Seasons (Autumn: First Movement)
Four Seasons (Autumn: Second Movement)
Four Seasons (Winter: Second Movement)
Four Seasons (Winter: First Movement)
Four Seasons (Winter: Third Movement)
French Suite No. 5 In G Major Sarabande
German National Anthem
Grand Fugue, Op. 133 (Grosse Fuga) Opening Theme
Piano Concerto No. 2 In F Minor, Op. 21 1st Movement
Piano Sonata No. 3 In B Minor, Op. 58 Finale
Piano Sonata No. 3 In B Minor, Op. 58 1st Movement
Piano Concerto No. 1 In E Minor, Op. 11 1st Movement
Piano Concerto No. 2 In G Minor, Op. 22 1st Movement
Piano Concerto No. 5 In F Minor, Op. 103 1st Movement
Piano Concerto No. 9 In E-Flat Major, K271, 1st Movement
Piano Concerto No. 9 In E-Flat Major, K271, 2nd Movement
Piano Concerto No. 9 In E-Flat Major, K271, 3rd Movement
Piano Concerto No. 15 In B-Flat Major, K450, 3rd Movement
Symphony No. 25 In G Minor, K 183, 1st Movement
Piano Sonata In F Minor, Op. 5, 1st Movement
Piano Concerto No. 1 In D Minor, Op. 15, 1st Movement
Piano Concerto No. 3 In C Minor, Op. 37, 2nd Movement
Piano Sonata No. 3 In C Major, Op. 2 No. 3, 1st Movement
Piano Sonata No. 5 In C Major, Op. 10 No. 1, 1st Movement
Piano Concerto No. 1 In E-Flat Major
Piano Concerto No. 1 In G Minor, Op. 25, 1st Movement
Piano Sonata In B-Flat Major (Posthumous), 1st Movement
Piano Sonata No. 17, Op. 31 No. 2 (Tempest), 1st Movement
Piano Sonata No. 23 In F Minor, Op. 57, 1st Movement
Piano Sonata No. 30 In E Major, Op. 109, 3rd Movement
Piano Sonata No. 19 In G Minor, Op. 49, 2nd Movement
Prelude, Chorale And Fugue (Chorale Theme)
Roman Carnival Overture Theme
Seit Ich Ihn Gesehen
Sonata For Violin And Piano, Second Movement
Sonata For Violin And Piano, Fourth Movement
Sonata In B Minor, First Theme
Sonata In B Minor, Second Theme
String Quartet No. 78 (Sunrise), 1st Movement
String Quintet In G Minor, K516, 1st Movement
Symphony In D Minor, First Movement Theme
Symphony No. 1 In A Flat Major, 1st Movement
Symphony No. 2 In D Major, Op. 43, First Movement
Symphony No. 3 In D Major (Espansiva), 4th Movement
Symphony No. 4 ('Tragic') In C Minor, 1st Movement
Symphony No. 4 ('Tragic') In C Minor, 2nd Movement
Symphony No. 4 In G Major (Ode to Heavenly Joy), 3rd Movement
Symphony No. 8 In E Major (Symphony Of A Thousand), Second Movement
Symphony No. 7 In E Major, Second Movement
Symphony No. 8 in G Major, Third Movement
Symphony No. 9 ('The Great') In C Major, 1st Movement
Tragic Overture, Op. 81 Theme
Violin Concerto In E Major, First Movement
Violin Concerto In A Major, First Movement
Violin Concerto In A Major, Second Movement
Violin Concerto In A Major, K. 219, 1st Movement
Where The Citrons Bloom, Op. 364
Overture (Alcina) Handel G
Theme Rhenish Symphony(Schumann)
Piano Sonata No. 21 In C Major (Waldstein), Op. 53
Chanson Triste, Op. 40, No. 2
Apres Un Reve
Piano Concerto No. 23 In A Major, K488, 3rd Movement
Symphony No. 1 In B Flat Major, Op. 38 (Spring), 3rd Movement
Silent Noon
Ballade, Op. 118, No. 3
Intermezzo, Op. 117, No. 3
Symphony No. 2 In D Major
Symphony No. 3 In F Major
Symphony No. 4 In E Minor
Waltz, Op. 39, No. 1
Waltz, Op. 39, No. 2
Waltz, Op. 39, No. 4
Waltz, Op. 39, No. 15
English Suite No. 2, BWV 807
French Suite No. 3, BWV 814
French Suite No. 5, BWV 816
Berceuse, Op. 57
Fantaisie, Op. 49
Ballade No. 4, Op. 52
Nocturne, Op. 15, No. 3
Mazurka, Op. 7, No. 1
Mazurka, Op. 33, No. 2
Nocturne, Op. 9, No. 2
Nocturne, Op. 15, No. 2
Nocturne, Op. 27, No. 2
Polonaise, Op. 40, No. 1
Waltz, Op. 34, No. 2
Waltz, Op. 64, No. 2
Mazurka, Op. 24, No. 3
Etude, Op. 10, No. 3
Waltz, Op. 69, No. 2
Etude, Op. 25, No. 9
Mazurka, Op. 67, No. 4
Nocturne, Op. 55, No. 1
Etude, Op. 10, No. 12
Mazurka, Op. 67, No. 2
Mazurka, Op. 68, No. 2
Academic Festival Overture
Mazurka, Op. 67, No. 3
Waltz, Op. 69, No. 1
Moment Musical In F Minor, Op. 94, No. 3
Prelude In G Minor, Op. 28, No. 22
Prelude In B Minor, Op. 28, No. 6
Impromptu In G-Flat Major, Op. 90 No. 3
Waltz In E Minor, B. 56 (Posth)