Arien-Album -- Famous Arias for Tenor and Piano

From Sacred and Secular Works from Bach to Wagner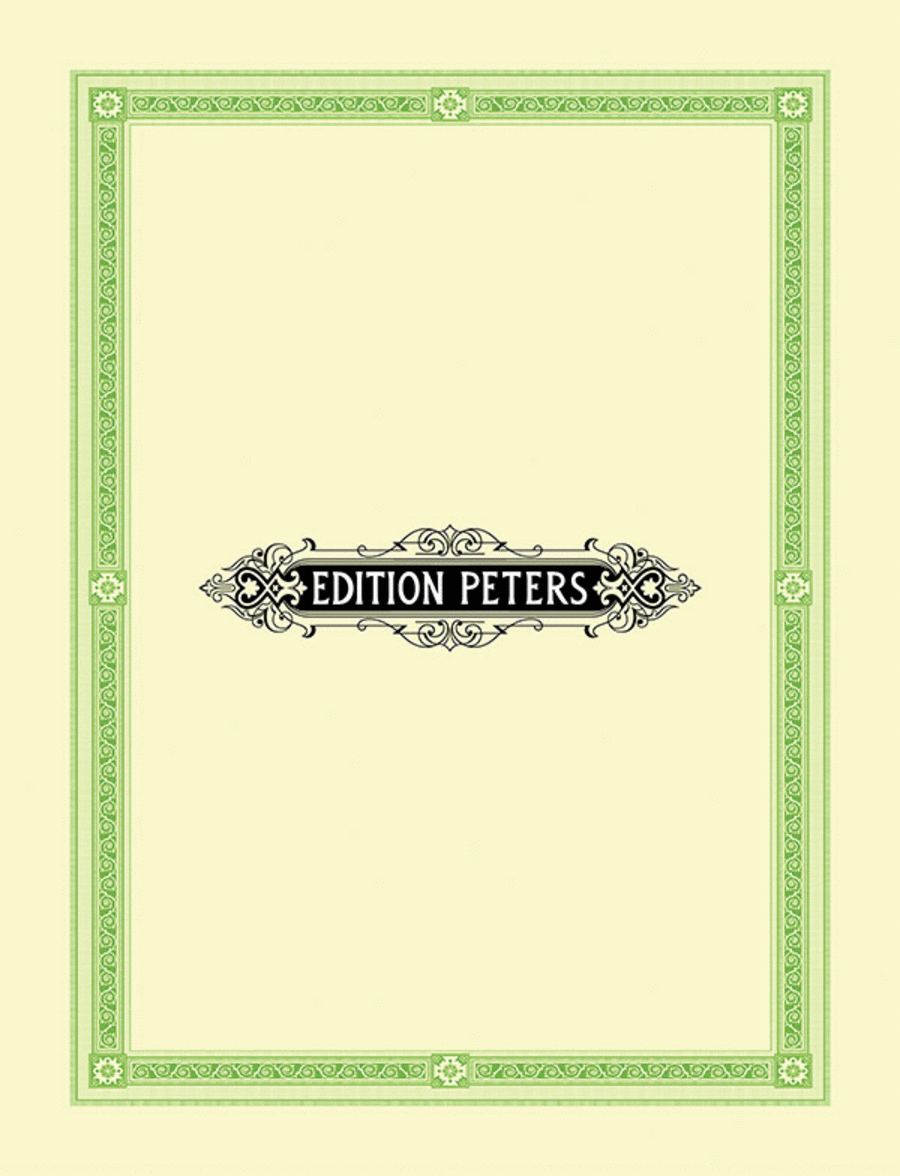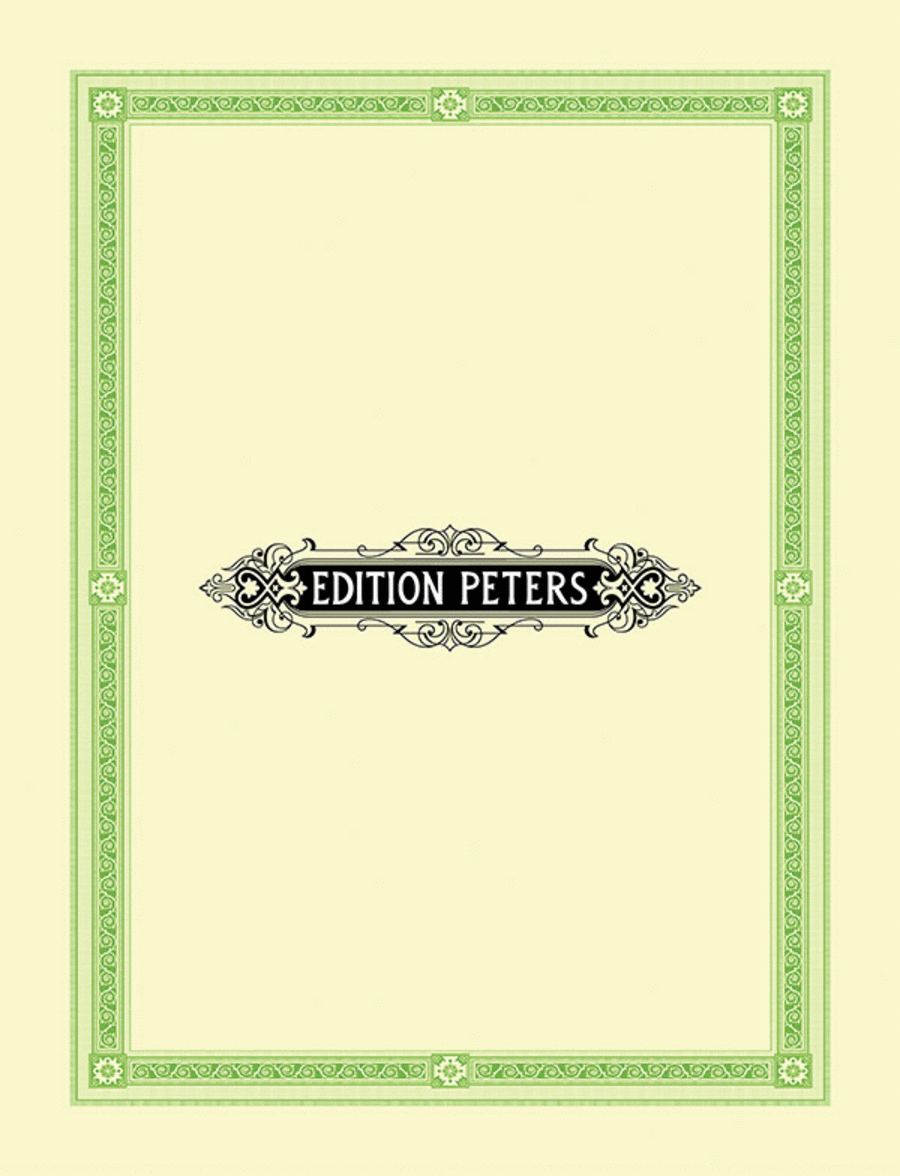 Arien-Album -- Famous Arias for Tenor and Piano

From Sacred and Secular Works from Bach to Wagner
Available
Ready to ship in 1 to 2 weeks
Taxes/VAT calculated at checkout.
Detailed Description
Voice (Male)
SKU: PE.EP736
From Sacred and Secular Works from Bach to Wagner
. Composed by Various. Edited by Alfred Dorffel and Kurt Soldan. Voice & Piano Albums. Edition Peters. Opera. Book. 172 pages. Edition Peters #98-EP736. Published by Edition Peters (PE.EP736).
ISBN 9790014004859. English.
Stradella: Church Aria Se I miei sospiri; Handel: Messiah Alle Tale macht hoch, Judas Maccabeus Bewaffne dich mit Mut Judas); Haydn: die Schopfung Mit Wurd und Hoheit angetan (Uriel), dir Jahreszeiten Dem Druck erlieget die Natur' (Lukas), Hier steht der Wand'rer' (Lukas); Bach: Johannespassion Ach, mein Sinn, Weihnachtsoratorium Frohe Hirten, eilt; Gluck: Iphigenie en Tauride Unis de la plus tendre; Mozart: Entfuhrung 'Konstanze! Dich wiederzusehen' (Belmonte), 'Wenn der Freude Tranen' (Belmonte), Don Giovanni 'Dalla sua pace' (Don Ottavio), 'Il mio tesoro intanto' Don Ottavio), Zauberflote 'Dies Bildnis ist bezaubernd schoen' (Tamino), Cosi fan tutte 'Un' aura amorosa' (Ferrando); Beethoven: Fidelio 'Gott! Welch Dunkel hier' (Florestan); Weber der Freischutz 'Durch die Walder' (Max), Oberon 'Von Jugend auf in dem Kampfgefild (Huon), 'Vater, hor mich flehn' (Huon), Euryanthe 'Unter bluhenden Mandelbaumen' (Adolar), 'Wehen mir Lufte Ruh' (Adolar); Wagner: Rienzi 'Allmacht'ger Vater, blick herab' (Rienzi), Tannhauser 'Dir tone Lob' (Tannhauser), Lohengrin 'In fernem Land' (Lohengrin), 'Mein lieber Schwan' (Lohengrin), die Meistersinger, 'Al stillen Herd (Walther) 'Morrgenlicht leuchtend' (Walther), Walkure 'Wintersturme wichen dem Wonnemond'; Lortzing: Undine 'Vater, Mutter, Schwestern, Bruder' (Veit), 'Viel schone Gaben vaterlich' (Veit), der Waffenschmied 'Man wird ja einmal nur geboren' (Georg), Zar und Zimmermann 'Lebe wohl, mein flandrisch Madchen' (Chateauneuf); Nicolai: die Lustige Weiber von Windsor: 'Horch, die Lerche singt im Hain' (Fenton); Flotow: Martha 'Ach! So Fromm' (Lyonel); Donizetti: L'elisir d'Amore 'Una furtiva lagrima' (Nemorino); Mehul: Joseph 'A peine au sortir' (Joseph); Boildieu: Weisse Dame 'Komm, o holde Dame' (George Brown); Adam: der Postillon von Lonjumeau 'Freunde, vernemeht die Geschichte' (Chapelou); Auber: Fra Diavolo 'Ewig will ich dir gehoren' (Lorenzo), die Stumme von Portici 'Du einz'ger Troster' (Masaniello) von Portici 'Du einz'ger Troster' (Masaniello) von Portici 'Du einz'ger Troster' (Masaniello) von Portici 'Du einz'ger Troster' (Masaniello)

40 Arias with piano accompaniment (German/Ialian/French).
Song List (50)
Freunde, vernehmet die Geschichte
Du einz'ger Tršster aller Armen
Ewig will ich dir gehšren
Ach, mein Sinn
Frohe Hirten
Gott! welch Dunkel hier
Komm, o holde Dame
Heimlich aus ihrem Auge
Una Furtiva Lagrima
Ach! so fromm, ach! so traut
Nur einen Wunsch
Unis de la plus tendre
Bewaffne dich mit Mut
Alle Tale macht hoch und erhaben
Dem Druck erlieget die Natur
Hier steht der Wandrer nun
Mit WŸrd und Hoheit angetan
Man wird ja einmal nur geboren
Vater, Mutter, Schwestern, BrŸder
Viel schšne Gaben vŠterlich
Lebe wohl, mein flandrisch MŠdchen
Ich war JŸngling noch an Jahren
A peine au sortir de l'enfance
Der Odem der Liebe erfrischet
Un' aura amorosa
O wie Šngstlich
Quanto ansioso son giammai
Wenn der Freude TrŠnen flie§en
Se di gioja gronda il pianto
Dies Bildnis ist bezaubernd schšn
Oh cara immagine
Nur ihrem Frieden
Dalla sua pace
Folget der Hei§geliebten
Il Mio Tesoro Intanto
Horch, die Lerche singt im Hain
Wenn dir mein Flehen
Se I Miei Sospiri
Am stillen Herd in Winterszeit
Morgenlich leuchtend im rosigen Schein
WinterstŸrme wichen dem Wonnemond
In fernem Land
Mein lieber Schwan
AllmŠcht'ger Vater; blick herab
Dir tšne Lob
Durch die WŠlder
Unter blŸhnden MandelbŠumen
Wehen mir LŸfte Ruh
Von Jugend auf in dem Kampfgefild
Vater, hšr mich flehn zu dir