Adagio and Allegro, Op. 70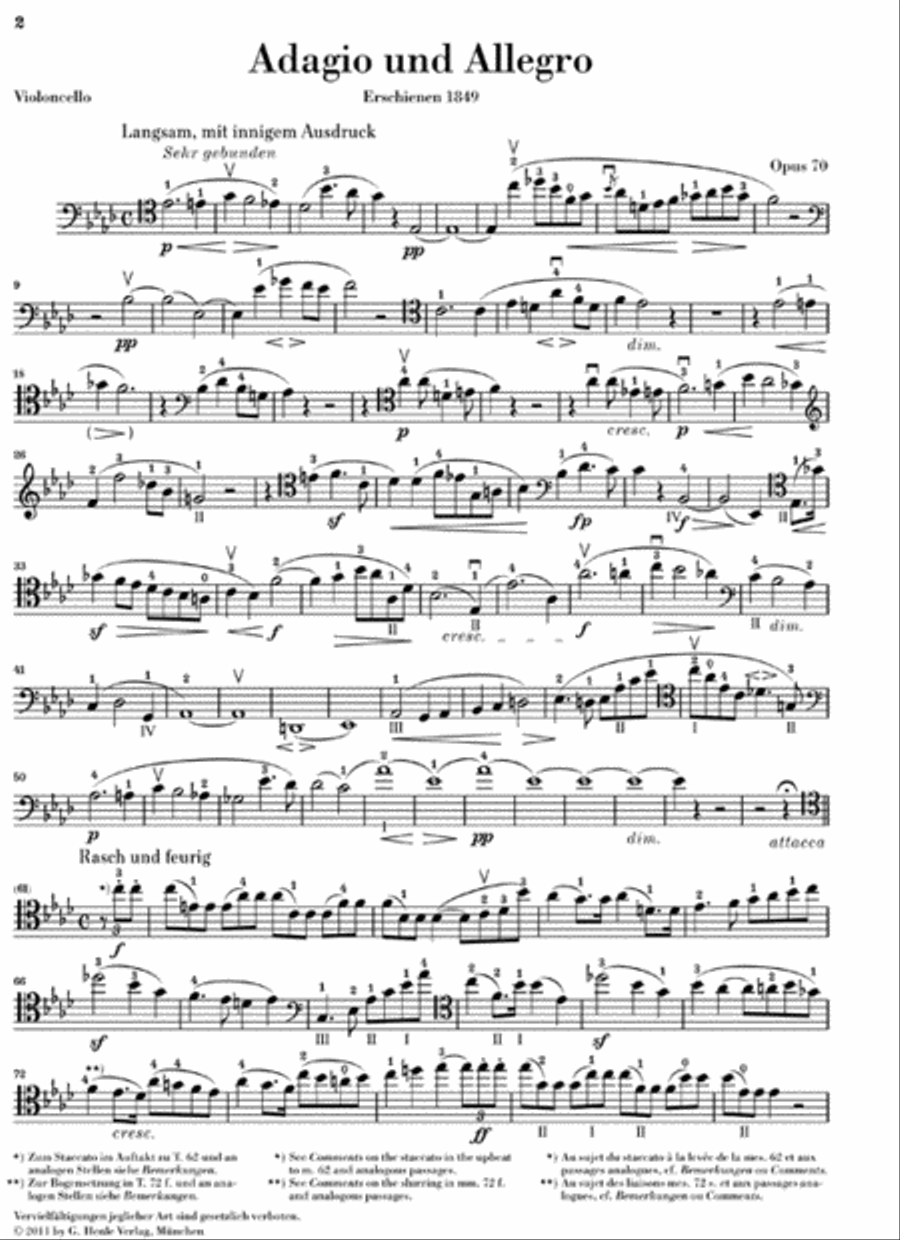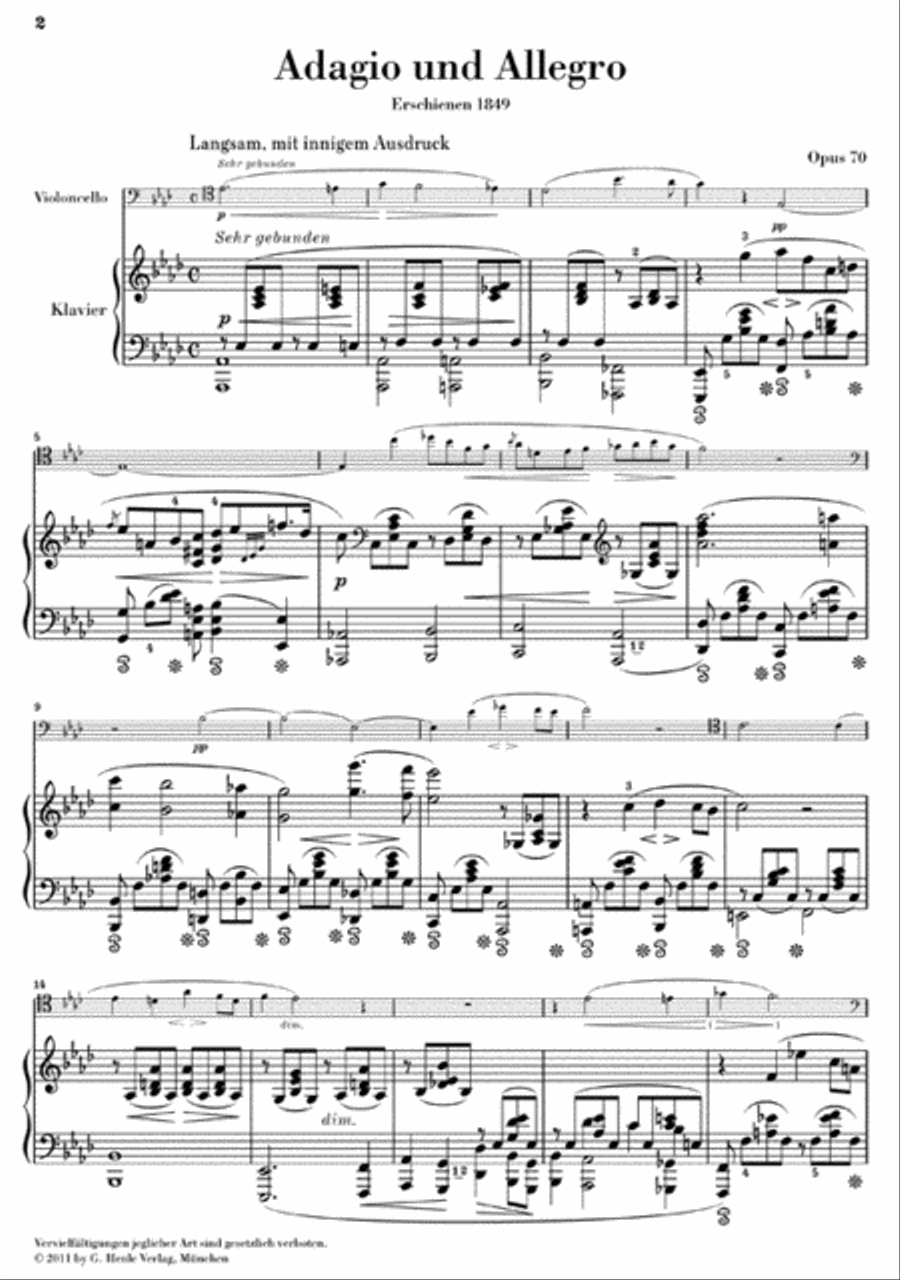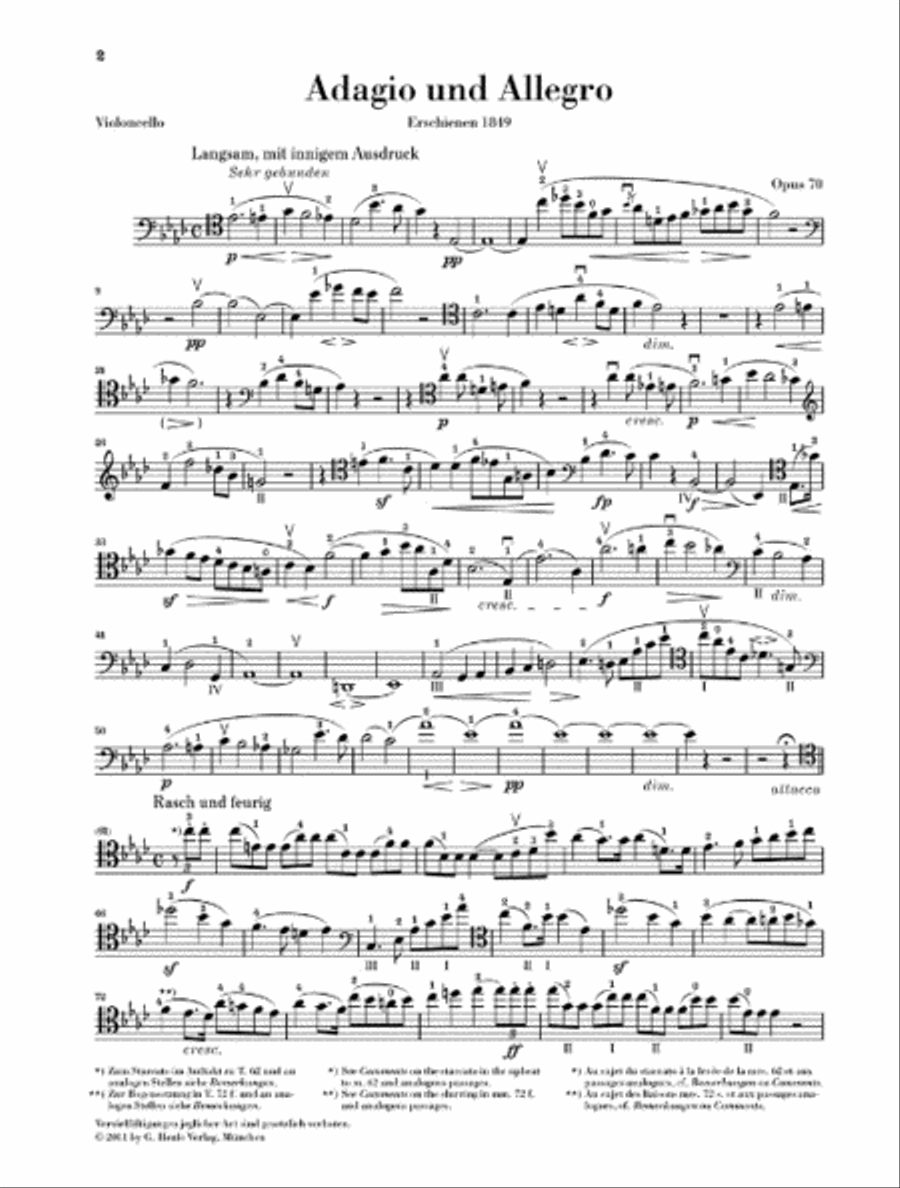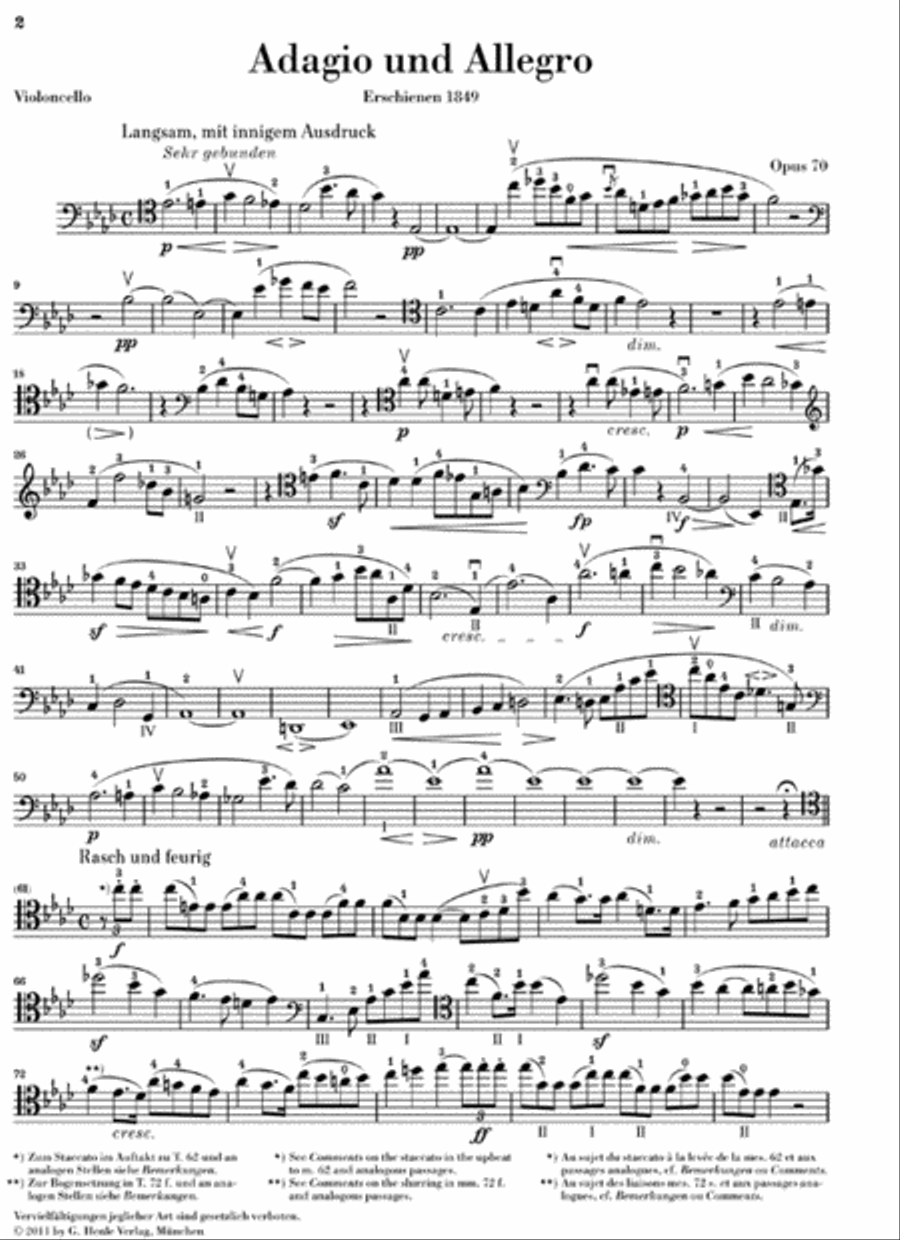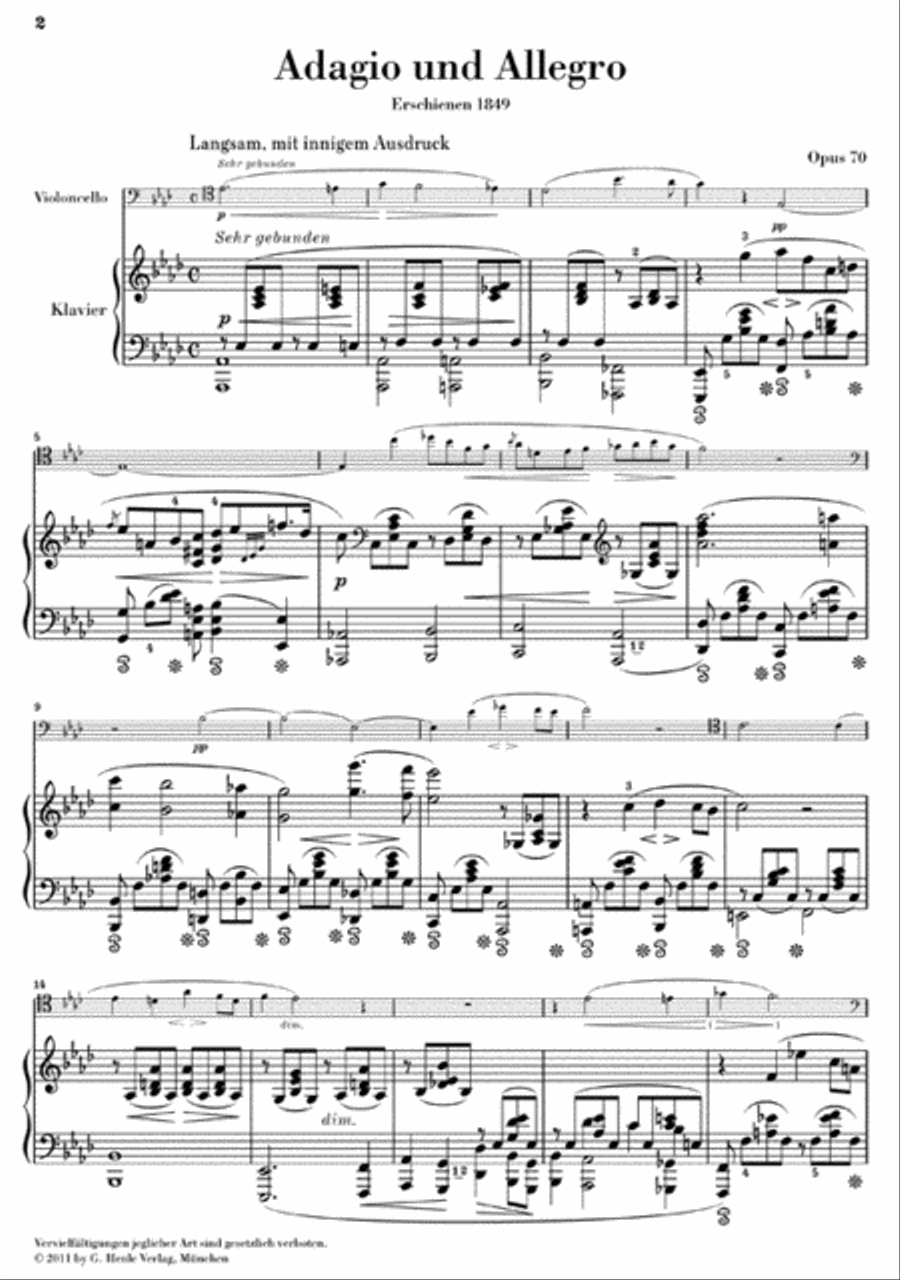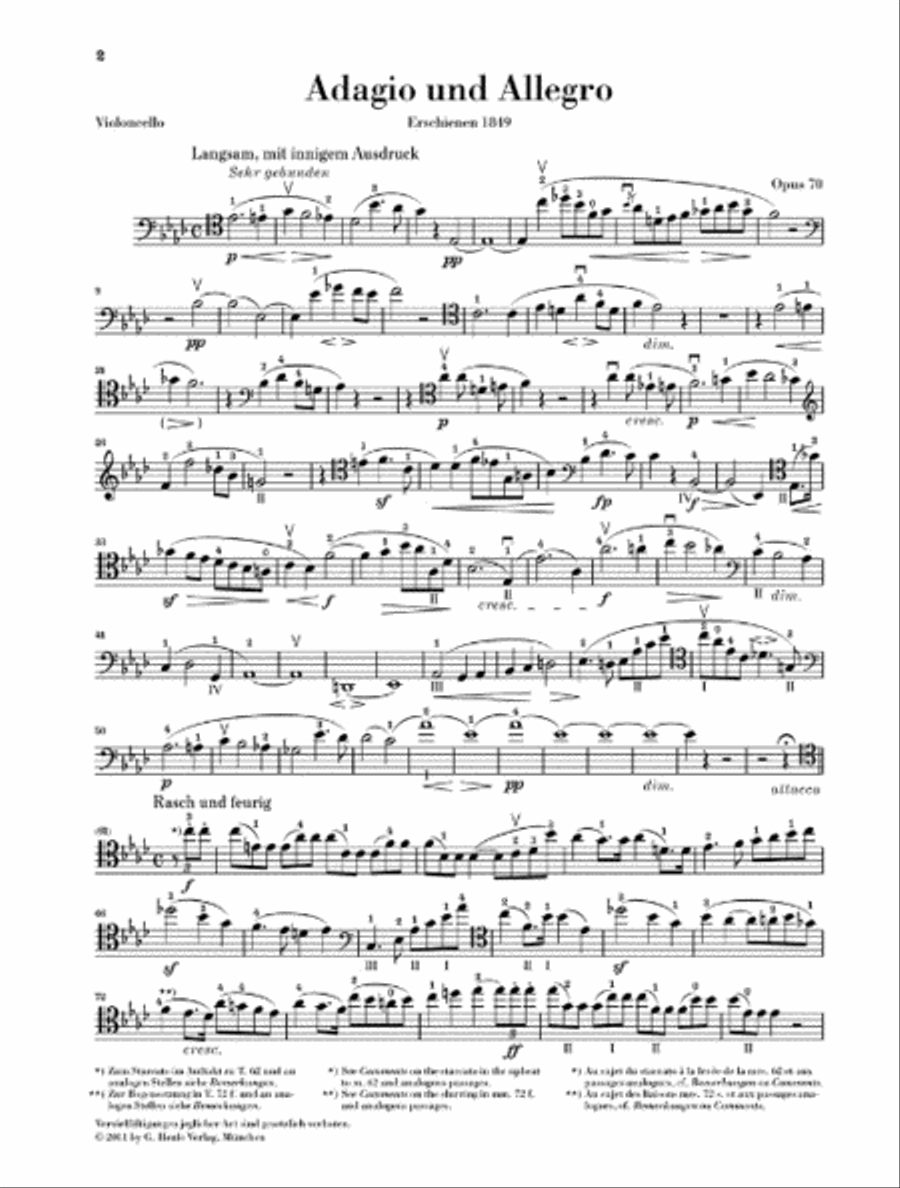 Adagio and Allegro, Op. 70


Available
Ready to ship in 24 hours
Taxes/VAT calculated at checkout.
Details
Instrument
Cello Solo
Piano Accompaniment
Format
Collection / Songbook
Set of Parts
Detailed Description
Strings Cello; Piano Accompaniment (Piano and Violoncello)
SKU: HL.51481024
Edition for Violoncello and Piano With Marked and Unmarked String
. Composed by Robert Schumann. Edited by Ernst Herttrich. Arranged by Klaus Schilde and Sebastian Hess. Sheet music. Paperbound. Henle Music Folios. With marked and unmarked string parts. Classical. Softcover. 24 pages. G. Henle #HN1024. Published by G. Henle (HL.51481024).
ISBN 9790201810249. UPC: 884088630546. 9.25x12.25x0.091 inches. Ed. Ernst Herttrich piano fing.: Klaus Schilde violoncello fing./bowing: Sebastian Hess.
In 1849, Schumann turned to a new genre: works for piano and an accompanying instrument. The first works he composed were the Fantasy Pieces for piano and clarinet opus 73, immediately followed by opus 70. Schumann drew his publisher's attention to the "brilliant allegro," whose solo part is so virtuosic that opus 70 is one of the showpieces for horn players even today. Schumann also wrote a part for violoncello. "I imagine that most cellists are clamoring to buy the recently released Henle edition of Schumann's Adagio and Allegro. It's a welcome and needed addition to the publications available of this two-part composition that captures both the lyricism and fiery drama of Schumann's writing...this new Schumann edition is an important choice for any cellist's music library." –Strings magazine.
About Henle Urtext
What I can expect from Henle Urtext editions:
error-free, reliable musical texts based on meticulous musicological research - fingerings and bowings by famous artists and pedagogues
preface in 3 languages with information on the genesis and history of the work
Critical Commentary in 1 – 3 languages with a description and evaluation of the sources and explaining all source discrepancies and editorial decisions
most beautiful music engraving
page-turns, fold-out pages, and cues where you need them
excellent print quality and binding
largest Urtext catalogue world-wide
longest Urtext experience (founded 1948 exclusively for "Urtext" editions)