2000 Texas Music Educators Association: Carmina Burana - The United States Air Force Band and Singing Sargents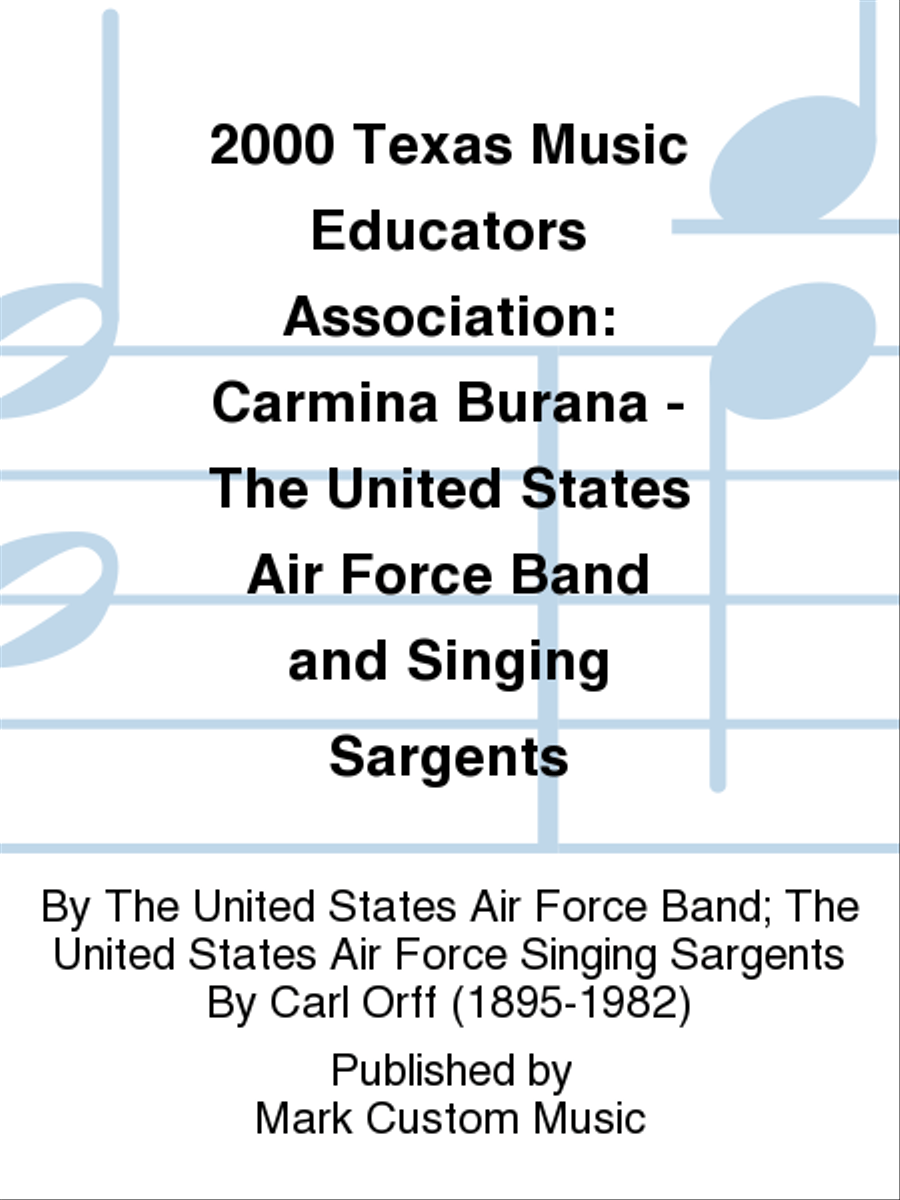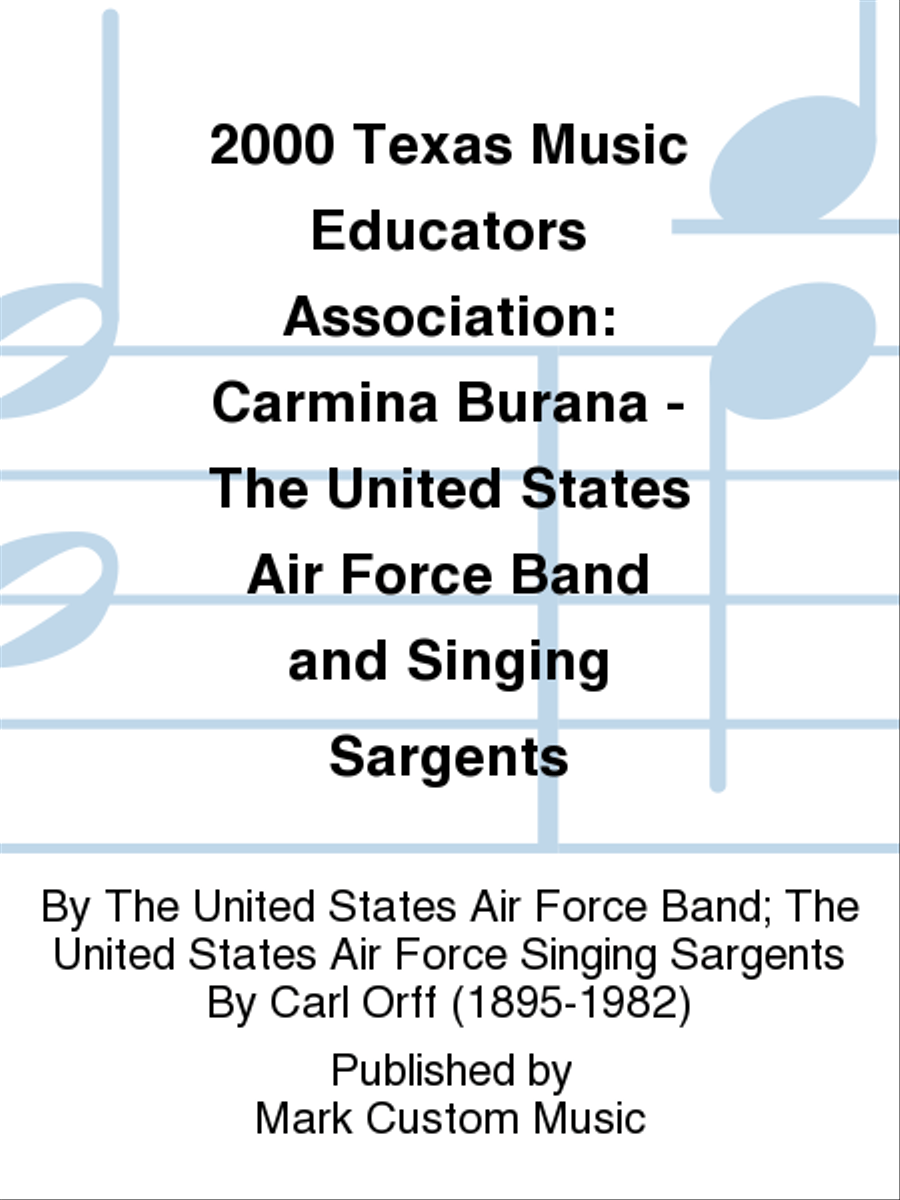 2000 Texas Music Educators Association: Carmina Burana - The United States Air Force Band and Singing Sargents


Available
Ready to ship in 4 to 6 weeks
Taxes/VAT calculated at checkout.
Detailed Description
Concert band and chorus
SKU: MK.3292-MCD
By The United States Air Force Band and The United States Air Force Singing Sargents. By Carl Orff. Mark Records. Classical. Audio CD. Published by Mark Custom Music (MK.3292-MCD).
UPC: 710396329226. Conductor: Colonel Lowell E. Graham.
About Listening CDs
Listening CDs are traditional music recordings. Listening CDs make a great educational supplement - hear exceptional professionals play the music you're learning! Or, just enjoy listening to the music you love.
Song List (27)
Festival Overture on the American National Air
Carmina Burana / Fortuna Imperatix Mundi, O Fortuna
Carmina Burana / Fortuna Imperatix Mundi, Fortune plango vulnera
Carmina Burana / I. Primo Vere, Veris leta facies
Carmina Burana / I. Primo Vere, Omnia sol temperat
Carmina Burana / I. Primo Vere, Ecce gratum
Carmina Burana / Uf dem anger, Tanz
Carmina Burana / Uf dem anger, Floret silva noblis
Carmina Burana / Uf dem anger, Chramer, gip die varwe mir
Carmina Burana / Uf dem anger, Reie
Carmina Burana / Uf dem anger, Were diu werlt alle min
Carmina Burana / II. In Taberna, Estuans interius
Carmina Burana / II. In Taberna, Olim lacus colueram
Carmina Burana / II. In Taberna, Ego sum abbas
Carmina Burana / II. In Taberna, In taberna quando sumus
Carmina Burana / III. Cour d'amours, Amor volat undique
Carmina Burana / III. Cour d'amours, Dies, nox et omnia
Carmina Burana / III. Cour d'amours, Stetit puella
Carmina Burana / III. Cour d'amours, Circa mea pectora
Carmina Burana / III. Cour d'amours, Si puer cum puellula
Carmina Burana / III. Cour d'amours, Veni, veni, venias
Carmina Burana / III. Cour d'amours, In trutina
Carmina Burana / III. Cour d'amours, Tempus et iocundum
Carmina Burana / III. Cour d'amours, Dulcissime
Carmina Burana / Blanzilor et Helena, Ave formosissima
Carmina Burana / Fortun Imperatrix Mundi, O Fortuna
America, the Beautiful