Wie Du warst (Octavian's Aria) from Der Rosenkavalier - Accessible Accompaniments Edition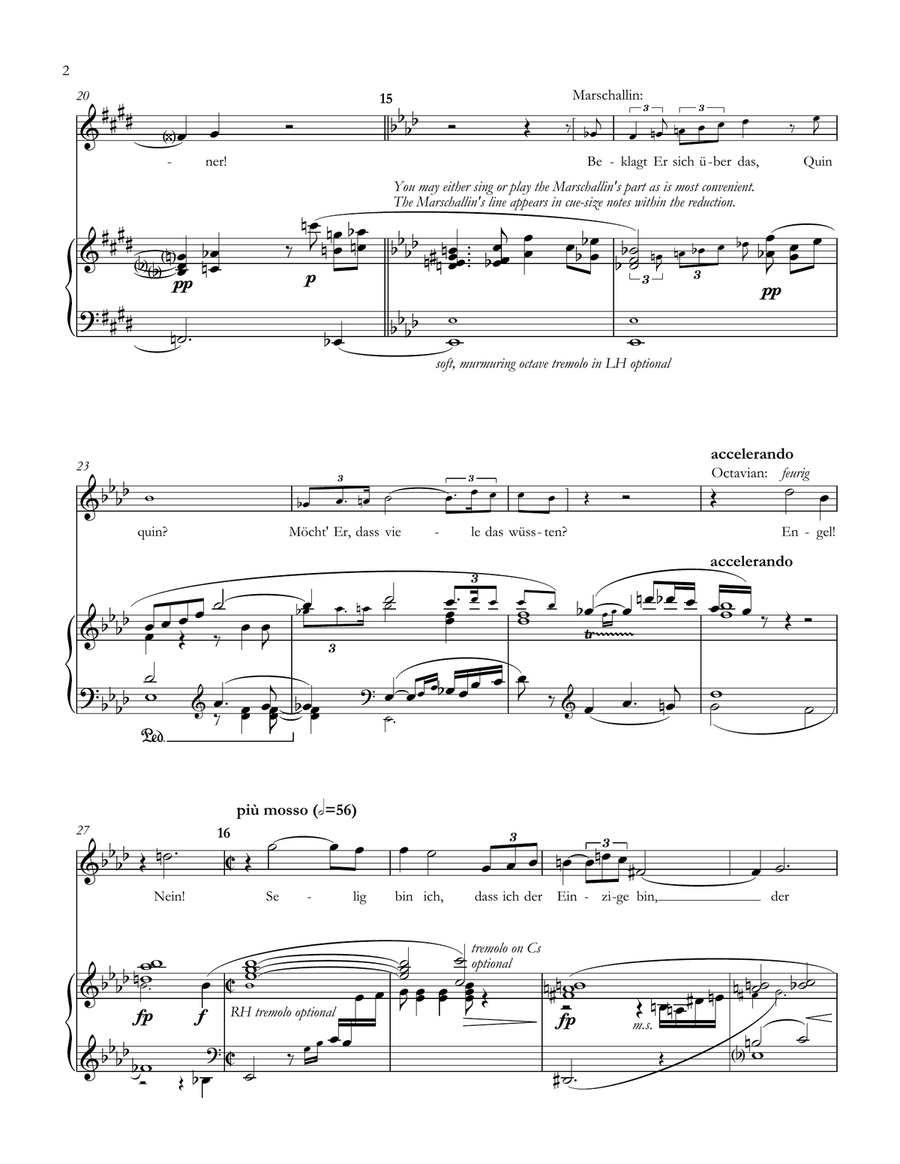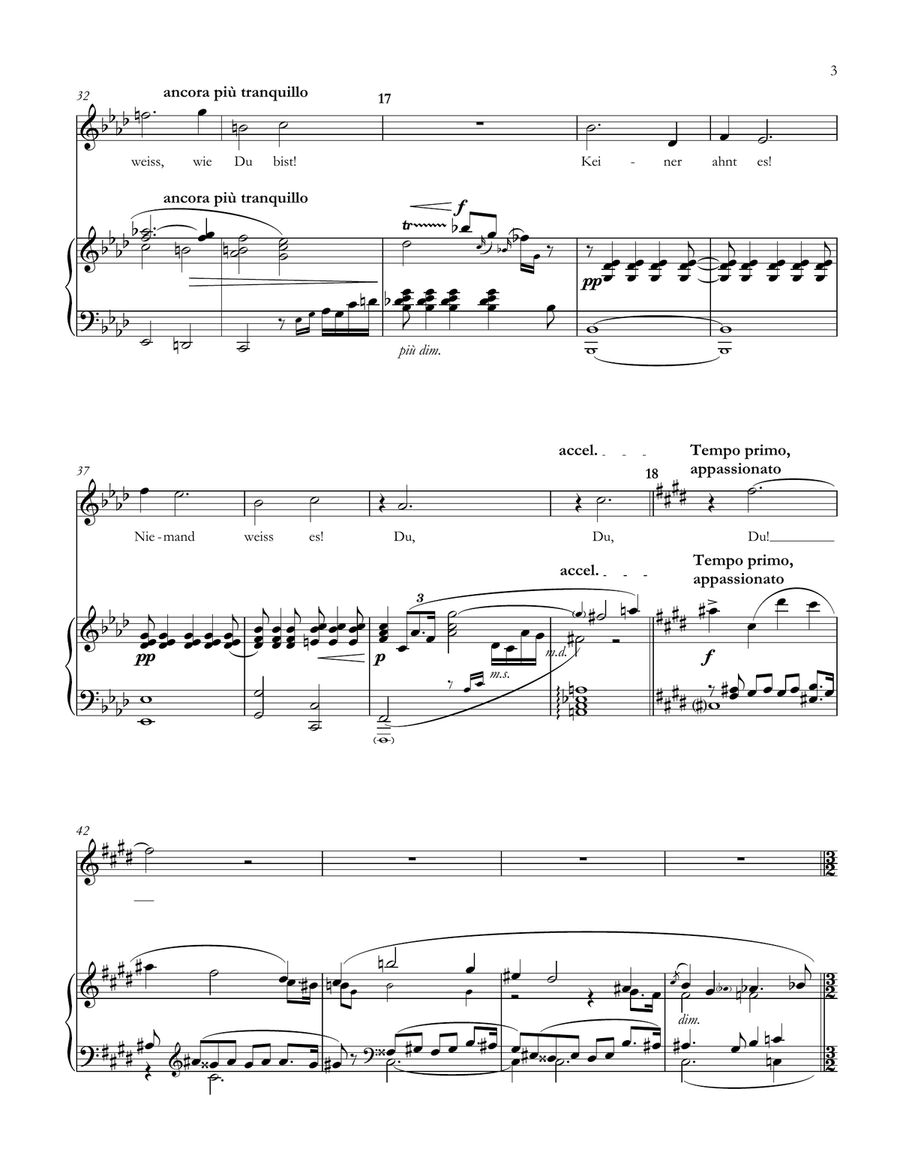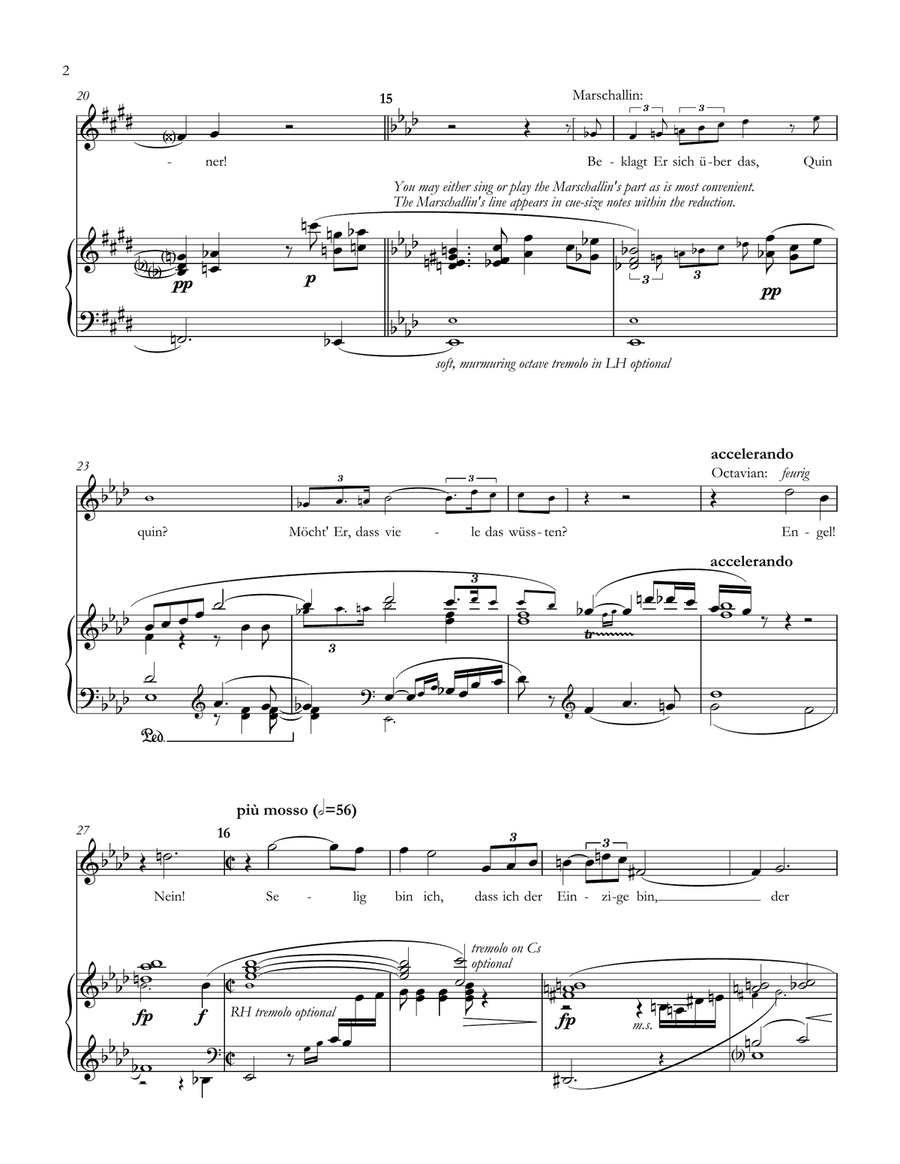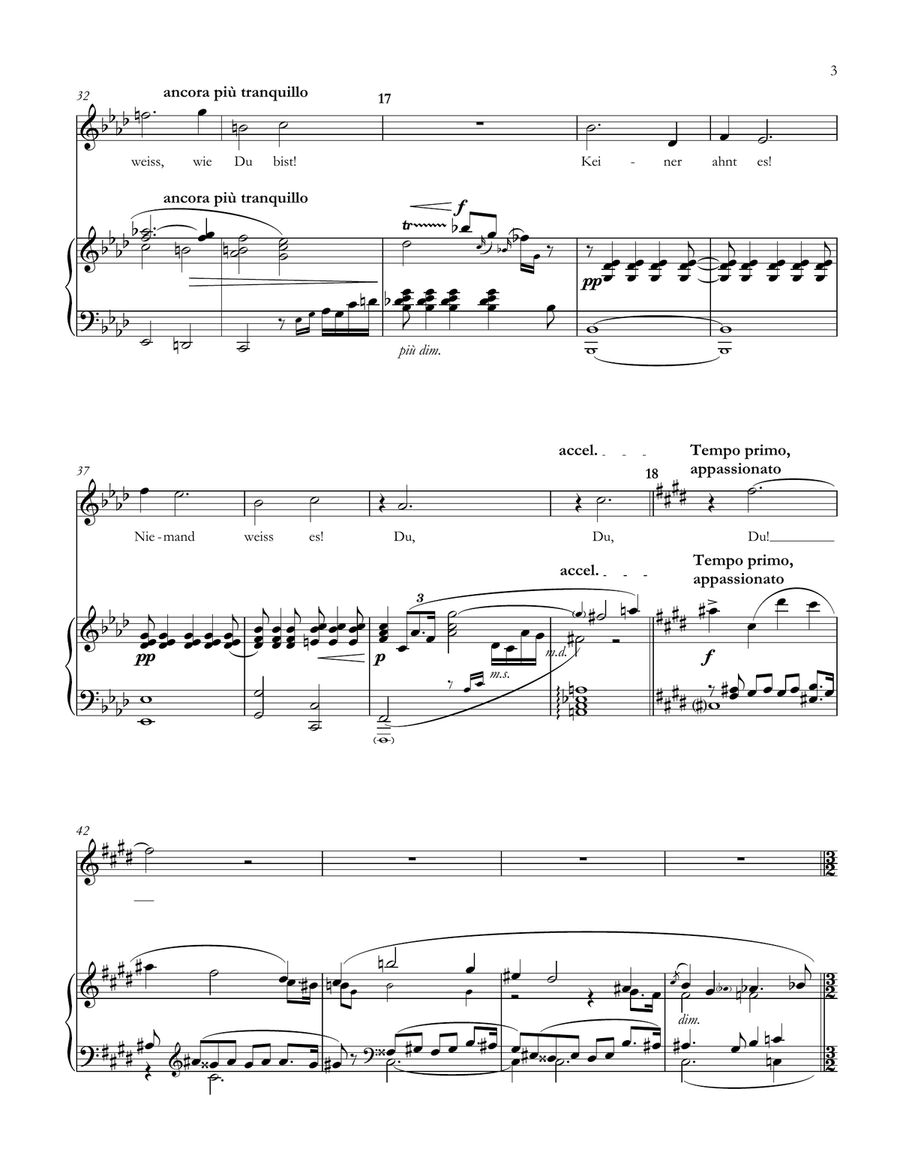 Wie Du warst (Octavian's Aria) from Der Rosenkavalier - Accessible Accompaniments Edition


Instant Download
Taxes/VAT calculated at checkout.
Detailed Description
Alto Voice,Vocal Solo - Level 5 - Digital Download
SKU: A0.799612
Composed by Richard Strauss. Arranged by Nicole Elyse DiPaolo. 20th Century,Romantic Period. 6 pages. Nicole Elyse DiPaolo #5022023. Published by Nicole Elyse DiPaolo (A0.799612).
The first of its kind, and the third entry in Nicole Elyse DiPaolo's Accessible Accompaniments series of aria reductions, this is a genuinely playable and piano/vocal reduction of "Wie Du warst," Octavian's famous aria from Strauss's Der Rosenkavalier (1911). Mezzos who love this aria no longer need to fear bringing it in for auditions, last-minute performing engagements, or other situations in which the pianist may have to sight-read from the chaotic and unplayable vocal score. Pianists may now enjoy playing this aria comfortably, without risking strain/injury. This edition also includes a two-measure recomposed ending four measures after rehearsal 25, making this edition a great choice for concert and audition situations in which another singer isn't available to sing the Marschallin's lines.

All Accessible Accompaniments, including this one, boast several unique features:

1. No reduction ever requires stretches of over an octave, not including bass notes meant to be held or "fudged" with the pedal (though octaves may also contain chord tones within them). This reduces the amount of rearranging that smaller-handed pianists must already do. Obviously, further reworkings are to be expected and pianists should feel free to add to or modify what I've provided.

2. I've included less essential, but potentially desirable additional voices/passages in cue-size noteheads so that pianists can easily see them, but know that they are not necessary in a "sink or swim" accompanying situation. Presenting less essential material in cue-size noteheads also reduces visual clutter on the page.

3. In addition to the composer's markings, when needed, I have included hints on particular notes to bring out when the singer is likely to need them as a pitch anchor or when it is not obvious which line should be brought out within the texture.

4. All page turns have been carefully selected so as to result in the least possible disruption to the pianist when possible. When an inevitable page turn precedes a potentially surprising note or chord, I've included the next downbeat's notes in cue-size stemless noteheads at the end of the preceding measure.

5. When known, I've noted alternate cuts that singers might like to take within certain arias.

6. In some cases I've modernized spelling conventions for easier readability (for example, by replacing "ß" with "ss" in German arias) and occasionally I've enharmonically respelled brief passages for greater clarity.

About the Arranger: 

Praised as a "sensitive pianist" and "outstanding accompanist" who delivers "powerful interpretations," Nicole Elyse DiPaolo enjoys a multifaceted career as a sought-after collaborative pianist, educational composer, arranger, coach, private teacher, and adjunct music professor. Currently based in the Cleveland area, Ms. DiPaolo has appeared as a concerto soloist with the Ambassador Chamber Players on multiple occasions and as a recitalist, collaborator, and presenter worldwide. Currently, Ms. DiPaolo is an online Adjunct Lecturer in Music at Indiana University; the Principal Theory Teacher at Liberty Park Music, an online-only video subscription-based music school; an invited blog contributor and guest instructor at Tonebase; and a sought-after online instructor of piano, music theory, and composition who includes partimento and historical improvisation in her curricula. 
For more information, please visit http://ndipaolo.musicaneo.com .
This product was created by a member of ArrangeMe, Hal Leonard's global self-publishing community of independent composers, arrangers, and songwriters. ArrangeMe allows for the publication of unique arrangements of both popular titles and original compositions from a wide variety of voices and backgrounds.
About Digital Downloads
Digital Downloads are downloadable sheet music files that can be viewed directly on your computer, tablet or mobile device. Once you download your digital sheet music, you can view and print it at home, school, or anywhere you want to make music, and you don't have to be connected to the internet. Just purchase, download and play!
PLEASE NOTE: Your Digital Download will have a watermark at the bottom of each page that will include your name, purchase date and number of copies purchased. You are only authorized to print the number of copies that you have purchased. You may not digitally distribute or print more copies than purchased for use (i.e., you may not print or digitally distribute individual copies to friends or students).