Trumpet Series: Trumpet Orchestral Excerpts

2013 Edition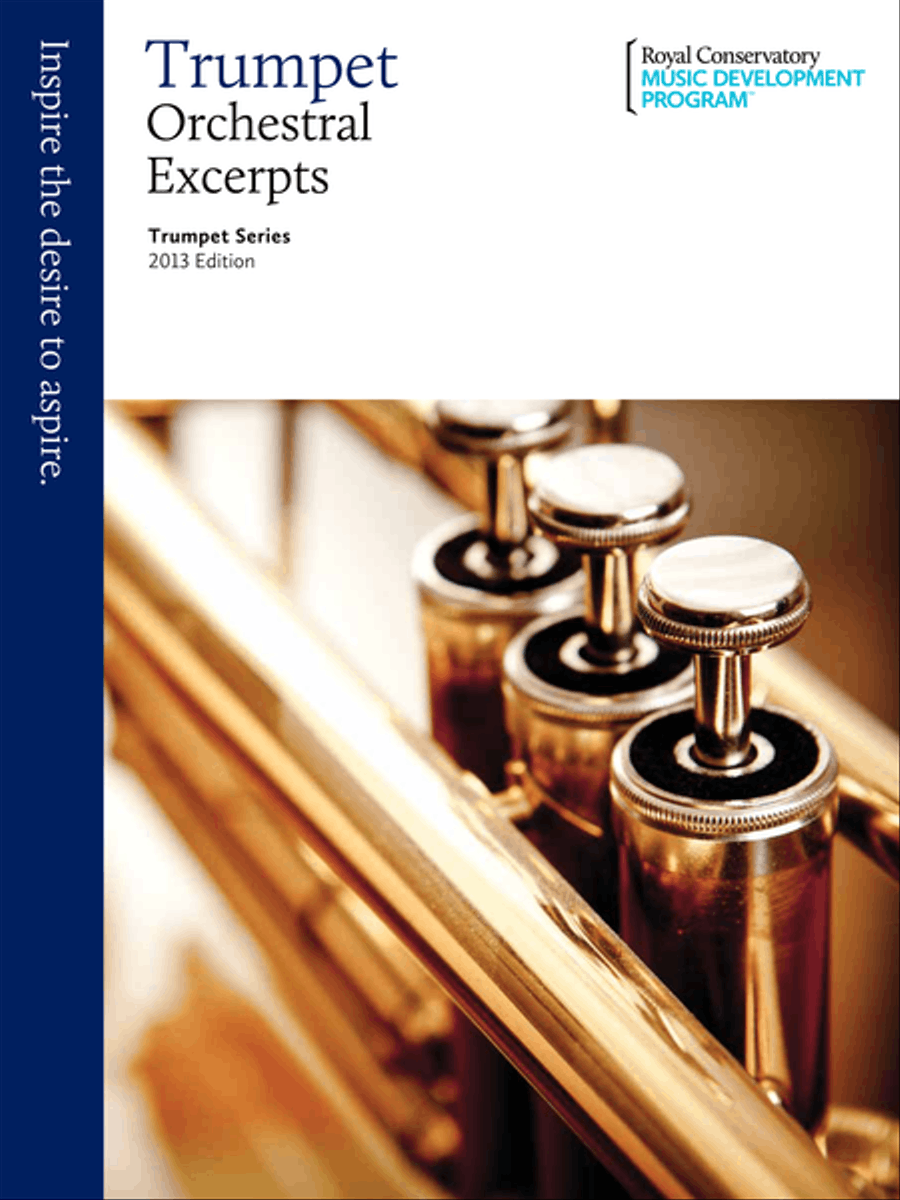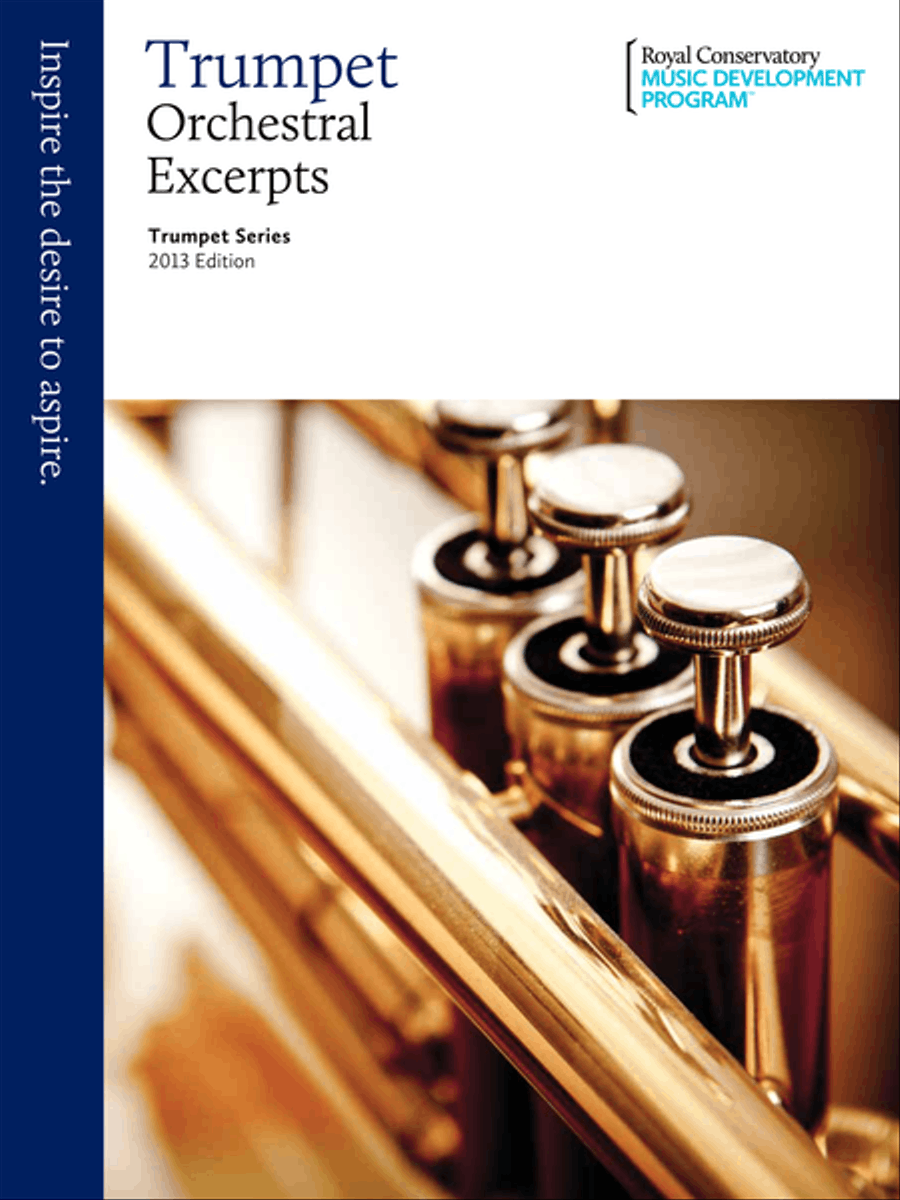 Trumpet Series: Trumpet Orchestral Excerpts

2013 Edition
Price reduced from

$27.95

to
$22.36
Available
Ready to ship in 2 to 3 weeks
Taxes/VAT calculated at checkout.
Detailed Description
Trumpet - Late Intermediate to Advanced
SKU: FH.BTE1U
2013 Edition
. Composed by The Royal Conservatory Music Development Program. This edition: 1st edition. Trumpet Series. Method book. 40 pages. Published by The Frederick Harris Music Company (FH.BTE1U).
ISBN 978-1-55440-600-5.
A comprehensive pedagogical resource, the Trumpet Series, 2013 Edition addresses the need for a single collection of quality music materials to foster development from the beginner to advanced levels. With Repertoire, Compact Discs, Etudes, Technique, and Orchestral Excerpts, this series offers a balanced and organized course of study for the aspiring virtuoso. Nine volumes of Repertoire have been carefully selected to encourage a singing approach to trumpet playing. A wealth of folk songs, transcriptions, and arrangements of well-known repertoire at the early levels assist in the development of tone and flow of wind, preparing students for the Baroque, Classical, and 19th- through 21st-century repertoire found in the intermediate through advanced levels. Throughout the series, special attention has been given to issues of range, dynamics, and articulation, aimed at steady technical progress along with exposure to a wide range of styles and musical eras.
Song List (40)
Level 8:
Symphonie fantastique: IV
Academic Festival Overture, Op. 80
Capriccio Italien, OP. 45
Siegfried Idyll, WWV 103
First Suite for Military Band, op. 28, no. 1: II
Fanciese, Toyes, and Dreames (The Old Spagnoletta)
Level 9:
Carmen: Prelude to act 1
Symphony No. 3: III
Symphony No. 5, op. 47: I,IV
Swan Lake, op. 20: Neapolitan Dance
Piano Concerto No. 1, op.35: II,III
Leonore Overture No. 2, op. 72a
Pictures at an Exhibition: Promenade I
Group 2: Level 9 Wind Ensemble and Brass Quintet Parts
Contrapuntus IX
Symphony in B flat Major: II
Level 10:
Messiah, HWV 56: The Trumpet Shall Sound
Scheherazade, op. 35: II,III,IV
Nocturnes: II
Symphony No. 4, op. 36: I
The Nutcracker, op. 71: March, Chocolate (Spanish Dance), Dance of the Mirlitons
Pini di Roma: II
Symphony No. 2, op. 61: I
Group 2: Level 10 Wind Ensemble and Brass Quintet Parts
Suite from the Monteregian Hills: IV
Hammersmith, op. 52: II
Associate:
Symphony No. 5: I
Pini di Roma: I,IV
Piano Concerto in G Major: I
An American In Paris
Ein Heldenleben, op. 40
Don Juan, op. 20
Weihnachts-Oratorium, BWV 232: Grosser Herr und starker Konig; Herr, wenn die stolzen Feinde schnauben; Nun seid ihr wohl gerochen
Mass in B Minor, BWV 232: Patrem omnipotentem, Dona nobis pacem
Magnificat in D Major, BWV 243: Magnificat anima mea, Fecit potentiam
Pictures at an Exhibition: VI