Trio for Piano, Clarinet (or Violin) and Violoncello E flat major op. 27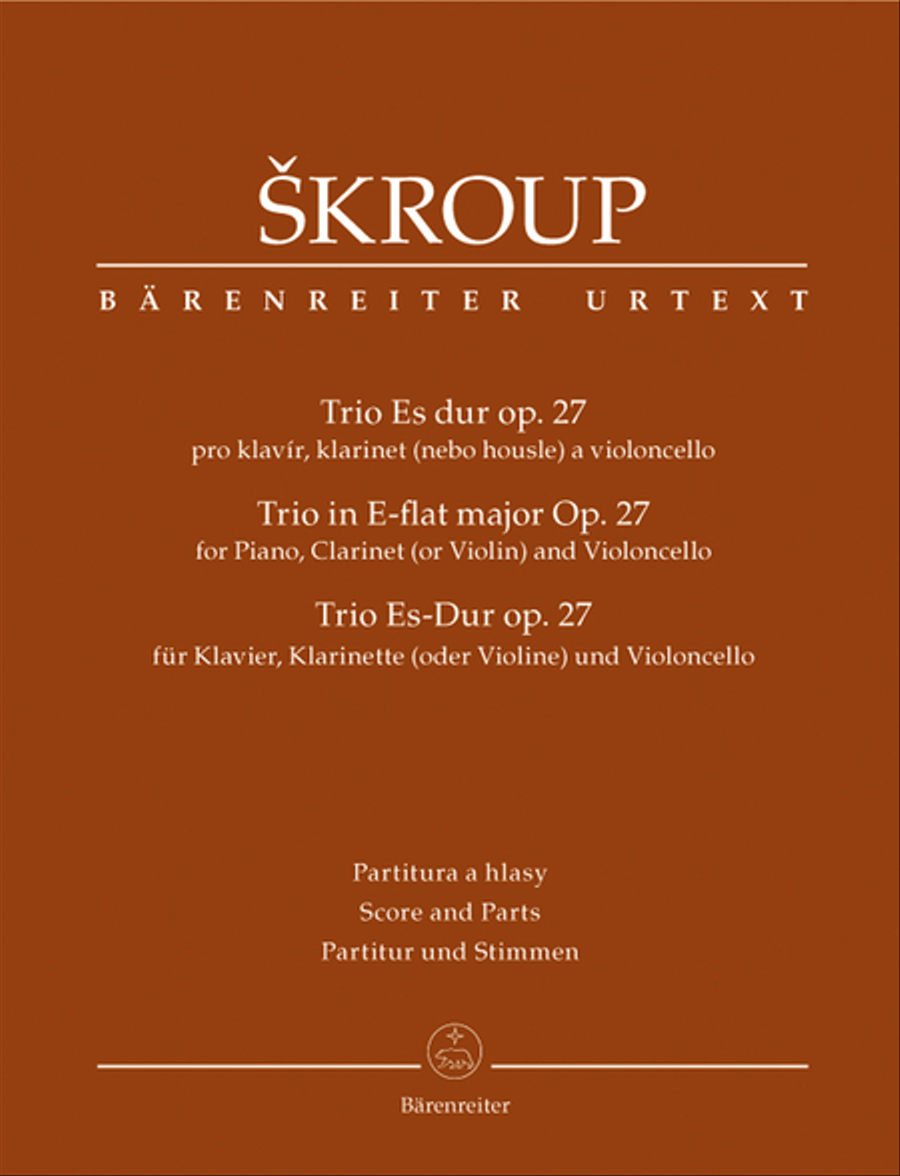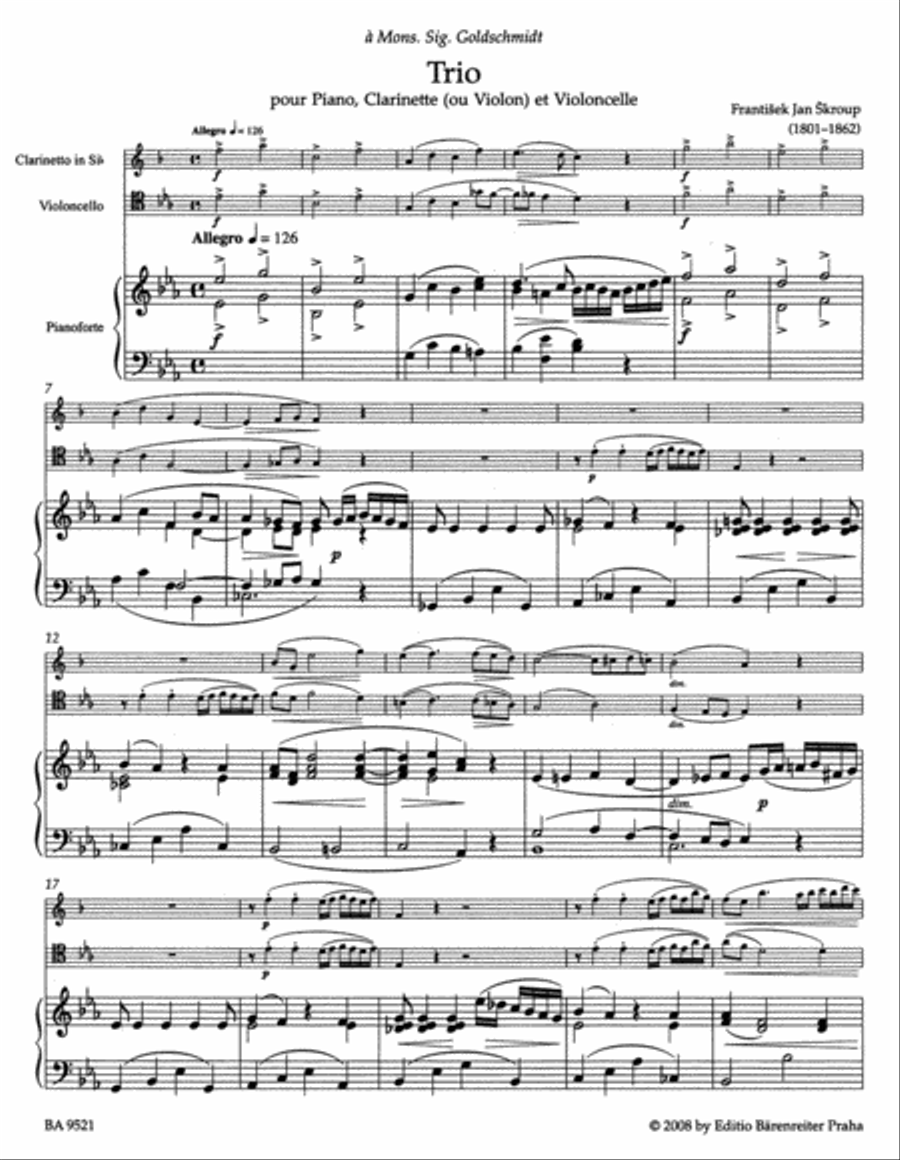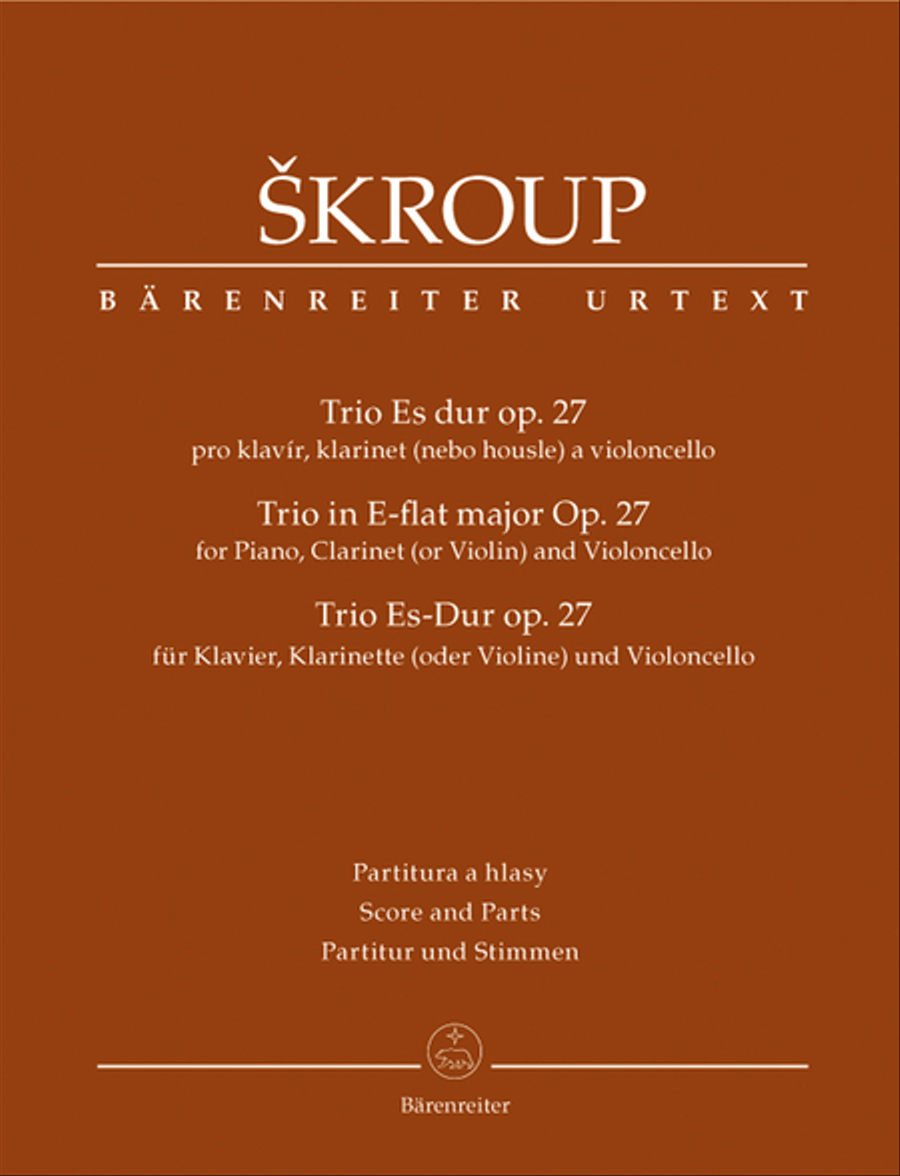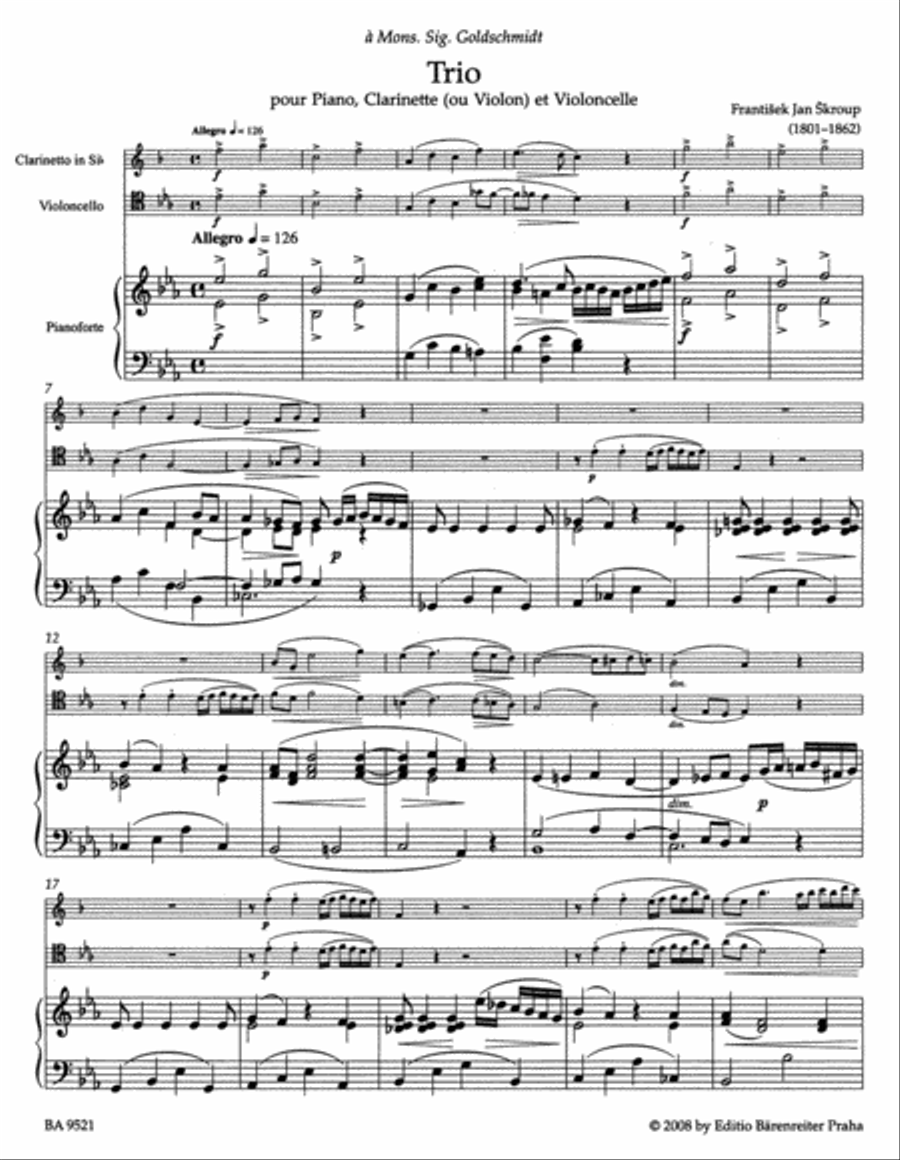 Trio for Piano, Clarinet (or Violin) and Violoncello E flat major op. 27

Available
Ready to ship in 1 to 2 weeks
Taxes/VAT calculated at checkout.
Detailed Description
Clarinet, Violin, Violoncello, Piano
SKU: BA.BA09521
Composed by Frantisek Skroup. Edited by Martin Harlow. This edition: urtext edition. Stapled. Barenreiter Urtext. Score, Set of parts. Opus 27. Baerenreiter Verlag #BA09521_00. Published by Baerenreiter Verlag (BA.BA09521).
ISBN 9790260104136. 31 x 24.3 cm inches. Key: E-flat major.
Frantisek Jan Skroup (b. 1801–1862) is known to the public first and foremost as the composer of the Czech national anthem. He was also music director of the Estates Theater in Prague during 1837–57 where he conducted major works from the international opera repertoire and composed a series of works. Taken from his small lesser known output of chamber music, the Trio in E-flat major op. 27 (BA 9521) and the Trio facile in F major op. 28 (BA 9522) are being published for the first time in Urtext editions.

The Trio in E-flat major is dedicated to the pianist and composer Sigismond Goldschmidt. It is stylistically reminiscent of Beethoven's chamber music; its unison opening recalls, for example, Beethoven's famous "Gassenhauer Trio" . Skroup dedicated the "Trio facile" to Jeanette Hoffmann, the daughter of the Prague publisher Johann Hoffmann.

As the title suggests, this is an accessible piece in the Biedermeier style which was intended for music making in the home and for lessons.

Both these pleasing compositions, which represent unknown repertoire of Czech chamber music from the period of the national revival movement, can be performed in two different scorings. "The Trio facile" op. 28 is available in two versions by the composer with the upper part for flute or violin.  

About Barenreiter Urtext
What can I expect from a Barenreiter Urtext edition?
MUSICOLOGICALLY SOUND
- A reliable musical text based on all available sources
- A description of the sources
- Information on the genesis and history of the work
- Valuable notes on performance practice
- Includes an introduction with critical commentary explaining source discrepancies and editorial decisions

... AND PRACTICAL
- Page-turns, fold-out pages, and cues where you need them
- A well-presented layout and a user-friendly format
- Excellent print quality
- Superior paper and binding

Song List (8)
Preface
Vorwort
Predmluva
I. Allegro
II. Andante grazioso
III. Scherzo. Allegretto
IV. Finale. Allegro
Critical Commentary