The Ultimate Jazz Fake Book - Eb Edition

E-flat Edition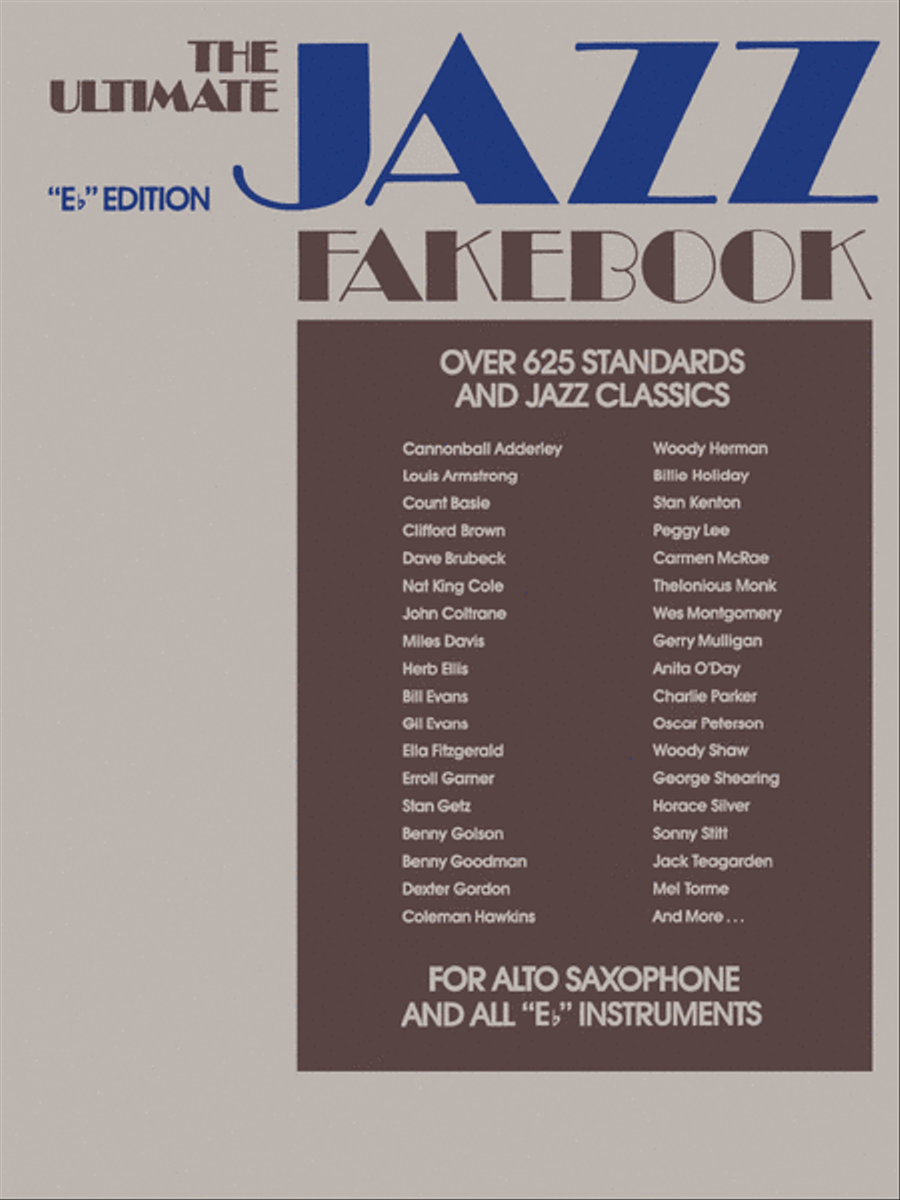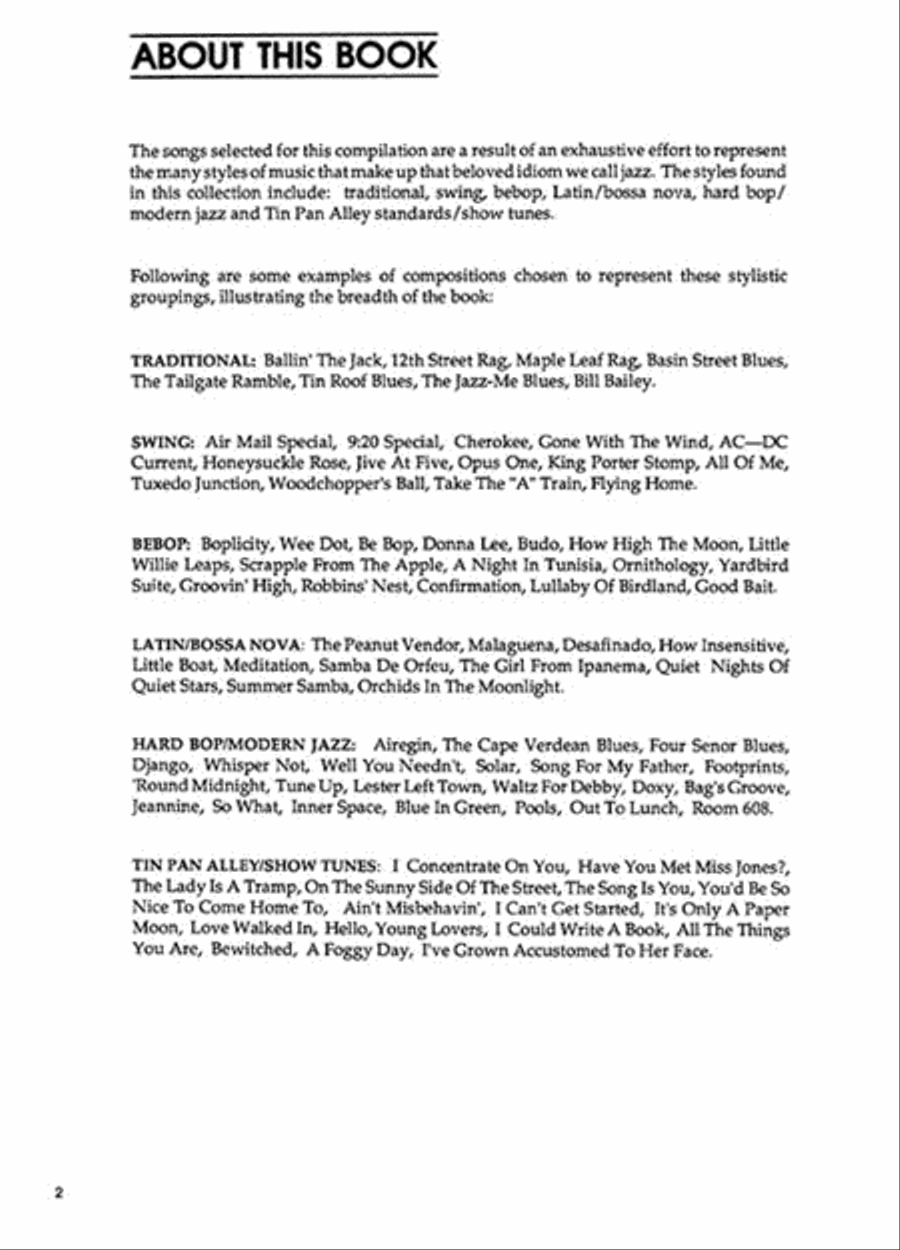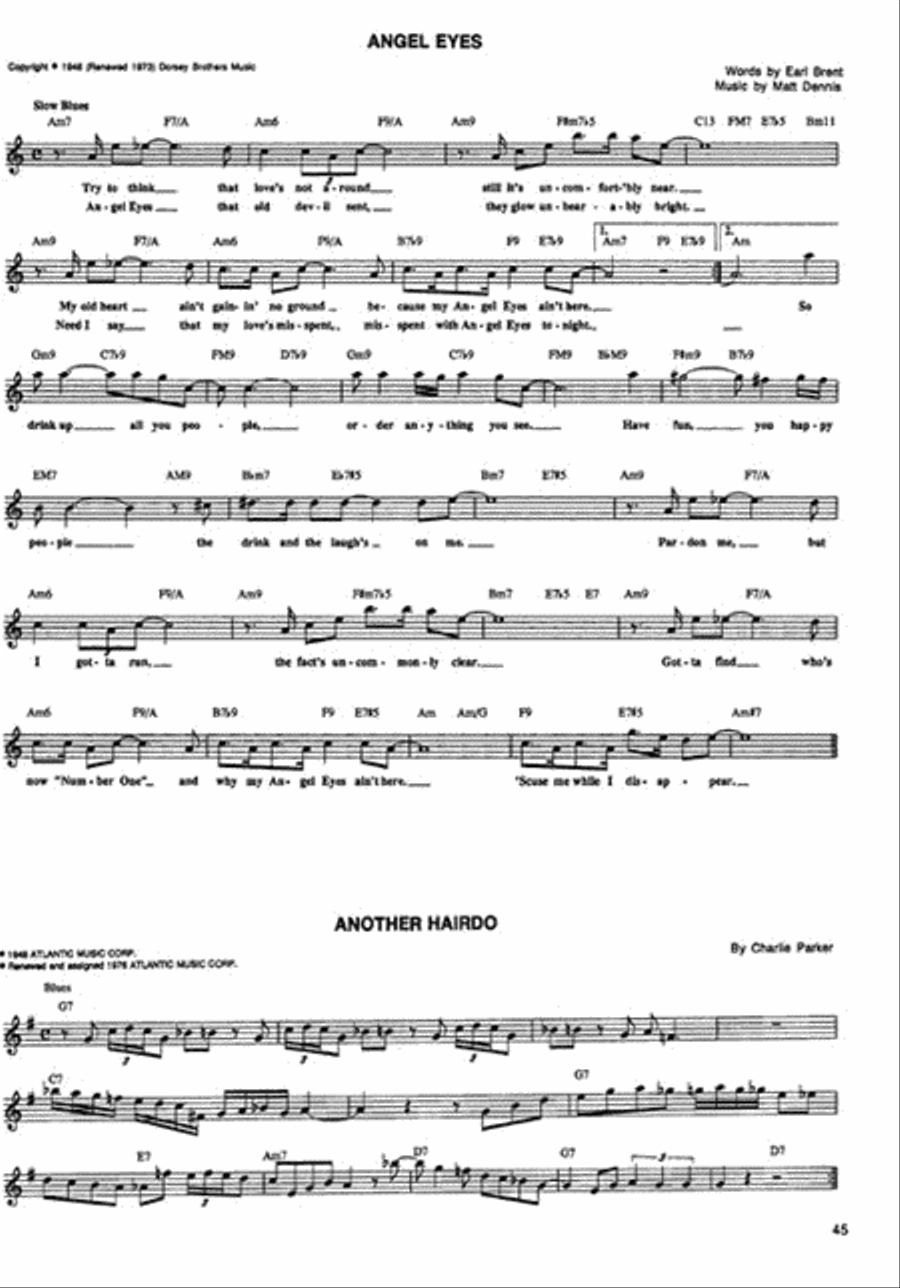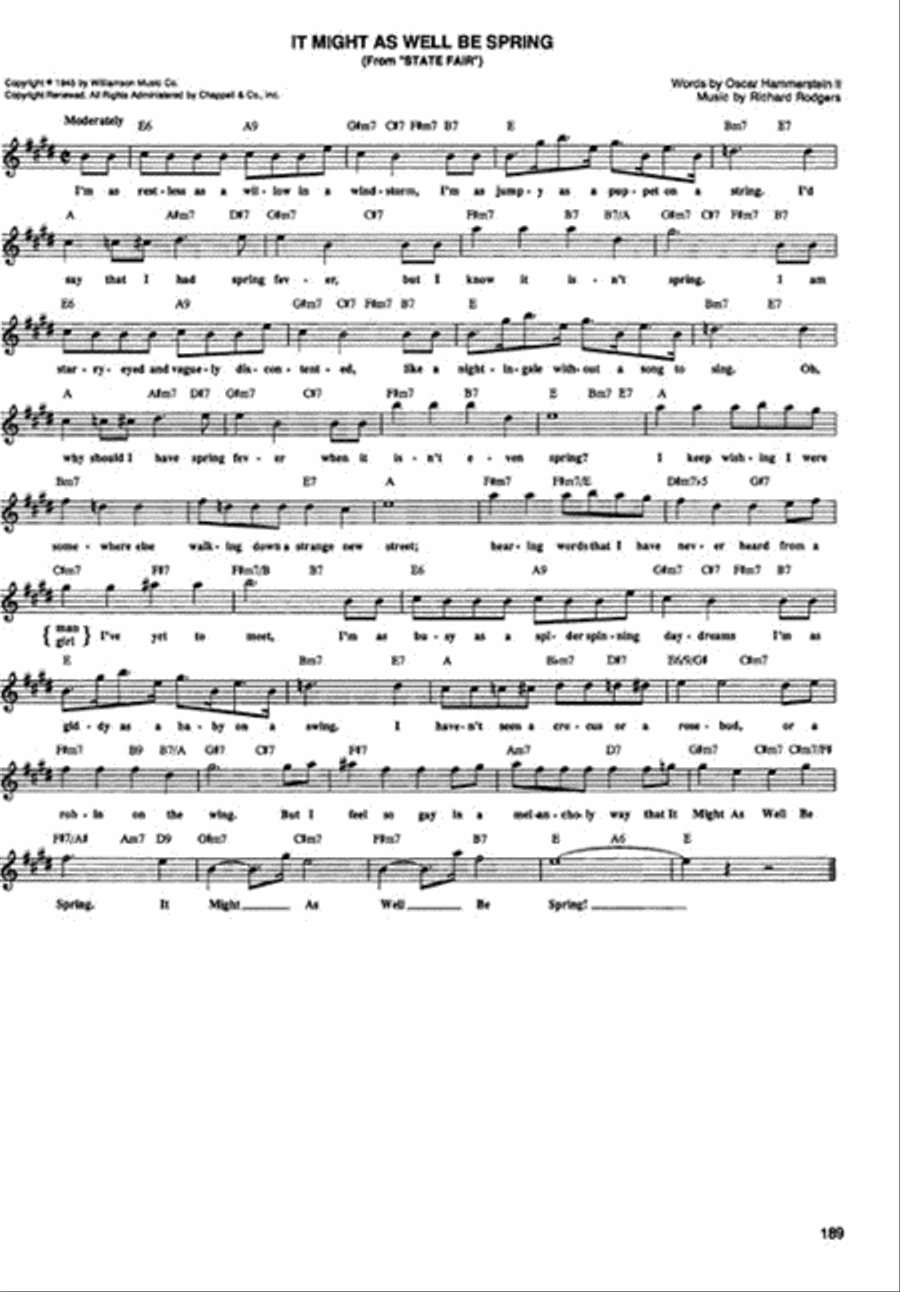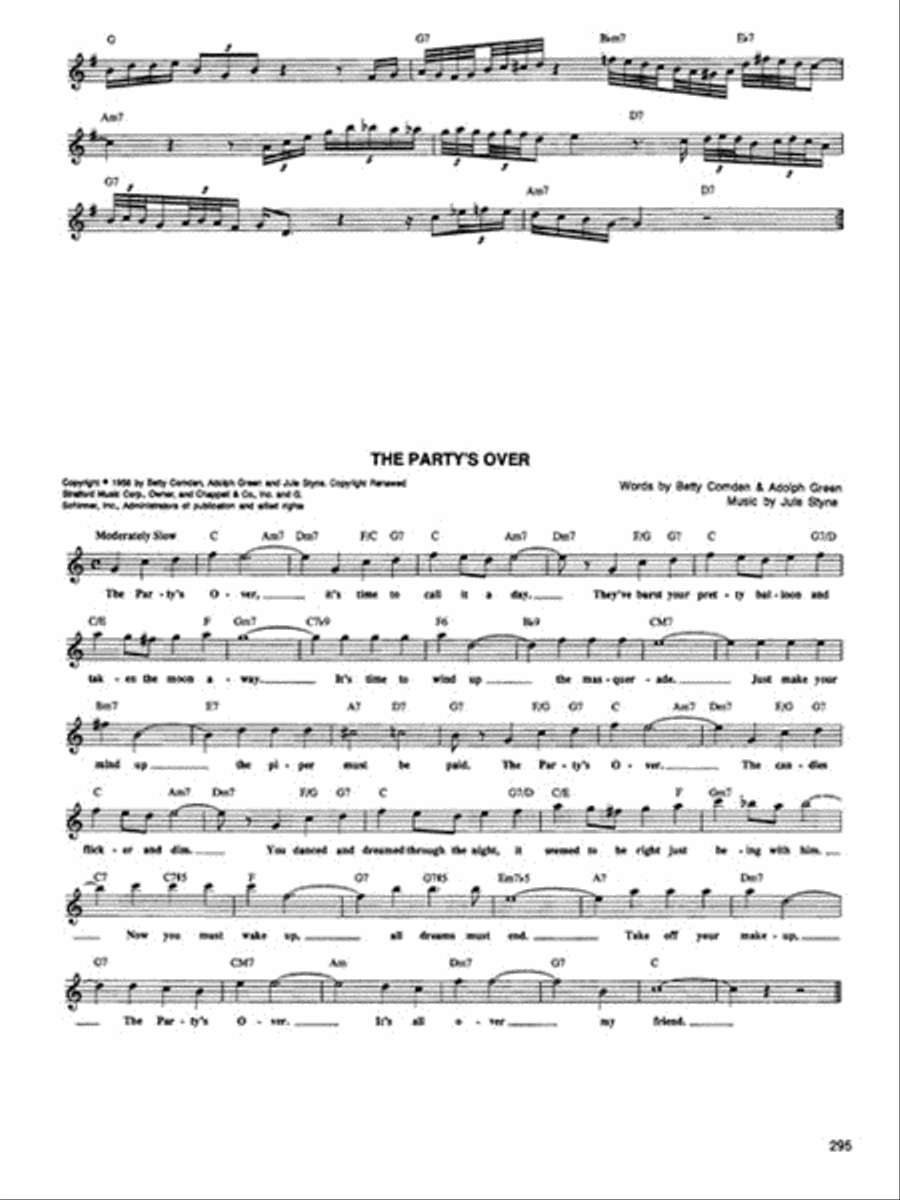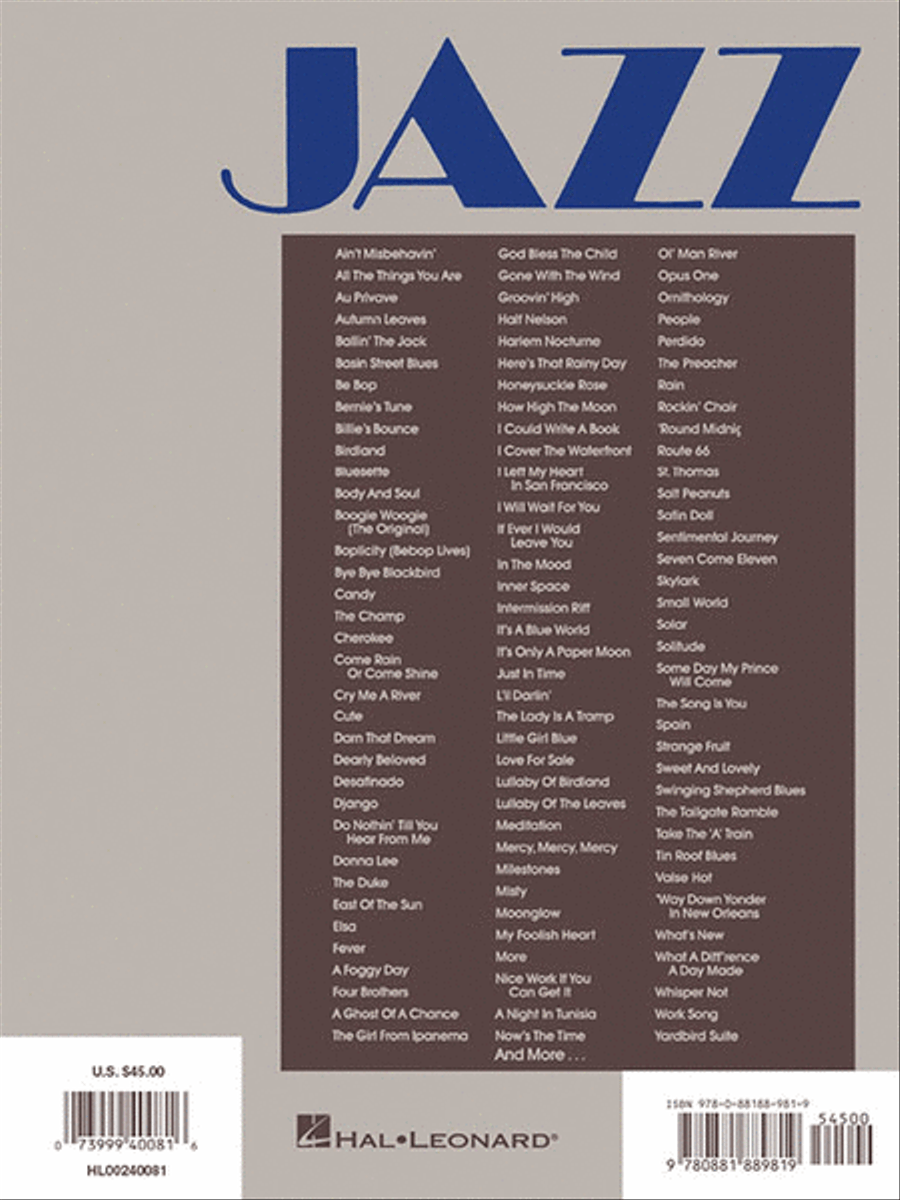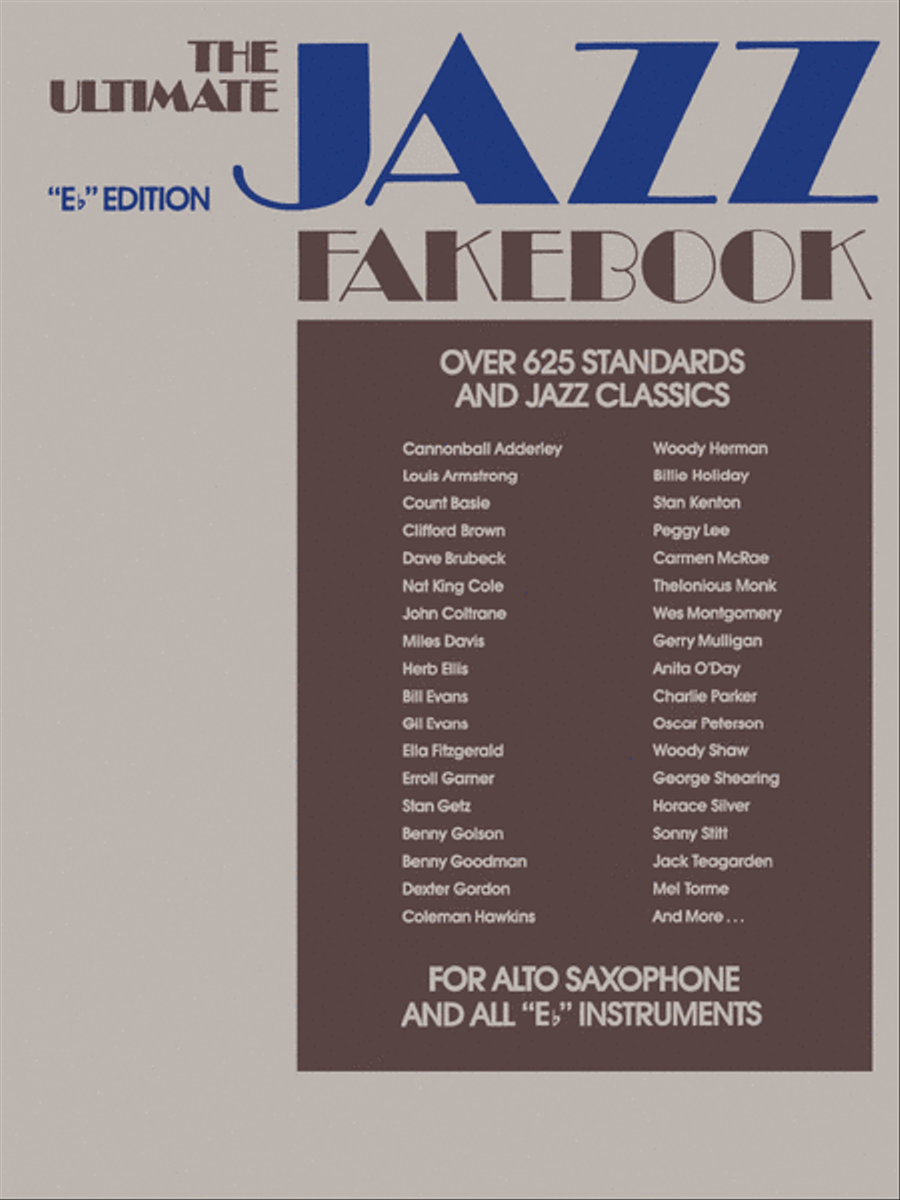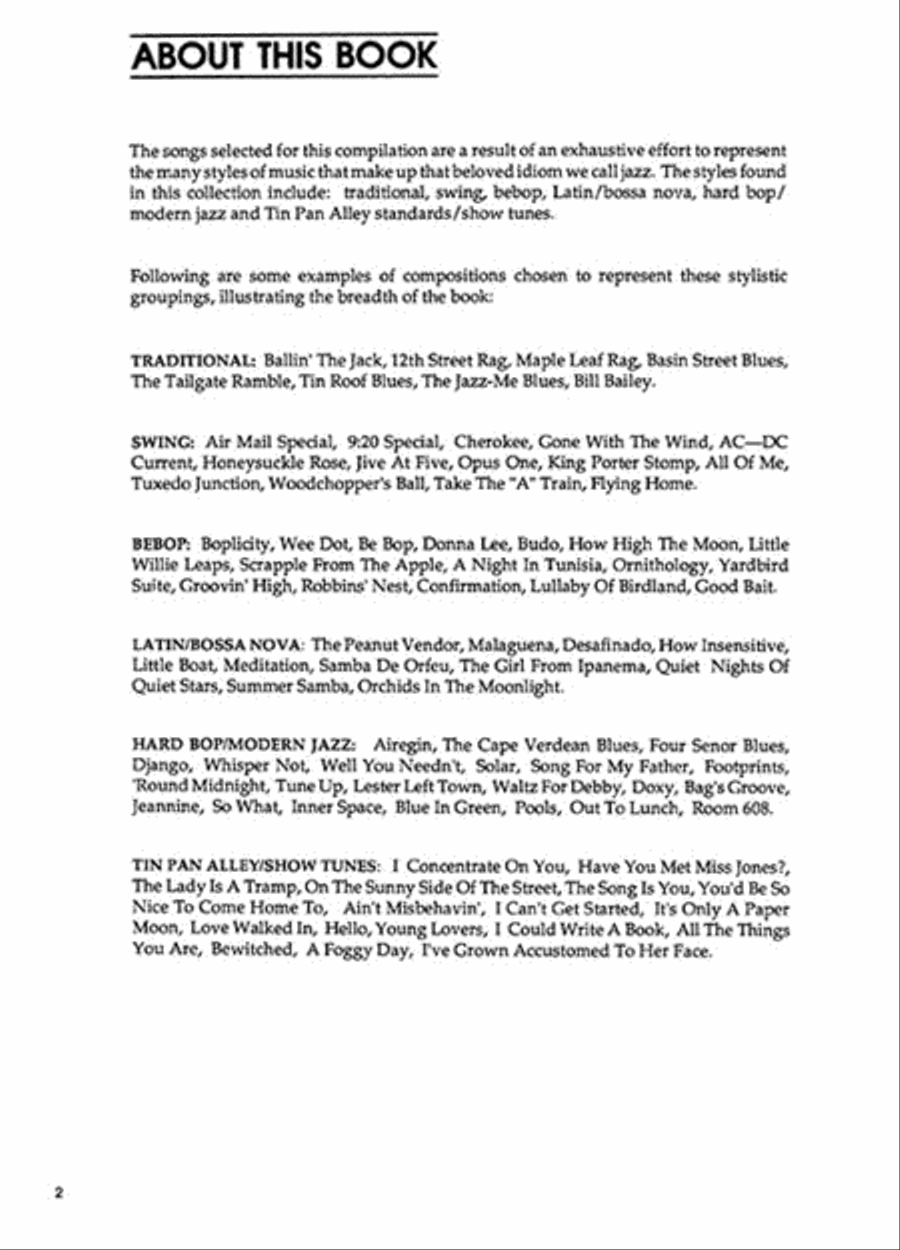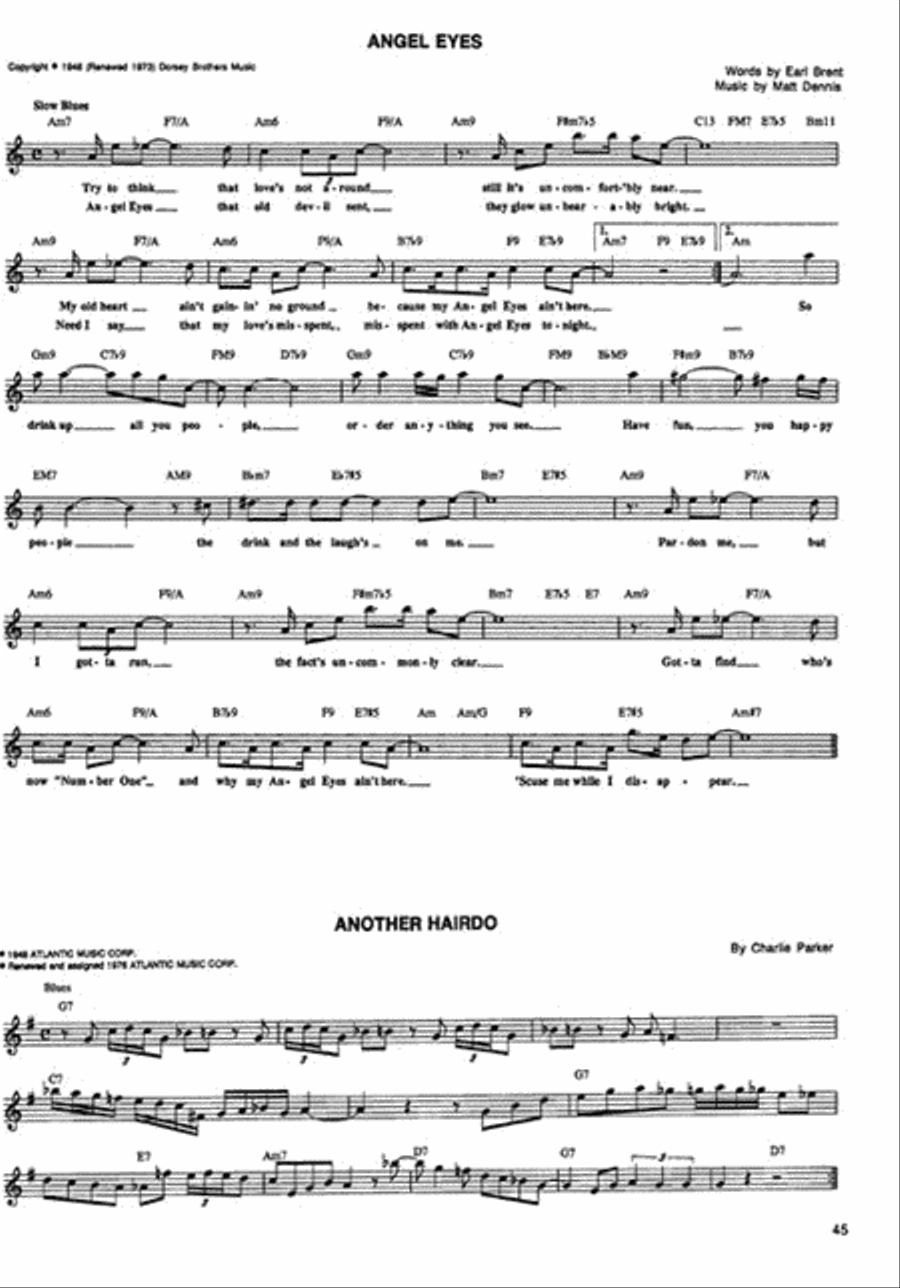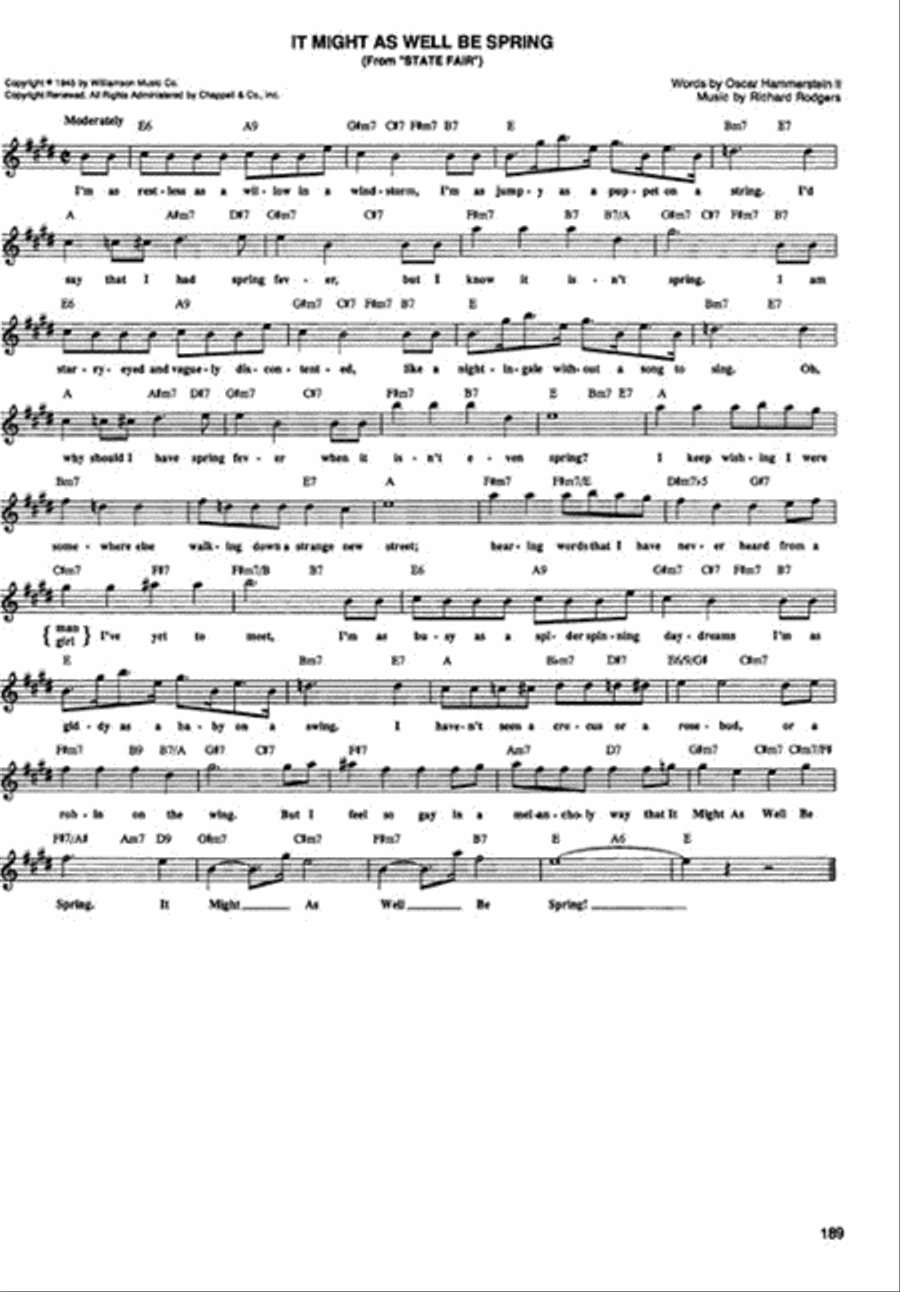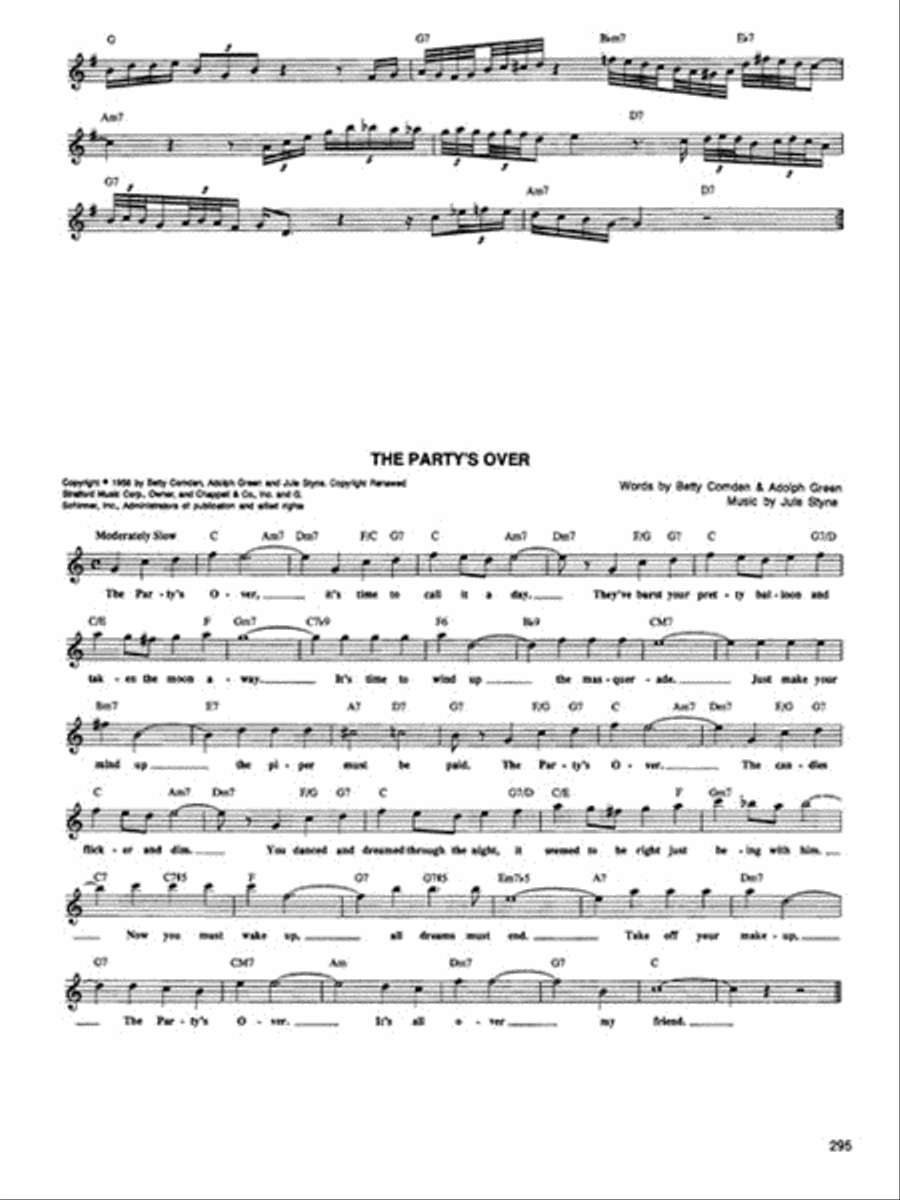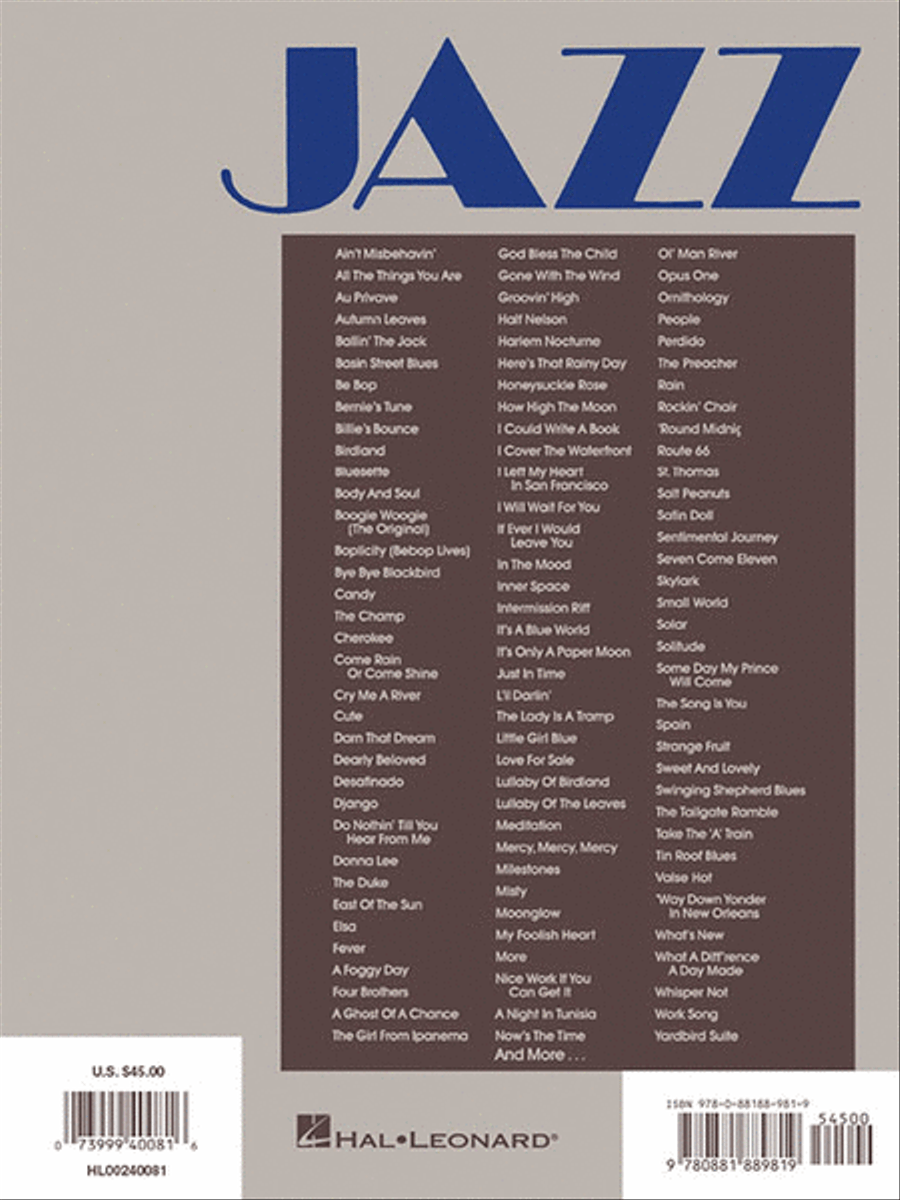 The Ultimate Jazz Fake Book - Eb Edition

E-flat Edition
Available
Ready to ship in 24 hours
Taxes/VAT calculated at checkout.
Detailed Description
E§ Instruments, Melody/Lyrics/Chords - Difficulty: easy-medium
SKU: HL.240081
E-flat Edition
. Composed by Various. Hal Leonard Fake Books. Jazz. Fakebook (leadsheet notation). With vocal melody, lyrics and leadsheet notation. 448 pages. Published by Hal Leonard (HL.240081).
ISBN 9780881889819. UPC: 073999400816. 9x12 inches.
The Ultimate Jazz Fake Book includes: * More than 625 songs important to every jazz library * Carefully chosen chords with some common practice chord substitutions * Lyrics to accommodate vocalists * Easy-to-read music typography * Composer and performer indexes. The selection of songs in The Ultimate Jazz Fake Book is a result of an exhaustive effort to represent the many styles of music that make up that beloved idiom we call jazz. The styles found in this collection include: traditional, swing, bebop, Latin/bossa nova, hard bop/modern jazz and Tin Pan Alley standards/show tunes. More than 625 songs including: Ain't Misbehavin' * All the Things You Are * Au Privave * Autumn Leaves * Bag's Groove * Basin Street Blues * Bewitched * Birdland * Body and Soul * Cherokee * Cry Me a River * Darn That Dream * Desafinado * Django * Don't Get Around Much Anymore * A Foggy Day * The Girl from Ipanema * Here's That Rainy Day * I Can't Get Started * I Concentrate on You * Little Boat * Love for Sale * Love Walked In * Lullaby of Birdland * Milestones * Moonglow * More * My Foolish Heart * A Night in Tunisia * Ornithology * People * The Preacher * 'Round Midnight * Saint Thomas * Satin Doll * Sentimental Journey * Solar * Someday My Prince Will Come * Song for My Father * Strange Fruit * Take the A Train * Waltz for Debby * What a Diff'rence a Day Made * Work Song * Yardbird Suite * and many, many more! Spanning m ore than nine decades of music, The Ultimate Jazz Fake Book fills a void for many musicians whose active repertoires could not possibly include this vast collection of classic jazz compositions and durable songs.
Song List (637)
'Tis Autumn
AC-DC Current
Across The Alley From The Alamo
After Hours
After You've Gone
Afternoon In Paris
Ah-leu-cha
Memories Of You
Ain't Misbehavin'
Air Mail Special
Airegin
All About Ronnie
All Blues
All Of Me
All Of You
All Or Nothing At All
All The Things You Are
Along Came Betty
Alright, Okay, You Win
Amapola (Pretty Little Poppy)
Amazing Grace
Among My Souvenirs
And All That Jazz
Angel Eyes
Another Hairdo
Apple Core
Apple Honey
Aren't You Glad You're You
As Catch Can
Au Privave
Autumn Leaves (Les Feuilles Mortes)
Baby, Won't You Please Come Home
Bags' Groove
Bag's New Groove
A Ballad
Ballin' the Jack
Barbados
Basin Street Blues
Be-Bop
A Beautiful Friendship
Bernie's Tune
Bess, You is My Woman
The Best is Yet to Come
The Best Things in Life Are Free
Bewitched
Big P
Bill Bailey, Won't You Please Come Home
Billie's Bounce (Bill's Bounce)
Bird Feathers
Birdland
Birds Of A Feather
The Blessing
Bloomdido
Blue and Sentimental
Blue Champagne
Blue Haze
Blue In Green
Blue 'N Boogie
Blueberry Hill
Blues For Pablo
Blues In The Closet
Blues in the Night (My Mama Done Tol' Me)
Bluesette
Body And Soul
(The Original) Boogie Woogie
Boplicity (Be Bop Lives)
Born To Be Blue
The Breeze And I
Bud's Blues
Budo
But Beautiful
Button Up Your Overcoat
Buzzy
Bye Bye Blackbird
Bye Bye Blues
C.C. Rider
Caldonia (What Makes Your Big Head So Hard?)
Can't Help Lovin' Dat Man
Candy
The Cape Verdean Blues
Carioca
Carolina Moon
The Cat Walk
The Champ
Charmaine
Chasing The Bird
Chega De Saudade (No More Blues)
Chelsea Bridge
Cherokee (Indian Love Song)
Cheryl
Choo Choo Ch' Boogie
The Christmas Song (Chestnuts Roasting on an Open Fire)
Close As Pages In A Book
Come Rain Or Come Shine
Come Sunday
Comes Love
Confirmation
A Cottage For Sale
Count Every Star
Crazy Rhythm
Cry Me a River
Cute
D.C. Farewell
Daahoud
Darn that Dream
A Day In The Life Of A Fool (Manha De Carnaval)
Dearly Beloved
'Deed I Do
Slightly Out Of Tune (Desafinado)
Dewey Square
Dinah
Dizzy Atmosphere
Django
Do Nothin' Till You Hear From Me
Do You Know What It Means To Miss New Orleans
Don't Explain
Don't Get Around Much Anymore
Don't Let The Sun Catch You Crying
Don't Take Your Love From Me
Donna Lee
Doodlin'
Down By The Riverside
Doxy
The duke
The Earl
Early Autumn
EAST OF THE SUN (AND WEST OF THE MOON)
Easy To Love (You'd Be So Easy To Love)
Ecaroh
Elsa
The End Of A Love Affair
Everybody Loves My Baby (But My Baby Don't Love Nobody But Me)
Everything's Coming Up Roses
Everything Happens To Me
Ev'ry Time We Say Goodbye
Exactly Like You
Falling in Love With Love
A Felicidade
Festive Minor
Fever
Fiesta In Blue
Fine And Mellow
A Fine Romance
Flamingo
Fly Me to the Moon (In Other Words)
Flying Home
A Foggy Day
Fool That I Am
Footprints
For All We Know
For Every Man There's A Woman
(I Love You) For Sentimental Reasons
For You, For Me, For Evermore
Four
Four Brothers
Four Others (Lighthouse)
Frankie and Johnny
Fried Bananas
From This Moment On
Frosty the Snow Man
A Gee Babyin't I Good To You
Get Out Of Town
Getting to Know You
I Don't Stand A Ghost Of A Chance
The Girl From Ipanema (Garota De Ipanema)
The Glory Of Love
The Glow Worm
God Bless' The Child
Goin' Out Of My Head
Gone With The Wind
Good Bait
The Good Life
A Good Man Is Hard To Find
Goodbye Pork Pie Hat
Greensleeves
Groovin' High
Guess Who I Saw Today
The Gypsy
Half Nelson
Hallelujah I Love Her So
Happy Talk
Harlem Nocturne
Harold's House Of Jazz
Haunted Heart
Have You Met Miss Jones?
Hello, Dolly!
Hello, Young Lovers
Here's That Rainy Day
High Fly
High Society
Honeysuckle Rose
Hooray For Love
How High The Moon
How Insensitive (Insensatez)
I Can't Get Started With You
I Can't Give You Anything But Love
I Concentrate On You
I Could Have Danced All night
I Could Write A Book
I Cover the Waterfront
I Cried For You
I Didn't Know What Time It Was
I Don't Know Why (I Just Do)
I Don't Want To Set The World On Fire
I Got Plenty O' Nuttin'
I Left My Heart In San Francisco
I Love Lucy
I Love Paris
I Love You
I Loves You Porgy
I Remember Duke
I Remember Clifford
I Remember When
I See Your Face Before Me
I Should Care
I Will Wait For You
I Wish You Love
I Won't Dance
I'll Always Be In Love With You
I'll Be Around
I'll Be Seeing You
I'll Get By (As Long As I Have You)
I'll Never Smile Again
I'll Remember April
I'll Take Romance
I'll Walk Alone
I'm Beginning to See the Light
I'm Confessin' (That I Love You)
I'm Glad There Is You (In This World Of Ordinary People)
I'm Gonna Sit Right Down And Write Myself A Letter
I'm Old Fashioned
I'm Sitting on Top of the World
I've got you Under My Skin
I've Grown Accustomed to Her Face
I've Heard That Song Before
If Ever I Would Leave You
If I Were a Bell
Ill Wind (You're Blowin' Me No Good)
Imagination
In A Little Spanish Town ('Twas on a Night Like This)
In a Silent Way
In A Shanty In Old Shanty Town
In The Blue Of Evening
In The Mood
In The Still Of The Night
Indiana (Back Home Again In Indiana)
Infant Eyes
Inner Space
Intermission Riff
Is You Is, Or Is You Ain't (Ma' Baby)
It Ain't Necessarily So
It Might As Well Be Spring
It Never Entered My Mind
It's A Blue World
It's All Right With Me
It's Magic
It's Not for Me to Say
It's only a Paper Moon
It's Sand, Man
It's The Talk Of The Town
The Jazz-Me Blues
Jeannine
Jelly Roll Blues
Jersey Bounce
Jeru
Jim
Jingle-Bell Rock
Jive at Five
Johnny One Note
Johnny's Theme
Johnson Rag
The Joint Is Jumpin'
Jor Du
Juke Box Saturday Night
Jumpin' With Symphony Sid
June Is Bustin' Out All Over
June Night
Just in Time
Killer Joe
King Porter Stomp
Ko Ko
The Lady is a Tramp
Lands End
The Last Time I Saw Paris
Laugh! Clown! Laugh!
Lazy Afternoon
Lennie's Pennies
Lester Left Town
Let it snow! Let it snow! Let it snow!
Let the Good TImes Roll
Let There Be Love
Let There Be You
Let's Call The Whole Thing Off
Let's Dance
Let's Fall In Love
Let's Get Away From It All
Life Is Just A Bowl Of Cherries
Like Someone In Love
Li'l Darlin'
Limelight
Line For Lyons
Linger Awhile
Little Boat (O Barquinho)
Little Brown Jug
Little Girl
Little Girl Blue
Little Niles
Little Willie Leaps
Lonely Woman
Long Ago (and Far Away)
Look for the Silver Lining
Lost In The Stars
A Lot Of Livin' To Do
Louisiana
Love For Sale
Love Is A Simple Thing
Love Is Here To Stay
Love Walked In
Lover Man (Oh, Where Can You Be?)
Lullaby Of Birdland
Lullaby Of The Leaves
Lush Life
Mad About Him, Sad Without Him, How Can I Be Glad Without Him Blues
Mad About The Boy
Make Someone Happy
Malaguena
The Man That Got Away
Manhattan
Maple Leaf Rag
Margie
Marmaduke
Mean To Me
Meditation (Meditacao)
Memphis In June
Mercy, Mercy, Mercy
Merry Christmas, Baby
Merry Go Round (Parker C)
Midnight Blue
Midnight Sun
Milenberg Joys
Miles Ahead
Miles
Minor Swing
Misty
Mohawk
Moonglow
Moon Love
Moon Rays
Moonlight And Roses (Bring Mem'ries Of You)
Moonlight Bay
Moonlight Cocktail
Moonlight in Vermont
Moonlight On The Ganges
Moose The Mooche
More (Ti Guardero' Nel Cuore)
More Than You Know
Moten Swing
My Favorite Things
My Foolish Heart
My Funny Valentine
My Heart Belongs To Daddy
My Little Suede Shoes
My Man's Gone Now
My Melancholy Baby
My Monday Date
My One And Only Love
My Prayer
My Romance
My Shining Hour
My Ship
Nardis
Nefertiti
Nevertheless (I'm in Love with You)
The New 'Frankie And Johnnie' Song
New York Afternoon
Nica's Dream
Nice Work If You Can Get It
A Night In Tunisia
A Nightingale Sang In Berkeley Square
9:20 Special
Nippon Soul
No Moon At All
Now He Sings, Now He Sobs
Now's The Time
Oh! Look At Me Now
Oh, What A Beautiful Mornin'
Oh! What It Seemed To Be
Oh! You Beautiful Doll
Ol' Man River
Old Devil Moon
Oleo
On a Clear Day (You Can See Forever)
On A Little Street In Singapore
On A Slow Boat To China
On the Street Where you Live
On The Sunny Side Of The Street
Once Upon A Summertime
One By One
One Mint Julep
One Note Samba (Samba De Uma Nota So)
Open Country
Opus One
Orchids In The Moonlight
The Organ Grinder
Ornithology
Out To Lunch
Paper Doll
Parker's Mood
The Party's Over
Paul's Pal
The Peacock
The Peanut Vendor (El Manisero)
Peel Me A Grape
Pennies from Heaven
People
People Will Say We're In Love
Perdido
Perhaps
Pick Yourself Up
Poinciana (Song Of The Tree)
Polka Dots and Moonbeams
Pompton Turnpike
Pools
The Preacher
Put on a Happy Face
Put Your Little Foot Right Out
Quasimoto
Quiet Nights Of Quiet Stars (Corcovado)
Quiet Now
Rain
The Rain in Spain
Raincheck
Random Thoughts
Red Cross
The Red Door
Red Sails In The Sunset
Red Top
Revelation
River, Stay 'Way From My Door
Robbin's Nest
Rock-A-Bye Your Baby With A Dixie Melody
Rockin' Chair
Room 608
Rosetta
'round Midnight
Route 66
Royal Garden Blues
Ruby, My Dear
S'posin'
Sack Of Woe
Salt Peanuts
Samba De Orfeu
Satin Doll
Saturday Night Fish Fry
Scrapple From The Apple
Second Hand Rose
Senor Blues
Sentimental Journey
September Song
Serenade To A Bus Beat
Sermonette
Seven Come Eleven
Shake, Rattle and Roll
Shawnuff
She's Funny That Way
The Sheik Of Araby
S.H.I.N.E.
Shiny Stockings
Shivers
Shoo Fly Pie And Apple Pan Dowdy
Side by Side
Sister Sadie
Skylark
Skyliner
Small World
Smoke Gets In Your Eyes
Smoke Rings
A Smooth One
Snowfall
So Nice (Summer Samba)
So What
Soft Winds
Solar
Solo Flight
Solitude
Some Day My Prince Will Come
Some Enchanted Evening
Some of These Days
Something Everywhere
Sometimes I'm Happy
Song For My Father
The Song Is You
Song Of The Islands
Songbird (Thank You For Your Lovely Song)
Sonny Boy
S.O.S.
Soul Eyes
South Of The Border (Down Mexico Way)
Southern Comfort
(I Can Recall) Spain
Speak Low
Spring Can Really Hang You Up The Most
Spring Will Be A Little Late This Year
Squeeze Me
St. Thomas
Stay As Sweet As You Are
Steeplechase
Stockholm Sweetnin'
STOMPIN' AT THE SAVOY
Stormy Weather (Keeps Rainin' All the Time)
Strange Fruit
Strangers In The Night
A String of Pearls
Struttin' With Some Barbecue
Stuffy
Sugar
Sugar Foot Stomp
Summertime
A Sunday Kind Of Love
Sunny Side Up
Sunrise Serenade
The Surrey With The Fringe On Top
Sweet And Lovely
Sweet Eloise
Sweet Sue-Just You
Swing House
Swingin' The Blues
Swingin'until The Girls Come Hom
The Swingin' Shepherd Blues
The Tailgate Ramble
Tain't Nobody's Biz-ness If I Do
'Tain't What You Do (It's The Way That Cha Do It)
Take The 'A' Train
A Taste Of Honey
Tenderly
That's All
That's Entertainment
That's Life
There Are Such Things
There Is No Greater Love
There Will Never Be Another You
There'll Be Some Changes Made
There's A Small Hotel
There's A Boat Dat's Leavin' Soon For New York
Thermo
These Foolish Things (Remind Me Of You)
They All Laughed
They Can't Take That Away From Me
They Didn't Believe Me
The Things We Did Last Summer
This Can't Be Love
This Love Of Mine
The Thrill is Gone
Thriving From A Riff
Tickle Toe
Time Remembered
Tin Roof Blues
Tishomingo Blues
Together
Tones For Joan's Bones
Too Darn Hot
The Touch Of Your Lips
Trav'lin' Light
Tune Up
Tuxedo Junction
Twelfth Street Rag
Twisted
Un Poco Loco
Undecided
Under A Blanket Of Blue
Unforgettable
It Will Have To Do Until The Real Thing Comes Along
Utter Chaos
Valse Hot
Van Lingle Mungo
Very Early
Violets For Your Furs
Wagon Wheels
Wait Till You See Her
Walkin'
Walkin' My Baby Back Home
Walkin' Shoes
Waltz For Debby
Watch What Happens
'Way Down Yonder In New Orleans
The Way You Look Tonight
We Kiss In A Shadow
Weary Blues
Wee Dot
Well You Needn't (It's Over Now)
West End Blues
Western Reunion
Westward Walk
What A Diff'rence A Day Made
What a Wonderful World
What Kind Of Fool Am I?
What's New?
When I Fall in Love
When My Sugar Walks Down The Street
When Your Lover Has Gone
Where Flamingos Fly
Where Or When
Where Is Love?
While We're Young
Whisper Not
Who?
Who Can I Turn To (When Nobody Needs Me)
Who's Got Rhythm
Why Do I Love You?
Will You Still Be Mine
Willow Weep For Me
Witchcraft
With a Little Bit of Luck
Woodchopper's Ball
Work Song
The World Is Waiting For The Sunrise
Wouldn't It Be Loverly
Wrap Your Troubles In Dreams (And Dream Your Troubles Away)
Yardbird Suite
Yes Indeed
Yesterdays
You Better Go Now
You Call It Madness (But I Call It Love)
You Came A Long Way From St. Louis
You Made Me Love You (I didn't Want to do it)
You Turned The Tables On Me
You'd Be So Nice to Come Home To
You'll Never Walk Alone
You're My Everything
You're the Cream in My Coffee
Young And Foolish
Young At Heart
Young Love
Younger Than Springtime
None But the Lonely Heart
Revelation (Mother Earth)
Milestones