The Disney Fake Book – 4th Edition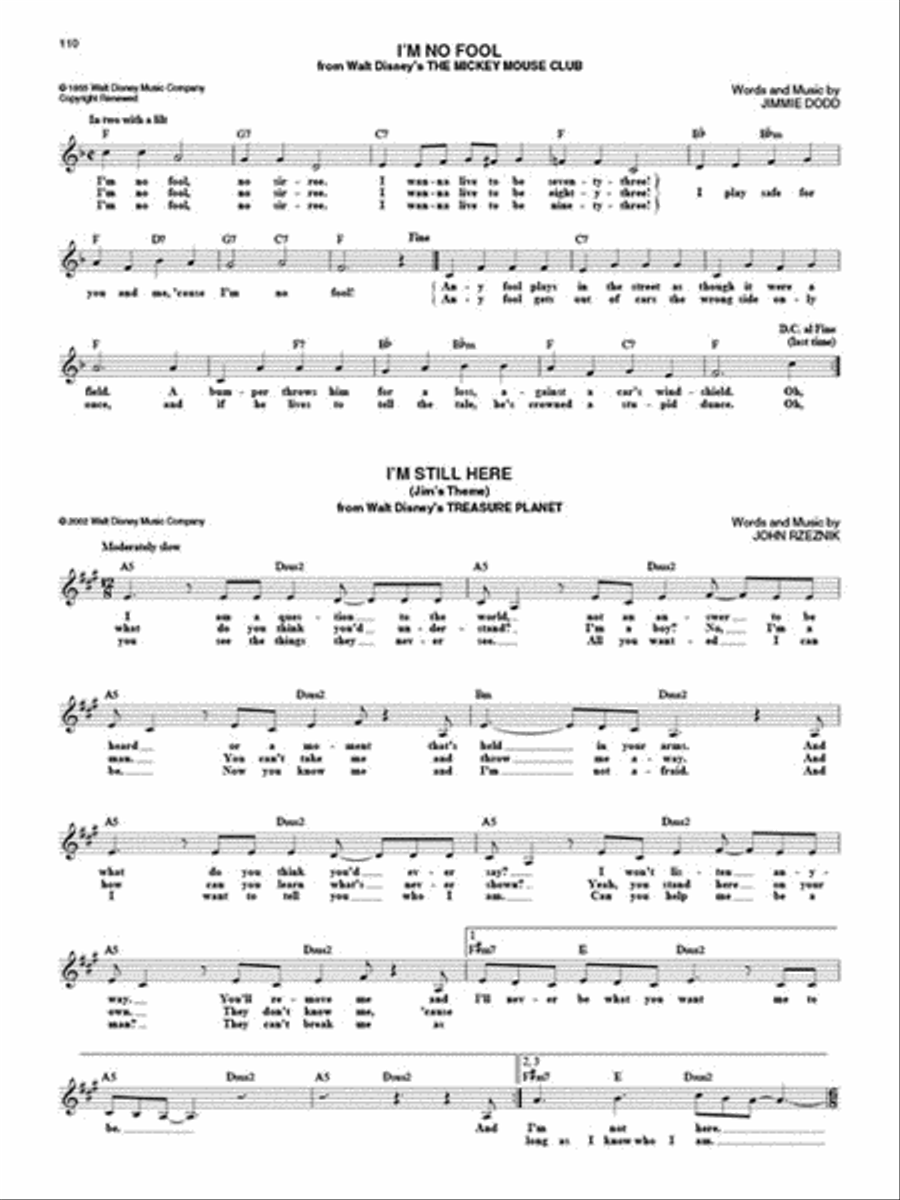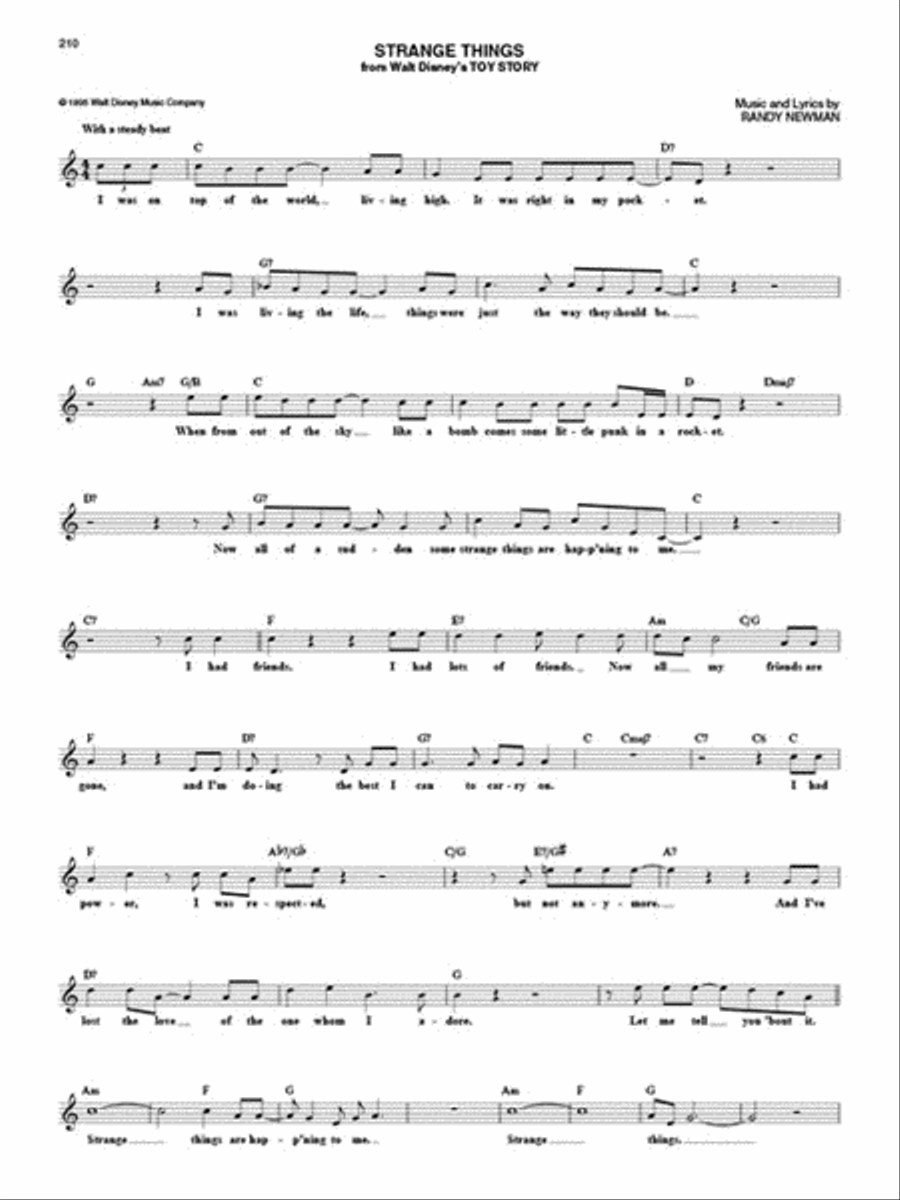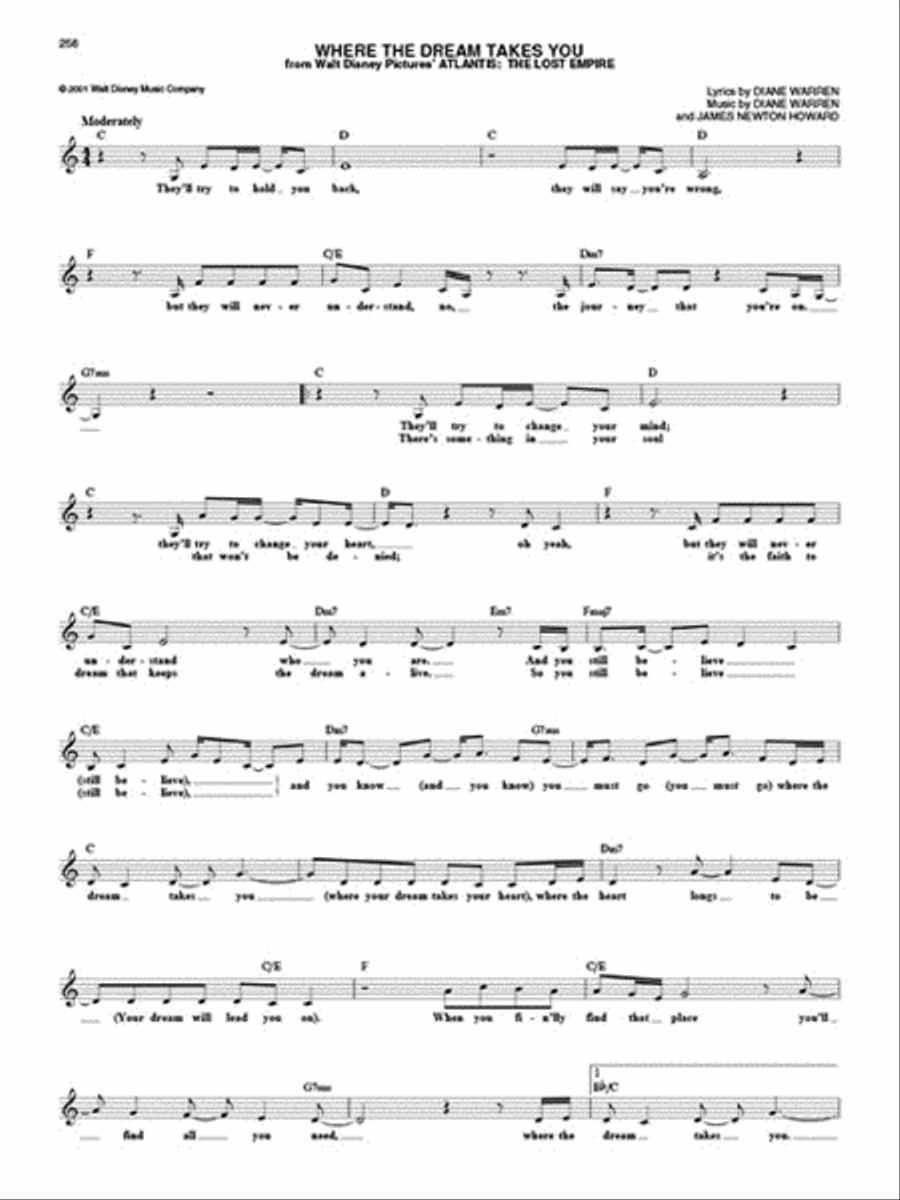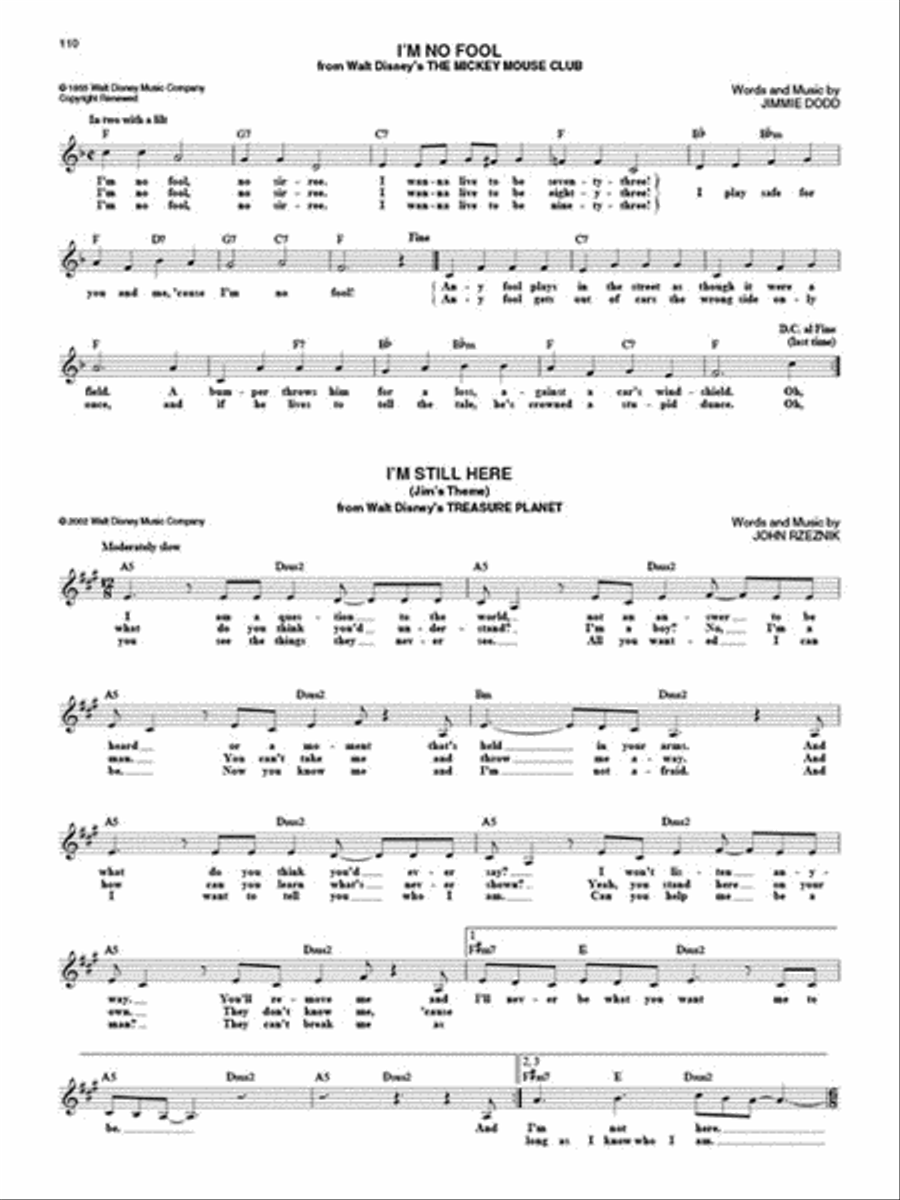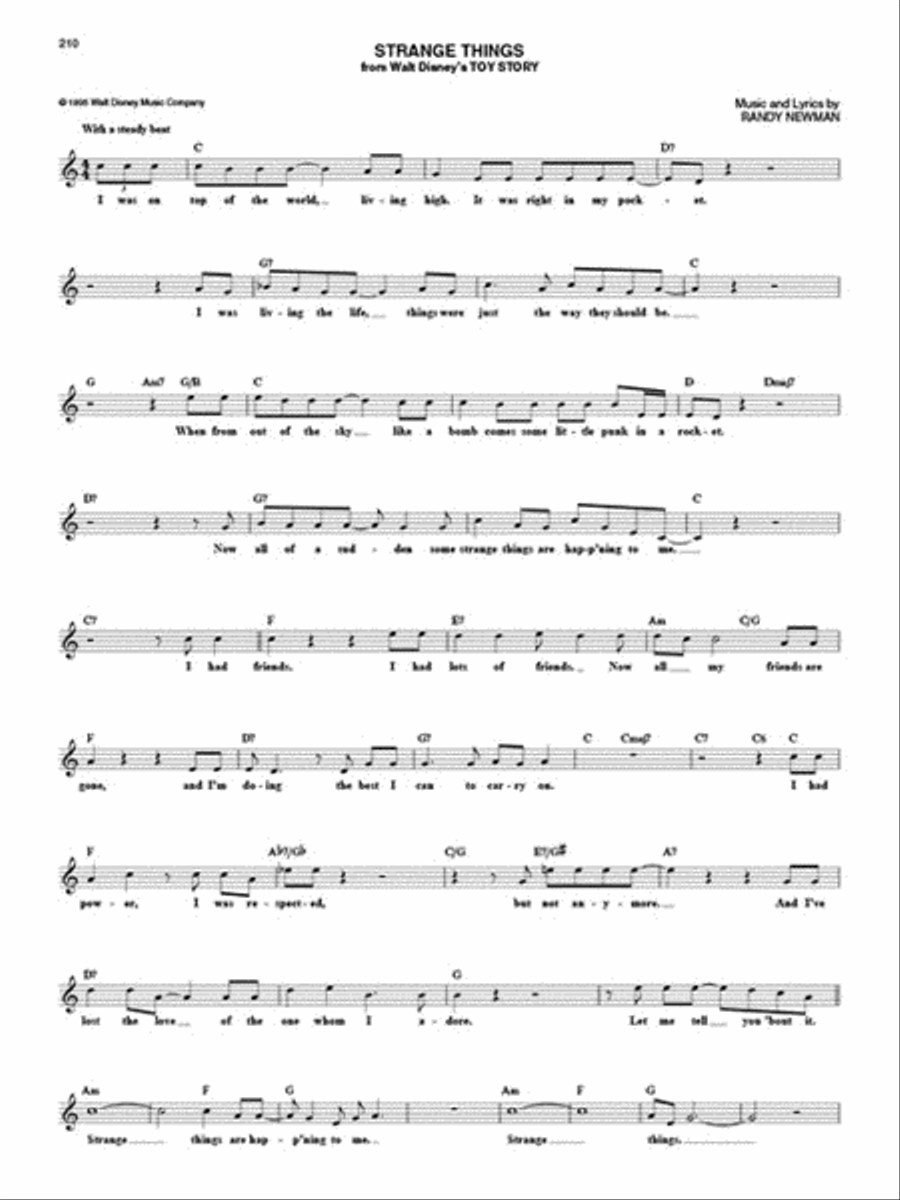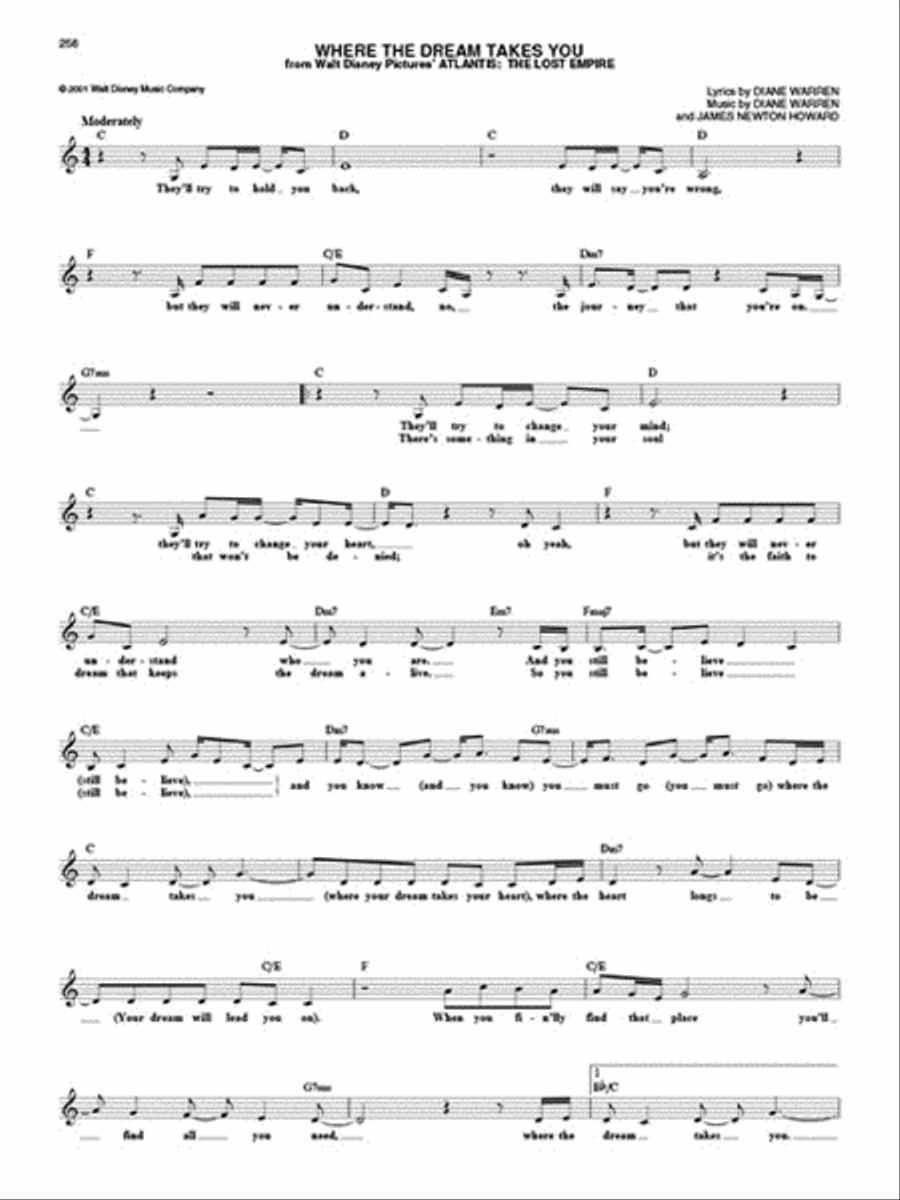 The Disney Fake Book – 4th Edition


Price reduced from

$39.99

to
$31.99
This item is currently not available
Taxes/VAT calculated at checkout.
Detailed Description
Melody/Lyrics/Chords C Instruments; Guitar; Melody/Lyrics/Chords; Piano/Keyboard
SKU: HL.175311
Composed by Various. Fake Book. Children, Disney, Tv & Movies. Softcover. 288 pages. Published by Hal Leonard (HL.175311).
ISBN 9781495070358. UPC: 888680642471. 9.0x12.0x0.663 inches.
Since its founding, the Walt Disney Company has made music a cornerstone of virtually every part of its business. From animated feature films to theme parks, music has always been there to help tell the story and make the magic. This fourth edition features even more Disney favorites, including hits from their most recent movie and television releases. 240 songs in all, including: The Bare Necessities • Be Our Guest • Beauty and the Beast • Can You Feel the Love Tonight • Circle of Life • The Climb • Colors of the Wind • Do You Want to Build a Snowman? • A Dream Is a Wish Your Heart Makes • For the First Time in Forever • Go the Distance • Happy Working Song • He's a Pirate • How Do You Know? • I See the Light • Immortals • King of New York • Lava • Let It Go • The Parent Trap • Part of Your World • A Pirate's Life • Reflection • Seize the Day • Some Day My Prince Will Come • True Love's Kiss • Under the Sea • When I See an Elephant Fly • When She Loved Me • When Will My Life Begin? • When You Wish Upon a Star • A Whole New World • Winnie the Pooh • Written in the Stars • You Are the Music in Me • You'll Be in My Heart • Zip-a-Dee-Doo-Dah • and many more.
Song List (235)
Strange Things
If Only
A Star Is Born
Your Heart Will Lead You Home
Let It Go
We Belong Together
Alice
I See The Light
I've Got A Dream
When Will My Life Begin?
Watch What Happens
When Can I See You Again?
Do You Want To Build A Snowman?
For The First Time In Forever
Strong
These Palace Walls
Immortals
Lava
The Ugly-Bug Ball
Touch The Sky
Ev'rybody Has A Laughing Place
Home
Once Upon A Dream
Circle Of Life
I Just Can't Wait To Be King
Hakuna Matata
Can You Feel The Love Tonight
If I Can't Love Her
Me
No Matter What
Beauty And The Beast
A-E-I-O-U (The Caterpillar Song)
The Age Of Not Believing
Heffalumps And Woozles
Rumbly In My Tumbly
Honest John
Absent-Minded Professor's March (Medfield Fight Song)
Annette
The Beautiful Briny Sea
A Cowboy Needs A Horse
Dalmatian Plantation
Don't Jump To Conclusions
The Flubber Song
Fun And Fancy Free
Fun With Music
The Happiest Home In These Hills
Herbie
How Do You Do?
I Bring You A Song
I'm No Fool
In Harmony
Liberty Tree
Meetin' At The Malt Shop
The Merry Mouseketeers
A Most Befuddling Thing
Oh, What A Merry Christmas Day
The One And Only, Genuine, Original Family Band
The Parent Trap
Pollyanna's Song
Pussycat Polka
Remember When
Riddle De Diddle De Day
Simple Simon
So Dear To My Heart
Sooner Or Later
Stop, Look And Listen
Summer Magic
The Swisskapolka
Talent Roundup
That Darn Cat!
That's What Makes The World Go 'Round
Today Is Tuesday
You (Are A Human Animal)
Colors Of The Wind
R-E-S-C-U-E Rescue Aid Society
You've Got A Friend In Me
God Help The Outcasts
Santa Fe
Zero To Hero
Go The Distance
The Climb
Sweet Surrender
The Morning Report
Honor To Us All
I'll Make A Man Out Of You
Reflection
True To Your Heart
The Time Of Your Life
Written In The Stars
Woody's Roundup
When She Loved Me
My Funny Friend And Me
Where The Dream Takes You
Arabian Nights
The Aristocats
If I Didn't Have You
The Work Song
Hawaiian Roller Coaster Ride
I'm Still Here (Jim's Theme)
Baby Mine
The Medallion Calls
He's A Pirate
The Ballad Of Davy Crockett
Look Through My Eyes
Will The Sun Ever Shine Again
The Bare Necessities
Cinderella
Be Our Guest
Bella Notte
Belle
Best Of Friends
Bibbidi-Bobbidi-Boo (The Magic Song)
Bluddle Uddle Um Dum (The Washing Song)
The Incredits
Streets Of Gold
Seize The Day
Breaking Free
We're All In This Together
Real Gone
Anything Can Happen
Practically Perfect
Jolly Holiday
Step In Time
Supercalifragilisticexpialidocious
You Are The Music In Me
Candle On The Water
Carrying The Banner
Casey Junior
Le Festin
Rock Star
Happy Working Song
That's How You Know
True Love's Kiss
I Want The Good Times Back
Beyond My Wildest Dreams
Chim Chim Cher-ee
Chip 'N Dale's Rescue Rangers Theme Song
Can I Have This Dance
I Thought I Lost You
Cruella De Vil
Almost There
Dig A Little Deeper
A Dream Is A Wish Your Heart Makes
DuckTales Theme
The Dwarfs' Yodel Song (Silly Song)
The Elegant Captain Hook
The World Will Know
King Of New York
Ev'rybody Wants To Be A Cat
I Wonder
Fortuosity
Friend Like Me
Gaston
Give A Little Whistle
Happy, Happy Birthday To You
He's A Tramp
Heigh-Ho
Hi-Diddle-Dee-Dee (An Actor's Life For Me)
Higitus Figitus
How D'ye Do And Shake Hands
How Will I Know My Love?
I'm Late
I'm Wishing
I've Got No Strings
It's A Small World
It's Not Easy
Jiminy Cricket
Johnny Tremain
Kiss The Girl
Lavender Blue (Dilly Dilly)
Les Poissons
Let's Get Together
Let's Go Fly A Kite
Little April Shower
Little Wooden Head
The Lord Is Good To Me
Love Is A Song
Mickey Mouse March
Minnie's Yoo Hoo
Never Smile At A Crocodile
Old Yeller
Once Upon A Time In New York City
One Jump Ahead
Oo-De-Lally
Part Of Your World
Perfect Isn't Easy
Pink Elephants On Parade
A Pirate's Life
Poor Unfortunate Souls
Prince Ali
Saludos Amigos
Scales And Arpeggios
The Second Star To The Right
Shrimp Boats
The Siamese Cat Song
Sing A Smiling Song
So This Is Love
Some Day My Prince Will Come
Someone's Waiting For You
Something There
A Spoonful Of Sugar
That's What Friends Are For (The Vulture Song)
Theme From Zorro
These Are The Best Times
Three Cheers For Anything
The Tiki Tiki Tiki Room
Toyland March
Trust In Me (The Python's Song)
Turn On The Old Music Box
The Unbirthday Song
Under The Sea
Westward Ho, The Wagons!
A Whale Of A Tale
When I See An Elephant Fly
When You Wish Upon A Star
Whistle While You Work
Who's Afraid Of The Big Bad Wolf?
A Whole New World
Why Should I Worry?
Winnie The Pooh
With A Smile And A Song
The Wonderful Thing About Tiggers
Yo Ho (A Pirate's Life For Me)
You Can Fly! You Can Fly! You Can Fly!
Zip-A-Dee-Doo-Dah
If I Never Knew You (End Title)
Wringle Wrangle
Someday
I Wan'na Be Like You (The Monkey Song)
Alice In Wonderland
Two Worlds*
Strangers Like Me*
Trashin' The Camp* (Pop Version)
You'll Be In My Heart* (Pop Version)
Feed The Birds (Tuppence A Bag)