Song Book

For Alto Saxophone in E-Flat and Marimba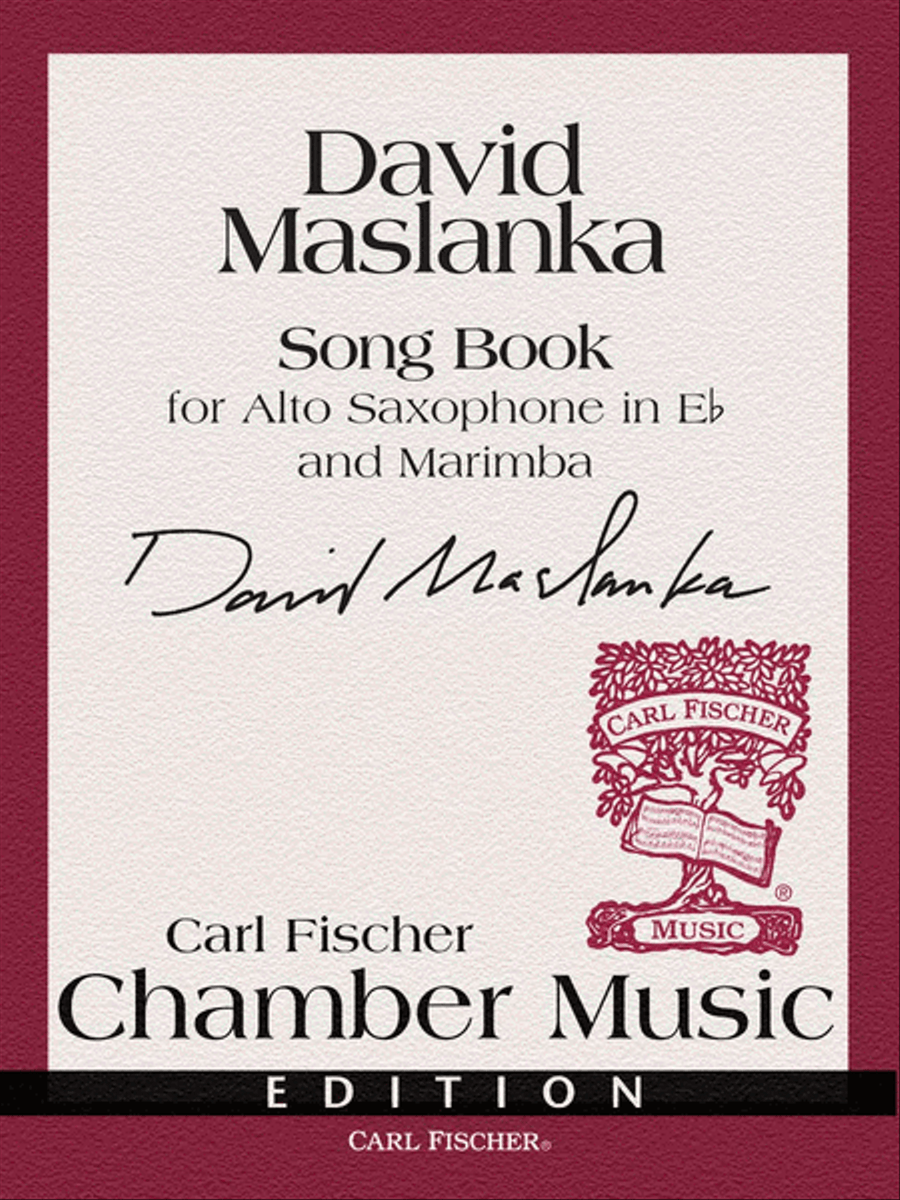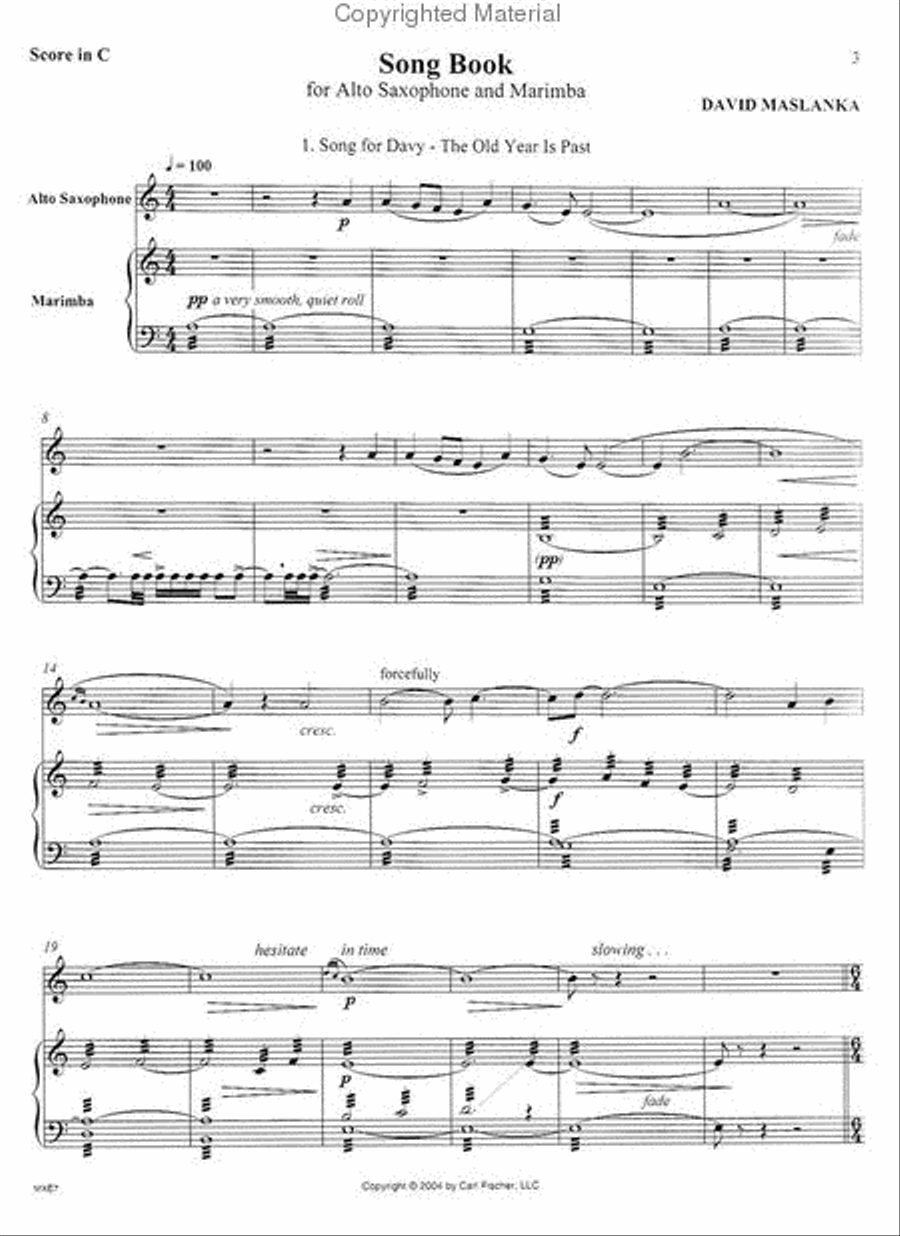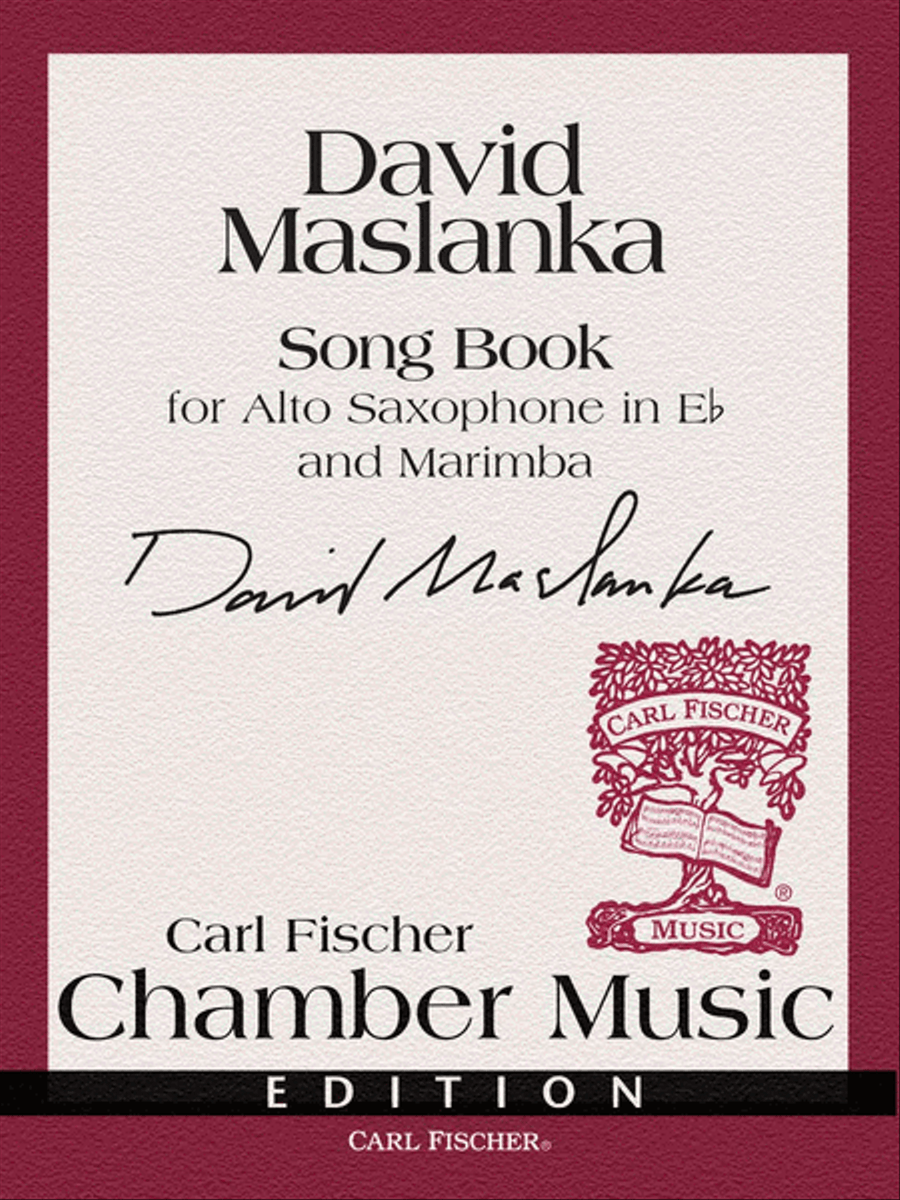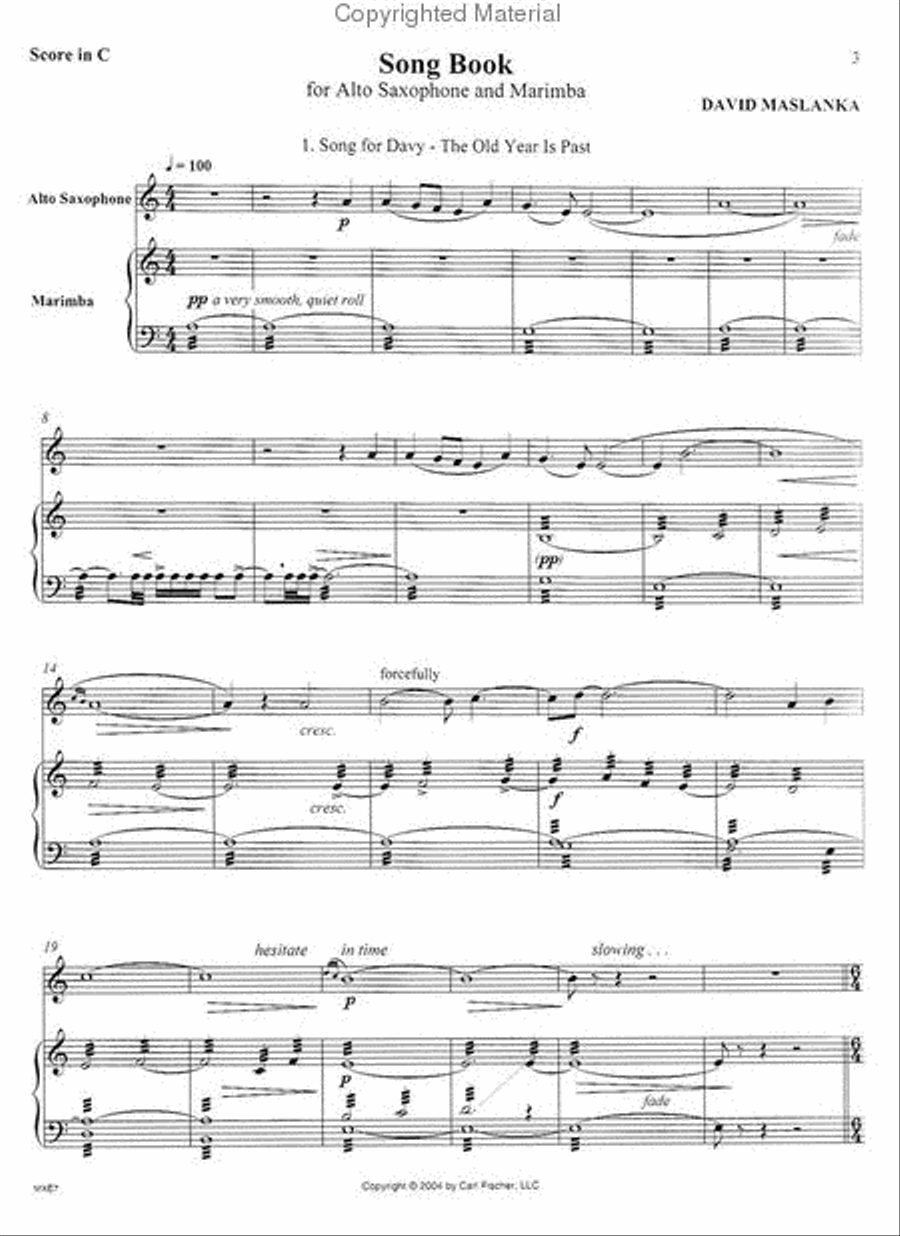 Song Book

For Alto Saxophone in E-Flat and Marimba
Available
Ready to ship in 24 hours
Taxes/VAT calculated at checkout.
Detailed Description
Chamber Music Marimba, alto Saxophone
SKU: CF.MXE7
For Alto Saxophone in E-Flat and Marimba
. Composed by David Maslanka. SWS+Insert. Set of parts. With Standard notation. Composed 1998. 24+12 pages. Carl Fischer Music #MXE7. Published by Carl Fischer Music (CF.MXE7).
ISBN 9780825853661. UPC: 798408053666. 9 X 12 inches. Key: C major.
From one of America's most well-known composers of music for band and winds comes Song Book, a pleasant addition to the Chamber Music Catalog. This set of "songs", often thoughtful and whimsical, is full of wonderful colors. The first three of seven short movements are based on three well-known chorales of Johann Sebastian Bach, which have evoked varied emotion in the composer. The work is expressive and passionate at times and reflects the people and events that have been a significant part of the composer's life.
Performance NotesSong Book was commissioned by Steven Jordheimand Dane Richeson of the Lawrence UniversityConservatory of Music, and was composed in thesummer of 1998.The four-part chorales by Johann Sebastian Bachhave become a central part of my music study.Playing and singing a few of them each day hasbecome my way of making the transition into composingtime. I sing the soprano, alto, tenor, andbass parts successively while playing all the parts atthe keyboard. At this writing I am on my ninth passthrough the collection. With each pass I am drawndeeper into the relationship of line to line—how oneborrowed melody (the chorale tune) generates threeother beautiful melodies in the same space, and howall parts together generate a pattern of harmonicmovement. I am fascinated by the process of thesepieces, and they have become a strong influence onmy composing.Three chorale melodies appear in Song Book. I havetaken them quite out of their liturgical context. Theirtitles inspire an emotional response in me, and outof this comes a music that expands on the originaltune. My feeling for quotation is twofold. First, whena pre-existing melody comes to mind or hand whileI am writing a new piece, it is a suggestion that thetune has something more to say, and that it willunfold differently in the new context. Secondly, itallows for the process of "going underneath" the oldtune to find something quite different and new. I letthis happen because it seems that deeper connectionsare trying to work themselves out over manyyears and across many pieces. Folk and jazz artists dothis as standard procedure.The movements of Song Book are relatively brief.They have a particular thing to say, a particular moodand attitude to express, and then they are done. Ithink of the pieces as emotional scenes.1. "Song for Davy" is a reworking of the choralemelody Das alte Jahr vergangen ist ("The Old YearIs Past"). This is a song for my young self, writtenat a time of personal transition. The music touchesa very old memory chord and has a wistful andhaunting character.2. "Lost" is based on the chorale Herr, Ich habemisgehandelt, which translates roughly as "Lord, Ihave done the wrong thing." Out of this sensibilitycomes the feeling of being lost and needing help.3. "Hymn Tune with Four Variations" is the onlymovement that uses a hymn tune verbatim. Themelody is Werde munter, mein Gemute ("Be Strong,My Heart"). Each variation is a successive speedingup of the chorale statement, with the last being achaotic scramble.4. "Serious Music—In Memoriam Arthur Cohn" isthe longest and soberest piece in the set. ArthurCohn was for many years the director of the SeriousMusic Department at Carl Fischer, and over a lifetimea stalwart champion of living composers andnew music. My association with Fischer beganthrough Arthur in 1974, and over the years hebecame both mentor and friend. His death in 1998,though not untimely, was a great sadness for me.The designation "Serious Music" by the Carl FischerCompany of what would otherwise be called"Concert Music" has always amused me. And soI have written a VERY serious piece for Arthur andhope that he appreciates the little joke.5. "Summer Song" is a sweet piece that needs nofurther explanation.6. "Song for Alison" is for my wife, who has beena grounding influence on me for many years. Sheis not a musician, but has, through her kindness,steadiness, and love, provided a safe haven for myflights of fancy.7. "Evening Song" brings to mind some of myfavorite music, the op. 116 Intermezzos for pianoby Brahms. "Evening Song", like other pieces in theset, is an openly Romantic music. It is ultimatelyquiet and resigned, but has, over its course, anurgent and passionate statement to make.— David Maslanka.