Finnish Kantele Techniques, Exercises, Tunes and Arrangements for Five and Ten-String Kanteles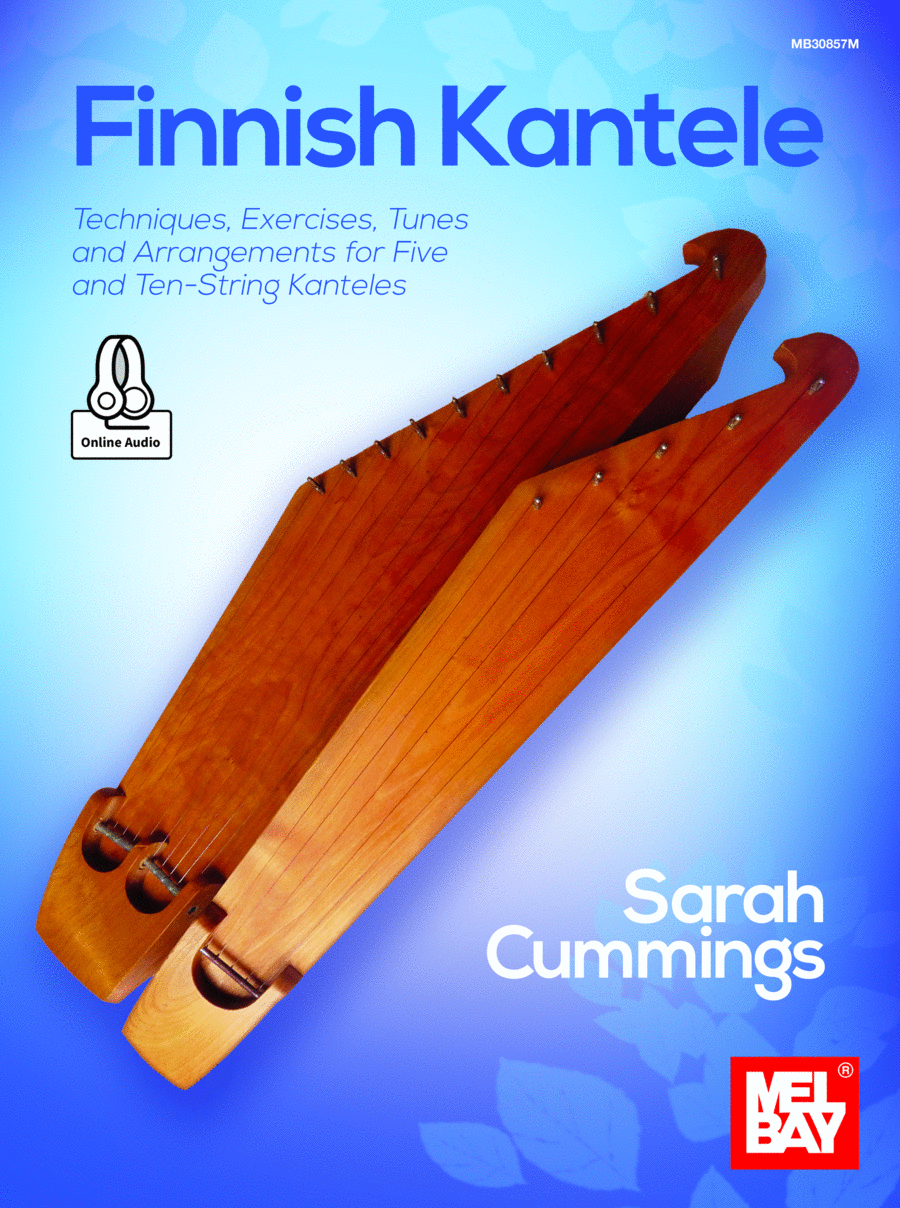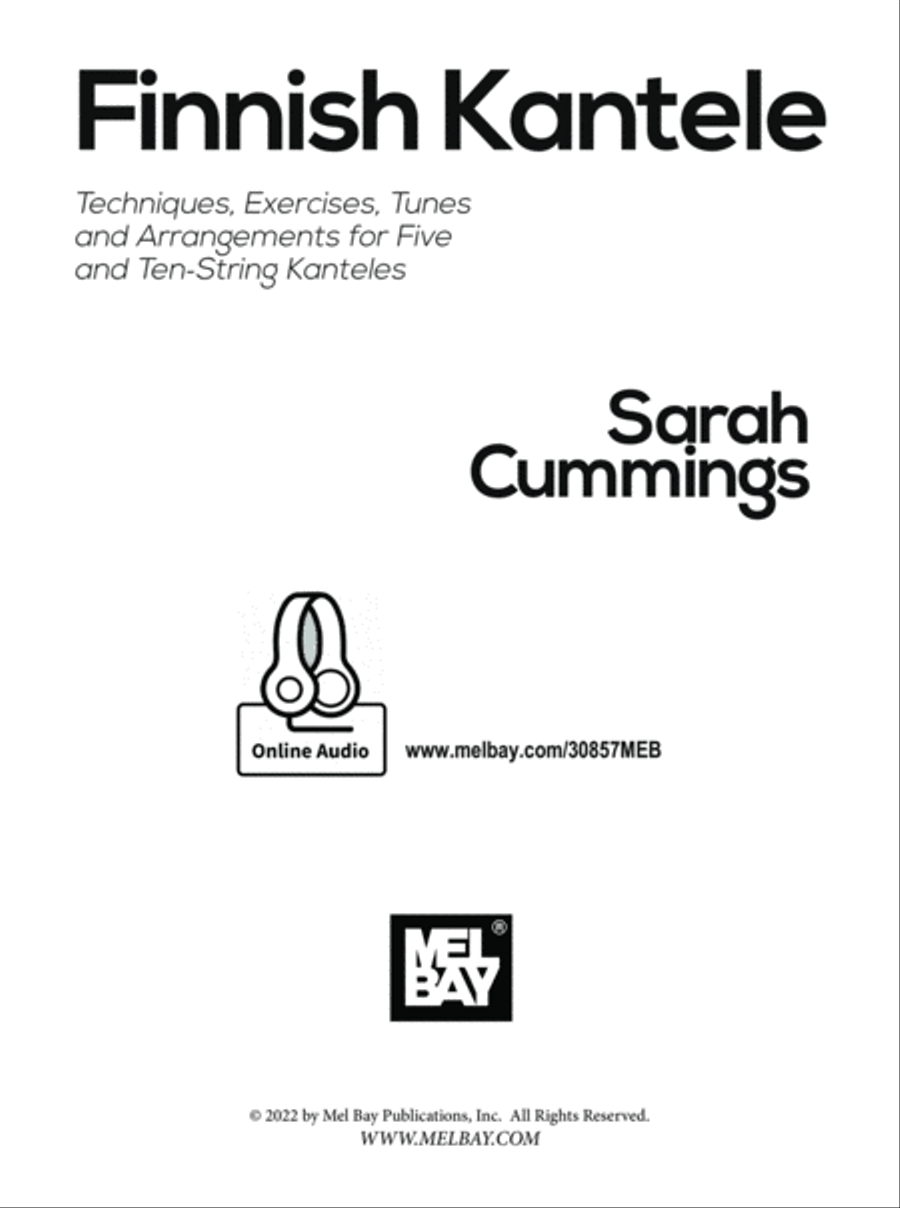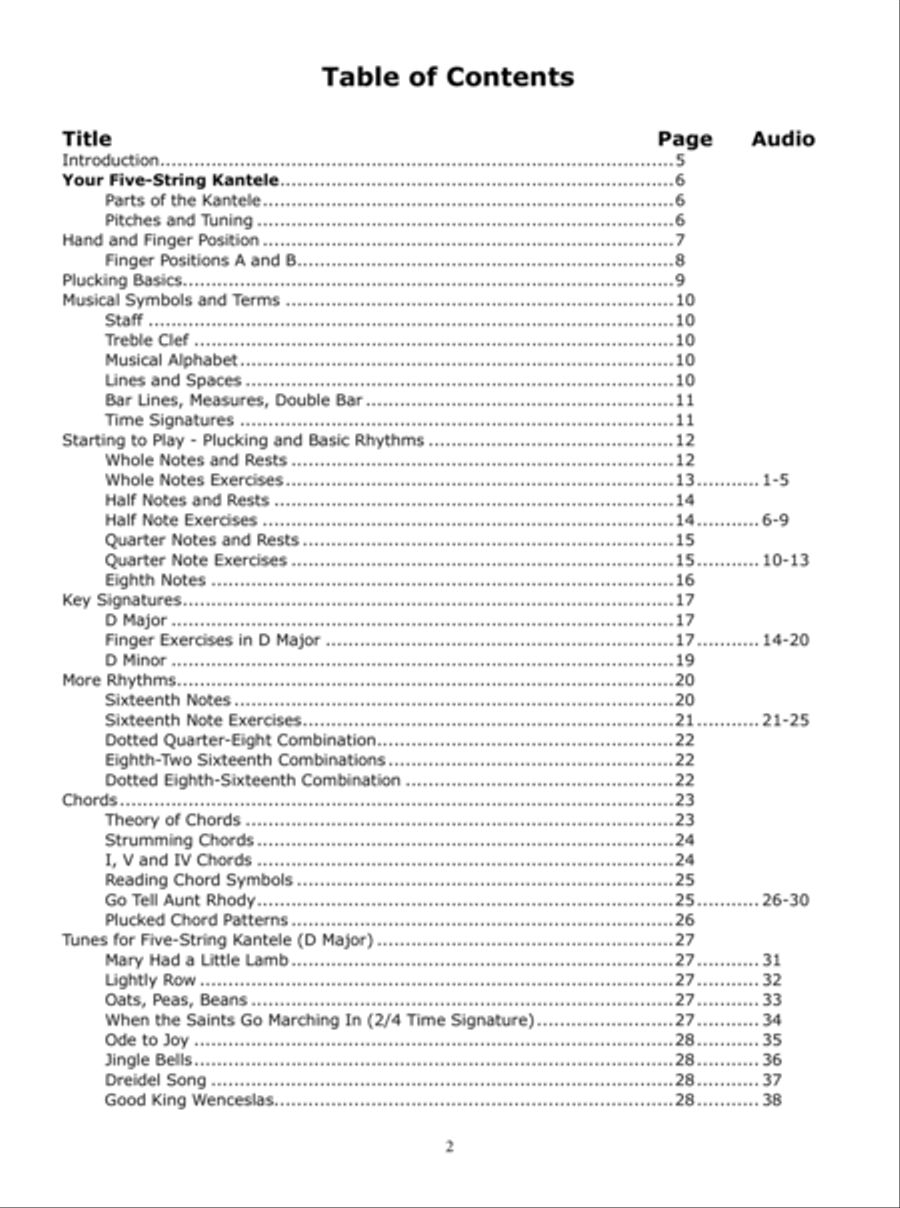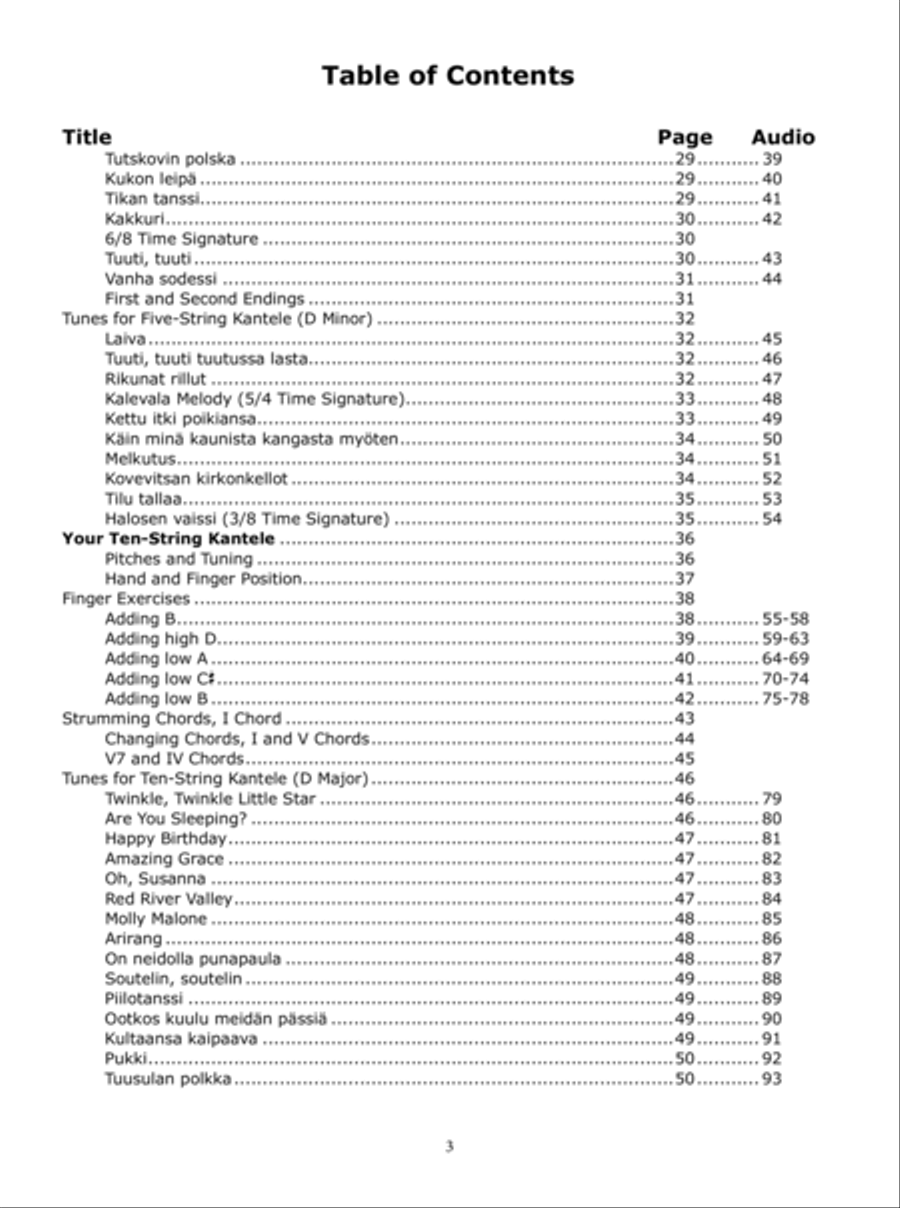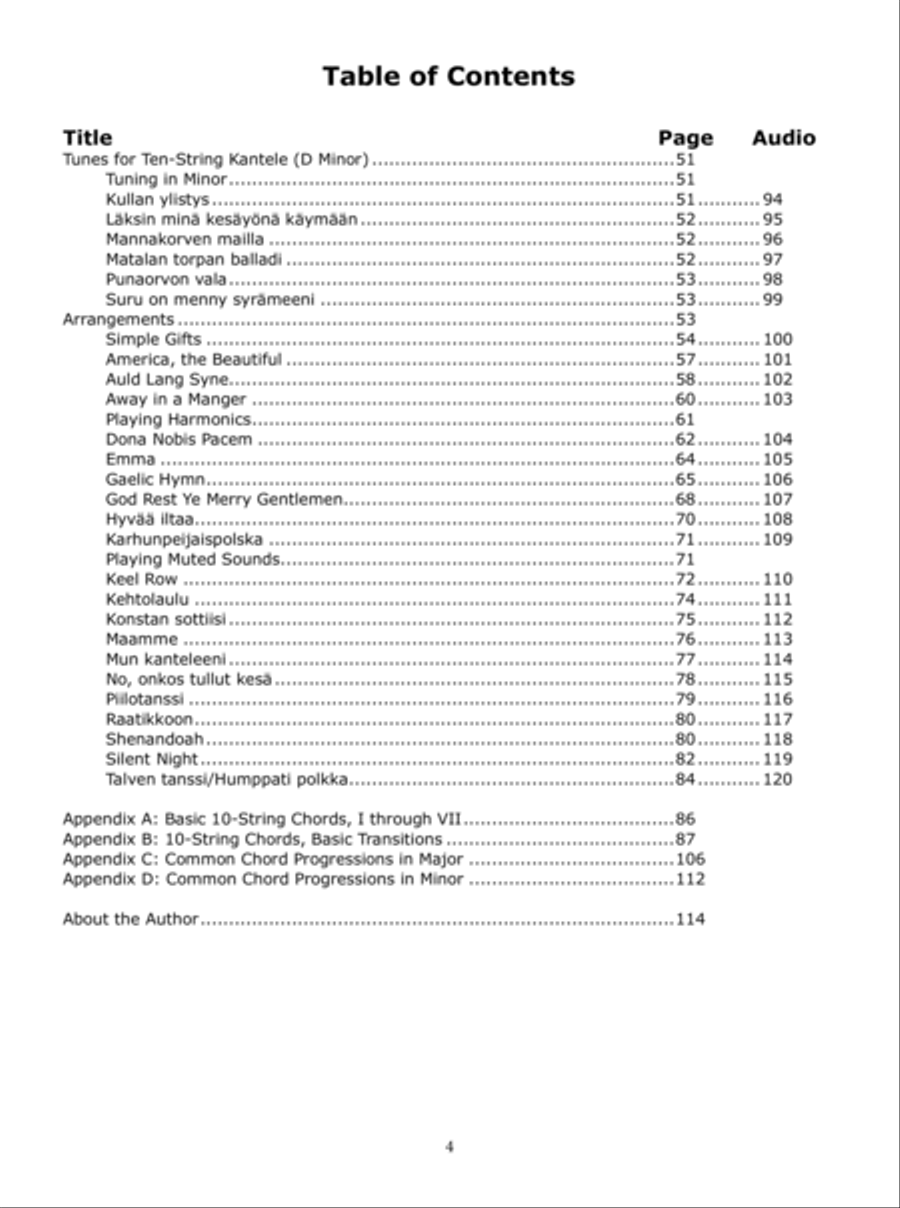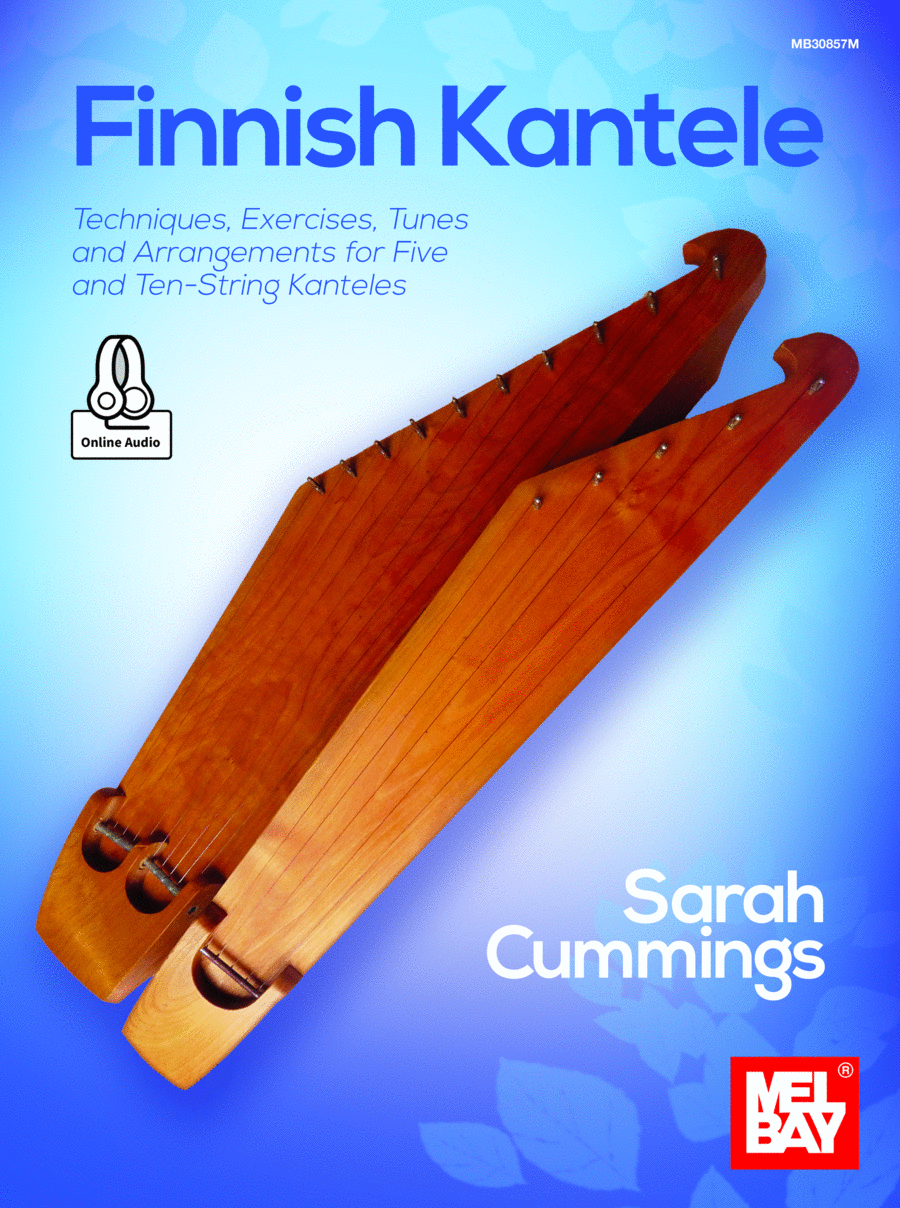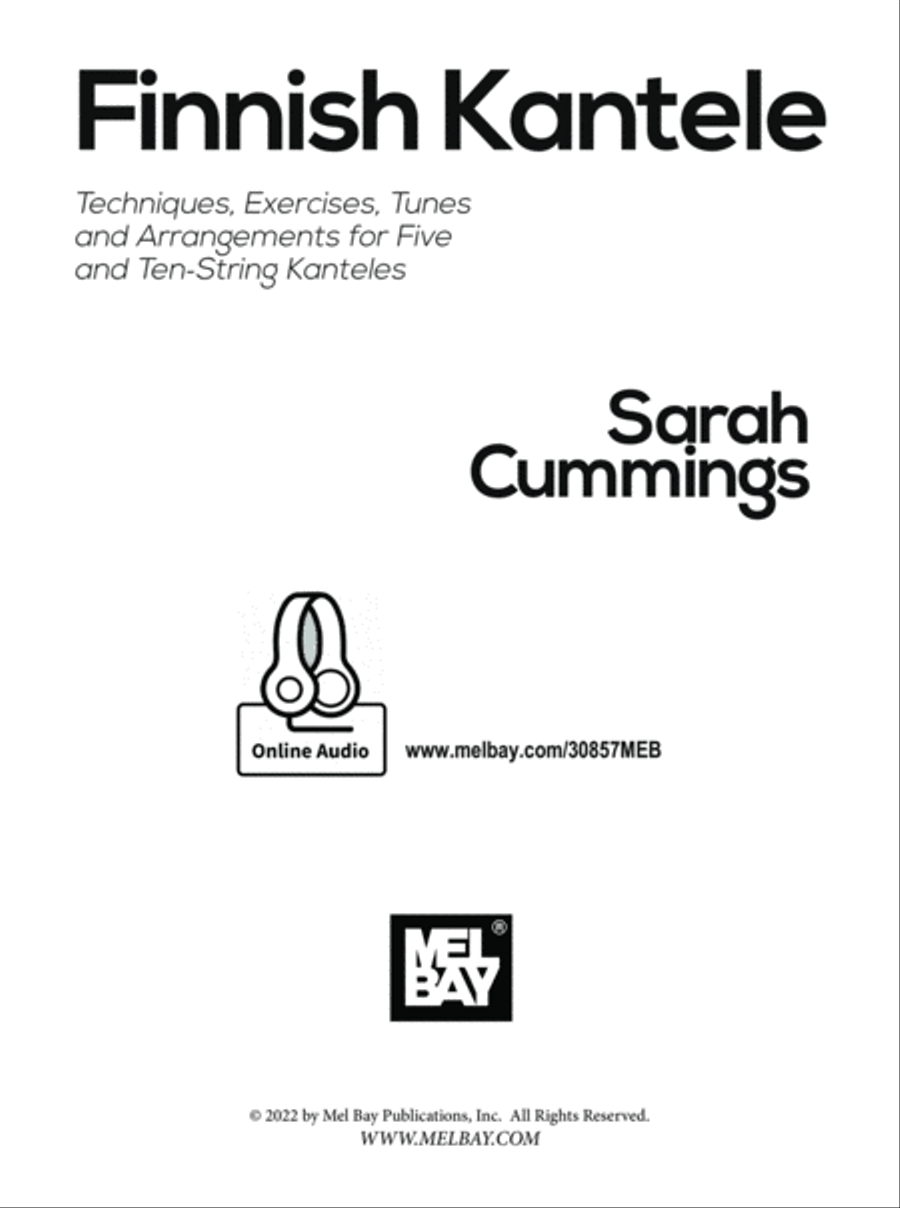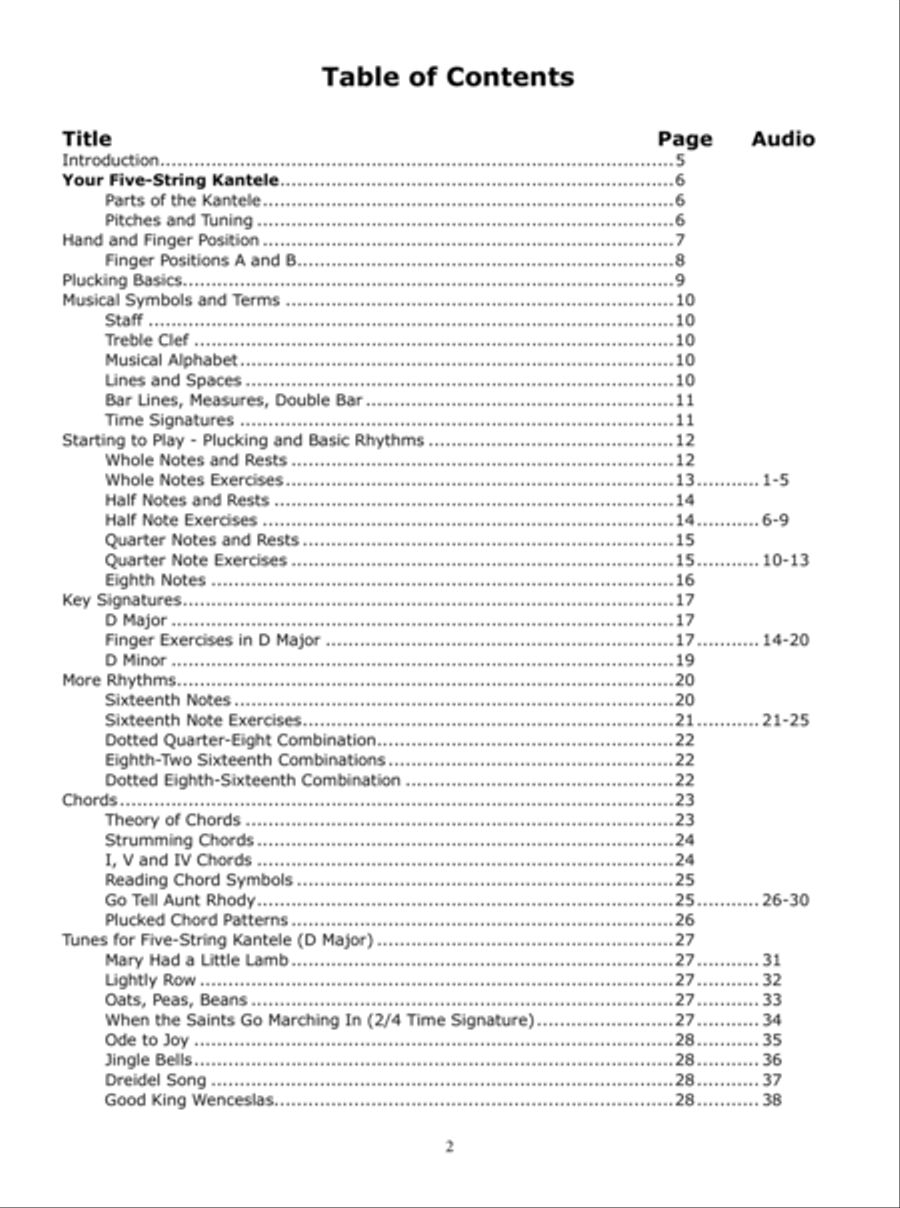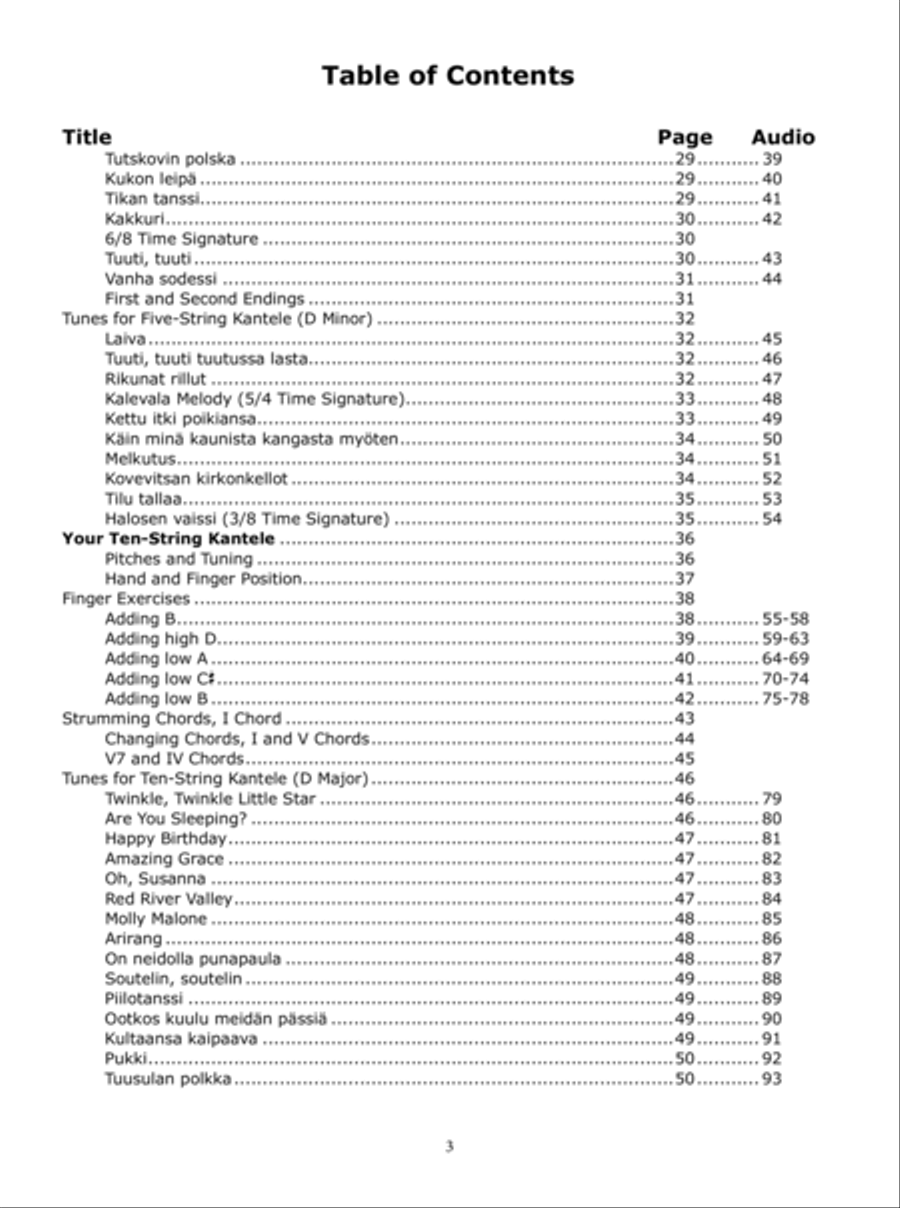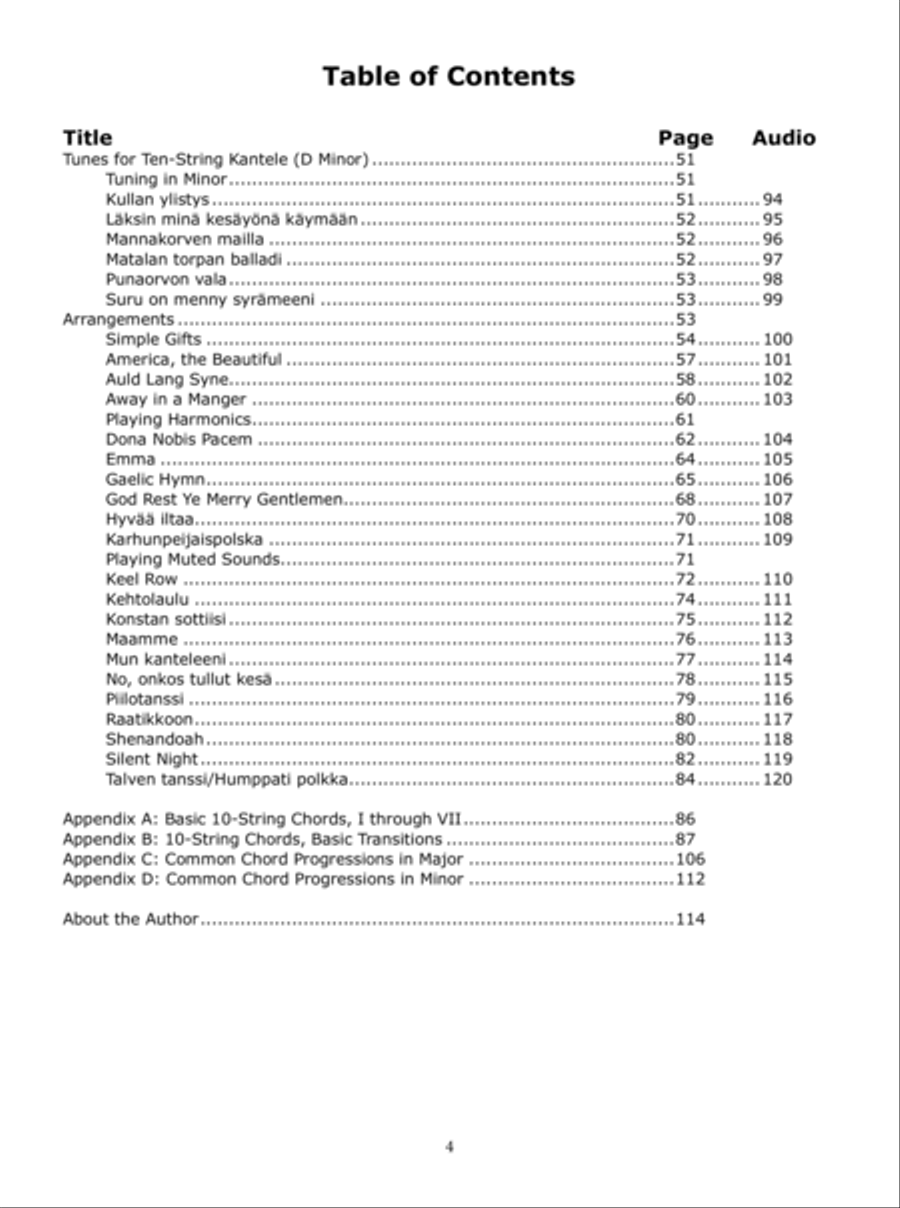 Finnish Kantele Techniques, Exercises, Tunes and Arrangements for Five and Ten-String Kanteles

Instant Download
Taxes/VAT calculated at checkout.
Detailed Description
Kantele - beginning - Digital Download
SKU: M0.30857MEB
Folk. Method. Ebook and online audio. 117 pages. Mel Bay Publications - Digital Sheet Music #30857MEB. Published by Mel Bay Publications - Digital Sheet Music (M0.30857MEB).
ISBN 9781513469072. 8.75x11.75 inches.
This book provides instruction in both plucking and strumming techniques for 5 and 10-string Finnish kanteles. Explanation of musical notation, rhythm, and other elements of music theory are provided for the novice, yet the exercises are scaffolded to provide motivating material for the more experienced musician. In addition to the instructional materials, a number of traditional Finnish tunes are included as well as many familiar melodies. Plus, over twenty arrangements playable by mixed kantele groupings and detailed appendices of chords and chord transitions make this book a solid foundation for learning to play the kantele. Includes access to online audio.
About Digital Downloads
Digital Downloads are downloadable sheet music files that can be viewed directly on your computer, tablet or mobile device. Once you download your digital sheet music, you can view and print it at home, school, or anywhere you want to make music, and you don't have to be connected to the internet. Just purchase, download and play!
PLEASE NOTE: Your Digital Download will have a watermark at the bottom of each page that will include your name, purchase date and number of copies purchased. You are only authorized to print the number of copies that you have purchased. You may not digitally distribute or print more copies than purchased for use (i.e., you may not print or digitally distribute individual copies to friends or students).
Song List (131)
Introduction
Your Five-String Kantele
Parts Of The Kantele
Pitches And Tuning
Hand And Finger Position
Finger Positions A And B
Plucking Basics
Musical Symbols And Terms
Staff
Treble Clef
Musical Alphabet
Lines And Spaces
Bar Lines, Measures, Double Bar
Time Signatures
Starting To Play - Plucking And Basic Rhythms
Whole Notes And Rests
Whole Notes Exercises
Half Notes And Rests
Half Note Exercises
Quarter Notes And Rests
Quarter Note Exercises
Eighth Notes
Key Signatures
D Major
Finger Exercises In D Major
D minor
More Rhythms
Sixteenth Notes
Sixteenth Note Exercises
Dotted Quarter-Eight Combination
Eighth-Two Sixteenth Combinations
Dotted Eighth-Sixteenth Combination
Chords
Theory Of Chords
Strumming Chords
I, V And Iv Chords
Reading Chord Symbols
Go Tell Aunt Rhody
Plucked Chord Patterns
Tunes For Five-String Kantele (D Major)
Mary Had A Little Lamb
Lightly Row
Oats, Peas, Beans
When The Saints Go Marching In (2/4 Time Signature)
Ode to Joy
Jingle Bells
Dreidel Song
Good King Wenceslas
Tutskovin Polska
Kukon Leipa$?
Tikan Tanssi
Kakkuri
6/8 Time Signature
Tuuti, Tuuti
Vanha Sodessi
First And Second Endings
Tunes For Five-String Kantele (D Minor)
Laiva
Tuuti, Tuuti Tuutussa Lasta
Rikunat Rillut
Kalevala Melody (5/4 Time Signature)
Kettu Itki Poikiansa
Ka$?In Mina$? Kaunista Kangasta Myapten
Melkutus
Kovevitsan Kirkonkellot
Tilu Tallaa
Halosen Vaissi (3/8 Time Signature)
Your Ten-String Kantele
Pitches And Tuning
Hand And Finger Position
Finger Exercises
Adding B
Adding High D
Adding Low A
Adding Low Cs
Adding Low B
Strumming Chords, I Chord
Changing Chords, I And V Chords
V7 And Iv Chords
Tunes For Ten-String Kantele (D Major)
Twinkle, Twinkle Little Star
Are You Sleeping?
Happy Birthday
Amazing Grace
Oh, Susanna
Red River Valley
Molly Malone
Arirang
On Neidolla Punapaula
Soutelin, Soutelin
Piilotanssi
Ootkos Kuulu Meida$?N Pa$?Ssia$?
Kultaansa Kaipaava
Pukki
Tuusulan Polkka
Tunes For Ten-String Kantele (D Minor)
Tuning In Minor
Kullan Ylistys
La$?Ksin Mina$? Kesa$?Yapna$? Ka$?Yma$?A$?N
Mannakorven Mailla
Matalan Torpan Balladi
Punaorvon Vala
Suru On Menny Syra$?Meeni
Arrangements
Simple Gifts
America, the Beautiful
Auld Lang Syne
Away In A Manger
Playing Harmonics
Dona Nobis Pacem
Emma
Gaelic Hymn
God Rest Ye Merry Gentlemen
Hyva$?A$? Iltaa
Karhunpeijaispolska
Playing Muted Sounds
Keel Row
Kehtolaulu
Konstan Sottiisi
Maamme
Mun Kanteleeni
No, Onkos Tullut Kesa$?
Piilotanssi
Raatikkoon
Shenandoah
Silent Night
Talven Tanssi/Humppati Polkka
Appendix A: Basic 10-String Chords, I Through Vii
Appendix B: 10-String Chords, Basic Transitions
Appendix C: Common Chord Progressions In Major
Appendix D: Common Chord Progressions In Minor