Bluegrass Picker's Tune Book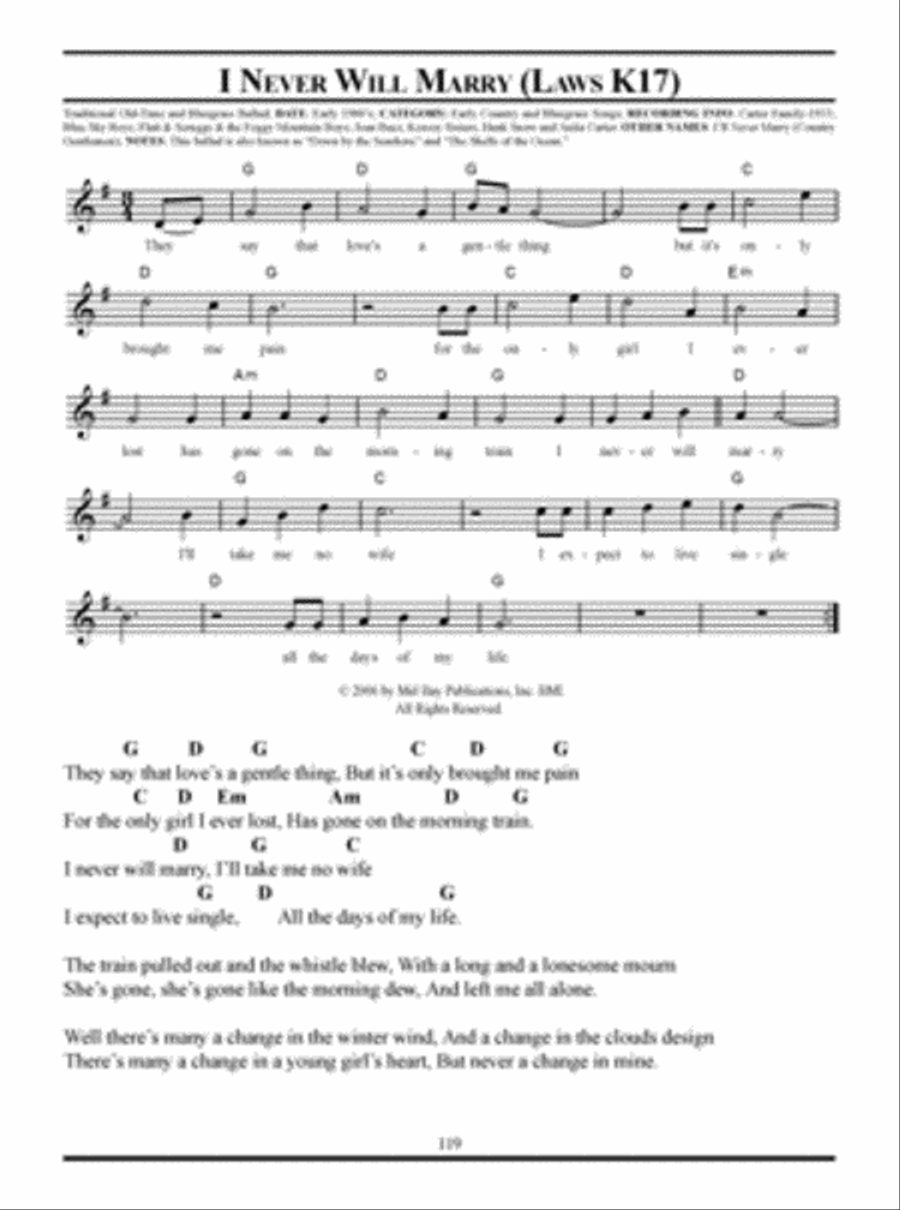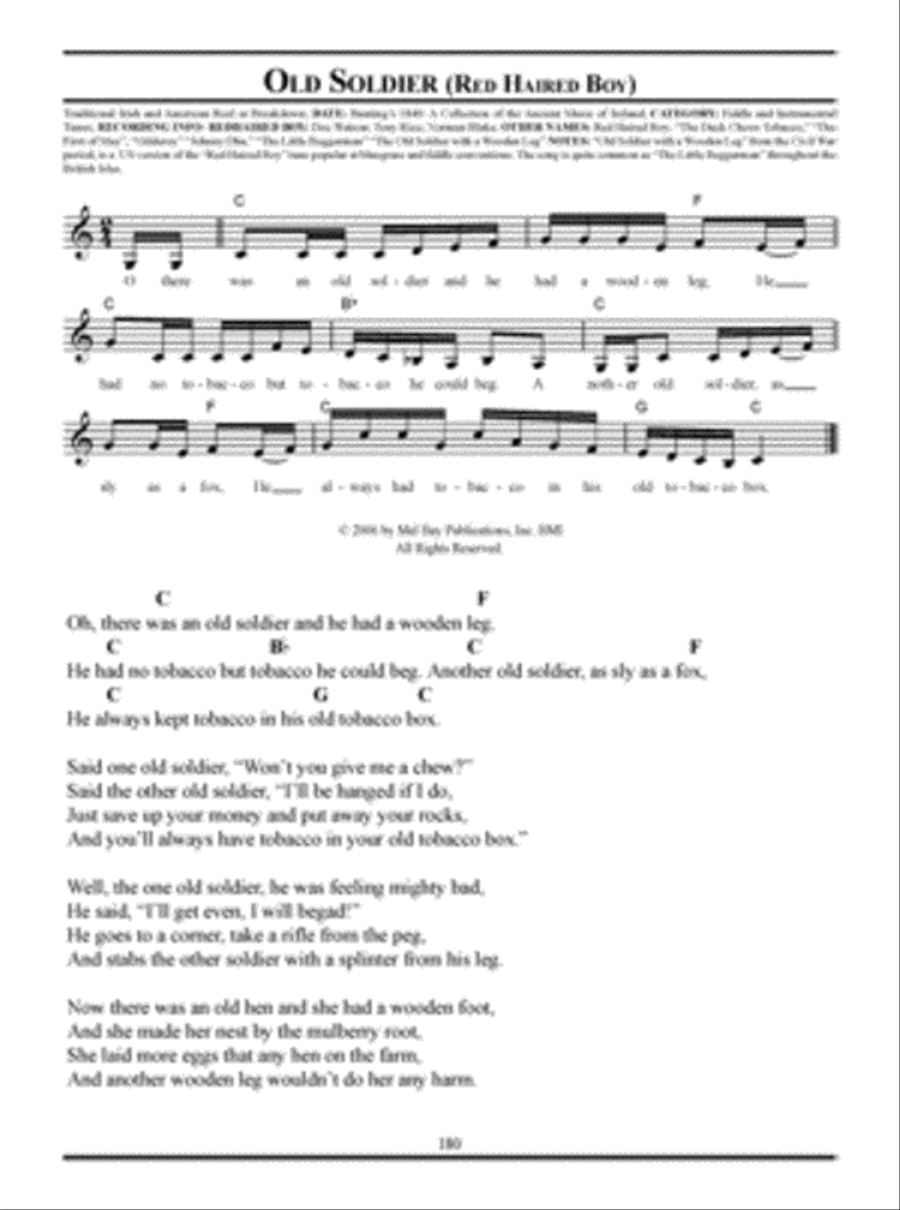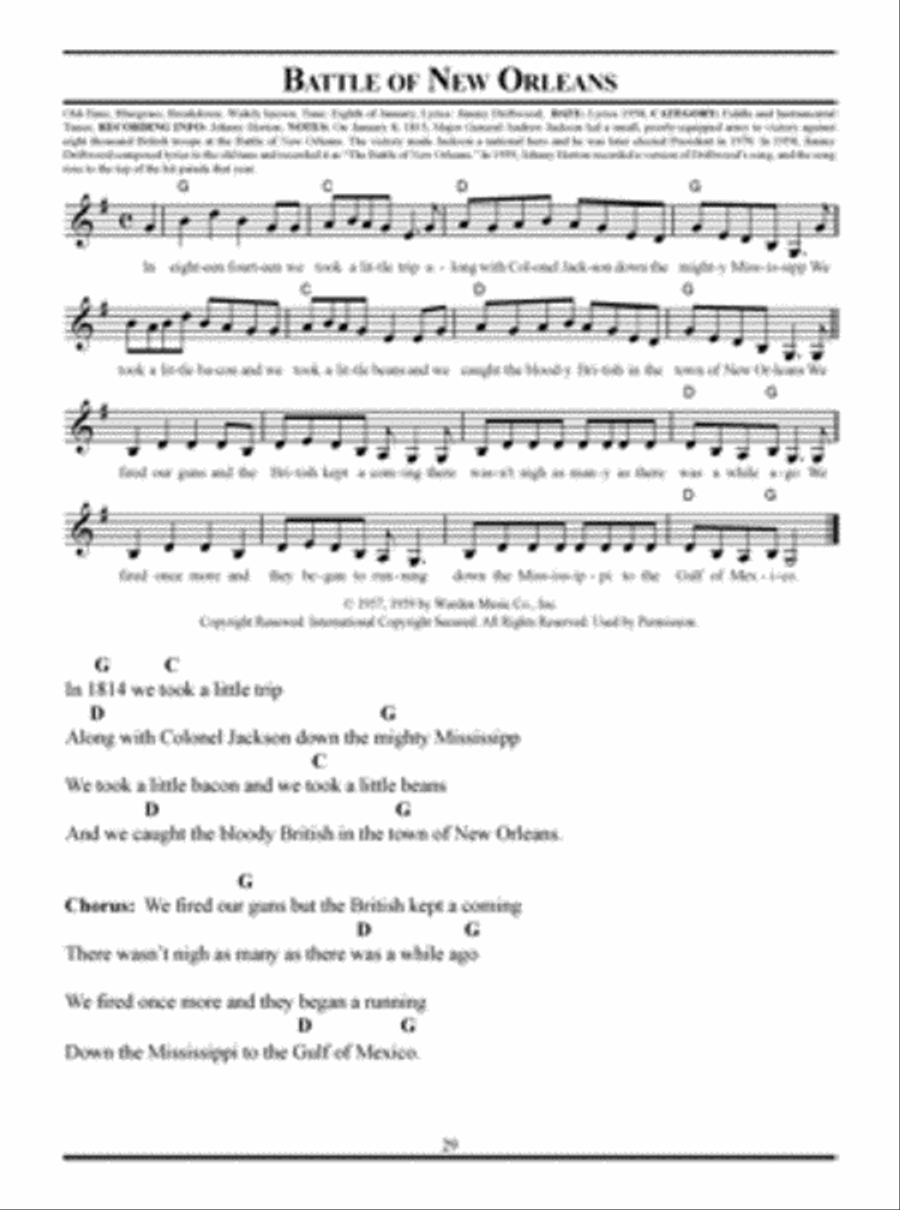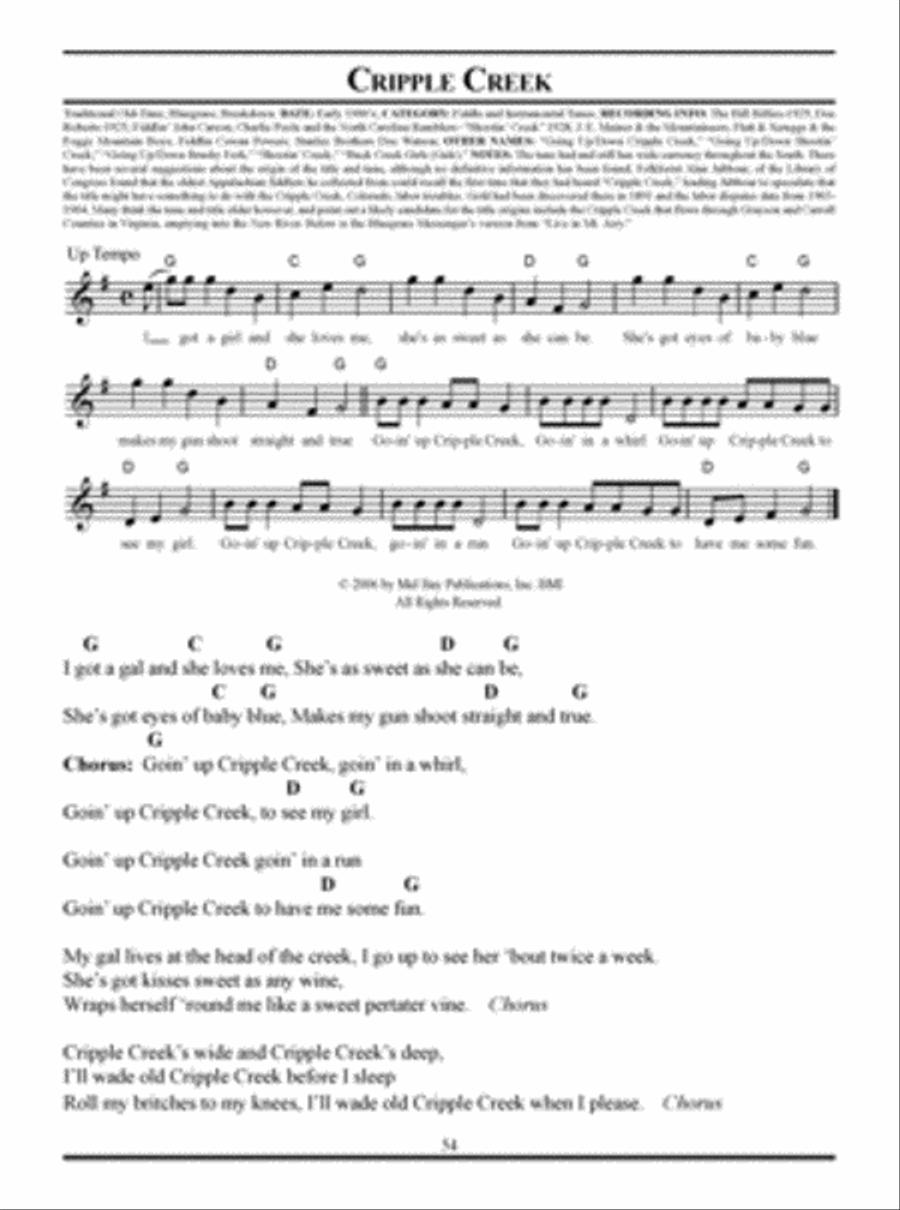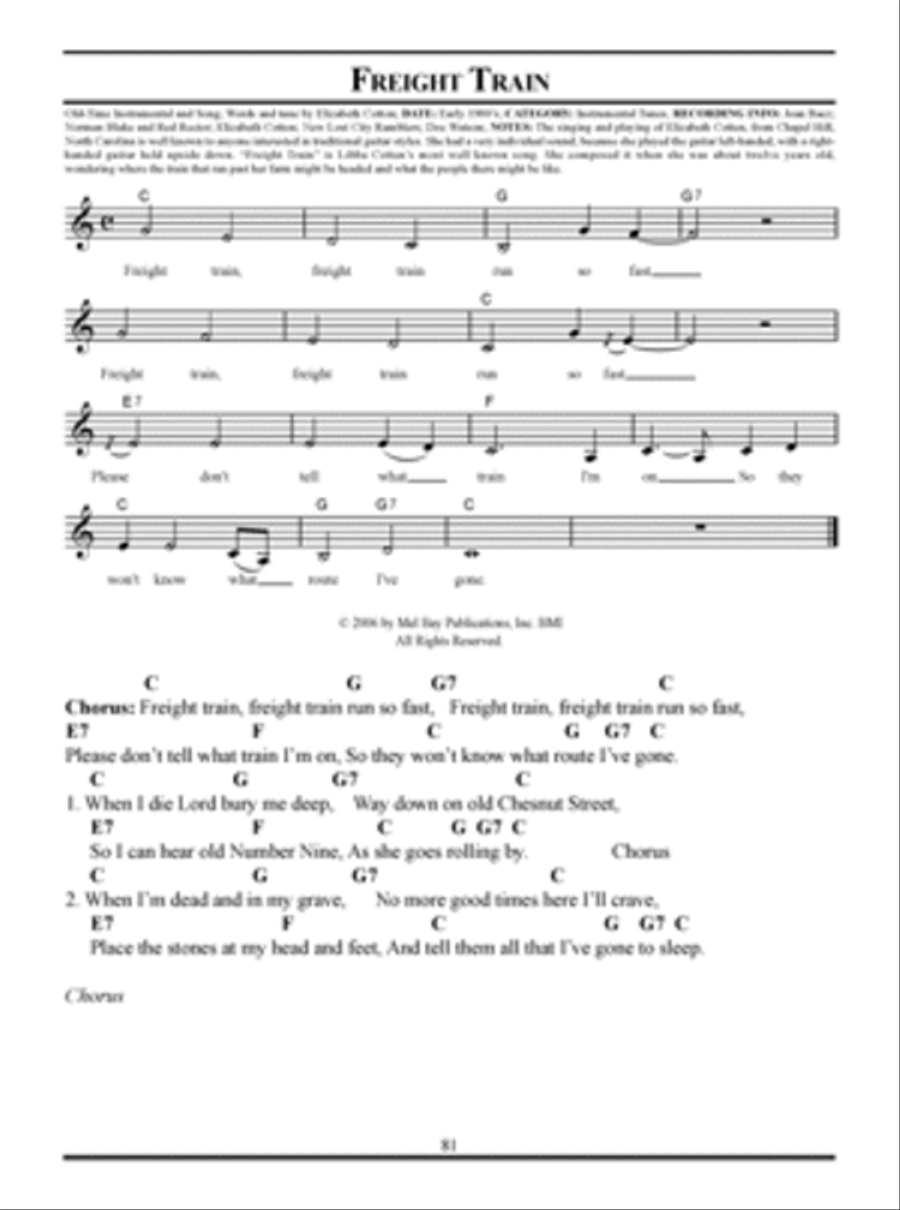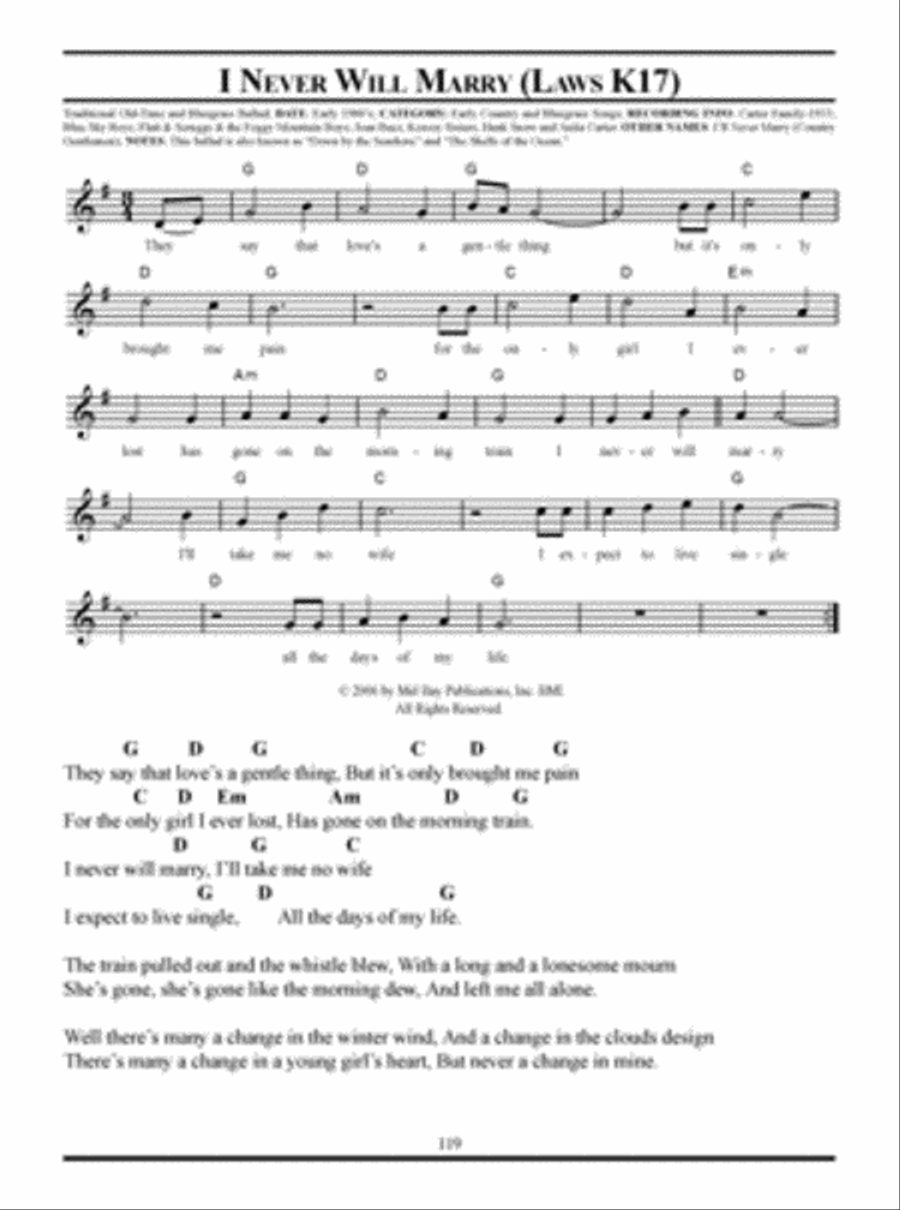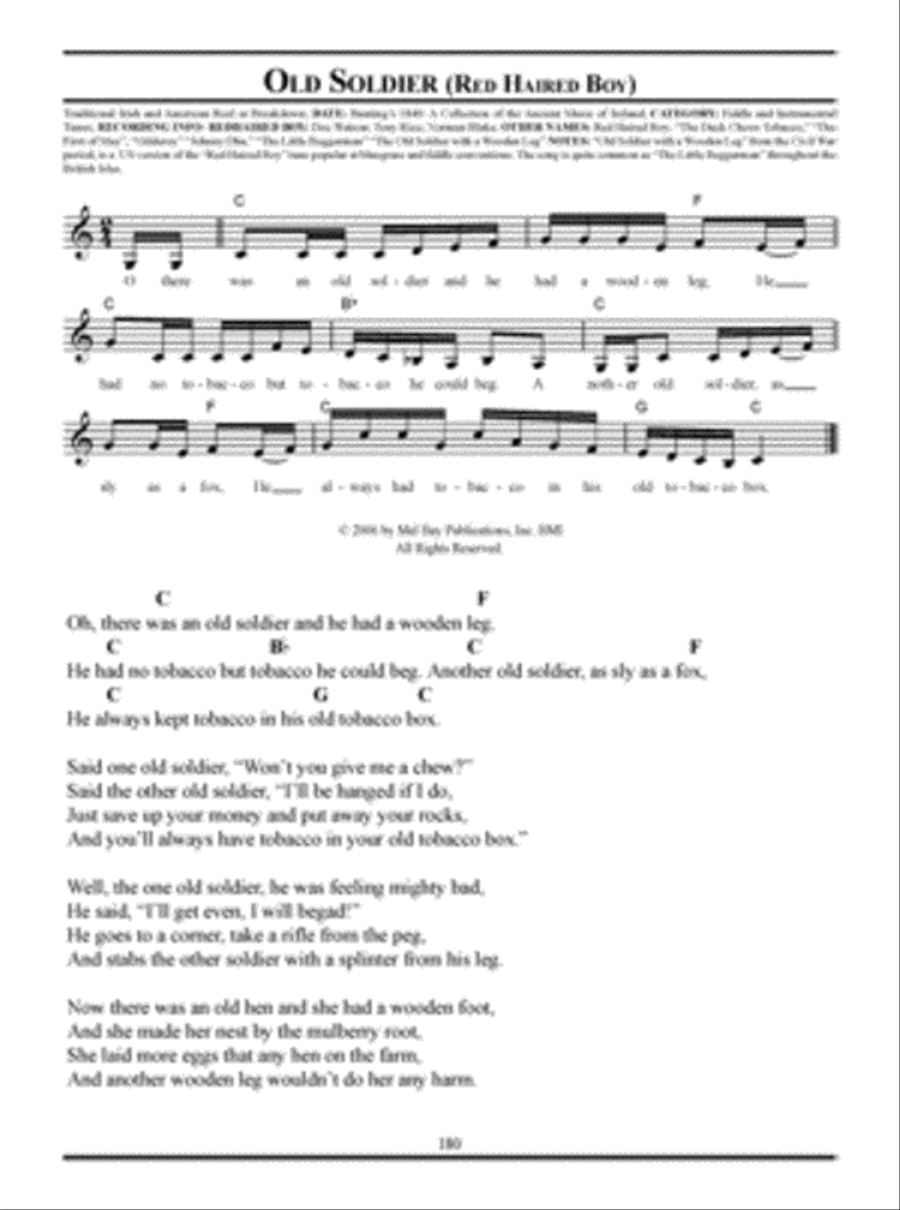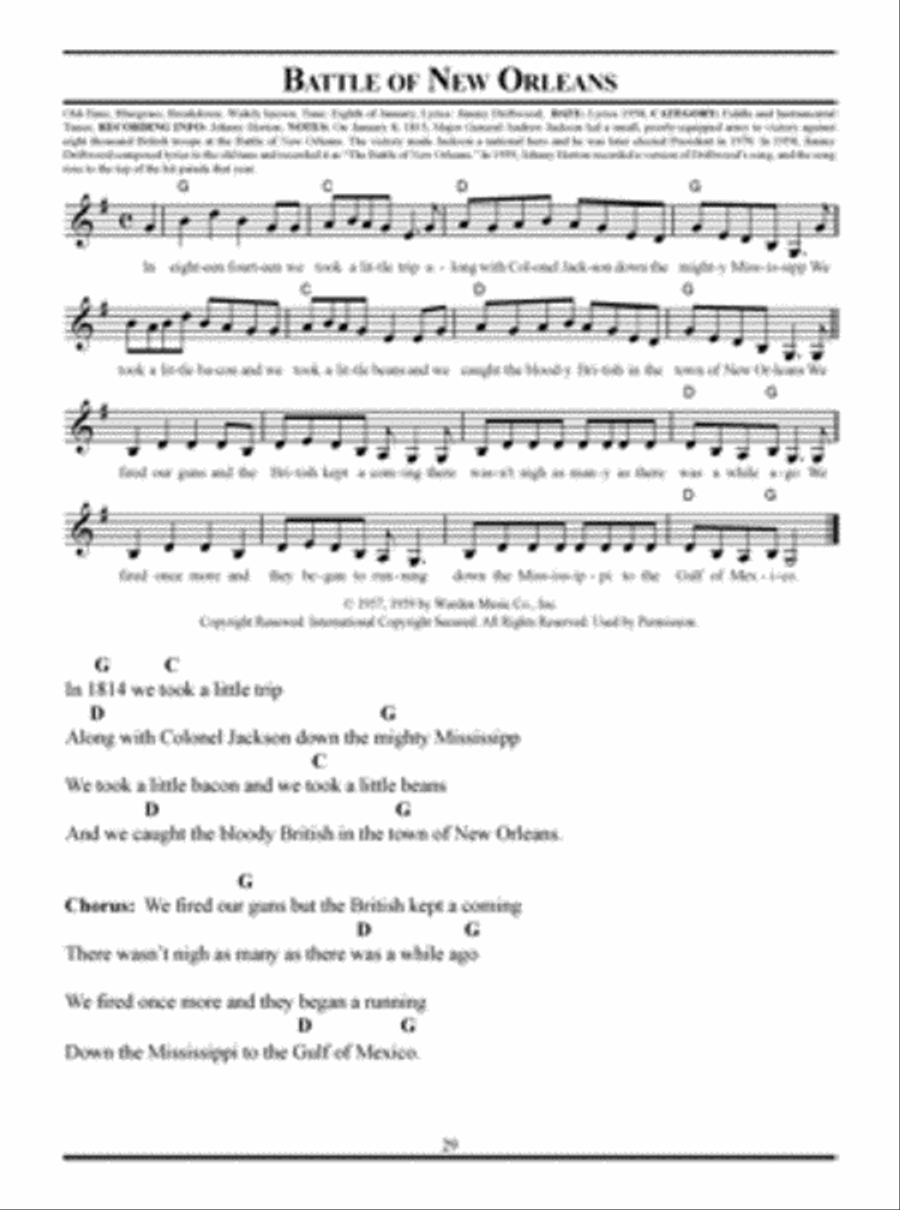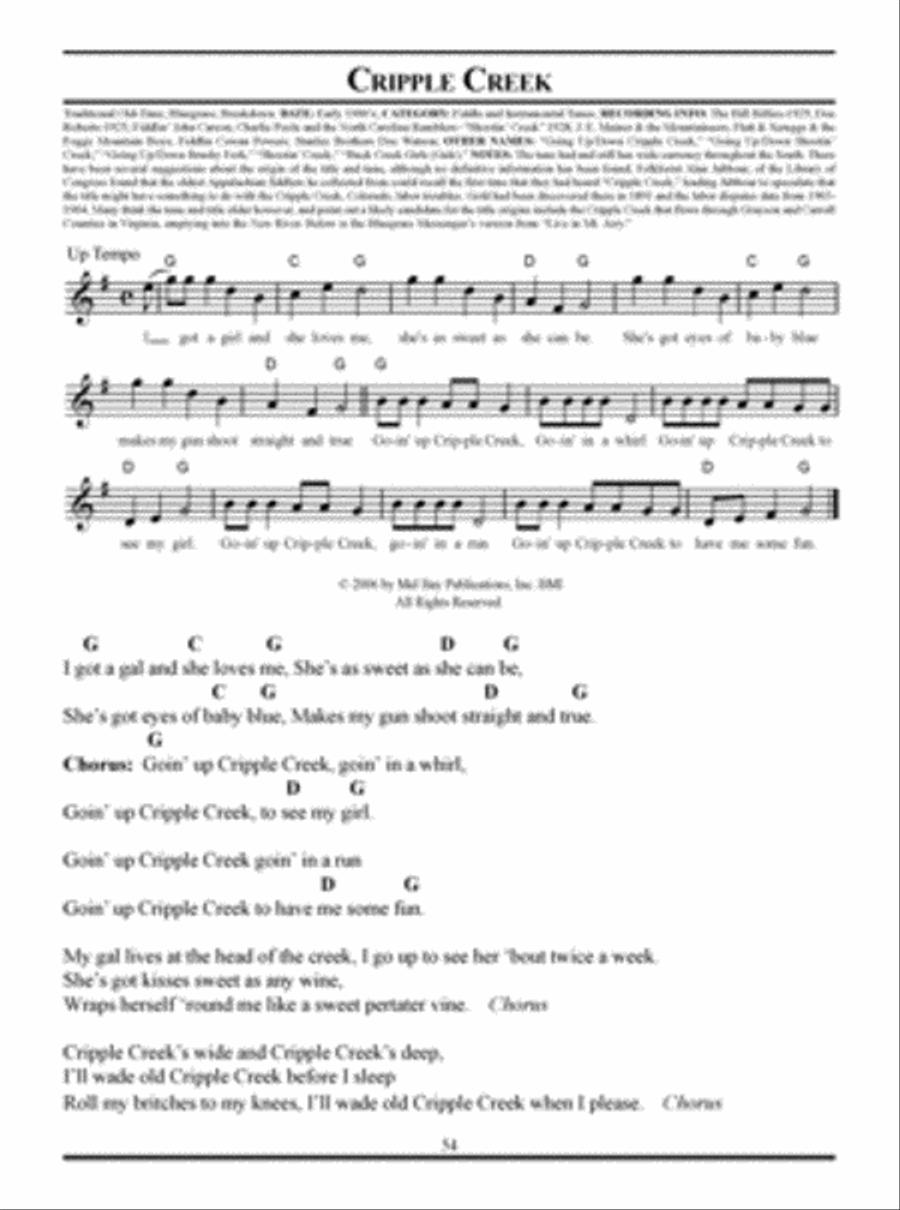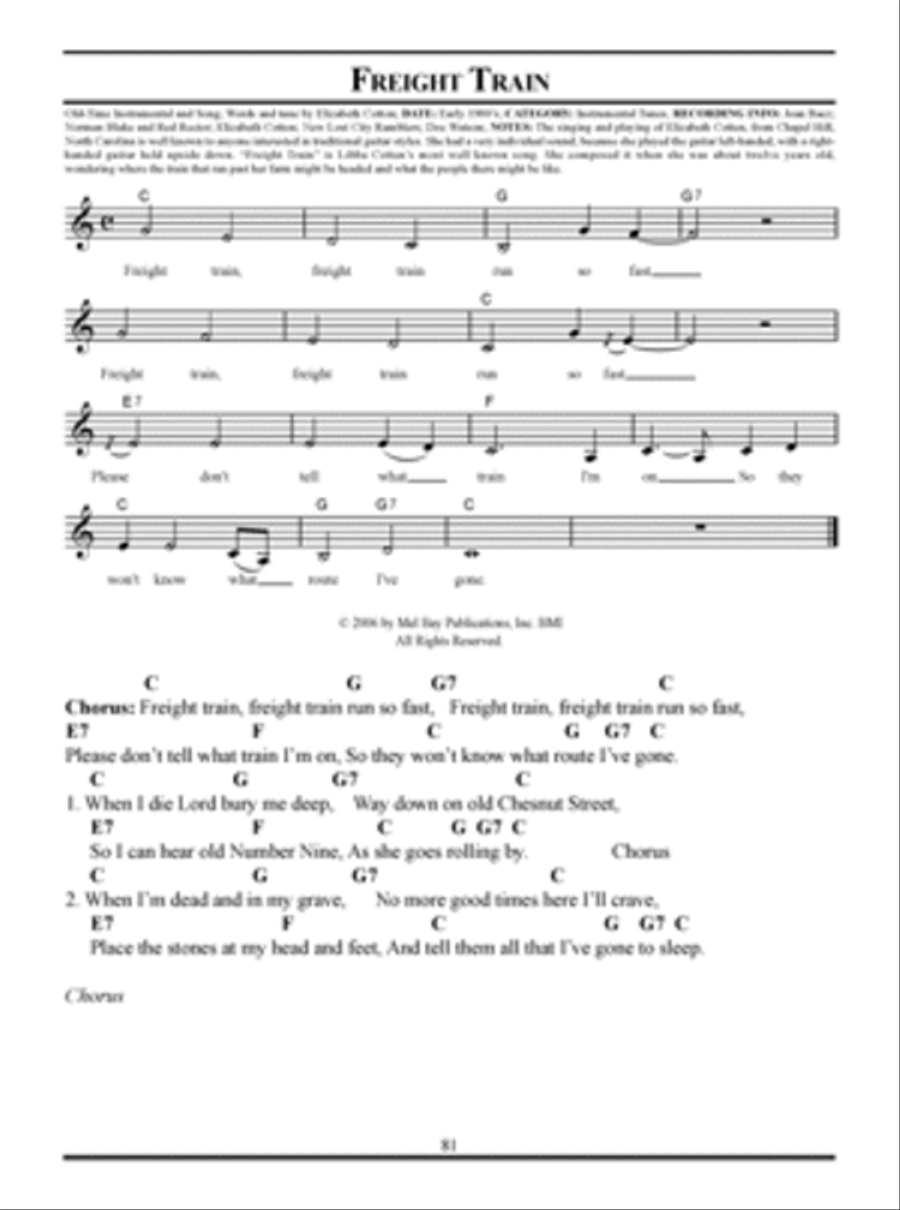 Bluegrass Picker's Tune Book

Available
Ready to ship in 1 to 2 weeks
Taxes/VAT calculated at checkout.
Detailed Description
Fretted instruments - Beginning
SKU: MB.20233
Composed by Richard Matteson, Jr. Banjo: 5-String, Upright Bass, Mandolin, Country, Style, Perfect binding, Fiddle, Tunebook, Strings. Bluegrass. Book. 248 pages. Mel Bay Publications, Inc #20233. Published by Mel Bay Publications, Inc (MB.20233).
ISBN 9780786671601. UPC: 796279095464. 8.75 x 11.75 inches.
The Bluegrass Picker's Tune Book is a must for all bluegrass pickers! Included are the melody line and chords to over two hundred favorite gospel and bluegrass songs. Detailed information about the origin and performers is given for each song as well as the history and development of the bluegrass genre. The lyrics are large and easy to read during a performance.
Song List (244)
A Beautiful Life
A Hundred Miles
Ain't Gonna Work Tomorrow
Alabama Jubilee- Bluegrass Version
All The Good Times are Past and Gone
Amazing Grace
Angel Band
Arkansas Traveler
As I Went Down In the Valley to Pray (Down To the River To Pray)
Banks Of The Ohio
Battle Of New Orleans
Beautiful Life (See: A Beautiful Life)
Bile Them Cabbage Down
Bill Bailey, Won't You Please Come Home?
Black-Eyed Susie
Bluegrass Boogie
Bound To Ride (See: I'm Bound To Ride)
Bowling Green
Brown's Ferry Blues
Buddy Won't You Roll on Down the Line
Bury Me Beneath The Willow
Can the Circle be Unbroken? (See: Will the Circle Be Unbroken?)
Can't Feel At Home (See: I Can't Feel At Home In This World Anymore)
Careless Love
Chewing Gum
Children Go Where I Send Thee
Chilly Winds
Church In The Wildwood, The
Cindy
Circle be Unbroken (See: Will the Circle Be Unbroken?)
Cluck Old Hen
Cold Rain and Snow
Columbus Stockade Blues (Major Key and Minor Key)
Come all Ye Ffair and Tender Ladies
Corrina, Corrina
Cotton-Eyed Joe
Crawdad
Cripple Creek
Cryin' Holy
Cumberland Gap
Dance All Night With A Bottle In Yer Hand
Daniel Prayed
Dark Hollow
Darlin' Corey
Davy, Davy
Deep River Blues
Do Lord
Dogget's Gap
Don't Let Your Deal Go Down
Don't This Road Look Rough And Rocky
Don't You Hear Jerusalem Moan
Down the road
Down To the River To Pray (See: As I Went Down In The Valley To Pray)
Drifting Too Far From the Shore
East Virgina Blues
Eighth of January (See: Battle of New Orleans)
Engine 143
Faded Love
Fair and Tender Ladies (See: Come all Ye Fair and Tender Ladies)
Farther Along
Five Hundred Miles (See: A Hundred Miles)
Fly Around My Pretty Little Miss
Foggy Mountain Top
Footprints in the Snow
Fox, The
Free Little Bird
Freight Train
Froggie Went A-Courtin'
Gal I Left Behind Me, The
Georgia Pineywoods
Give Me That Old Time Religion (See: Old Time Religion)
Give Me the Roses
Glory Land Way
Go Long Mule
God Moves in a Windstorm
God's Gonna Set This World On Fire
Goin' Cross the Mountain
Goin' Down this Road Feellin' Bad
Gotta Quit Kickin' My Dog Around (See: Hound Dog Song)
Grandfather's Clock
Great Speckled Bird
Green Pastures
Ground Hog
Hallelujah I'm Ready
Hallelujah We Shall Rise
Handsome Molly
He Will Set Your Fields On Fire
Hesitation Blues
Hog-Eye Man (Fiddle Tune)
Hold to God's Unchanging Hand
Home, Sweet Home (Bluegrass Lyrics)
Hop High Ladies
Hot Corn, Cold Corn
Hound Dog Song
House Of The Rising Sun
How Beautiful Heaven Must Be
I Ain't Broke But I'm Badly Bent
I Ain't Gonna Work Tomorrow (See: Ain't Gonna Work Tomorrow)
I Am A Girl Of Constant Sorrow (See: Girl Of Constant Sorrow)
I Am A Man Of Constant Sorrow (See: Man Of Constant Sorrow)
I Am A Pilgrim
I Can't Feel At Home In This World Anymore
I Feel Like Traveling On
I Have Found the Way
I Never Will Marry
I Shall Not Be Moved
I Went Down To the River To Pray (See: As I Went Down To the River To Pray)
I Wish I Was A Mole In The Ground
I'll Fly Away
I'll Remember You Love in My Prayers
I'm Bound To Ride
I'm Sittin' On Top Of The World (See: Sittin' On Top Of The World)
Ida Red
If I Lose, I Don't Care
In the Garden
In The Pines
In The Sweet Bye And Bye
Jack O' Diamonds
Jackfish, The
Jacob's Vision
Jesse James
John Hardy
John Henry
Johnny Booker
Johnson Boys
Jordan
Just A Closer Walk With Thee
Just Over In Gloryland
Katie Dear (See: Silver Dagger)
Katy Cline
Keep My Skillet Good and Greasy (See: Skillet Good and Greasy)
Keep On the Sunnyside
Kneel At the Cross
Knockin' on Your Door
L'il Liza Jane
l'll Remember You Love in My Prayers
Land Where We Never Grow Old (See: Where We Never Grow Old)
Life Is Like a Mountain Railway
Little Bessie
Little Birdie
Little Maggie
Little Old Log Cabin in the Lane
Little Sadie
Little White Church
Liza Jane
Lonesome Valley
Long Journey Home
Lord I'm Comin' Home
Lost and I'll Never Find the Way
Love Somebody, Yes I Do
Lula Walls
Make Me A Pallet on the Floor (See: Pallet on the Floor)
Mama Don't Low
Man Of Constant Sorrow
Methodist Pie
Midnight On The Stormy Deep
Midnight Special
Midnight Train
Miss McCleod's Reel (See: Hop High Ladies)
Model Church
Molly and Tenbrooks
More Pretty Girls Than One
Mountain Dew
My Home's Across the Smoky Mountains
Naomi Wise (See: Omie Wise)
New River Train
Nine Hundred Miles (See: A Hundred Miles)
Nine Pound Hammer
Oh Death
Old Blue
Old Dan Tucker
Old Gospel Ship
Old Joe Clark
Old Rattler
Old Soldier (Red-Haired Boy)
Old Time Religion
Omie Wise
One Hundred Miles (See: A Hundred Miles)
Pallet On the Floor
Pig In A Pen
Poor Wayfaring Stranger
Precious Memories
Pretty Polly
Rain and Snow (See: Cold Rain and Snow)
Red Apple Juice
Red Haired Boy (See: Old Soldier)
Red Wing
Reuben's Train
Rock About My Saro Jane
Rocky Top
Roll Down the Line (See: Buddy, Won't You Roll Down the Line)
Roll In My Sweet Baby's Arms
Roll On Buddy
Roving Gambler
Rye Whiskey (See: Also Jack O' Diamonds)
Sail Away Ladies
Sally Ann
Sally Goodin
Salty Dog Blues
Shady Grove (Major Key)
Shady Grove (Minor Key)
Shall We Gather At The River
Silver Dagger
Sittin' On Top Of The World (See: I'm Sittin' On Top Of The World)
Skillet Good And Greasy
Soldier's Joy
Sourwood Mountain
Stewball
Storms are on the Ocean\
Sweet Bunch Of Daisies
Sweet Bye and Bye (See: In The Sweet Bye and Bye)
Sweet Sunny South
Swing Low Sweet Chariot
Talk about Suffering
Tennessee Hound Dog
There'll Be No Distinction There
Thie World Is Not My Home (See: I Can't Feel At Home In This World Anymore)
This Little Light of Mine
Tom Dooley
Troubles Up and Down The Road
Turkey In The Straw
Turn Your Radio On
Two Dollar Bill (See: Long Journey Home)
Uncle Joe (See: Hop High Ladies)
Uncloudy Day
Wabash Cannonball
Walking in Jerusalem, Just Like John
Way Downtown
We'll Understand It Better Bye and Bye
Weevily Wheat
Were You There
When The Roll Is Called Up Yonder
When The Saints Go Marching In
When They Ring The Golden Bells
Where The Soul Of Man Never Dies
Where We'll Never Grow Old
White House Blues
Whoa Mule
Wildwood Flower
Will The Circle Be Unbroken
Working On A Building
Worried Man
Wreck Of The Old 97
Young Man Who Wouldn't Hoe Corn