Alfred's Essentials of Music Theory - Complete (Book)

Complete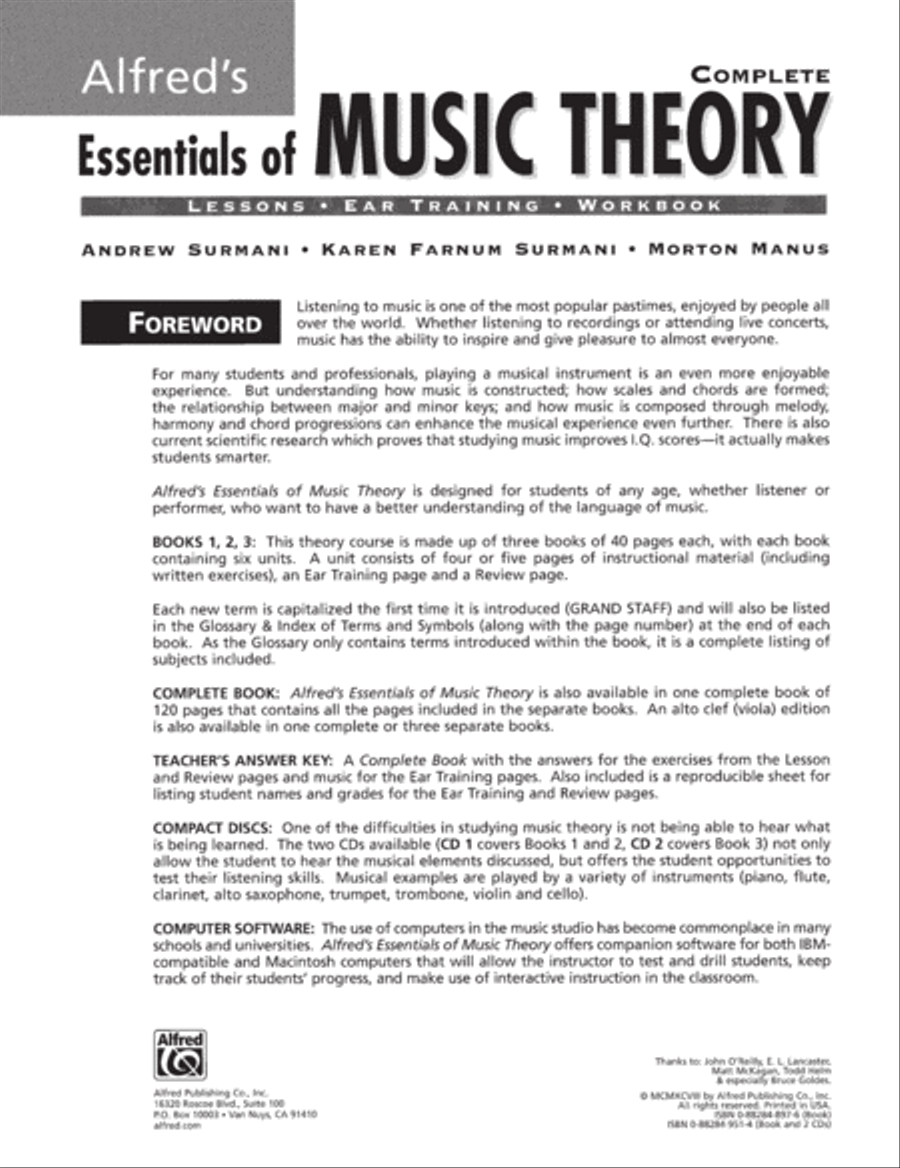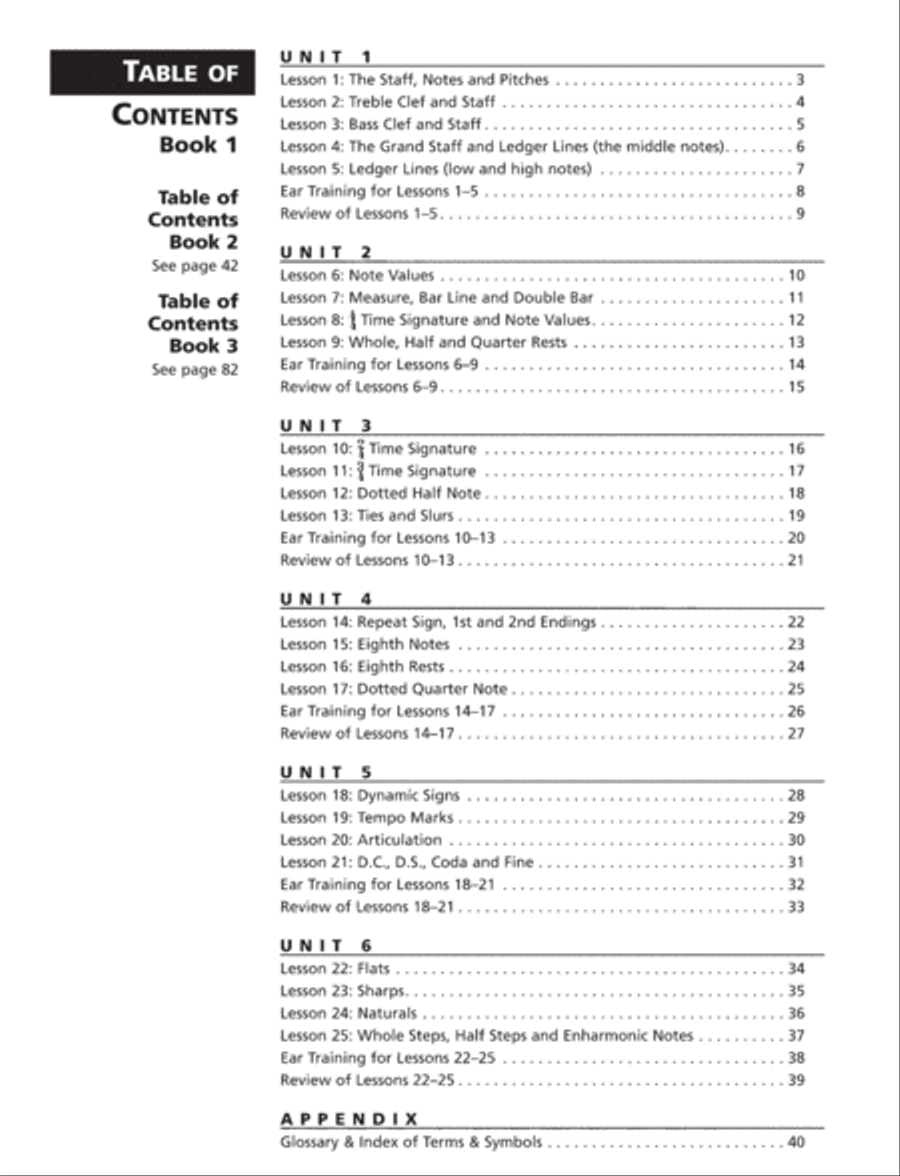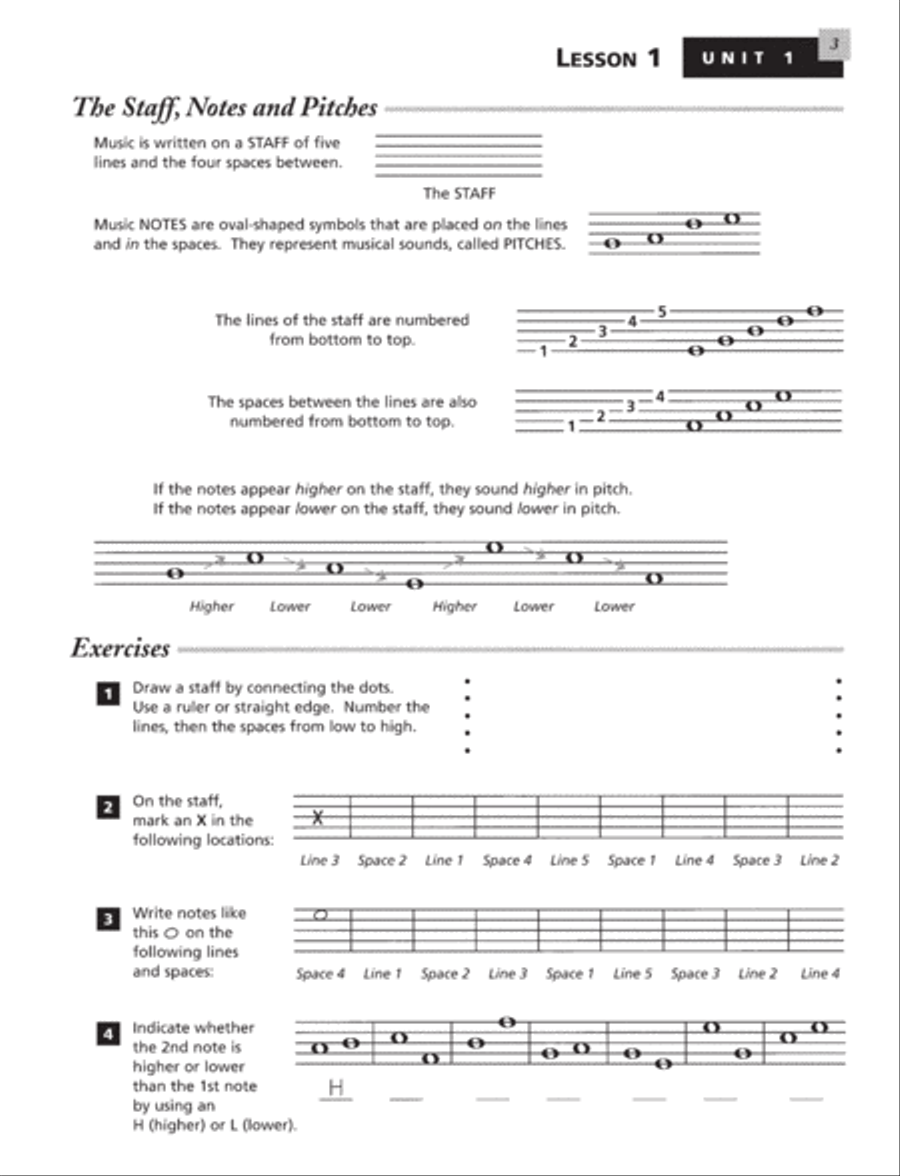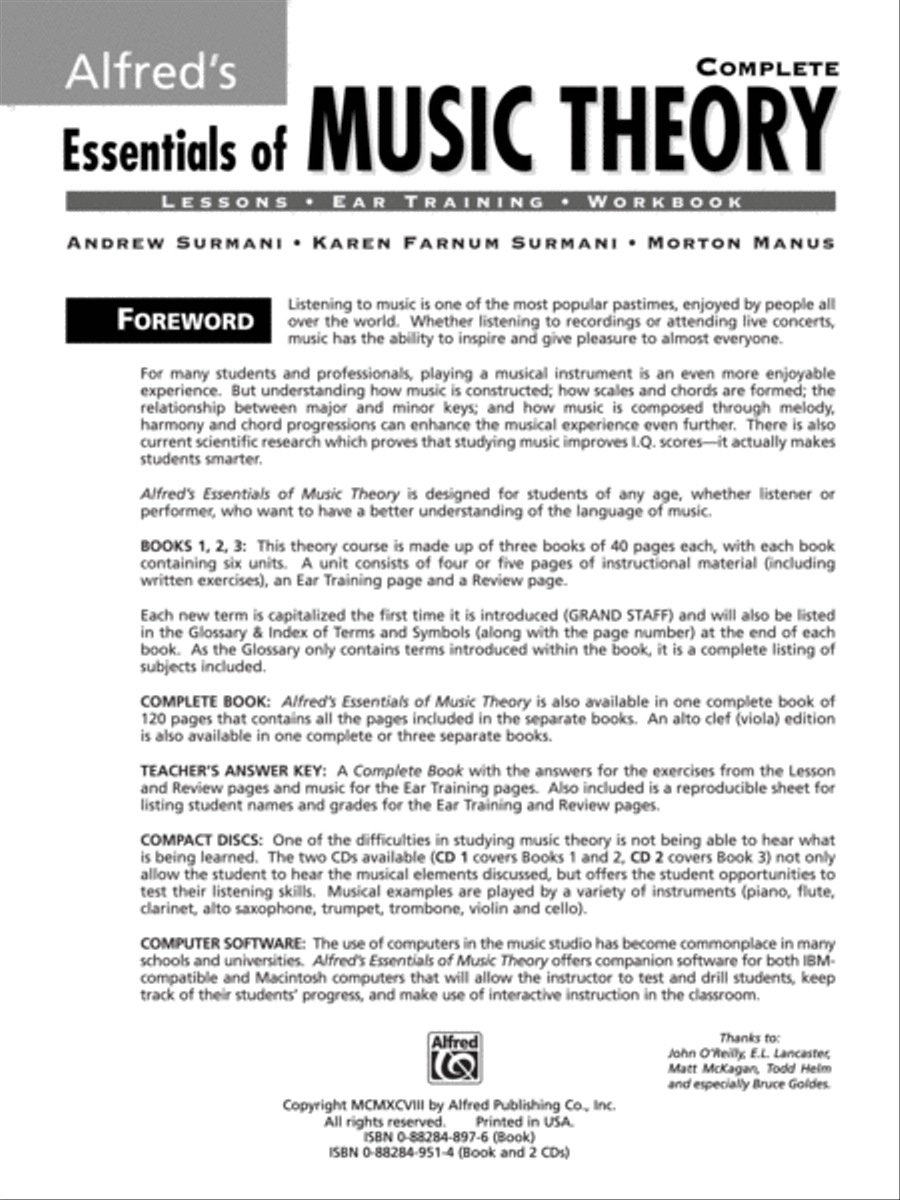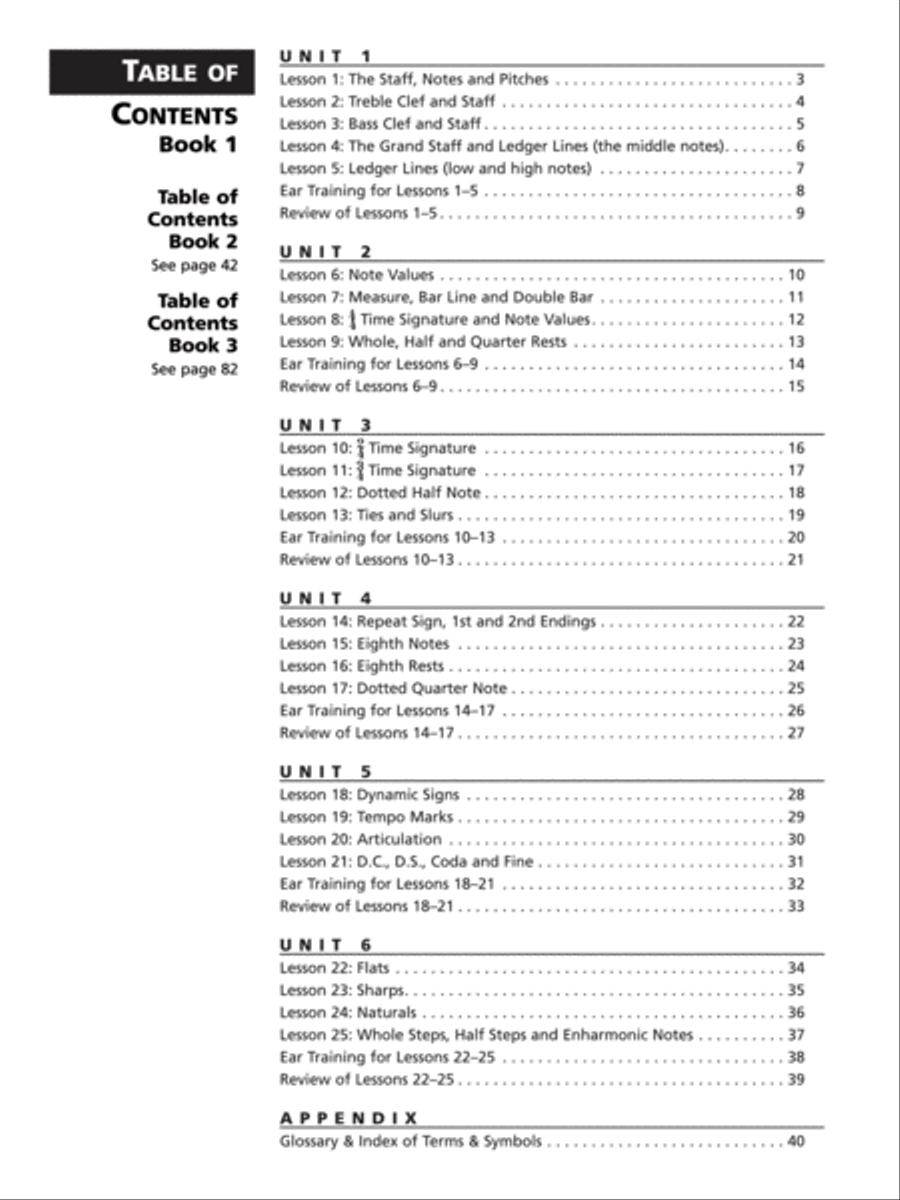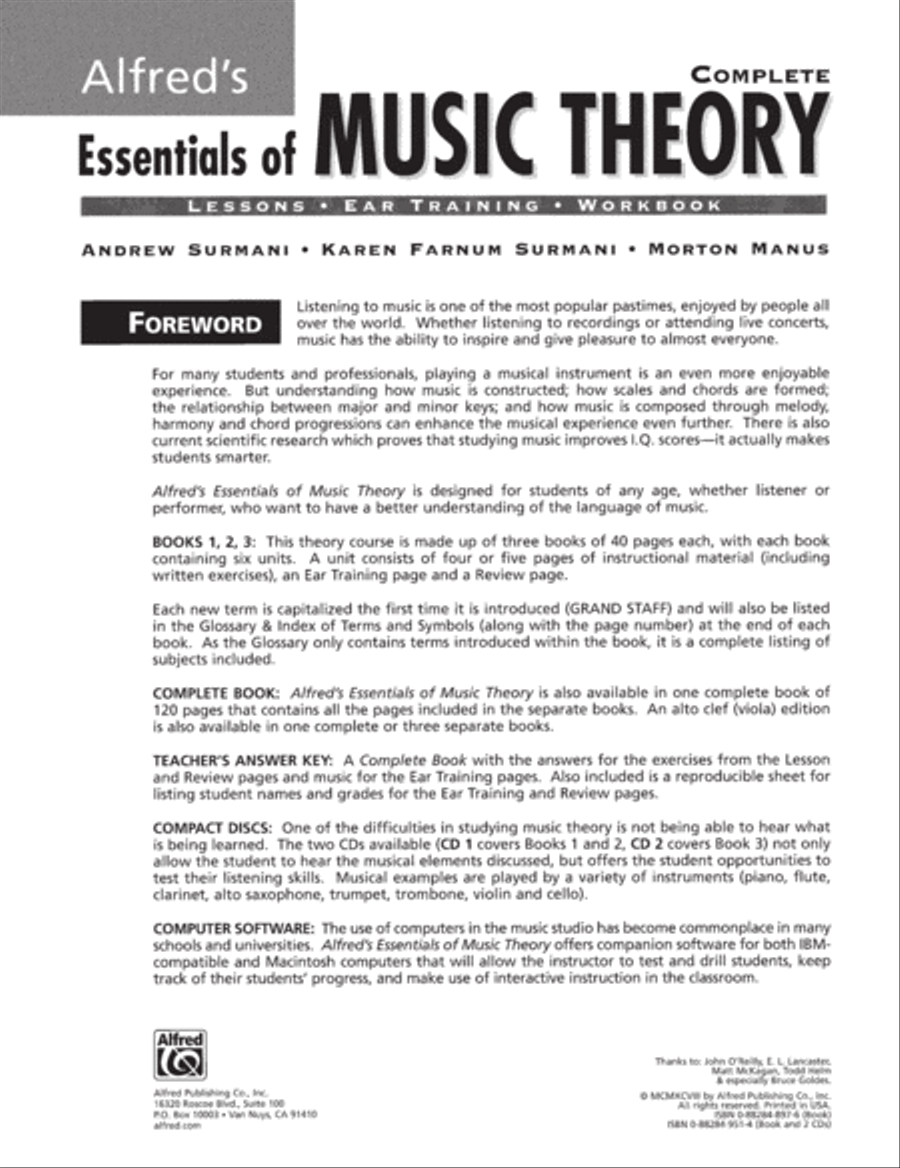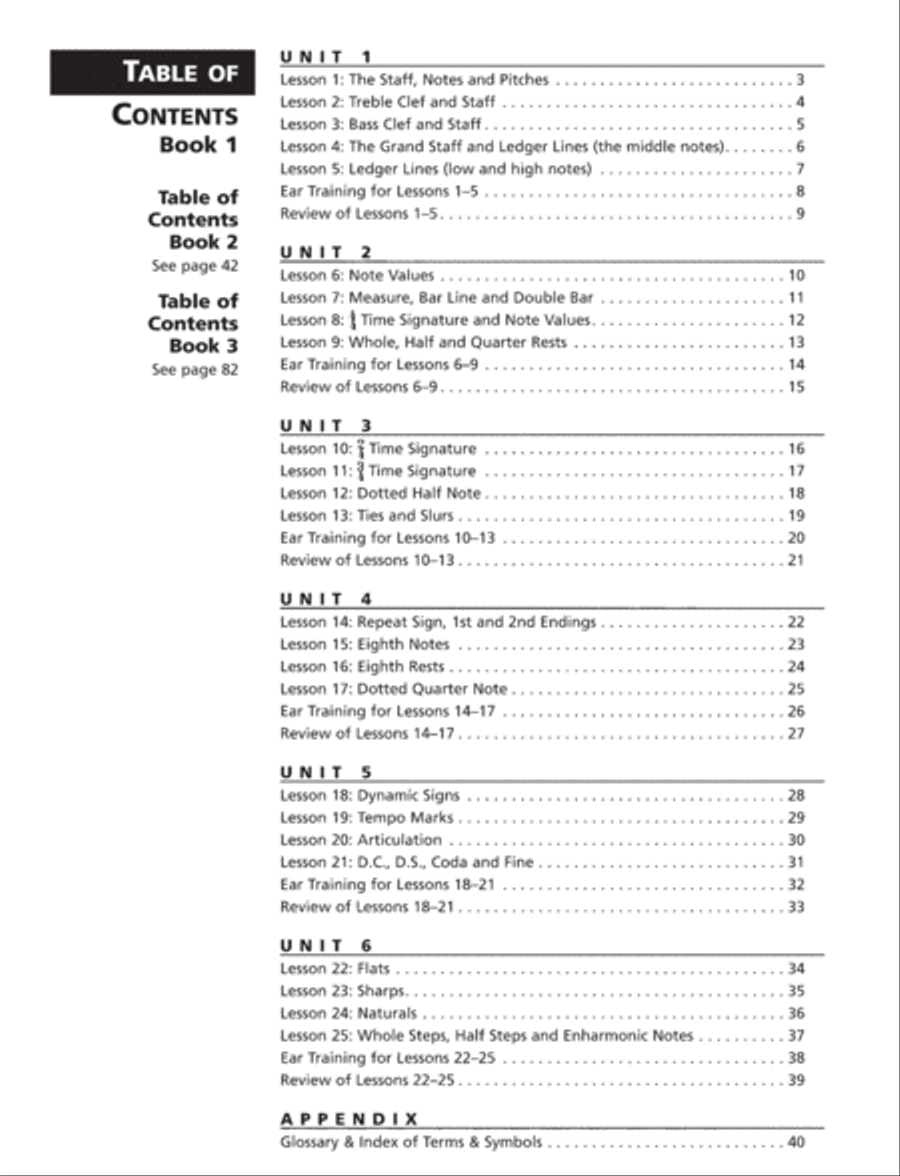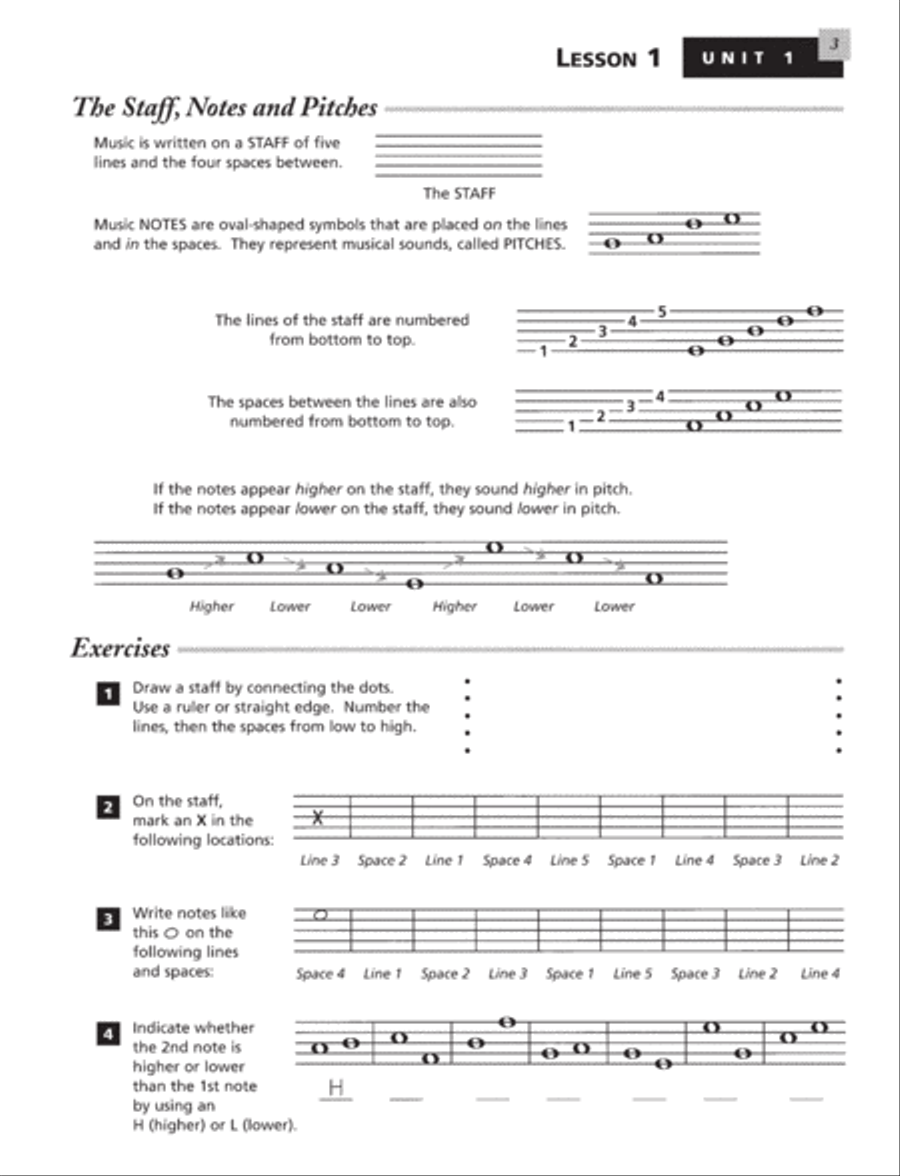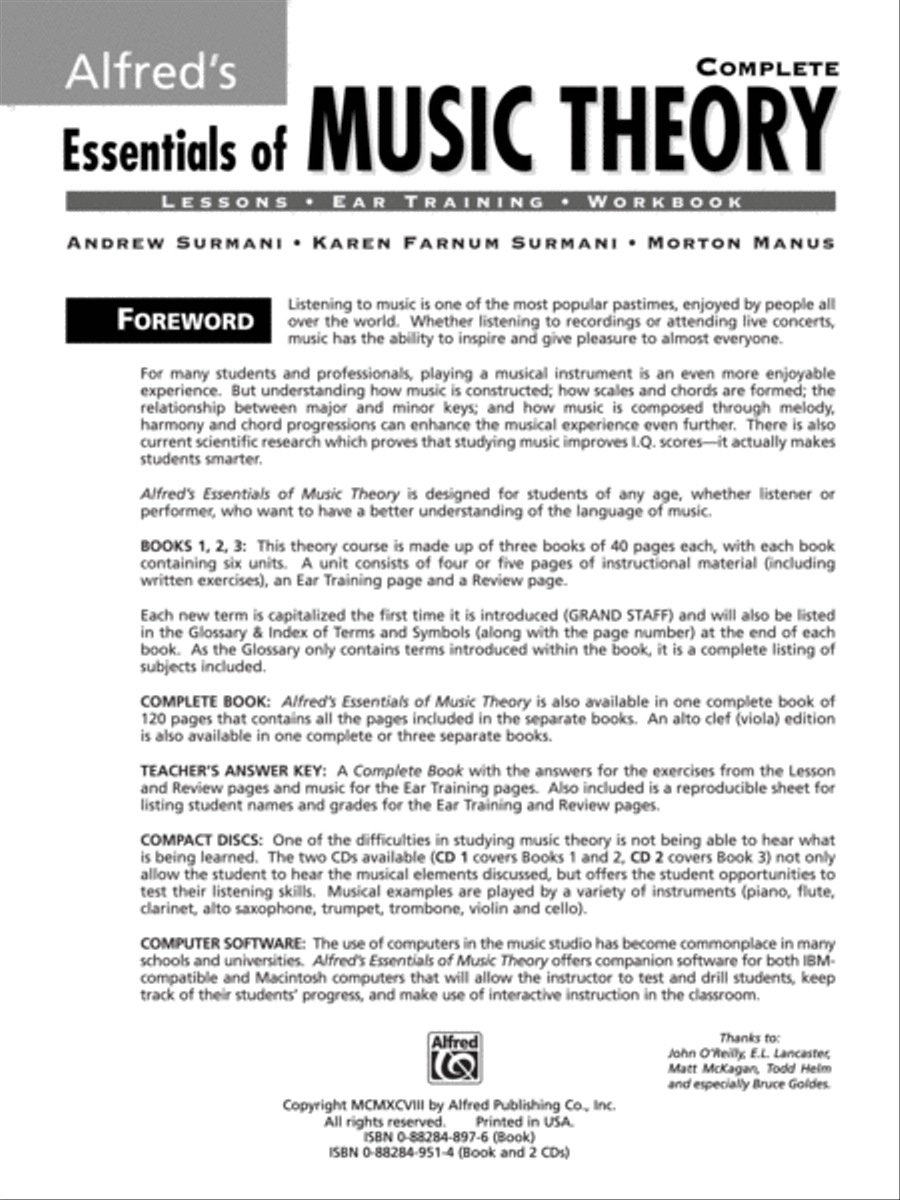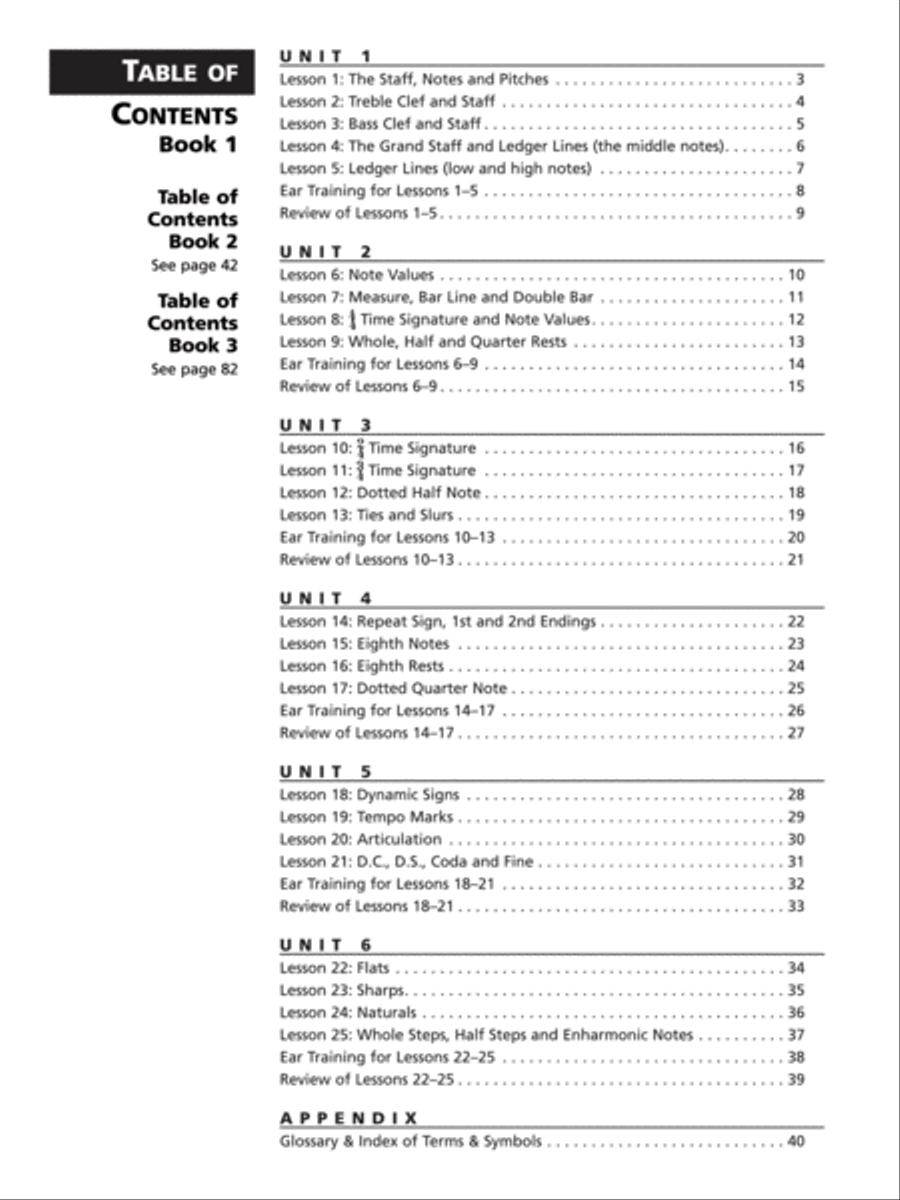 Alfred's Essentials of Music Theory - Complete (Book)

Complete
Available
Ready to ship in 24 hours
Taxes/VAT calculated at checkout.
Detailed Description
SKU: AP.17234
Complete
. NAMM Best in Show; Parents' Choice; Reference Textbooks; Textbook - General; Theory; iParenting Media Award. Essentials of Music Theory. General Theory. Instructional book. With introductory text, instructional text, musical examples and glossary. 120 pages. Alfred Music #00-17234. Published by Alfred Music (AP.17234).
ISBN 9780882848976. UPC: 038081149196. 9x12 inches. English.
The most complete music theory course ever! This all-in-one series includes concise lessons with short exercises, ear training activities and reviews. Available in three separate volumes or as a complete set, Essentials of Music Theory also includes Ear Training CDs (performed by acoustic instruments), a Teacher's Answer Key Book, reproducible Teacher's Activity Kits, Bingo Games, Flash Cards and Computer Software - available separately.
Song List (131)
Unit 1
Lesson 1: The Staff, Notes and Pitches
Lesson 2: Treble Clef and Staff
Lesson 3: Bass Clef and Staff
Lesson 4: The Grand Staff and Ledger Lines (the middle notes)
Lesson 5: Ledger Lines (low and high notes)
Ear Training for Lessons 1-5
Review of Lessons 1-5
Unit 2
Lesson 6: Note Values
Lesson 7: Measure, Bar Line and Double Bar
Lesson 8: 4/4 Time Signature and Note Values
Lesson 9: Whole, Half and Quarter Rests
Ear Training for Lessons 6-9
Review of Lessons 6-9
Unit 3
Lesson 10: 2/4 Time Signature
Lesson 11: 3/4 Time Signature
Lesson 12: Dotted Half Note
Lesson 13: Ties and Slurs
Ear Training for Lessons 10-13
Review of Lessons 10-13
Unit 4
Lesson 14: Repeat Sign, 1st and 2nd Endings
Lesson 15: Eighth Notes
Lesson 16: Eighth Rests
Lesson 17: Dotted Quarter Note
Ear Training for Lessons 14-17
Review of Lessons 14-17
Unit 5
Lesson 18: Dynamic Signs
Lesson 19: Tempo Marks
Lesson 20: Articulation
Lesson 21: D.C., D.S., Coda and Fine
Ear Training for Lessons 18-21
Review of Lessons 18-21
Unit 6
Lesson 22: Flats
Lesson 23: Sharps
Lesson 24: Naturals
Lesson 25: Whole Steps, Half Steps and Enharmonic Notes
Ear Training for Lessons 22-25
Review of Lessons 22-25
Appendix
Glossary & Index of Terms & Symbols
Unit 7
Lesson 26: Tetrachords and Major Scales
Lesson 27: The Sharp Scales---G and D Major
Lesson 28: The Flat Scales---F and B-flat Major
Lesson 29: Key Signatures---The Sharp Keys
Lesson 30: Key Signatures---The Flat Keys
Ear Training for Lessons 26-30
Review of Lessons 26-30
Unit 8
Lesson 32: The Remaining Major Scales with Key Signatures
Lesson 32: Chromatic Scale
Lesson 33: Intervals
Lesson 34: Circle of Fifths
Ear Training for Lessons 31-34
Review of Lessons 31-34
Unit 9
Lesson 35: Perfect and Major Intervals
Lesson 36: Minor Intervals
Lesson 37: Augmented and Diminished Intervals
Lesson 38: Solfege and Transposition
Ear Training for Lessons 35-38
Review of Lessons 35-38
Unit 10
Lesson 39: Sixteenth Notes
Lesson 40: Sixteenth Rests
Lesson 41: Dotted Eighth Notes
Lesson 42: Common Time and Cut Time (Alla Breve)
Ear Training for Lessons 39-42
Review of Lessons 39-42
Unit 11
Lesson 43: 3/8 and 6/8 Time Signatures
Lesson 44: 3/8 and 6/8 Time Signatures at Fast Tempos
Lesson 45: Eighth Note Triplets
Lesson 46: Incomplete Measures (Pick-up Notes) and Syncopation
Ear Training for Lessons 43-46
Review of Lessons 43-46
Unit 12
Lesson 47: Triads
Lesson 48: Primary and Major Triads
Lesson 49: Scale Degree Names
Lesson 50: The V-7 (Dominant 7th) Chord
Ear Training for Lessons 47-50
Review of Lessons 47-50
Unit 13
Lesson 51: Triads---1st Inversion
Lesson 52: Triads---2nd Inversion
Lesson 53: V-7 Chords---1st, 2nd and 3rd Inversions
Lesson 54: Figured Bass
Lesson 55: Major Chord Progressions
Ear Training for Lessons 51-55
Review of Lessons 51-55
Unit 14
Lesson 56: Minor Scales
Lesson 57: Natural, Harmonic and Melodic Minor Scales
Lesson 58: Minor Triads
Lesson 59: Augmented and Diminished Triads
Ear Training for Lessons 56-59
Review of Lessons 56-59
Unit 15
Lesson 60: The Primary Triads in Minor Keys
Lesson 61: Minor Chord Progressions
Lesson 62: Modes Related to the Major Scale: Ionian, Mixolydian, and Lydian
Lesson 63: Modes Related to the Minor Scale: Aeolian, Dorian, Phrygian, Locrian
Ear Training for Lessons 60-63
Review of Lessons 60-63
Unit 16
Lesson 64: Harmonizing a Melody in a Major Key
Lesson 65: Broken Chords and Arpeggiated Accompaniments
Lesson 66: Passing and Neighboring Tones
Lesson 67: Composing a Melody in a Major Key
Ear Training for Lessons 64-67
Review of Lessons 64-67
Unit 17
Lesson 68: Harmonizing a Melody in a Minor Key
Lesson 69: Composing a Melody in a Minor Key
Lesson 70: 12-Bar Blues Chord Progression
Lesson 71: The Blues Scale
Ear Training for Lessons 68-71
Review of Lessons 68-71
Unit 18
Lesson 72: Basic Forms of Music---Motive and Phrase
Lesson 73: AB (Binary) Form
Lesson 74: ABA (Ternary) Form
Lesson 75: Rondo Form
Ear Training for Lessons 72-75
Review of Lessons 72-75