101 Classical Themes for Viola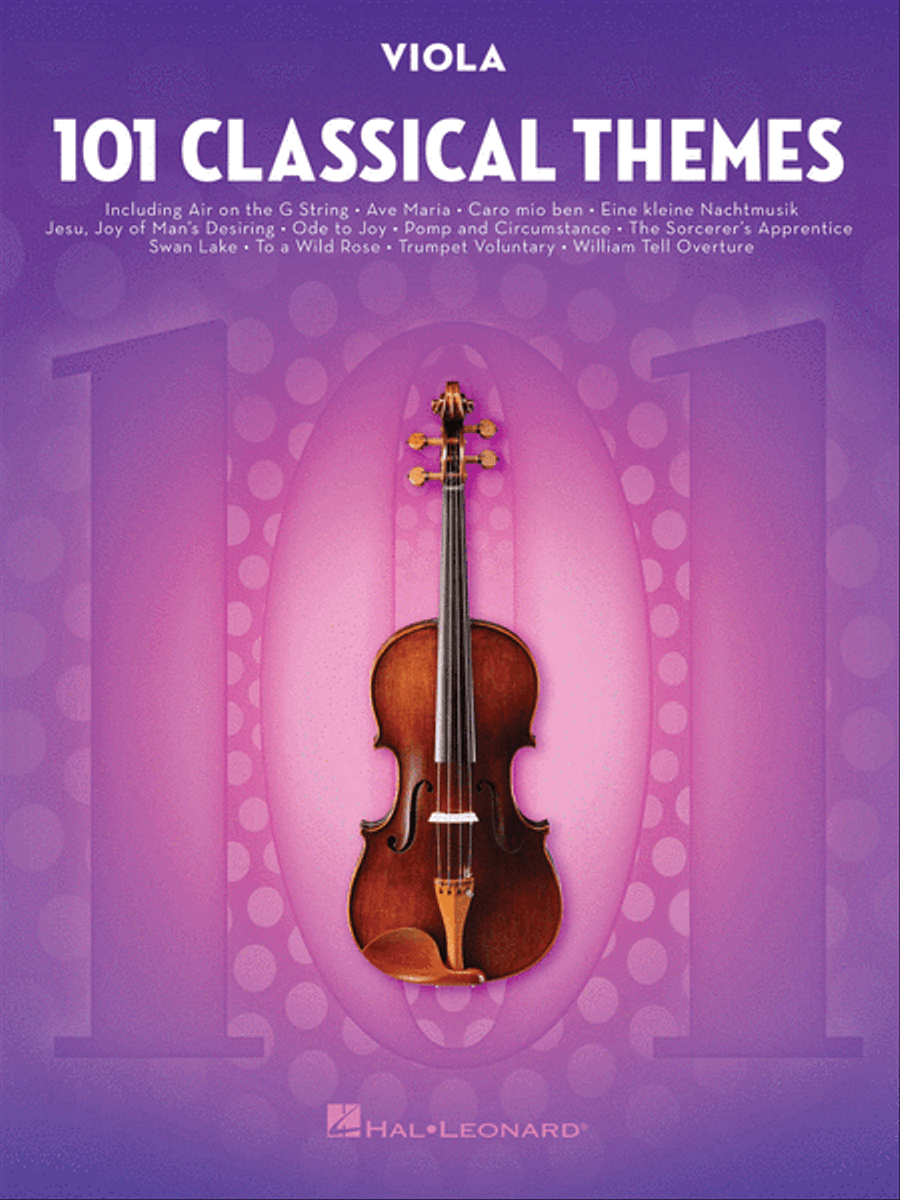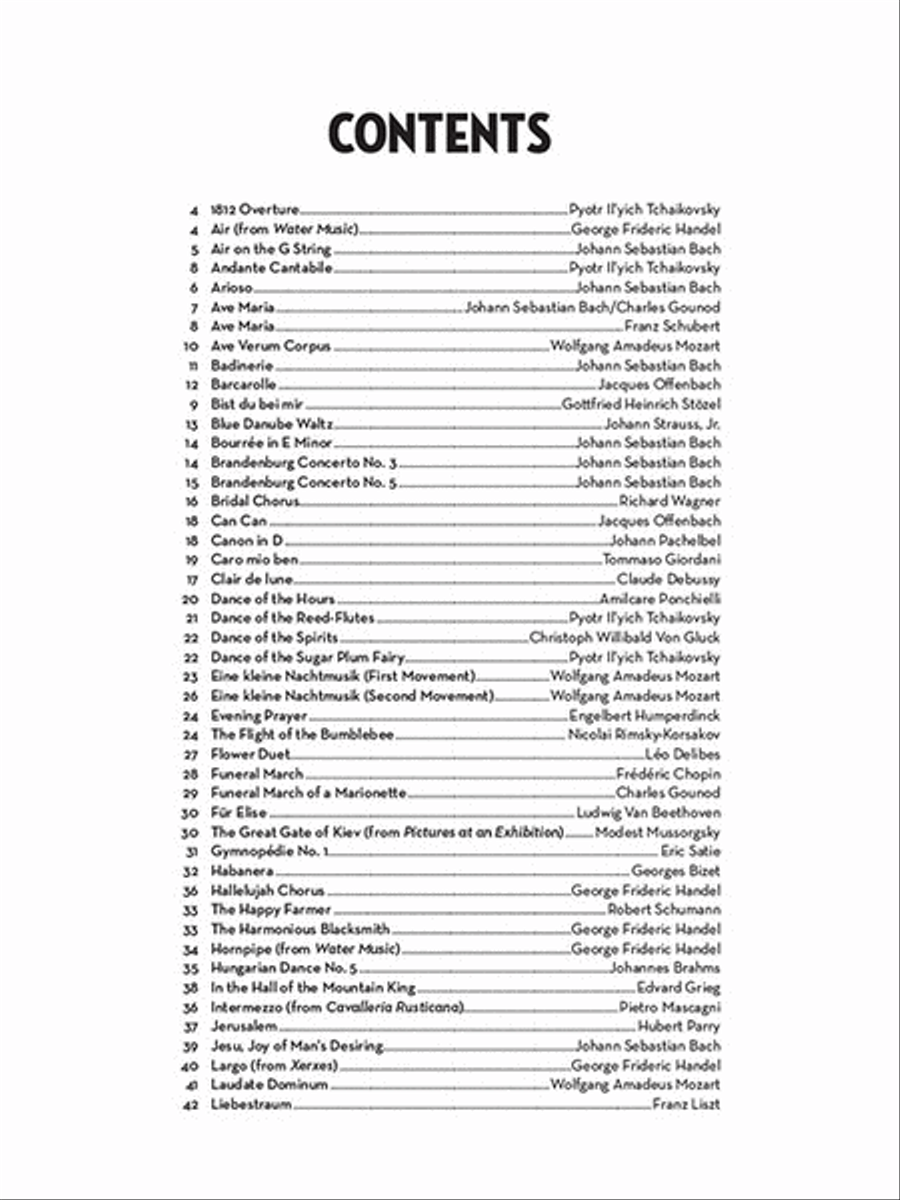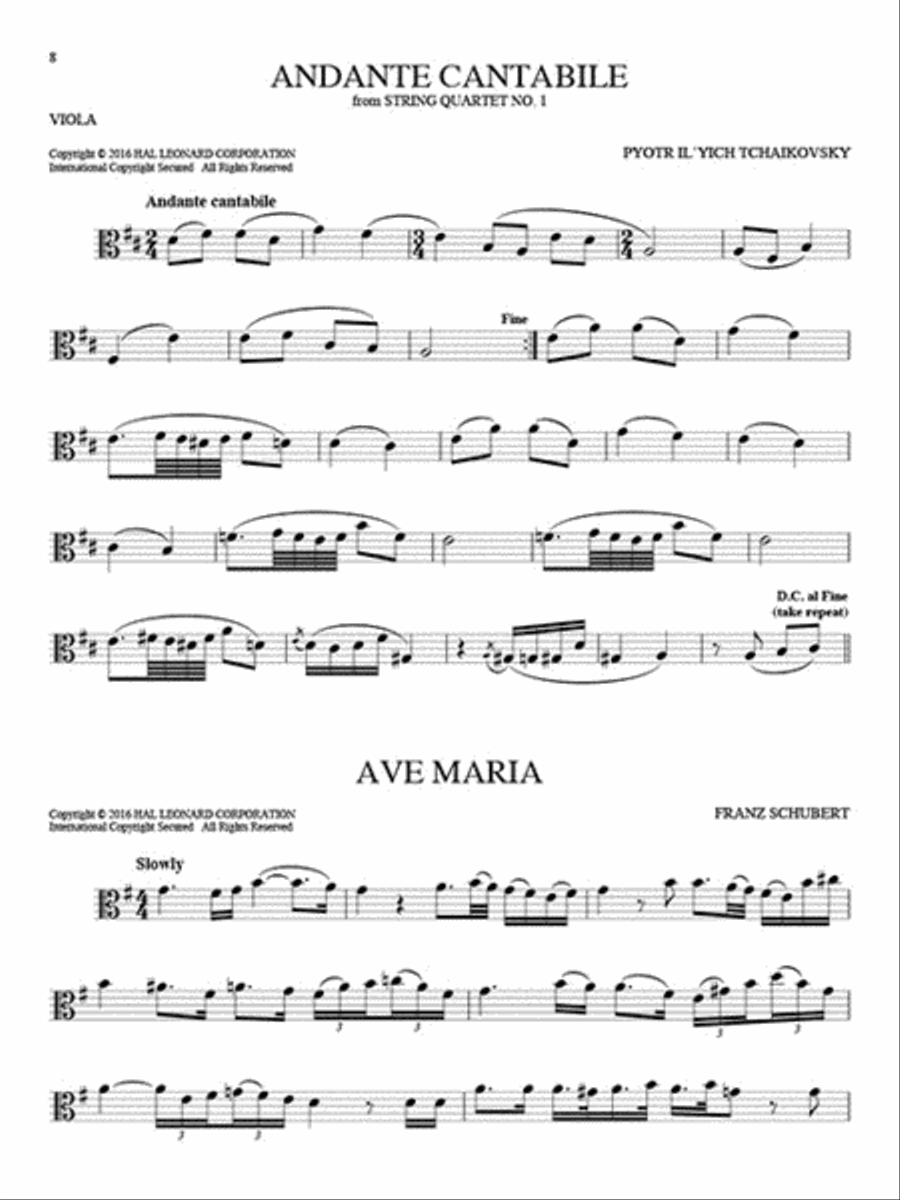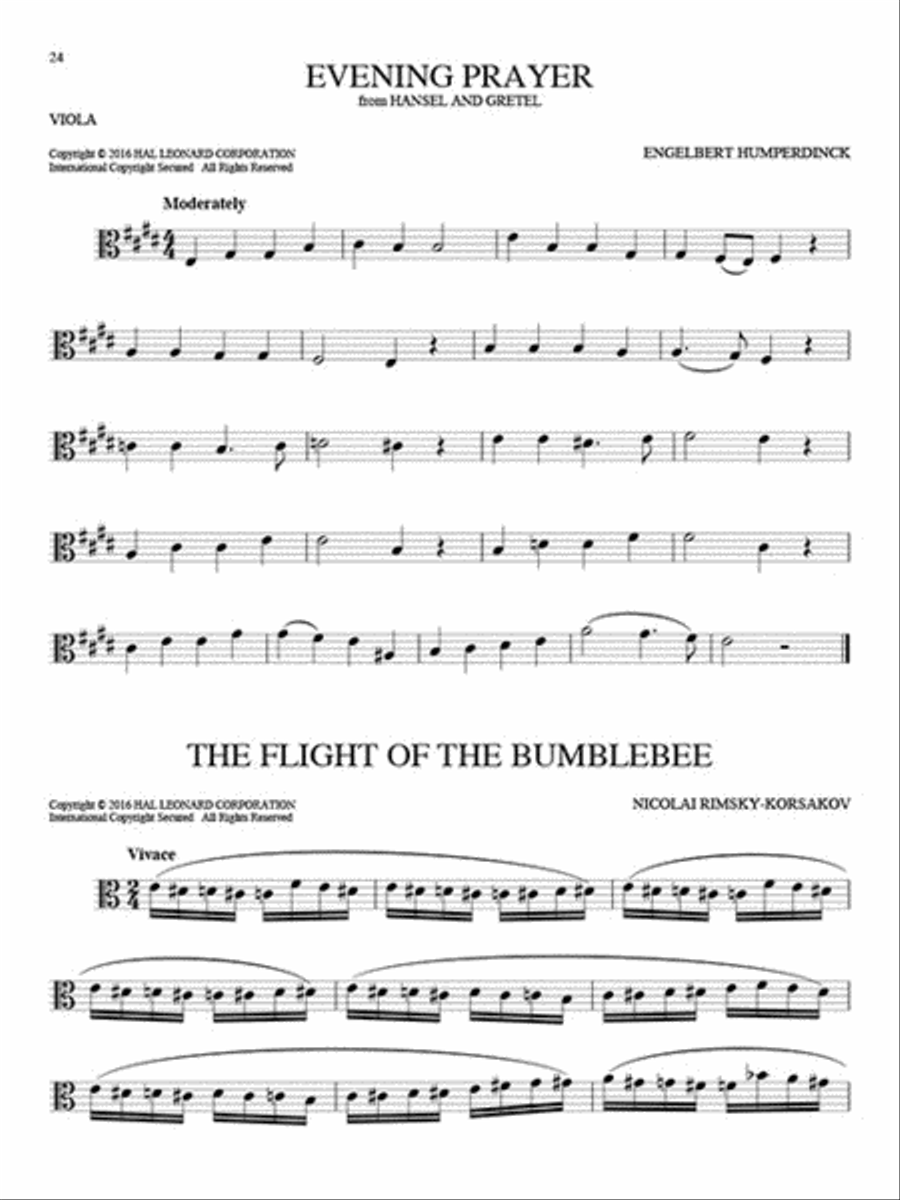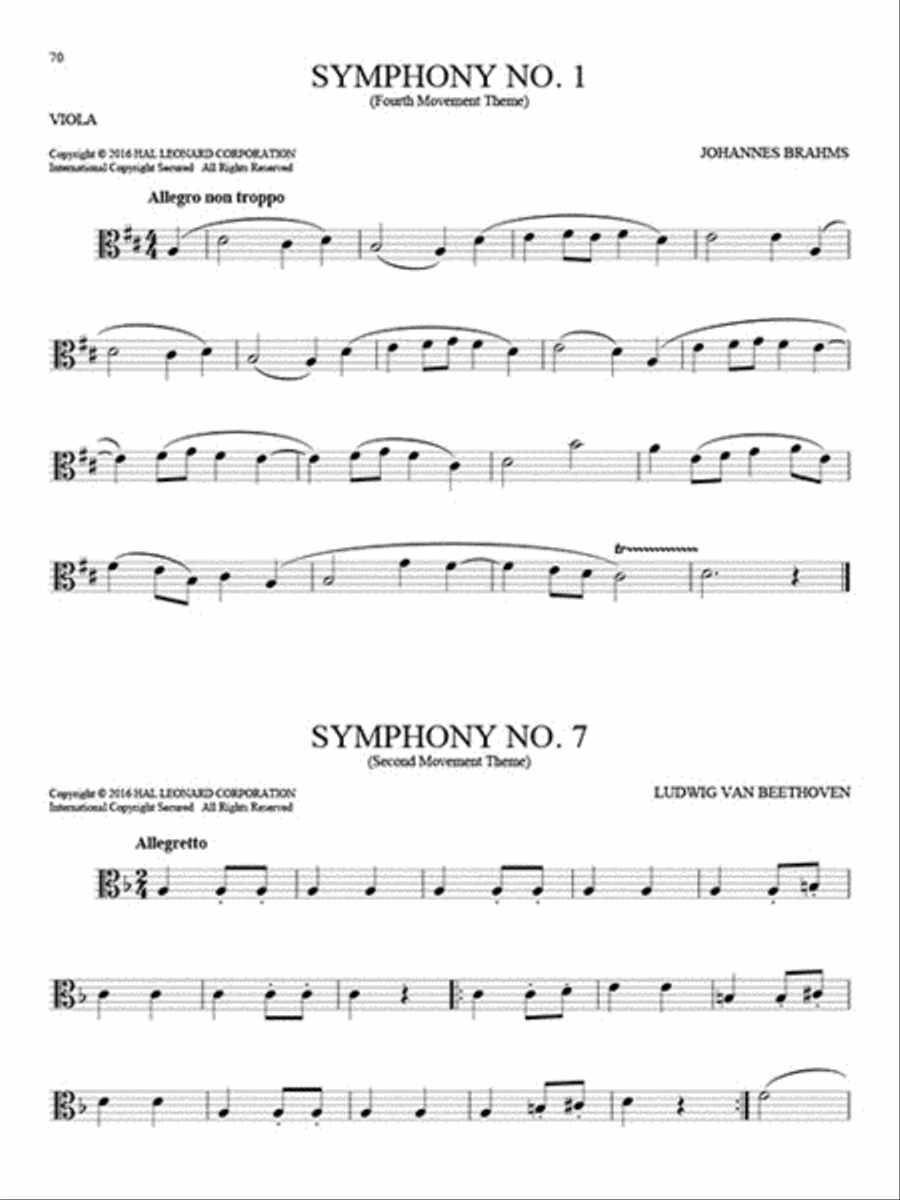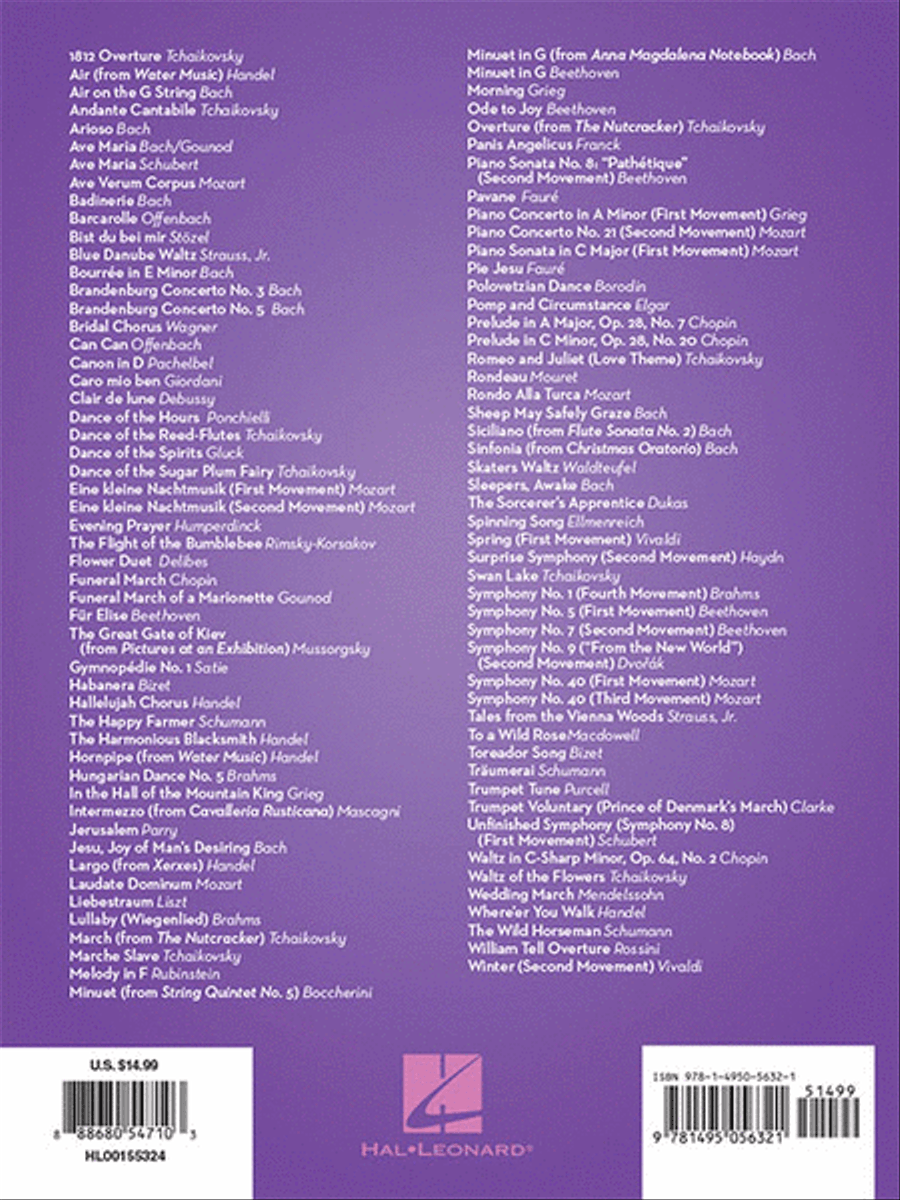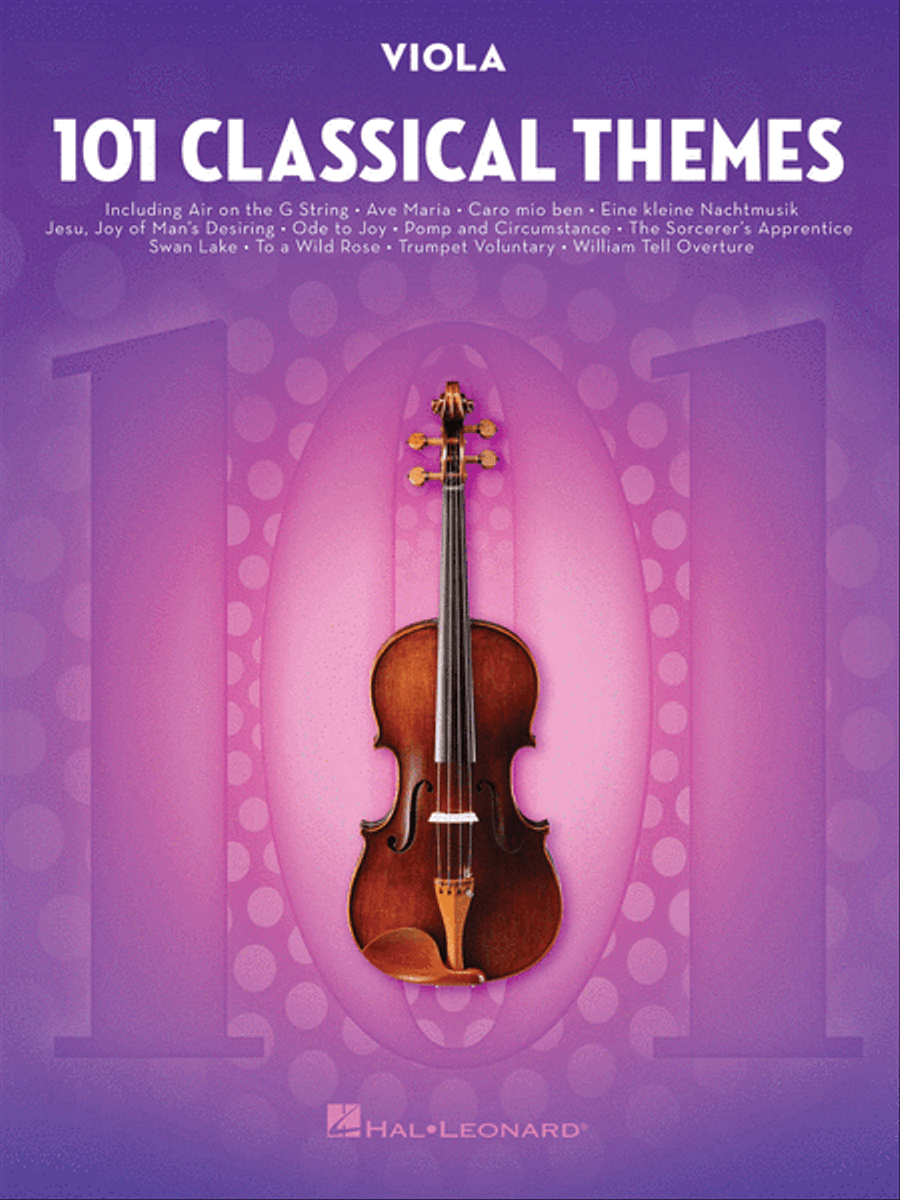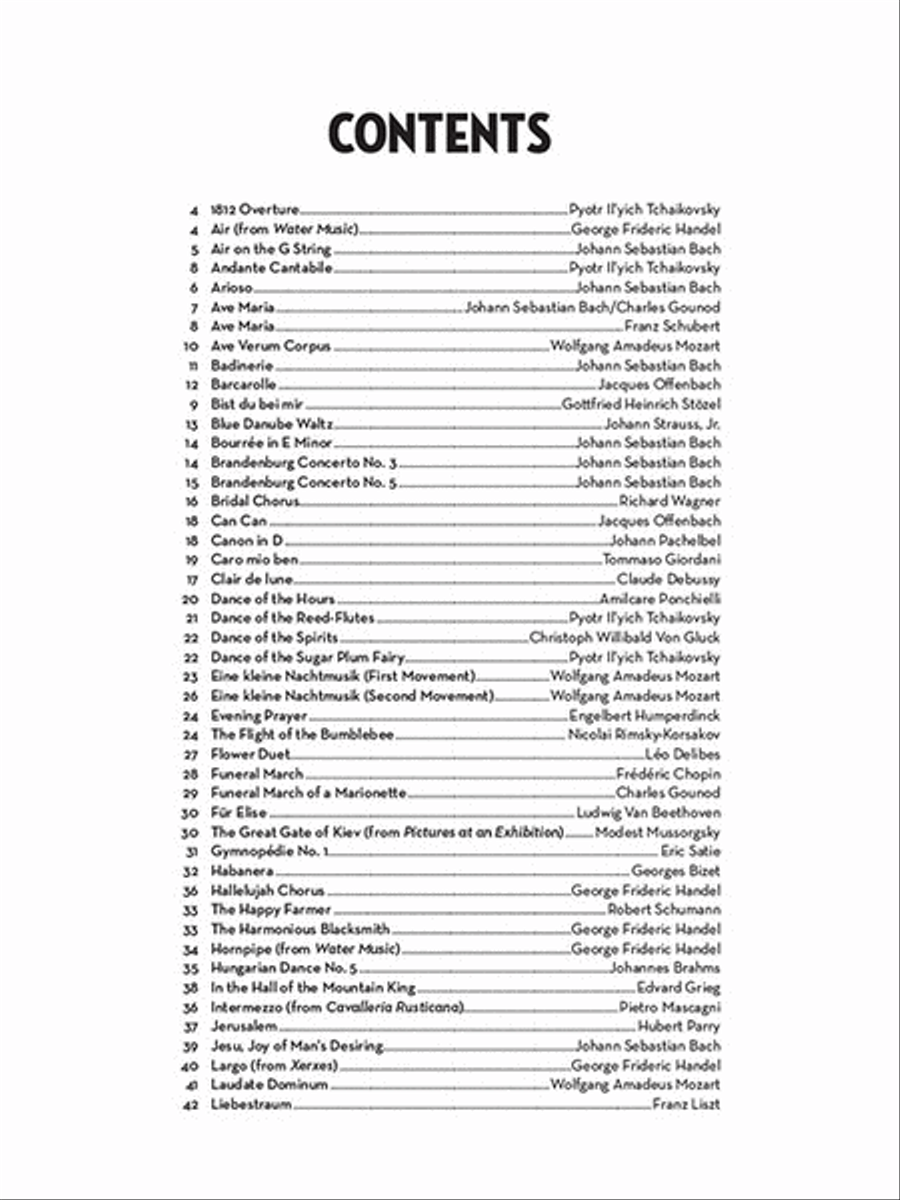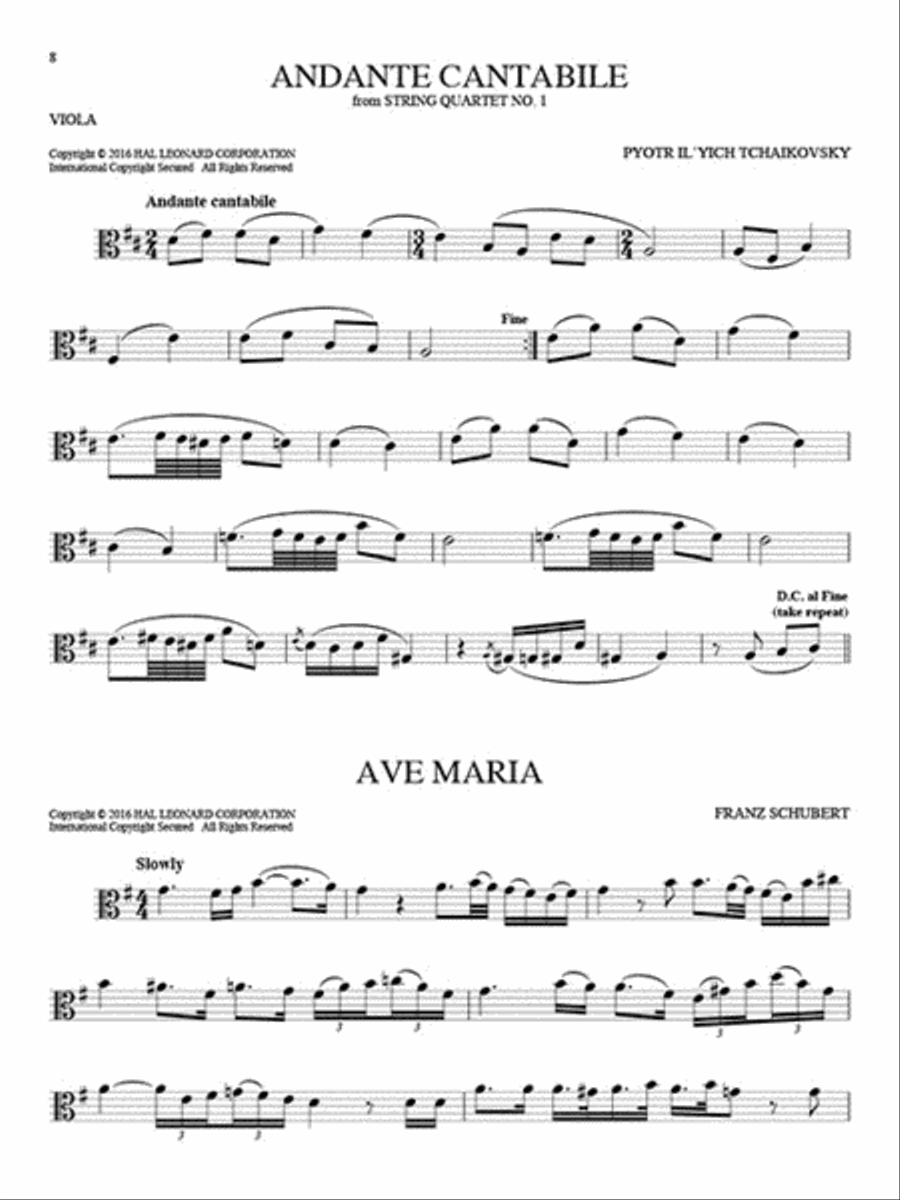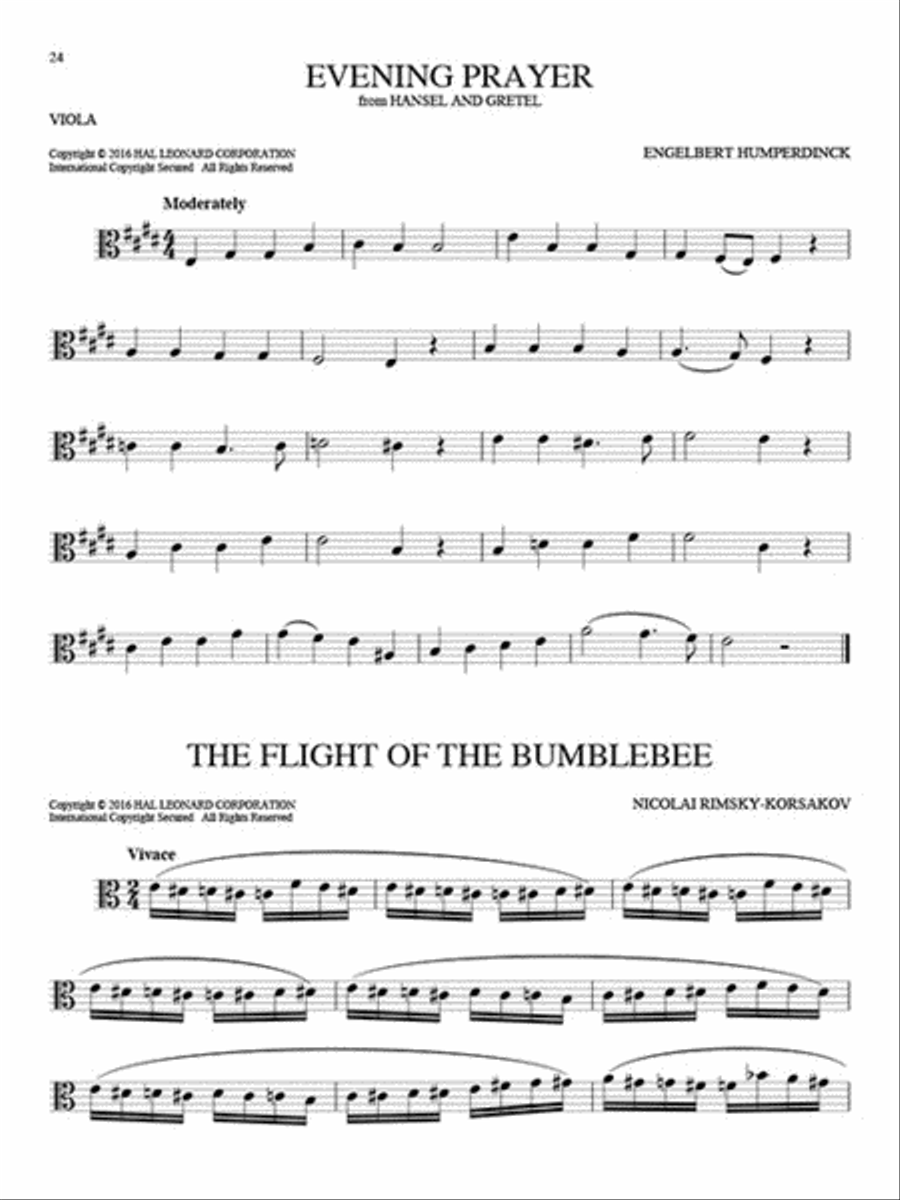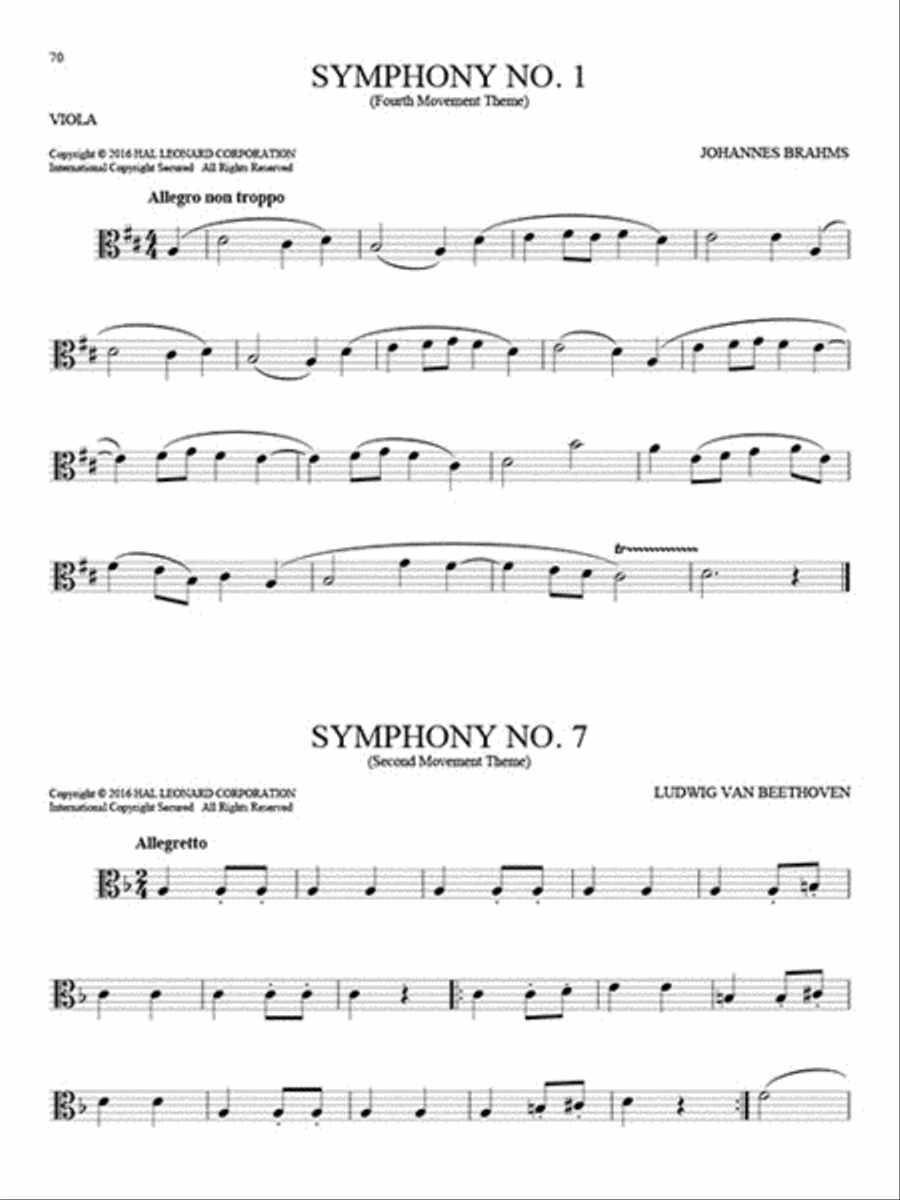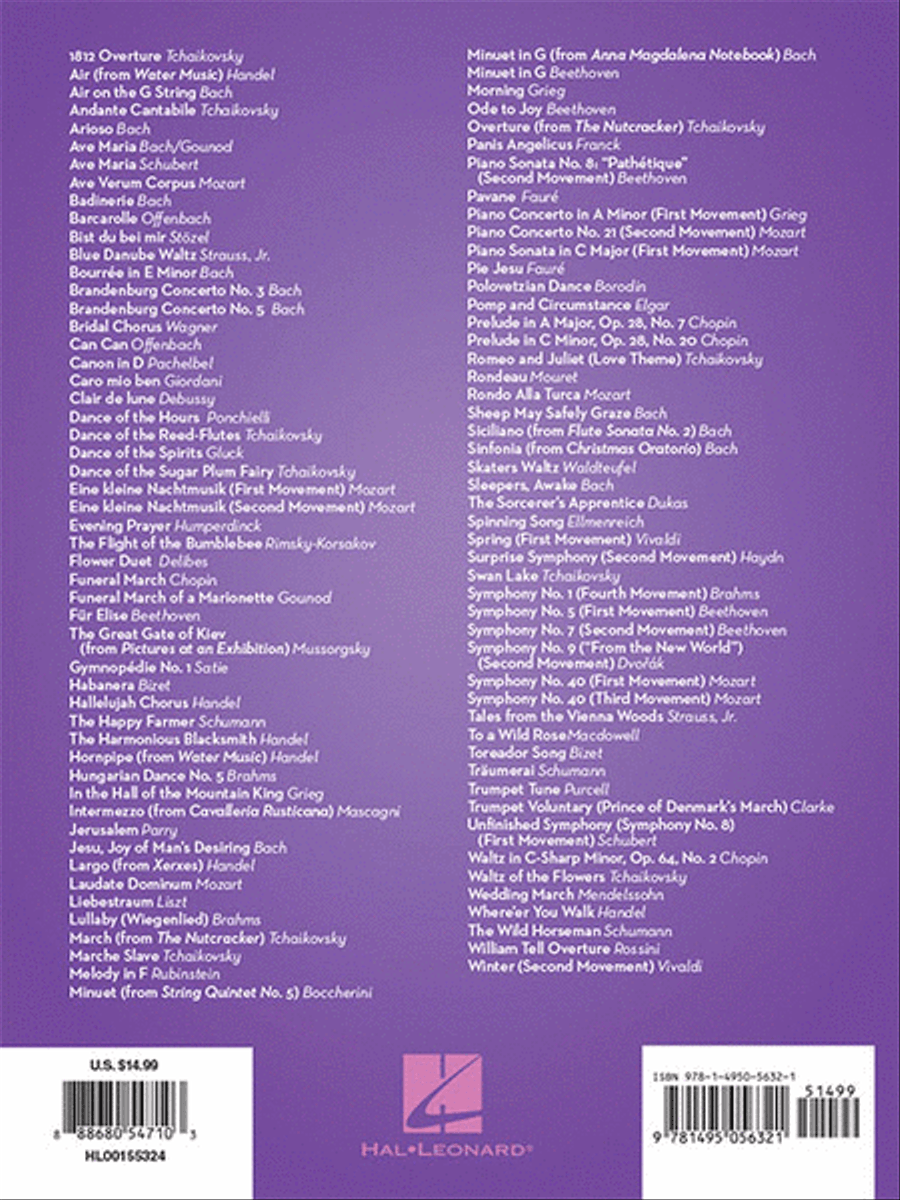 101 Classical Themes for Viola


This item is currently not available
Taxes/VAT calculated at checkout.
Detailed Description
Viola
SKU: HL.155324
Composed by Various. Instrumental Folio. Classical. Softcover. 88 pages. Published by Hal Leonard (HL.155324).
ISBN 9781495056321. UPC: 888680547103. 9.0x12.0x0.247 inches.
This huge collection offers instrumentalists the chance to play 101 classical themes, including: Ave Maria • Bist du bei mir (You Are with Me) • Canon in D • Clair de Lune • Dance of the Sugar Plum Fairy • 1812 Overture • Eine Kleine Nachtmusik ("Serenade"), First Movement Excerpt • The Flight of the Bumble Bee • Funeral March of a Marionette • Fur Elise • Gymnopedie No. 1 • Jesu, Joy of Man's Desiring • Lullaby • Minuet in G • Ode to Joy • Piano Sonata in C • Pie Jesu • Rondeau • Theme from Swan Lake • Wedding March • William Tell Overture • and many more.
Song List (102)
Jesu, Joy Of Man's Desiring
Overture
Morning
Laudate Dominum
Arioso
Lullaby
Winter
Bridal Chorus
Minuet
Air
March
Ave Maria
Intermezzo
Minuet In G
Pavane
Gymnopedie No. 1
Evening Prayer
Symphony No. 7 In A Major, Second Movement (Allegretto)
Eine Kleine Nachtmusik ('Serenade'), First Movement Excerpt
Largo
Dance Of The Spirits
The Sorcerer's Apprentice
Sinfonia
Flower Duet
Siciliano
Sheep May Safely Graze
Hallelujah Chorus
Hornpipe
The Surprise Symphony
Wedding March
Barcarolle
William Tell Overture
The Happy Farmer
Traumerei
Jerusalem
Habanera
Can Can
Funeral March
Hungarian Dance No. 5
Spinning Song
Trumpet Tune
Trumpet Voluntary
Panis Angelicus (O Lord Most Holy)
Blue Danube Waltz
Canon In D
Caro mio ben
Pie Jesu
The Flight Of The Bumble Bee
Great Gate Of Kiev
Liebestraum (Dream Of Love)
Marche Slav, Op. 31
Polovetsian Dances
The Skaters (Waltz)
Sleepers, Awake (Wachet Auf)
Theme From Swan Lake
Toreador Song
The Unfinished Symphony (Theme)
Where E'er You Walk
1812 Overture
Largo From Symphony No. 9 ('New World')
Eine Kleine Nachtmusik ('Romance'), Second Movement
Rondo Alla Turca
Badinerie (Suite No. 2)
Harmonious Blacksmith
Brandenburg Concerto No. 5
Brandenburg Concerto No. 3
Air (Air On The G String)
Fanfare Rondeau
Waltz In C-Sharp Minor, Op. 64, No. 2
Prelude In C Minor, Op. 28, No. 20
Prelude In A Major, Op. 28, No. 7
Symphony No. 1 In C Minor, Fourth Movement Excerpt
Symphony No. 40 In G Minor, First Movement Excerpt
Pomp And Circumstance
Andante Cantabile
Symphony No. 40 In G Minor, Third Movement ('Minuet')
Dance Of The Hours
Minuet In G Major
Ode To Joy
Ave Verum (Jesu, Word Of God Incarnate)
Bist du bei mir (You Are With Me)
In The Hall Of The Mountain King
Melody In F
Tales From The Vienna Woods
Dance Of The Reed Flutes, Op. 71a
Funeral March Of A Marionette
Piano Concerto In A Minor, Op. 16
Romeo And Juliet (Love Theme)
Adagio Cantabile, Op. 13
To A Wild Rose, Op. 51, No. 1
The Wild Horseman (Wilder Reiter), Op. 68, No. 8
Bourree In E Minor
Symphony No. 5 In C Minor, First Movement Excerpt
Piano Concerto No. 21 In C Major ('Elvira Madigan'), Second Movement Excerpt
Clair De Lune
Dance Of The Sugar Plum Fairy, Op. 71a
Fur Elise, WoO 59
Waltz Of The Flowers, Op. 71a
Allegro I, RV 269 ('Spring')
Ave Maria, Op. 52, No. 6
Piano Sonata In C Major
Caro Mio Ben