The Singer's Musical Theatre Anthology – "16-Bar" Audition - Revised Edition

Mezzo-Soprano/Belter Edition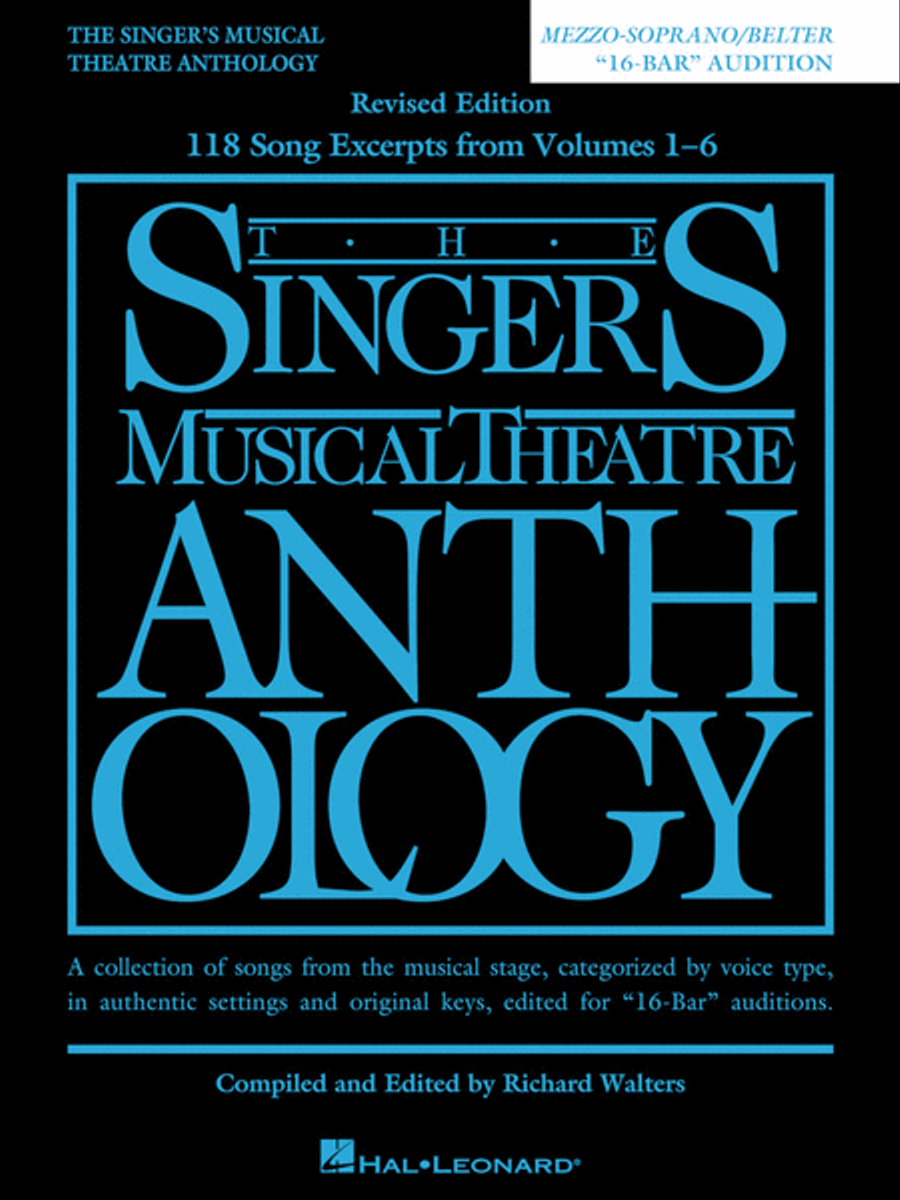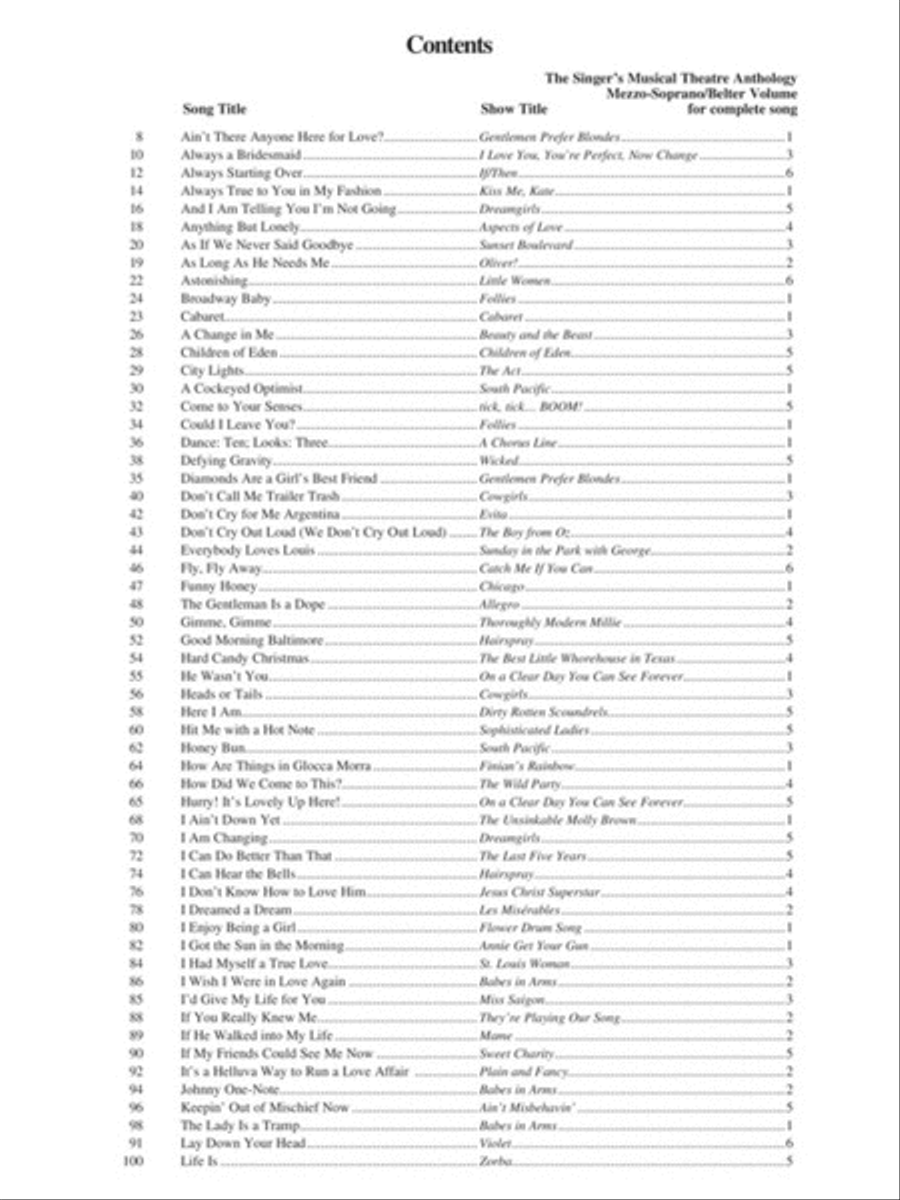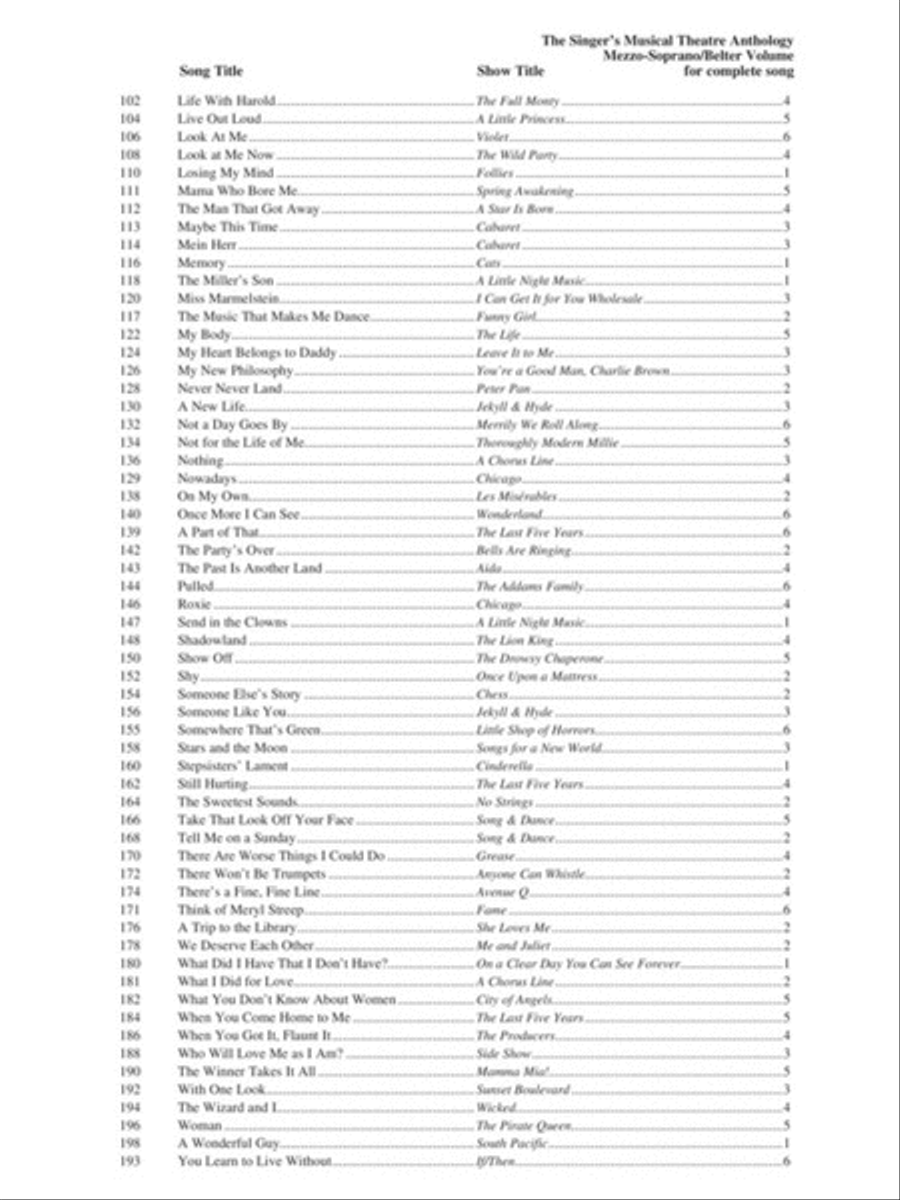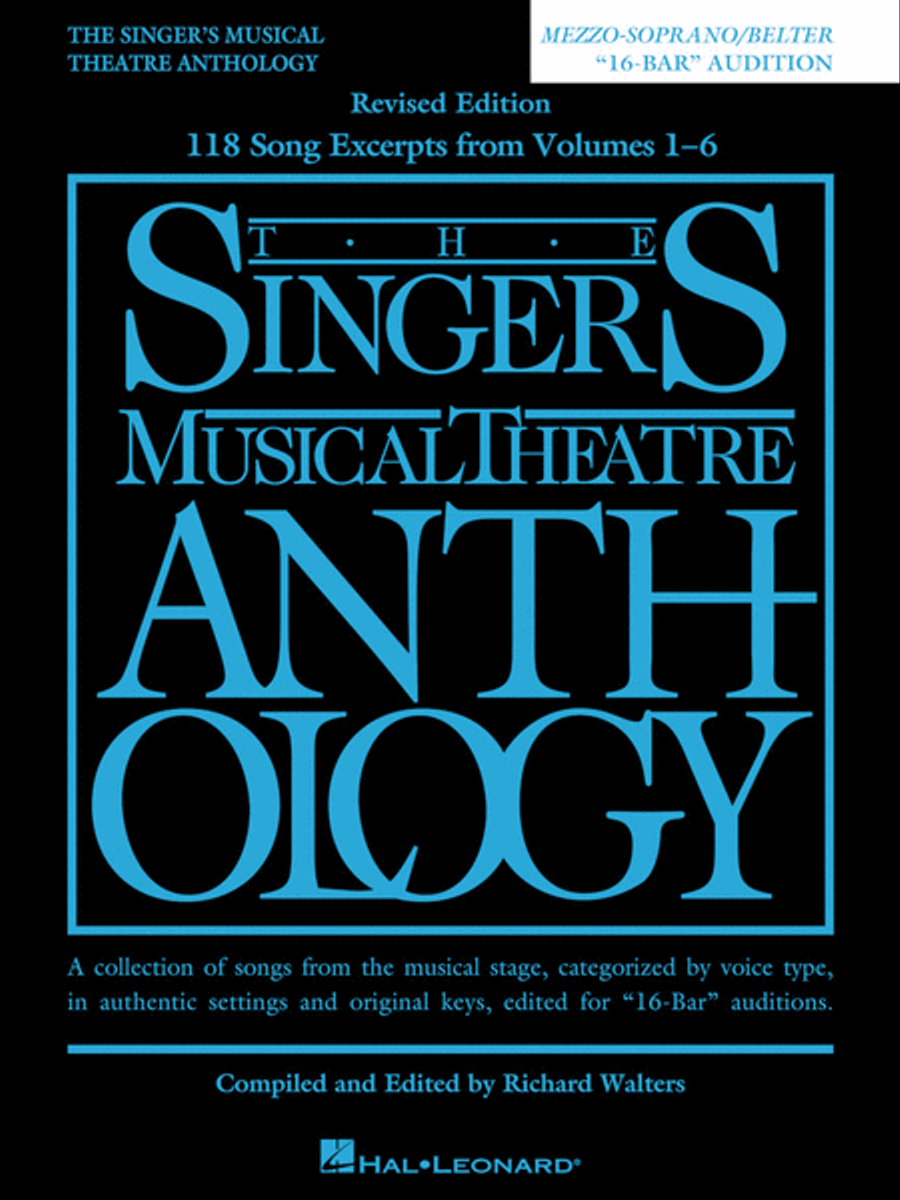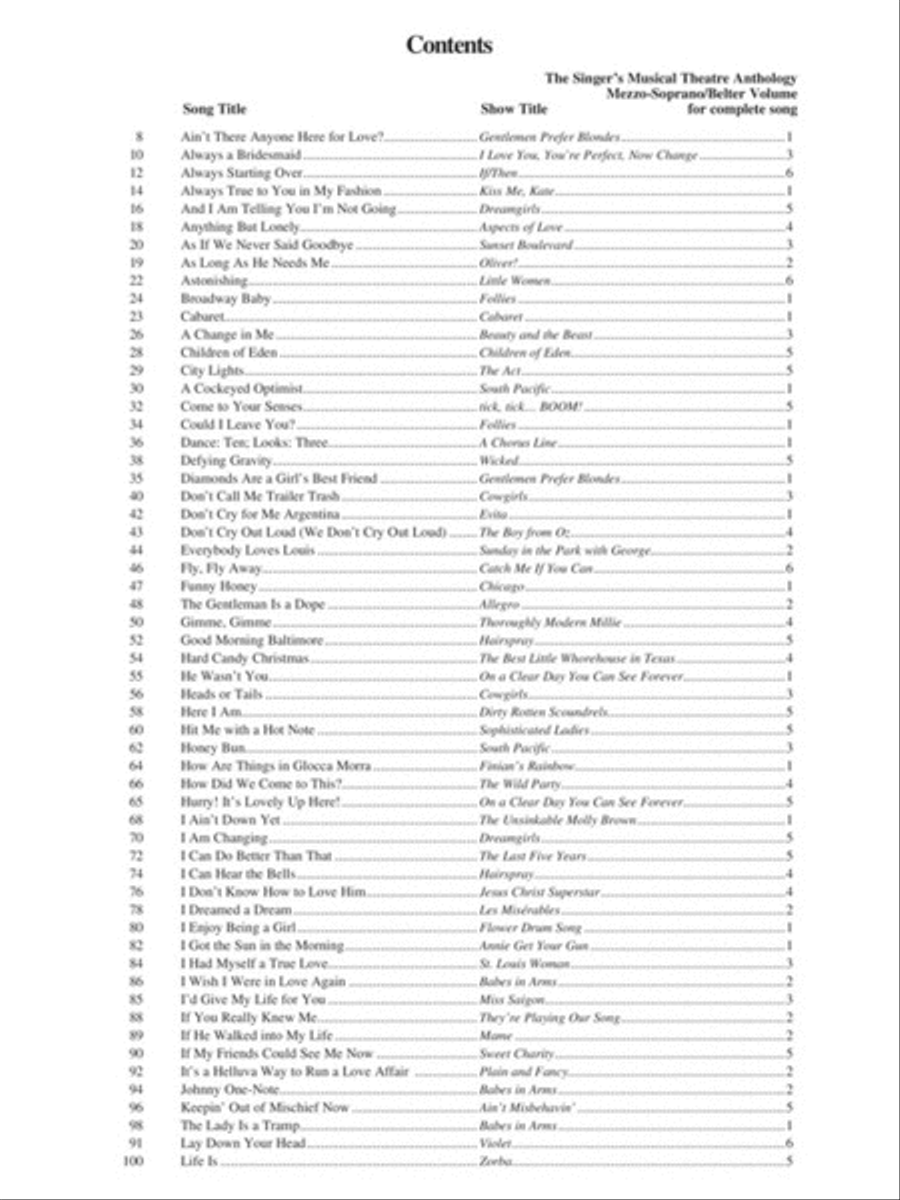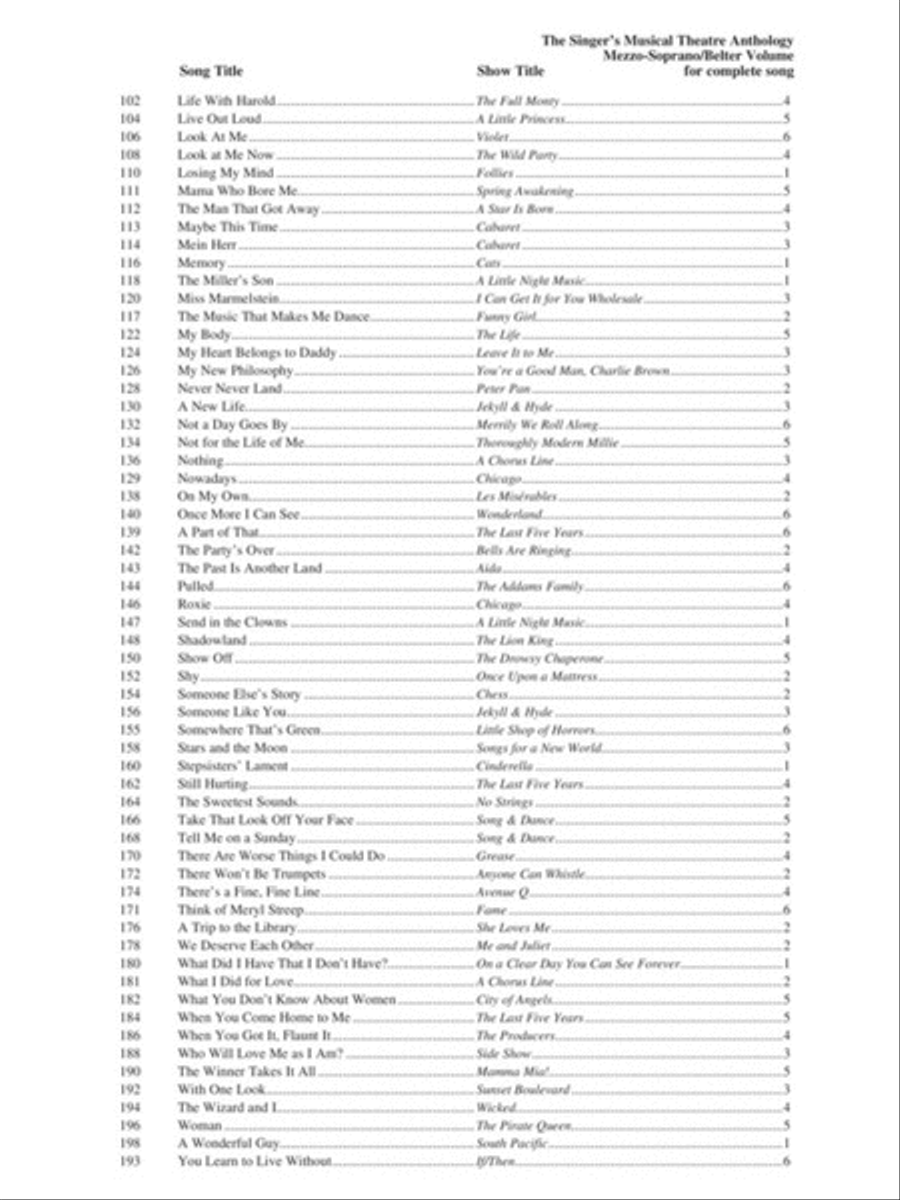 The Singer's Musical Theatre Anthology – "16-Bar" Audition - Revised Edition

Mezzo-Soprano/Belter Edition
Price reduced from

$24.99

to
$19.99
This item is currently not available
Taxes/VAT calculated at checkout.
Detailed Description
Mezzo-Soprano, Piano Accompaniment
SKU: HL.230040
Mezzo-Soprano/Belter Edition
. Composed by Various. Edited by Richard Walters. Vocal Collection. Broadway, Musicals. Softcover. 200 pages. Published by Hal Leonard (HL.230040).
ISBN 9781423490968. UPC: 884088476038. 9.0x12.0x0.461 inches.
Contents: Ain't There Anyone Here For Love? • Always A Bridesmaid • Always True To You In My Fashion • And I Am Telling You I'm Not Going • Anything But Lonely • As If We Never Said Goodbye • As Long As He Needs Me • Broadway Baby • Cabaret • A Change In Me • Children Of Eden • City Lights • A Cockeyed Optimist • Come To Your Senses • Could I Leave You? • Dance: Ten; Looks: Three • Defying Gravity • Diamonds Are A Girl's Best Friend • Don't Call Me Trailer Trash • Don't Cry For Me Argentina • Don't Cry Out Loud (We Don't Cry Out Loud) • Everybody Loves Louis • Funny Honey • The Gentleman Is A Dope • Gimme Gimme • Good Morning Baltimore • Hard Candy Christmas • He Wasn't You • Heads Or Tails • Here I Am • Hit Me With A Hot Note • Honey Bun • How Are Things In Glocca Morra • How Did We Come To This? • Hurry! It's Lovely Up Here! • I Ain't Down Yet • I Am Changing • I Can Do Better Than That • I Can Hear The Bells • I Don't Know How To Love Him • I Dreamed A Dream • I Enjoy Being A Girl • I Got The Sun In The Morning • I Had Myself A True Love • I Wish I Were In Love Again • I'd Give My Life For You • If He Walked Into My Life • If My Friends Could See Me Now • If You Really Knew Me • It's A Helluva Way To Run A Love Affair • Johnny One-Note • Keepin' Out Of Mischief Now • The Lady Is A Tramp • Life Is • Life With Harold • Live Out Loud • Look At Me Now • Losing My Mind • Mama Who Bore Me • The Man That Got Away • Maybe This Time • Mein Herr • Memory • The Miller's Son • Miss Marmelstein • The Music That Makes Me Dance • My Body • My Heart Belongs To Daddy • My New Philosophy • Never Never Land • A New Life • Not For The Life Of Me • Nothing • Nowadays • On My Own • The Party's Over • The Past Is Another Land • Roxie • Send In The Clowns • Shadowland • Show Off • Shy • Someone Else's Story • Someone Like You • Stars And The Moon • Stepsisters' Lament • Still Hurting • The Sweetest Sounds • Take That Look Off Your Face • Tell Me On A Sunday • There Are Worse Things I Could Do • There Won't Be Trumpets • There's A Fine, Fine Line • A Trip To The Library • We Deserve Each Other • What Did I Have That I Don't Have? • What I Did For Love • What You Don't Know About Women • When You Come Home To Me • When You Got It, Flaunt It • Who Will Love Me As I Am? • The Winner Takes It All • With One Look • The Wizard And I • Woman • A Wonderful Guy.
Song List (118)
Memory
Someone Like You
Don't Call Me Trailer Trash
Heads Or Tails
The Miller's Son
Shadowland
Who Will Love Me As I Am?
Always True To You In My Fashion
Here I Am
Always A Bridesmaid
Stars And The Moon
Shy
A Change In Me
And I Am Telling You I'm Not Going
My New Philosophy
Look At Me Now
How Did We Come To This?
The Past Is Another Land
Life With Harold
When You Got It, Flaunt It
Anything But Lonely
Live Out Loud
Hit Me With A Hot Note
On My Own
As If We Never Said Goodbye
As Long As He Needs Me
Good Morning Baltimore
Still Hurting
When You Come Home To Me
I Can Do Better Than That
Gimme Gimme
Not For The Life Of Me
Life Is
Come To Your Senses
Nothing
I Am Changing
There's A Fine, Fine Line
The Wizard And I
Defying Gravity
Cabaret
Don't Cry For Me Argentina
I Don't Know How To Love Him
A New Life
What I Did For Love
A Wonderful Guy
Broadway Baby
Woman
What You Don't Know About Women
Show Off
My Body
Mama Who Bore Me
City Lights
Hurry! It's Lovely Up Here!
Keepin' Out Of Mischief Now
Take That Look Off Your Face
The Winner Takes It All
Children Of Eden
If My Friends Could See Me Now
I'd Give My Life For You
A Cockeyed Optimist
Could I Leave You?
Dance: Ten; Looks: Three
Don't Cry Out Loud (We Don't Cry Out Loud)
Maybe This Time
Everybody Loves Louis
Funny Honey
The Gentleman Is A Dope
Hard Candy Christmas
He Wasn't You
Honey Bun
How Are Things In Glocca Morra
I Ain't Down Yet
I Enjoy Being A Girl
I Got The Sun In The Morning
I Had Myself A True Love
I Wish I Were In Love Again
If He Walked Into My Life
If You Really Knew Me
It's A Helluva Way To Run A Love Affair
Losing My Mind
The Man That Got Away
Mein Herr
Miss Marmelstein
The Music That Makes Me Dance
My Heart Belongs To Daddy
Never Never Land
Nowadays
The Party's Over
Roxie
Someone Else's Story
Stepsisters' Lament
The Sweetest Sounds
Tell Me On A Sunday
There Are Worse Things I Could Do
There Won't Be Trumpets
A Trip To The Library
We Deserve Each Other
What Did I Have That I Don't Have?
With One Look
Ain't There Anyone Here For Love?
Johnny One-Note
I Can Hear The Bells
Diamonds Are A Girl's Best Friend
The Lady Is A Tramp
I Dreamed A Dream
Send In The Clowns
Lay Down Your Head
A Part Of That
Astonishing
Look At Me
Somewhere That's Green
Pulled
Once More I Can See
Fly, Fly Away
Always Starting Over
You Learn To Live Without
Think Of Meryl Streep
Not A Day Goes By