The Johnny Mercer Centennial Sheet Music Collection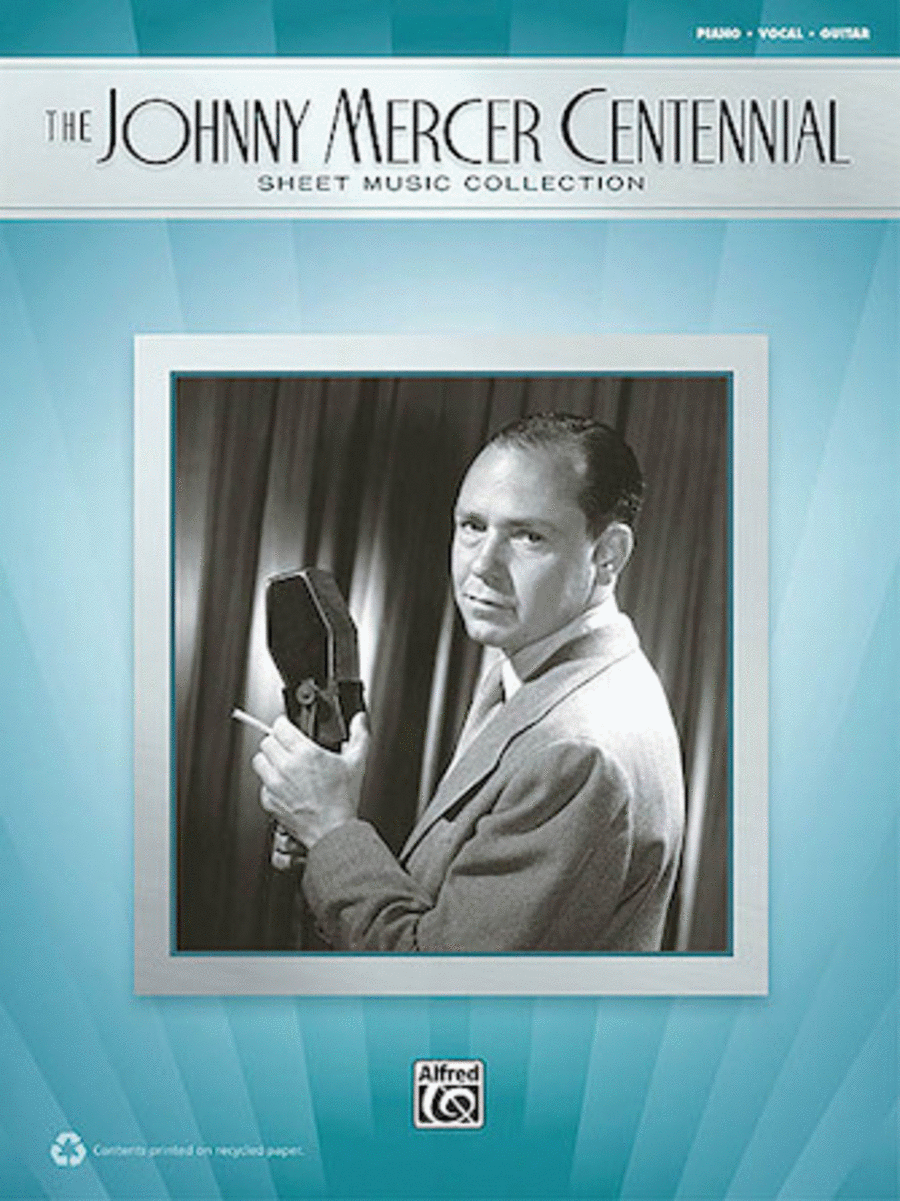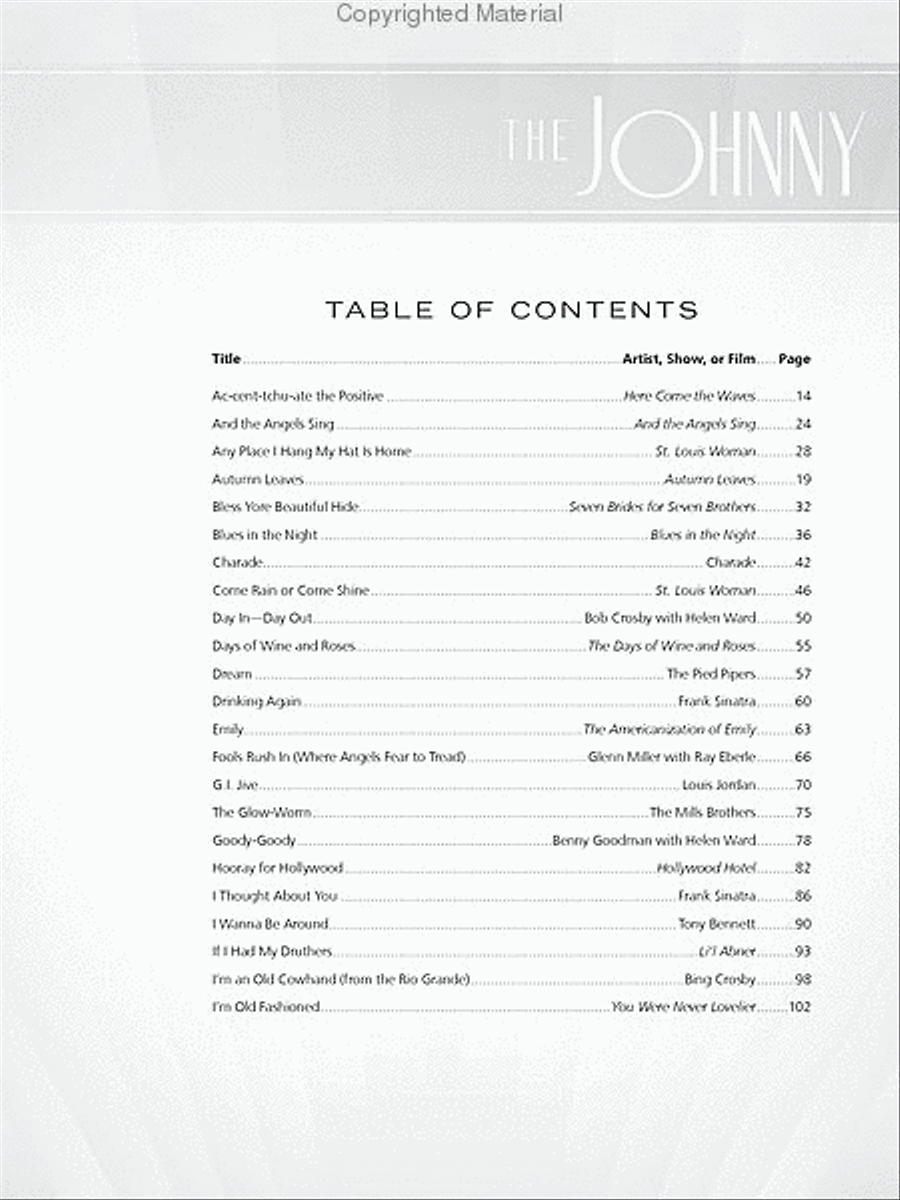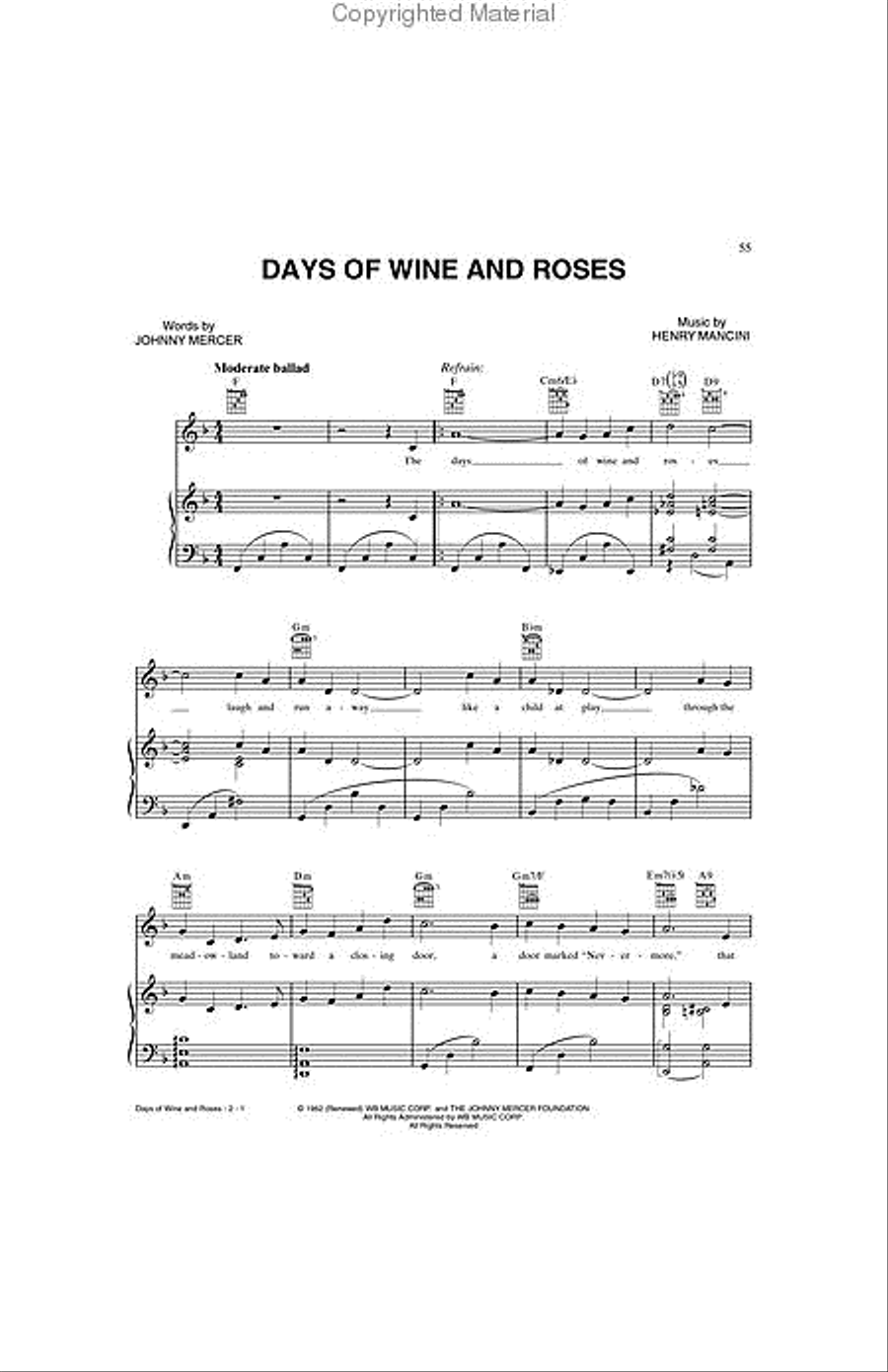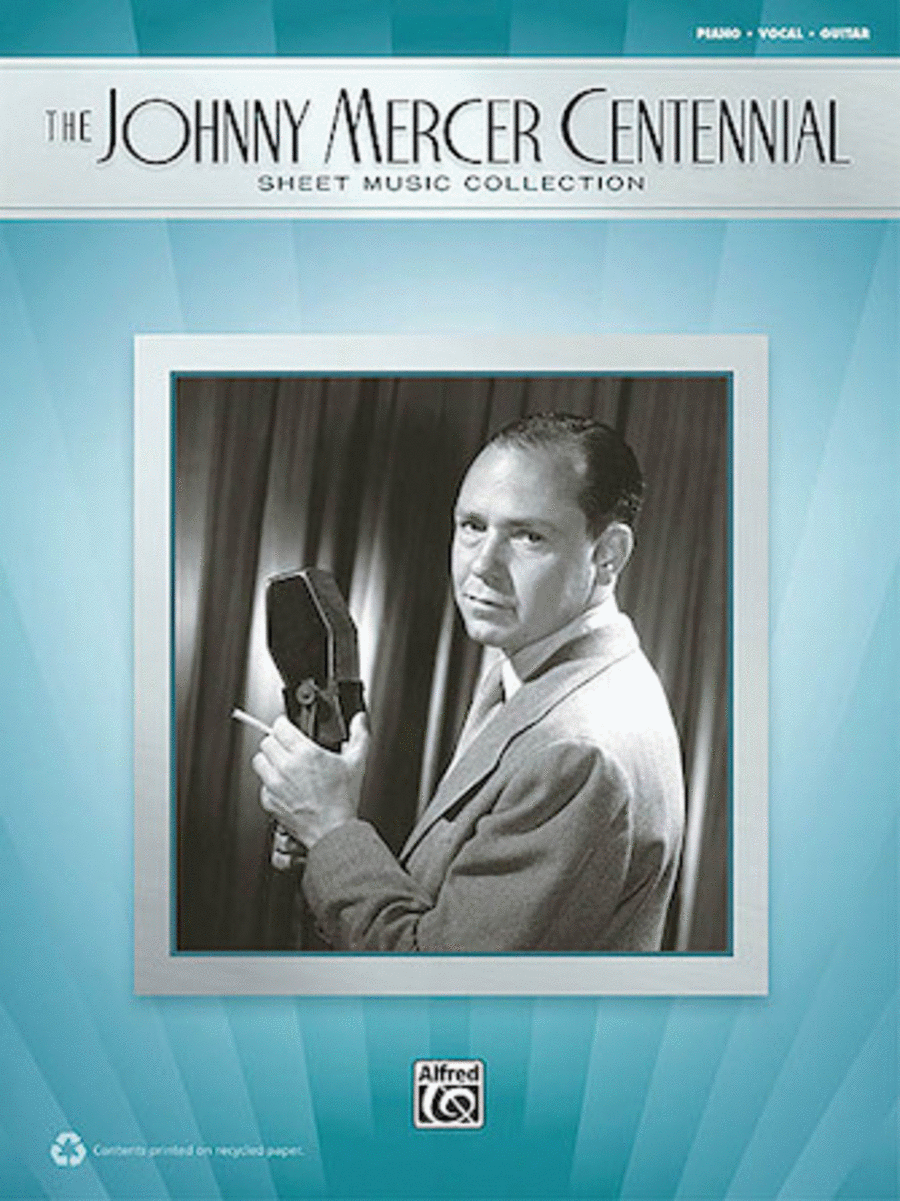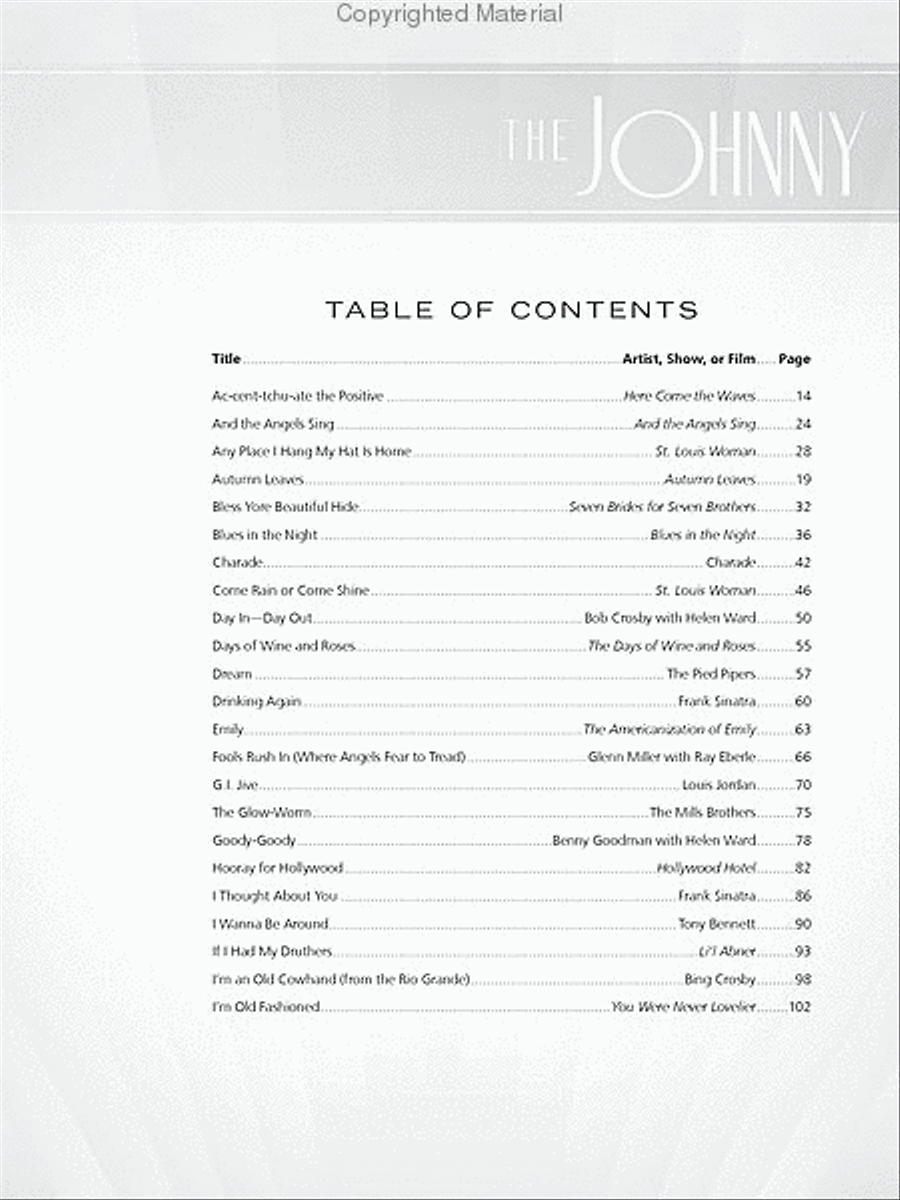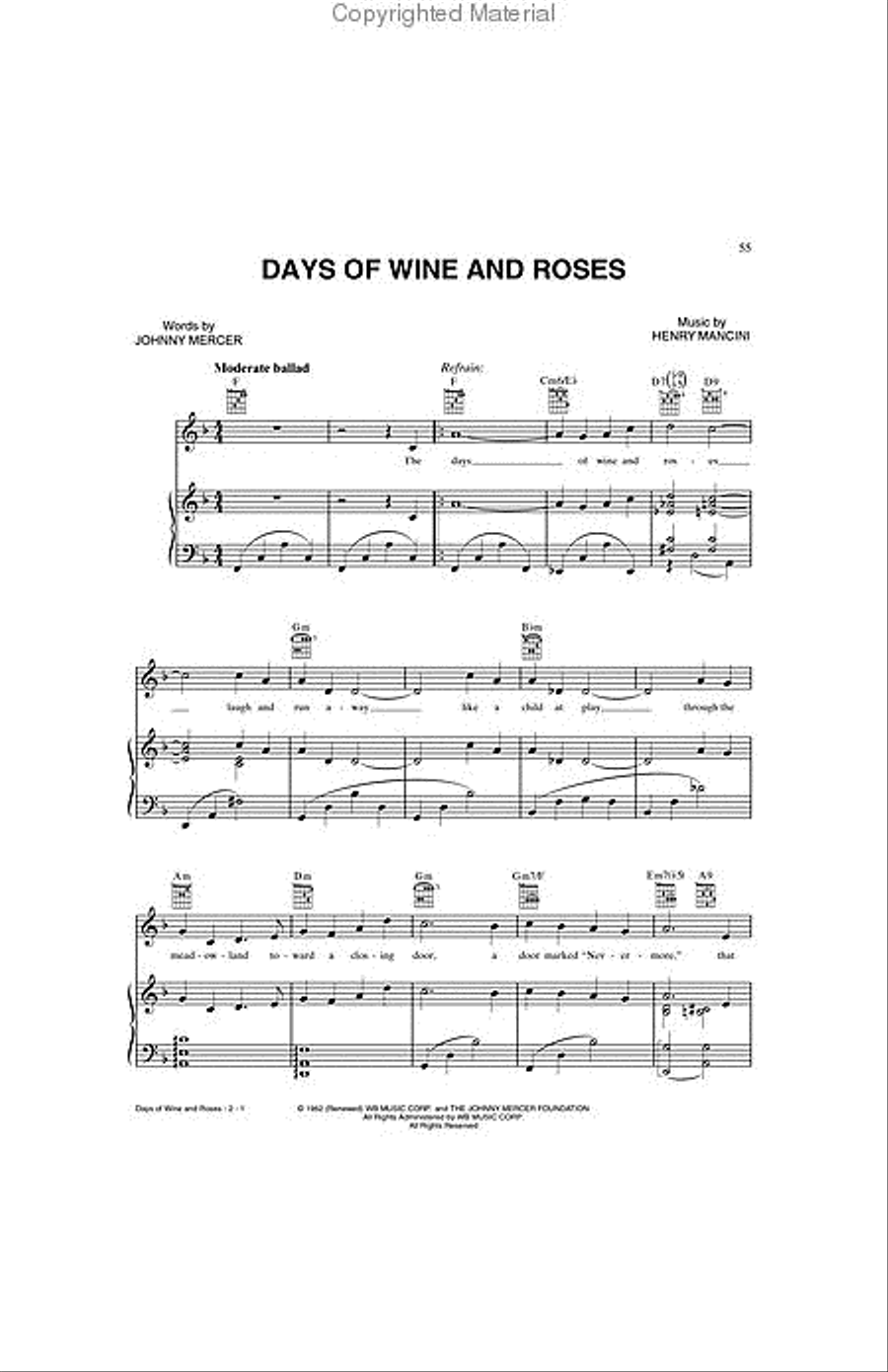 The Johnny Mercer Centennial Sheet Music Collection


This item is currently not available
Taxes/VAT calculated at checkout.
Detailed Description
Piano/Vocal/Guitar
SKU: HL.322363
By Johnny Mercer. Artist/Personality; Book; Personality Book; Piano/Vocal/Chords. P/V/G Composer Collection. Broadway, Jazz, Movies, Standards. Softcover. 200 pages. Alfred Music #36571. Published by Alfred Music (HL.322363).
ISBN 9780739074770. UPC: 884088688738. 9.0x12.0x0.484 inches.
Johnny Mercer (1909-1976) was not only one of America's greatest lyricists - he helped define the American South from the outside in. His words paint rich and vivid portraits of life in his native Georgia. Mercer wrote a wide variety of songs, from lush, dreamy ballads to plays on colloquial American expressions. He joined forces with some of the most talented composers of his day, including Harold Arlen, Hoagy Carmichael, and Henry Mancini, to fashion one of the most startlingly original catalogs in American popular music. This songbook commemorates the centennial of his birth with piano/vocal sheet music arrangements (including guitar chord frames) for 46 of his most famous and best-loved classics. Titles: Ac-cent-tchu-ate the Positive • And the Angels Sing • Any Place I Hang My Hat Is Home • Autumn Leaves • Bless Yore Beautiful Hide • Blues in the Night • Charade • Come Rain or Come Shine • Day In - Day Out • Days of Wine and Roses • Dream • Drinking Again • Emily • Fools Rush In (Where Angels Fear to Tread) • G.I. Jive • The Glow-Worm • Goody-Goody • Hooray for Hollywood • I Thought About You • I Wanna Be Around • If I Had My Druthers • I'm an Old Cowhand (from the Rio Grande) • I'm Old Fashioned • In the Cool, Cool, Cool of the Evening • Jeepers Creepers • Laura • Lazybones • Legalize My Name • Moon River • My Shining Hour • Namely You • On the Atchison, Topeka and the Santa Fe • One for My Baby (and One More for the Road) • Satan's Li'l Lamb • Satin Doll • Skylark • Something's Gotta Give • Strip Polka • Summer Wind • The Sweetheart Tree • That Old Black Magic • Too Marvelous for Words • Two of a Kind • When the World Was Young • You Must Have Been a Beautiful Baby • You Were Never Lovelier.
Song List (46)
CHARADE (FROM 'CHARADE')
GOODY-GOODY
IF I HAD MY DRUTHERS (from 'Li'l Abner')
SOMETHING'S GOTTA GIVE (from 'Daddy Long Legs')
AUTUMN LEAVES A/K/A LES FEUILLES MORTES
I'M OLD FASHIONED (Lyric Version)
LAZYBONES (a/k/a LAZY BONES)
MOON RIVER (from 'BREAKFAST AT TIFFANY'S') (VOCAL)
NAMELY YOU (from 'Li'l Abner')
BLESS YORE BEAUTIFUL HIDE (from 'Seven Brides for Seven Brothers')
SWEETHEART TREE, THE (from 'THE GREAT RACE')
DREAM
EMILY
LAURA
SKYLARK
I'M AN OLD COWHAND (FROM THE RIO GRANDE)
AND THE ANGELS SING
ANY PLACE I HANG MY HAT IS MY HOME
DRINKING AGAIN
IN THE COOL COOL COOL OF THE EVENING
MY SHINING HOUR
STRIP POLKA
WHEN THE WORLD WAS YOUNG
YOU WERE NEVER LOVELIER
LEGALIZE MY NAME
SATAN'S LI'L LAMB
TWO OF A KIND
ONE FOR MY BABY (AND ONE MORE FOR THE ROAD)
THE GLOW WORM
HOORAY FOR HOLLYWOOD
JEEPERS CREEPERS
THAT OLD BLACK MAGIC
AC-CENT-TCHU-ATE THE POSITIVE
G.I. JIVE
ON THE ATCHISON, TOPEKA AND THE SANTA FE
BLUES IN THE NIGHT
COME RAIN OR COME SHINE
DAY IN DAY OUT
THE DAYS OF WINE AND ROSES
I THOUGHT ABOUT YOU
I WANNA BE AROUND
SATIN DOLL (VOCAL VERSION)
SUMMER WIND
TOO MARVELOUS FOR WORDS
YOU MUST HAVE BEEN A BEAUTIFUL BABY
FOOLS RUSH IN (WHERE ANGELS FEAR TO TREAD)