The Best Fake Book Ever - 2nd Edition - Eb Edition

E-flat Edition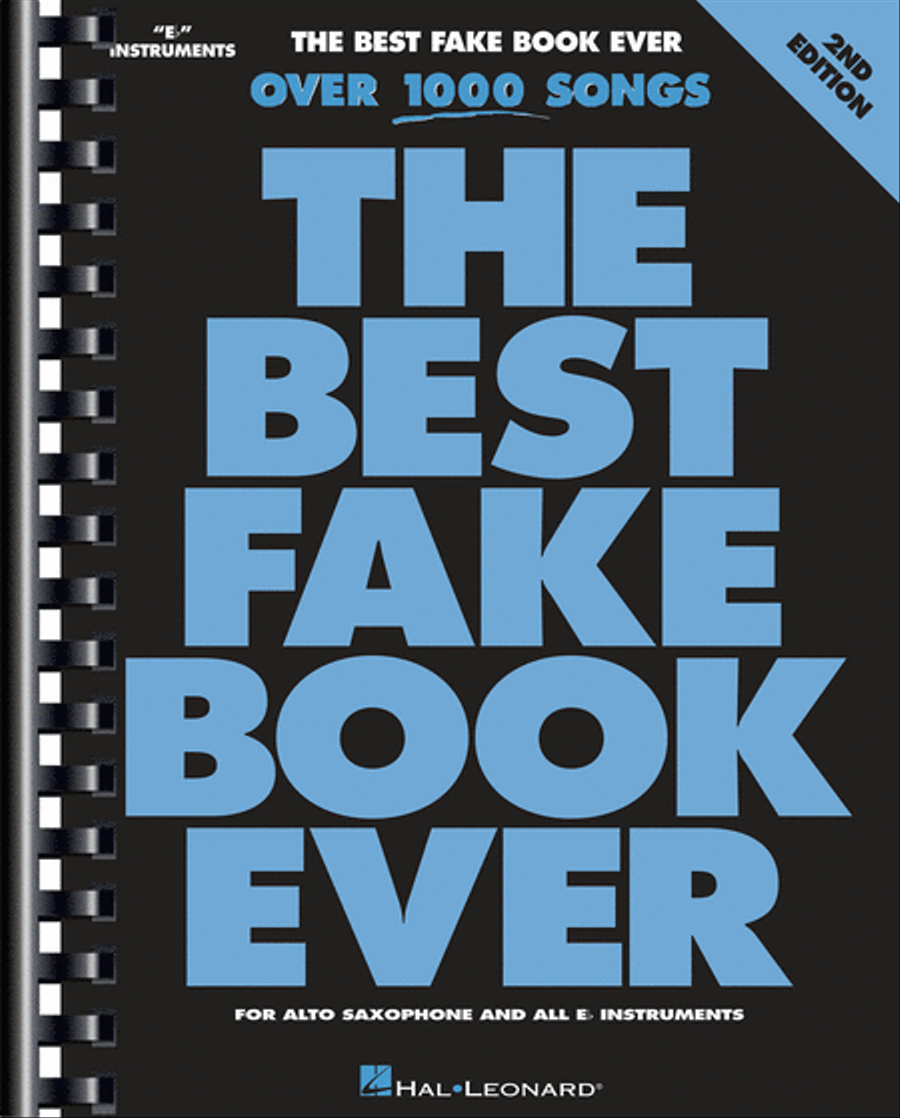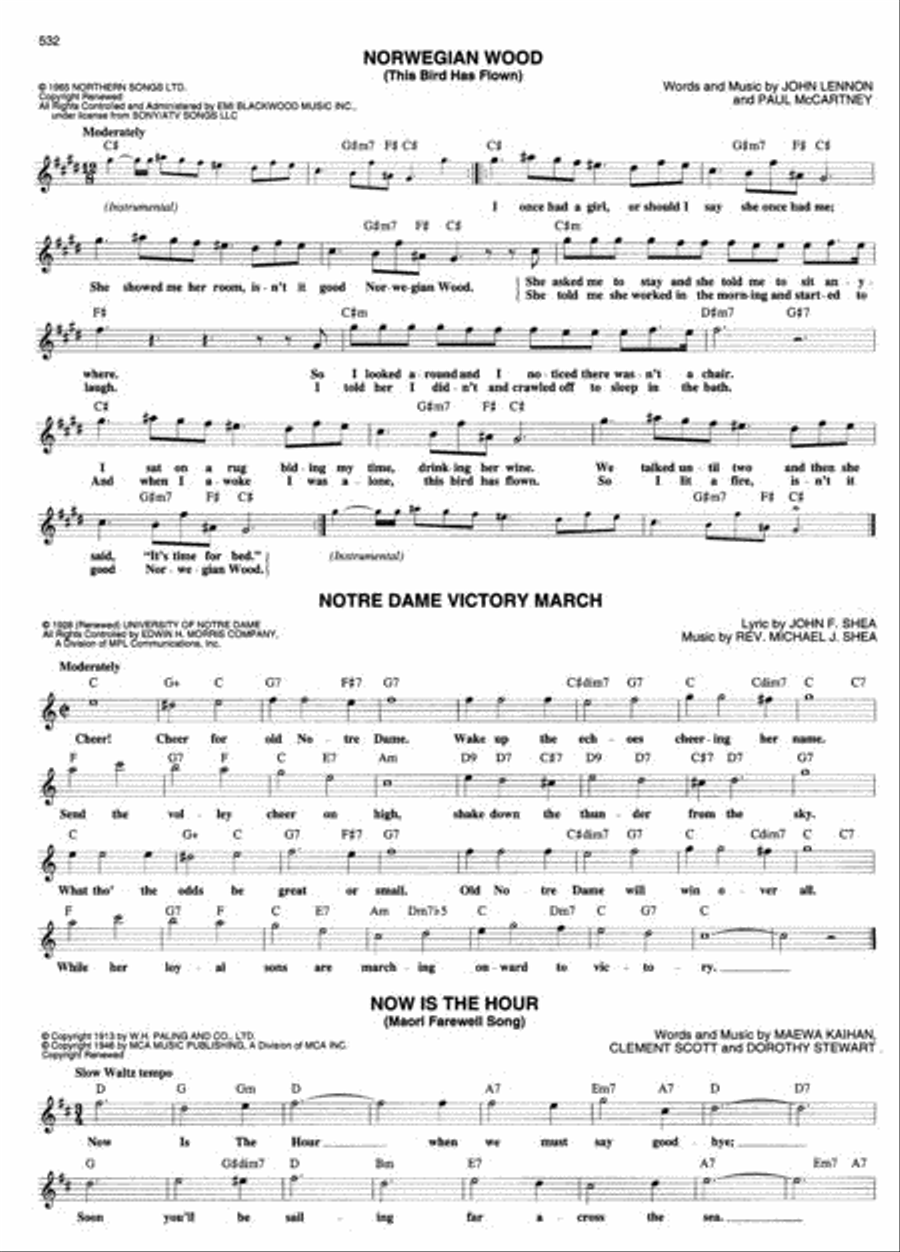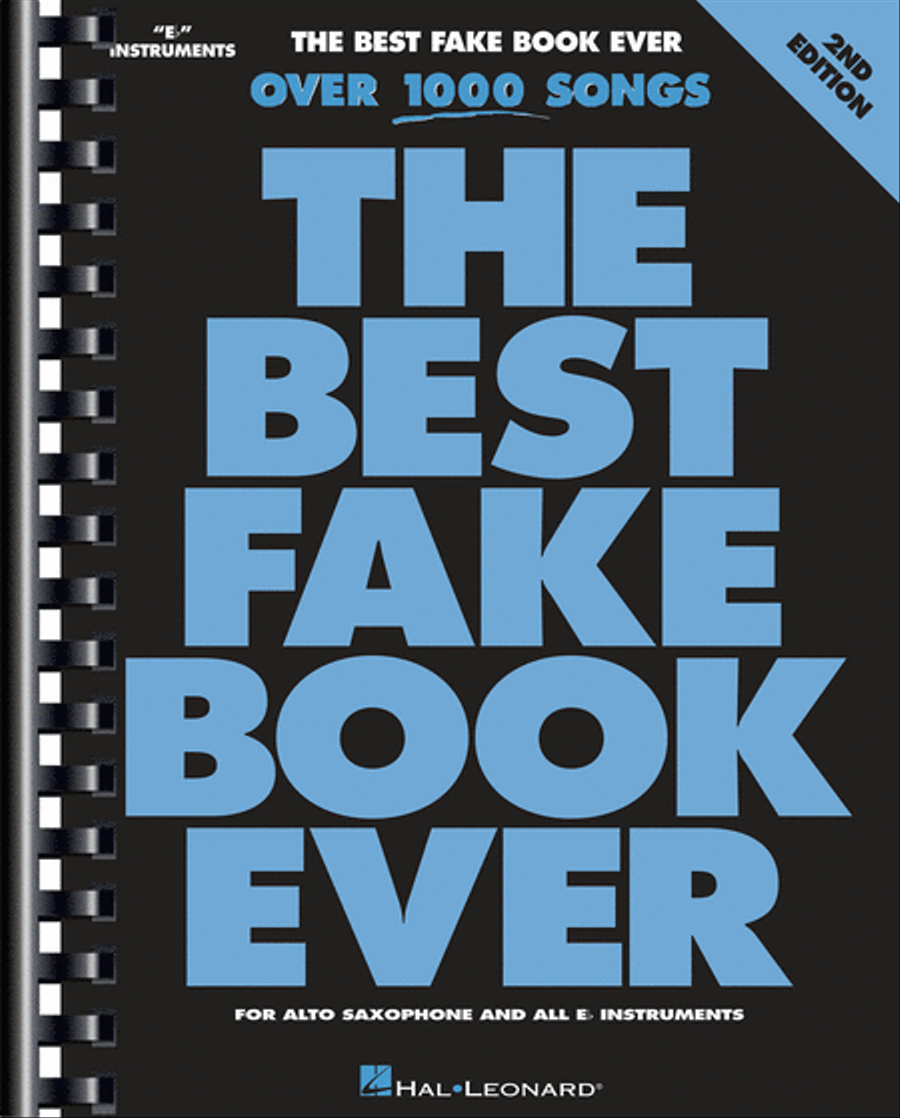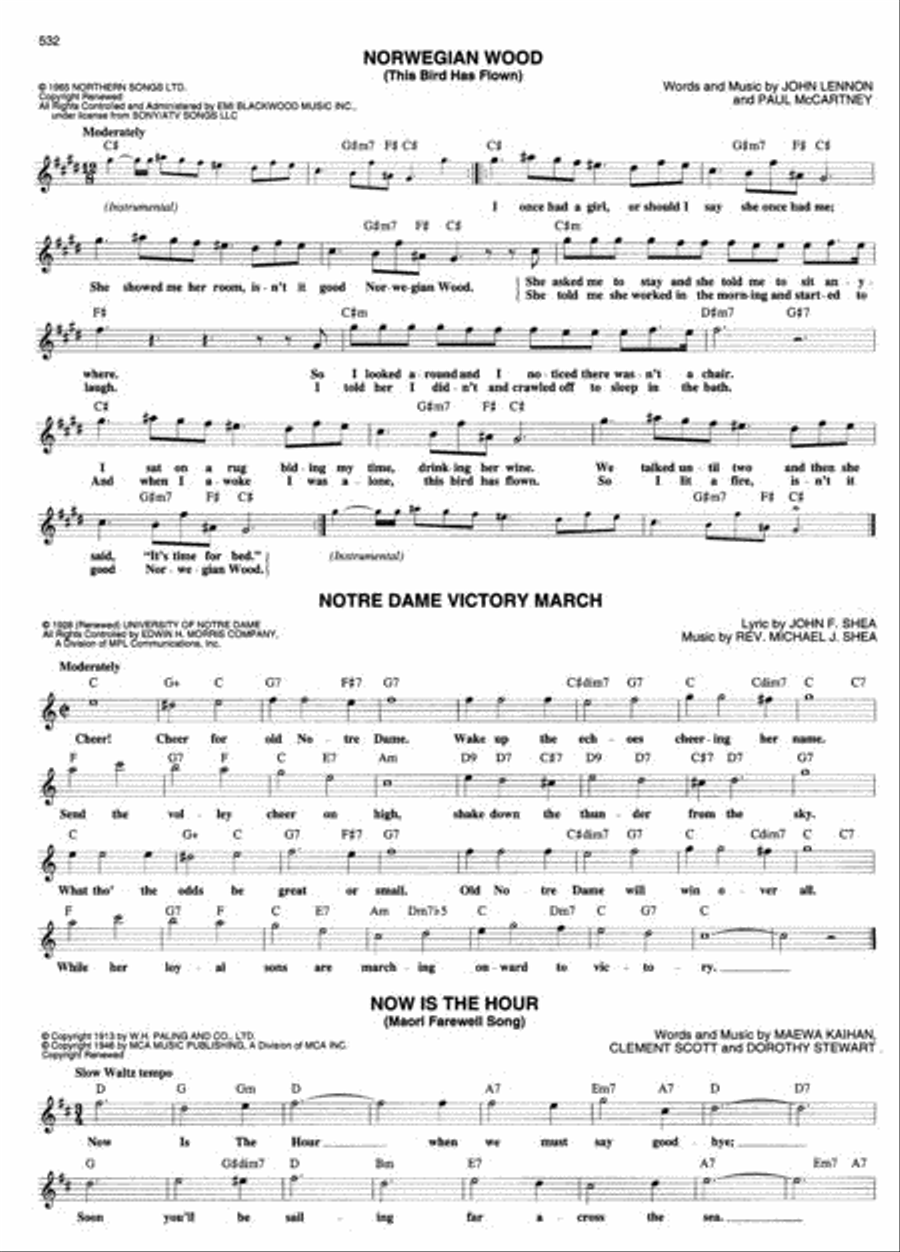 The Best Fake Book Ever - 2nd Edition - Eb Edition

E-flat Edition
Available
Ready to ship in 24 hours
Taxes/VAT calculated at checkout.
Detailed Description
E-flat Edition (2nd Ed.) ESS Instruments; Melody/Lyrics/Chords
SKU: HL.240084
E-flat Edition
. Composed by Various. Hal Leonard Fake Books. Pop, Jazz, Rock, Movies and Broadway. Fakebook. With vocal melody, lyrics and chord names. 864 pages. Published by Hal Leonard (HL.240084).
ISBN 9780793585465. UPC: 073999400847. 9x12 inches.
Another excellent selection of songs compiled into one convenient fake book! Recently revised to include 435 new songs - for a total of 1075 songs! Features: Guitar chord frames * Plastic-comb binding * Index by musical category - big band, Broadway, Christmas/inspirational, college, country, Hawaiian/Polynesian, '50s, '60s, '70s, '80's and '90s, singalongs/special request & novelty tunes, standards, blues/Dixieland/jazz, Latin rhythms, polkas, and songs in 3/4 time. Song highlights include: All My Loving * American Pie * And I Love You So * At the Hop * Autumn Leaves (Les Feuilles Mortes) * Barbara Ann * The Birth of the Blues * Bohemian Rhapsody * Born Free * The Boy From New York City * Cabaret * Can You Feel the Love Tonight * Candle in the Wind * Chariots of Fire * Colors of the Wind * Crazy * Crocodile Rock * Do You Know the Way to San Jose * Don't Cry for Me Argentina * Dust in the Wind * Fever * Fire and Rain * (Meet) the Flintstones * Forrest Gump - Main Title (Feather Theme) * Free Bird * From a Distance * The Girl from Ipanema (Garota de Ipanema) * Hello, Dolly! * Hey Jude * I Heard It Through the Grapevine * I Left My Heart in San Francisco * I Mean You * I Write the Songs * If I Were a Bell * Imagine * Kansas City * The Keeper of the Stars * King of the Road * Longer * The Man That Got Away * Me and Bobby McGee * Michelle * Mickey Mouse March * Misty * More (Ti Guardero' Nel Cuore) * Peggy Sue * The Power of Love * The Rainbow Connection * Raindrops Keep Fallin' on My Head * Route 66 * Ruby Baby * Sentimental Journey * Somebody * Somewhere in Time * Somewhere, My Love (Lara's Theme) * Song Sung Blue * Spanish Eyes * Spinning Wheel * Star Dust * Stormy Weather (Keeps Rainin' All the Time) * Take Five * Take the inch.A inch. Train * Unchained Melody * Wave * The Way We Were * We Are the Champions * We Will Rock You * What a Wonderful World * What the World Needs Now Is Love * Wooly Bully * Y.M.C.A. * You Don't Bring Me Flowers * You're So Vain * You've Got a Friend * Your Song * Zip-A-Dee-Doo-Dah * and hundreds more.
Song List (1074)
Early In The Morning
Queen of the Hop
Hero
Songbird
Gravy Waltz
It's A Beautiful Day For A Ball Game
My Girl Bill
Stand Back
Down by the Old Mill Stream
Falling In Love Again (Can't Help It)
All For Love
Lido Shuffle
Look What You've Done To Me
ABC
Aba Daba Honeymoon
Ac-Cent-Tchu-Ate The Positive
Theme From 'Schindler's List'
Circle Of Life
Can you feel the love tonight
Beautiful In My Eyes
Jesse
Ordinary Miracles
The Colour Of My Love
See You In September
After The Love Has Gone
Goodnight My Love, Pleasant Dreams
Forrest Gump - Main Title (Feather Theme)
The Name Game
Hold My Hand
Always
Ah! Sweet Mystery Of Life
Letters Never Sent
Ain't No Mountain High Enough
Ain't She Sweet
Ain't Too Proud To Beg
Ain't We Got Fun?
Abracadabra
Take The Money And Run
Rock'n Me
The Air That I Breathe
Colors Of The Wind
Please Mr. Sun
Airport Love Theme (Winds Of Chance)
Who Wouldn't Love You
Surfin' Bird
I'm Walking Behind You (Look Over Your Shoulder)
I Can Love You Like That
December 1963 (Oh, What A Night)
Back Bay Shuffle
Bus Stop
A Garden In The Rain
Hey There Lonely Girl (Hey There Lonely Boy)
I Believe
Into Each Life Some Rain Must Fall
Takes Two To Tango
Oh, Oh I'm Falling In Love Again
The Preacher
Secretly
Shoe Shine Boy
Show Me The Way To Go Home
Take Good Care Of Her
Tampico
To know you (is to love you)
You Are Beautiful
That Naughty Waltz
The End (Of A Rainbow)
In The Navy
Guilty
The Keeper Of The Stars
Cab Driver
Believe
If I Never Knew You (Love Theme from POCAHONTAS)
I'll Be With You In Apple Blossom Time
I Keep Going Back To Joe's
The Happy Organ
Lovin' You
Don't Make Promises
Alice Blue Gown
Alice in Wonderland
Pretend
Topsy
God Help The Outcasts
Someday
I'm A Fool To Want You
For Your Love
If I Were Your Woman
My Eyes Adored You
The Honeydripper
All My Loving
I'm A Woman
She Cried
Smokey Joe's Cafe
All Night Long (All Night)
All Or Nothing At All
No Arms Can Ever Hold You (Like These Arms Of Mine)
Chain Gang
All The Gold In California
All Those Years Ago
Alley Cat
Alone Again (Naturally)
Along Came Jones
Always on My Mind
Amapola (Pretty Little Poppy)
American Pie
Anchors Aweigh
And I Love Her
And I Love You So
Anema E Core (With All My Heart)
Angel Eyes
Angel Of The Morning
Another One Bites The Dust
(Hey, Won't You Play) Another Somebody Done Somebody Wrong Song
Anthropology
Anticipation
Any Dream Will Do
Anywhere I Wander
April Showers
Are You Havin' Any Fun?
Around The World
As If We Never Said Goodbye
At The Hop
Attitude Dancing
Autumn Leaves (Les Feuilles Mortes)
Avalon
Axel F
Baby Come Back
Baby Don't Get Hooked On Me
Baby I Need Your Lovin'
Baby, I'm-A Want You
Baby, It's Cold Outside
Baby Love
Baby, Won't You Please Come Home
Bad Case Of Loving You
The Ballad Of Davy Crockett
Ballin' the Jack
The Banana Boat Song
Band On The Run
Bandstand Boogie
Barbara Ann
Basin Street Blues
Be Kind To Your Parents
Be My Little Baby Bumblebee
Beat Me Daddy, Eight To The Bar
A Beautiful Friendship
Bell Bottom Blues
Belle, Belle (My Liberty Belle)
Ben
Bennie And The Jets
The Best Thing For You
Between The Devil And The Deep Blue Sea
Between The 18th And 19th On Chestnut Street
Bibbidi-Bobbidi-Boo (The Magic Song)
Big Girls Don't Cry
The Birds And The Bees
The Birth Of The Blues
Black And White
Black Coffee
Black Denim Trousers And Motorcycle Boots
Blame It On My Youth
Blame It On The Bossa Nova
Bless The Beasts And Children
Blue Champagne
Blue Eyes
Blue Prelude
Bluesette
Bohemian Rhapsody
Boo-Hoo
Boogie Down
(The Original) Boogie Woogie
Boogie Woogie Bugle Boy
Born Free
Bossa Nova Baby
The Boy From New York City
Brand New Key
The Breeze And I
Breezin' Along With The Breeze
Bristol Stomp
Broken-Hearted Melody
Brotherhood Of Man
Brown Eyed Girl
Brush Up Your Shakespeare
Bugle Call Rag
Bugler's Dream (Olympic Fanfare)
A Bushel And A Peck
By the Light of the Silvery Moon
By The Time I Get To Phoenix
Bye Bye Baby (Baby Goodbye)
Bye Bye Blackbird
C'est Si Bon (It's So Good)
Cabaret
Calcutta
Caldonia (What Makes Your Big Head So Hard?)
California Dreamin'
Call Me
Can't Buy Me Love
Can't Smile Without You
Candle In The Wind
Candle On The Water
The Candy Man
Cara, Mia
Careless Hands
Careless Whisper
Carpet Man
Carrie-Anne
Cast Your Fate To The Wind
Catch A Falling Star
Changing Partners
Chariots Of Fire
Charmaine
Cherish
Chicago (That Toddlin' Town)
Chiquita Banana
Chim Chim Cher-ee
Chinatown, My Chinatown
The Christmas Song (Chestnuts Roasting on an Open Fire)
Cindy, Oh Cindy
Civilization (Bongo, Bongo, Bongo)
Close Every Door
(They Long To Be) Close To You
Cold, Cold Heart
Come Go With Me
Come Sunday
Comme Ci, Comme Ca
Confessin' The Blues
The Continental
Copacabana (At The Copa)
Could I Have This Dance
Could It Be Magic
Count Every Star
Coward Of The County
Cracklin' Rosie
Crazy
Creeque Alley
Crocodile Rock
Cruising Down The River
Cryin' Time
Cuddle Up A Little Closer, Lovey Mine
Daddy
Daddy's Little Boy
Daddy's Little Girl
Dance Ballerina Dance
Dance With Me Henry (The Wallflower)
Dancing In The Street
Daniel
Danke Schoen
Danny Boy (Londonderry Air)
Dardanella
Day by Day
Day Tripper
Daydream
Daydream Believer
'Deed I Do
Delaware
Delilah
Desiree
Diamonds Are a Girl's Best Friend
Different Drum
Dinah
Dindi
Do Wah Diddy Diddy
Do Nothin' Till You Hear From Me
Do You Believe In Magic
Do You Know The Way To San Jose
Do You Want To Dance?
Dominique
Don't Blame Me
Don't Cry For Me Argentina
Don't Get Around Much Anymore
Don't Go Breaking My Heart
Don't Know Much
Don't Let The Sun Catch You Crying
Don't Let The Sun Go Down On Me
Don't Make Me Over
Don't Sit Under The Apple Tree (With Anyone Else But Me)
Don't Sleep In The Subway
Don't Take Your Love From Me
Don't Worry, Be Happy
Downtown
A Dream Is a Wish Your Heart Makes
Dream Lover
Dreams
Drifting And Dreaming (Sweet Paradise)
Dungaree Doll
Dust In The Wind
Earth Angel
Ebony And Ivory
Eleanor Rigby
The End Of A Love Affair
The End Of The World
Endless Sleep
Enjoy Yourself (It's Later Than You Think)
The Entertainer
Eternal Flame
Even Now
Everybody Loves My Baby (But My Baby Don't Love Nobody But Me)
Everything Happens To Me
Ev'ry Time We Say Goodbye
Eye In The Sky
Ferry 'Cross The Mersey
Fever
Fire And Rain
The First Time Ever I Saw Your Face
Five Foot Two, Eyes Of Blue (Has Anybody Seen My Girl?)
Five Minutes More
Love Theme From 'Flashdance'
Fly Like An Eagle
The Fool On The Hill
Fools Fall In Love
For All We Know
For Every Man There's A Woman
(I Love You) For Sentimental Reasons
Forever In Blue Jeans
Forever In Love
Forty-Five Minutes From Broadway
Free Bird
Both To Each Other (Friends and Lovers)
From A Distance
From Me To You
Funny How Time Slips Away
Galaway Bay
Galveston
Garden Party
A Gay Ranchero
Georgie Porgie
Get Ready
(Ghost) Riders In The Sky (A Cowboy Legend)
The Girl From Ipanema (Garota De Ipanema)
Glad All Over
Gloria
Go Away, Little Girl
Go Now
God Bless' The Child
God Bless The U.S.A.
Good Morning Heartache
Goodbye Yellow Brick Road
Goodnight, My Someone
Got My Mind Set On You
Graduation Day
Grandpa (Tell Me 'bout The Good Old Days)
Theme From 'The Greatest American Hero'
The Green Door
Green Green Grass Of Home
Greenfields
Groovin'
A Groovy Kind Of Love
Guantanamera
I Guess I'll Hang My Tears Out To Dry
Hallelujah
Hands Of Time
Happy Xmas (War Is Over)
The Happy Time
Happy Together
A Hard Day's Night
Hard Habit to Break
Hard Hearted Hannah (The Vamp Of Savannah)
Hard to Say I'm Sorry
Haunted Heart
Have I Told You Lately That I Love You
Haven't Got Time For The Pain
The Hawaiian Wedding Song (Ke Kali Nei Au)
He
He Ain't Heavy...He's My Brother
He'll Have To Go
Heartaches
Heartaches By The Number
Heartbreak Hotel
Heatwave (Love Is Like A Heatwave)
Hello Again
Hello, Dolly!
Hello Mary Lou
Help Me Make It Through The Night
Here Comes That Rainy Day Feeling Again
Here Comes The Sun
Here You Come Again
Hey! Ba-Ba-Re-Bop
Hey, Good Lookin'
Hey Jude
Hey Joe
Hill Street Blues Theme
Hippy Hippy Shake
Hit Me With Your Best Shot
Holly Holy
Honesty
Honey (I'm In Love With You)
Honeycomb
Hooray For Love
The Horse
The Hot Canary
Hot Diggity (Dog Ziggity Boom)
Hot Rod Hearts
How Am I Supposed To Live Without You
How Insensitive (Insensatez)
How Much Is That Doggie In The Window
How Sweet It Is (To Be Loved By You)
How 'Ya Gonna Keep 'em Down On The Farm? (After They've Seen Paree)
The Hucklebuck
A Hundred Pounds Of Clay
I Ain't Down Yet
I Am...I Said
I Believe In Music
I Believe In You
I Can't Believe That You're In Love With Me
I Can't Give You Anything But Love
I Can't Help Myself (Sugar Pie, Honey Bunch)
I Cried For You
I Don't Know How To Love Him
I Fall To Pieces
I Feel The Earth Move
I Found a Million Dollar Baby (In a five and Ten Cent Store)
I Gotta Right To Sing The Blues
I Guess That's Why They Call It The Blues
I Hear A Symphony
I Heard It Through the Grapevine
I Just Fall In Love Again
I Know A Place
I Left My Heart In San Francisco
I Let A Song Go Out Of My Heart
I Like Dreamin'
I Like The Likes Of You
I Love How You Love Me
I Love Lucy
I Love Rock 'N Roll
I May Never Pass This Way Again
I.O.U.
I Said My Pajamas (And Put On My Pray'rs)
I Saw Her Standing There
I Say A Little Prayer
I See Your Face Before Me
I Still Get Jealous
I Thought About You
I Wanna Be Loved By You
I Want To Be Wanted
I Want To Hold Your Hand
I Was Country When Country Wasn't Cool
I Will Follow Him (I Will Follow You)
I Will Be In Love With You
I Wish You Love
I Wished On The Moon
I Wonder Who's Kissing Her Now
I Wonder Why
I Wouldn't Have Missed It For The World
I Write The Songs
I'll Be There
I'll Know
I'll Never Fall In Love Again
I'll Never Smile Again
I'll Remember April
I'm A Believer
I'll Walk Alone
I'm A Lonely Little Petunia (In An Onion Patch)
(I'm A) Ramblin' Man
I'm Easy
I'm Forever Blowing Bubbles
I'm Glad There Is You (In This World Of Ordinary People)
I'm Gonna Sit Right Down And Write Myself A Letter
I'm Henry VIII, I Am
I'm Late
I'm Looking Over A Four Leaf Clover
I'm Sitting on Top of the World
I'm Sorry
I've Found A New Baby (I Found A New Baby)
I've Got A Lovely Bunch Of Cocoanuts
I've Heard That Song Before
If
If He Walked Into My Life
If I Didn't Care
(If I Knew You Were Comin') I'd've Baked A Cake
If I Were a Bell
If I Were A Carpenter
If You Go Away
If You Were the Only Girl in the World
Iko Iko
Imagine
In A Little Spanish Town ('Twas on a Night Like This)
In A Shanty In Old Shanty Town
In Love In Vain
In My Life
In The Ghetto (The Vicious Circle)
The Inch Worm
Is It True What They Say About Dixie
Is That All There Is
Is You Is, Or Is You Ain't (Ma' Baby)
Island Girl
It Don't Matter To Me
It Is No Secret (What God Can Do)
It Looks Like Rain In Cherry Blossom Lane
It Never Rains (In Southern California)
It Only Happens When I Dance With You
It Only Takes A Moment
It Was Almost Like A Song
It's A Big Wide Wonderful World
It's A Good Day
It's A Long, Long Way To Tipperary
It's A Pity To Say Goodnight
It's a Small World
It's All In The Game
It's Been A Long, Long Time
It's Beginning to Look Like Christmas
It's Just A Matter Of Time
It's My Party
It's So Nice To Have A Man Around The House
It's Not Unusual
It's So Easy
It's Still Rock And Roll To Me
It's The Talk Of The Town
It's The Same Old Song
It's Too Late
Itsy Bitsy Teenie Weenie Yellow Polkadot Bikini
Ivory Tower
Jackson
Jailhouse Rock
Jambalaya (On the Bayou)
The Japanese Sandman
The Jazz-Me Blues
Jim
Joey, Joey, Joey
Johnny Angel
The Joker
Jump Shout Boogie
June Night
Just Because
Just My Imagination (Running Away With Me)
Just Once
Just One Look
Just The Way You Are
Kansas City
Keep A-Knockin'
King Of The Road
Kiss Of Fire
Knock Three Times
Lady Madonna
Last Train To Clarksville
The Last Waltz
The Last Word In Lonesome Is Me
Laughter In The Rain
Lazy Afternoon
Leader Of The Pack
Leader Of The Band
Leader Of The Laundromat
Leap Frog
Leather And Lace
Lemon Tree
Let A Smile Be Your Umbrella
Let 'Em In
Let It Be
Let It Be Me (Je T'appartiens)
Let It Shine
Let Me Call You Sweetheart
Let the Rest of the World Go by
Let's All Sing Like The Birdies Sing
Let's Dance
Let's Get Away From It All
Let's Twist Again
Lida Rose
Linda
Linger Awhile
Listen To What The Man Said
Little Boat (O Barquinho)
Little Egypt
Little Girl
The Little Old Lady (From Pasadena)
The Little White Cloud That Cried
The Loco-motion
Lollipop
Lollipops And Roses
The Lonesome Road
The Long And Winding Road
Long Tall Sally
Longer
The Look Of Love
The Lord's Prayer
Lost In The Fifties Tonight (In The Still Of The Nite)
L-O-V-E
Love is Blue (L'Amour est Bleu)
Love Me
Love Me Do
The Love Nest
Love On The Rocks
Love Potion Number 9
Love Will Keep Us Together
Love's Theme
Lover Man (Oh, Where Can You Be?)
A Lover's Concerto
A Lover's Question
Lucille
Luck Be A Lady
Luckenbach, Texas (Back To The Basics Of Love)
Lucy In The Sky With Diamonds
Lullabye (Goodnight, My Angel)
Lush Life
Mah-Na Mah-Na
Mairzy Doats
Make It With You
Make The World Go Away
Make Your Own Kind Of Music
Mama Inez
Mame
Mammas Don't Let Your Babies Grow Up to be Cowboys
Mambo Italiano
The Man That Got Away
Manhattan
Margie
Mary In The Morning
May The Good Lord Bless And Keep You
Maybe Baby
Me And Bobby McGee
Meditation (Meditacao)
Meet Me Tonight in Dreamland
(Meet) The Flintstones
Memories Are Made Of This
Mention My Name In Sheboygan
Mexicali Rose
Miami Beach Rumba
Miami Vice
Michelle
Mickey Mouse March
Midnight Blue
Midnight Cowboy
Milenberg Joys
Miles
Miss America
The Missouri Waltz
Mister Sandman
Misty
Misty Blue
Misty Roses
Moments To Remember
Monday, Monday
Money (That's What I Want)
Money For Nothing
The Moon Of Manakoora
Moon Over Miami
Moonlight Bay
Moonlight On The Ganges
More (Ti Guardero' Nel Cuore)
Mountain Of Love
Mr. Wonderful
Mull Of Kintyre
The Muppet Show Theme
Music To Watch Girls By
My Boyfriend's Back
My Coloring Book
My Darling, My Darling
My Girl
My Guy
My Heart Belongs To Me
My Heart Is an Open Book
My Hero
My Honey's Loving Arms
My Life
My Life Is An Open Book
My Love
My Love, Forgive Me (Amore, Scusami)
My Melancholy Baby
My Melody Of Love
My One And Only Love
My Shawl
My Shining Hour
My Sweet Lord
My Wild Irish Rose
Nadia's Theme
Nature Boy
(You Make Me Feel Like) A Natural Woman
Never Can Say Goodbye
Never On Sunday
New World Coming
A Night In Tunisia
The Night Is Young (And You're So Beautiful)
The Night We Called It A Day
Nightshift
No Moon At All
No, Not Much!
No Two People
Norwegian Wood (This Bird Has Flown)
Notre Dame Victory March
Now Is The Hour (Maori Farewell Song)
Oh, Baby Mine (I Get So Lonely)
Oh Boy!
Oh, How I Miss You Tonight
Oh, Promise Me
Oh! You Beautiful Doll
Old Cape Cod
The Old Piano Roll Blues
Ole Buttermilk Sky
On A Slow Boat To China
On Broadway
On Golden Pond
On The Wings Of A Nightingale
On Wisconsin!
Once In Love With Amy
Once Upon A Summertime
One
One Fine Day
One For My Baby (And One More For The Road)
One Less Bell To Answer
One Note Samba (Samba De Uma Nota So)
One Of Those Songs
One Paddle, Two Paddle
One Tin Soldier
Open The Door, Richard!
Opus One
Our Day Will Come
Our Everlasting Love
Over There
P.S. I Love You
Paloma Blanca
Papa Was A Rollin' Stone
Paper Mache
Pass Me By
The Peanut Vendor (El Manisero)
Peg O' My Heart
Peggy Sue
Penny Lane
Perdido
The Petite Waltz
Philadelphia Freedom
Physical
Piccolo Pete
Pigalle
Pittsburgh, Pennsylvania
Playground In My Mind (My Name Is Michael)
Please Mr. Postman
Pledging My Love
Poison Ivy
Poor Side Of Town
The Power Of Love
Prelude To A Kiss
Prisoner Of Love
Promises, Promises
Put the Blame on Mame
Put Your Arms Around Me, Honey
Put Your Hand In The Hand
Quiet Nights Of Quiet Stars (Corcovado)
Ragtime Cowboy Joe
The Rainbow Connection
Raindrops Keep Fallin' On My Head
A Rainy Night In Georgia
Ramblin' Rose
Rambling Wreck From Georgia Tech
Rave On
Reach Out And Touch (Somebody's Hand)
The Gift! (Recado Bossa Nova)
Red, Red Wine
Rhiannon
Rhumboogie
Rhythm Of The Night
Right Time Of The Night
The Right Thing To Do
Rip It Up
Rock And Roll Is Here To Stay
Rock Me Baby
Rocket Man (I Think It's Gonna Be A Long Long Time)
Rockin' Chair
Rockin' Robin
Romeo and Juliet
Roses are Red (My Love)
Rosetta
Route 66
Row, Row, Row
Ruby Baby
S'posin'
Sad Songs (Say So Much)
Sailing
Sally G
Salt Peanuts
Same Old Lang Syne
San Francisco (Be Sure To Wear Some Flowers In Your Hair)
Sara
Saving All My Love For You
Say You, Say Me
Scotch And Soda
Scrapple From The Apple
Sea Of Love
Second Hand Rose
Seems Like Old Times
Sentimental Journey
September Morn
Serenade Of The Bells
Seven Lonely Days
Seventy Six Trombones
Share Your Love With Me
She Loves You
She (He) Touched Me
She Works Hard For The Money
She's Always A Woman
Sherry
The Sheik Of Araby
Shine On, Harvest Moon
Ships
Shoo Fly Pie And Apple Pan Dowdy
Shop Around
Shrimp Boats
Silhouette
Silver Threads And Golden Needles
Sincerely
Sing For Your Supper
Sioux City Sue
Sit Down You're Rockin' The Boat
(Seven Little Girls) Sitting In The Back Seat
Sixteen Candles
Skylark
Sleepwalk
Slippin' And Slidin'
Smile A Little Smile For Me
Smoke Rings
Smooth Operator
Snowbird
So Far Away
So Nice (Summer Samba)
Solitaire
Solitary Man
Some Guys Have All The Luck (Some Girls Have All The Luck)
Somebody Loves Me
Somebody Loves You
Someday (You'll Want Me To Want You)
Someday We'll Be Together
Somethin' Stupid
Something
Sometimes I'm Happy
Sometimes When We Touch
Somewhere In Time
Somewhere, My Love
Son-Of-A-Preacher Man
Song of India
Song Sung Blue
Soon
Sorry Seems to Be the Hardest Word
Southern Nights
Spanish Eyes
Spinning Wheel
A Spoonful Of Sugar
Spring Will Be A Little Late This Year
Squeeze Me
Saint James Infirmary
St. Elsewhere
St. Louis Blues
Standing On The Corner
Stardust
Steppin' Out With My Baby
STOMPIN' AT THE SAVOY
Stoney End
Stop! In The Name Of Love
Stormy Weather (Keeps Rainin' All the Time)
Strangers In The Night
Stranger on the Shore
The Stripper
Stupid Cupid
Sugar Blues
Sugar Shack
Sugar, Sugar
Sukiyaki
Sultans Of Swing
Summer Rain
Summertime, Summertime
A Sunday Kind Of Love
Sunrise Serenade
Superstar
Suspicious Minds
Swanee
Sweet Caroline
Sweet Leilani
Sweet Love
Sweet Nothin's
Sweet Talkin' Guy
Sweet Violets
The Sweetheart Of Sigma Chi
Sweethearts
A Swingin' Safari
Symphony
Ta-Ra-Ra-Boom-Der-E
'Tain't What You Do (It's The Way That Cha Do It)
Take Five
Take Good Care Of My Baby
Take Me Out To The Ball Game
Take The 'A' Train
Takin' Care Of Business
Tammy
Tango Of Roses
A Taste Of Honey
Tenderly
That Old Feeling
That'll Be The Day
That's A Plenty
That's My Desire
That's The Way I've Always Heard It Should Be
Do You Know Where You're Going To?
There Are Such Things
There Is No Greater Love
There Is Nothin' Like A Dame
There! I've Said It Again
There Will Never Be Another You
There'll Be Some Changes Made
There's A Kind Of Hush (All Over The World)
There's A Place
There's No Tomorrow
These Dreams
Things Ain't What They Used To Be
This Could Be The Start Of Something Big
This Guy's In Love With You
This Is My Country
This Is My Song
This Love Of Mine
This Masquerade
This One's For You
Thoroughly Modern Millie
Three Little Words
Three Times A Lady
Through The Years
Thumbelina
Tic-Tock Polka
Tie Me Kangaroo Down Sport
Till Then
Till There Was You
Time
To All The Girls I've Loved Before
To Love A Child
To Sir, With Love
Tomorrow
Tonight, I Celebrate My Love
Tonight's The Night (Gonna Be Alright)
Too Close for Comfort
Too Late Now
(I Stayed) Too Long At The Fair
Too-Ra-Loo-Ra-Loo-Ral (That's An Irish Lullaby)
Torn Between Two Lovers
Touch Me In The Morning
Trains And Boats And Planes
True Colors
True Love Ways
Truly
Tubular Bells
Tutti Frutti
The Twelfth of Never
Twelfth Street Rag
26 Miles (Santa Catalina)
The Twist
Twist And Shout
The Unbirthday Song
Unchained Melody
Undecided
Under A Blanket Of Blue
Under Paris Skies
Under the Boardwalk
Under The Sea
Up On The Roof
Up, Up And Away
Uptown Girl
Vaya Con Dios (May God Be With You)
Venus
Vincent (Starry Starry Night)
Violets For Your Furs
Waitin' For The Light To Shine
Wake Me Up Before You Go-Go
Wake The Town And Tell The People
Walk Of Life
Walk On By
Walking In The Sunshine
The Wang Wang Blues
Watching The Wheels
Wave
The Way We Were
The Way You Do The Things You Do
We Are The Champions
We Need a Little Christmas
We Will Rock You
We're In This Love Together
Wear My Ring Around Your Neck
Wedding Bell Blues
Welcome To My World
What A Diff'rence A Day Made
What a Wonderful World
What Are You Doing New Year's Eve?
What Do You Do In The Infantry
What Have They Done To my Song, Ma?
What I Did For Love
What Kind Of Fool
What The World Needs Now Is Love
What's Forever For
What's Going On
What's New?
When I Need You
When I'm Sixty-Four
When My Sugar Walks Down The Street
When The Red, Red Robin Comes Bob, Bob Bobbin' Along
When Sunny Gets Blue
When You're Smiling (The Whole World Smiles With You)
Where Did Our Love Go
Where Do Broken Hearts Go
Where Have All The Flowers Gone?
Where Is Your Heart (The Song From Moulin Rouge)
While My Guitar Gently Weeps
Whispering
Whispering Bells
Who Can It Be Now?
Who Needs You?
Who Put The Bomp (In The Bomp Ba Bomp Ba Bomp)
Who's Sorry Now
Why Don't We Do This More Often
Why Don't You Do Right (Get Me Some Money, Too!)
Why Me? (Why Me, Lord?)
Wild Thing
Will You Love Me Tomorrow (Will You Still Love Me Tomorrow)
Will You Still Love Me
Will You Still Be Mine
Witchcraft
With A Little Help From My Friends
With A Little Luck
With a Song in My Heart
With One Look
Without A Song
Woman
The Wonder Of You
Wonderful Copenhagen
Wonderful! Wonderful!
Wonderland By Night
Woodchopper's Ball
Woody Woodpecker
Wooly Bully
Words Of Love
Working My Way Back To You
Would You Like To Take A Walk (Sump'n Good'll Come From That)
Y.M.C.A.
Yakety Sax
Year Of The Cat
Yellow Days
Yellow Submarine
Mississippi Queen
Yes Indeed
Meet Mister Callaghan
Midnight Special
Yesterday
Bobby's Girl
Yesterday's Songs
You Always Hurt the One You Love
You Belong To Me
You Call Everybody Darling
You Can Do Magic
You Can't Hurry Love
You Decorated My Life
You Don't Bring Me Flowers
You Don't Own Me
You Keep Me Hangin' On
You Made Me Love You (I didn't Want to do it)
You've Really Got A Hold On Me
You You You
You're Breaking My Heart
You're So Vain
You're the Inspiration
You've Got A Friend
You've Lost That Lovin' Feelin'
You've Made Me So Very Happy
Young At Heart
Young Love
Your Cheatin' Heart
Your Song
Yours (Cuando Se Quiere De Veras)
Zip-A-Dee-Doo-Dah
I Mean You
We'll Be Together Again
(I'm Afraid) The Masquerade Is Over
Impossible
Somewhere Along The Way
Donkey Serenade
Mister Five By Five
Clair
I Don't Know Enough About You
(You're My) Soul And Inspiration
Wedding Bells (Are Breaking Up That Old Gang Of Mine)
Angry
Ballerina
Milestones
Danny Boy
Alone
Indian Summer