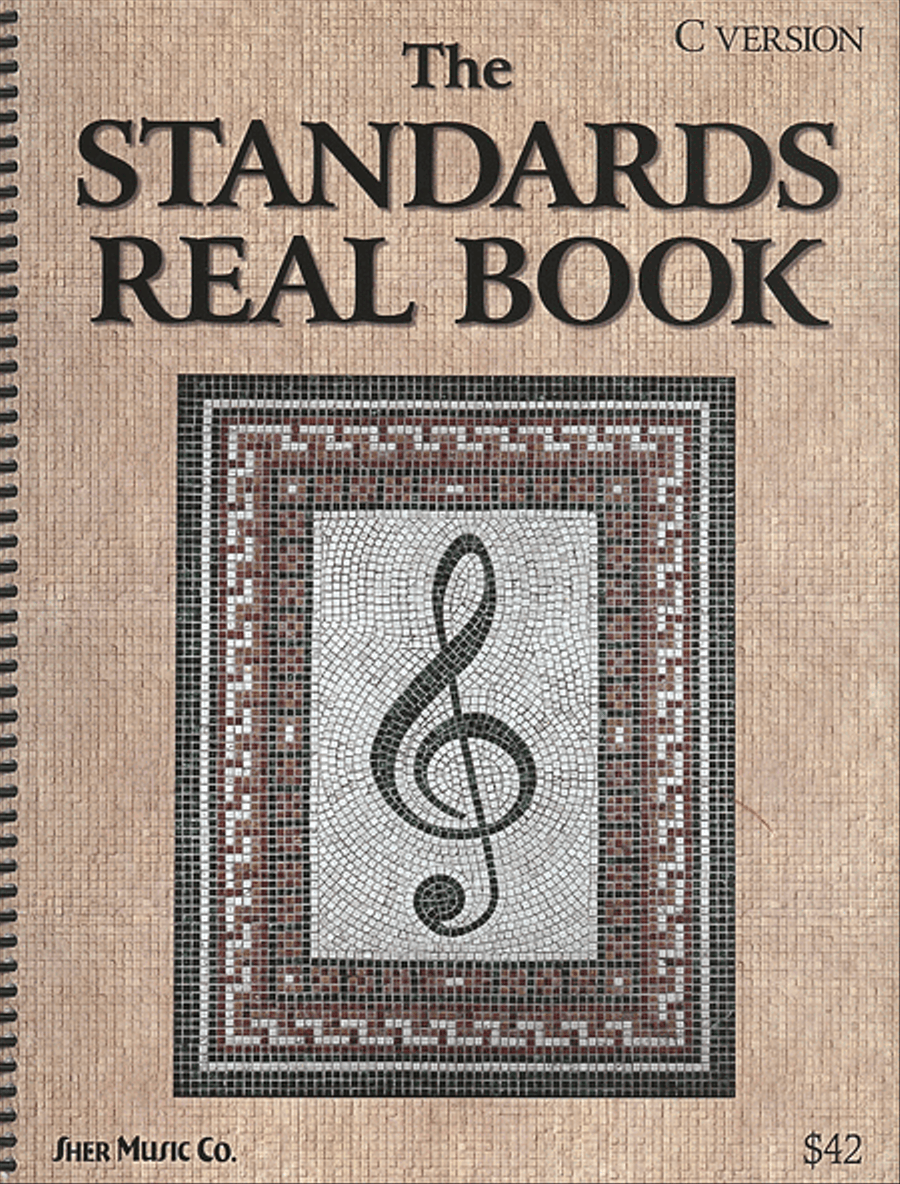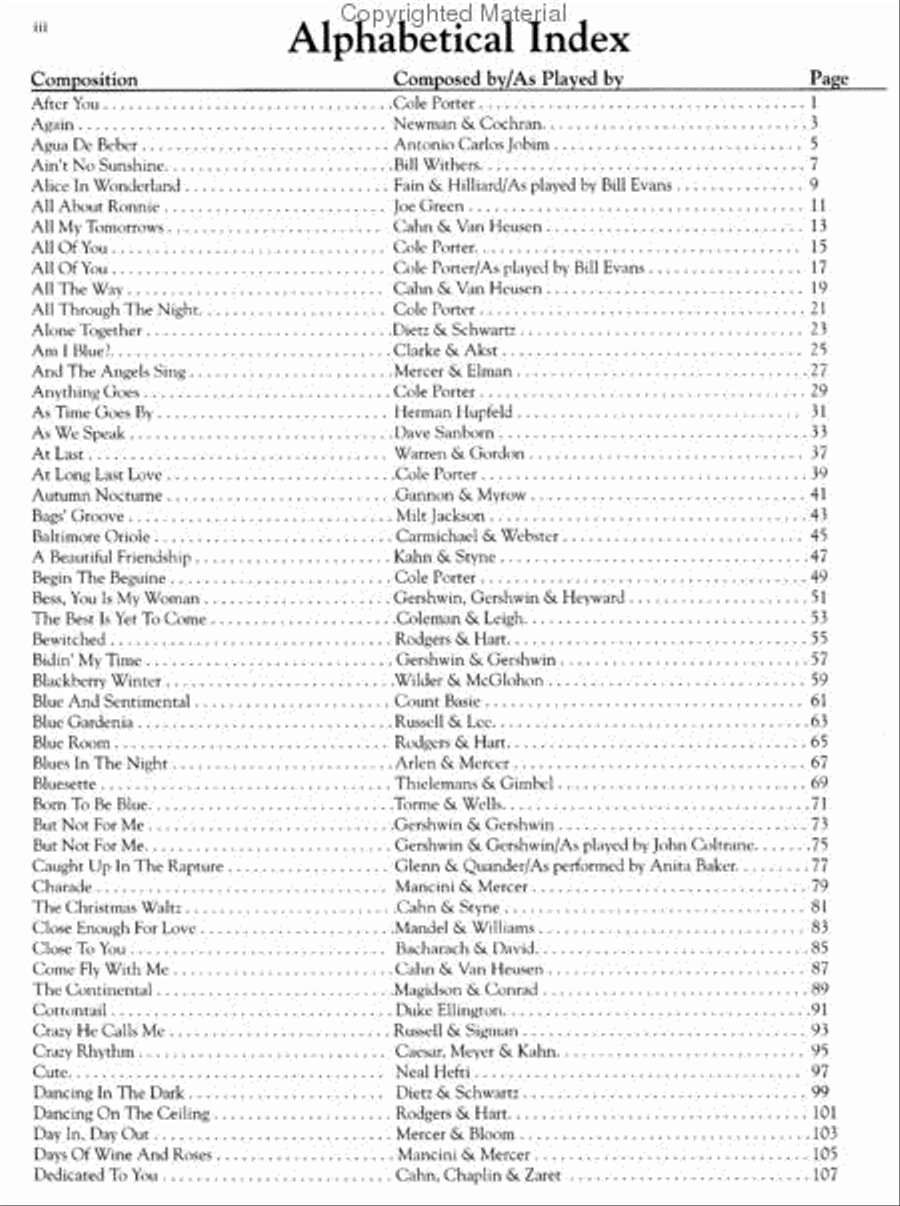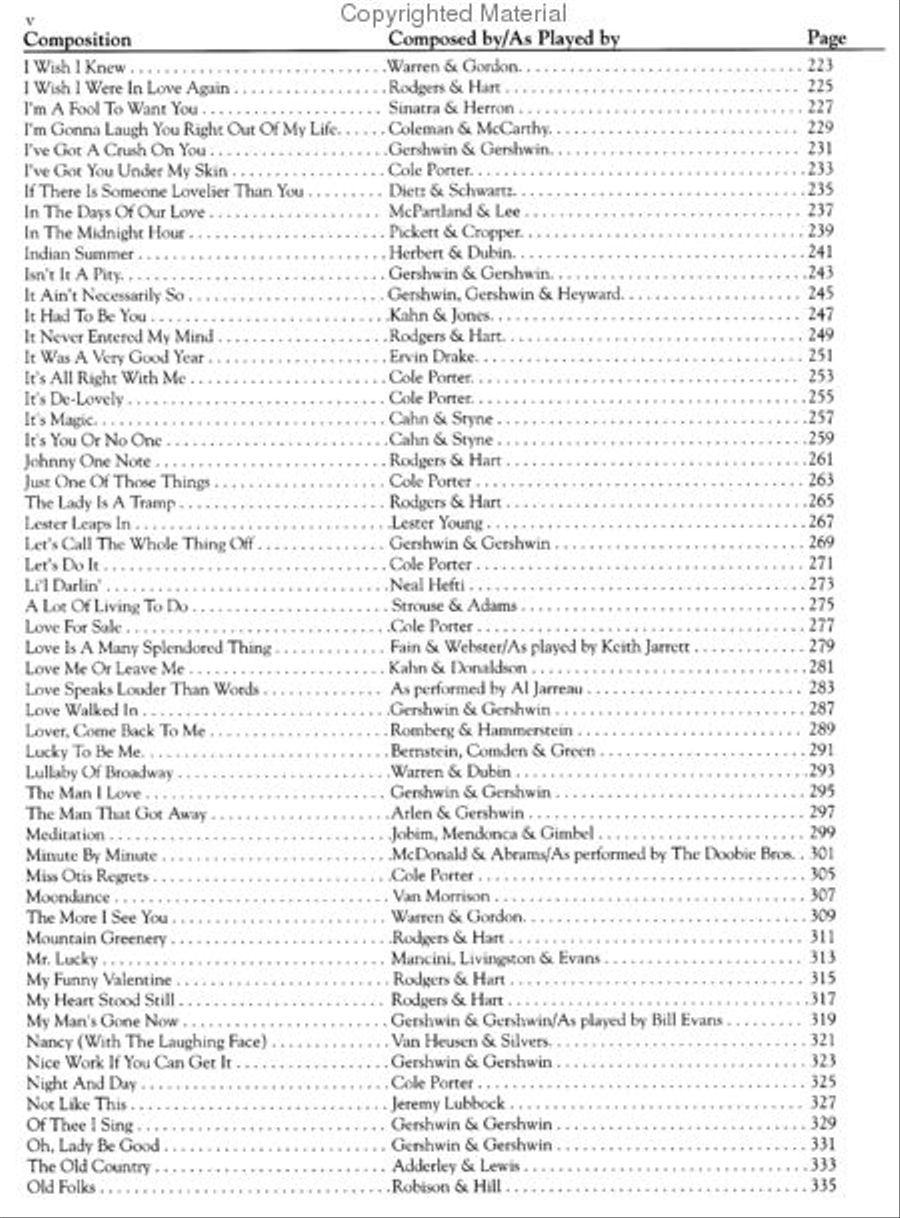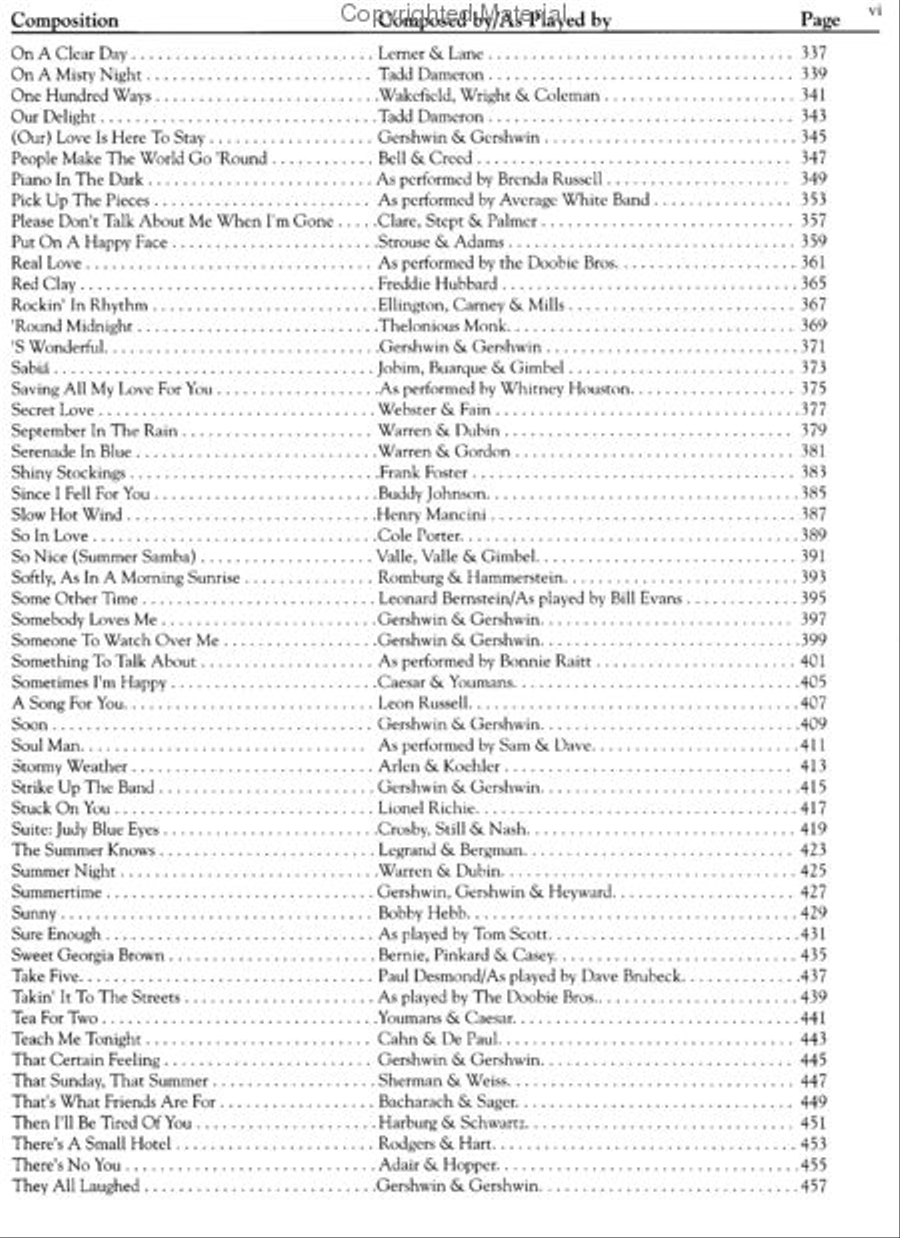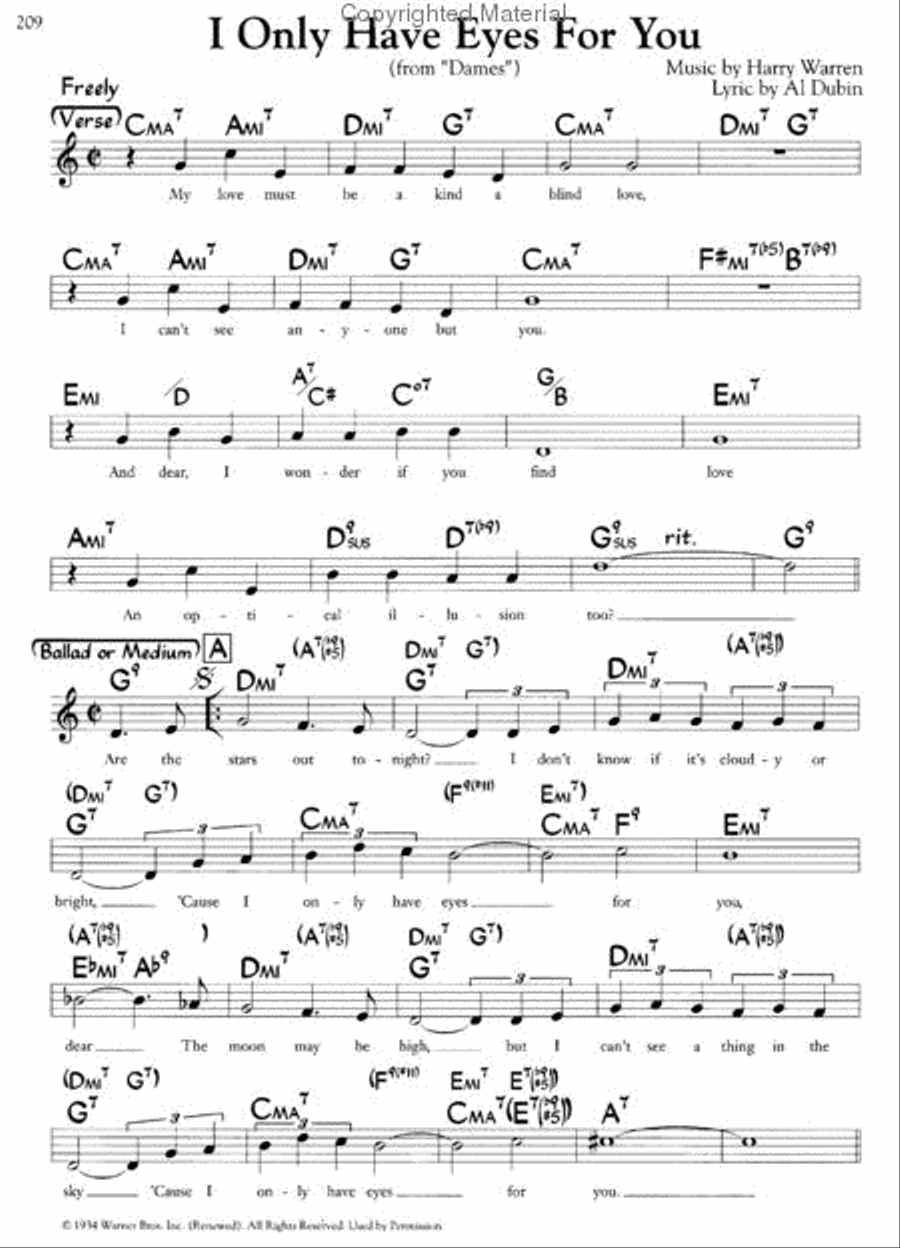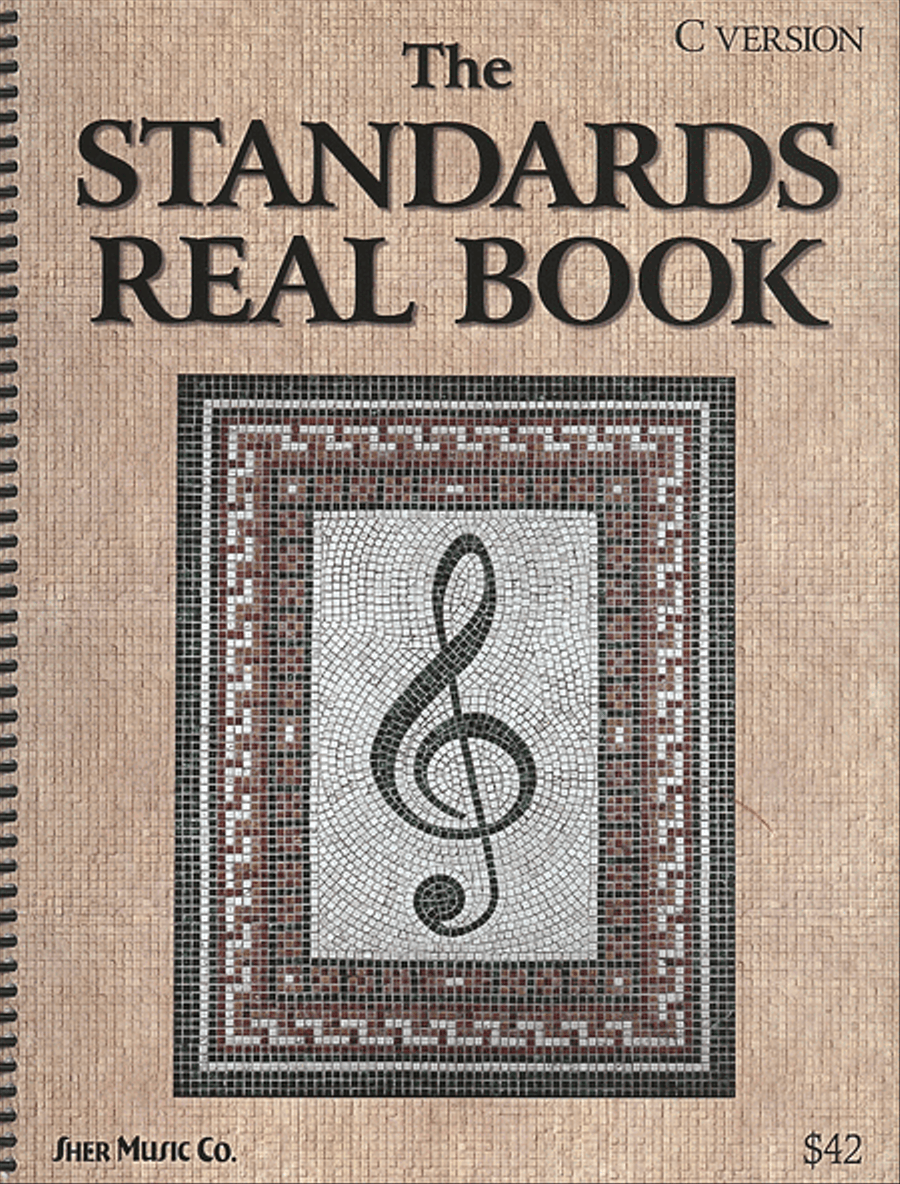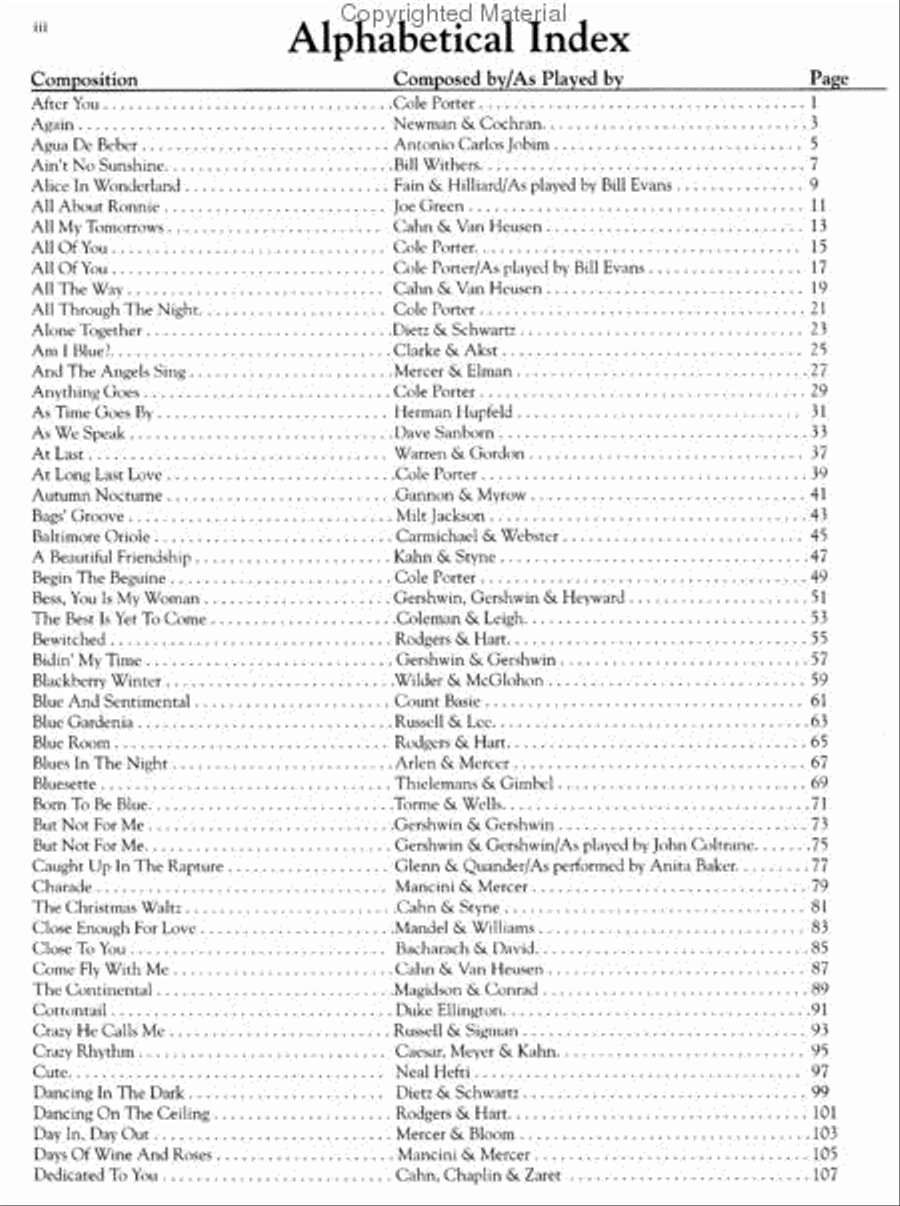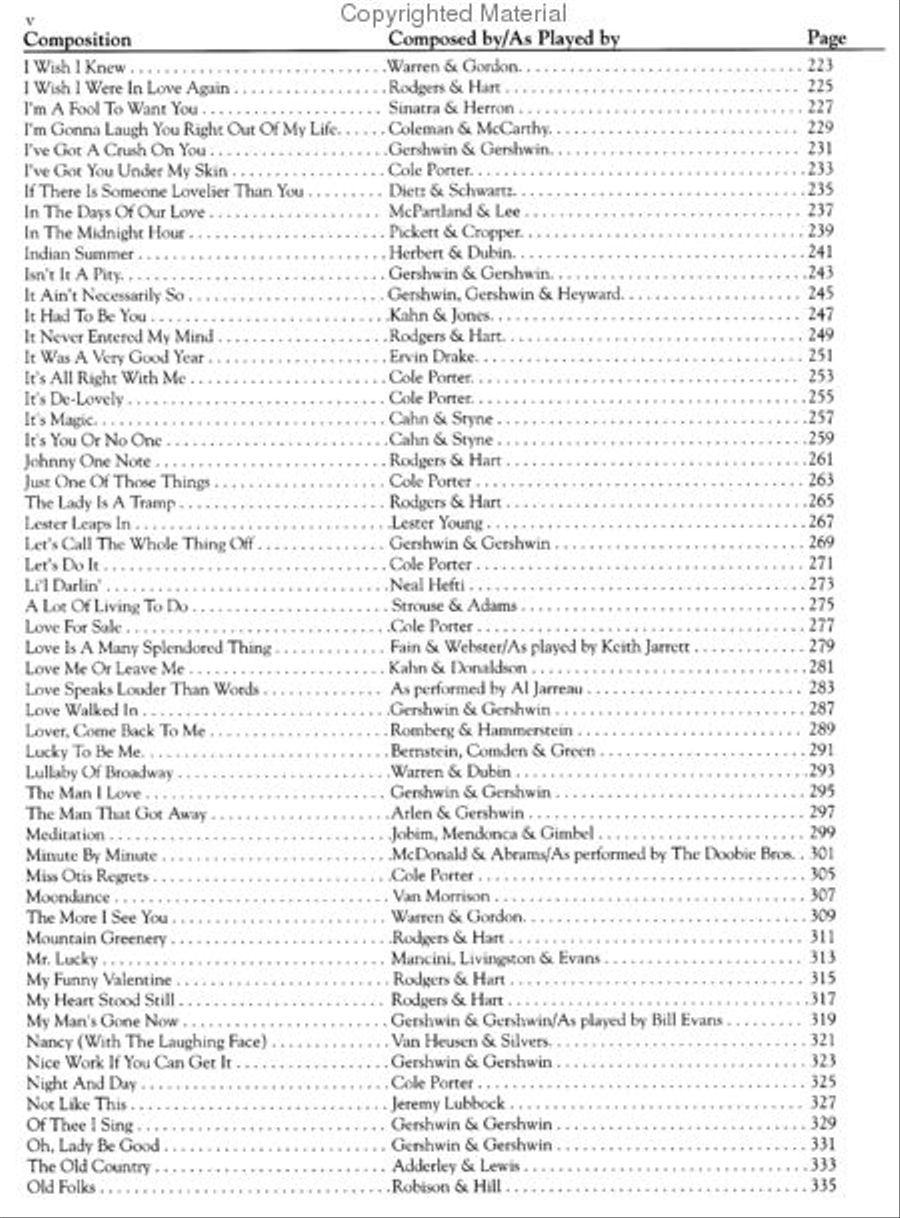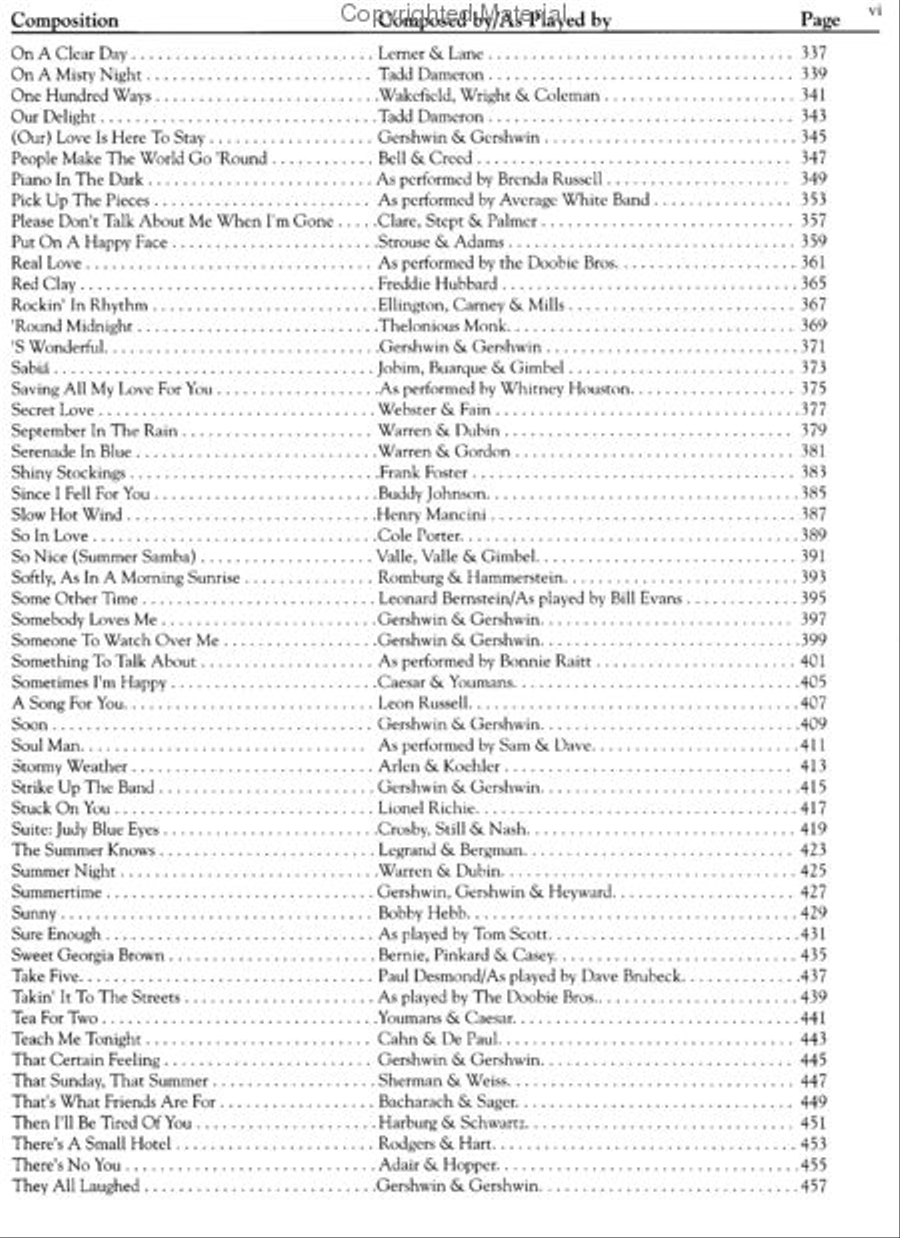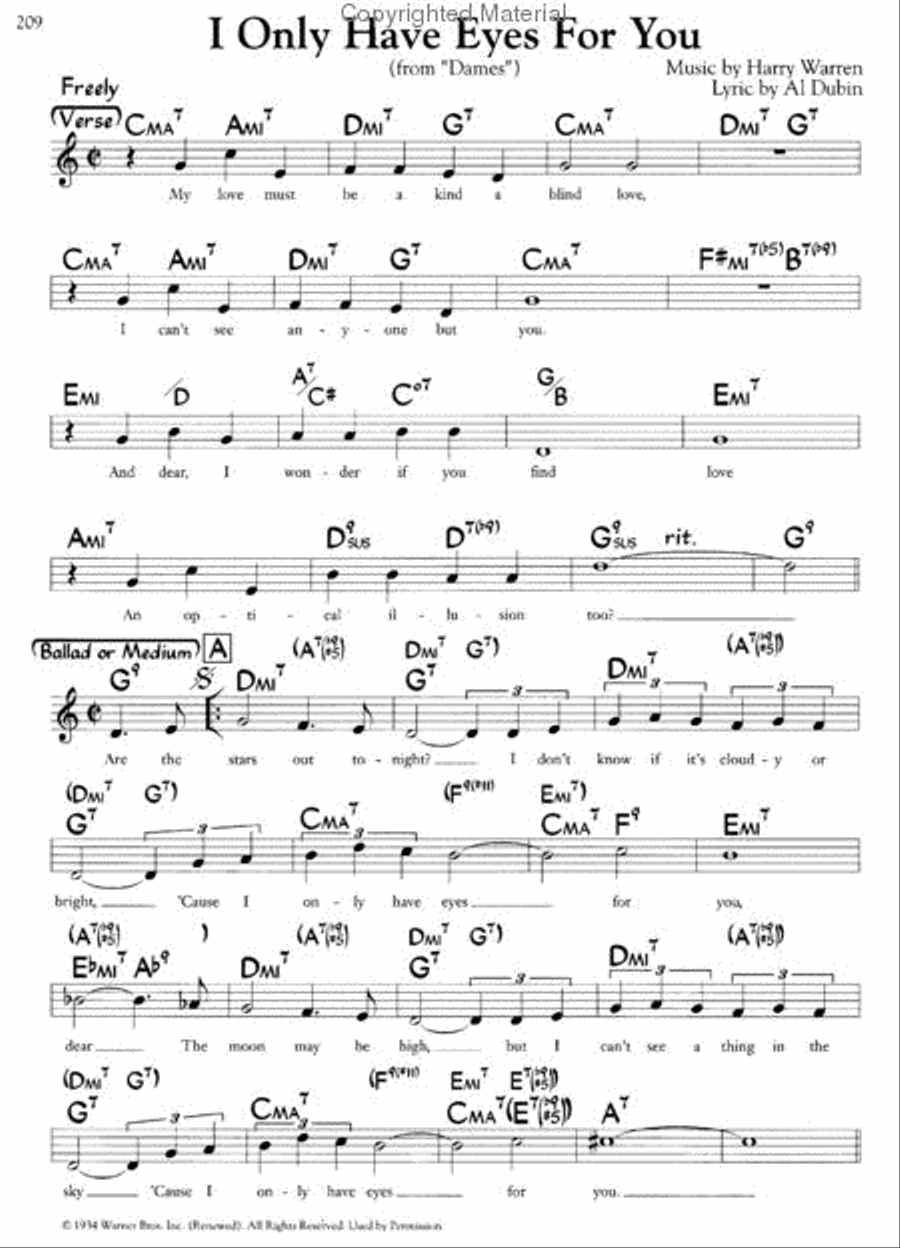 Available
Ready to ship in 24 hours
Taxes/VAT calculated at checkout.
Detailed Description
C instrument and voice - Difficulty: easy-medium to medium
SKU: SR.116
Composed by Sher Music Co. Edited by Chuck Sher. This edition: spiral-bound. Almost 600 pages of world-famous Sher Music transcriptions! Don't go to the gig without it! Standards. Fake book. With vocal melody, lyrics, chord names, black & white photos and introductory text. 574 pages. Sher Music Company #116. Published by Sher Music Company (SR.116).
ISBN 9781883217099. 9x12 inches.
The best tunes of George Gershwin, Rodgers & Hart, Harold Arlen, Duke Ellington, Antonio Carlos Jobim, Hoagy Carmichael, Johnny Mercer, Horace Silver, Dietz & Schwartz, Burt Bacharach, Leonard Bernstein, Cole Porter, Michel Legrand, Van Heusen & Cahn, Johnny Mandel, Henry Mancini, AlecWilder, Sigmund Romberg, Vincent Youmans, Harry Warren, Michael McDonald, AND MANY MORE!
ENDORSEMENTS "Singers! All of you should line up and kiss Chuck Sher's feet! For doing these genius fake books for us-I mean, a world without them is inconceivable." Mark Murphy "The new Standards Real Book is really incredible! So many great songs, many of which one never sees printed. And like always in the books published by Sher Music Co., they are represented accurately." Maria Schneider "Again you have done a beautiful job. I think the new book is terrific. I especially like the alternate chords." Dave Frishberg "The Standards Real Book is a remarkable collection of great songs of the 20th Century. The editors deserve congratulations on this massive and entertaining volume of songs." The Jazz Review "It's great to have the standards and more, done legally, clearly and accurately. More cheers to Sher Music taking care of necessary business for musicians." Dave Liebman "Sher Music's Real Book series just keeps on getting better and better. The Standards Real Book is the closest thing in print to The Great American Song Book." Mark Levine "The Standards Real Book is an incredible compilation. The accuracy, clarity and great taste of the Sher Music team have produced a volume of enormous importance. It is a new source for the far-ranging possibilities of this music that we love." Richie Beirach.
Song List (264)
After You
Again
Agua De Beber (Water To Drink)
Ain't No Sunshine
Alice in Wonderland
All About Ronnie
All My Tomorrows
All Of You
All The Way
All Through The Night
Alone Together
Am I Blue?
And The Angels Sing
Anything Goes
As Time Goes ByÊ
As We Speak
At Last
At Long Last Love
Autumn Nocturne
Bag's Groove
Baltimore Oriole
A Beautiful Friendship
Begin The Beguine
Bess, You is My Woman
The Best is Yet to Come
Bewitched
Bidin' My Time
Blackberry Winter
Blue and Sentimental
Blue Gardenia
Blue Room
Blues In the Night
Bluesette
Born To Be Blue
But Not For Me
Caught Up In The Rapture
Charade
The Christmas Waltz
Close Enough For Love
Close To You
Come Fly With Me
Continental, TheÊ
Cottontail
Crazy He Calls Me
Crazy Rhythm
Cute
Dancing in the Dark
Dancing On The Ceiling
Day In, Day Out
Days Of Wine And Roses
Dedicated To You
Deep Purple
Dock Of The Bay, The
Don't Be Blue
Don't Worry 'Bout Me
Doodlin'
Doxy
Dream Dancing
Dreamsville
Easy To Love
Embraceable You
Everything Must Change
Falling in Love With Love
Fascinating Rhythm
A Felicidade
A Foggy Day
Forest Flower
From This Moment On
Get Here
Get Out Of Town
The Girl From Ipanema
Give Me The Simple Life
Good Bait
The Good Life
Have You Met Miss Jones
He Was Too Good To Me
Hello
Hey There
Hot House
A House Is Not A Home
How Do You Keep the Music Playing?
How Insensitive
How Little We Know
How Long Has This Been Going On?
I Can't Get Started
I Concentrate On You
I Could Write A Book
I Cover the Waterfront
I Didn't Know About You
I Didn't Know What Time It Was
I Get A Kick Out Of You
I Got Rhythm
I Gotta Right To Sing The Blues
I Guess I'll Have To Change My Plan
i Had The Craziest Dream
I Have The Feeling I've Been Here Before
I Love Paris
I Love You
I Loves You Porgy
I May Be Wrong
I Only Have Eyes For You
I Say A Little Prayer For You
I Want to Be Happy
I Was Doing All Right
I Will Be Here For You
I Will Wait For You
I Wish I Knew
I Wish I Were In Love Again
I'm A Fool To Want You
I'm Gonna Laugh You Right Out Of My Life
I've Got A Crush On You
I've got you Under My Skin
If There Is Someone Lovelier Than You
In The Days Of Our Love
In The Midnight Hour
Indian Summer
Isn't It A Pity
It Ain't Necessarily So
It Had To Be You
It Never Entered My Mind
It Was A Very Good Year
It's All Right With Me
It's De-Lovely
It's Magic
It's You Or No One
Johnny One Note
Just One Of Those Things
The Lady is a Tramp
Lester Leaps In
Let's Call The Whole Thing Off
Let's Do It
Li'l Darlin'
A Lot Of Living To Do
Love For Sale
Love Is A Many Splendored Thing
Love Me Or Leave Me
Love Speaks Louder Than Words
Love Walked In
Lover, Come Back To Me
Lucky To Be Me
Lullaby Of Broadway
Man I Love, The
The Man That Got Away
Meditation
Minute By Minute
Miss Otis Regrets
Moondance
The More I See You
Mountain Greenery
Mr. Lucky
My Funny Valentine
My Heart Stood Still
My Man's Gone Now
Nancy (With The Laughing Face)
Nice Work If You Can Get It
Night and Day
Not Like This
Of Thee I Sing
Oh, Lady Be Good
The Old Country
Old Folks
On A Clear Day
On A Misty Night
One Hundred Ways
Our Delight
(Our) Love Is Here To Stay
People Make The World Go Round
Piano in the Dark
Pick Up The Pieces
Please Don't Talk About Me When I'm Gone
Put on a Happy Face
Real Love
Red Clay
Rockin' In Rhythm
'round Midnight
's Wonderful
Sabia
Saving All My Love For You
Secret Love
September In The Rain
Serenade In Blue
Shiny Stockings
Since I Fell For You
Slow Hot Wind
So In Love
So Nice (Summer Samba)
Softly, As In a Morning Sunrise
Some Other Time
Somebody Loves Me
Someone To Watch Over Me
Something to Talk About
Sometimes I'm Happy
A Song for You
Soon
Soul Man
Stormy Weather
Strike Up The Band
Stuck On You
Suite: Judy Blue Eyes
The Summer Knows
Summer Night
Summertime
SunnyÊ
Sure Enough
Sweet Georgia Brown
Take Five
Takin' It to the Streets
Tea For Two
Teach Me Tonight
That Certain Feeling
That Sunday (That Summer)
That's What Friends Are For
Then I'll Be Tired Of You
There's A Small Hotel
There's No You
They All Laughed
They Can't Take That Away From Me
This Heart Of Mine
This Is Always
Those Eyes
Thou Swell
Through the Fire
Time After Time
A Time For Love
Time On My Hands
'Tis Autumn
Tokyo Blues
Too Marvelous For Words
Too Much Sake
Trouble Is A Man
Twilight World
Two for the Road
The Underdog
Until It's Time For You To Go
Until The Real Thing Comes Along
Valdez in the Country
Walk On By
Walkin'
We're In This Love Together
What a Fool Believes
What Am I Here For?
What Is This Thing Called Love
What The World Needs Now Is Love
Wheelers & Dealers
When A Man Loves A Woman
When The World Was Young
When Your Lover Has Gone
Where Or When
Who Cares?
Why Try To Change Me Now?
With a Song in My Heart
You And The Night And The Music
You Are There
You Are Too Beautiful
You Do Something To Me
You Go To My Head
You Make Me Feel Brand New
You Make Me Feel So Young
You Taught My Heart To Sing
You Took Advantage Of Me
You'd Be So Nice to Come Home To
You'll Never Know
You're The Top
Yours Is My Heart Alone