Operatic Anthology, Volume 2 - Mezzo-Soprano

Celebrated Arias Selected From Operas By Old And Modern Composers In Five Volumes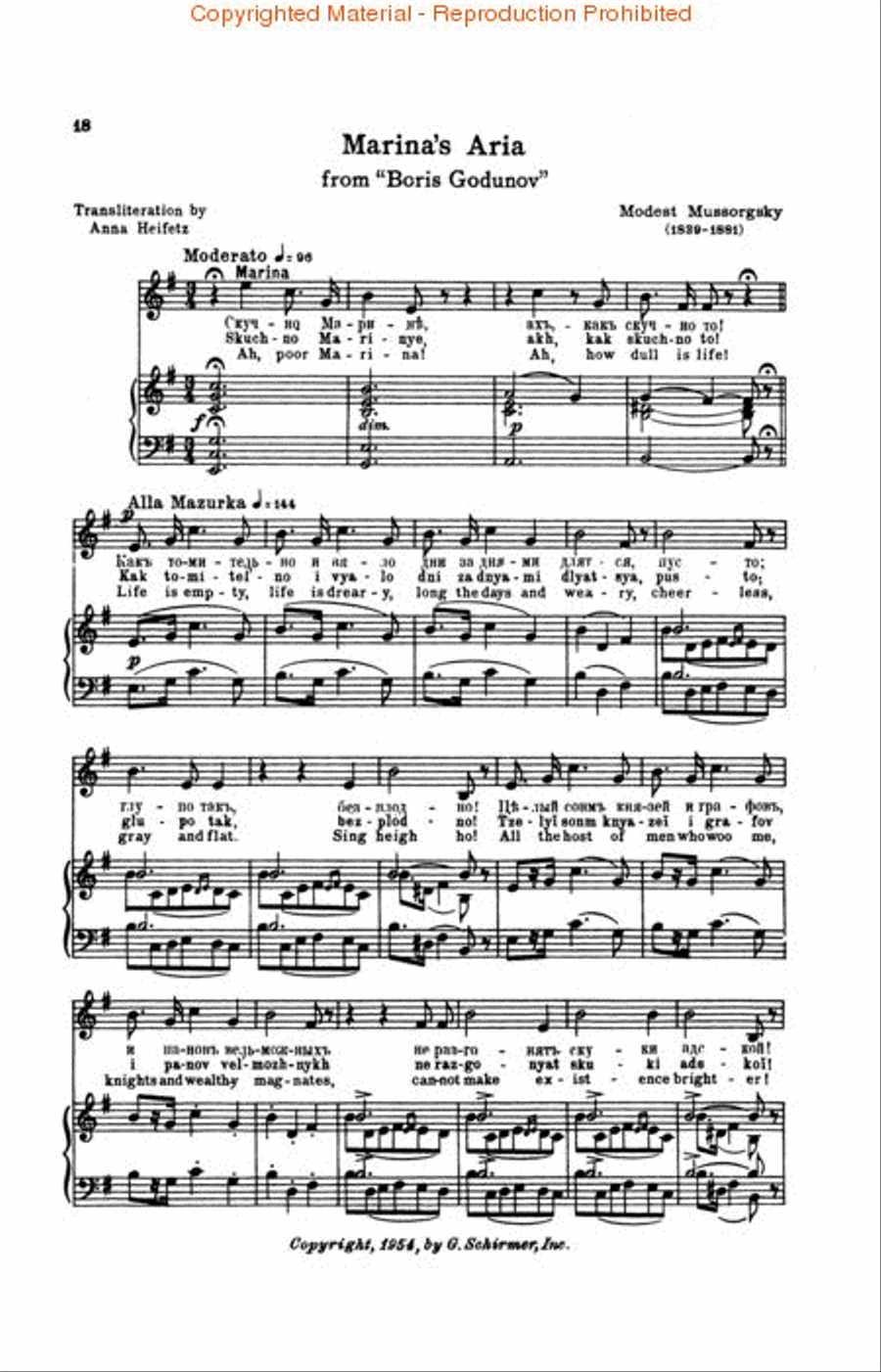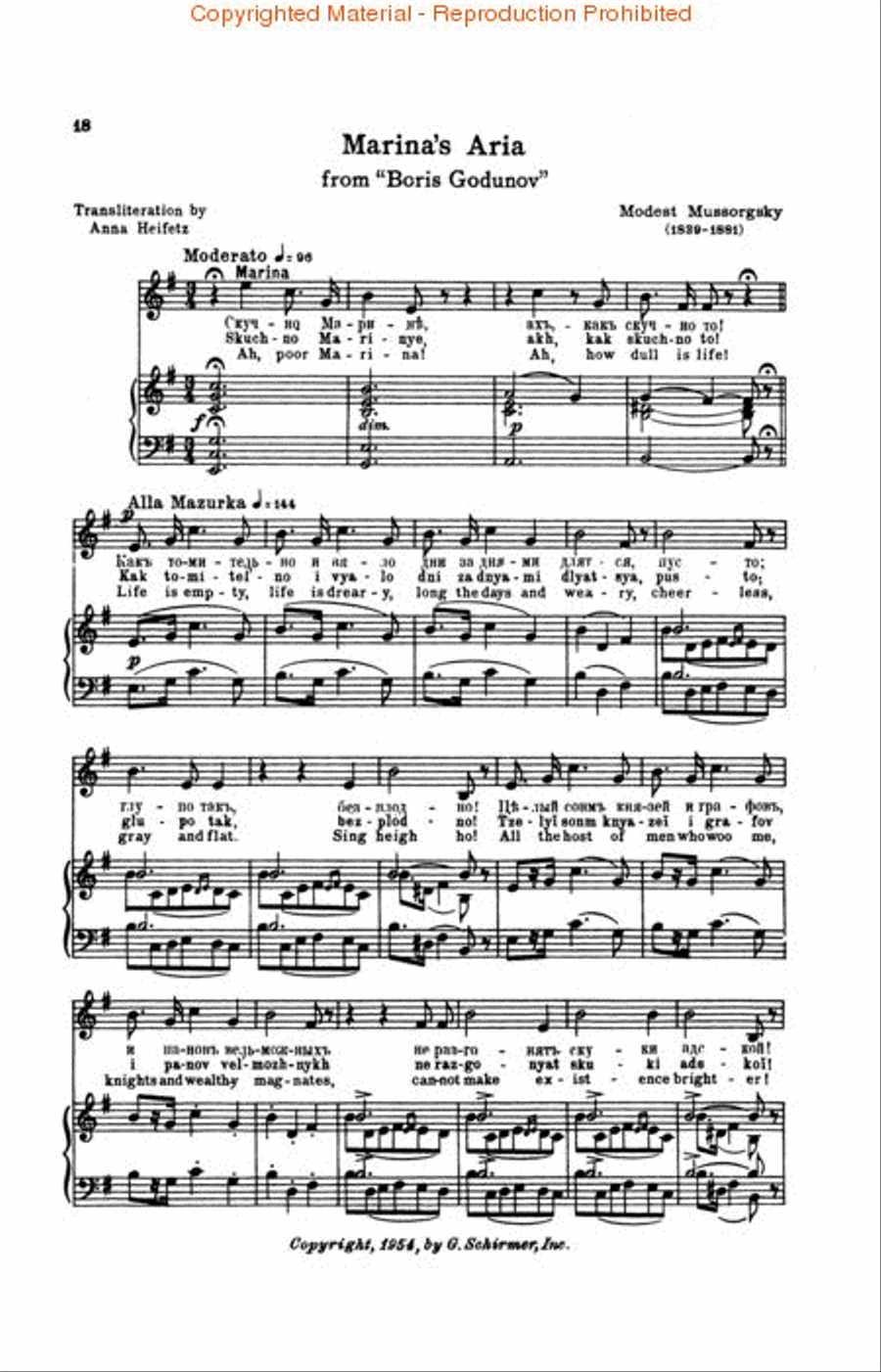 Operatic Anthology, Volume 2 - Mezzo-Soprano

Celebrated Arias Selected From Operas By Old And Modern Composers In Five Volumes
This item is currently not available
Taxes/VAT calculated at checkout.
Detailed Description
Mezzo-Soprano/Alto Piano, Vocal - Difficulty: medium
SKU: HL.50325840
Celebrated Arias Selected From Operas By Old And Modern Composers In Five Volumes
. Composed by Various. Edited by Kurt Adler. Vocal Collection. Opera. Collection. With vocal melody, lyrics and piano reduction. 277 pages. G. Schirmer #ED551. Published by G. Schirmer (HL.50325840).
ISBN 9780793525874. UPC: 073999258400. 7.5x10.7 inches.
Contents: Verdi: Re dell' abisso affretati (Invocation Aria) (Un Ballo in Maschera) • O don fatale (Don Carlo) • Stride la vampa (Il Trovatore) • Condotta ell'era in ceppi (Il Trovatore) – Rossini: Una voce poco fa (Il Barbiere di Siviglia) • Non piu mesta (La Cenerentola) • In si barbara (Semiramide) – Mussorgsky: Marina's Aria (Boris Godunov) • Khivria's Song and Hopak (The Fair of Sorochinsk) – Bizet: L'amor est un oiseau rebelle (Habanera) (Carmen) • Pres des remparts de Seville (Seguidilla) (Carmen) • En vain pour eviter (Card Scene) (Carmen) – Mozart: Parto, parto (La Clemenza di Tito) • Non piu du fiori (La Clemenza di Tito) • Non so più, cosa son (Le Nozze di Figaro) • Voi,che sapete (Le Nozze di Figaro) – Purcell: When I am Laid in Earth (Dido's Lament) (Dido and Aeneas) – Gounod: Faites-lui mes aveux (Faust) • Que fais-tu, blanche tourterelle (Roméo et Juliette) – Donizetti: O mio Fernando (La Favorita) – J. Strauss: Chacun a son gout (Prince Orlosky's Song) (Die Fledermaus) – Ponchielli: Voce di donna (The Blind Girl's Song) (La Gioconda) • Stella del marinar (La Gioconda) – R. Wagner: Hore mit Sinn (Waltraute's Narrative) (Die Gotterdammerung) • Entweihte Gotter! (Ortrud's Curse) (Lohengrin) • Gerechter Gott (Rienzi) • Wo in Bergen du dich birgst (Fricka's Scene) (Die Walkure) – Tchaikovsky: Adieu, forets (Jeanne d'Arc) • Pauline's Aria (Pique Dame) – Thomas: Connais-tu le pays (Mignon) • Me voici dans son boudoir (Mignon) – Gluck: Che faro senza Euridice (Orfeo) – Meyerbeer: Ah! mon fils! (Le Prophete) • Donnez, donnea (Le Prophete) – Handel: Cara sposa, amante cara (Rinaldo) • Ombra mai fu (Serse) – Saint-Saens: Printemps qui commence (Samson et Dalila) • Amour, viens aider (Samson et Dalila) • Mon coeur s'ouvre a ta voix (Samson et Dalila) – Massenet: Va! laisse couler mes larmes (Werther).
Song List (40)
Adieu, Forets
Ah, Mon Fils!
Amour Viens Aider Ma Faiblesse
Cara Sposa, Amante Cara
Chacun A Son Gout
Che Faro Senza Euridice?
Condotta Ell'era In Ceppi (Verdi)
Connais-Tu Le Pays
Donnez, Donnez
En Vain, Pour Eviter
Entwihte Gotter
Faites-Lui Mes Aveux
Gerechter Gott
Hore Mit Sinn
In Si Barbara
Khivria's Song & Hopak
L'Amour Est Un Oiseau Rebelle (Habanera)
Marina's Aria
Me Voici Dans Son Boudoir
Mon Coeur S'ouvre A Ta Voix
Non Piu Di Fiori
Non Piu Mesta
Non So Piu Cosa Son
O Don Fatale
O Mio Fernando
Ombra Mai Fu
Parto, Parto
Pauline's Aria
Pres Des Remparts De Seville (Seguidilla)
Printemps Qui Commence
Que Fais-Tu, Blanche Tourterelle
Re Dell'abisso, Affrettati
Stella Del Marinar
Stride La Vampa
Una Voce Poco Fa
Va! Laisse Couler Mes Larmes
Voce Di Donna
When I Am Laid In Earth
Wo In Bergen Du Dich Birgst
Voi, che sapete