Lieder (Songs) - Volume 1 (Original Edition for High Voice)

77 Songs, incl. Myrthen, Liederkreis, Frauenliebe, Dichterliebe; Original Keys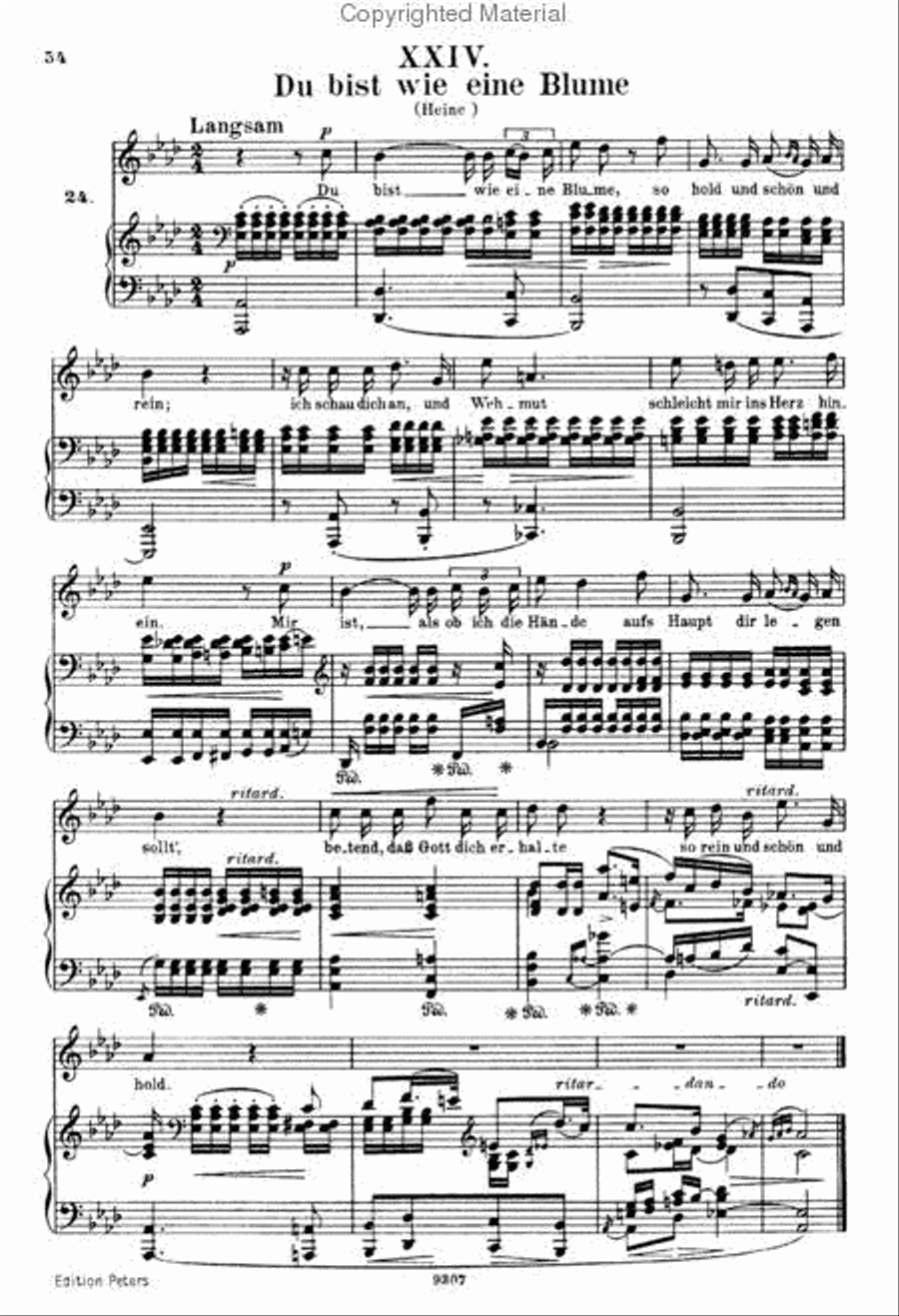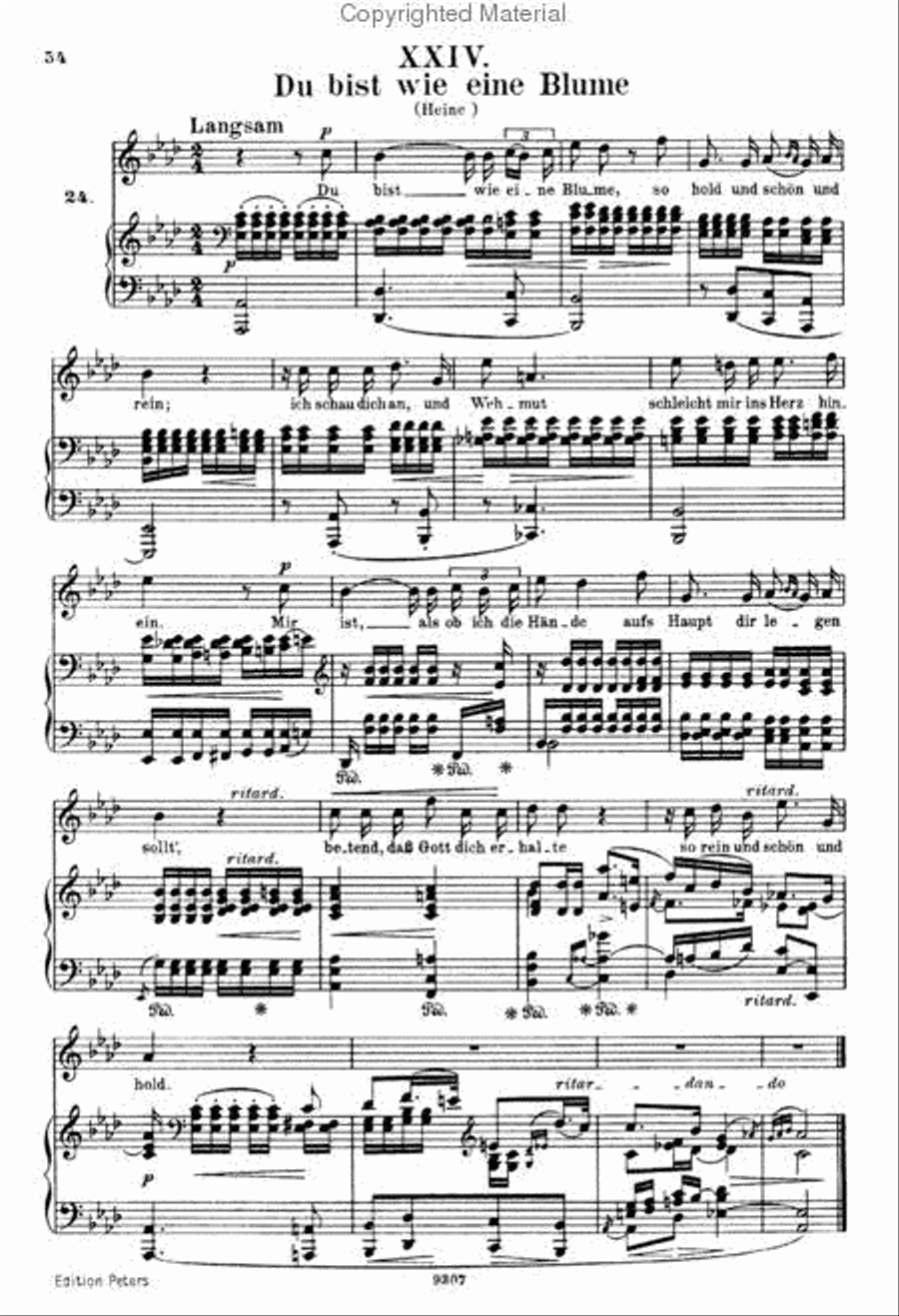 Lieder (Songs) - Volume 1 (Original Edition for High Voice)

77 Songs, incl. Myrthen, Liederkreis, Frauenliebe, Dichterliebe; Original Keys
Available
Ready to ship in 1 to 2 weeks
Taxes/VAT calculated at checkout.
Detailed Description
High voice solo and piano accompaniment (High/Medium High) - Difficulty: medium-difficult
SKU: PE.EP2383A
1
.
77 Songs, incl. Myrthen, Liederkreis, Frauenliebe, Dichterliebe; Original Keys
. Composed by Robert Schumann. Edited by Max Friedlaender. Voice & Piano. Edition Peters. Dichterliebe (16 Songs); Frauenliebe und Leben (8 Songs); Liederkreis (12 Songs); Myrten (26 Songs); 15 Selected Songs (Text Language: German). Classical Period. Collection. With vocal melody, lyrics and piano accompaniment. 196 pages. Edition Peters #98-EP2383A. Published by Edition Peters (PE.EP2383A).
ISBN 9790014010744. 7.5x10.75 inches. English.
The first volume for High Voice of Robert Schumann's Complete Songs contains his major song cycles from 1840. his 'Year of Song': 'Myrten,' 'Liederkreis,' 'Frauenlieben und Leben' and 'Dichterliebe.' Long known as the performer's edition of choice in vocal repertoire, this Edition Peters score is offers a lifetime of study and performing pleasure.
Song List (79)
Im wunderschonen Monat Mai
Aus meinen Tranen spriessen
Die Rose, die Lillie, die Taube
Wenn ich in deine Augen seh
Ich will meine Seele tauchen
Im Rhein, im heiligen Strome
Ich grolle nicht, und wenn das Herz
Und wussten's die Blumen
Das ist ein Floten und Geigen
Hor ich das Liedchen klingen
Ein Jungling liebt ein Madchen
Am leuchtenden Sommermorgen
Ich hab im Traum geweinet
Allnachtlich im Traume seh ich dich
Aus alten Marchen winkt es hervor
Die alten, bosen Lieder
Seit ich ihn gesehen
Er, der Herrlichste von allen
Ich kann's nicht fassen
Du Ring an Meinem Finger
Helft mir, ihr Schwestern
Susser Freund, du blickest
An meinem Herzen
Nun hast du mir den ersten Schmerz getan
In der Fremde (Aus der Heimat hinter den Blitzen rot)
Intermezzo
Waldesgesprach
Die Stille
Mondnacht
Schone Fremde
Auf einer Burg
In der Fremde (Ich hor die Bachlein rauschen)
Wehmut
Zwielicht
Im Walde
Fruhlingsnacht
Widmung
Freisinn
Der Nussbaum
Jemand
Die Lotusblume
Talismane
Lied der Suleika
Die Hochlander-Witwe
Lied der Braut (Mutter, Mutter! glaube nicht)
Lied der Braut (Lass mich ihm am Busen hangen)
Hochlanders Abschied
Hochlandisches Wiegenlied
Aus den hebraischen Gesangen
Ratsel
Hauptmanns Weib
Weit, weit
Was will die einsame Trane
Niemand
Im Westen
Du bist wie eine BLume
Aus den ostlichen Rosen
Zum Schluss
Mit Myrten und Rosen
Wanderlied
Erstes Grun
Sonntags am Rhein
An den Sonnenschein
Fruhlingsfahrt
Die Beiden Grenadiere
Volksliedchen
Ich wandre nicht
Blondels Lied
Der arme Peter I
Die Soldatenbraut
Marienwurmchen
Dein Angesicht
Aus dem Schenkenbuch im Divan (Sitz ich allein, wo kann ich besser sein?)
Aus dem Schenkenbuch im Divan (Setze mir nicht, du Grobian)
Venetianisches Lied (Leis rudern hier, mein Gondolier)
Venetianisches Lied (Wenn durch die Piazzetta)
Der arme Peter II
Der arme Peter III
Romanze