Lieder (Songs), Volume 1 - 92 Songs

92 Songs, incl. Die schone Mullerin, Winterreise, Schwanengesang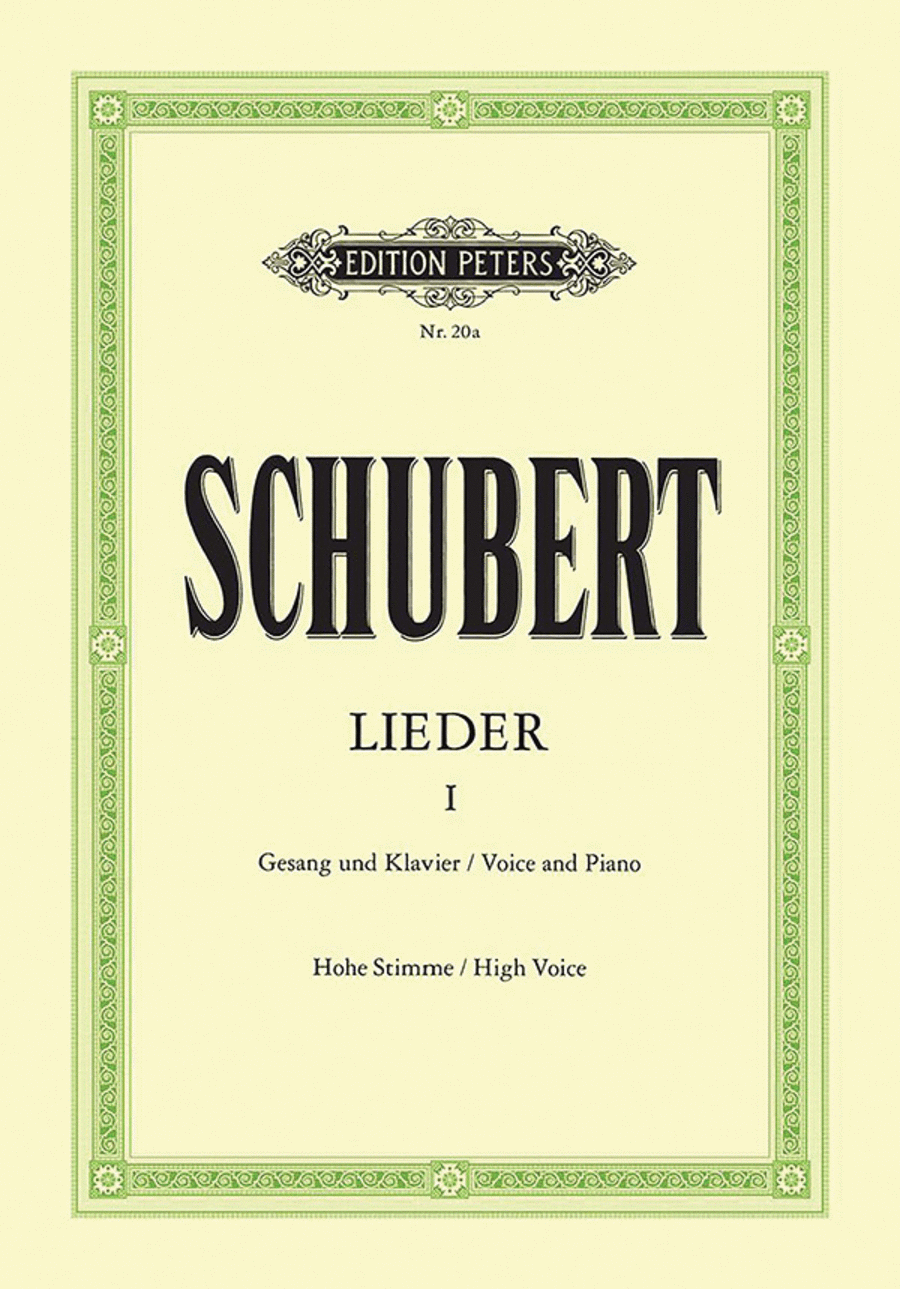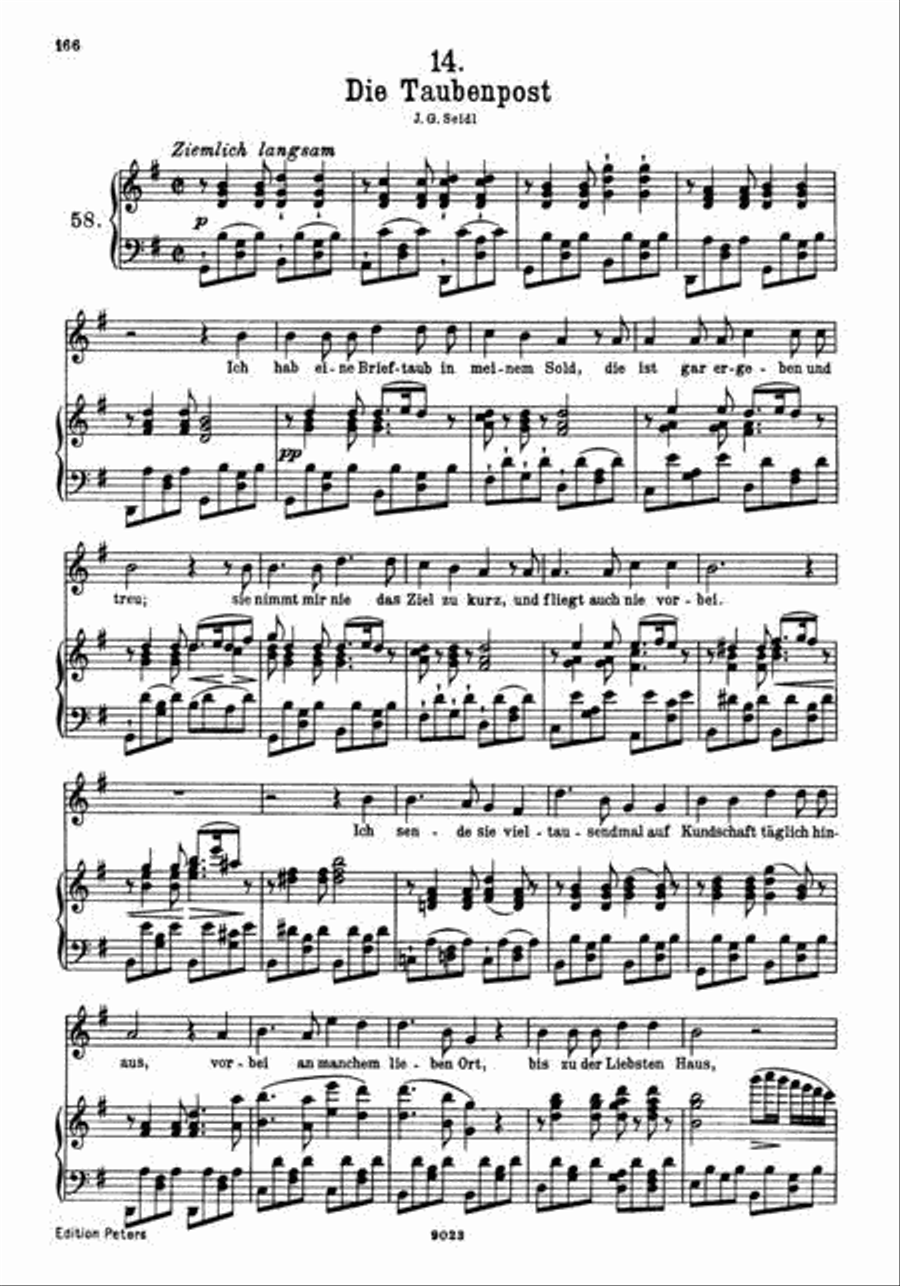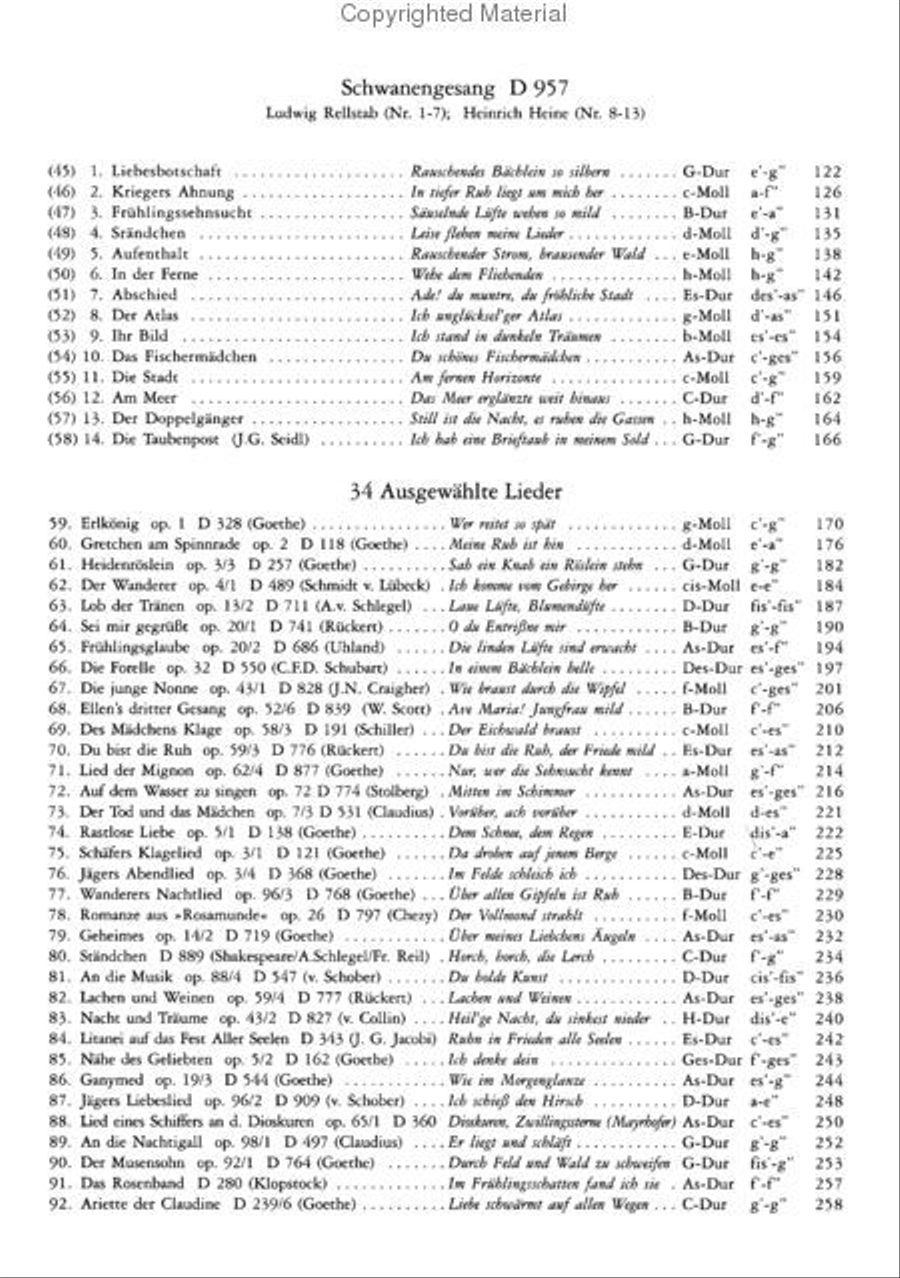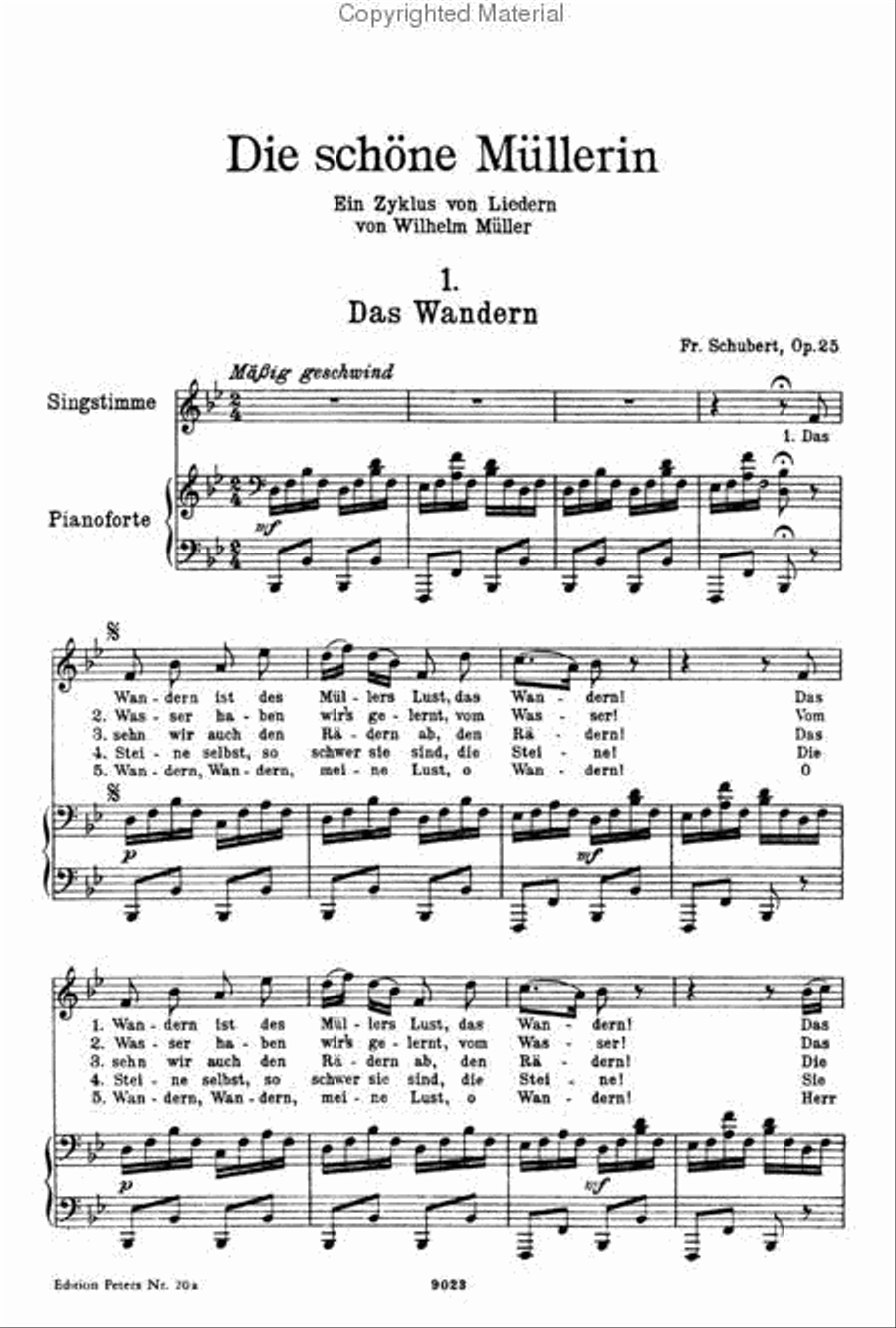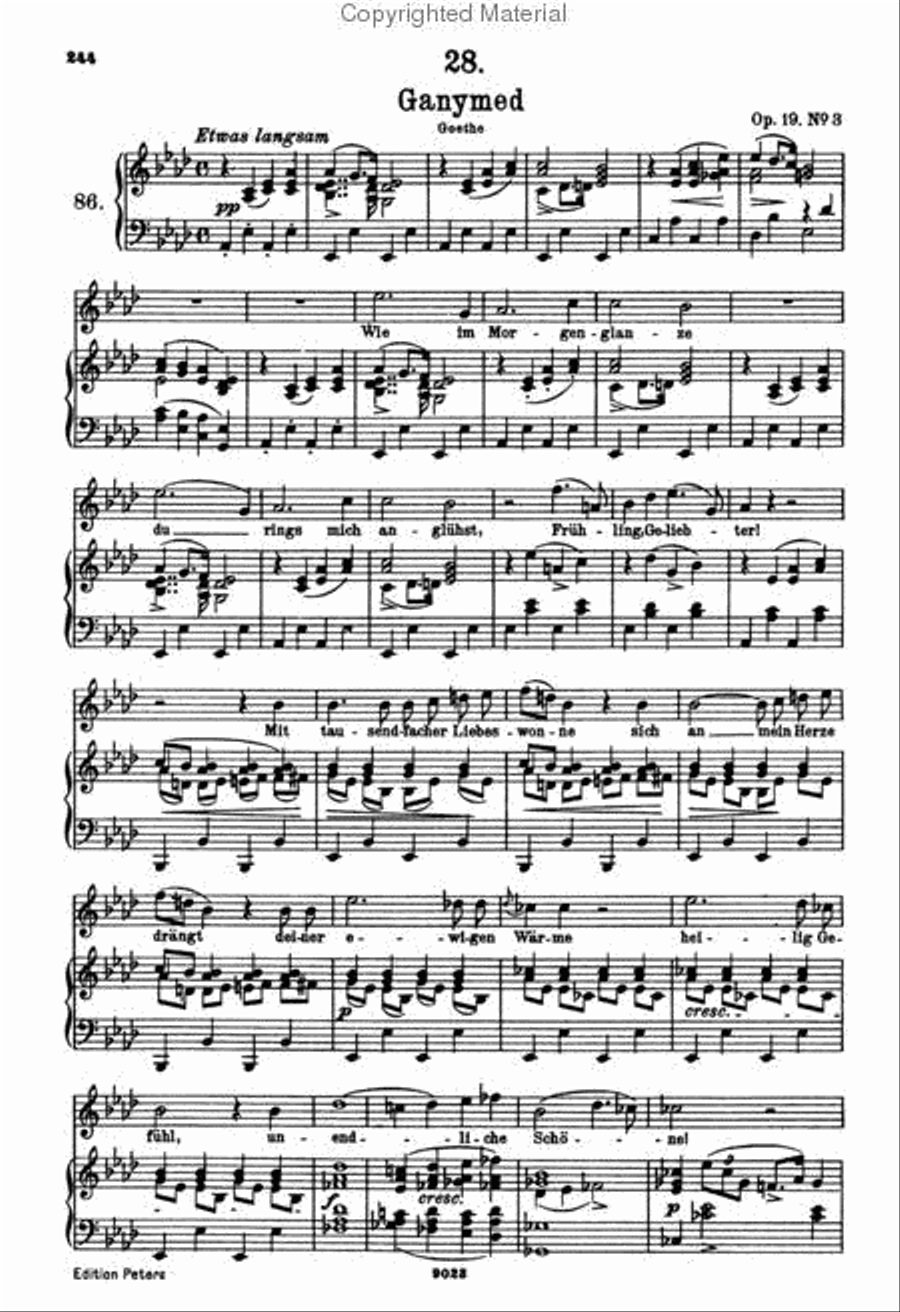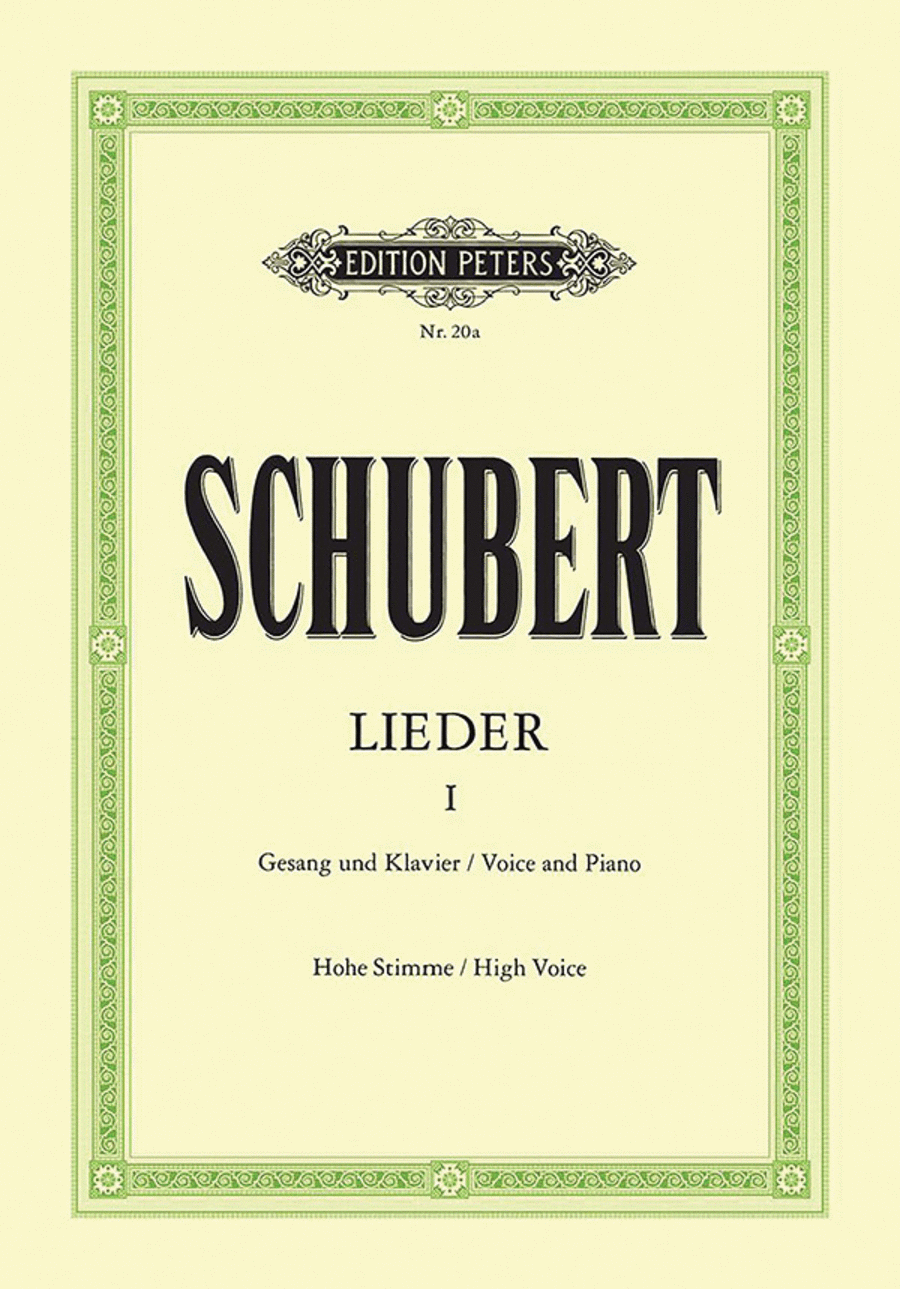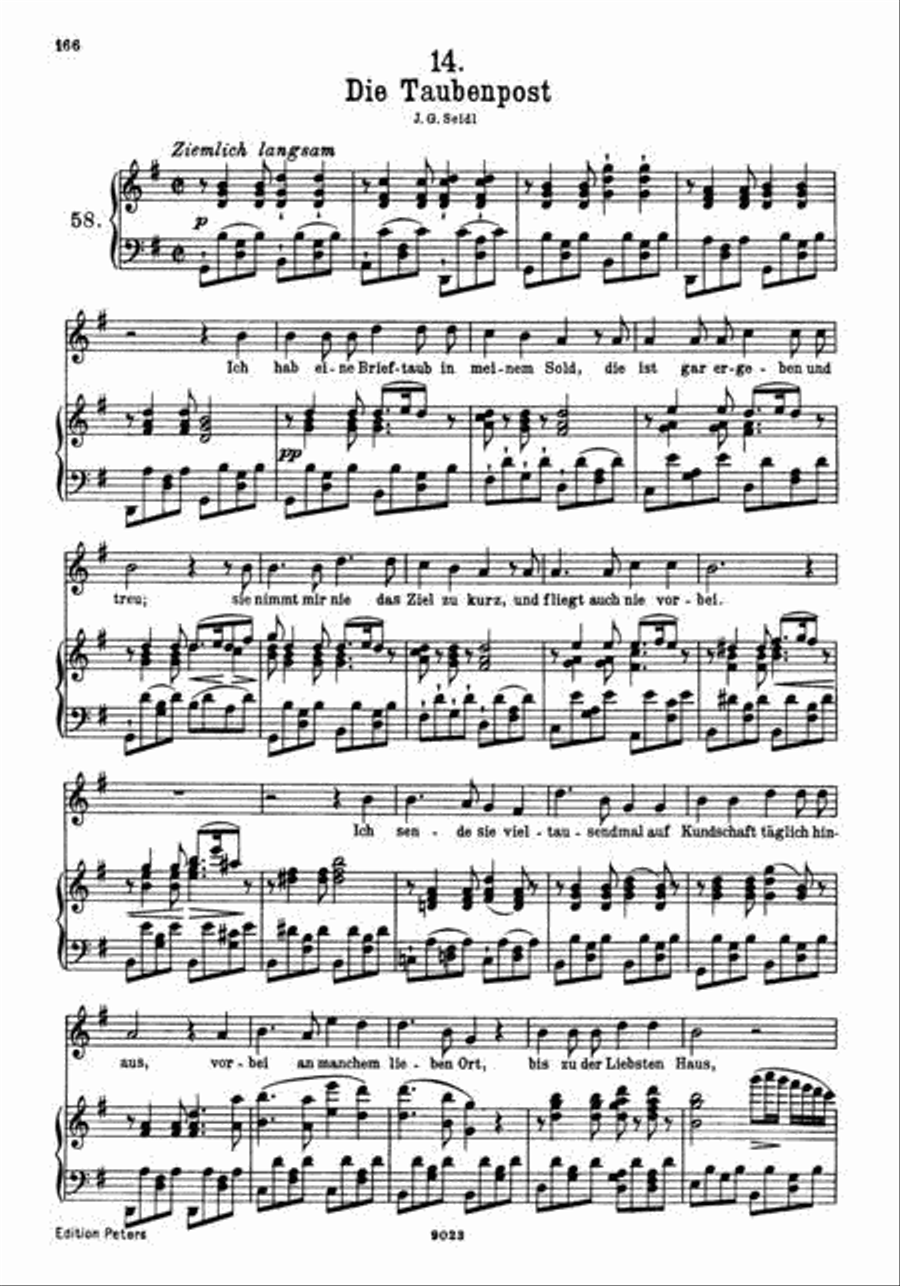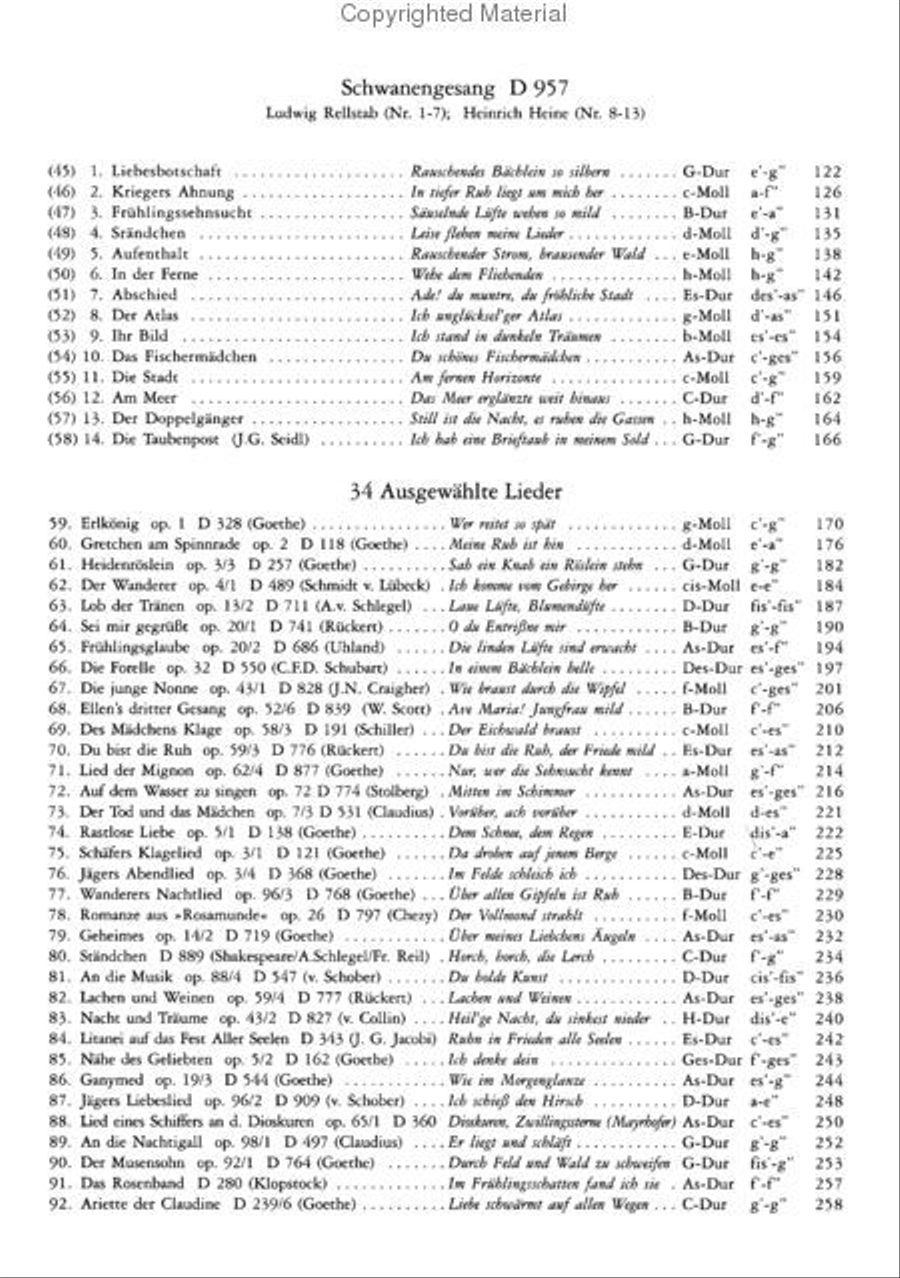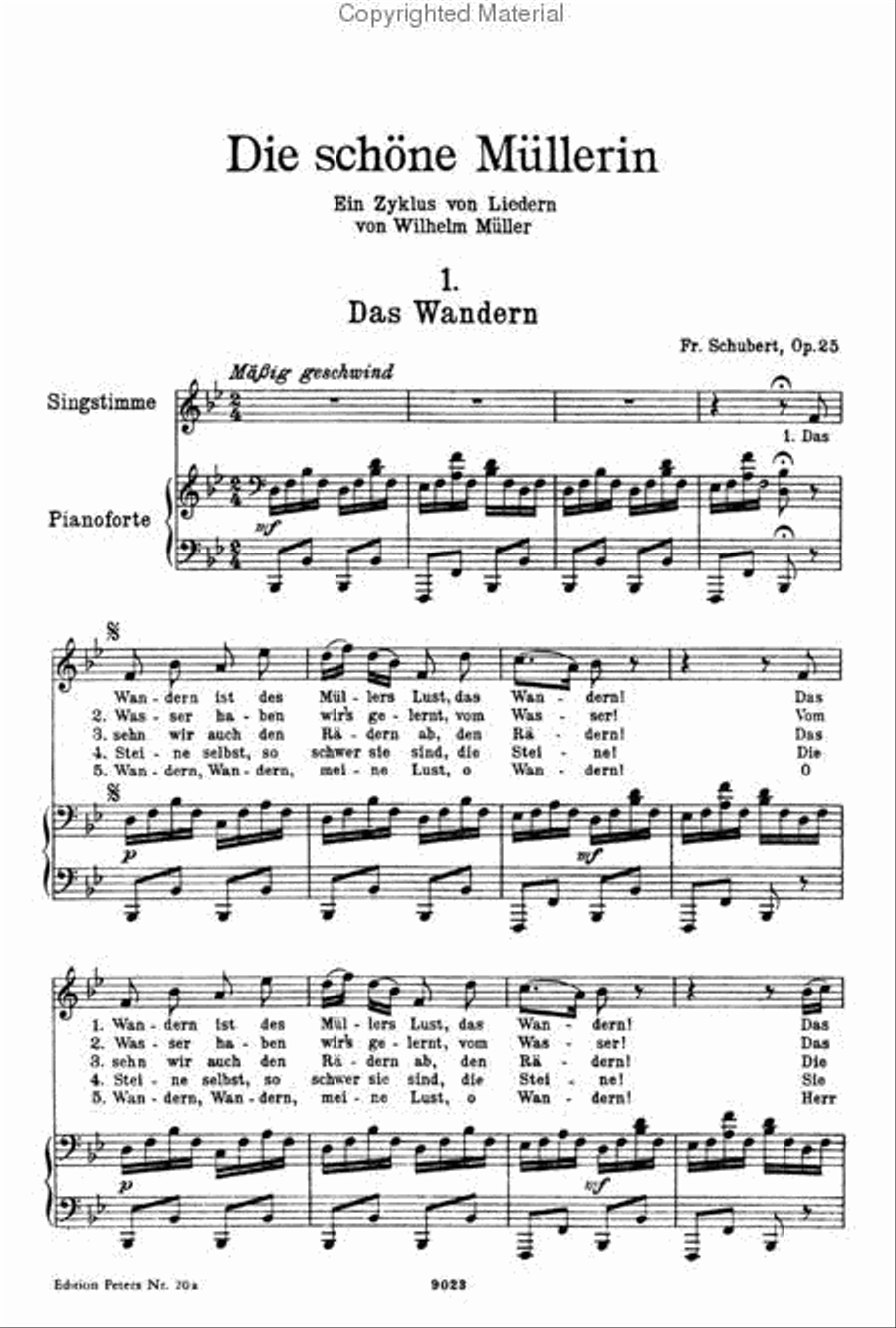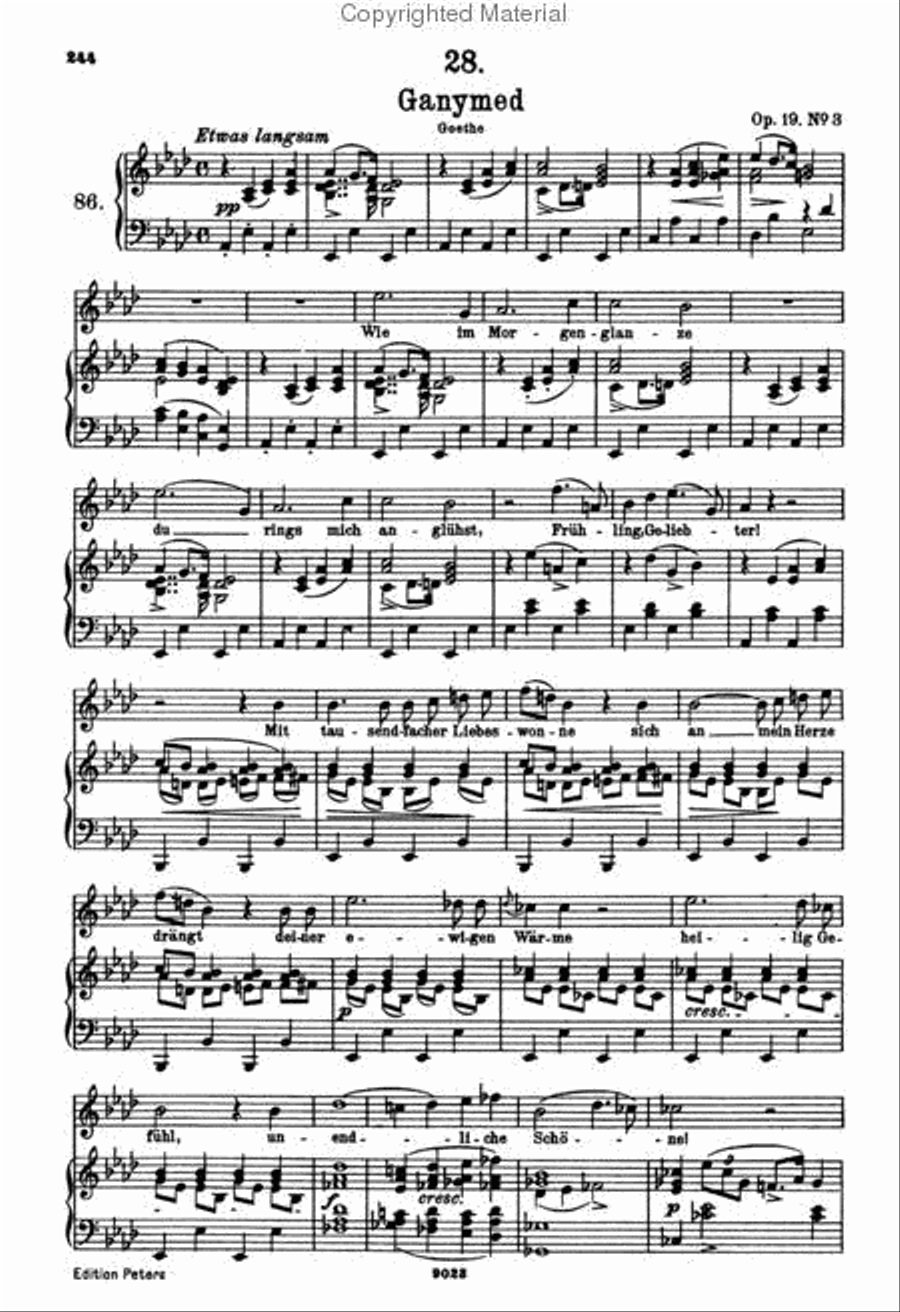 Lieder (Songs), Volume 1 - 92 Songs

92 Songs, incl. Die schone Mullerin, Winterreise, Schwanengesang
Available
Ready to ship in 24 hours
Taxes/VAT calculated at checkout.
Detailed Description
High voice and piano (High/Medium High) - Difficulty: medium to medium-difficult
SKU: PE.EP20A
1
.
92 Songs, incl. Die schone Mullerin, Winterreise, Schwanengesang
. Composed by Franz Schubert. Edited by Max Friedlaender. Voice & Piano. Edition Peters. Schoene Muellerin (20), Winterreise (24), Schwanengesang (14) ,Selected Songs (34) (Text Language: German). Classical Period. Collection. With vocal melody, lyrics, piano accompaniment, index of first lines and introductory text. 275 pages. Edition Peters #98-EP20A. Published by Edition Peters (PE.EP20A).
ISBN 9790014000691. UPC: 9790014000691. 7.5x10.5 inches. English.
This classic Edition Peters collection (for High Voice), an essential publication for any singer of art song, contains the most famous song cycles Die Schöne Müllerin op. 25 D795, Winterreise op. 89 D911 and Schwanengesang D957 as well as 34 other songs.

This famous edition, beloved of singers across the world, was edited by Max Friedlaender, who based it on a thorough examination of the sources both published and manuscript.
Song List (92)
Das Wandern
Wohin?
Halt!
Danksagung An Den Bach
Am Feierabend
Der Neugierige
Ungeduld
Morgengruss
Des Mullers Blumen
Tranenregen
Mein!
Pause
Mit Dem Grunen Lautenbande
Der Jager
Eifersucht Und Stolz
Die liebe Farbe
Die bose Farbe
Trockne Blumen
Der Muller Und Der Bach
Des Baches Wiegenlied
Gute Nacht
Die Wetterfahne
Gefrorne Tranen
Erstarrung
Der Lindenbaum
Wasserflut
Auf Dem Flusse
Ruckblick
Irrlicht
Rast
Fruhlingstraum
Einsamkeit
Die Post
Der Greise Kopf
Die Krahe
Letzte Hoffnung
Im Dorfe
Der Sturmische Morgen
Tauschung
Der Wegweiser
Das Wirtshaus
Mut
Die Nebensonnen
Der Leiermann
Liebesbotschaft
Kriegers Ahnung
Fruhlingssehnsucht
Srandchen
Aufenthalt
In Der Ferne
Abschied
Der Atlas
Ihr Bild
Das Fischermadchen
Die Stadt
Am Meer
Der Doppelganger
Die Taubenpost
Erlkonig
Gretchen am Spinnrade
Heidenroslein
Der Wanderer
Lob der Tranen
Sei Mir Gegrusst
Fruhlingsglaube
Die Forelle
Die junge Nonne
Ave Maria - Ellen Dritter Gesang
Des Madchens Klage
Du bist die Ruh
Lied Der Mignon
Auf dem Wasser zu singen
Der Tod und das Madchen
Rastlose Liebe
Schafers Klagelied
Jagers Abendlied
Wanderers Nachtlied
Romanze Aus - 'Rosamunde'
Geheimes
Standchen
An Die Musik
Lachen und Weinen
Nacht Und Traume
Litanei Auf Das Fest Aller Seelen
Nahe Des Geliebten
Ganymed
Jagers Liebeslied
Lied Eines Schiffers An Die Dioskuren
An Die Nachtigall
Der Musensohn
Das Rosenband
Ariette Der Claudine