Klavierbuechlein fuer Anna Magdalena Bach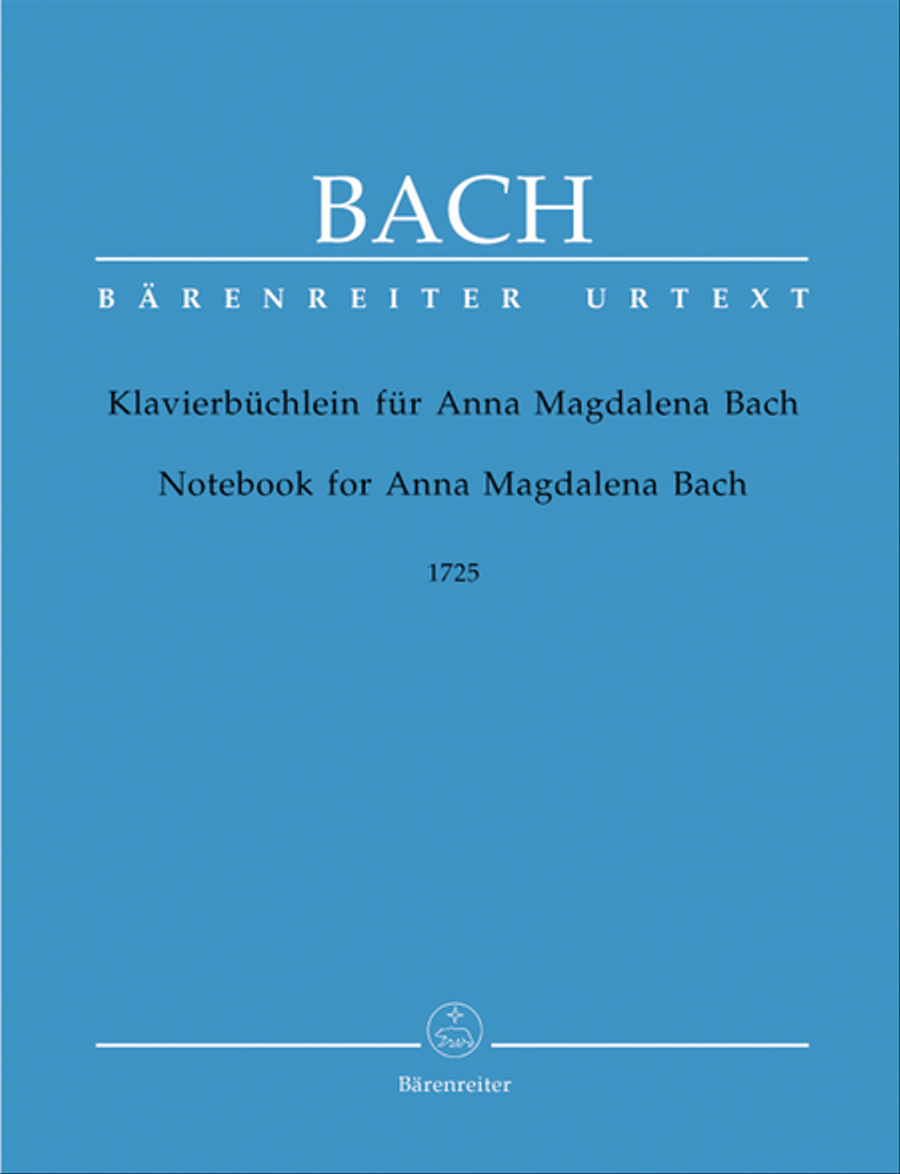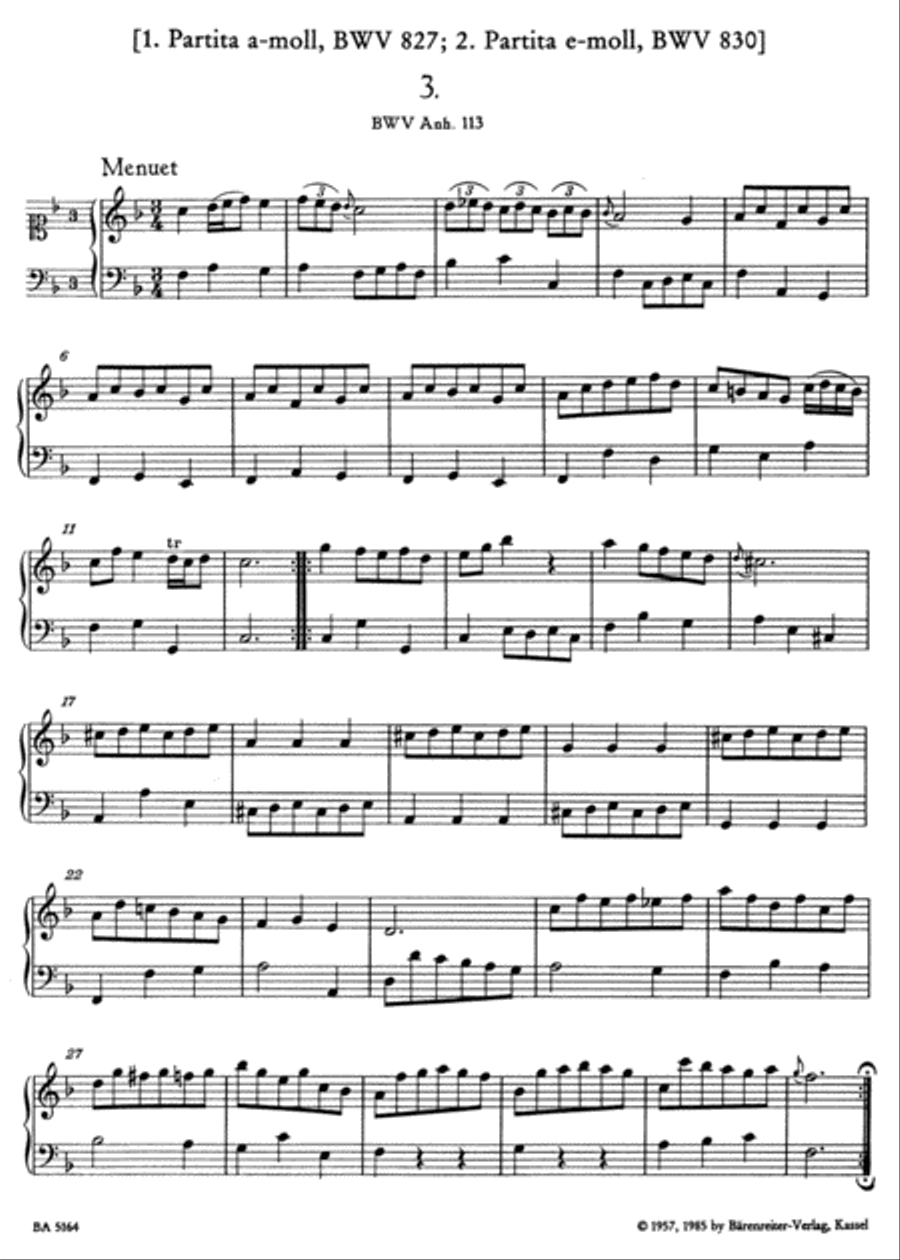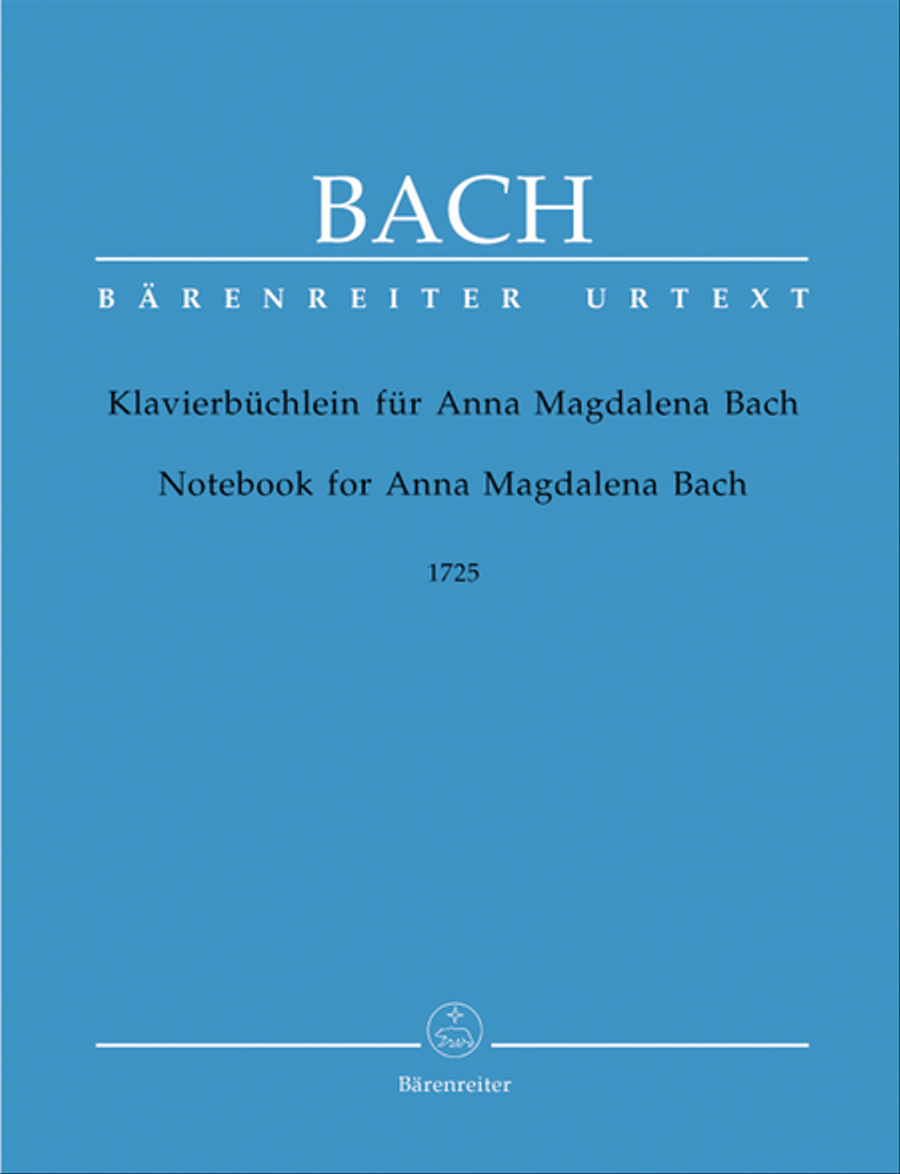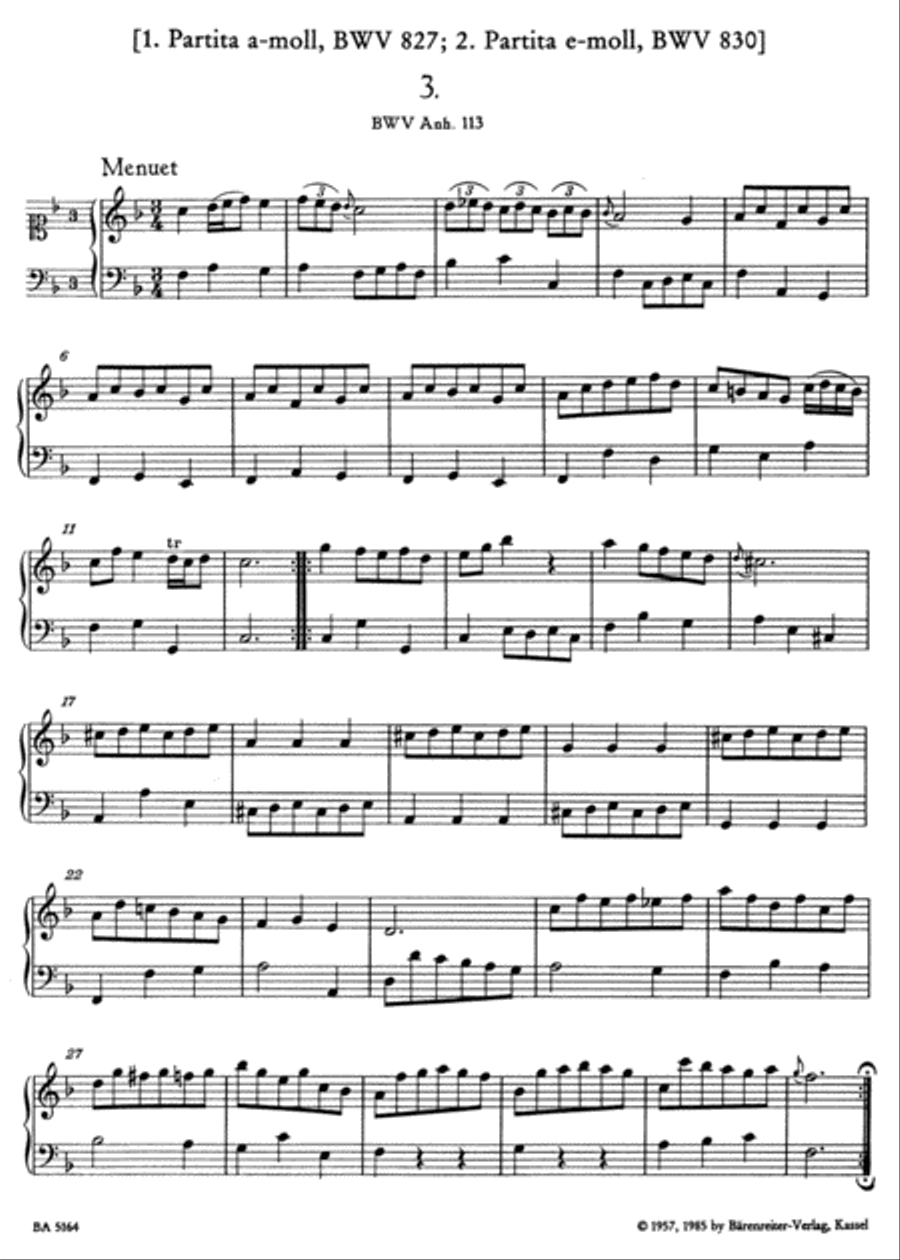 Klavierbuechlein fuer Anna Magdalena Bach


Available
Ready to ship in 24 hours
Taxes/VAT calculated at checkout.
Detailed Description
Solo piano (or harpsichord) - SMP Level 4 (Intermediate)
SKU: BA.BA05164
Composed by Johann Sebastian Bach. Edited by Georg Von Dadelsen. This edition: urtext edition. Stapled. Barenreiter Urtext. Baroque. Collection. With introductory text (does not include words to the songs). Composed 1725. 47 pages. Baerenreiter Verlag #BA05164_00. Published by Baerenreiter Verlag (BA.BA05164).
ISBN 9790006498178. 9x12 inches.
Does not include BWV 812, 813, 827, 830.

This title has selections that range in difficulty from SMP Level 3-4.
About Barenreiter Urtext
What can I expect from a Barenreiter Urtext edition?
MUSICOLOGICALLY SOUND
- A reliable musical text based on all available sources
- A description of the sources
- Information on the genesis and history of the work
- Valuable notes on performance practice
- Includes an introduction with critical commentary explaining source discrepancies and editorial decisions

... AND PRACTICAL
- Page-turns, fold-out pages, and cues where you need them
- A well-presented layout and a user-friendly format
- Excellent print quality
- Superior paper and binding

About SMP Level 4 (Intermediate)
Introduction of 4-note chords and sixteenth notes. Hand movement covering 2 to 3 octaves.
Song List (43)
Menuet In G Major, BWV Anhang 114
Menuet In G Minor, BWV Anhang 115
Menuet In G Major, BWV Anhang 116
Menuet In Bb Major, BWV Anhang 118
Rondo Bb Major, BWV Anhang 183
Polonaise In F Major, BWV Anhang 117a, 117b
Menuet In F Major, BWV Anhang 113
Polonaise In G Minor, BWV Anhang 119
Chorale - Wer Nur Den Lieben Gott Lasst Walten, BWV 691
Untitled Movement In F Major, BWV 510
Chorale - Gib Dich Zufrieden Und Sei Stille, BWV 511 & 512
Minuet In A Minor, BWV Anhang 120
Minuet In C Minor, BWV Anhang 121
March In D Major, BWV Anhang 122
Polonaise In G Major, BWV Anhang 123
March In G Major, BWV Anhang 124
Polonaise In G Minor, BWV Anhang 125
Aria - So Oft Ich Meine Tobackspfeife, BWV 515, 515a
Menuet Fait Par Mons. Bohm
Musette In D Major, BWV Anhang 126
March In Eb Major, BWV Anhang 127
Polonaise In D Minor, BWV Anhang 128
Aria - Bist Du Bei Mir, BWV 508
Aria Fur Klavier, BWV 988,1
Solo Per Il Cembalo In Eb Major, BWV Anhang 129
Polonaise In G Major, BWV Anhang 130
Prelude In C Major, BWV 846,1
Untitled Movement In F Major, BWV Anhang 131
Aria - Warum Betrubst Du Dich, BWV 516
Recitativo - Ich Habe Genug, BWV 82
Aria - Schlummert Ein, Ihr Matten Augen, BWV 82
Chorale - Schaffs Mit Mirr, Gott, BWV 514
Menuet In D Minor, BWV Anhang 132
Aria Di Giovanni - Willst Du Dein Herz Mir Schenken, BWV 518
Chorale - Dir, Dir, Jehova, Will Ich Singen, BWV 299 (solo and 4-voice versions)
Chorale - Wie Wohl Ist Mir, O Freund Der Seelen, BWV 517
Aria - Gedenke Doch, Mein Geist, Zurucke, BWV 509
Chorale - O Ewigkeit, Du Donnerwort, BWV 513
Facsimile - Handwriting Of Anna Magdalena Bach
Rules For Figured Bass I
Rules For Figured Bass II
Sonata In G Major (For No. 19)
Sonata In Eb Major (For No. 27)