Jumbo Songbook

E-Z Play Today #199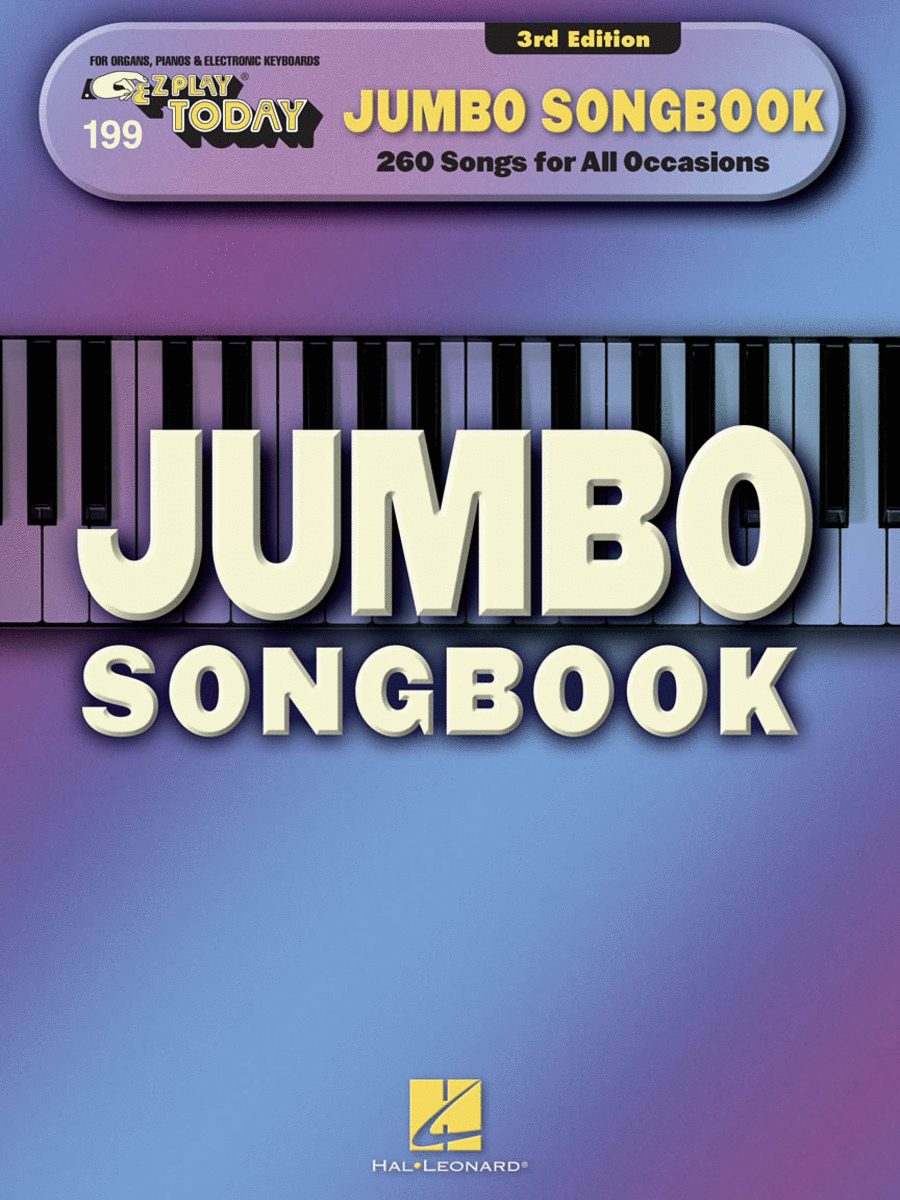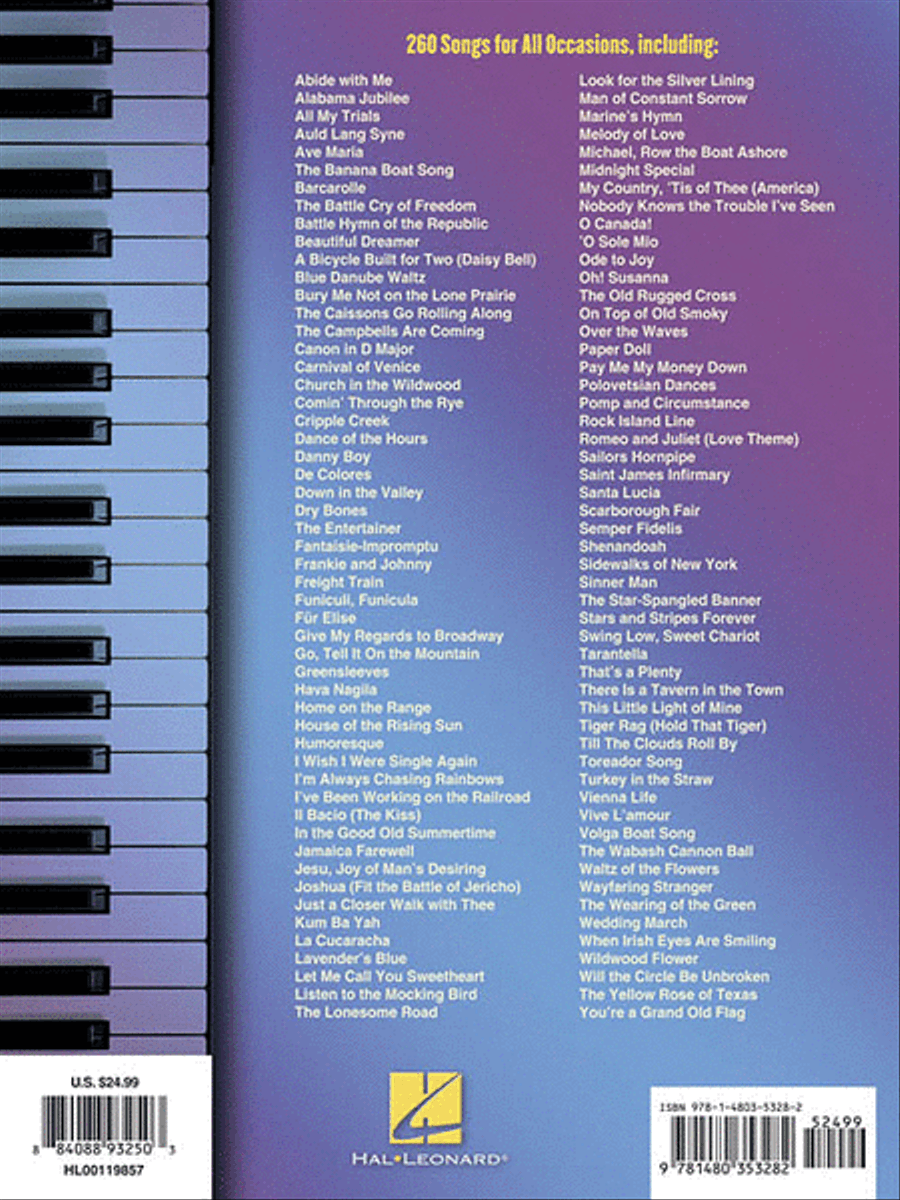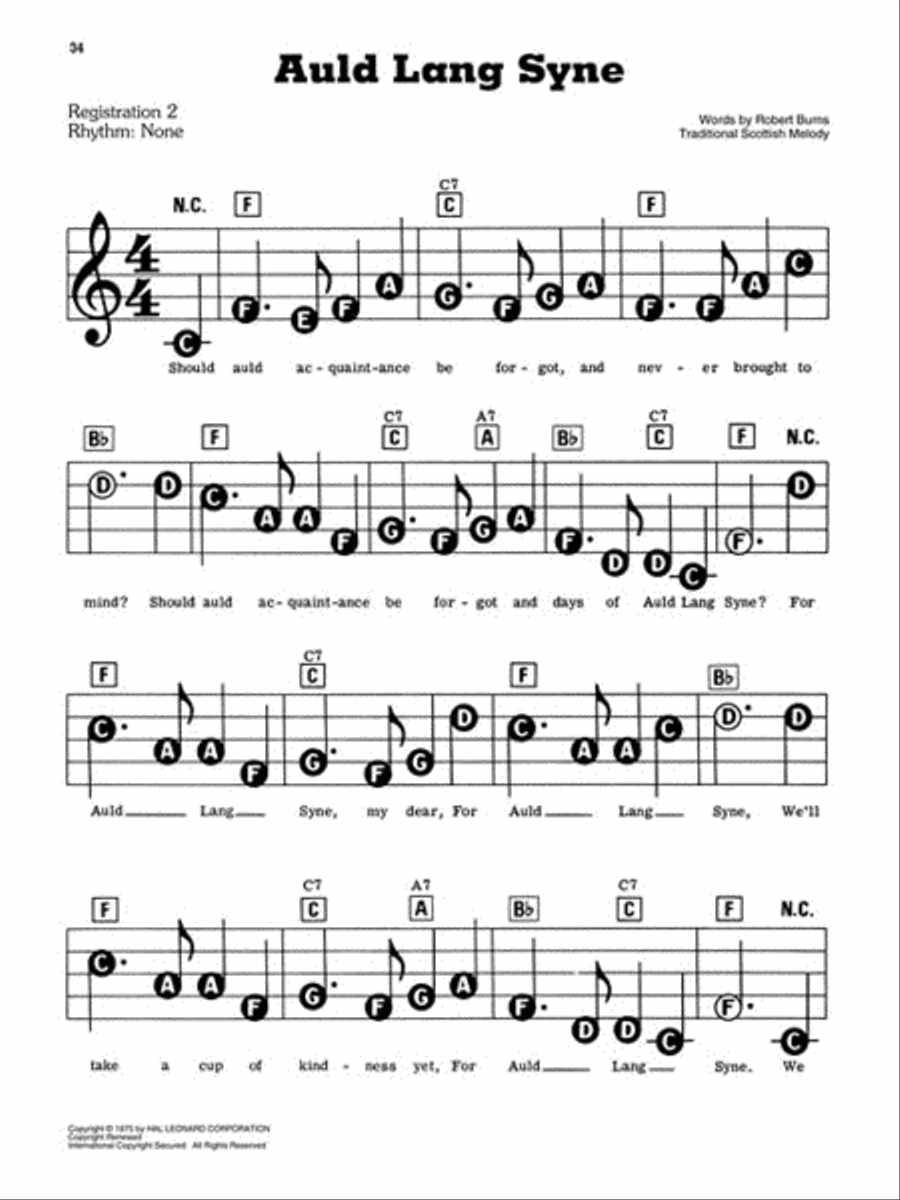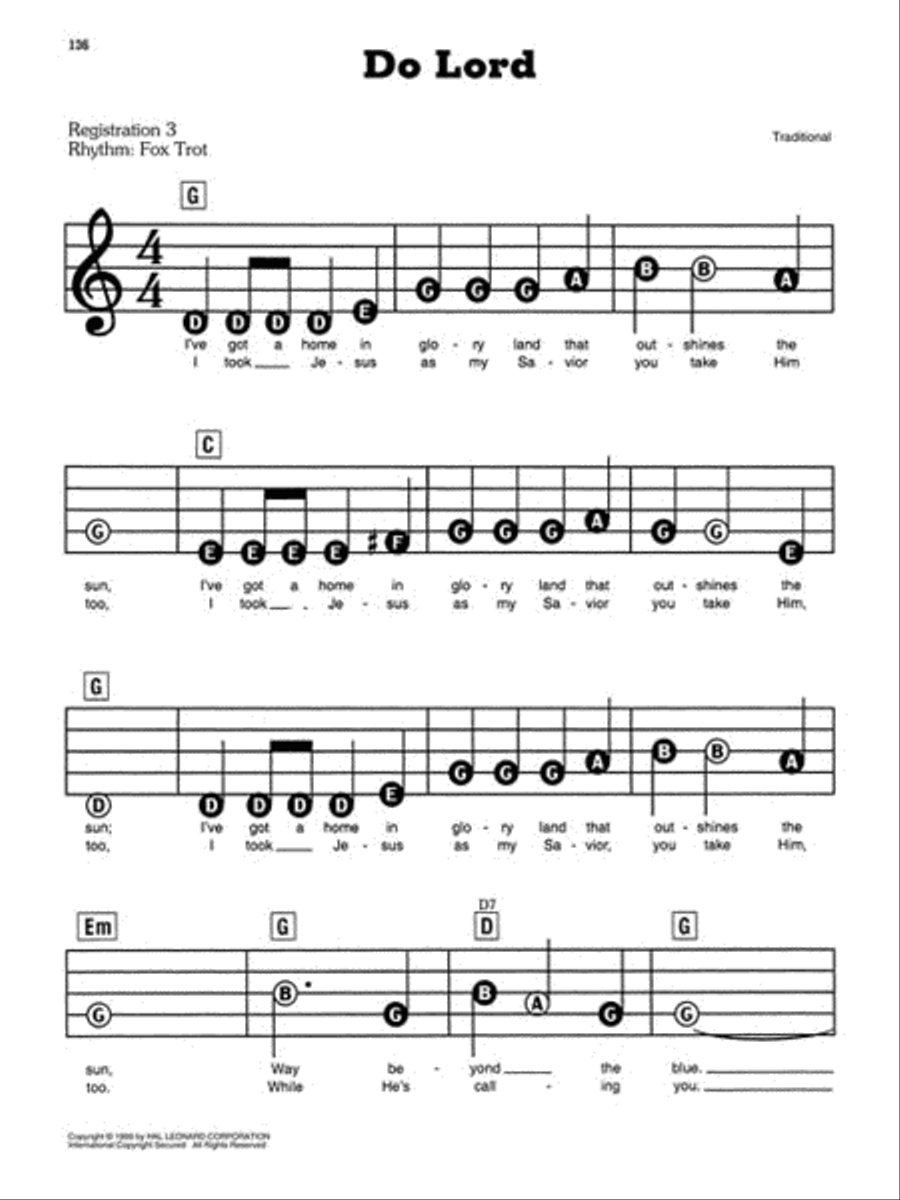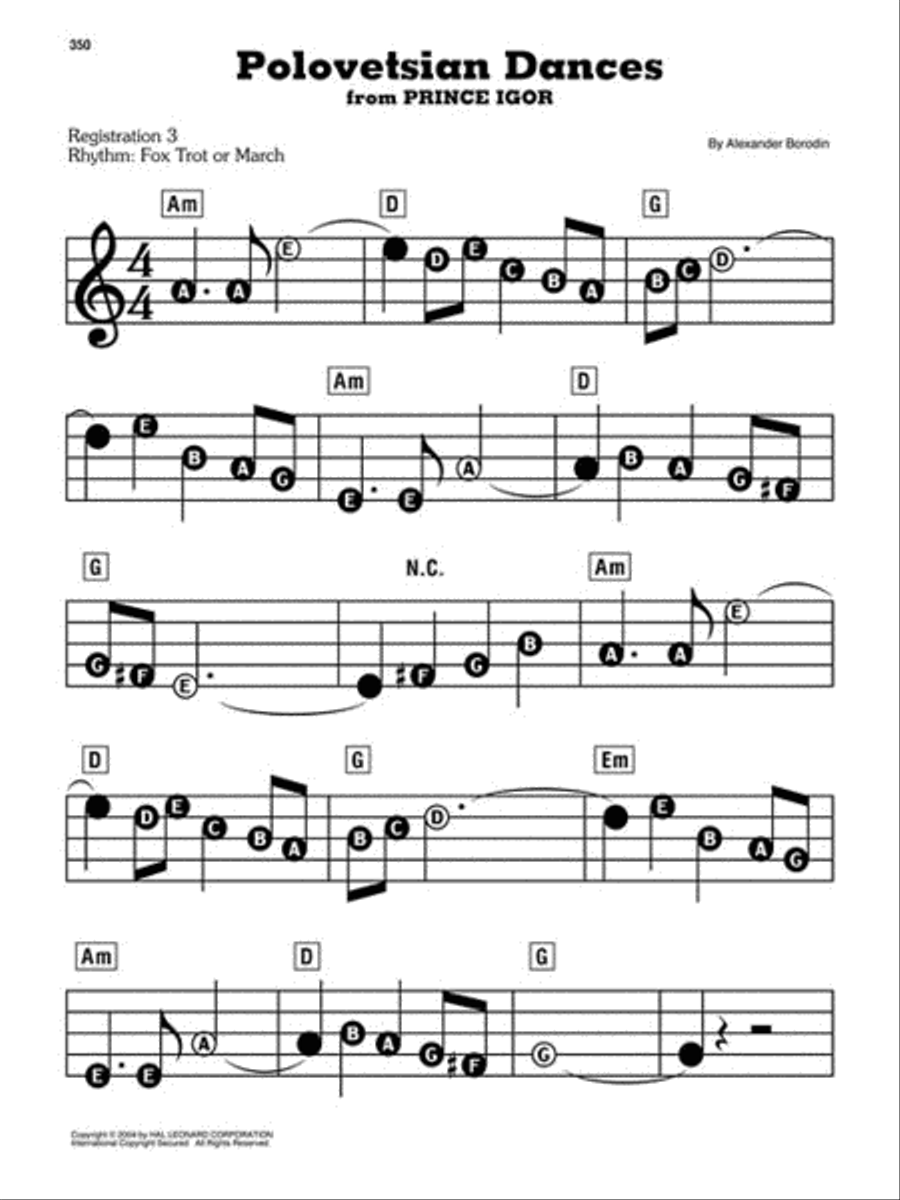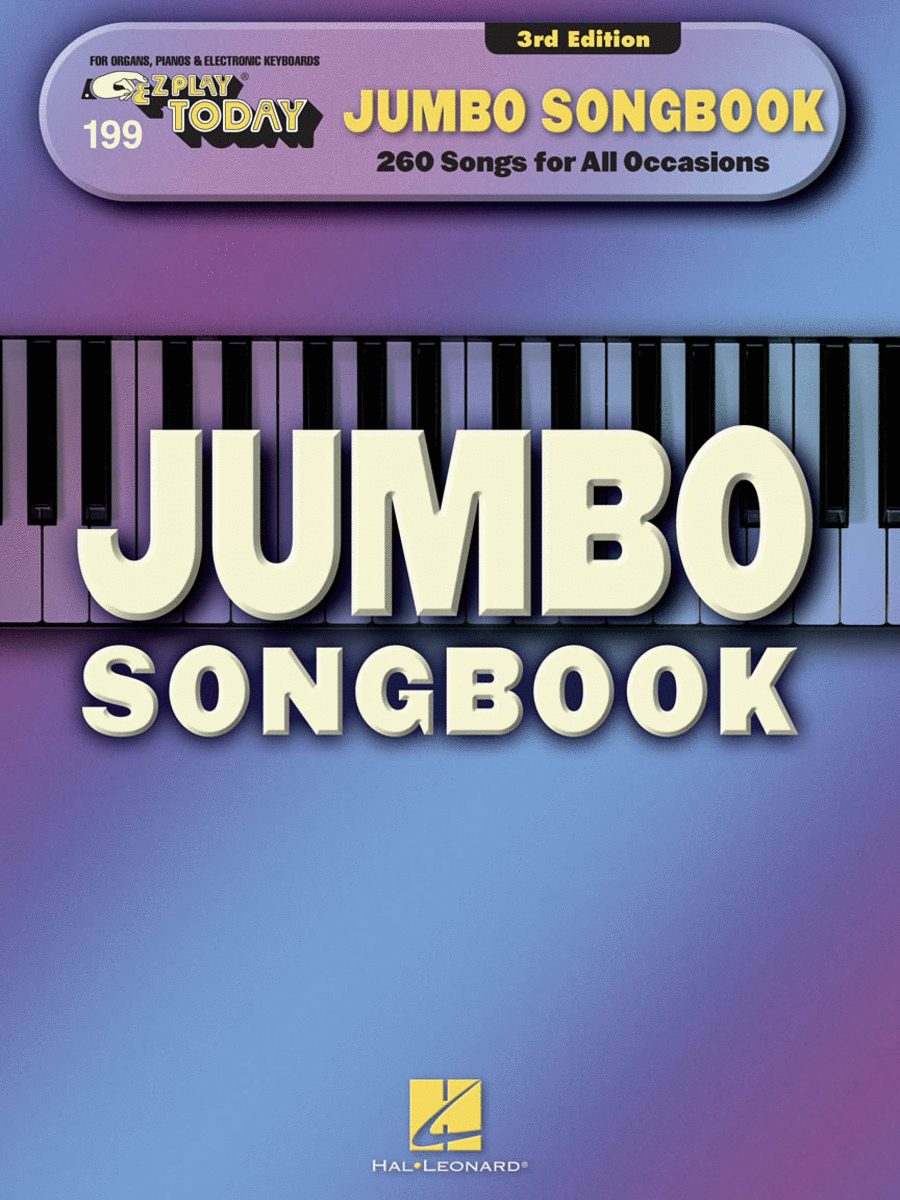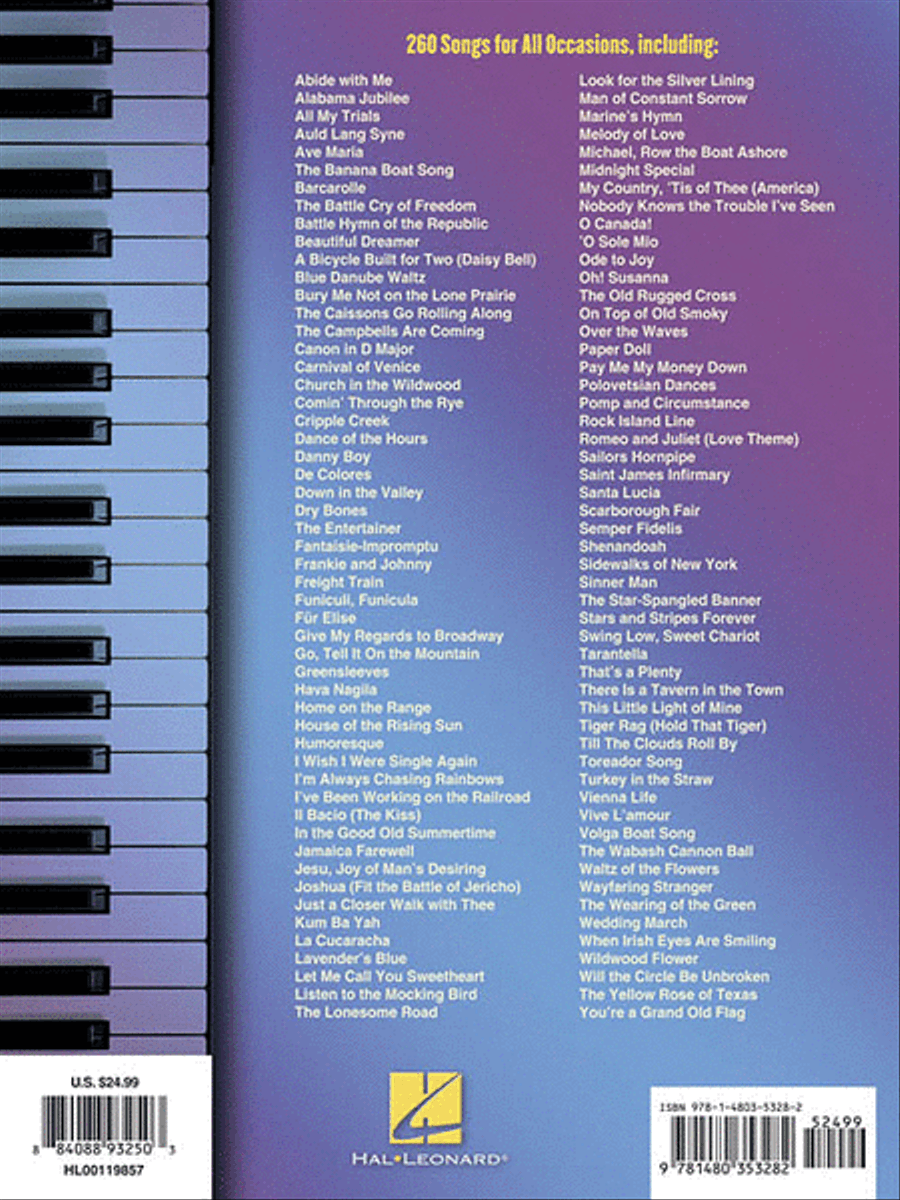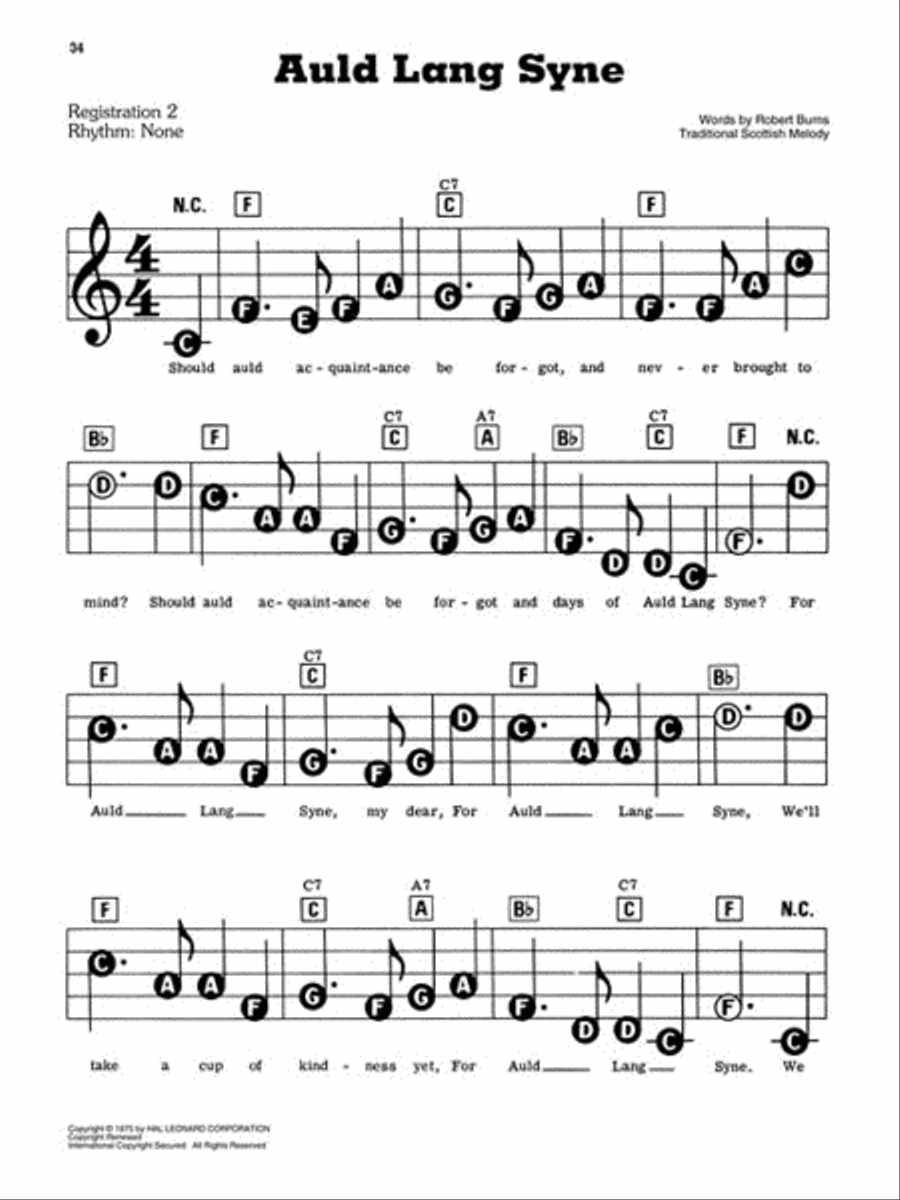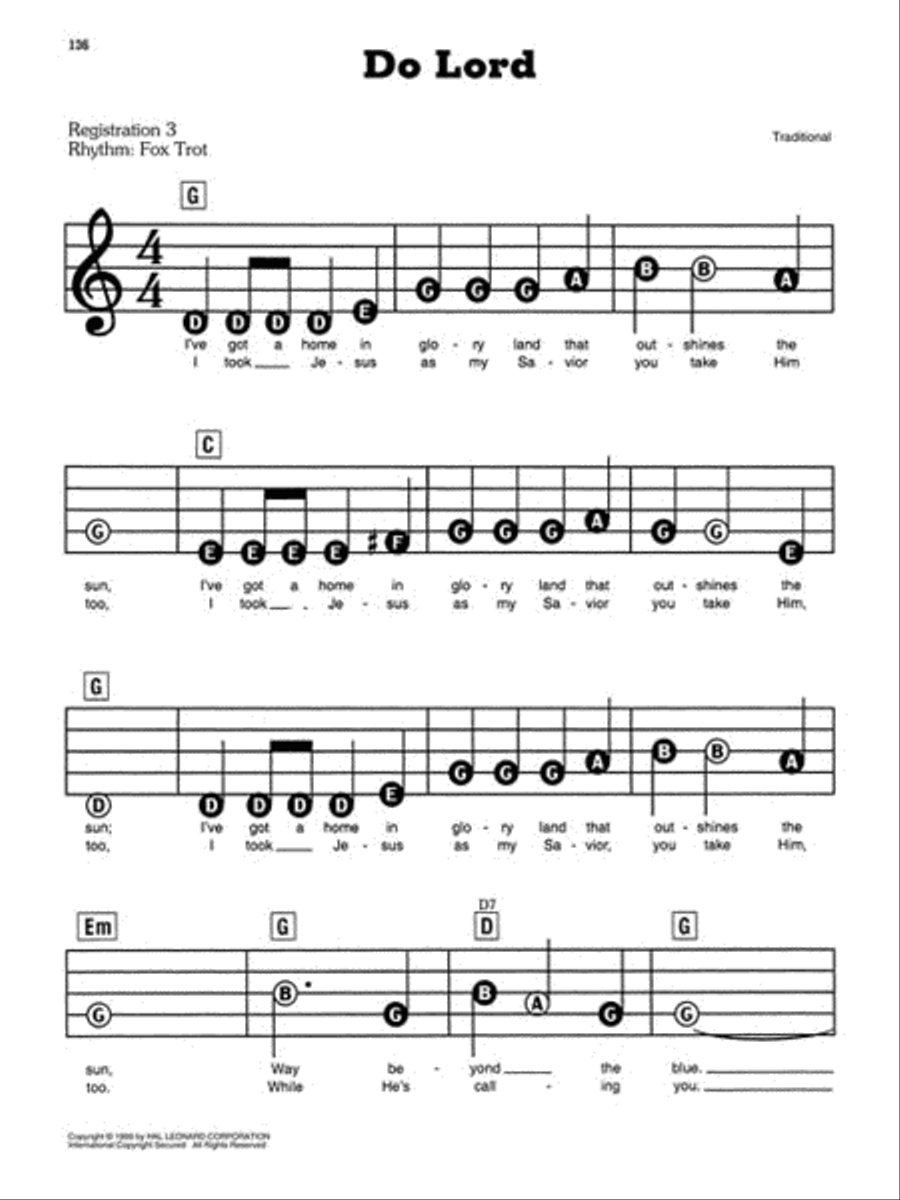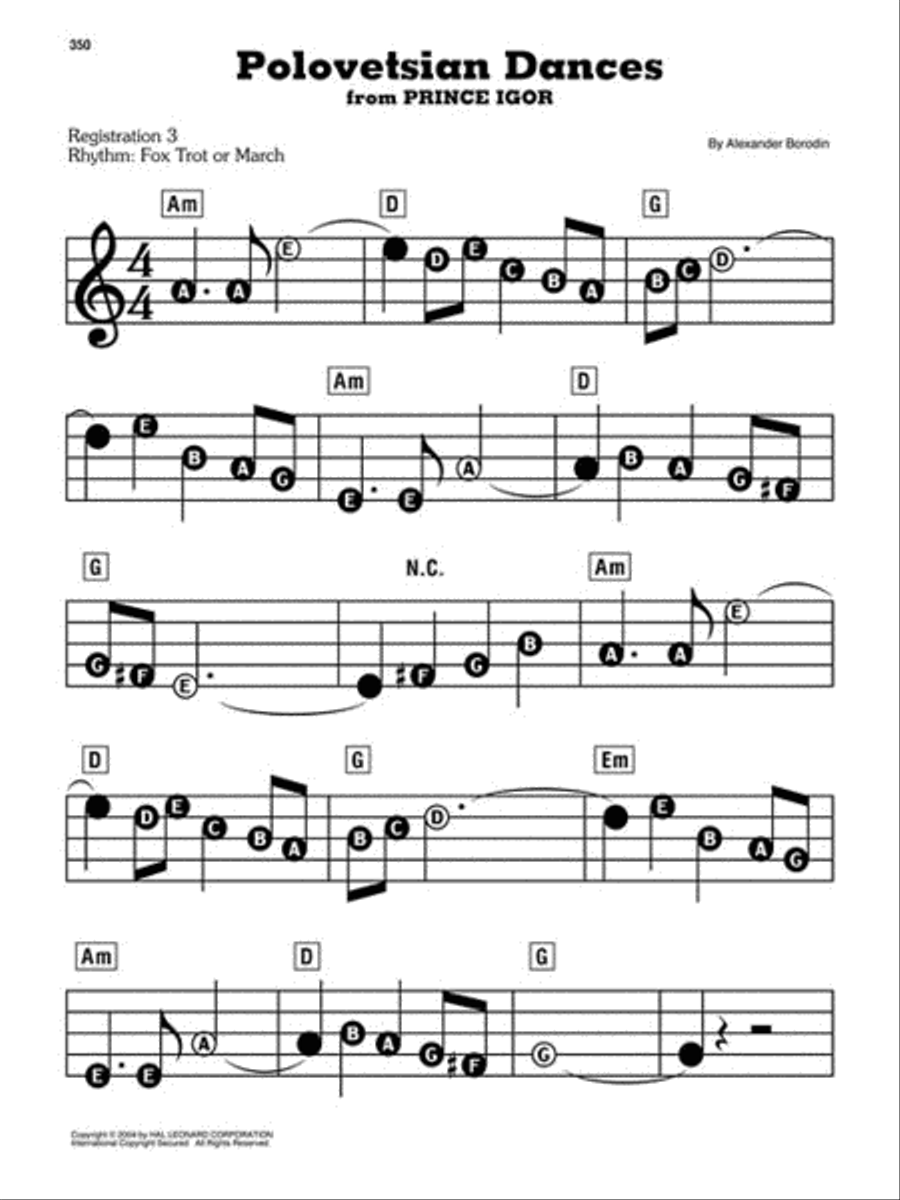 Jumbo Songbook

E-Z Play Today #199
Available
Ready to ship in 24 hours
Taxes/VAT calculated at checkout.
Detailed Description
Electronic Keyboard; Organ; Piano/Keyboard
SKU: HL.119857
E-Z Play Today #199
. Composed by Various. E-Z Play Today. Country, Pop, Standards. Softcover. 528 pages. Published by Hal Leonard (HL.119857).
ISBN 9781480353282. UPC: 884088932503. 9.0x12.0x1.231 inches.
Better reinforce that music stand! This book has 260 must-know old-time favorites in our famous E-Z Play Today notation with the note names printed on each note. This amazing collection includes: Ain't We Got Fun? * All Through the Night * Alouette * Amazing Grace * America, the Beautiful * Arkansas Traveler * Auld Lang Syne * Aura Lee * Ave Maria * Battle Hymn of the Republic * A Bicycle Built for Two (Daisy Bell) * Bill Bailey, Won't You Please Come Home * Blue Danube Waltz * Buffalo Gals (Won't You Come Out Tonight?) * Bury Me Not on the Lone Prairie * Canon in D * C.C. Rider * Church in the Wildwood * (Oh, My Darling) Clementine * Cockles and Mussels (Molly Malone) * Cripple Creek * Danny Boy * (I Wish I Was In) Dixie * The Entertainer * For He's a Jolly Good Fellow * Fur Elise * Give My Regards to Broadway * Good Night Ladies * Greensleeves * Hail, Hail, the Gang's All Here * Hava Nagila (Let's Be Happy) * Home on the Range * Indiana (Back Home Again in Indiana) * Kum Ba Yah * Let Me Call You Sweetheart * Meet Me in St. Louis, Louis * My Country, 'Tis of Thee (America) * Ode to Joy * Oh! Susanna * The Star Spangled Banner * Take Me Out to the Ball Game * Tarantella * Wayfaring Stranger * Yankee Doodle * and more!
About Hal Leonard E-Z Play Today
For organs, pianos, and electronic keyboards. E-Z Play Today is the shortest distance between beginning music and playing fun. Now there are more than 300 reasons why you should play E-Z Play Today. * World's largest series of music folios * Full-size books - large 9" x 12" format features easy-to-read, easy-to-play music * Accurate arrangements... simple enough for the beginner, but accurate chords and melody lines are maintained * Eye-catching, full-color covers * Lyrics... most arrangements include words and music * Most up-to-date registrations - books in the series contain a general registration guide, as well as individual song rhythm suggestions * Guitar Chord Chart - all songs in the series can also be played on guitar.
Song List (261)
Hindustan
Kum Ba Yah
I'm Always Chasing Rainbows
After You've Gone
Dry Bones
Ain't We Got Fun?
Aunt Hagar's Blues
Wayfaring Stranger
Alabama Jubilee
Wildwood Flower
Goober Peas
De Colores
All My Trials
All Through The Night
C.C. Rider
Avalon
O Canada!
When The Saints Go Marching In
Arkansas Traveler
Baby, Won't You Please Come Home
Yankee Doodle
Tarantella
Cripple Creek
Man Of Constant Sorrow
Beale Street Blues
Rockin' Robin
Rock Island Line
This Train
Rock Of Ages
The Old Rugged Cross
Do Lord
Buffalo Gals (Won't You Come Out Tonight?)
Joshua (Fit The Battle Of Jericho)
Saint James Infirmary
The Campbells Are Coming
Canon In D
Chinatown, My Chinatown
Down Yonder
Poor Butterfly
For Me And My Gal
Hey, Ho! Nobody Home
I Ain't Got Nobody (And Nobody Cares For Me)
Il Bacio (The Kiss)
Indiana (Back Home Again In Indiana)
Jamaica Farewell
Limehouse Blues
The Love Nest
My Buddy
Paper Doll
Pay Me My Money Down
Peg O' My Heart
Rock-A-Bye Your Baby With A Dixie Melody
Rose Room
Sailors Hornpipe
Sinner Man
Somebody Stole My Gal
Song Of The Islands
Sweet Betsy From Pike
Tain't Nobody's Biz-ness If I Do
Tiger Rag (Hold That Tiger)
Till The Clouds Roll By
Twelfth Street Rag
Volga Boat Song
The World Is Waiting For The Sunrise
By The Waters Of Babylon
Wedding March (Bridal Chorus)
Jesu, Joy Of Man's Desiring
In The Shade Of The Old Apple Tree
(There'll Be) A Hot Time In The Old Town Tonight
On The Banks Of The Wabash, Far Away
Adios Muchachos
Ciribiribin
Swing Low, Sweet Chariot
Lavender's Blue
Greensleeves
I'll Be With You In Apple Blossom Time
The Wabash Cannon Ball
The Banana Boat Song
The Lonesome Road
Whispering Hope
Hava Nagila (Let's Be Happy)
Danny Boy
That's A Plenty
Alouette
Amazing Grace
Careless Love
Oh Marie
My Country, 'Tis Of Thee (America)
The American Patrol
Freight Train
The Star Spangled Banner
Take Me Out To The Ball Game
Turkey In The Straw
Nobody Knows The Trouble I've Seen
Mattinata
Barcarolle
I've Been Working On The Railroad
Yankee Doodle Boy
Down By The Riverside
Aura Lee
Smiles
The Entertainer
Come Back To Sorrento
Humoresque
I Love You Truly
Stars And Stripes Forever
Wedding March
Pretty Baby
Battle Hymn Of The Republic
You're A Grand Old Flag
The Band Played On
The Red River Valley
Sidewalks Of New York
Barbara Polka
Michael Row The Boat Ashore
Girl I Left Behind Me
Beautiful Brown Eyes
Beautiful Dreamer
Beautiful Isle Of Somewhere
Just A Closer Walk With Thee
When You Were Sweet Sixteen
Believe Me, If All Those Endearing Young Charms
Sweet By And By
Bill Bailey, Won't You Please Come Home
Blue Danube Waltz
The Blue Tail Fly (Jimmy Crack Corn)
Scarborough Fair
Little Brown Jug
Vienna Life
Boola! Boola!
The Bowery
The Crawdad Song
(I Wish I Was In) Dixie
Give Me That Old Time Religion
House Of The Rising Sun
The Man On The Flying Trapeze
Oh, Them Golden Slippers
When Johnny Comes Marching Home
Marianne
Loch Lomond
When Irish Eyes Are Smiling
The Irish Washerwoman
Toyland
By The Beautiful Sea
Midnight Special
Shenandoah
The Caissons Go Rolling Along
Memories
Can Can Polka
Carolina In The Morning
Carry Me Back To Old Virginny
Whispering
She'll Be Comin' 'Round The Mountain
Chiapanecas
Dark Eyes
Good Night Ladies
Church In The Wildwood
Cielito Lindo (My Pretty Darling)
Jeanie With The Light Brown Hair
He's Got The Whole World In His Hands
(Oh, My Darling) Clementine
Cockles And Mussels (Molly Malone)
Columbia, The Gem Of The Ocean (The Red, White And Blue)
Comin' Through The Rye
La Cucaracha
Funiculi, Funicula
Du, Du Liegst Mir Im Herzen (You, You Weigh On My Heart)
Marine's Hymn
I Gave My Love A Cherry (The Riddle Song)
Will The Circle Be Unbroken
Go Tell Aunt Rhody
Fascination (Valse Tzigane)
Hail, Hail, The Gang's All Here
Hello! Ma Baby
I Wish I Were Single Again
I Wonder Who's Kissing Her Now
I'll Take You Home Again, Kathleen
In My Merry Oldsmobile
Let Me Call You Sweetheart
Listen To The Mocking Bird
Mary's A Grand Old Name
Moonlight Bay
My Melancholy Baby
My Wild Irish Rose
On A Sunday Afternoon
Put Your Arms Around Me, Honey
Shine On, Harvest Moon
Sweet Rosie O'Grady
Ta-Ra-Ra-Boom-Der-E
Too-Ra-Loo-Ra-Loo-Ral (That's An Irish Lullaby)
Wait 'Til The Sun Shines, Nellie
The Wearing Of The Green
Far Above Cayugas Waters
In The Evening By The Moonlight
Julida Polka
La Golondrina
La Paloma Blanca (The White Dove)
Liebestraum (Dream Of Love)
Maori Farewell Song
'O Sole Mio
Bury Me Not On The Lone Prairie
Oh! Susanna
Oh, You Beautiful Doll
Over The Waves
Polovetsian Dances
A Pretty Girl Is Like A Melody
Santa Lucia
Semper Fidelis
She Wore A Yellow Ribbon
Silver Threads Among The Gold
The Skaters (Waltz)
Sweet Adeline (You're The Flower Of My Heart, Sweet Adeline)
Toreador Song
Valse Bleue
Washington Post March
When You And I Were Young, Maggie
While Strolling Through The Park One Day
Abide With Me
Pomp And Circumstance
Ode To Joy
Sometimes I Feel Like A Motherless Child
Melody Of Love
Romeo And Juliet (Love Theme)
Time Is On My Side
Down By The Old Mill Stream
After The Ball
This Little Light Of Mine
Carnival Of Venice
Auld Lang Syne
Frankie And Johnny
America, The Beautiful
Down In The Valley
Andante Cantabile
Dance Of The Hours
Go, Tell It On The Mountain
Home On The Range
Tales From The Vienna Woods
Vive L'amour
Home Sweet Home
For He's A Jolly Good Fellow
The Battle Cry Of Freedom
You Tell Me Your Dream
A Bicycle Built For Two (Daisy Bell)
Look For The Silver Lining
In The Good Old Summertime
The Yellow Rose Of Texas
By The Light Of The Silvery Moon
On Top Of Old Smoky
Give My Regards To Broadway
I Want A Girl (Just Like The Girl That Married Dear Old Dad)
Ida, Sweet As Apple Cider
Meet Me In St. Louis, Louis
Meet Me Tonight In Dreamland
School Days (When We Were A Couple Of Kids)
There Is A Tavern In The Town
Three O'Clock In The Morning
Fantaisie-Impromptu, Op. 66 (Posthumous)
Fur Elise, WoO 59
Waltz Of The Flowers, Op. 71a
Ave Maria, Op. 52, No. 6
The Star-Spangled Banner