E-Z Play Today #316: White Pages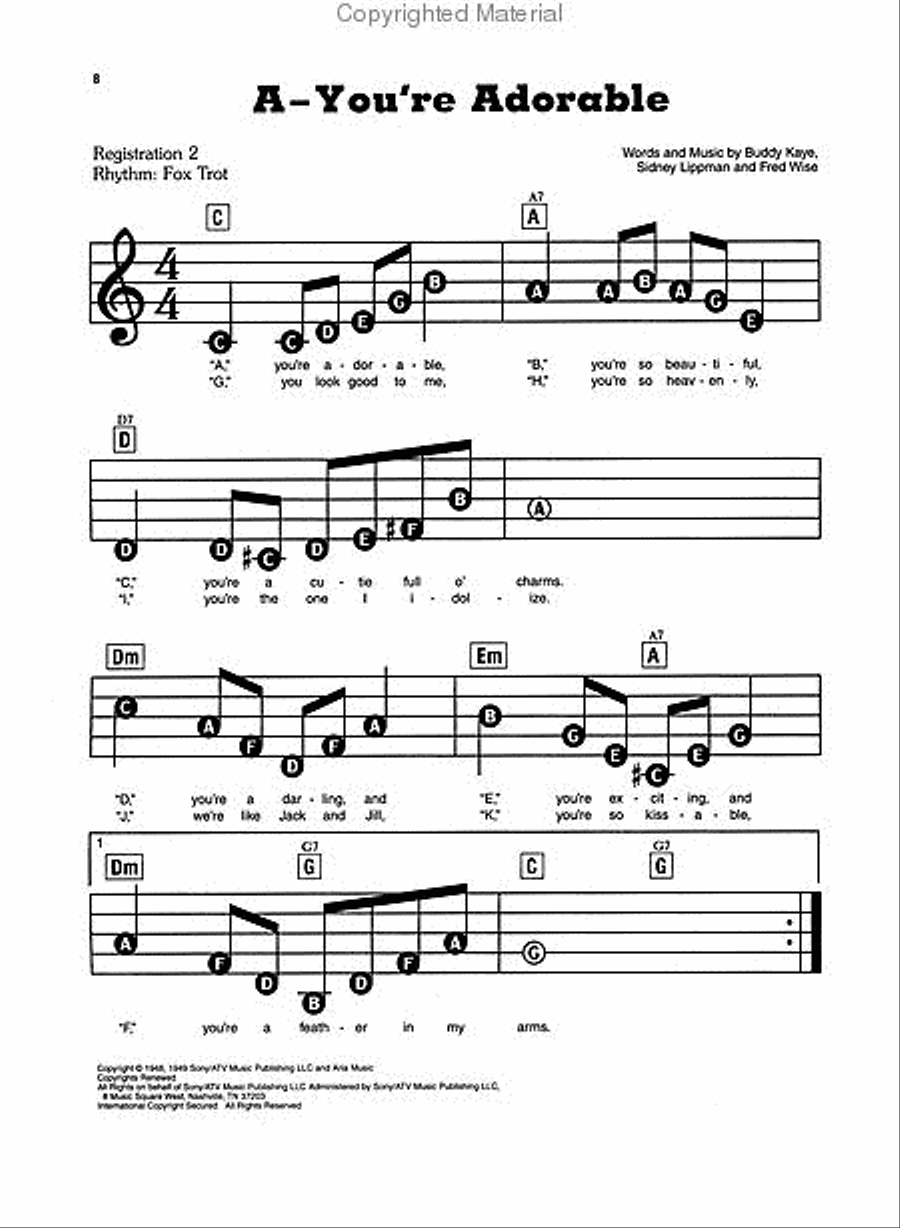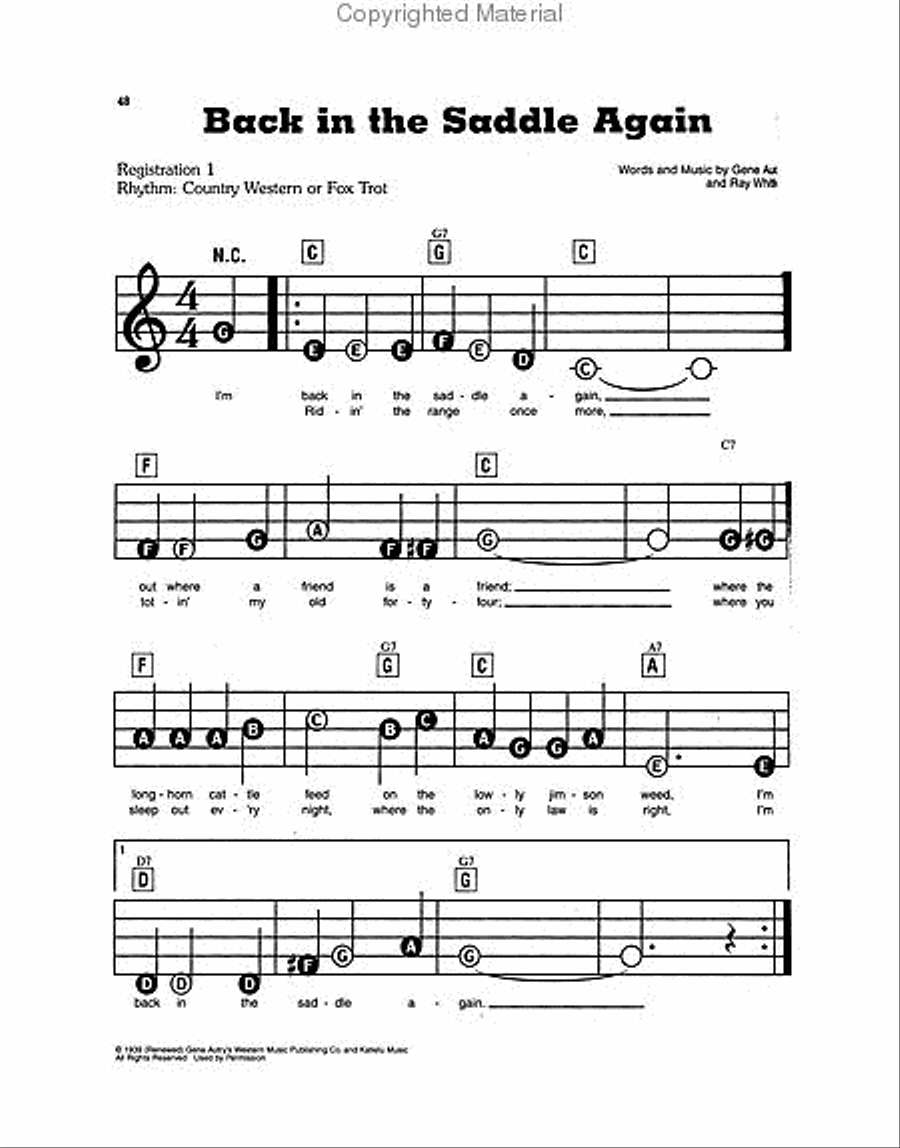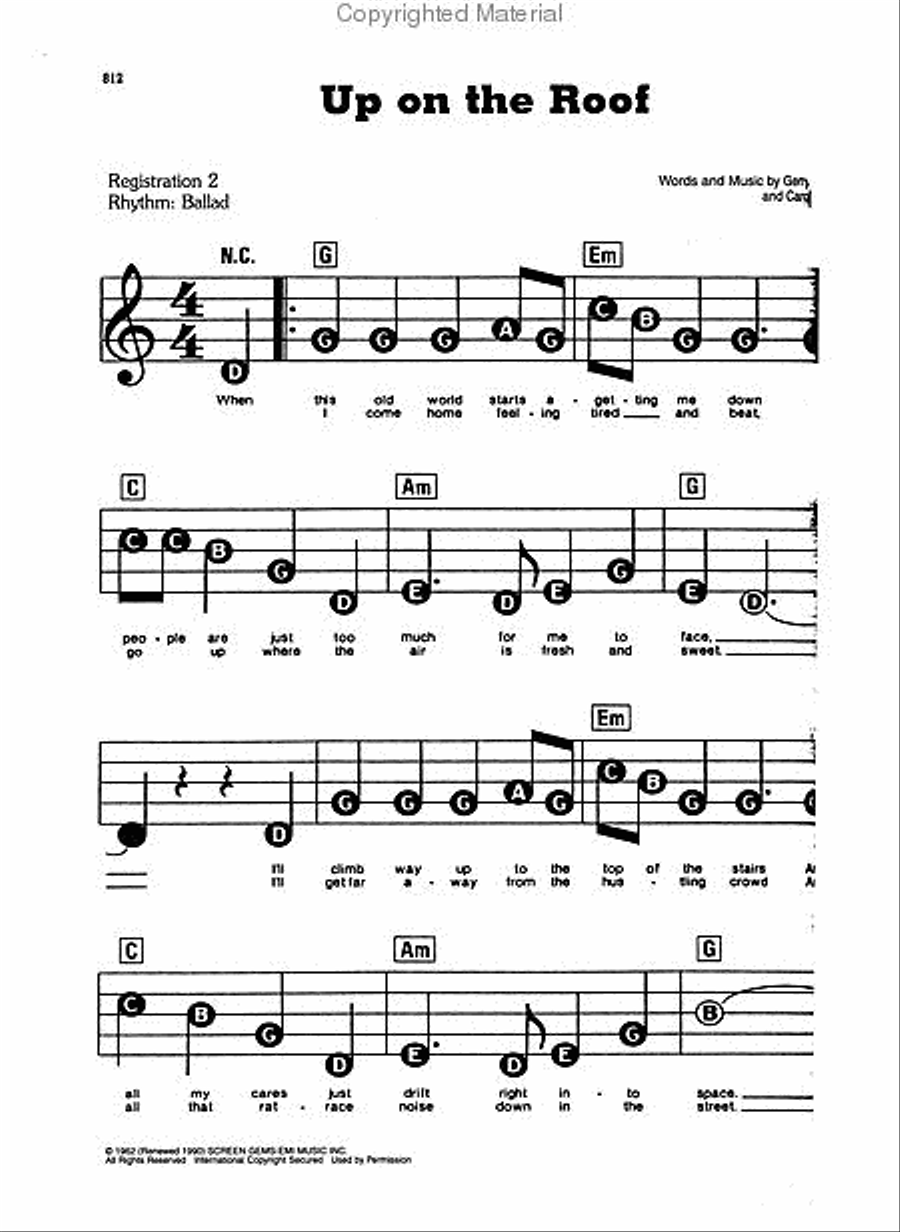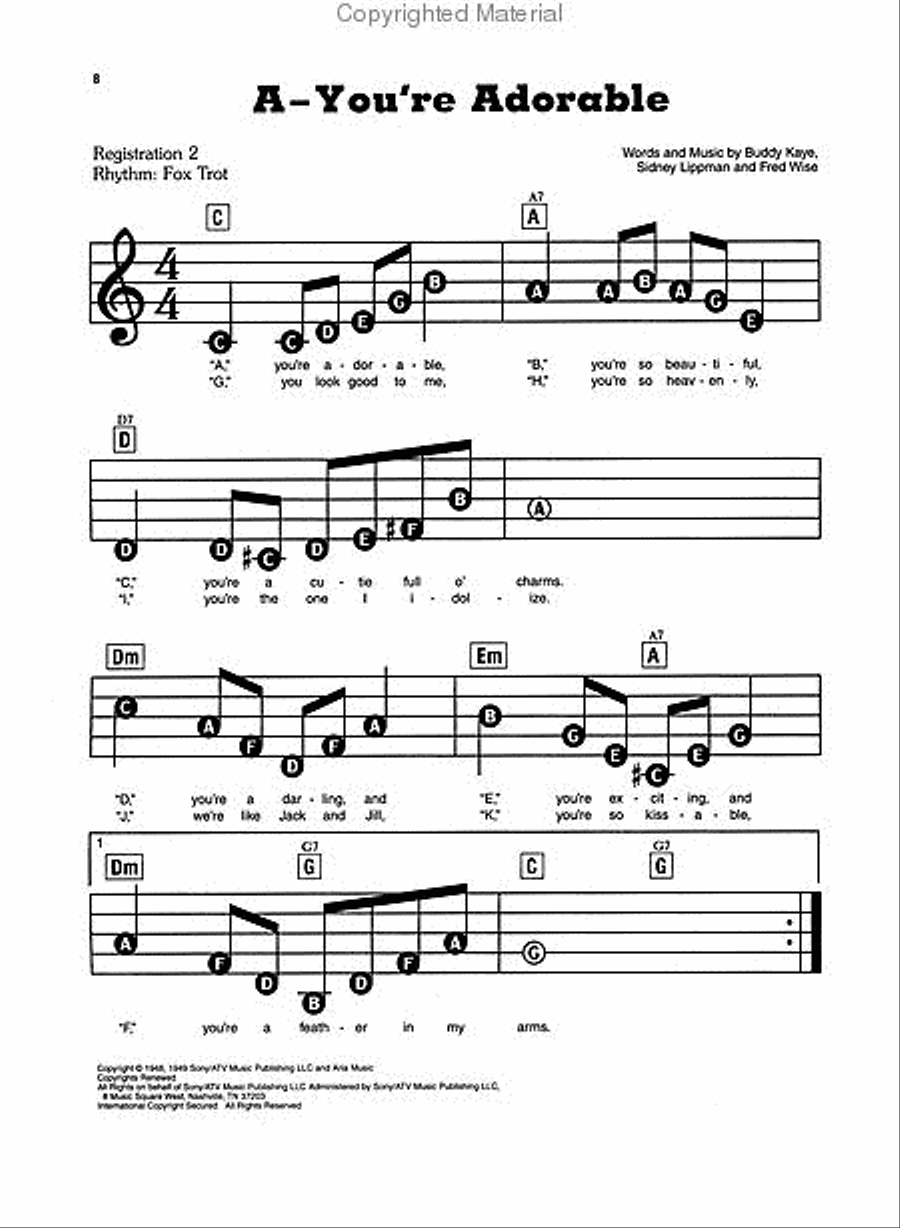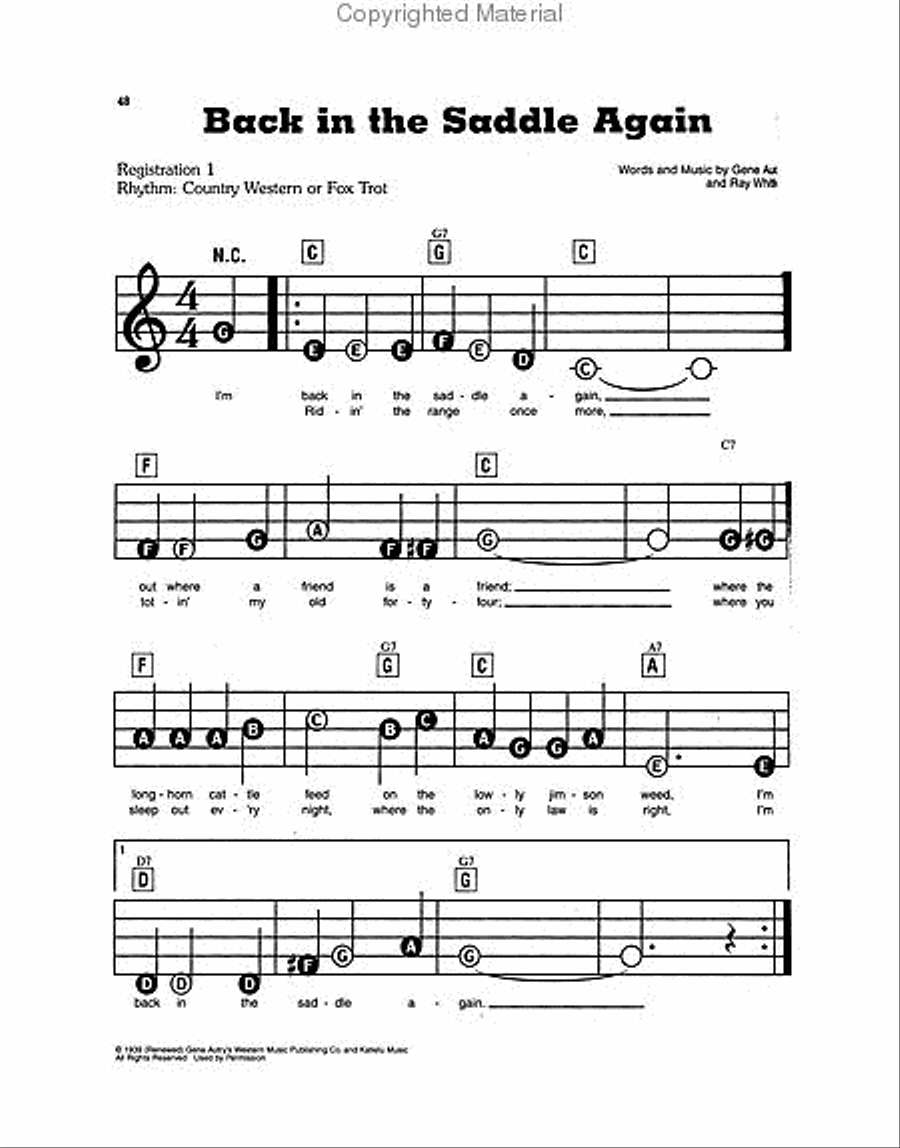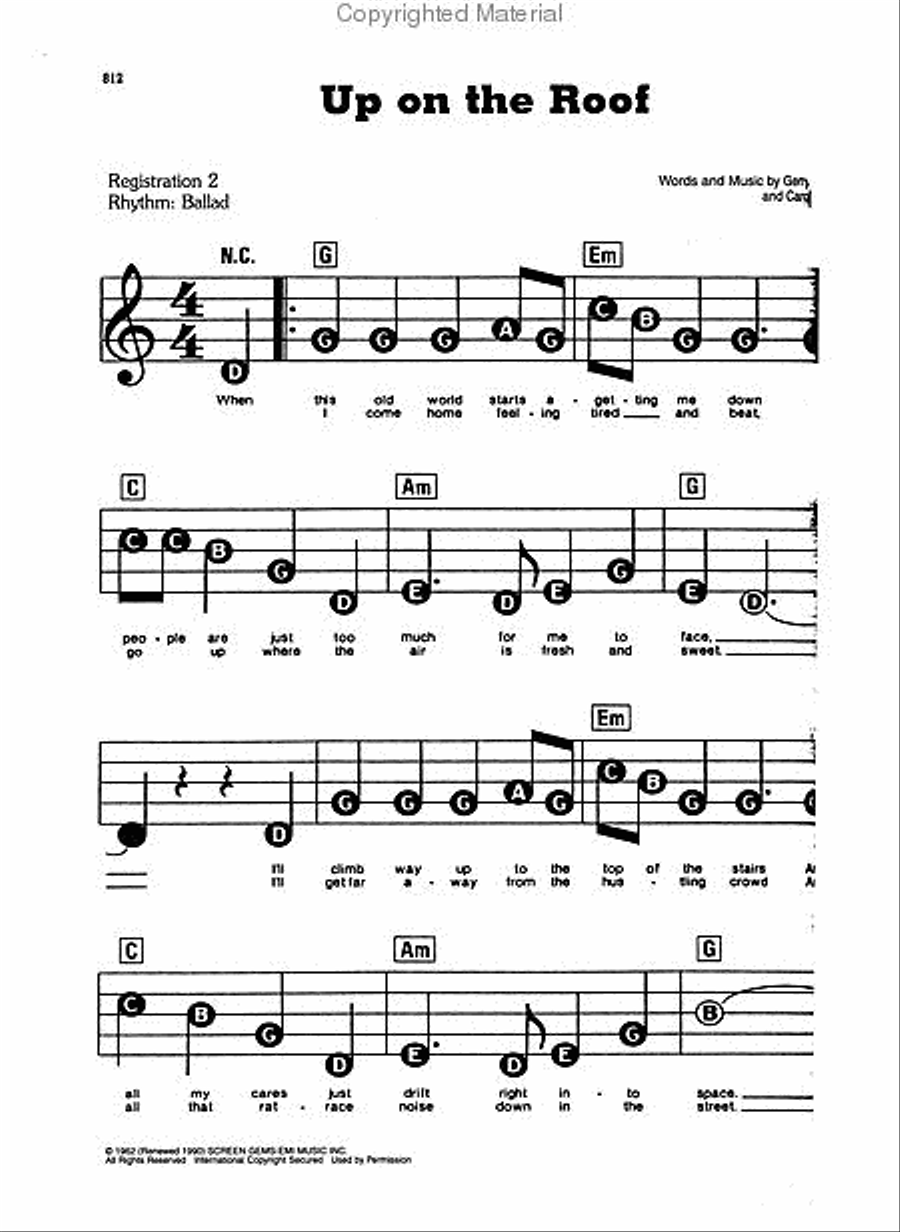 E-Z Play Today #316: White Pages


Available
Ready to ship in 24 hours
Taxes/VAT calculated at checkout.
Detailed Description
E-Z Play(r) Today #316 Electronic Keyboard; Organ; Piano/Keyboard
SKU: HL.100234
Composed by Various. E-Z Play Today. Country, Jazz, Pop, Rock. Softcover. With big note notation. 912 pages. Published by Hal Leonard (HL.100234).
ISBN 9781423425311. UPC: 884088138424. 8.38x10.88x1.446 inches.
More than 330 hits in all styles fill 900 pages in the largest collection ever of songs in our world-famous notation! Features: All of Me * Big Spender * Brian's Song * Color My World * Come Fly with Me * Dancing Queen * Dream Weaver * Fly like an Eagle * The Godfather Theme * Guilty * Jackson * Lush Life * Monday, Monday * Moon River * Puppy Love * Rockin' Robin * Skylark * Tangerine * Truly * The Very Thought of You * Y.M.C.A. * You Raise Me Up * and scores more!
About Hal Leonard E-Z Play Today
For organs, pianos, and electronic keyboards. E-Z Play Today is the shortest distance between beginning music and playing fun. Now there are more than 300 reasons why you should play E-Z Play Today. * World's largest series of music folios * Full-size books - large 9" x 12" format features easy-to-read, easy-to-play music * Accurate arrangements... simple enough for the beginner, but accurate chords and melody lines are maintained * Eye-catching, full-color covers * Lyrics... most arrangements include words and music * Most up-to-date registrations - books in the series contain a general registration guide, as well as individual song rhythm suggestions * Guitar Chord Chart - all songs in the series can also be played on guitar.
Song List (331)
Bimbombey
Bye Bye Baby
Beach Baby
In A Little Gypsy Tearoom
Love You Madly
Daddy Won't You Please Come Home
You Belong To Me
Goodnight My Love, Pleasant Dreams
Pretend
Once Upon A Time
Time After Time
Please Mr. Sun
Airport Love Theme (Winds Of Chance)
Oh, Oh I'm Falling In Love Again
Secretly
Tampico
Guilty
Cab Driver
Goodbye
All Alone Am I
I'm A Fool To Want You
My Eyes Adored You
In A Mellow Tone
A Hundred Years From Today
All Of Me
On And On
Sitting On Top Of The World
Let's Get Lost
All You Get From Love Is A Love Song
From Here To Eternity
Honey
Don't Let The Rain Come Down (Crooked Little Man) (Crooked Little House)
Chances Are
I'll Be Home
You Can Depend On Me
A Rose And A Baby Ruth
You Don't Have To Be A Baby To Cry
I Wanna Be Loved
A - You're Adorable
Nature Boy
Lonesome Town
Ivy
Foolish Heart
Angel Eyes
Do That To Me One More Time
Born To Lose
Talk To Me
I'm Stickin' With You
(Hey, Won't You Play) Another Somebody Done Somebody Wrong Song
Anywhere I Wander
Are You Sincere
Aren't You Glad You're You
How Little We Know
As Long As I Live
Ain't That A Kick In The Head
At Sundown
High Hopes
Hey! Jealous Lover
Same Old Saturday Night
Back In The Saddle Again
You Raise Me Up
Baker Street
Too Young To Go Steady
Botch-A-Me (Ba-Ba-Baciami Piccina)
We Are Family
United We Stand
Gypsy In My Soul
Be My Life's Companion
Rockin' Robin
(It's A) Beautiful Morning
Games People Play
Belle, Belle (My Liberty Belle)
I Remember You
Walking In The Sunshine
Blame It On My Youth
I'm Yours
Sing
Learnin' The Blues
Just Walking In The Rain
Bluejean Bop
Bonaparte's Retreat
Boo-Hoo
Lemon Tree
Sleep Warm
Bread And Butter
Brian's Song
Thoroughly Modern Millie
A Wonderful Guy
I'll Know
More I Cannot Wish You
We've Only Just Begun
Calendar Girl
Memories
Hey, Look Me Over
Candida
The Candy Man
Cara, Mia
Carry On Wayward Son
If My Friends Could See Me Now
Flamingo
I Should Care
There Will Never Be Another You
Perdido
Civilization (Bongo, Bongo, Bongo)
The Coffee Song (They've Got An Awful Lot Of Coffee In Brazil)
Color My World
Come Fly With Me
Come Sunday
Comes Love
Count Every Star
Cycles
Da Doo Ron Ron (When He Walked Me Home)
Daddy Don't You Walk So Fast
Ballerina
Dance With A Dolly (With A Hole In Her Stockin')
Dancing Queen
The Day The Rains Came
Dear Hearts And Gentle People
The Diary
Didn't We Almost Have It All
Do You Want To Dance?
Don't Blame Me
Don't Cry Out Loud (We Don't Cry Out Loud)
Don't Worry 'Bout Me
Dream Weaver
Dreamsville
Easter Parade
Endlessly
Eres Tu/Touch The Wind
Everybody Loves Somebody
Everybody's Talkin' (Echoes)
Fly Like An Eagle
Full Moon And Empty Arms
Garden Party
Gee Baby, Ain't I Good To You
The Godfather (Love Theme)
Graduation Day
The Green Leaves Of Summer
Greenfields
Hogan's Heroes March
The Hokey Pokey
Honey Bun
I Am Woman
I Gotta Right To Sing The Blues
I Hadn't Anyone Till You
I Like Dreamin'
I Will Be In Love With You
I Wish You Love
I Won't Last A Day Without You
I'd Rather Be Blue Over You
I've Got My Eyes On You
If I Didn't Care
(If I Knew You Were Comin') I'd've Baked A Cake
If Loving You Is Wrong I Don't Want To Be Right
If This Isn't Love
If You Go Away
In Love In Vain
Is It True What They Say About Dixie
It Looks Like Rain In Cherry Blossom Lane
It Was A Very Good Year
It's A Blue World
It's A Good Day
Jackson
Jealous Heart
Just Once
Just Squeeze Me (But Don't Tease Me)
Keep It A Secret
Kisses Sweeter Than Wine
Lazybones
Left Right Out Of Your Heart (Hi-Lee Hi-Lo Hi-Lup-Up-Up)
Let There Be You
Like Someone In Love
Limbo Rock
Linda
Linger Awhile
Lipstick On Your Collar
Little Darlin'
A Little Street Where Old Friends Meet
Lover, Come Back To Me
Lullaby Of Birdland
Lush Life
(You've Got) The Magic Touch
A Man Without Love (Quando M'Innamoro)
Married I Can Always Get
Maybe Baby
Mean To Me
Mention My Name In Sheboygan
Monday, Monday
Moonlight Gambler
Moon River
Moonlight Cocktail
The Music Of Goodbye
My Adobe Hacienda
My Darling, My Darling
My Lucky Star
My Melody Of Love
My One And Only Love
My Truly, Truly Fair
Neither One Of Us (Wants To Be The First To Say Goodbye)
Never Let Me Go
The Night Has A Thousand Eyes
No Can Do
No Moon At All
No, Not Much!
No Two People
Nobody Else But Me
Oh Boy!
Oh! Carol
Ole Buttermilk Sky
On The South Side Of Chicago
Once Upon A Summertime
One Morning In May
Only Trust Your Heart
Papa Loves Mambo
Penny Lover
Peppermint Twist
Piccolo Pete
Pocketful Of Miracles
Puppy Love
Put Your Head On My Shoulder
Ragtime Cowboy Joe
Raindrops
Ramblin' Rose
Red, Red Wine
Retreat (Cries My Heart)
Return To Me
River, Stay 'Way From My Door
Rosetta
Roving Kind
Ruby Baby
S'posin'
She Loves Me
Silly Love Songs
Since I Don't Have You
Since I Met You Baby
Sincerely
Sioux City Sue
Skylark
Skyliner
A Sleepin' Bee
Small Fry
Somebody Loves You
Some Day (You'll Want Me To Want You)
Spanish Flea
Squeeze Me
Sukiyaki
Summer Wishes, Winter Dreams
Sunny
Sure Thing
Sway (Quien Sera)
Sweet Nothin's
Sweet Seasons
The Swingin' Shepherd Blues
Take A Letter, Maria
Take Good Care Of My Baby
Tall Paul
Tangerine
Teach Me Tonight
(Love Is) The Tender Trap
There Are Such Things
There'll Be Some Changes Made
There's No Tomorrow
These Boots Are Made For Walkin'
This Love Of Mine
Three's Company Theme
Tie A Yellow Ribbon Round The Ole Oak Tree
Tijuana Taxi
To Know Him Is To Love Him
Tonight You Belong To Me
Too Late Now
Too Young
The Touch Of Your Lips
Town Without Pity
Truly
26 Miles (Santa Catalina)
Tzena, Tzena, Tzena, Tzena
Up On The Roof
Up With The Lark
Violets For Your Furs
Wagon Wheels
Wake The Town And Tell The People
Wake Up Little Susie
Walk Like An Egyptian
Walkin' My Baby Back Home
Waterloo
We'll Sing In The Sunshine
When I'm Not Near The Girl I Love
Where Does My Heart Beat Now
Where The Blue Of The Night (Meets The Gold Of The Day)
A White Sport Coat (And A Pink Carnation)
Will You Still Be Mine
Wish Me A Rainbow
Wichita Lineman
I Do I Do I Do I Do
Y.M.C.A.
Big Spender
You Need Hands
Yesterday Once More
You You You
You'd Be Surprised
You're Breaking My Heart
You're Driving Me Crazy! (What Did I Do?)
Young Love
Why Don't You Believe Me
Spartacus - Love Theme
The Late Late Show
I Miss You So
Alone Again (Naturally)
On The Other Side Of The Tracks
(There Ought To Be A) Moonlight Saving Time
Roses Are Red, My Love
Nancy With The Laughing Face
Bobby Sox To Stockings
Are You Havin' Any Fun?
The Best Is Yet To Come
The Best Things In Life Are Free
Darn That Dream
Diamonds Are A Girl's Best Friend
I'm Beginning To See The Light
It's Not For Me To Say
Polka Dots And Moonbeams
(I Never Promised You A) Rose Garden
'Til Tomorrow
The Very Thought Of You
We Are The World
You Always Hurt The One You Love
Angel Flying Too Close To The Ground
Let It Be Me (Je T'appartiens)
Put On A Happy Face
Round And Round
(There Is) No Greater Love