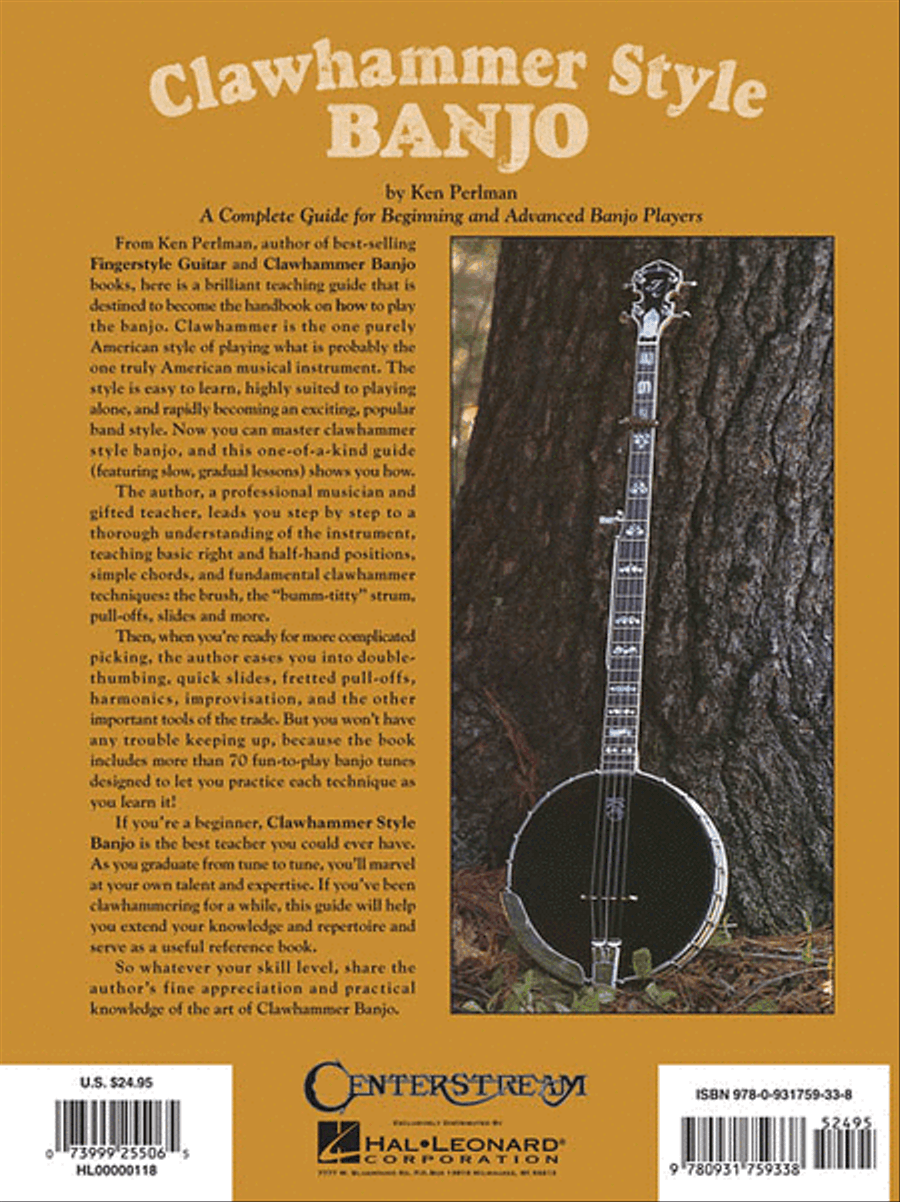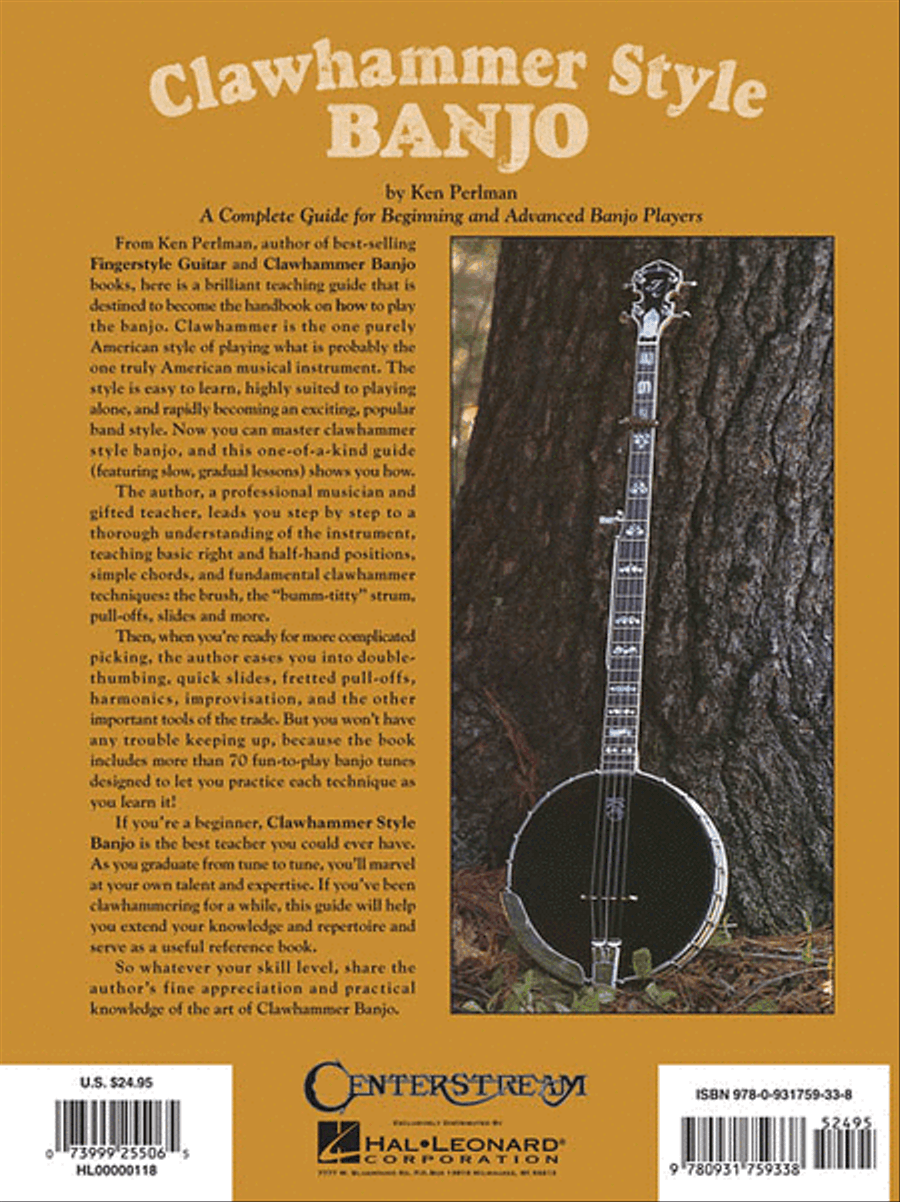 Price reduced from

$24.99

to
$19.99
Available
Ready to ship in 24 hours
Taxes/VAT calculated at checkout.
Detailed Description
Book Banjo
SKU: HL.118
Banjo. Instructional and Bluegrass. Instructional book. With banjo tablature, introductory text, instructional photos and instructional text. 208 pages. Published by Centerstream Publications (HL.118).
ISBN 9780931759338. UPC: 073999255065. 9x12 inches.
Clawhammer Style Banjo - A Complete Guide For Beginning And Advanced Banjo Players| From Ken Perlman, here is a brilliant teaching guide that is destined to become the handbook on how to play the banjo. The style is easy to learn, and covers the instruction itself, basic right and left-hand positions, simple chords, and fundamental clawhammer techniques; the brush, the 'bumm-titty' strum, pull-offs, and slides. For the advanced player, there is instruction on more complicated picking, double thumbing, quick slides, fretted pull-offs, harmonics, improvisation, and more. The book includes more than 40 fun-to-play banjo tunes.
Song List (75)
Arkansas Traveler
Bonaparte's Retreat
Careless Love
Cluck Old Hen
Cuckoo
Devil's Dream
I Gave My Love A Cherry (The Riddle Song)
The Irish Washerwoman
Jesse James
Liberty
Meadowlands
Oh! Susanna
Red Wing
Sailors Hornpipe
Skip to My Lou
Soldier's Joy
Turkey In The Straw
When The Saints Go Marching In
Wild Wood Flower
Will The Circle Be Unbroken
Worried Man, A
The Yellow Rose of Texas
John Hardy Was A Desperate Little Man
Angeline The Baker
Texas Gales
The Red Haired Boy
Bill Cheatham
Little Sadie
Flop-Eared Mule
Done Gone
Mississippi Sawyer
Don't Let Your Deal Go Down
Garryowen
Billy In The Low Ground
Salt Creek
Boatin' Up Sandy
Brown's Ferry Blues
Foxhunter's Jig
Sally Ann
Ducks In The Millpond
Hop Up, My Ladies
Georgie Buck
June Apple
Old Molly Hare
Sean Ryan's Polka
On The Road To Boston
Needle Case
Last Cold Whiskey,The
Tomorrow Is Another Day
Pigtown Fling,The (Stony Point)
Waiting For Nancy
Little Rabbit
Dennis Murphy's Polka
Say Darlin' Say
Old Bunch Of Keys
Fiddler's Reel
Goose Hill
John Brown's March
Too Young To Marry
Kitty's Wedding
Prince William
Bunch Of Rushes
Bosco Stomp,The
Peachbottom Creek
Kansas City Reel
Chinquapin Pie
Possum Up A Gum Stump
Tenpenny Bit,The
Wall Street Strut,The
Upton-On-Severn Stick Dance,The
Karis Pers Polska
Chorus Reel
Don Tremain's Reel
Humours Of Castle Comer,The
Sugar In The Gourd