Cello Recital Album, Volume 2

12 Recital Pieces in First Position for Cello and Piano or Two Celli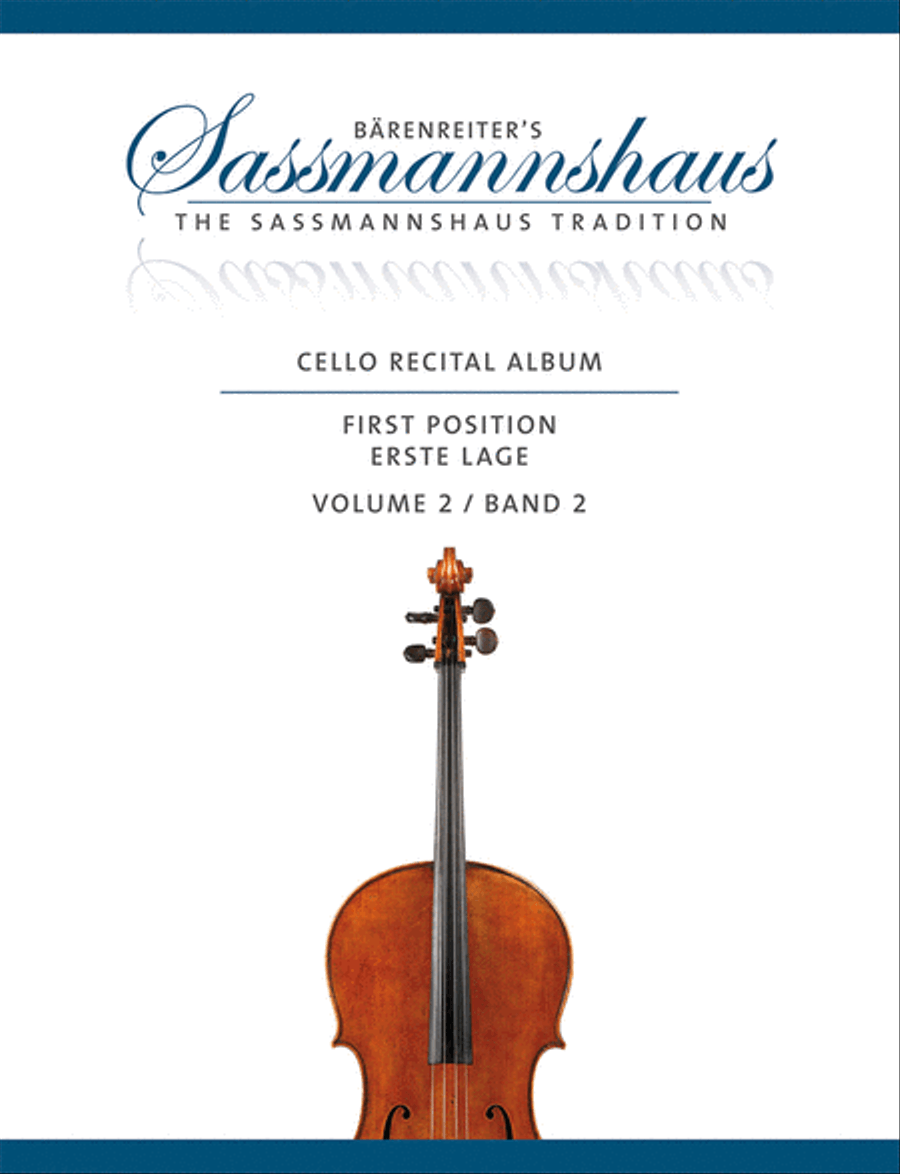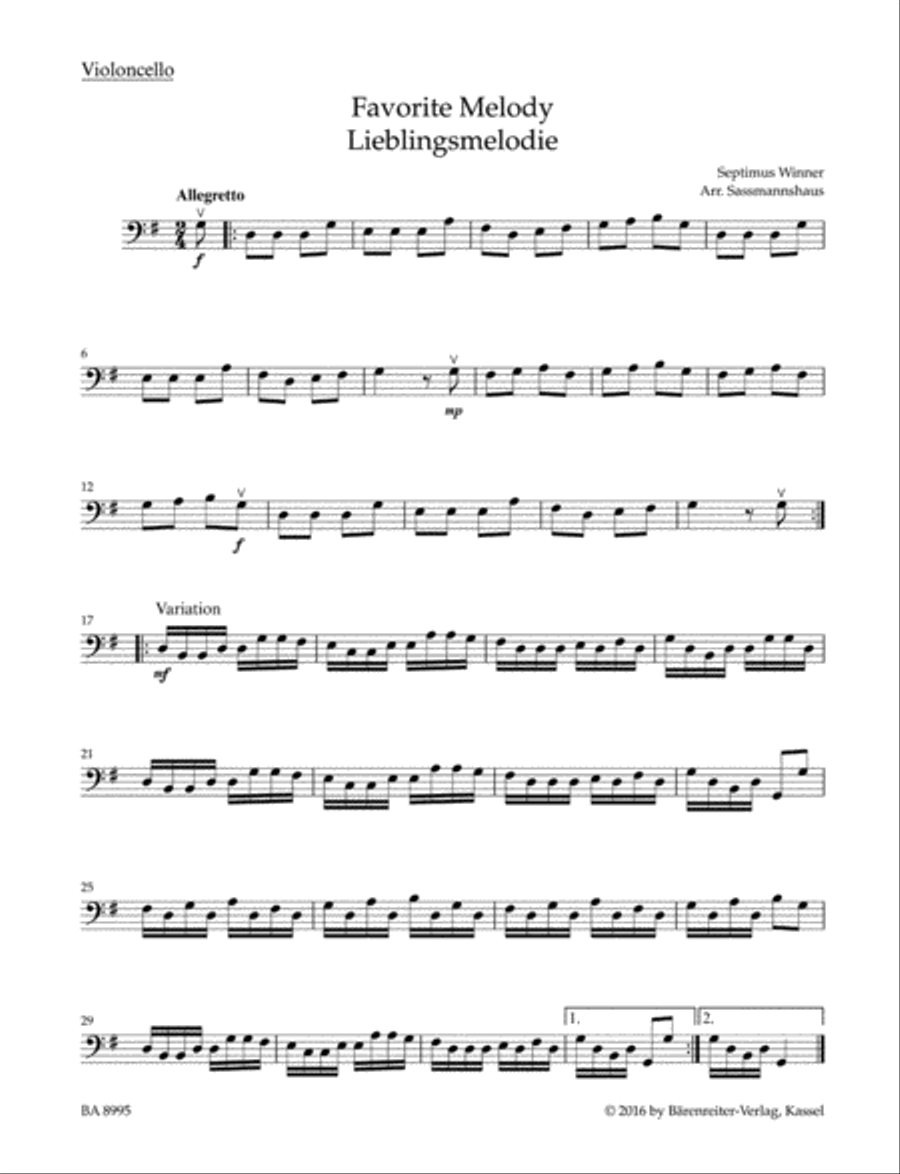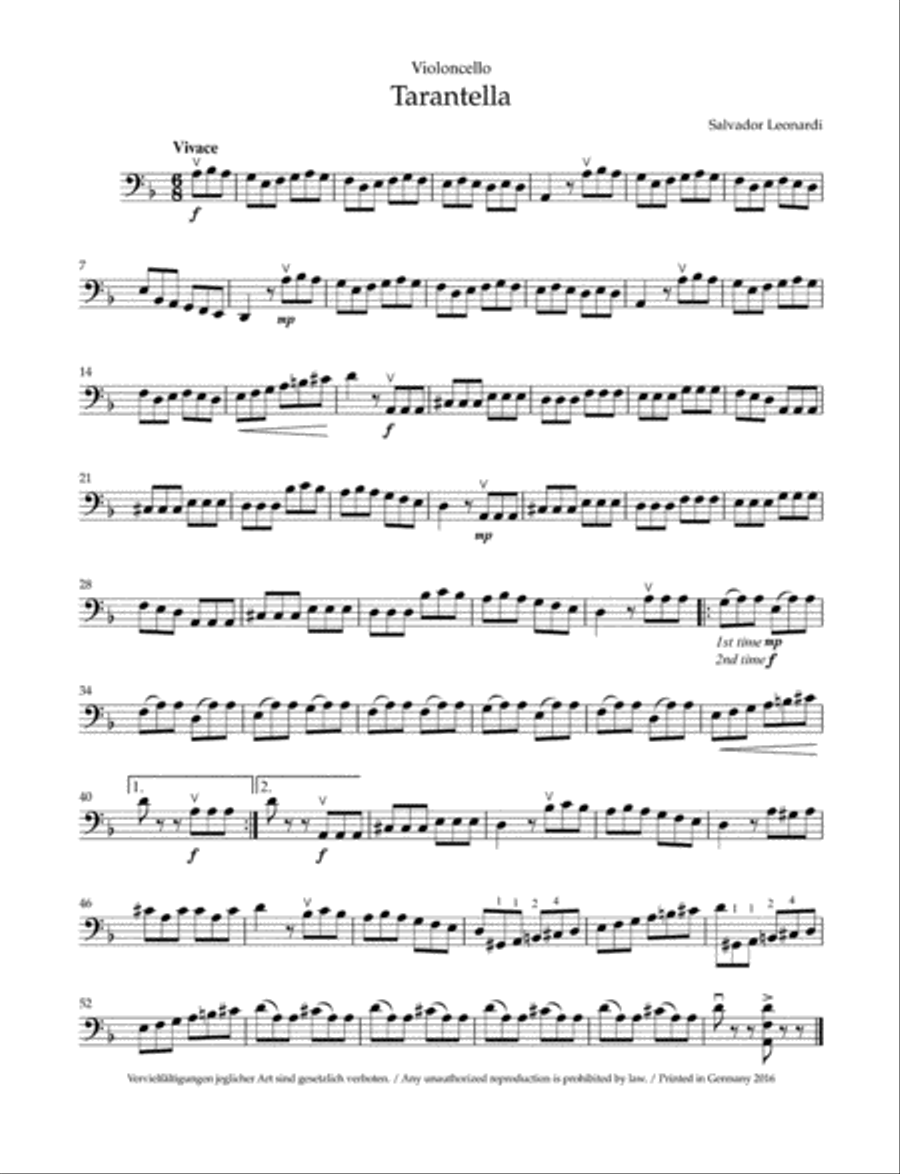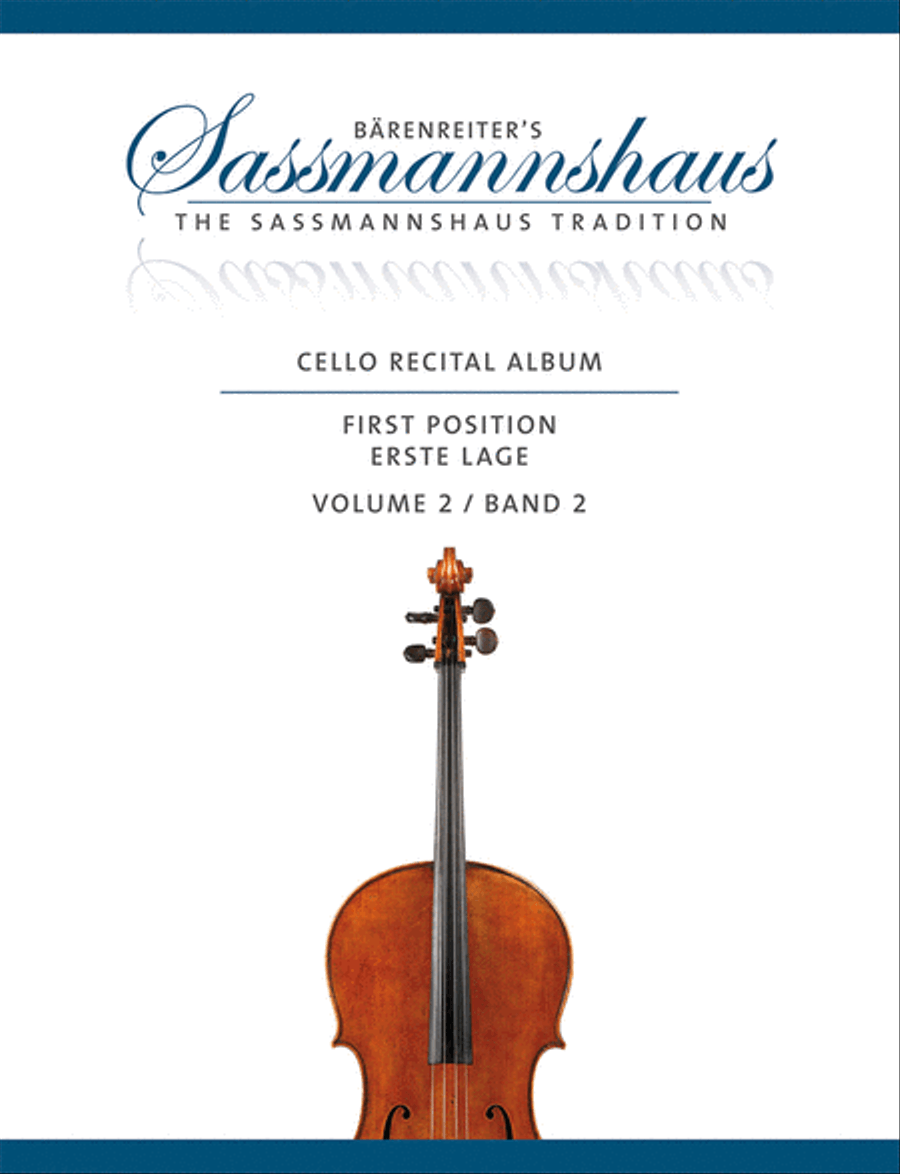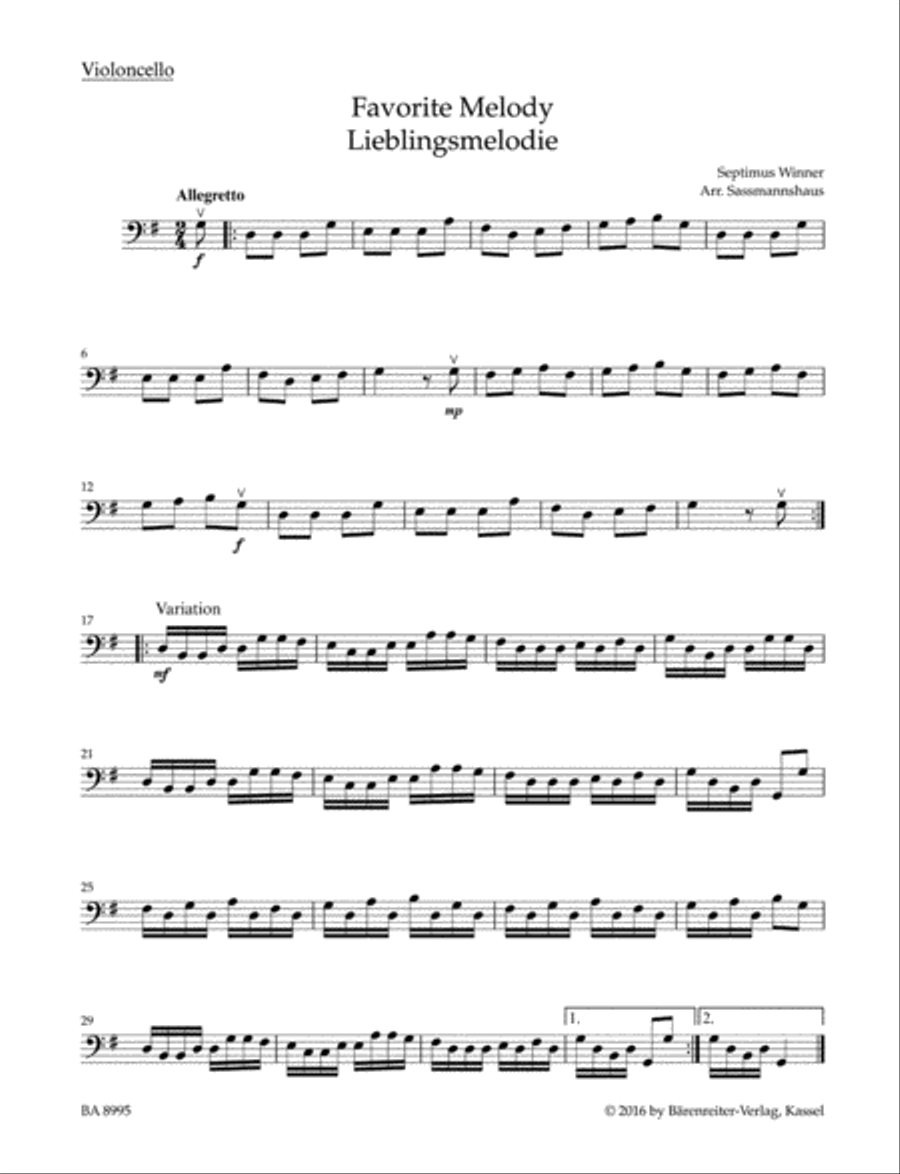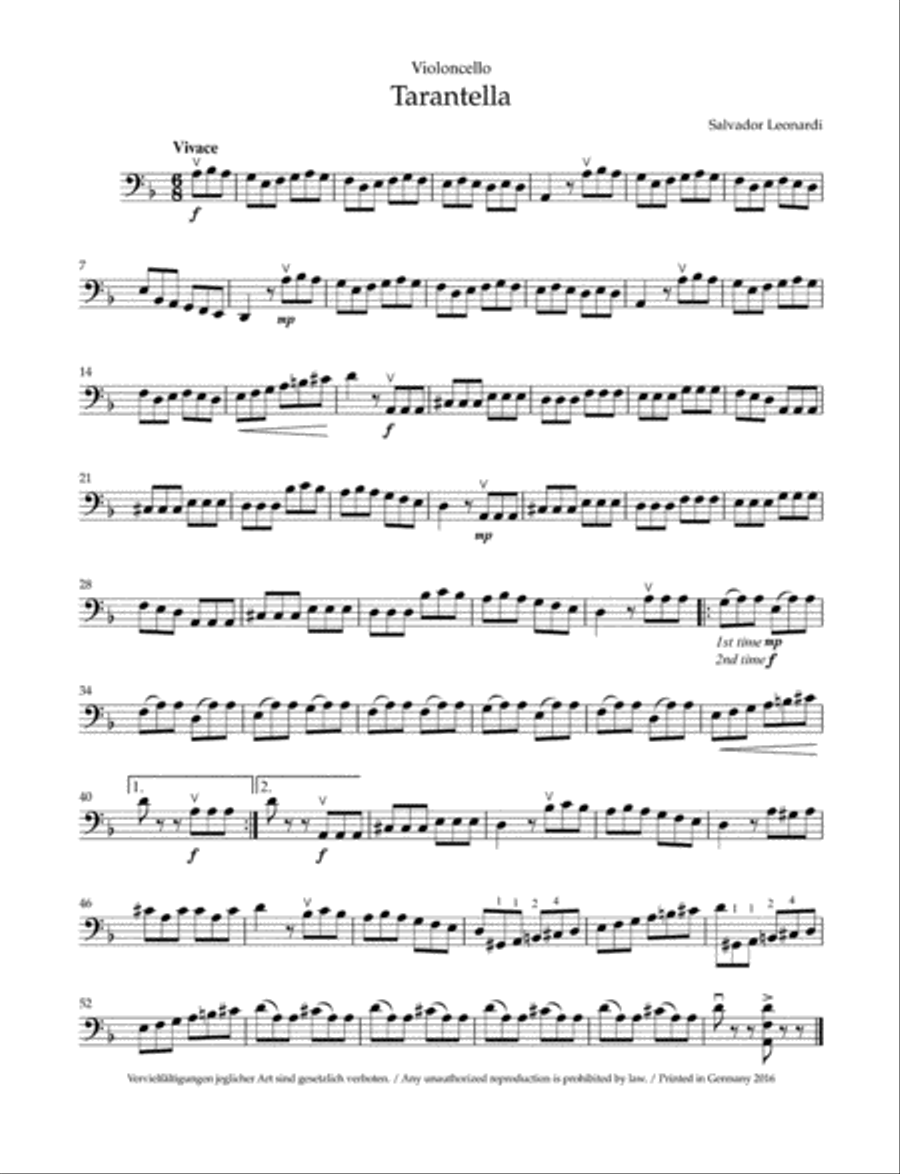 Cello Recital Album, Volume 2

12 Recital Pieces in First Position for Cello and Piano or Two Celli
Available
Ready to ship in 1 to 2 weeks
Taxes/VAT calculated at checkout.
Detailed Description
Piano, cello (2 cellos) (Piano, Violoncello (Violoncellos (2))) - Level 2
SKU: BA.BA08995
12 Recital Pieces in First Position for Cello and Piano or Two Celli
. Edited by Christoph Sassmannshaus and Melissa Lusk. Stapled. Barenreiter's Sassmannshaus. Performance score, Part. 16/23/21 pages. Baerenreiter Verlag #BA08995_00. Published by Baerenreiter Verlag (BA.BA08995).
ISBN 9790006562459. 30 x 23 cm inches. Text Language: German, English. Preface: Christoph Sassmannshaus / Melissa Lusk.
The 12 pieces in Volume 2 are structured to follow the same progression of finger patterns introduced in the "Early Start" method, Volumes 2 and 3. The later repertoire in this volume includes a careful introduction of downward and upward extensions.

The "Cello Recital Album", Volume 2 (BA 8995), can be used as a supplement to the "Early Start on the Cello" method, Volumes 2 and 3 (BA 8997 and BA 8998).

Collections of recital pieces for the cello:
• Charming collections of easy pieces in first position
• Each cello part is supported by a piano accompaniment for student performances
• Alternately a second cello part allows duo playing with the teacher during lessons. This early introduction to chamber music brings joy and satisfaction to the young cellist and teaches the student to hear the music as a whole.
• The two volumes (BA 8994, Ba 8995) are designed as companion publications to the Early Start on the Cello method. However, they work equally well as a supplement to any other cello method.
• A variety of rarely published works by well-known cellists and pedagogues such as Wilhelm Fitzenhagen, Hugo Schlemüller, and August Nölck make these publications attractive to teachers and students.

About Baerenreiter's Sassmannshaus
Children playfully learn reliable technique at the earliest age. For more than three decades the Sassmannshaus Tradition has been the household name for excellence in beginner methods in German-speaking countries. More than half a million students have successfully learned to play using this publication.

This tried and tested German method is now available in English! The best-selling method that gave generations of European musicians their foundation is now available in English, with content and songs newly adapted for today's English speaking children.

What makes this method so special?
The child-friendly and age-appropriate text underlying the music enables children to perceive melodies as a whole and to understand their singable qualities.
Songs and scales in different positions are easily explained and mastered within the first year. This is an important advantage over methods that confine children to the first position for many years.
Note reading is emphasized from the first lesson - children are brought up to become proficient sight-readers and play in chamber music ensembles as early as possible.
In contrast to other beginner methods, The Sassmannshaus Tradition progresses swiftly by introducing advanced techniques in rudimentary form, such as shifting and varied bow strokes.
Ensemble playing is encouraged from the very beginning.
The method is suitable for single instruction as well as for group and class lessons.
The large print notes and text as well as many colorful illustrations are particularly child-friendly and very attractive to pre-school children and school children alike.
The substantial volumes contain comprehensive material and carefully calibrated learning curves. They keep children curious and interested for many months and years.